Air Fryer Lobster Tails are succulent, juicy, and drizzled with butter! It's fancy dining right in the comfort of your home.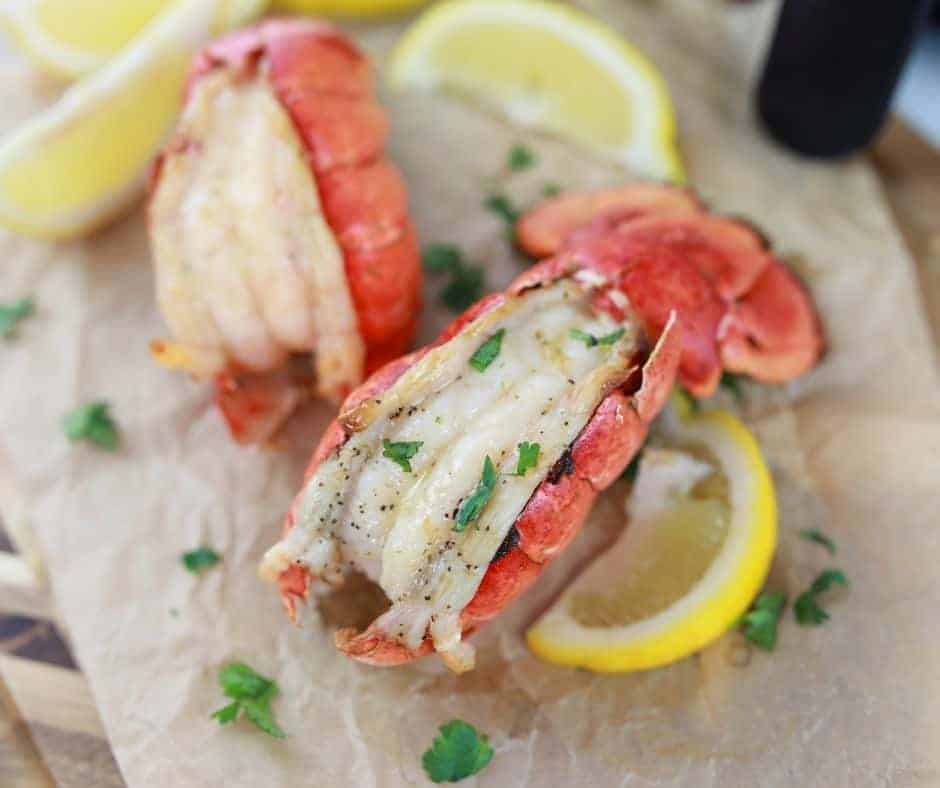 Air Fryer Lobster Tails
Air Fryer Lobster Tails make one of the best and easy meals I make in the air fryer. It literally takes minutes, and you have a gorgeous dinner, ready to serve.
The secret is that you need to butterfly the lobster tail before you begin. It is a game-changer, and the shellfish will cook beautifully. Season them up with some melted butter and some spices, and you will have a delicious and impressive meal! Making lobster tail in an air fryer really is that easy.
If you are looking for even more Air Fryer Seafood Recipes, some of my favorites are AIR FRYER FLOUNDER FISH, AIR FRYER FISH & CHIPS, and AIR FRYER BACON WRAPPED SHRIMP.
Can You Air Fry Lobster Tail?
Yes! You can, and it's easy. If you've been looking to cook up matching lobster tails in an air fryer for a special dinner at home, you will love this recipe!
Why You Will Love Making Air Fryer Lobster Tails
It's easy to air fry lobster tail

You only need a few ingredients

It's easy to butterfly lobster tail and looks gourmet!

Succulent and tender lobster every time

Seafood is healthy and delicious!

An elegant meal made in the comfort of your home
The next time you're at the grocery store, stop by your seafood or freezer aisle and pick up a package of frozen lobster tails. You will not be disappointed.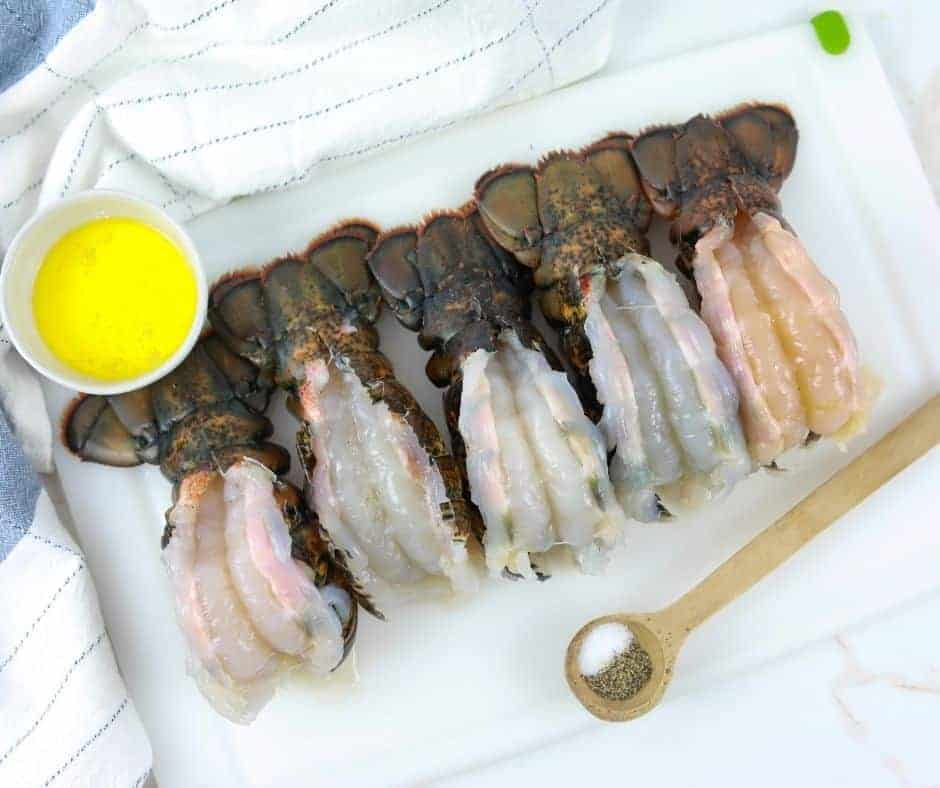 Ingredients Needed To Make Air Fried Lobster Tails
Frozen Lobster Tails (Thawed)
Butter
Salt
Black Pepper
How To Choose The Perfect Lobster For Lobster Tail in Air Fryer
Opt for high-quality lobster. This is one ingredient that you don't want to scrimp and save on. When it comes to seafood, typically the more expensive option will be the better one.
Use cold water lobster. This variety of lobsters tastes the best and boasts a slightly sweet flavor. You'll be able to tell it's a cold-water lobster if the shell is free of spots. When in doubt, ask someone in the seafood department of your supermarket to help!
Avoid added chemicals. Some lobster tails are soaked in a chemical called sodium tripolyphosphate. I strongly recommend avoiding it! Again, ask for help if you're not sure.
Size matters. I like to use tails that range between 5-12 ounces. It's the perfect size for air fried lobster tails!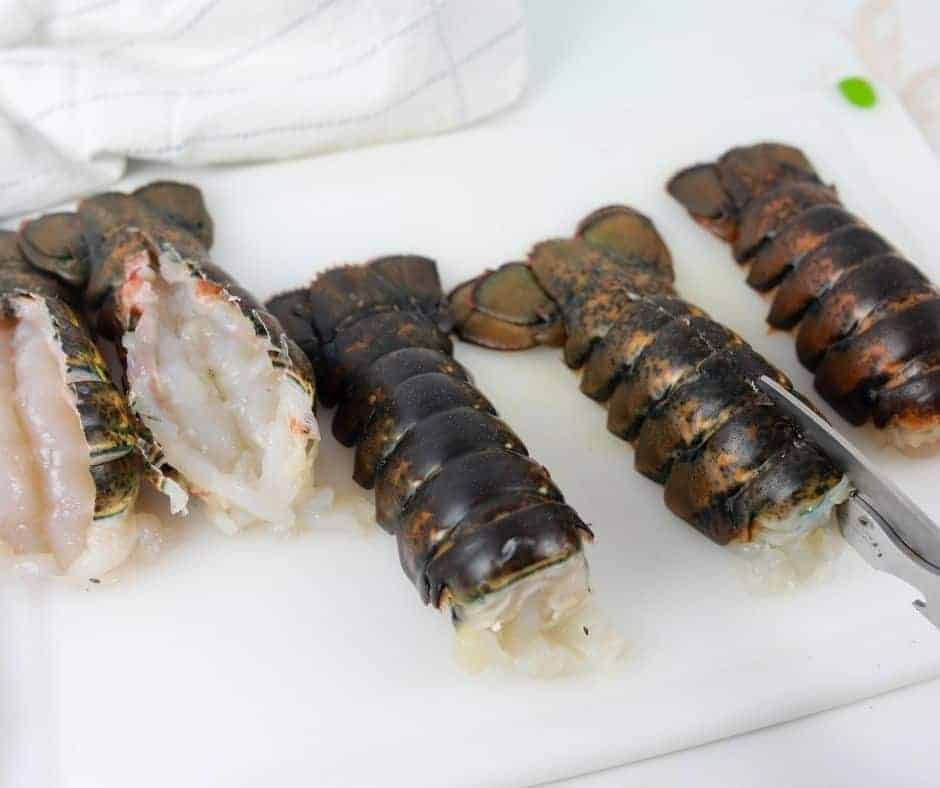 How To Cook Lobster Tails In Air Fryer
Watch our video on how to air fry lobster tails
Step 1: Butterfly lobster tails
Using sharp kitchen shears, you'll need to butterfly the lobster tails by cutting the hard shell right down the middle. Then, gently pull apart the shell and stick your finger inside to lightly pull the flesh from the shell.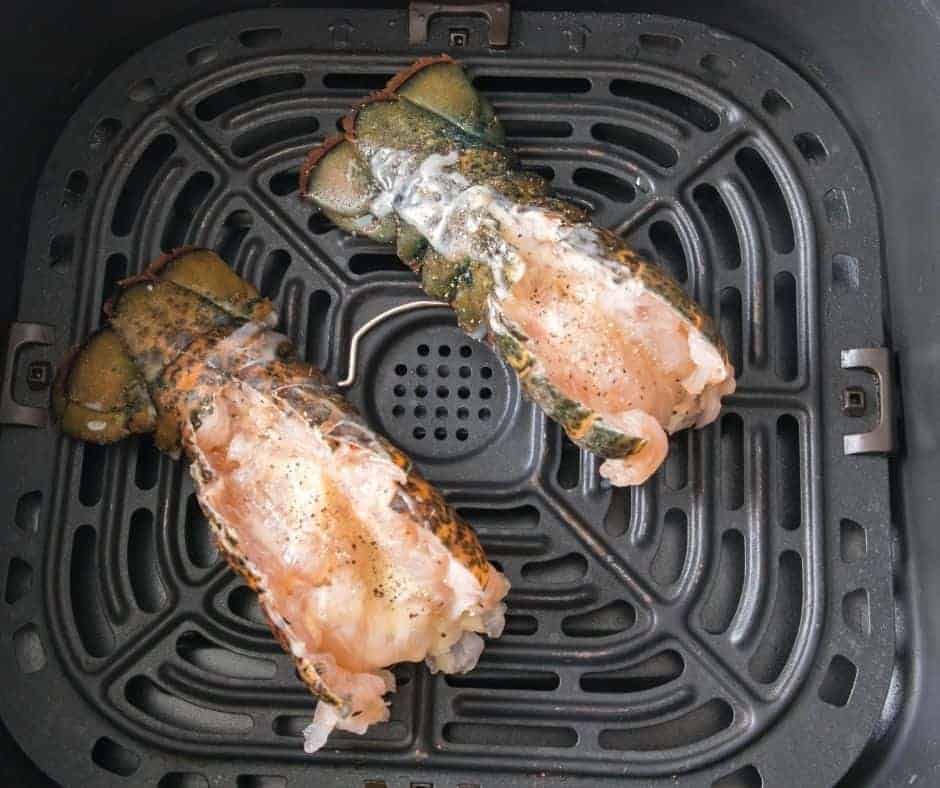 Step 2: Butter and air fry
Using a pastry brush, add butter to each of the lobster tails. Sprinkle with salt and pepper.
Cook the lobster tails in the air fryer for 4 minutes at 380 degrees. Then, drizzle with more butter and cook for an additional 2 minutes.
How To Serve Lobster Tail in Air Fryer
Add any of the following to melted butter and drizzle air fryer lobster tails before serving.
Lemon Zest
Minced Garlic
Italian Seasonings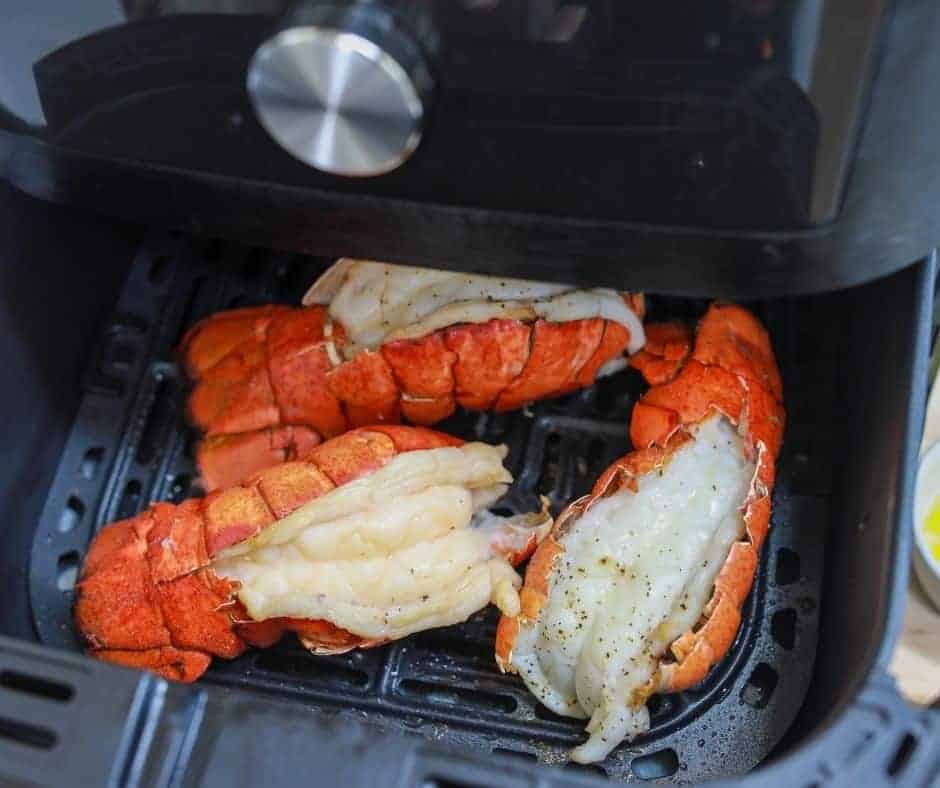 Pro Tips:
Don't cut all the way through the shell. Cutting the shell all the way apart will cause the lobster tail to fall apart as it cooks. It will still be safe to eat, but will not look pretty.
Add any combination of spices that you want for the butter mixture. Consider adding fresh herbs like parsley, oregano, or basil to the air fried lobster tails right before serving.
Go wild with garlic. If you are a garlic lover, go ahead and add some minced garlic to the melted butter before brushing it onto raw lobster.
The cooking time may vary. The bigger the lobster tails, the longer it will take to air fry them.
If you do not have an air fryer, you can broil these for about 10-15 minutes.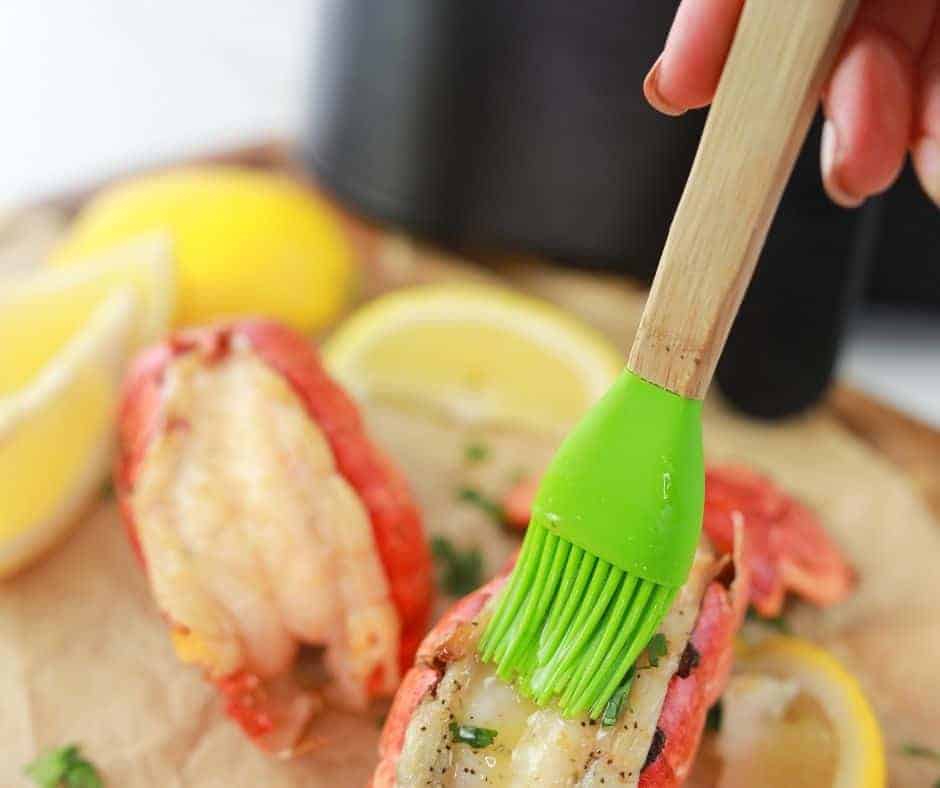 Do You Have To Butterfly Lobster Tails Before Air Frying?
Yes, air fried lobster tails need to be butterflied so that they can cook properly. Otherwise, the exterior flesh will cook, but the interior will be undercooked and could cause food-borne illness.
Should I Use Frozen or Fresh Lobster Tails?
You can air fry lobster tail with fresh or frozen lobster. If you opt for frozen, be sure to thaw it overnight in the fridge. This will allow it to cook evenly, and it is less likely to end up overcooked and rubbery.
How Do I Know When My Lobster Tail in Air Fryer Is Done?
The color of the lobster changes drastically after it is done cooking. The lobster meat will go from translucent to white when it's cooked.
Using a meat thermometer, you'll need to cook until the thickest part of the lobster flesh reaches 135 degrees – 140 degrees. If you overcook it, the meat will become rubbery.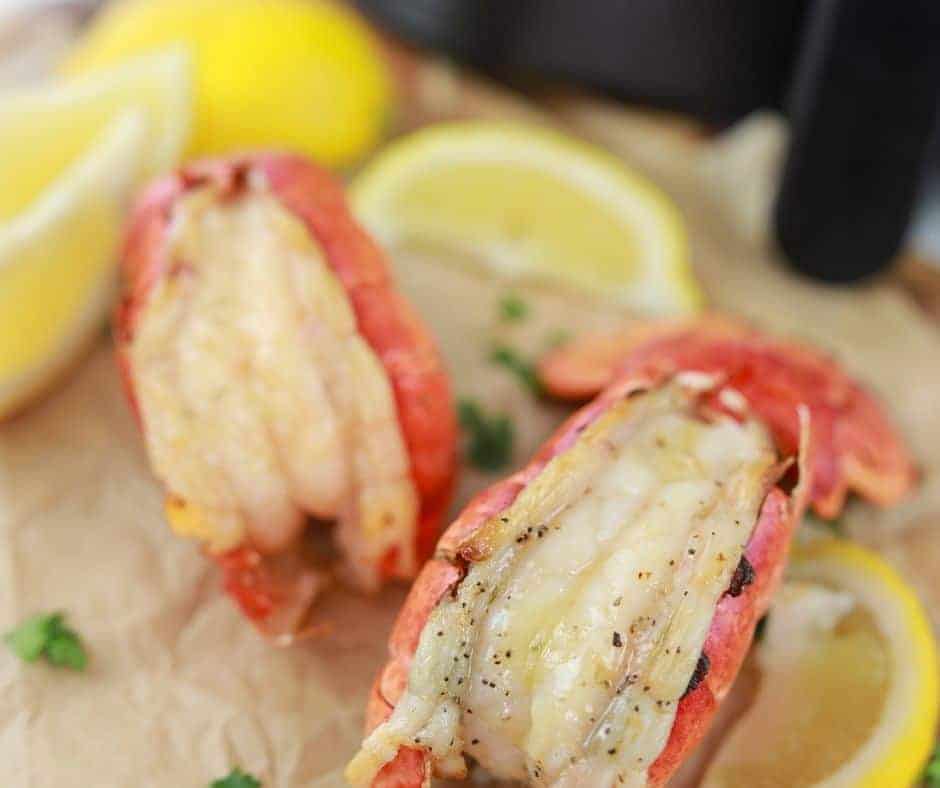 How To Store Leftover Air Fryer Lobster Tail
If you have any leftover lobster tails, let them cool to room temperature. Then, place them into an airtight container.
Place the container into the refrigerator for 3-4 days.
Reheating Air Fried Lobster Tails:
Add your refrigerated lobster back to the air fryer basket. Set the temperature to 300 degrees F, air fryer setting.
Reheat until warmed through, 3-5 minutes. For best results, add some more melted butter on top before you reheat, as it will moisten the lobster meat.
More Air Fryer Seafood Recipe: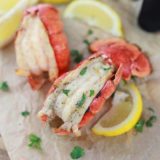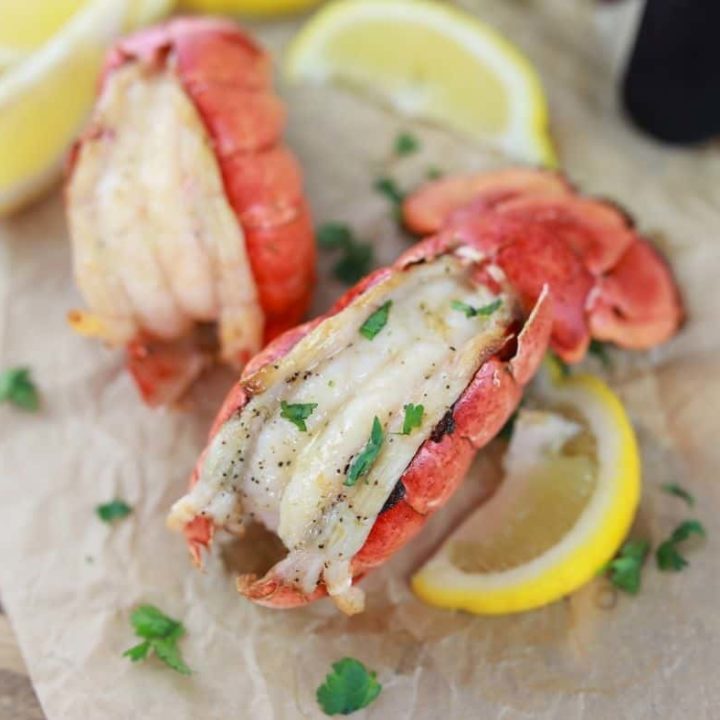 Air Fryer Lobster Tails
Description
Air Fryer Lobster Tails are succulent, juicy, and drizzled in melted butter for the perfect fancy dinner idea.
Ingredients
4

frozen or thawed lobster tails

2

tablespoons

unsalted butter, melted

1/2

teaspoon

salt

1/4

teaspoon

black pepper
Instructions
Start by melting the butter, once that is melted, cut the lobster with kitchen scissors, right through the tail section. Then with your fingers, break the shell and pull back the shell.

Note: Be careful, the shells if very sharp, once you start breaking them.

Brush your lobster tails with butter, add some salt and pepper, then air fry at 380 degrees for 4 minutes, and then add melted butter, and air fry for another 2 minutes.

Serve with additional butter.
Nutrition
Serving:
1
g
Calories:
99
kcal
Carbohydrates:
1
g
Protein:
11
g
Fat:
6
g
Saturated Fat:
1
g
Polyunsaturated Fat:
2
g
Monounsaturated Fat:
3
g
Trans Fat:
1
g
Cholesterol:
80
mg
Sodium:
624
mg
Potassium:
131
mg
Fiber:
1
g
Vitamin A:
254
IU
Vitamin C:
1
mg
Calcium:
56
mg
Iron:
1
mg