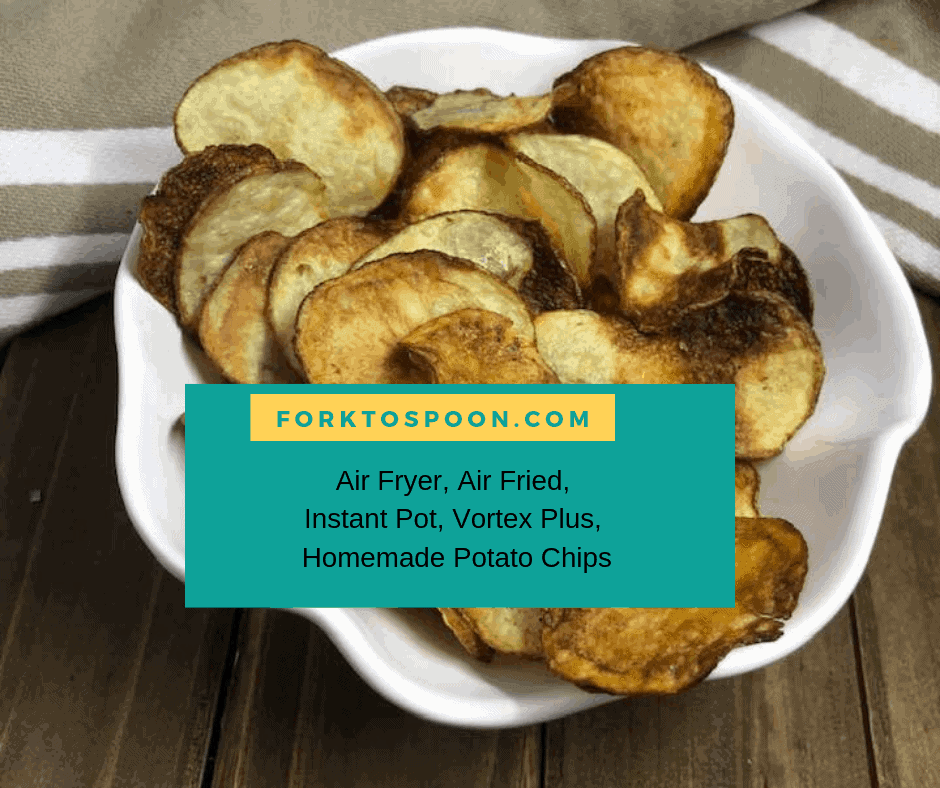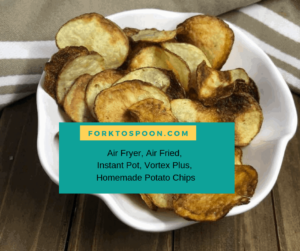 Yummy!
Air Fryer, Air Fried, Instant Pot, Vortex Plus, Homemade Potato Chips
There is nothing quite like a meat and potato meal. It is one of the most classic meals, you have in America.
Everyone loves potatoes!  And good to know that there are hundreds of ways to cook them. Whether you want to use the Instant Pot (Pressure Cooker), air fryer or just make them in your oven, they all full of flavor. The key to a great dish is spices, you need to use lots of different spices in your potato dish until you find one that you really like on potatoes. I used to hate salt on my potatoes, but my son loves them, so one day, I let him season them. I realize that good old salt and pepper, applied in LARGE quantities, really seasoned the potatoes well, so after that, I used to add more than I usually did, and everyone complimented me on my potato dishes. So, experiment, find out what spice you like and adapt it to any potato recipe.
Another great reason for using potatoes as your side dish is that they are so budget-friendly, these are usually on sale at the grocery store, at least twice a month, so take that time and grab yourself a package/bundle.  You can literally turn one package of potatoes for about $3.00 for a 5-pound bag, into about 3 dishes. So, that's a real budget saver.
Potatoes are used around the world for dishes, in Italy, they use potatoes to make gnocchi, in Africa, they make North African potato soup. They are able to be stored for a long time, which is why, before refrigeration, they used tons of them.
Here are some great hints for storing potatoes:
Store potatoes in a cold, well-ventilated area.
Never store potatoes in the refrigerator, any temperature lower than 50 degrees F, changes the texture of the potato and will affect the taste of the potato dish.
If you do choose to store potatoes in the refrigerator, let them slowly come to room temperature, before you cook the potatoes.
Paper bags work amazingly when you are storing potatoes
Do not wash potatoes, before storing.
If your potatoes have started to sprout, do not despair, just simply cut the sprout off, they are still safe to eat.
If your potatoes have turned green, this is due to a chemical called  Solanine, that means that the potato should be discarded, note: eating them in large quantities can cause you to get ill, so it's best to throw away.
Kitchen Items Used: (Note: Affiliate links are included in this post)
J.A. Henckels 6-Inch High Carbon Stainless Steel Chef's Kitchen Knife Stainless Steel Measuring Cups, 5 Piece Set

Hudson Essentials Stainless Steel Measuring Cups Set-6 Piece Stackable Set with Spout

Anchor Glass Measuring Set–This is one of the handiest tools in the Kitchen 

OXO Good Grips 12 Inch Stainless-Steel Locking Tongs
Don't Forget to Pin—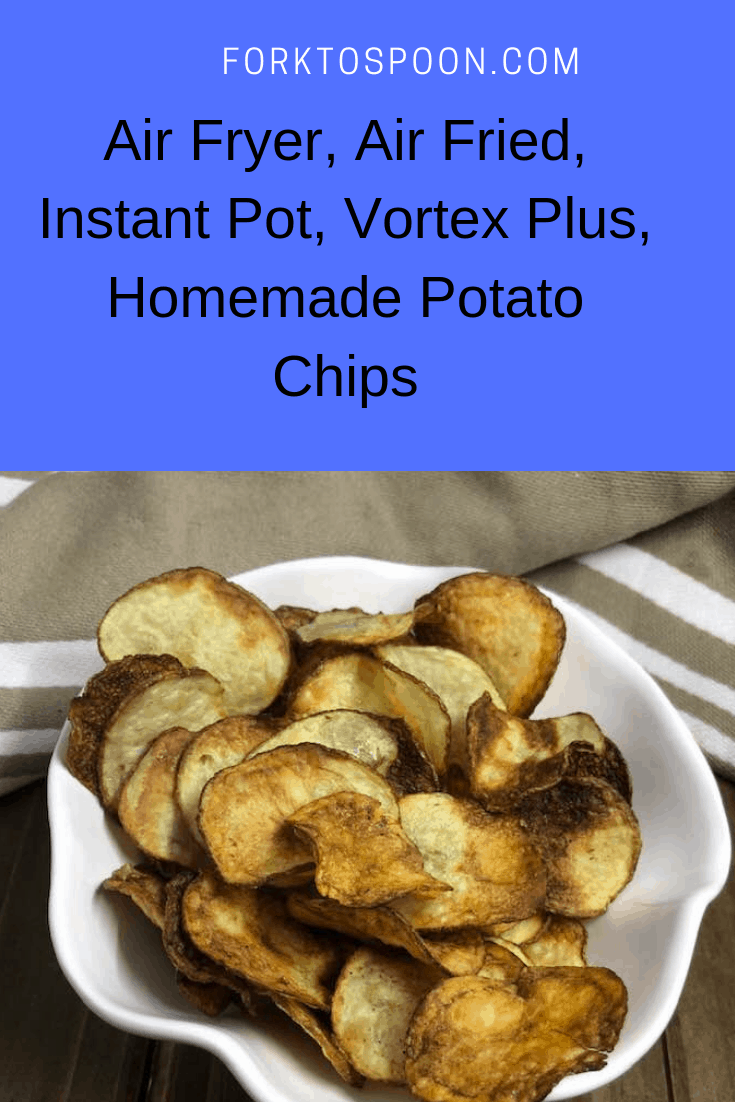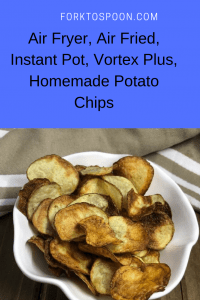 Print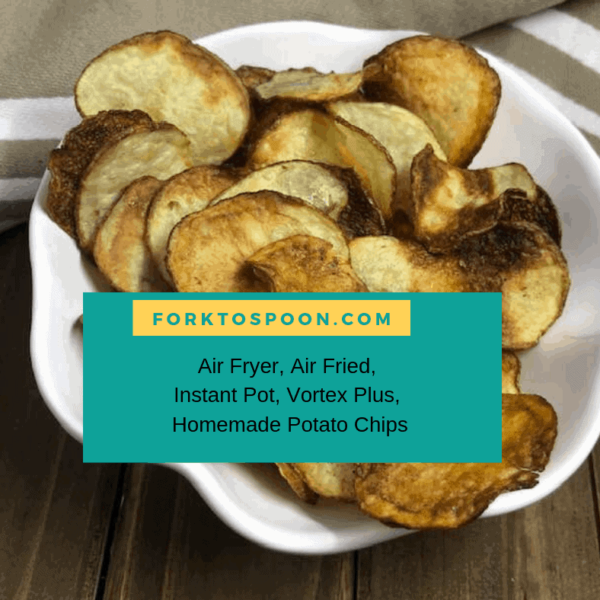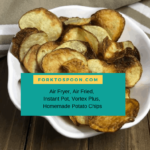 Air Fryer, Air Fried, Instant Pot, Vortex Plus, Homemade Potato Chips
---
2

russsett potatoes

2 tablespoons

olive oil

1

tsapoon salt
---
Instructions
Start by washing and drying the potatoes.

Using a Mandoline, cut the potatoes, I cut them at 1-mm slices.

Continue to slice, until all of your potaotes are cut.

In a small bowl, mix with the olive oil, salt, and mix well, so all of your potatoes are coated.

Spread them out on your cooking tray,

Cook in 3-minute batches at 370 degrees, until you get them the way you want them. I air-fried them for 3 minutes, and then flipped and then another 3 minutes and then flipped and then another 3 minutes, then took them out, added more salt and 
Plate serve and enjoy!

---