Air Fryer Copycat Recipes — If you're a fan of your favorite restaurant dishes or crave those famous fast-food flavors but want a healthier, homemade twist, you're in for a treat!
Today, we've compiled a list of mouthwatering recipes that let you recreate restaurant-quality dishes in the comfort of your own kitchen using an air fryer.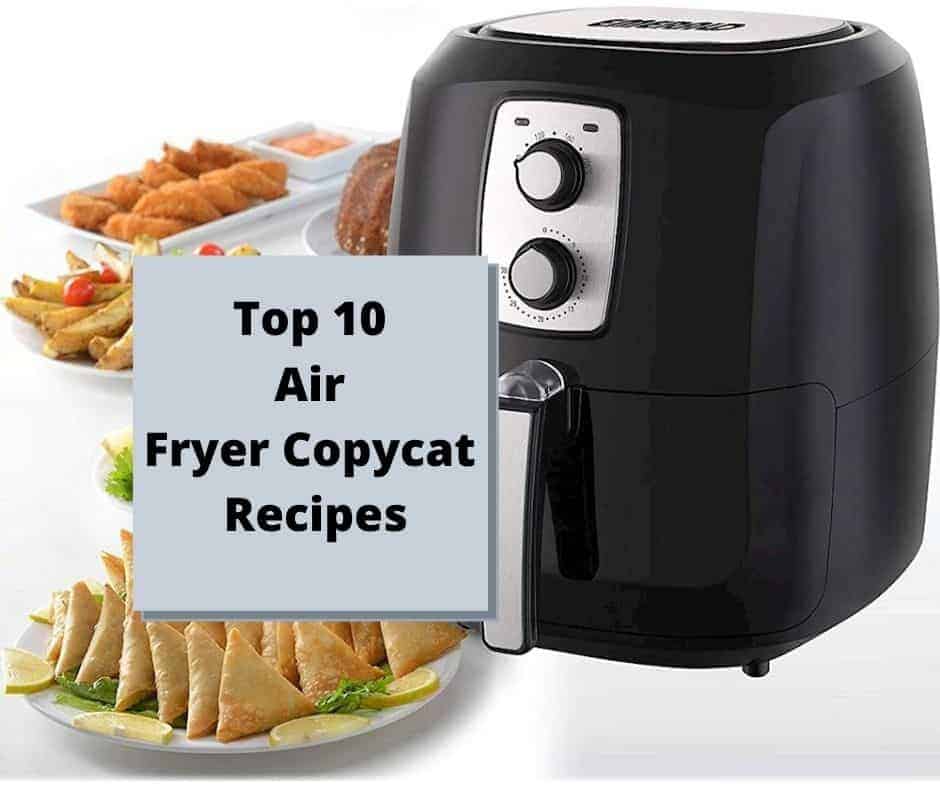 From crispy chicken tenders to perfectly seasoned fries and delectable desserts, these recipes satisfy your cravings while keeping your cooking healthier. Get ready to enjoy the taste of your favorite restaurant dishes without leaving your home, and discover the magic of air frying!
Here are some of my favorite copycat recipes that I have done in my air fryer. I love that I can make these at my house, and they are so much healthier than the original. I hope you enjoy it!
Air Fryer Copycat Recipes
Making copycat recipes in the air fryer is a delightful culinary journey that brings the flavors of your favorite restaurant dishes right to your kitchen. Whether you're a fan of fast food classics, iconic restaurant recipes, or popular snacks, the air fryer allows you to recreate these dishes with ease.
The beauty of using an air fryer for copycat recipes lies in its ability to produce crispy and perfectly cooked results with minimal oil. It's a healthier alternative to traditional frying methods, which often involve deep-frying in large amounts of oil. With the air fryer's hot air circulation, you can achieve that coveted crispy texture on the outside while keeping the inside tender and flavorful.
Additionally, making copycat recipes at home not only allows you to enjoy your favorite dishes more often but also gives you the flexibility to customize them to your liking. You can adjust ingredients, seasonings, and portions to create a personalized version of your beloved restaurant meals. Whether you're cooking for yourself, your family, or entertaining guests, these recipes offer convenience, flavor, and the satisfaction of a homemade meal that tastes just like the real thing. So, get ready to explore a world of culinary delights and enjoy the magic of restaurant-quality dishes made right in your own kitchen.
Top 10 Air Fryer Copycat Recipes










Why You Will Love These Air Fryer Copycat Recipes
You'll absolutely love these recipes for several reasons:
Restaurant-Quality at Home: These recipes allow you to recreate the taste and texture of your favorite restaurant dishes without dining out.
Healthier Cooking: Using an air fryer significantly reduces the oil needed to achieve crispy and delicious results, making these copycat recipes a healthier alternative.
Time-Saving: Air frying is known for its quick cooking times, so you can enjoy your favorite meals in a fraction of the time it would take in a traditional oven or stovetop.
Customizable: You can easily tailor these recipes to suit your dietary preferences and flavor preferences, ensuring that every bite is just the way you like it.
Family-Friendly: Many of these recipes are family favorites and will surely be a hit with everyone at the dinner table.
Versatile: The air fryer is a versatile kitchen appliance that can handle various dishes, from appetizers to main courses and even desserts. You'll find a variety of options in this collection.
Whether you're craving the taste of your favorite fast food, want to recreate a restaurant classic, or enjoy trying new dishes, these recipes have got you covered. Get ready to embark on a culinary adventure from the comfort of your own kitchen!
Don't Forget To Pin!