If you're looking for an easy yet flavorful spin on fried chicken, the Ninja Foodi is here to save the day! This versatile multi-cooker can create a crispy and crunchy coating with minimal effort. So gather your ingredients, fire up that Ninja Foodi—it's time to learn how to make some delicious Ninja Foodi Fried Chicken!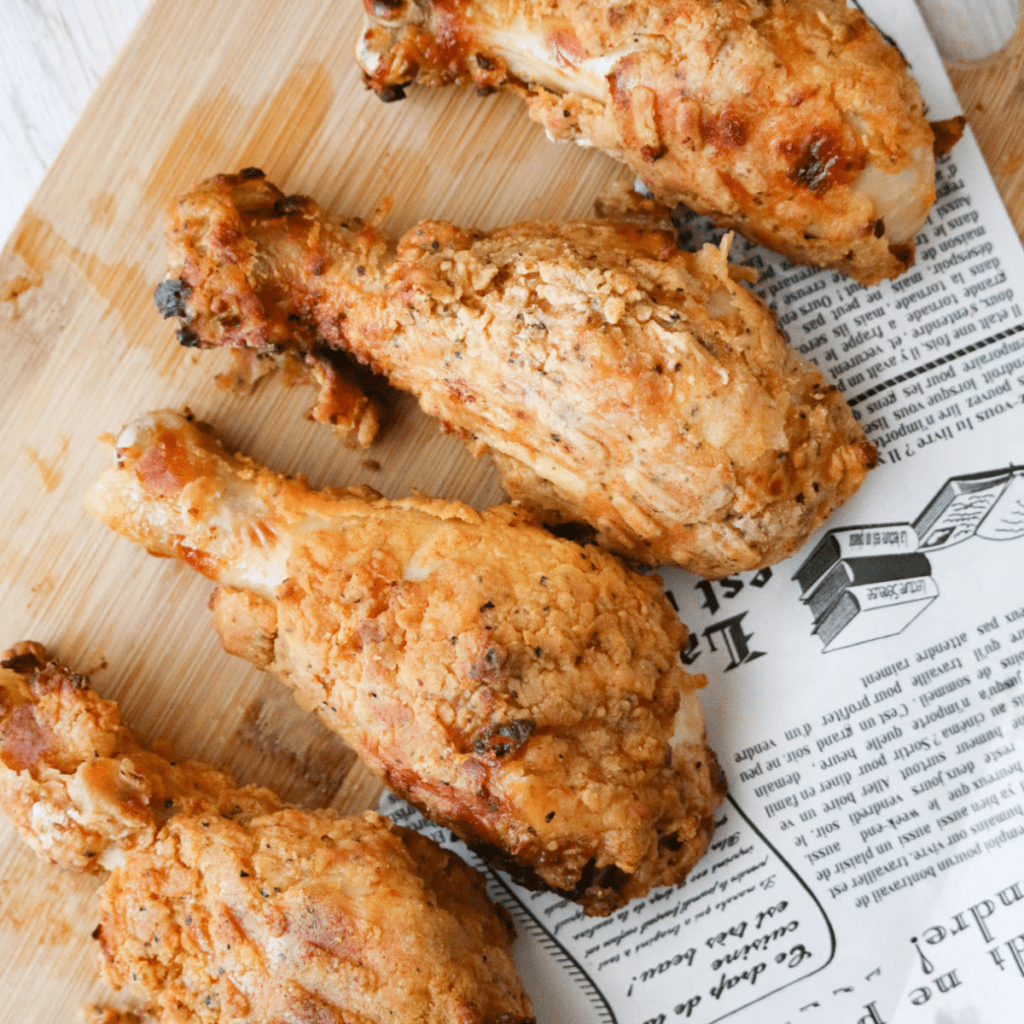 Who doesn't love fried chicken? Crispy, crunchy, and oh-so flavorful – it's a classic Southern favorite that never gets old. Now you can get all the great taste of fried chicken without any hassles using your Ninja Foodi!
With this easy-to-follow Ninja Foodi Fried Chicken recipe, you'll have dinner ready quickly! Not only is it quicker and easier than traditional frying methods, but you also don't ever need to deal with all those pesky splatters.
Plus, unlike deep frying in oil, healthy air frying provides a guiltless indulgence of golden perfection—no more greasy mess or fussing over every little step –just healthier crispy convenience at your fingertips. So go ahead and treat your family to delicious homemade fried chicken tonight – it's simpler than ever with the Ninja Foodi!
Ninja Foodi Fried Chicken
The Ninja Foodi Fried Chicken is one of the most delicious and healthy dishes you can make at home. It's made with fresh ingredients, including chicken breasts, spices, flour, eggs, and oil.
The chicken is then cooked in the Ninja Foodi to create a crispy exterior and juicy interior. This dish is perfect for game day, family dinners, or snacks. Plus, it's simple and straightforward to make in the Ninja Foodi.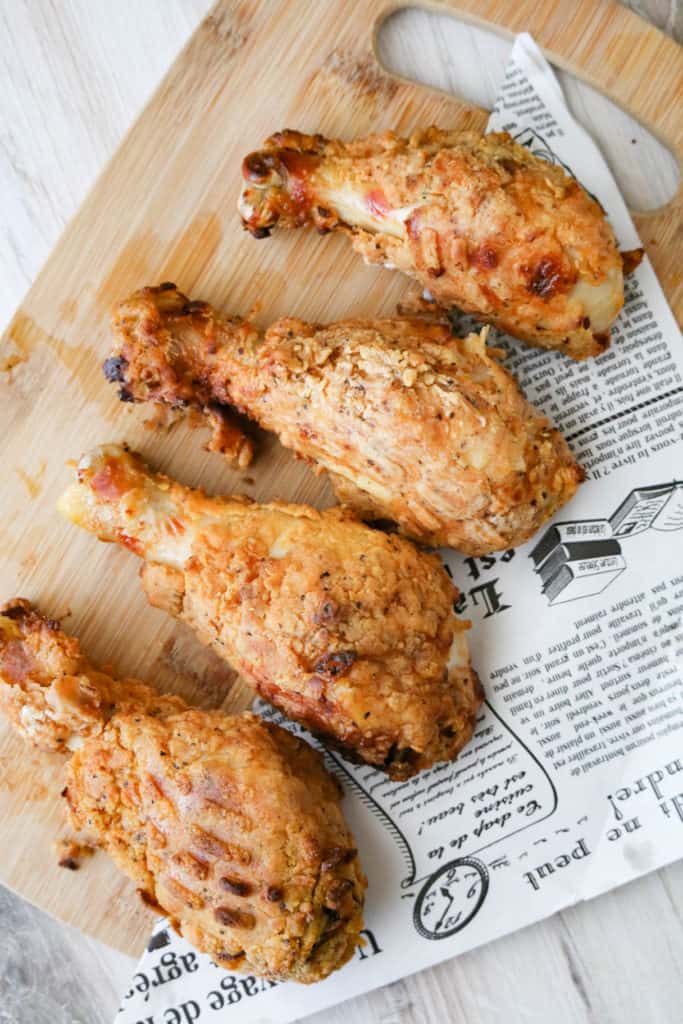 Can You Cook Fried Chicken In Ninja Foodi
Yes, you can cook fried chicken in the Ninja Foodi. The Ninja Foodi is a popular multi-cooker that combines an oven and pressure cooker, perfect for cooking crispy yet juicy fried chicken. This recipe only uses a little oil if you want a healthier alternative to your deep fryer.
The hot air circulating around the air fryer basket makes for a delicious and crispy chicken dish!
Ingredients Needed For Ninja Foodi Fried Chicken
Making fried chicken is a real art form—it's not as easy as it looks! But if you take the time to get your ingredients prepped and ready, you can make delicious and juicy Ninja Foodi Fried Chicken that will have everyone craving more.
Today, we'll explore what ingredients are necessary for making Ninja Foodi Fried Chicken. We'll also review some tips and tricks when preparing the best version possible. So, without further ado, let's get into cooking some incredible fried chicken with your Ninja Foodi!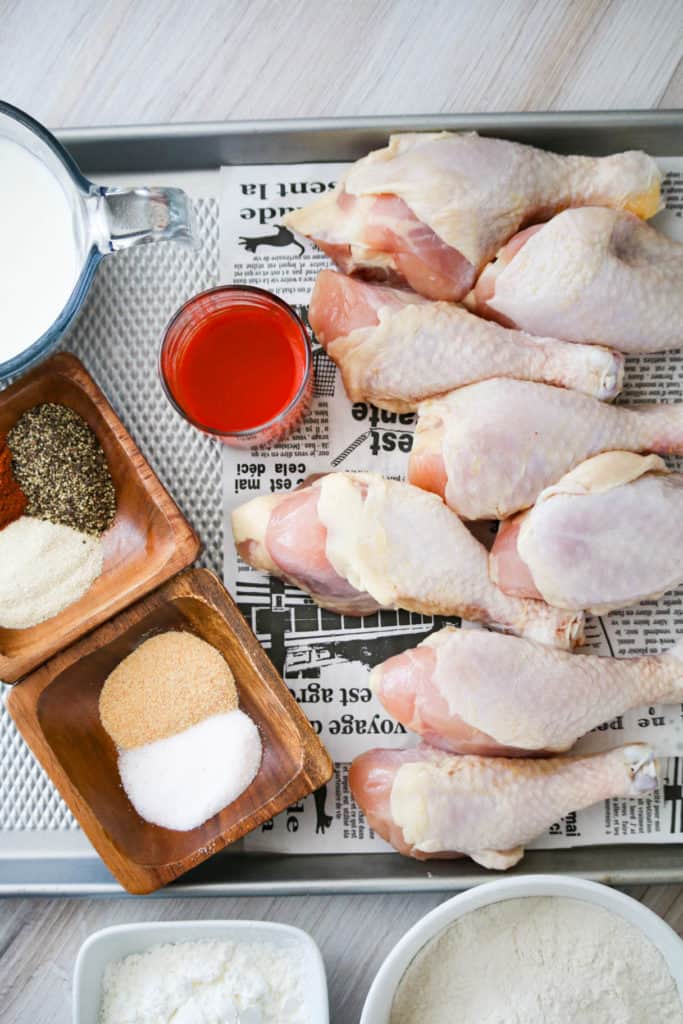 Remember the step-by-step directions below in the printable recipe card and the nutritional information at the bottom of the page.
Chicken: You can use chicken legs, drumsticks, breasts, or wings. Any uncooked chicken part will work in this recipe.
Buttermilk: This will give you a tremendously moist fried chicken.
All-Purpose Flour: I you want to make this recipe gluten-free, you can use gluten-free all-purpose flour.
Cornstarch and Baking Powder: This will help crisp up your fried chicken.
Seasoning Mix: Hot Sauce, Smoked Paprika, Onion Powder, Garlic Powder, Kosher Salt, Black Pepper
Olive Oil: Use any high-heat oil, such as avocado oil, grapeseed oil, or extra virgin olive oil.
How To Cook Fried Chicken In Ninja Foodi Recipe
Cooking fried chicken in a Ninja Foodi is relatively straightforward. Here's what you'll need to do: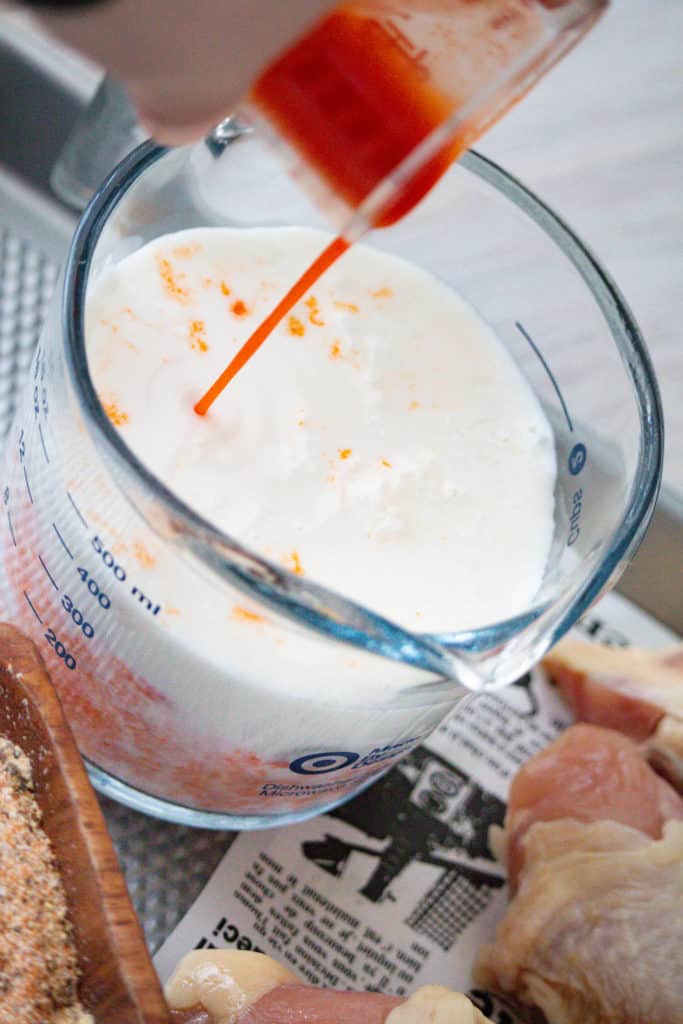 Step One: Prepare your Brine and Prepare Your Spice Mixture
Start by using a paper towel, and dry the chicken. Add the smoked paprika, onion powder, garlic powder, salt, and pepper in a shallow bowl. Add the hot sauce and buttermilk to a large bowl, and mix well until combined. Add in half of the seasonings.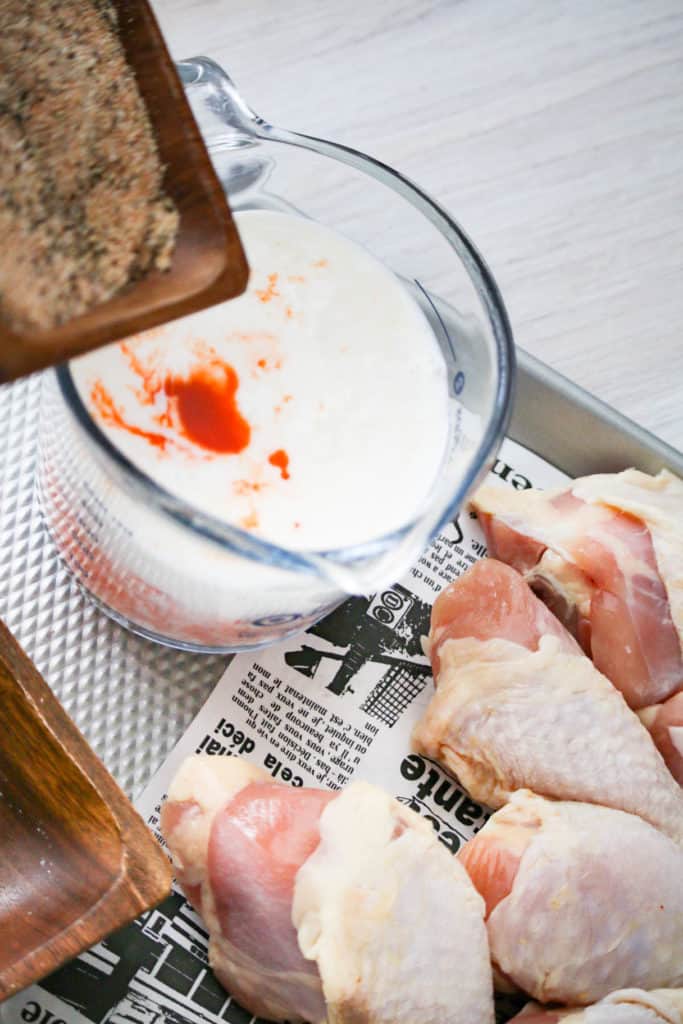 Step Two: Marinade Your Chicken To The Brine
Pour your buttermilk mixture into a large resealable plastic bag, then place the chicken in the bag. Let soak for about 1-2 hours or even overnight.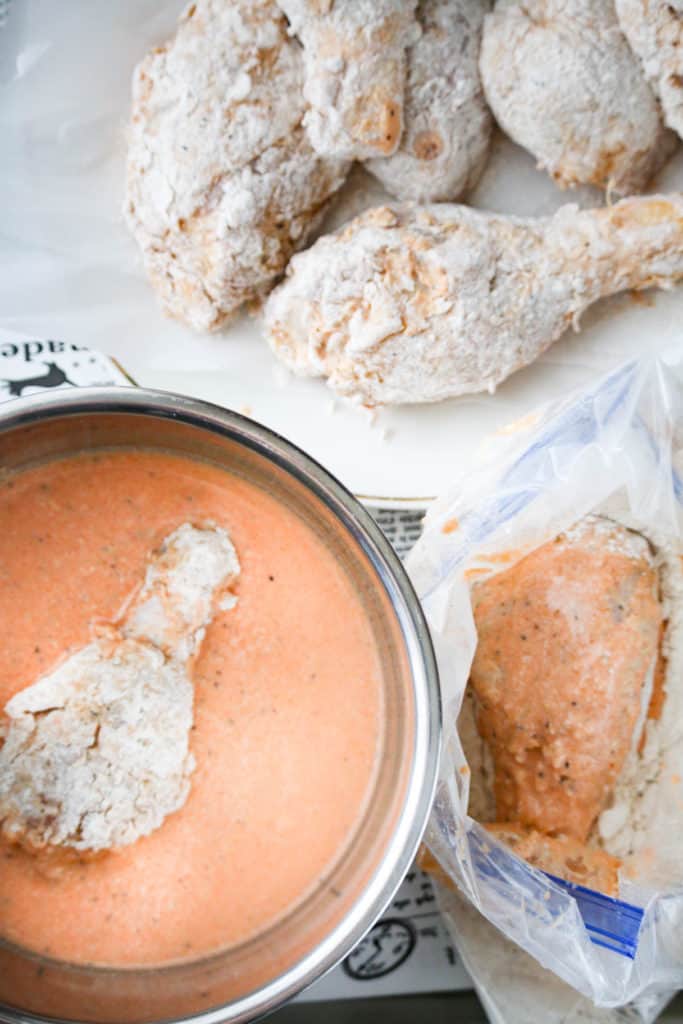 Step Three: PrepareThe Dredge
Add the cornstarch, baking powder, and the rest of the seasoning mix in a large bowl, and mix well. Remove the piece of chicken from the brine, drain, add your chicken legs, and coat the chicken. Finish breading the chicken, and set them on a wire rack or baking sheet.
Then recoat the chicken with the brine and then dredge the chicken again in the flour mixture.
Step Four: Air Fry The Fried Chicken
Preheat the Ninja Foodi to 360 degrees F, place the chicken onto the trivet or the bottom of the air fryer, and then add the lid to the Ninja Foodi; set the cooking time for 20 minutes, flipping halfway during the cooking process. For the best results, brush the chicken's coating with olive oil, or spray it with cooking spray.
Remove when the chicken's internal temperature reaches 165 degrees F, using a meat thermometer.
Step Five: Serving
Serve with a dipping sauce or with additional seasonings.
What Are The Best Chicken Parts To Use In This Recipe
Many different types of parts can be used when preparing delicious chicken dishes. I love buying a whole chicken and cutting it up, which will save you some money. It depends on whether you love white meat or dark meat for fried chicken.
Popular chicken parts for making tasty fried chicken include bone-in breasts, bone-in chicken thighs, drumsticks, and chicken wings. Boneless breasts are also a great choice if you want a leaner option. For soups, stews, and braises, dark meat parts like thighs and drumsticks are the best choice as their higher fat content helps keep them moist during long cooking times. Finally, wings can be used in almost any dish for extra flavor or as an appetizer.
Remember, the cooking time will change based on what chicken part you are using. Use a meat thermometer to check the internal temperature before removing the chicken from the Ninja Foodi Pressure Cooker.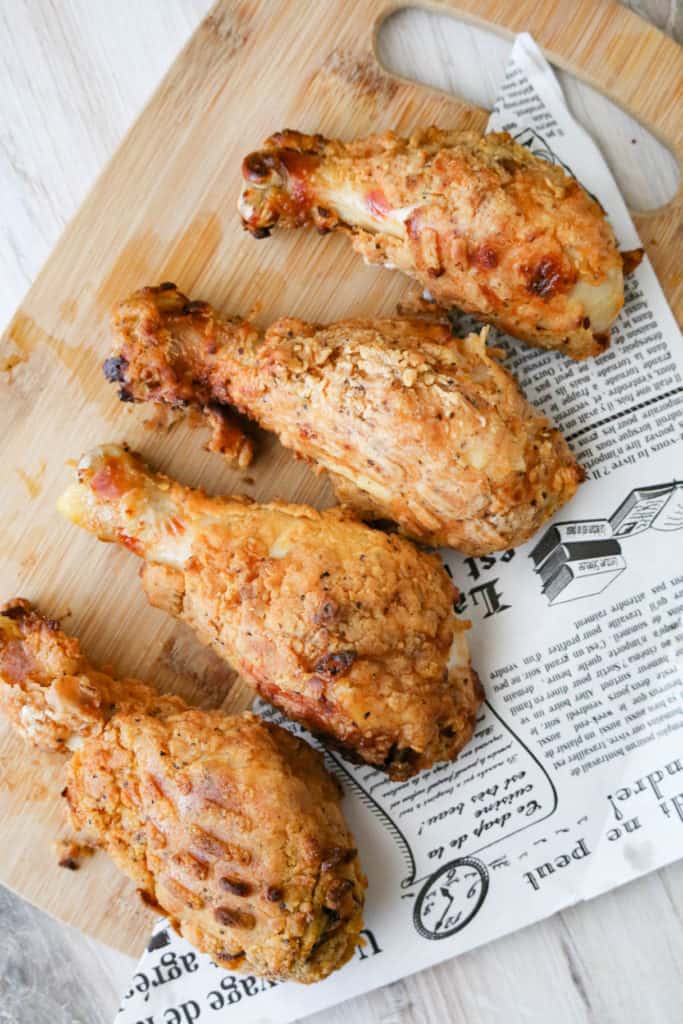 Best Seasonings For Fried Chicken
When it comes to perfectly seasoned fried chicken, you need to think about both the inside and outside of your dish. It is best to add a combination of herbs and spices that complement and enhance the flavor of the chicken. This could include garlic powder, seasoning salt, onion powder, paprika, cayenne pepper, cumin, chili powder, oregano, and thyme.
How To Store Leftover Fried Chicken
Storing leftover fried chicken is simple and easy. The most important thing to remember is to cool the fried chicken before storing it in an airtight container or wrap it tightly with plastic wrap. This will help prevent bacteria growth and keep the chicken fresh for up to four days when stored in the refrigerator.
You can freeze the fried chicken if you want to store it longer. Place the cooled chicken in an airtight container or resealable bag and place it in the freezer. Make sure to label the date to know when it was frozen. Frozen fried chicken will keep for up to three months.
When reheating leftover fried chicken, ensure it is cooked to an internal temperature of at least 165°F. This will ensure that any bacteria present has been destroyed. Use the oven or microwave for reheating, and make sure not to overheat or burn the chicken, as this can dry it out quickly.
Following these steps will help you store your fried chicken properly and enjoy it again later. Remember, safety is key when storing and reheating leftover food.
Following these tips, you can enjoy fried chicken leftovers for up to four days in the refrigerator or three months in the freezer. Cool it down before storing it, and reheat it thoroughly so it is safe to eat. With proper storage techniques, you can enjoy your fried chicken any time!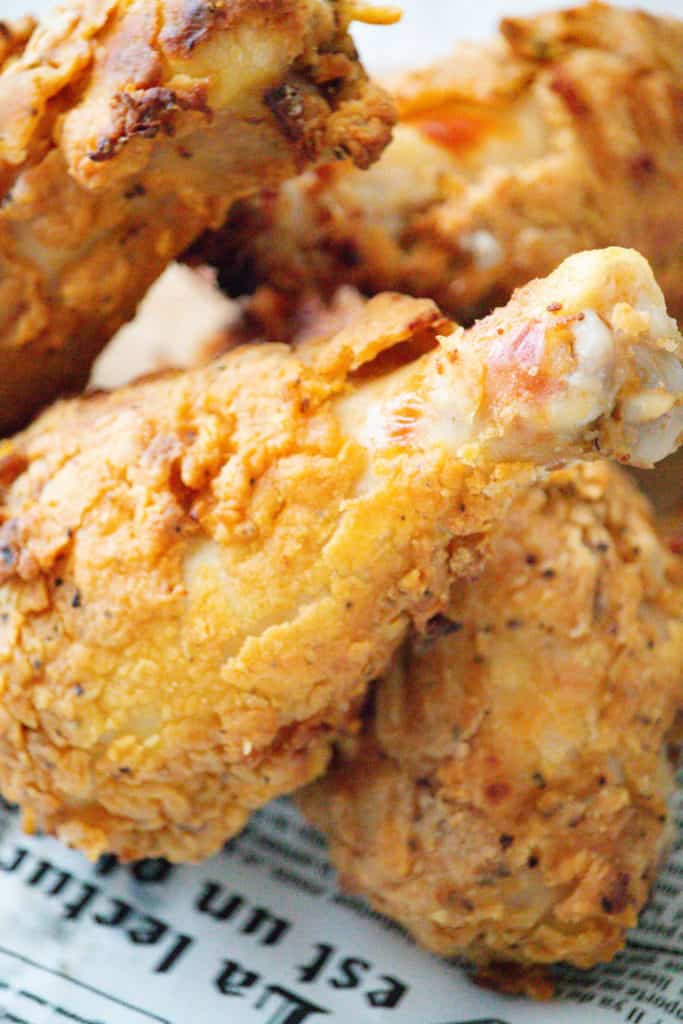 How To Reheat Fried Chicken In Ninja Foodi
Reheating fried chicken in a Ninja Foodi is easy and straightforward. All you need to do is arrange the chicken pieces in one layer on the crisper plate and set the timer for 4-6 minutes at 375°F. The time may vary depending on the size of the chicken pieces, so it is best to keep an eye on the progress. Once the chicken is done, you can use tongs to take it out and serve it with your favorite sides.
Using a Ninja Foodi to reheat fried chicken is convenient and helps retain its texture and flavor. Since Ninja Foodis are steamers and pressure cookers, they create a moist environment that prevents the chicken from drying out or becoming soggy. This ensures that each bite of fried chicken is crispy and juicy, just like when it was first cooked.
What To Serve With Fried Chicken
Fried chicken is a classic dish that will please everyone at the dinner table. But what should you serve with it? That depends on your tastes, but some tried-and-true classics go great with fried chicken.
One popular side dish for fried chicken is mashed potatoes. This indulgent combination of mashed potatoes, butter, and milk can perfectly accompany the fried chicken. Another popular side is coleslaw. The crisp cabbage combined with a creamy dressing provides a great contrast in texture to the fried chicken.
Consider adding air fryer green beans or air fryer roasted vegetables to your plate for veggies. These sides are flavorful and will add some much-needed nutrients to the plate. Roasted vegetables such as carrots, onions, and mushrooms are a great way to add some extra flavor.
You can always opt for a side salad if you want something lighter.
Finally, no meal is complete without some delicious air fryer garlic bread on the side. Air Fryer Cornbread or air fryer biscuits are excellent choices that pair perfectly with fried chicken. They provide a great way to soak up all the delicious juices from the chicken and add an extra layer of flavor.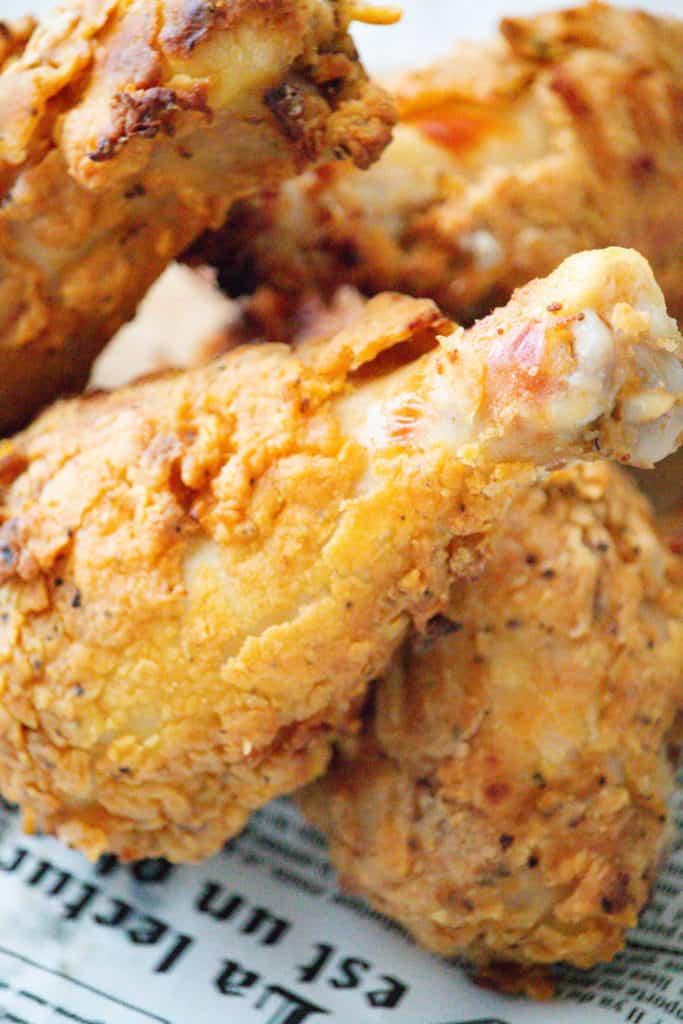 More Air Fryer Recipes
Don't Forget To Follow Us Along on Social Media; Instagram, Facebook, and TikTok, and Join Our Facebook Page and group for all your Air Fryer Recipes and Tips!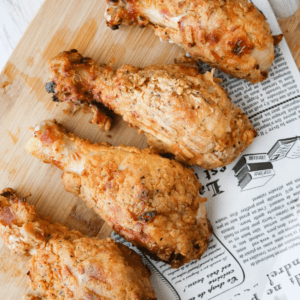 Ninja Foodi Fried Chicken
Description
If you're looking for an easy yet flavorful spin on fried chicken, the Ninja Foodi is here to save the day! This versatile multi-cooker can create a crispy and crunchy coating with minimal effort. So gather your ingredients, fire up that Ninja Foodi—it's time to learn how to make some delicious Ninja Foodi Fried Chicken!
Ingredients
Fried Chicken Brine:
1 1/2

cup

buttermilk

,

see recipe below for buttermilk

1/4

cup

hot sauce
Seasoning Mix/Seasoning Blend:
1

tablespoon

smoked paprika

1

tablespoon

onion powder

1

tablespoon

garlic powder

1

tablespoon

kosher salt

,

or sea salt

1

tablespoon

black pepper
Chicken:
2-3

pounds

chicken

,

drumsticks, legs, breast or wings
Flour Mixture:
1 1/2

cups

all-purpose flour

1/2

cup

cornstarch

1

teaspoon

baking powder
Other:
1/8

cup

olive oil

,

or cooking spray
Instructions
Start by using a paper towel, and dry the chicken.

Add the smoked paprika, onion powder, garlic powder, salt, and pepper in a shallow bowl.

Add the hot sauce and buttermilk to a large bowl, and mix well until combined. Add in half of the seasonings.

Pour your buttermilk mixture into a large resealable plastic bag, then place the chicken in the bag. Let soak for about 1-2 hours or even overnight.

Add the cornstarch, baking powder, and the rest of the seasoning mix in a large bowl, and mix well. Remove the piece of chicken from the brine, drain, add your chicken legs, and coat the chicken. Finish breading the chicken, and set them on a wire rack or baking sheet.

Then recoat the chicken with the brine and then dredge the chicken again in the flour mixture.

Preheat the Ninja Foodi to 360 degrees F, place the chicken onto the trivet or the bottom of the air fryer, and then add the lid to the Ninja Foodi; set the cooking time for 20 minutes, flipping halfway during the cooking process. For the best results, brush the chicken's coating with olive oil, or spray it with cooking spray.

Remove when the chicken's internal temperature reaches 165 degrees F, using a meat thermometer.

Serve with a dipping sauce or with additional seasonings
Equipment
Ninja Foodi,

Crisp Basket, and Crisp Lid
Notes
How To Make Buttermilk:
1.5 cups of milk with 1.5 teaspoons of lemon juice or white vinegar
Nutrition
Serving:
1
g
Calories:
302
kcal
Carbohydrates:
30
g
Protein:
15
g
Fat:
13
g
Saturated Fat:
4
g
Polyunsaturated Fat:
2
g
Monounsaturated Fat:
6
g
Trans Fat:
0.1
g
Cholesterol:
46
mg
Sodium:
1212
mg
Potassium:
251
mg
Fiber:
1
g
Sugar:
3
g
Vitamin A:
598
IU
Vitamin C:
7
mg
Calcium:
101
mg
Iron:
2
mg