Mango Habanero Salsa — If you're a fan of spicy food, then this mango habanero salsa recipe is for you. This salsa combines the sweetness of mangos with the spice of habaneros to give it an extra kick. The best part about making your own homemade salsa is that you can adjust the spiciness to your preference!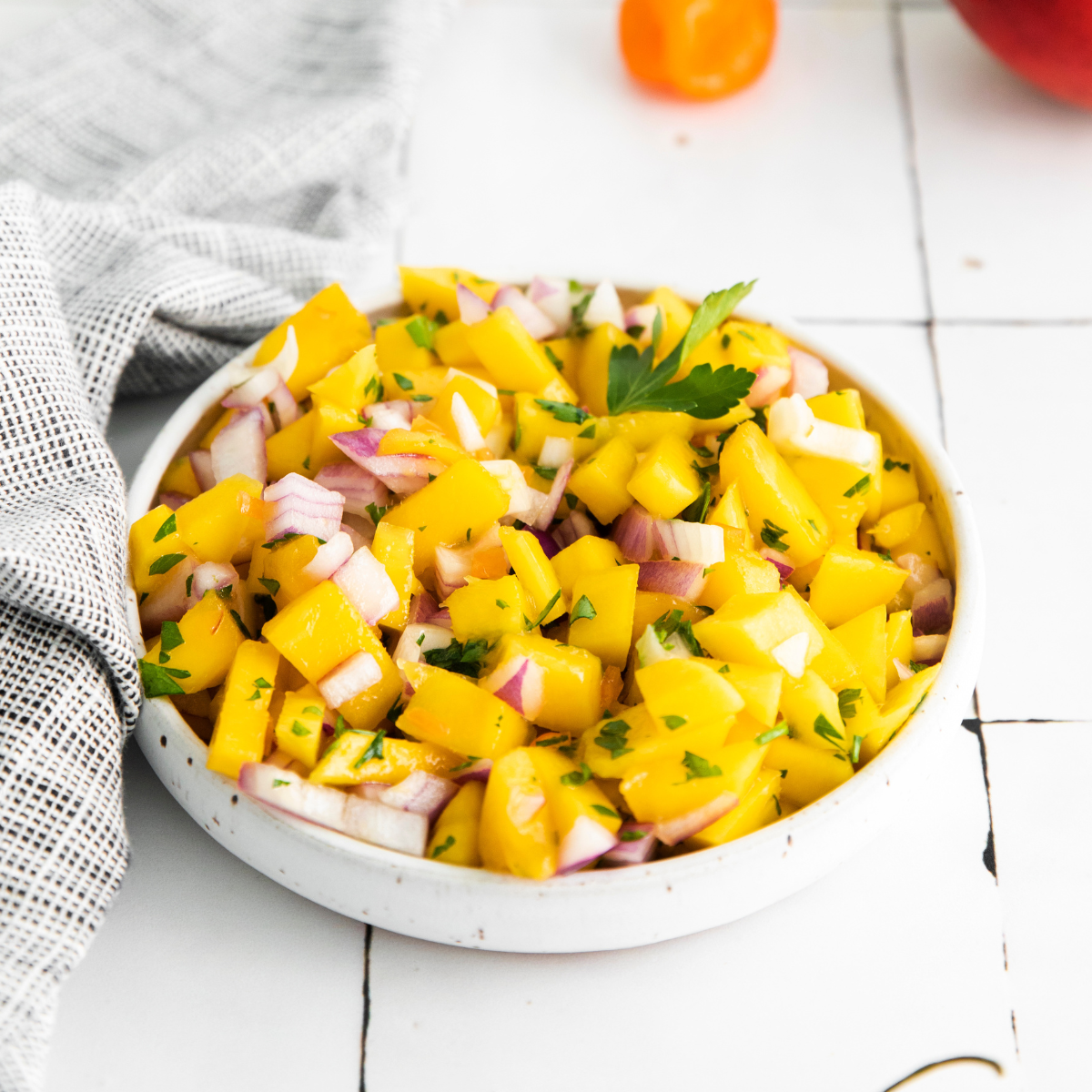 Mango Habanero Salsa is an excellent addition to your menu, and if you are looking for the perfect salsa to serve to your family or guest, this is one of my favorites.
Created with fresh mangos and spiced up with habanero peppers and red onions, this is perfectly seasoned and goes with everything.
This is so good! If you love mangos, you will absolutely love this salsa. It is made in a few minutes and is an excellent addition to anything from grilled chicken to steak or even a salmon dinner! It's great.
If you are looking for even more homemade salsa recipes, some of my favorites are AIR FRYER SALSA, HOMEMADE INSTANT POT SALSA, and COPYCAT CHILI'S SALSA.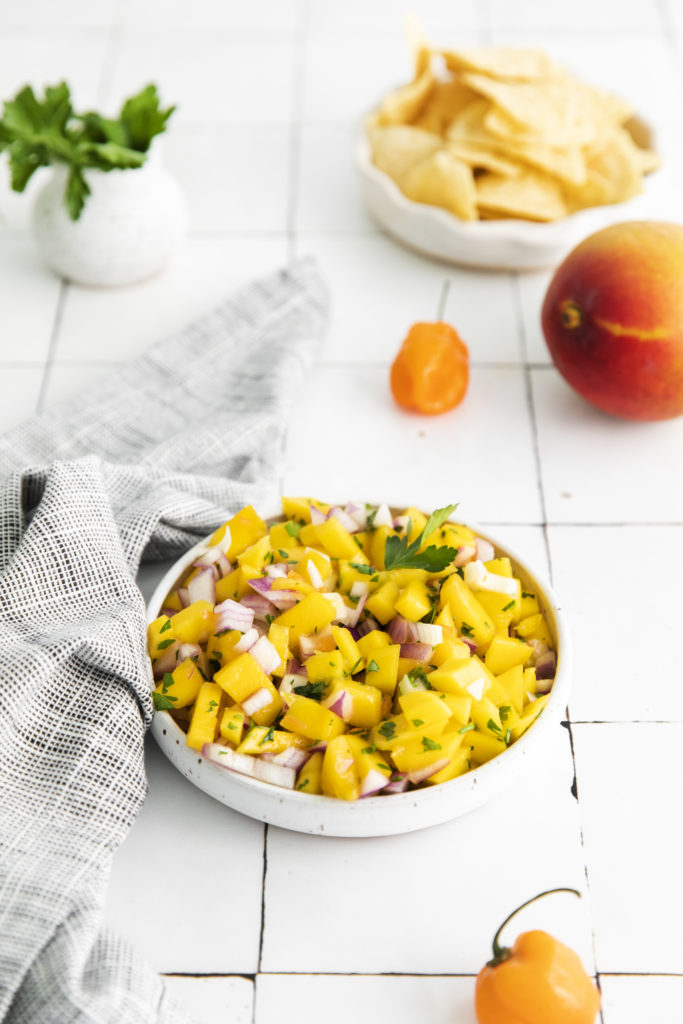 The Best Mango Habanero Salsa Recipe
There are several reasons why this Mango Habanero Salsa recipe might be considered the best:
Flavor Combination: Combining sweet, juicy mangoes and spicy habanero peppers creates a delightful balance of flavors. The sweetness of the mangoes complements the heat of the habaneros, resulting in a salsa that is both fruity and spicy.
Fresh and Natural Ingredients: The recipe likely uses fresh ingredients such as ripe mangoes, habanero peppers, onions, lime juice, cilantro, and other seasonings. Fresh ingredients often contribute to a vibrant and more delicious salsa.
Customizable Heat Level: Habanero peppers are known for their significant heat, but this recipe might allow for adjusting the spiciness to personal preference. You can control the salsa's heat level by adding more or fewer habaneros or even removing the seeds and membranes.
Versatility: Mango Habanero Salsa can be used in various ways, making it versatile in the kitchen. It can be enjoyed as a dip with tortilla chips, used as a topping for tacos, grilled meats, or seafood, or even incorporated into other dishes to add a unique twist.
Visual Appeal: The vibrant colors of the mangoes, habaneros, and other ingredients create an eye-catching, visually appealing salsa. A visually appealing dish can enhance the overall dining experience.
Unique and Exciting: Mango Habanero Salsa stands out from traditional salsas due to its unique flavor profile. It offers a departure from the more common tomato-based salsas, providing an exciting alternative that impresses and surprises taste buds.
Popularity: If this recipe is widely regarded as the best, it might be because it has gained popularity and received positive feedback from a large number of people who have tried it.
Ingredients Needed For Mango Habanero Salsa
With its tantalizing combination of sweet and spicy flavors, mango habanero salsa is a crowd-pleasing condiment that's perfect for spicing up tacos, chips, rice bowls, and more. Though not complicated to whip together, several essential ingredients are needed to ensure the salsa has just the right taste.
Here we'll show you the key components necessary to create this sublimely delicious treat so that you can enjoy it any time!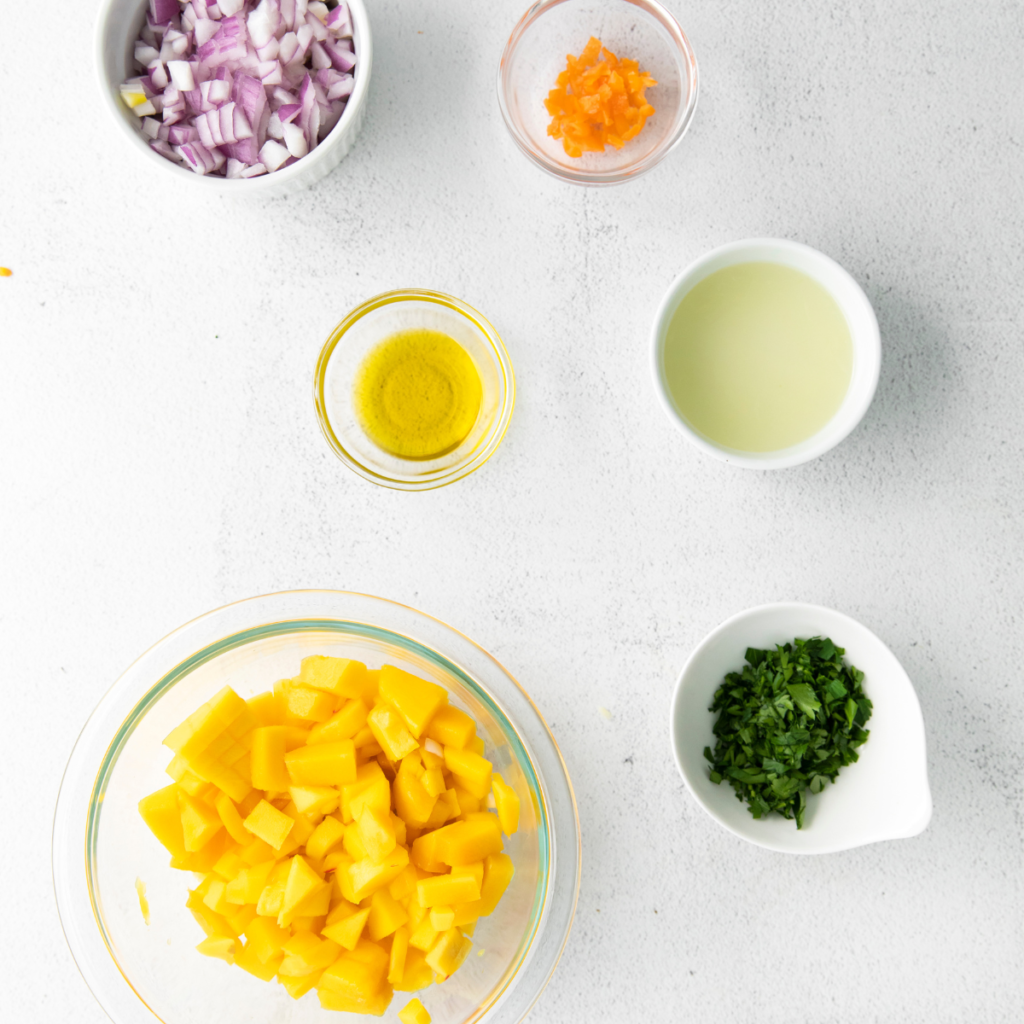 Remember the step-by-step directions, detailed ingredient list are below the printable recipe card at the bottom of the post, and nutritional information.
Ripe Mangoes: At the heart of this salsa lies the star ingredient—ripe mangoes. Look for fragrant and firm mangoes yet slightly yielding to the touch. The sweetness of ripe mangoes complements the heat of the habanero peppers, resulting in a delightful flavor combination.
Habanero Peppers: Known for their intense heat, habanero peppers add the signature kick to this salsa. Select peppers that are vibrant in color and free from blemishes. Remember that habaneros are fiery, so adjust the quantity based on your desired spice level.
Red Onion: For a touch of sharpness and crunch, red onion is an essential component. Its slightly pungent flavor helps to balance the sweetness of the mangoes and adds a pleasant textural element to the salsa. Finely dice the red onion to ensure even distribution throughout the salsa.
Lime Juice: The tangy acidity of lime juice adds a zesty and vibrant element to the salsa. It not only enhances the overall flavor but also helps to preserve the color and freshness of the ingredients. Squeeze fresh lime juice just before serving to maximize its flavor.
How To Make Mango Habanero Salsa
Are you looking for a twist on the classic salsa recipe? Mango habanero salsa combines sweet and spicy into one flavorful dish. This delicious condiment is perfect for topping tacos, nachos, fish dishes, or even just chips! Not only does this zesty salsa provide an extra kick of flavor to your meal, but it's also surprisingly easy to make in your own kitchen. Read on to learn what ingredients you need and how long it takes to whip up this mouth-watering side dish.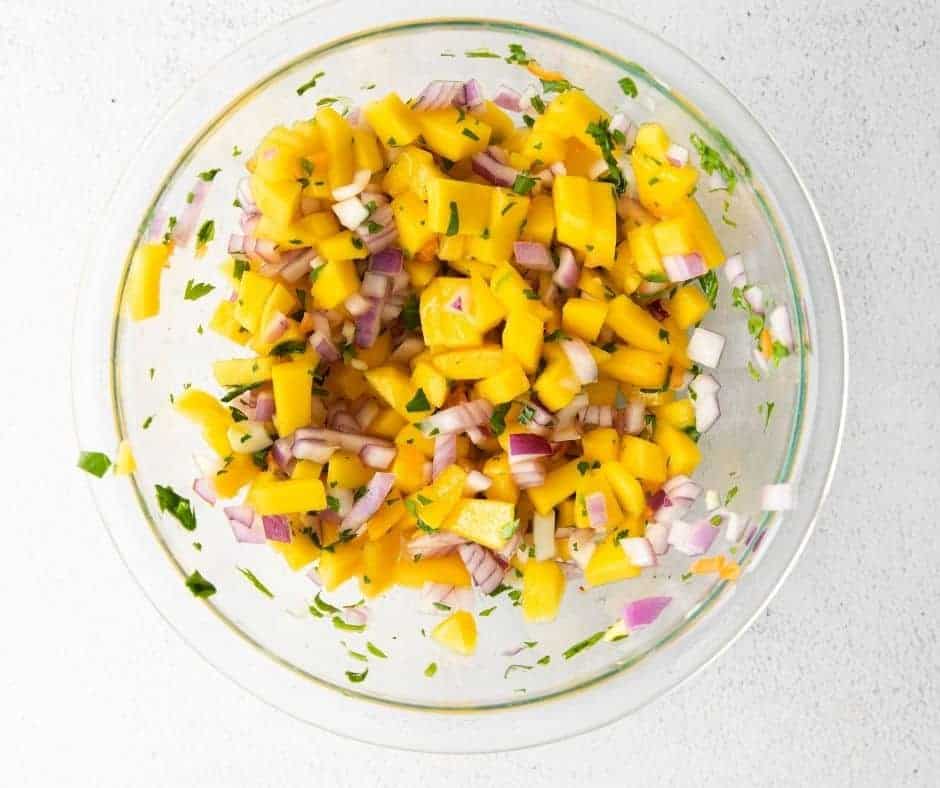 In a large mixing bowl, combine all of the ingredients and stir well. Chill until ready to serve.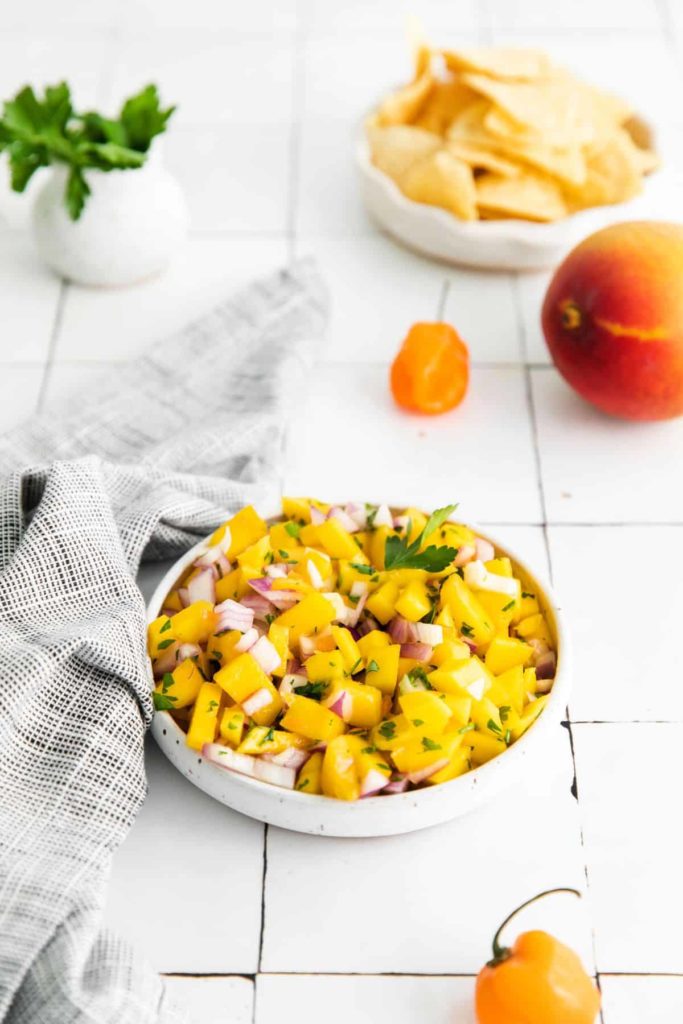 Pro Tips For The Best Habanero Salsa Recipe
Creating the best Habanero Salsa requires a careful balance of flavors and attention to detail. Here are some pro tips to help you achieve salsa perfection:
Choose Ripe and Flavorful Ingredients: Opt for ripe mangoes that are sweet and fragrant. Look for habanero peppers that are vibrant in color and fresh. Select onions that are firm and have a mild flavor. Using the freshest and most flavorful ingredients will enhance the overall taste of your salsa.
Handle Habanero Peppers with Care: Habanero peppers are known for their heat, so handling them with caution is essential. Wear gloves while handling and chopping habaneros to avoid skin and eye irritation. Be cautious when removing the seeds and membranes, as they contain most of the heat. Adjust the number of habaneros based on your preferred spice level.
Balance Sweetness and Heat: The key to a great Habanero Salsa is balancing sweetness and heat. Taste your salsa as you go and adjust the ratio of mangoes to habaneros to achieve the desired level of spiciness. You want the flavors to complement each other rather than overpowering one another.
Finely Dice Ingredients: Ensure that your mangoes, onions, habaneros, and cilantro are finely diced. This will help distribute the flavors evenly and create a more pleasant texture in every bite. Consistent and uniform chopping also contributes to the salsa's visual appeal.
Let the Flavors Marinate: Once you've combined all the ingredients, let the salsa sit for at least 30 minutes to allow the flavors to meld together. This resting period allows the ingredients to release their juices and develop a more harmonious taste. The salsa will taste even better after the flavors have had a chance to marry.
Adjust Seasonings: Taste your Habanero Salsa before serving and adjust the seasonings as needed. Add a little more salt, lime juice, or even a pinch of sugar to balance the flavors. Remember that small adjustments can make a significant difference in achieving a well-rounded taste.
Experiment and Personalize: Don't be afraid to experiment and personalize the recipe according to your preferences. If you enjoy a specific herb or spice, such as garlic or cumin, feel free to incorporate it into your salsa. Play around with the ingredients until you find the perfect combination that suits your taste.
Store and Serve Properly: Store your Habanero Salsa in an airtight container in the refrigerator. This will help preserve its freshness and flavors for a longer period. Serve the salsa chilled to enhance the refreshing and vibrant experience.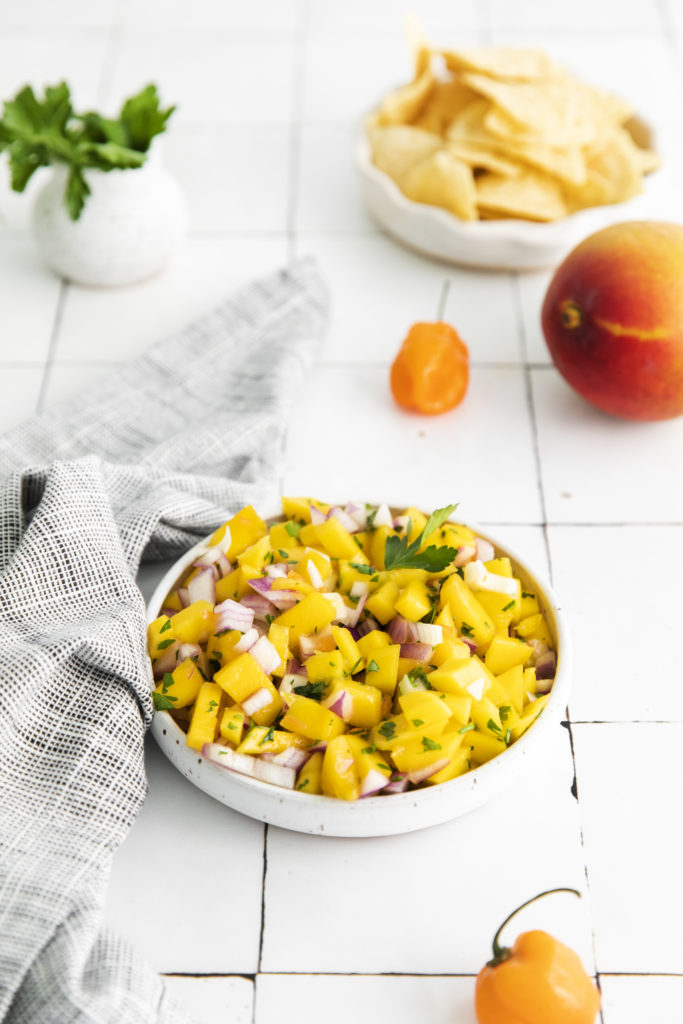 Mango Habanero Salsa is a versatile condiment that can be customized and adapted to suit various tastes and preferences. Here are a few exciting variations you can explore:
Tropical Fruit Medley: Expand the fruit profile of your salsa by adding other tropical fruits alongside mangoes. Pineapple, papaya, or even diced kiwi can bring a delightful sweetness and a unique twist to the salsa. Experiment with different combinations to find your favorite tropical fruit medley.
Grilled or Roasted Ingredients: For a smoky and charred flavor, try grilling or roasting some of the ingredients before making the salsa. Grilling the mangoes, habanero peppers, and onions adds a delicious depth to the salsa. Once grilled, chop them up and proceed with the recipe as usual. The smoky notes will elevate the overall flavor profile.
Sweet and Spicy Fusion: Incorporate additional sweet elements to balance the heat of the habaneros. Add a touch of honey, agave syrup, or even diced sweet bell peppers. The added sweetness will provide a pleasant contrast and make the salsa more accessible to those who prefer milder spice levels.
Citrus Burst: Enhance the tanginess of your salsa by incorporating additional citrus flavors. Add a splash of orange or grapefruit juice and lime juice. The citrusy notes will brighten the salsa and create a refreshing flavor profile.
Herb Infusion: Infuse your Mango Habanero Salsa with herbs to add a layer of complexity. Finely chop fresh herbs like mint, basil, or even coriander (cilantro) and incorporate them into the salsa. The aromatic herbs will complement the sweetness and heat of the salsa, giving it a fresh and vibrant taste.
Creamy Twist: If you enjoy a creamy texture, mix in a dollop of Greek yogurt or sour cream into the salsa. This variation creates a smoother and milder version of Mango Habanero Salsa. The creaminess helps to balance the heat and adds a luscious texture.
Smoky Chipotle Kick: For an intense and smoky flavor, replace the habanero peppers with chipotle peppers in adobo sauce. Chipotle peppers have a unique smokiness that pairs well with the sweetness of mangoes. Chop the chipotle peppers finely and adjust the quantity according to your spice preference.
Remember to adjust the quantities of ingredients and seasonings to achieve the desired flavor profile in each variation. Feel free to combine different ideas or create your own unique twist on Mango Habanero Salsa. The possibilities are endless, so have fun experimenting and discovering your favorite variation.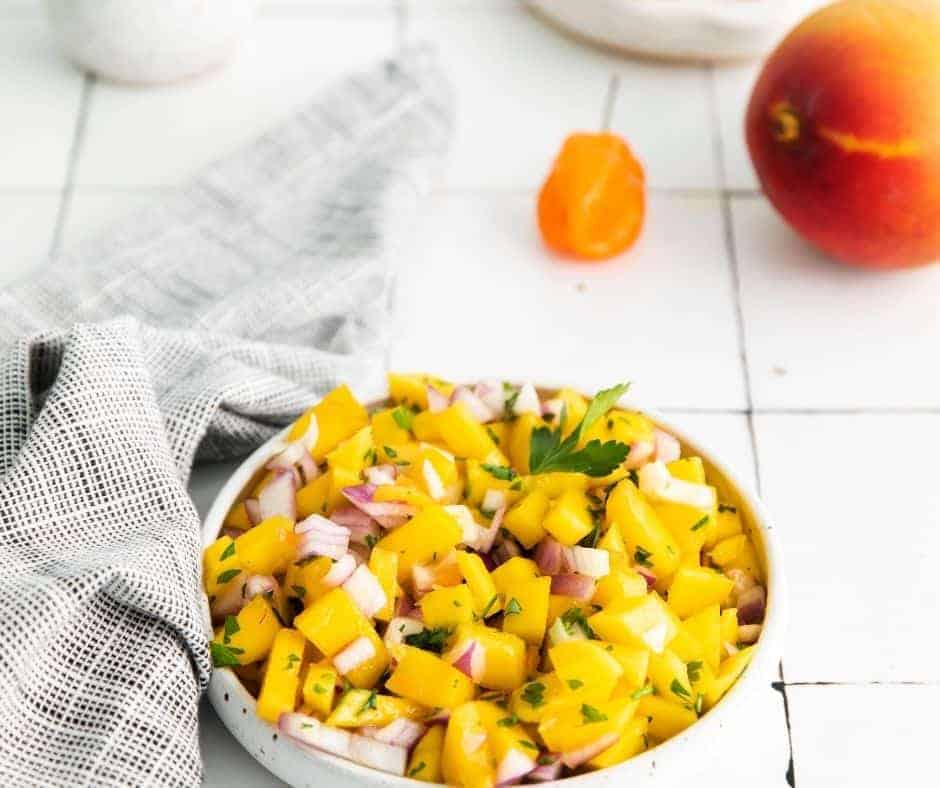 How To Store Mango Salsa
This does not store well. After about 1 to 2 days, the mango will soften and become mushy.
So, for best results and taste, use it on the same day you serve it. It does need to be refrigerated for a couple of hours for the flavors to blend.
How To Pick The Right Mangoes
The right Mango Habanero Salsa starts with the correct mangos. To choose a mango, look for one that is soft to the touch but not mushy.
The color that you're looking for is either bright red or yellow. They should not have too much green or feel like a ripe avocado.
Habanero Peppers
Habanero peppers are great and give a lot of spice to a dish, but be careful when working with them.
Ensure not to touch your nose or eyes for a while, even if you wash your hands, as the oil will stay on them for a while.
More Sauce Recipes
Don't Forget To Pin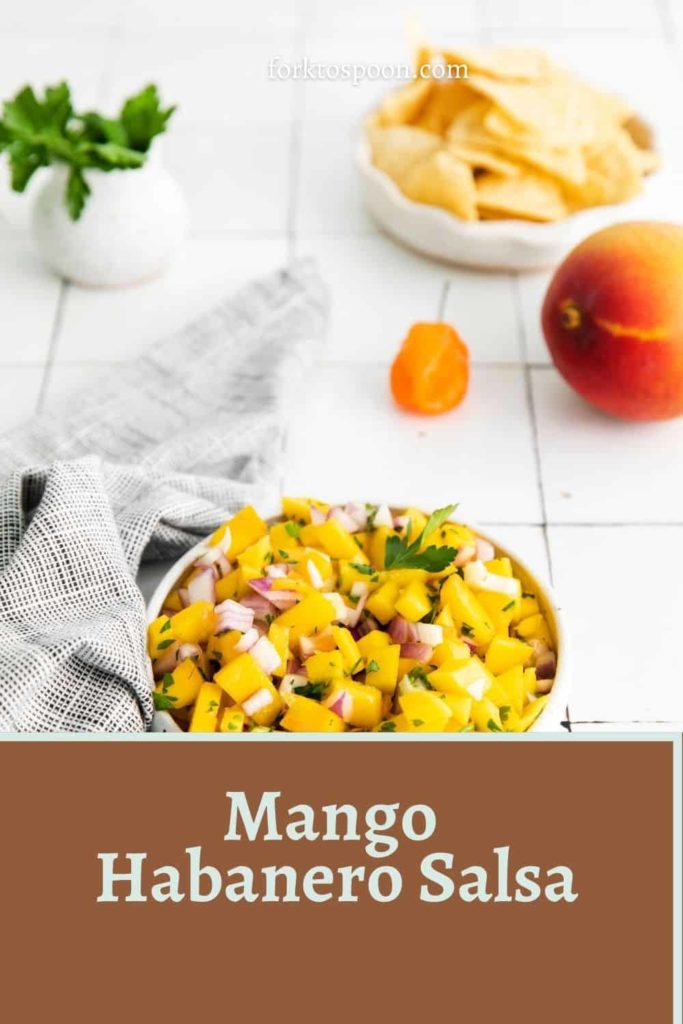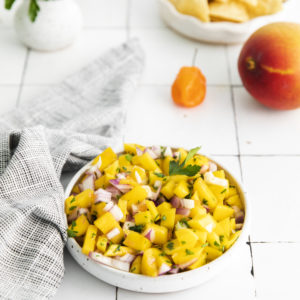 Mango Habanero Salsa
Description
Mango Habanero Salsa is a great addition to your menu, and if you are looking for the perfect salsa to serve to your family or guest, this is one of my favorites.
Ingredients
2

ripe

mangos

,

diced

2

teaspoons

parsley

,

fresh and diced

1/2

cup

red onion

,

diced

1

tablespoon

olive oil

1

fresh

lime

1

habanero pepper

,

pitted and minced
Instructions
In a large mixing bowl, mix all of the ingredients. Stir well.

Chill until ready to serve.
Nutrition
Serving:
1
Serving
Calories:
20
kcal
Carbohydrates:
1
g
Protein:
0.1
g
Fat:
2
g
Saturated Fat:
0.2
g
Polyunsaturated Fat:
0.2
g
Monounsaturated Fat:
1
g
Sodium:
1
mg
Potassium:
19
mg
Fiber:
0.2
g
Sugar:
1
g
Vitamin A:
17
IU
Vitamin C:
3
mg
Calcium:
3
mg
Iron:
0.05
mg