Instant Pot Creamy Corn Chowder — This corn chowder is the perfect comfort food on a cold day. It's quick and easy to make in the Instant Pot and delicious! You'll love the creamy, cheesy goodness of this soup. Give it a try today!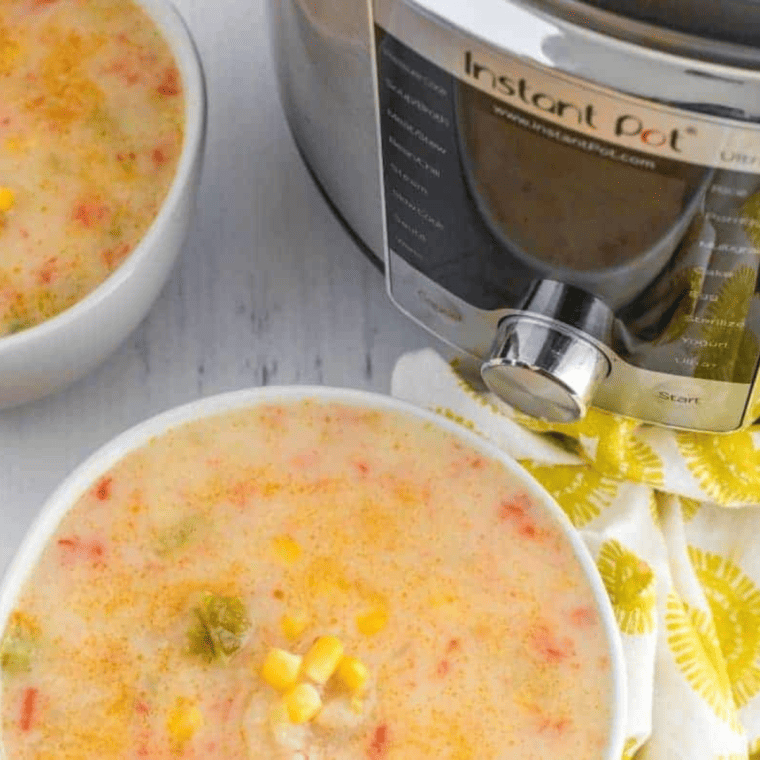 Today is a freezing and windy day in Philadelphia, so I made some of my favorite Instant Pot Corn Chowder. This is a perfect soup; hearty soup is easily prepared in your electric pressure cooker. This is an easy recipe; rather than make it on your stovetop, you will be amazed the first time you make this soup! Nothing because an Easy Corn Chowder Recipe with a creamy texture and sprinkle with some cheddar cheese and some bacon bits for added flavor!
This is a great and easy soup to pressure cook, made with the traditional ingredients of Corn Chowder and a healthy amount of corn. If you love soup, you will love this soup: rich and creamy corn chowder.
If you are looking for some other great Instant Pot Soups, some of my favorites are Copycat Panera Broccoli, Cheese Soup, Instant Pot New England Clam Chowder, Instant Pot Tomato Soup, and, of course, my mother's Italian Minestrone Soup made in the Instant Pot.
What Is Corn Chowder?
What is corn chowder? This question often stumps people, as the dish can be somewhat vague in definition. Corn chowder is a soup or stew made from corn and potatoes. Depending on the recipe, it can also include other vegetables, herbs, and spices. While the dish has many variations, corn chowder is always hearty and comforting. If you're looking for a delicious and easy soup recipe this winter, try corn chowder!
This is an excellent recipe for soup season and perfect on cold nights!
Why You Will Love Making Corn Chowder In Instant Pot
​Making Corn Chowder in an Instant Pot offers numerous benefits, and here's why you'll love it:
Time-Saving: The Instant Pot significantly speeds up the cooking process. What normally takes hours on the stovetop can be done in a fraction of the time.
One-Pot Wonder: Everything is done in one pot – from sautéing onions and veggies to cooking chowder. This means fewer dishes to clean up afterward.
Rich Flavors: The pressure cooking process in the Instant Pot intensifies the flavors, making the chowder richer and more flavorful in a shorter time.
Consistent Results: The Instant Pot offers constant heat and pressure, ensuring that your corn chowder always comes out perfectly.
Safety: With built-in safety features, there's less worry about boil-overs or scorching, which can sometimes occur with traditional stovetop methods.
Energy Efficient: Using an Instant Pot can be more energy-efficient than using a stove or oven, especially for dishes that require long cooking times.
Flexibility: With the Instant Pot's various functions, you can choose to slow cook, pressure cook, or sauté, giving you flexibility depending on how much time you have.
Creaminess: The pressure in the Instant Pot allows for the potatoes and corn to break down just enough to naturally thicken the chowder, giving it a creamy texture without the need for heavy cream or thickeners.
Fresh or Frozen: The Instant Pot easily handles fresh and frozen corn, making it convenient for any time of the year.
Versatility: It's easy to tweak and adjust the chowder's ingredients or flavors. Want to add some protein? Throw in some chicken or shrimp. Looking for a smoky flavor? Add some bacon or smoked paprika.
In summary, using an Instant Pot for corn chowder makes the process simpler, faster, and incredibly delicious. It's a game-changer for those who love hearty, comforting soups but might not always have the time for traditional cooking methods.
Ingredients Needed For Easy Instant Pot Corn Chowder Recipe
You'll need these ingredients if you're in the mood for creamy and delicious corn chowder. With just a few minutes of prep time in your Instant Pot, you'll have a warm, comforting meal perfect for chilly evenings. It's the ideal time of the year for delicious soup recipes!
For This Soup, I used a blend of fresh and frozen ingredients; you will need: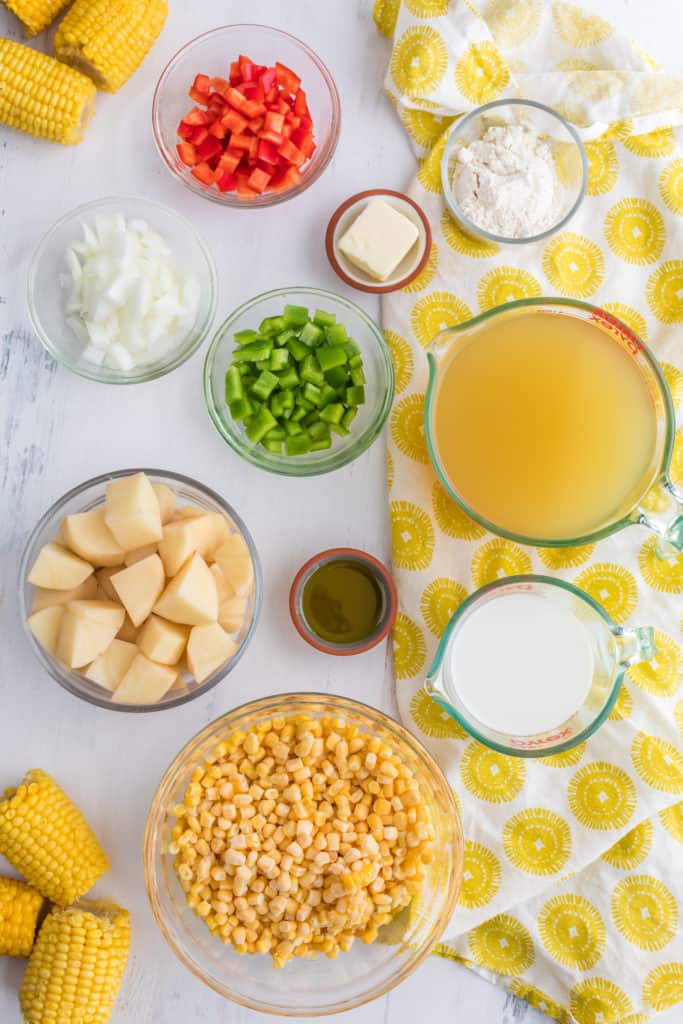 Remember all the details and the step-by-step instructions are in the printable recipe card below, so scroll to the end of the page.
Olive Oil: Use another high-heat cooking oil, such as avocado oil, grapeseed oil, or coconut oil.
Vegetables: Onions, Red bell pepper, and Green Bell Pepper
Broth: If you want to make this soup vegetarian or vegan, you can easily use vegetable broth or stock. You can also use low-sodium chicken broth.
Russet Potatoes: Peel them for tender potatoes; you can also use red potatoes.
Corn: The star of this recipe, you can use either fresh corn kernels, frozen corn, sweet corn, or even cooked corn cobs.
Butter: Use unsalted butter.
Flour: You can use regular all-purpose flour or gluten-free all-purpose flour.
Milk: You can use regular milk, oat milk, almond milk, heavy cream, or another dairy-free alternative.
How To Make Corn Chowder In Instant Pot
You'll love this creamy Instant Pot version if you're a corn chowder fan. Just a few minutes of prep time is all it takes to have this hearty and comforting soup on the table. Plus, it's perfect for busy weeknights!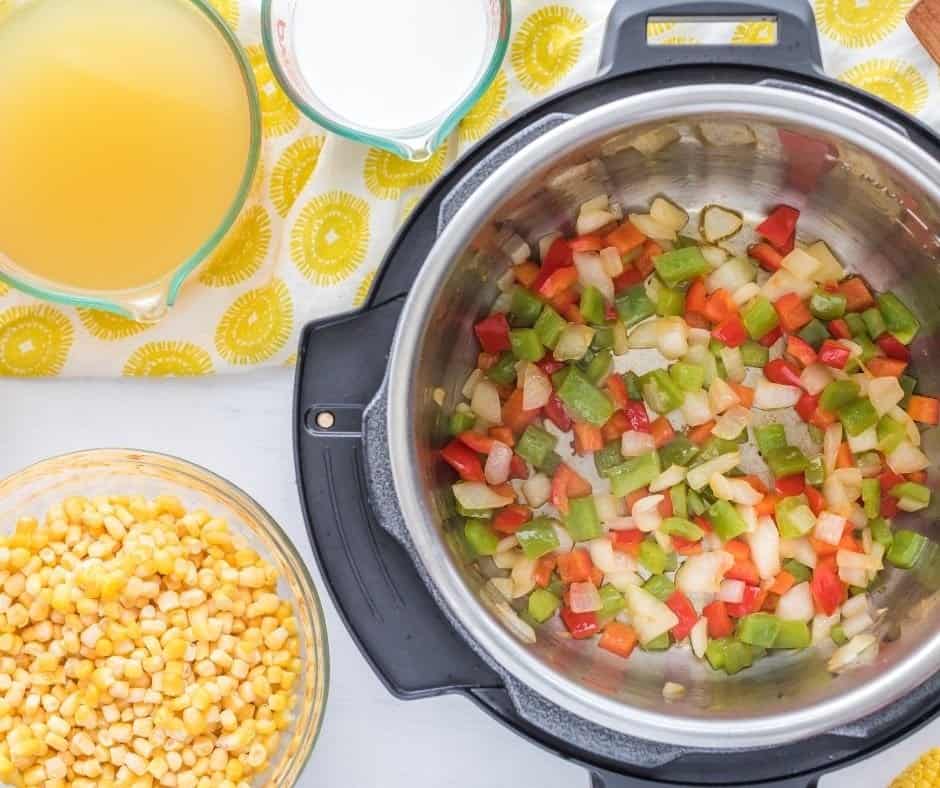 Step One: Turn the Instant Pot setting to the saute function, add the oil, onion, and peppers, and saute until the vegetables are softened about 4 minutes.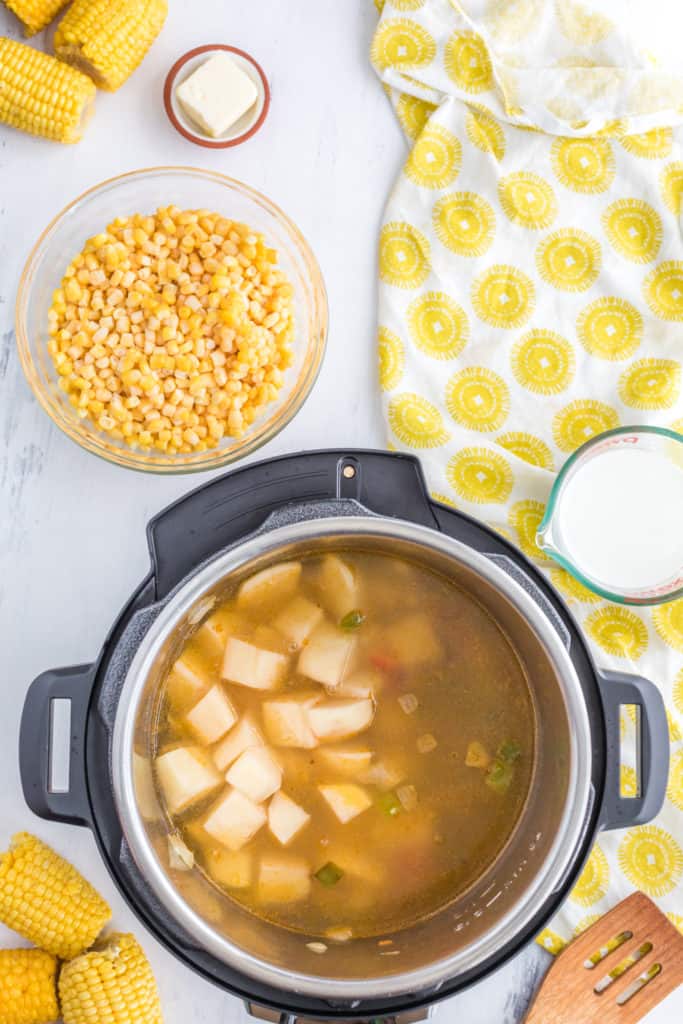 Step Two: Add the broth, potatoes, and corn and mix well. Add your lid, press high pressure, and set the cook time to 4-5 minutes.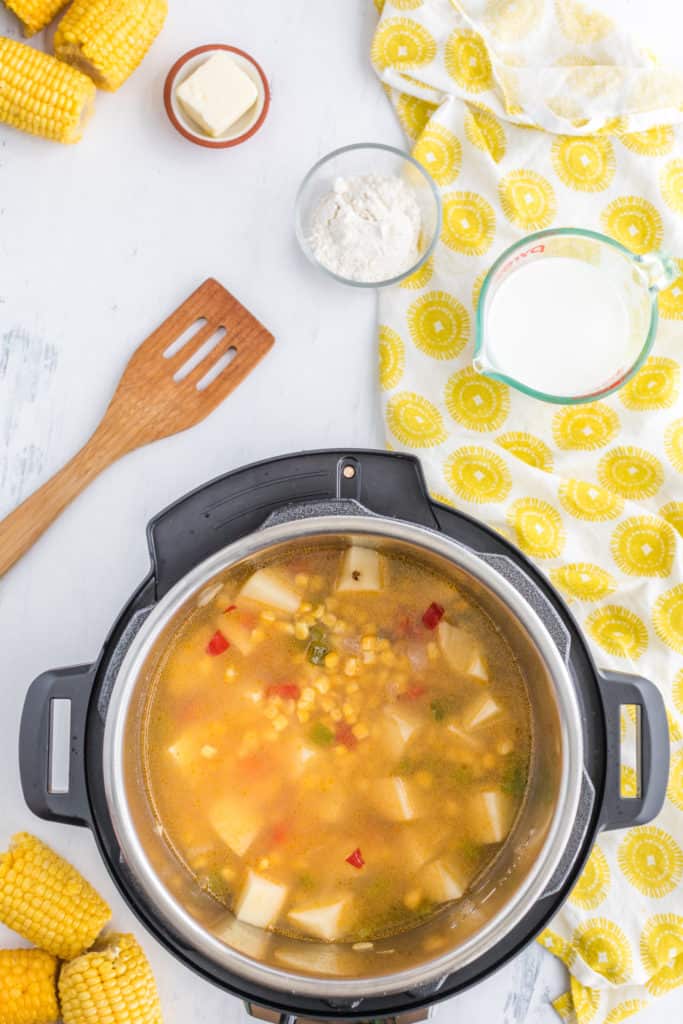 Step Three: Meanwhile, melt your butter in your microwave and mix the flour and milk into it (to make a rue). When the IP is done, let it naturally release. Then when the remaining pressure comes down, mix the rue with the soup. I made some smoky bacon and sprinkled it on top.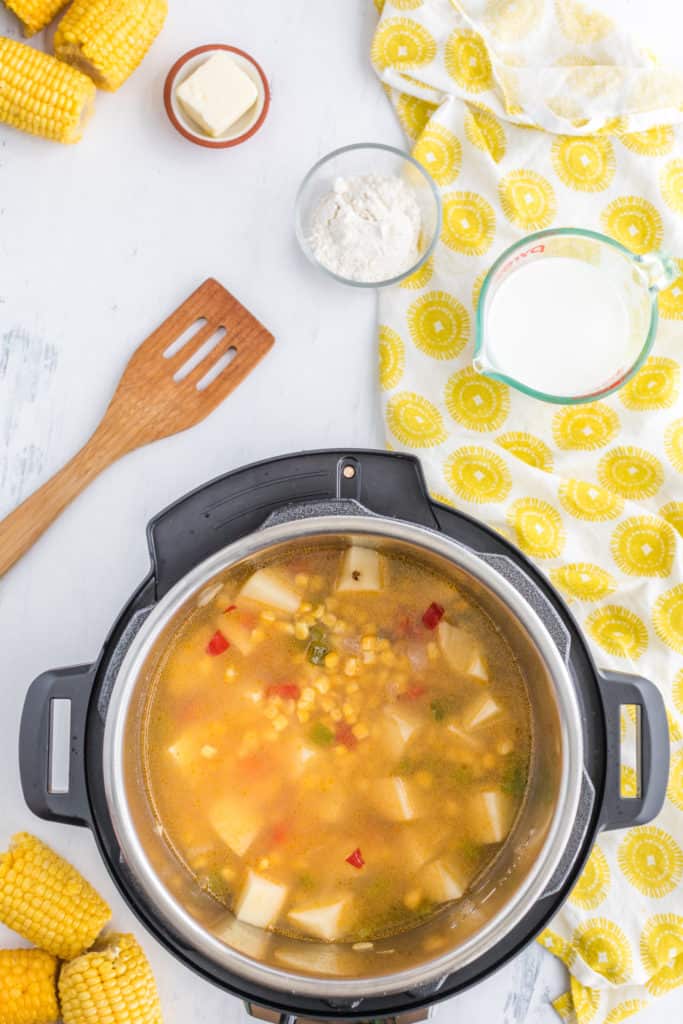 Serve With Your Favorite Toppings! Bacon or Sour Cream!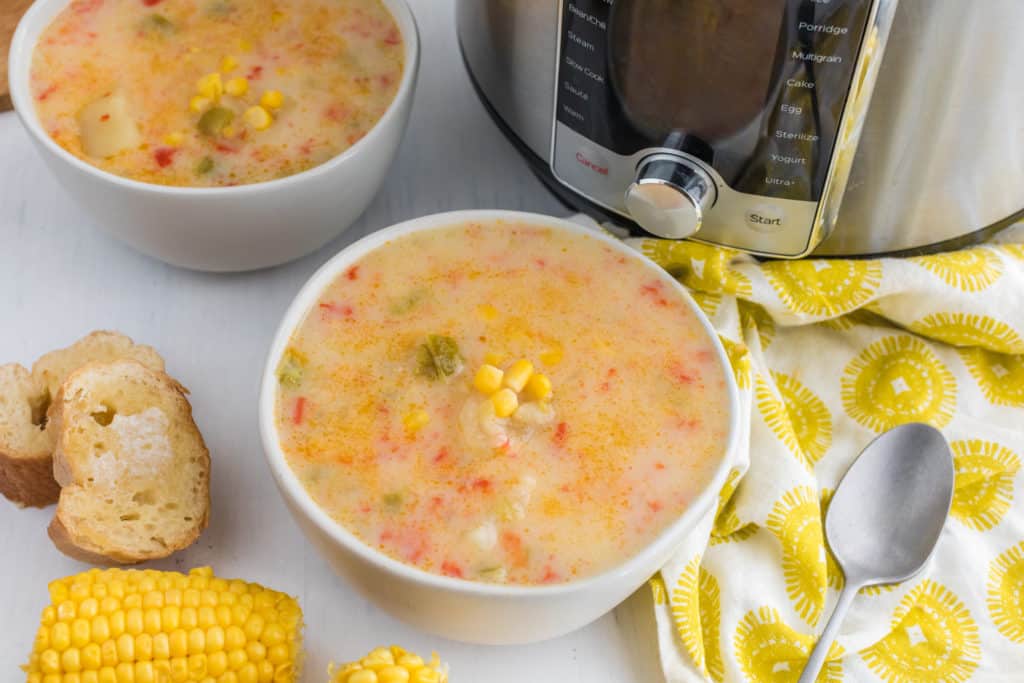 ​Pro Tips For Cooking Corn Chowder In Pressure Cooker
Cooking Corn Chowder in a pressure cooker can yield a delicious and hearty meal. Here are some pro tips to ensure your chowder turns out perfectly:
Sauté First: Use the sauté function on your pressure cooker to cook onions, garlic, and other aromatic vegetables until they're translucent. This enhances the flavor base of the chowder.
Natural Release: When the cooking time is up, allow the pressure cooker to release the pressure for at least 10 minutes naturally. This ensures that the liquid inside doesn't spurt out and melts the flavors together.
Thickening the Soup: You can create a cornstarch or flour slurry if you desire a thicker consistency. After the pressure cooking, switch back to the sauté function and stir in the slurry until the chowder thickens to your preference.
Add Dairy Last: If your chowder recipe calls for cream or milk, add it after the pressure cooking process to prevent curdling. Once the cooking is done, stir in the dairy ingredients and let the residual heat warm them up.
Use Fresh Corn: While frozen corn can work in a pinch, fresh corn cobs can enhance the flavor and sweetness of the chowder. You can add the stripped cobs to the chowder while cooking to extract more corn flavor and remove them before serving.
Season in Stages: Begin with a modest amount of seasoning before pressure cooking. After cooking, adjust the seasoning. This ensures you don't over-season since the flavors intensify under pressure.
Consider Texture: Some people enjoy smooth chowder, while others prefer texture. If you like a smoother soup, consider blending a portion of the chowder and then mixing it back in.
Be Mindful of Filling Limits: Never fill the pressure cooker more than two-thirds full, especially when cooking soups. This prevents potential overflows or blockages of the pressure release valve.
Add Smoky Flavor: Add smoked paprika or a dash of liquid smoke to enhance the chowder's flavor profile. You can also sauté some bacon in the pressure cooker before adding other ingredients.
Herbs: Fresh herbs like thyme, cayenne ppepr, nutritional yeast, fresh thyme leaves, or parsley can be added for flavor. If you're using delicate herbs, it's best to stir them in at the end to preserve their fresh flavor.
Remember, pressure cookers can vary in operating instructions and capacities, so always refer to your specific model's manual for best practices. Enjoy your corn chowder!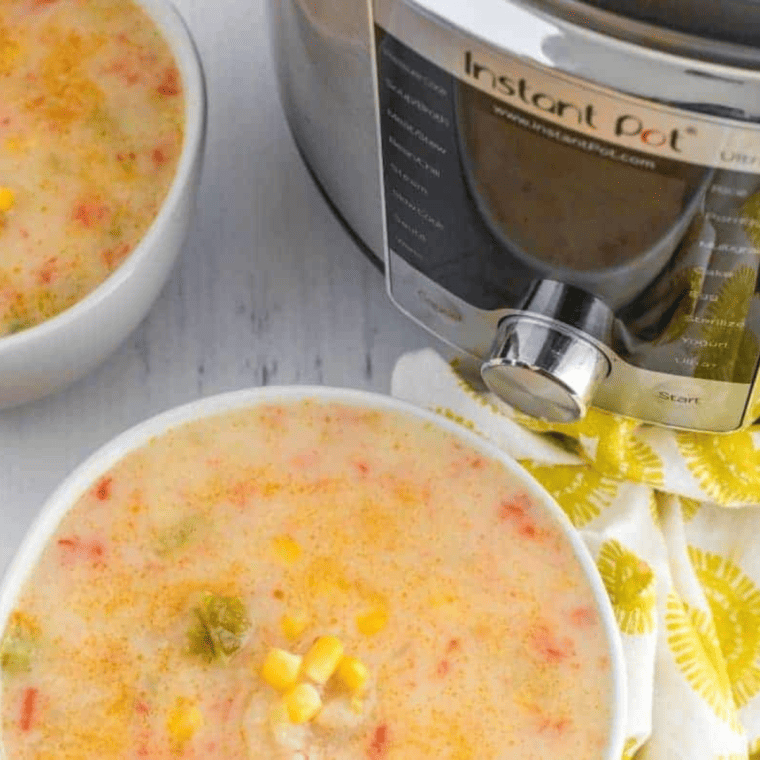 Corn Chowder Instant Pot Variations:
Corn chowder is a versatile dish, and there are countless variations to fit different tastes and dietary preferences. Here are some ideas to consider:
Proteins:
Chicken Corn Chowder: Add diced chicken breast or thigh pieces for added protein.
Seafood Corn Chowder: Incorporate shrimp, crab meat, or clams. Remember to add seafood near the end of the cooking process so it doesn't overcook.
Bacon Corn Chowder: Begin by sautéing bacon pieces until crispy. The bacon infuses the chowder with a smoky flavor.
Vegetables:
Southwestern Style: Add black beans, diced tomatoes, and bell peppers for a southwestern twist. Season with cumin and chili powder.
Garden Veggie Chowder: Incorporate zucchini, green beans, or kale for added nutrients.
Potato Corn Chowder: Add diced potatoes for a heartier version.
Spices & Herbs:
Spicy Corn Chowder: Add a dash of cayenne pepper, freshly cracked black pepper, jalapeños, or chipotle in adobo sauce for some heat.
Herbaceous Chowder: Incorporate herbs like rosemary, tarragon, or dill for a fresh flavor profile.
Dairy Alternatives:
Coconut Corn Chowder: Use coconut milk instead of cream for a dairy-free, tropical twist.
Almond or Cashew Chowder: Use almond or cashew milk for a nutty undertone.
Thickeners:
Corn Purée: Blend a portion of the cooked corn and mix it back into the chowder to naturally thicken the soup.
Roux: Combine butter and flour to create a roux at the beginning of the cooking process for a richer chowder.
Global Twists:
Thai Corn Chowder: Add coconut milk, curry paste, and lime juice for a Thai-inspired version.
Mexican Corn Chowder: Incorporate roasted poblano peppers, cilantro, and a squeeze of lime.
Dietary Variations:
Vegetarian Corn Chowder: Omit any meat and use vegetable broth. Replace cream with coconut milk or another plant-based milk.
Gluten-free Corn Chowder: Ensure you're using gluten-free broth and thickening agents.
Best Toppings & Garnishes:
Cheesy Corn Chowder: Top with shredded cheddar or Monterey Jack cheese.
Crunchy Toppings: Add croutons, tortilla strips, salty bacon, or even popcorn on top for a delightful crunch.
Fresh Garnishes: A sprinkle of fresh chives, cilantro, or green onions can elevate the appearance and taste.
Remember, the beauty of corn chowder lies in its adaptability. Feel free to experiment with different combinations and discover your own signature version!
What To Serve With Corn Chowder
I love serving it plain, but you know what works amazingly well with soup is cornbread; here are some of my favorite cornbread recipes:
FAQ's:
Should I Use Fresh or Frozen Corn?
In this recipe, I used frozen corn. But you can easily change this out to fresh corn if in season. Substitute the exact quantities, changing out 4 cups of frozen corn for fresh corn.
You can also use canned corn if you can not find either fresh or frozen corn. Just add 4 cups of canned corn (drained).
How To Thicken Corn Chowder
I used a simple flour and water rue to thicken the soup. If you want it thinner, you can omit it. Also, if you want a smoother soup, you can use an Immersion Blender or high-speed blender and blend until smooth. You can also add some cornstarch to help thicken.
How To Store Corn Chowder
If you have any leftover corn chowder, let it cool to room temperature, and then place the leftovers into an airtight container. Place it into the fridge.
How Long Will Corn Chowder Last In The Refrigerator
This soup will last for 2-3 days when placed in the refrigerator. You should freeze or dispose of the soup any longer than that.
Can You Freeze Corn Chowder?
Yes, you can easily freeze corn chowder. Let the chowder cool to room temperature, and then ladle the soup into bowls, leaving 1-inch headspace. It will keep for about 2 to 3 months in the freezer.
More Instant Pot Recipes:
I love this recipe for Instant Pot Corn Chowder. Check out these other recipes. Remember you can make these soups in either a pressure cooker, Ninja Foodi, or an Instant Pot. The Recipes will all work the same!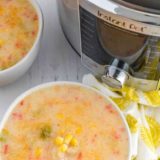 Instant Pot Creamy Corn Chowder
Description
Instant Pot Corn Chowder — This corn chowder is the perfect comfort food on a cold day. It's quick and easy to make in the Instant Pot, and it's delicious! You'll love the creamy, cheesy goodness of this soup. Give it a try today!
Ingredients
1

tablespoon

oil

1

large

onion

,

peeled and diced

1

large

green bell pepper

,

peeled and diced

1

large

red bell pepper

,

peeled and diced

4

cup

chicken broth

,

(use vegetarian if you want this to be a vegan recipe)

3

large

potatoes

,

cubed

4

cups

corn

3

tablespoons

butter

3

tablespoons

flour

1

cup

milk
Instructions
Turn the Instant Pot setting to saute, add the oil, onion, and peppers, saute until the vegetables are softened, about 4 minutes.

Then add in the broth, potatoes, and corn, and mix well.

Add your IP lid and set the time for 6 minutes.

Meanwhile, in your microwave, melt your butter and then mix the flour and milk into it (to make a rue)

When the IP is done, let it naturally release. Then when the pressure comes down, mix in the rue to the soup.

I made some bacon and sprinkled it on top.
Equipment
Instant Pot,

or Ninja Foodi, or another Electric Pressure Cooker
Nutrition
Serving:
1
Serving
Calories:
381
kcal
Carbohydrates:
64
g
Protein:
11
g
Fat:
12
g
Saturated Fat:
5
g
Polyunsaturated Fat:
2
g
Monounsaturated Fat:
4
g
Trans Fat:
0.2
g
Cholesterol:
23
mg
Sodium:
657
mg
Potassium:
1237
mg
Fiber:
8
g
Sugar:
12
g
Vitamin A:
1475
IU
Vitamin C:
101
mg
Calcium:
94
mg
Iron:
2
mg