Instant Pot New England Clam Chowder — Instant Pot New England Clam Chowder is a delightful rendition of a classic and beloved soup.
Known for its creamy, comforting goodness, this homemade clam chowder brings the flavors of New England right to your kitchen with the added convenience of the Instant Pot.
Whether you're a seafood enthusiast or simply craving a hearty soup, this recipe will satisfy your taste buds.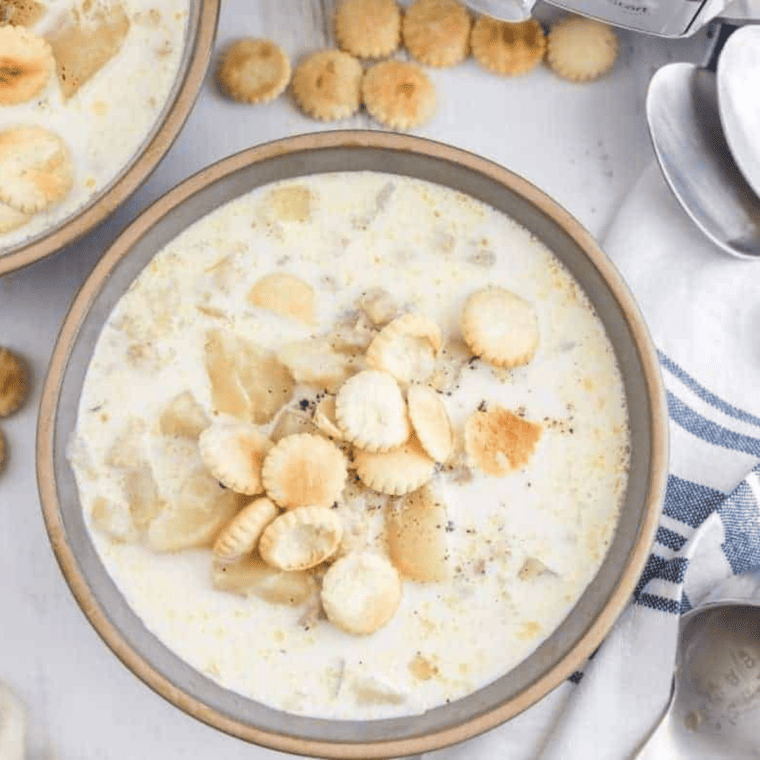 The traditional New England Clam Chowder is renowned for its creamy base, tender clams, and comforting flavors. With the Instant Pot, you can achieve all of this in a fraction of the time it would take using traditional stovetop methods. Plus, the pressure cooking method intensifies the flavors, resulting in a chowder that tastes like it's been simmering for hours.
Whether you're hosting a gathering of friends and family or want a cozy meal on a chilly evening, Instant Pot New England Clam Chowder is a fantastic choice. It's a versatile dish that can serve as an appetizer or a main course, and it pairs wonderfully with crusty bread or oyster crackers. So, let's dive into the world of homemade clam chowder, made effortlessly with the Instant Pot.
Some of my favorite Instant Pot and Ninja Foodi Soup Recipes are INSTANT POT CHICKEN POT PIE SOUP, INSTANT POT FRENCH ONION SOUP, INSTANT POT CREAM OF BUTTERNUT SQUASH SOUP, and INSTANT POT BROCCOLI AND CHEDDAR CHEESE SOUP.
Ingredients Needed For Instant Pot New England Clam Chowder Recipe
These ingredients combine harmoniously to create a rich and flavorful Instant Pot Clam Chowder that will please your palate.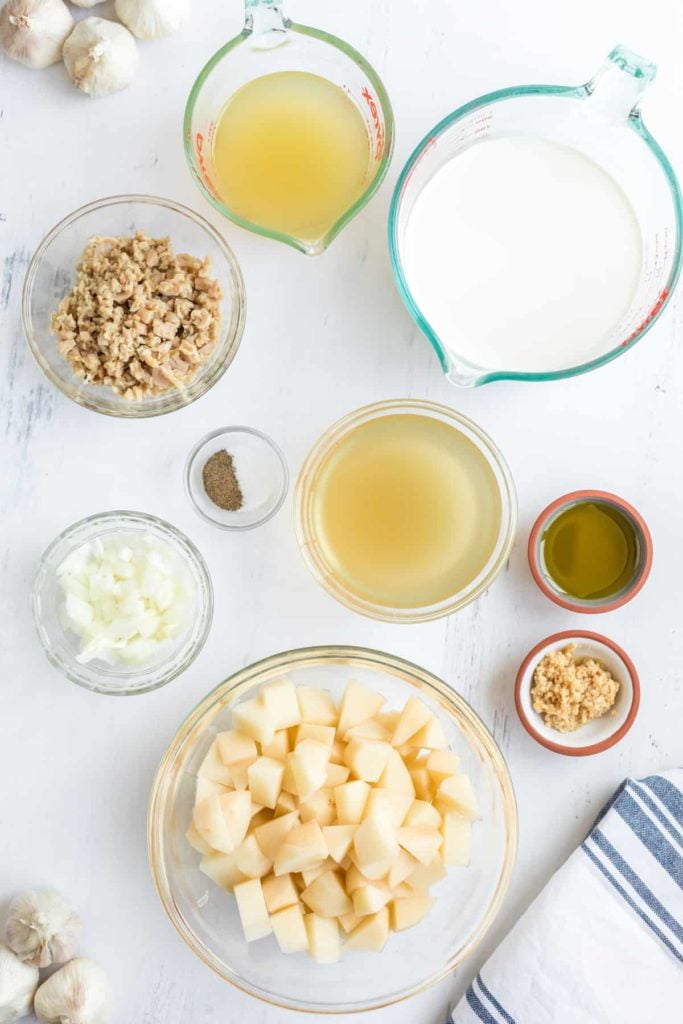 Remember the step-by-step directions and detailed ingredient list are below in the printable recipe card at the bottom of the post, as well as the nutritional information.
Bacon: Crispy bacon slices add a smoky, savory element to the chowder, providing a perfect contrast to the creamy base.
Onion and Garlic: These aromatic ingredients build the foundation of flavor for the soup, infusing it with savory notes.
Red Potatoes: Diced potatoes add heartiness and a pleasant texture to the chowder, making each spoonful satisfying.
Clam Juice: Clam juice is the essence of the sea, enhancing the clam flavor in the chowder and providing a rich, briny depth.
Canned Whole Clams: These clams are the show's star, bringing their unique oceanic taste and tender texture to the soup.
Bay Leaves: A bay leaf imparts a subtle earthy aroma and enhances the overall bouquet of the chowder.
Thyme: Fresh thyme or dried thyme leaves contribute herbaceous undertones and enhance the overall complexity of flavors.
Heavy Cream: The creaminess of this chowder comes from heavy cream, creating a luscious and velvety texture.
Kosher Salt and Black Pepper: These essential seasonings balance the flavors, ensuring the perfect taste in every bite.
Corn Starch: A small amount of cornstarch helps thicken the chowder, giving it the desired consistency.
How To Cook New England Clam Chowder In Instant Pot
With a few simple ingredients, you can make the Best New England Clam Chowders in minutes!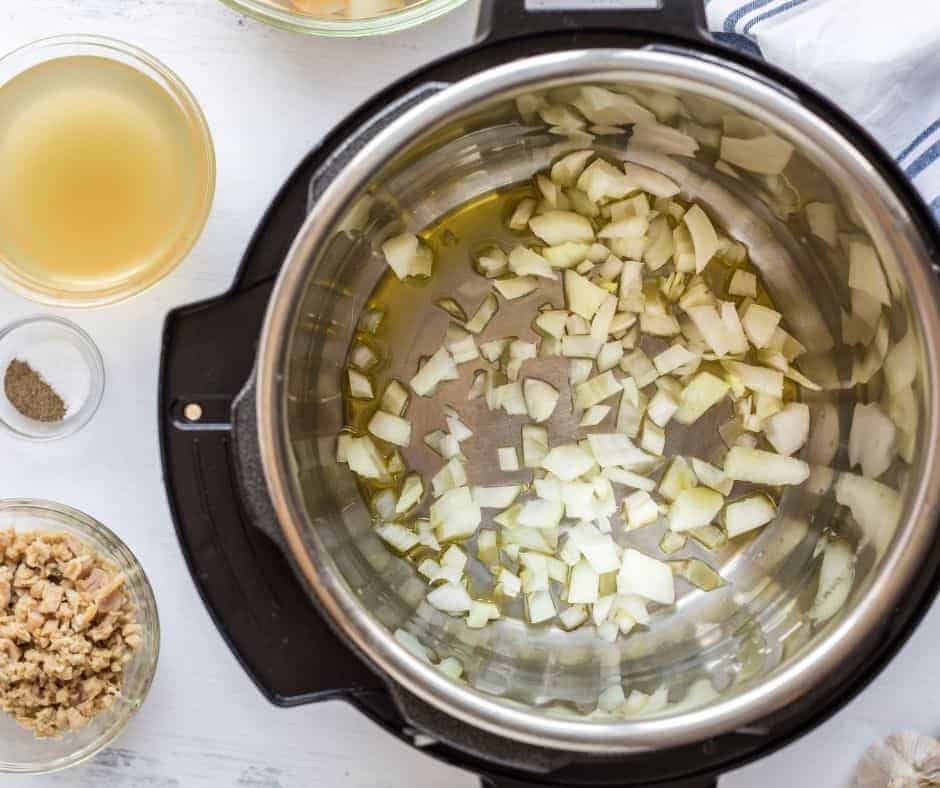 Turn on the Instant Pot and select the "Sauté" function/sauté setting and the chopped bacon and cook until it becomes crispy, stirring occasionally. Remove some of the bacon bits for garnish if desired.
Add the finely chopped onion and minced garlic to the pot with the bacon. Sauté for 2-3 minutes until the onion becomes translucent and fragrant.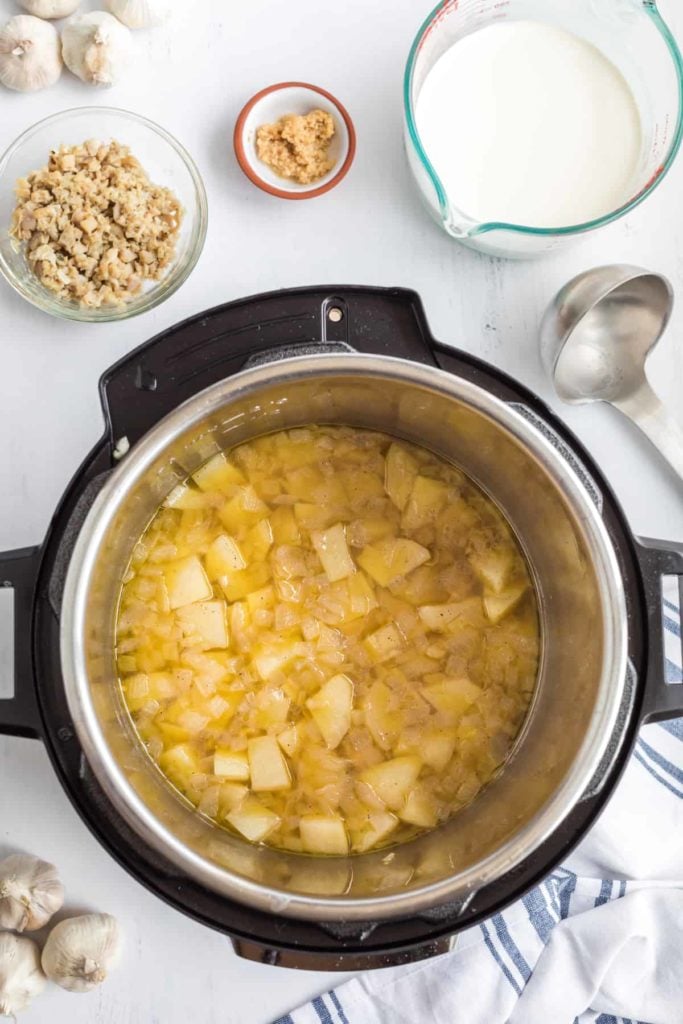 Stir in the cubed potatoes, clam juice, canned clams with their juice, bay leaves, and dried thyme—season with salt and pepper to taste.
Cancel the "Sauté" function, close the pressure cooker lid, and ensure the pressure valve is set to the sealing position.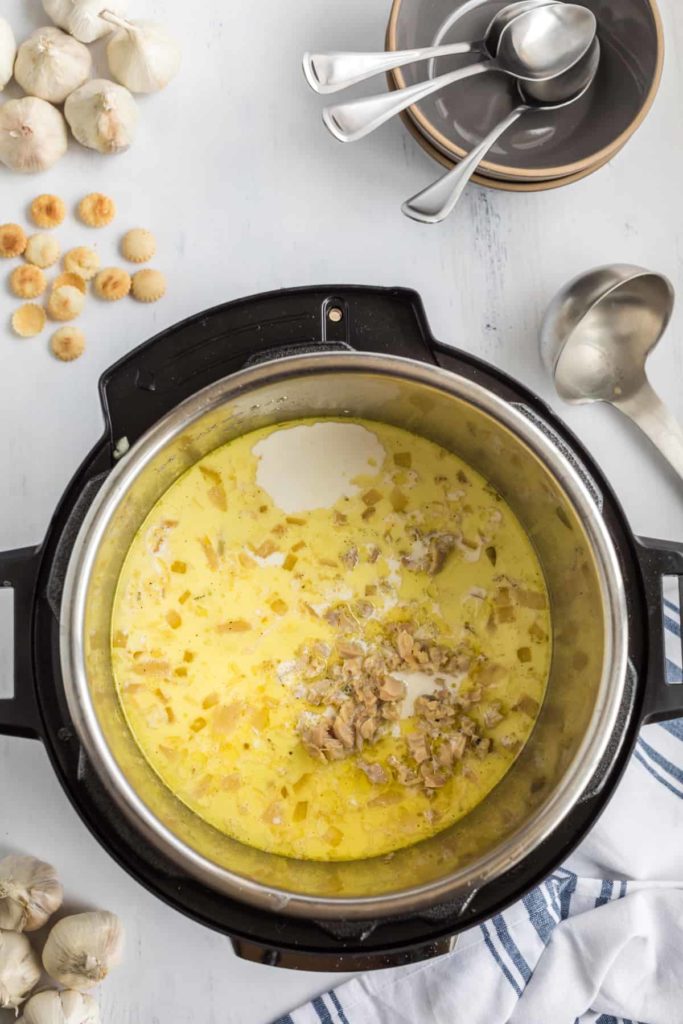 Select the "Manual" or "Pressure Cook" function and set the cooking time for 4 minutes at high pressure.
Once the cooking cycle is complete, perform a quick pressure release by carefully turning the valve to the vent to release the steam. Keep your hand away from the steam vent to avoid burns.
Open the Instant Pot and remove the bay leaves. In a separate bowl, mix the heavy cream and all-purpose flour until well combined to create a slurry.
Select the "Sauté" function again and pour the cornstarch slurry while stirring constantly. Allow the chowder to simmer for a few minutes until it thickens to your desired consistency.
Taste and adjust the seasoning with more salt and pepper if needed.
Serve your homemade New England Clam Chowder hot, garnished with the crispy bacon brown bits you set aside earlier. Add some oyster crackers or saltine crackers right before serving.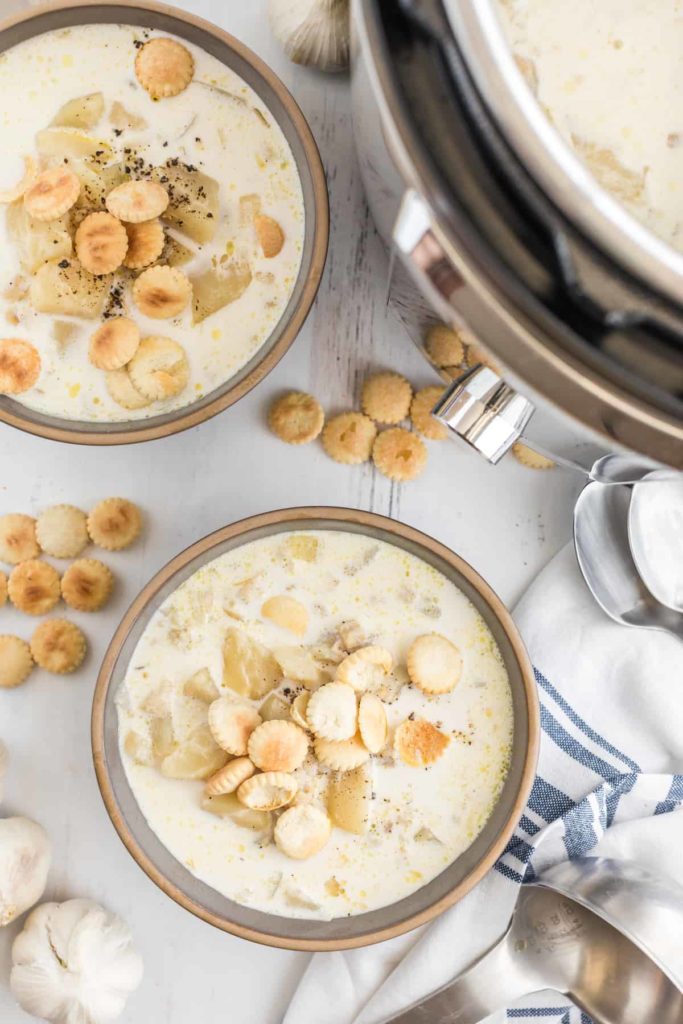 Recipe Variations Of Clam Chowder
Here are some delicious variations of Instant Pot New England Clam Chowder that you can try:
Corn and Clam Chowder: Add a cup of fresh or canned corn kernels to your chowder for a sweet and savory twist—the sweetness of the corn pairs wonderfully with the brininess of the clams.
Bacon and Cheese: Take your chowder to the next level by stirring in some shredded cheddar cheese and crispy bacon bits at the end of the cooking process. This will create a creamy and indulgent bacon and cheese clam chowder.
Herb-Infused: Enhance the flavor profile of your chowder by adding fresh herbs such as parsley, chives, white pepper, or dill. Finely chop the herbs and sprinkle them on top just before serving for a burst of freshness.
Spicy Kick: If you enjoy a bit of heat, add a pinch of red pepper flakes, old bay seasoning, or a dash of hot sauce to your chowder. The subtle spiciness will complement the richness of the soup.
Seafood Medley: Instead of just clams, mix in various seafood, such as shrimp, scallops, and crab meat, to create a seafood medley chowder. Make sure to adjust the cooking times for the different seafood ingredients.
Vegetarian Option: For a vegetarian version, omit the clams and bacon. Instead, use vegetable broth and add diced carrots, celery, and leeks for a hearty and flavorful vegetable chowder.
Coconut Clam Chowder: Add a tropical twist to your chowder by incorporating a can of coconut milk. The creamy coconut flavor pairs surprisingly well with the clams and potatoes.
Smoked Paprika: Enhance the smokiness of the bacon by adding a pinch of smoked paprika to your chowder. It will add depth and complexity to the flavor profile.
Manhattan Clam Chowder: Slowly fold in a can of crushed tomatoes in place of the chicken stock.
Feel free to get creative and customize your Instant Pot New England Clam Chowder to suit your taste preferences. These variations will allow you to enjoy a diverse range of flavors while savoring the comforting essence of clam chowder.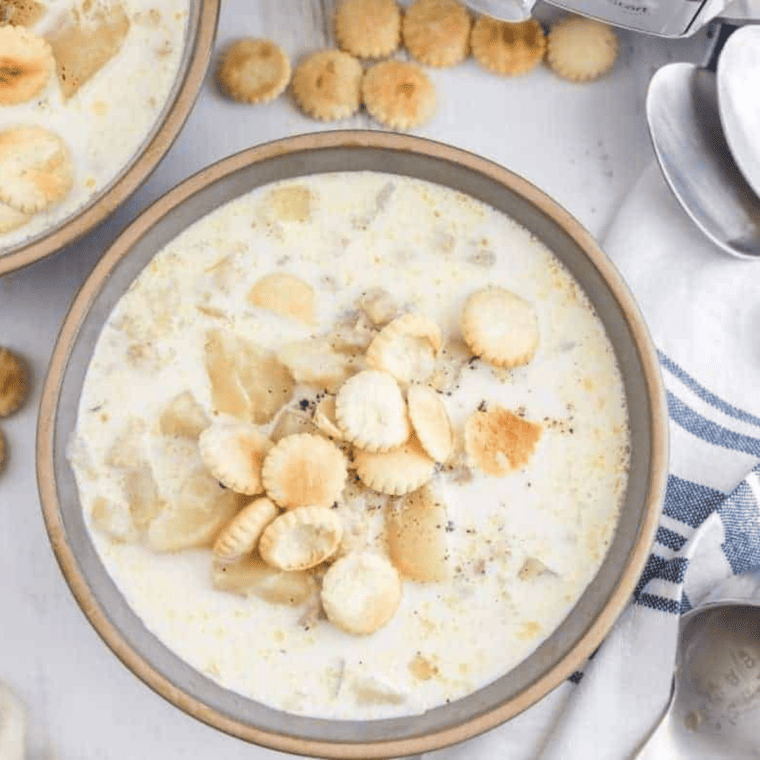 Pro Tips For Instant Pot Clam Chowder
Preparation Time: Since the Instant Pot Soups cook up so quickly, you really want to cut all your vegetables ahead of time so you can add them in as you need them.
Constantly Stir: This way, you do not get a burn notice as your soup cooks. The Burn notice usually means that an ingredient, usually an onion or potato, is stuck on the bottom of your Instant Pot Bowl and has gotten too hot!
Valve Closed: Make sure your steam valve is closed. Otherwise, you will soon need a paint job in your kitchen.
How To Store Leftover Clam Chowder
Refrigeration:
Allow the clam chowder to cool to room temperature if it's still hot.
Transfer the leftover clam chowder to an airtight container or a sealable plastic bag.
Place the container in the refrigerator.
Clam chowder can be stored in the refrigerator for 3-4 days.
Freezing:
If you want to store clam chowder for a more extended period, freezing is a great option:
Let the clam chowder cool to room temperature.
Portion the chowder into freezer-safe airtight containers or resealable freezer bags. Leave some space at the top for expansion.
Seal the containers or bags tightly to prevent freezer burn.
Label the containers with the date to track how long they have been frozen.
Place the containers or bags in the freezer.
Clam chowder can be frozen for up to 2-3 months.
More Instant Pot Recipes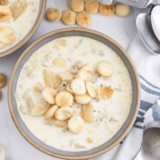 Instant Pot New England Clam Chowder
Description
Instant Pot New England Clam Chowder is one of my favorite Instant Pot Soups. This is perfect for a cold winter day!
Ingredients
1

tablespoon

olive oil

1/2

cup

onions

,

diced

1

cup

vegetable broth

3

cups

potatoes

,

peeled and cubed

8

ounces

clam juice

2

cups

half and half

3

teaspoons

minced garlic

13

ounces

minced clams

1/2

teaspoon

kosher salt

1/2

teaspoon

black pepper

,

or white pepper
Instructions
Start by adding the olive oil to the Instant Pot Bowl. Press the sauté button, allow the oil to heat up for about 30 seconds, and then add the onions, sauté for about a minute, occasionally stirring, so the onions do not burn.

Then add the cubed potatoes, salt, pepper, clam juice, and vegetable broth.

Place your lid on the Instant Pot, and then set manual high pressure for 10 minutes. Make sure that your vent is in the sealing position.

When the display shows L000, do a quick release.

Mix in the half and half clams, minced garlic, and mix well.

Plate, serve and enjoy!
Equipment
Instant Pot Pressure Cooker,

or Ninja Foodi Pressure Cooker
Nutrition
Serving:
1
Serving
Calories:
31
kcal
Fat:
4
g
Saturated Fat:
0.5
g
Polyunsaturated Fat:
0.4
g
Monounsaturated Fat:
3
g
Sodium:
0.1
mg
Potassium:
0.04
mg
Calcium:
0.04
mg
Iron:
0.02
mg
Don't Forget To Pin!