Instant Pot Wendy's Chili Copycat Recipe — This is one of the best recipes for your favorite chili; it's so good, you won't even know that you haven't been over the stove all day; the pressure cooker makes this meal in minutes!
Serve your favorite chile with Air Fryer Jiffy Cornbread, Air Fryer Baked Potatoes, and Air Fryer Tater Tots!
The Best Instant Pot Wendy's Copycat Chili Recipe​
Dive into the comforting flavors of Wendy's chili from the convenience of your home kitchen. This Instant Pot version captures the essence of the beloved fast-food favorite and offers a quick and hassle-free cooking experience. Let's embark on a culinary journey to recreate this iconic chili, bowl by delicious bowl.
If you are a fan of Wendy's Chili and have some picky eaters at home, this is the perfect recipe for you! So, although you may not be Dave Thomas, you are the best one to make this perfect chili recipe.
I love making soups, stews, and chilis in my Instant Pot, and this recipe is no different. Soon, you will fall in love with making them, too!
Some of my favorites that I want to share with you are INSTANT POT CHICKEN POT PIE SOUP, INSTANT POT COPYCAT PANERA'S BROCCOLI AND CHEDDAR SOUP, INSTANT POT CURRIED PUMPKIN SOUP, and INSTANT POT NEW ENGLAND CLAM CHOWDER.
Ingredients Needed For Pressure Cooker Wendy's Chili​
Ready to recreate the magic of Wendy's chili in your pressure cooker? With a harmonious blend of spices, meats, and beans, this ingredient list is your ticket to a flavorful adventure.
You can cook this Copycat Wendy's Chili Recipe in minutes with simple ingredients!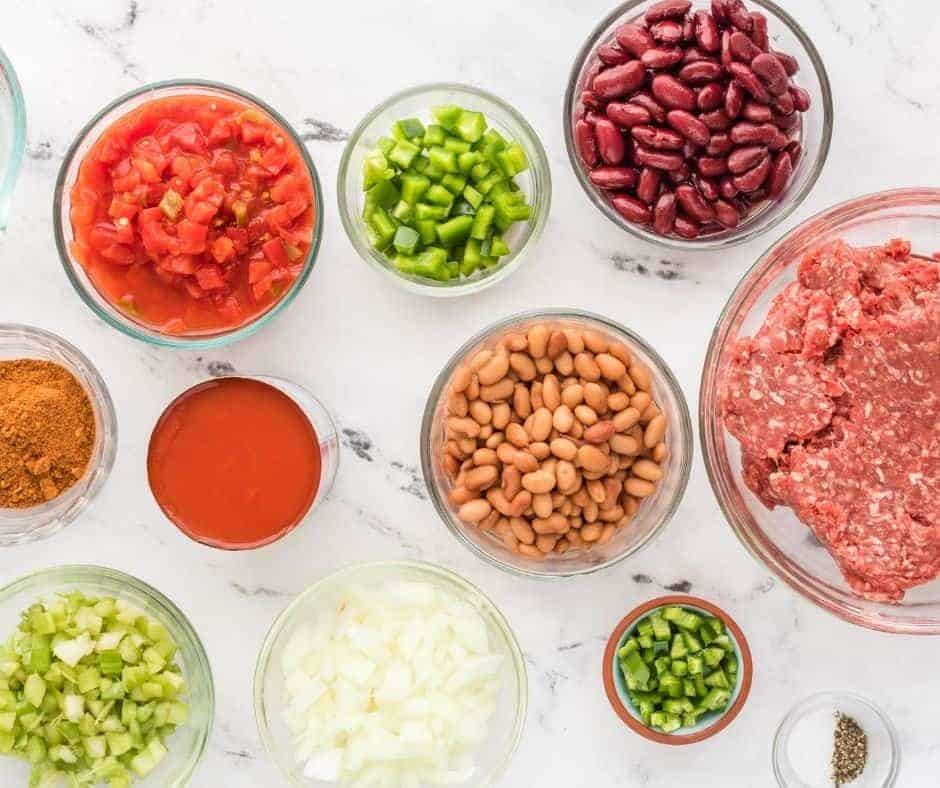 Remember the step-by-step directions and detailed ingredient list are below in the printable recipe card at the bottom of the post, as well as the nutritional information. ​
Ground Beef: The meaty base of our chili, ground beef, provides a rich and hearty flavor that's signature to Wendy's classic recipe. For best results, lean ground beef, ground turkey, or ground chicken can also be used.
Onions: These aromatic vegetables enhance the depth of the dish, offering a mild sweetness that balances out the savory elements.
Green Bell Peppers: Adding a hint of freshness and a slight crunch, green bell peppers infuse the chili with a vibrant color and mild peppery taste.
Celery: This understated vegetable lends a unique crunch and a subtle earthy flavor, complementing the meat's richness.
Kidney Beans & Pinto Beans: These beans bring a delightful texture, absorbing the flavors around them while adding heartiness and protein.
Diced Tomatoes infuse the chili with a tangy sweetness, creating a rich base that binds all the ingredients together.
Tomato Sauce: Offering a smooth consistency and depth, the sauce is the backbone of our chili, tying in all the flavors harmoniously.
Chili Powder: This aromatic blend of spices elevates the dish, imparting warmth and a mild kick, essential for that authentic chili flavor.
Cumin: With its earthy and nutty profile, cumin adds an extra layer of depth, making the chili even more flavorful.
Kosher Salt and Black Pepper: Essential seasonings that fine-tune the dish, highlighting its various flavors and ensuring a balanced taste.
Remember, each ingredient has its special role in crafting the iconic taste of Wendy's chili. Ensuring a good balance is the key to a perfect pot of chili.
How To Make Instant Pot Wendy's Chili
You will be surprised at how good this is; this is the real deal. Dreaming of Wendy's iconic chili but wish you could replicate its savory goodness at home? Look no further! With the versatility of the Instant Pot, recreating this fast-food classic becomes a cinch.
In just a few steps, you'll savor a bowl of rich, hearty chili that rivals the original, all from the comfort of your kitchen. Dive into this guide and discover how to achieve that Wendy's magic with the press of a button!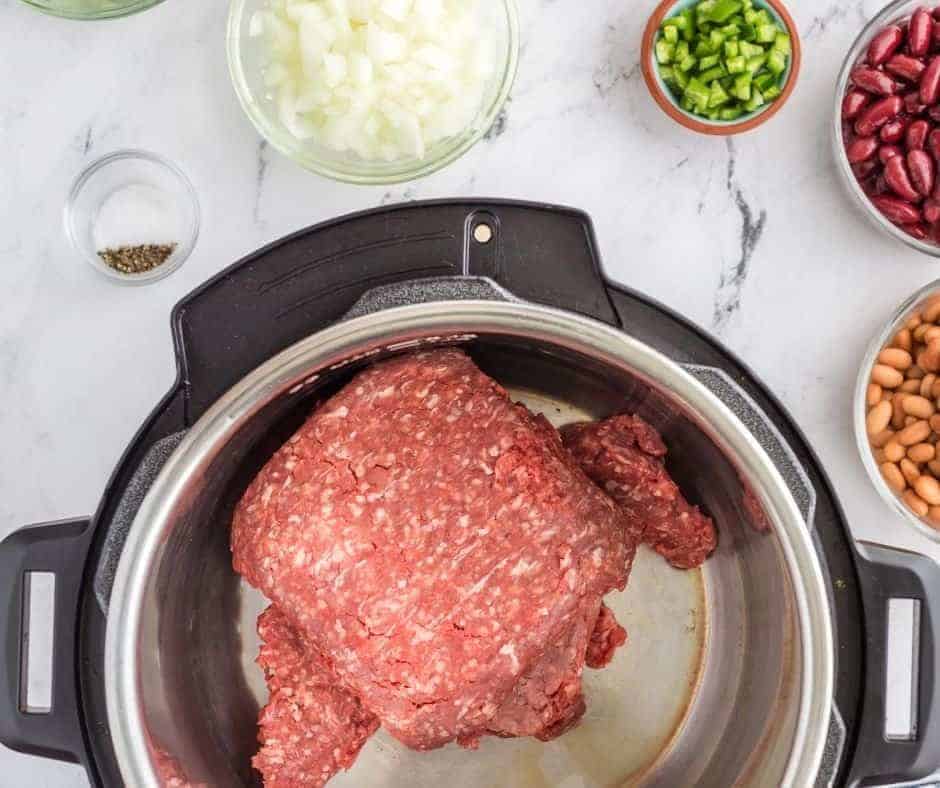 Sauté the Meat: Turn your Instant Pot to the 'Sauté' mode. Once it's hot, add the ground beef and cook until browned. Break up the beef into smaller pieces as it cooks. Drain excess fat if necessary.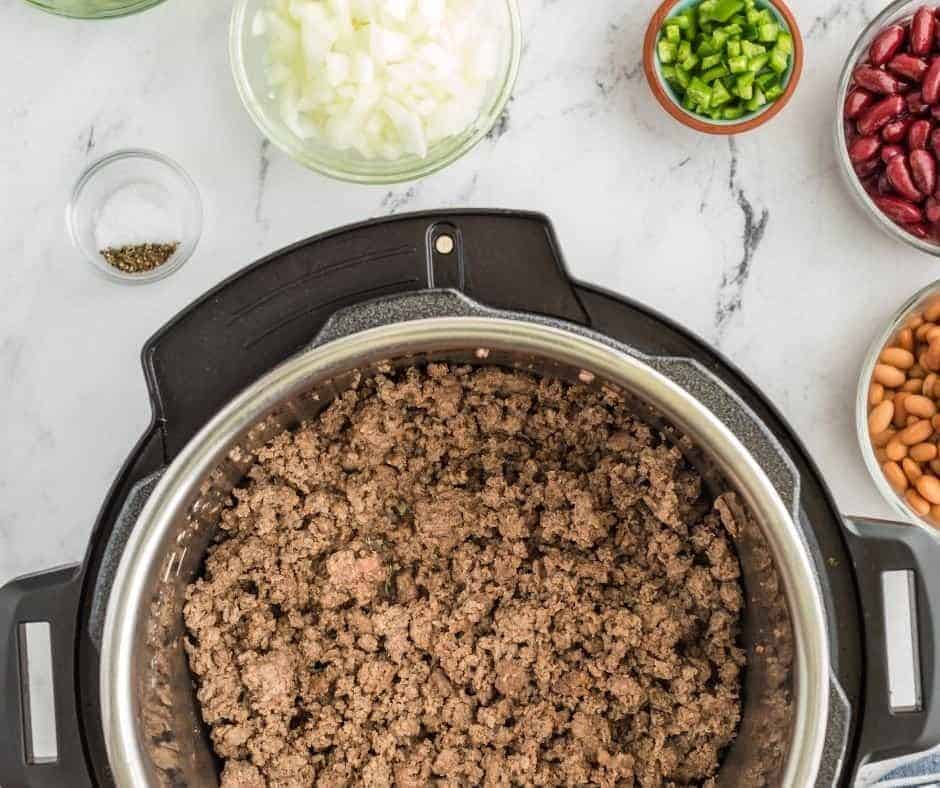 Add Veggies: Add diced onion, bell pepper, and celery to the pot. Sauté for 2-3 minutes or until the onions become translucent.
Deglaze the Pot: Pour a little beef broth into the pot, scraping the bottom with a spatula or wooden spoon to remove any browned bits. This helps prevent a burn notice.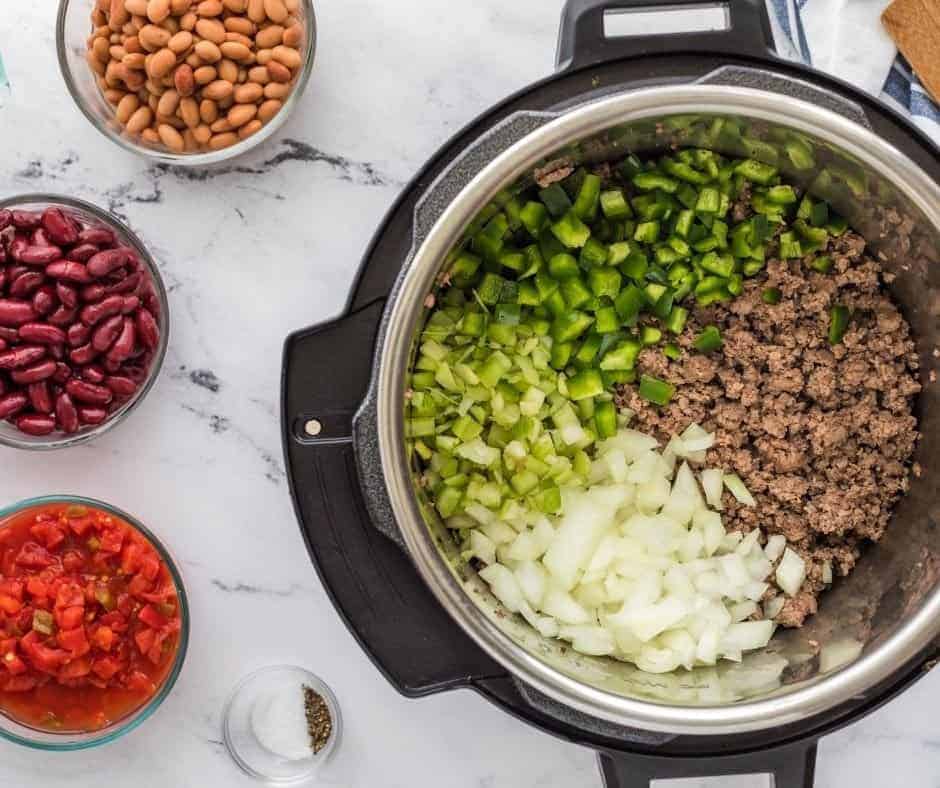 Add the Rest of the Ingredients: Stir in kidney beans, pinto beans, diced tomatoes with their juice, and tomato sauce. Then, add the chili powder, cumin, salt, pepper, and other spices. Pour in the remaining beef broth or water.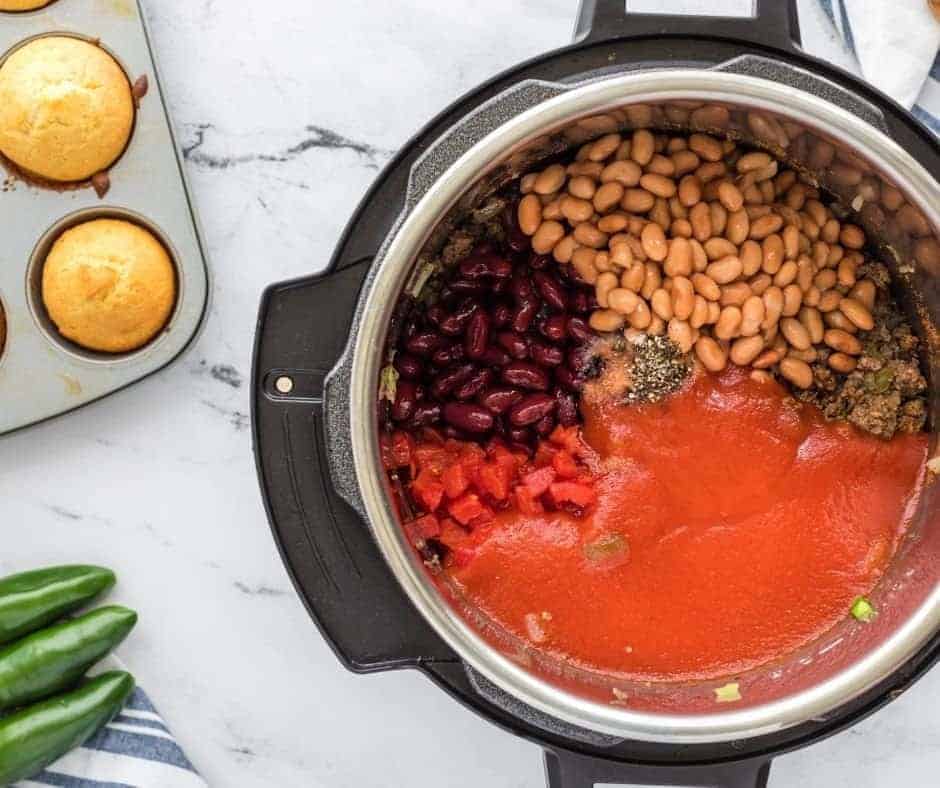 Pressure Cook: Close the Instant Pot lid, set the valve to 'Sealing', (make sure vent is closed) and cook time on 'Manual' or 'Pressure Cook' high pressure for 20 minutes.
Natural Release: Once the cooking time is up, let the pressure release naturally for 10 minutes, then carefully turn the valve to 'Venting' for a quick release of any remaining pressure.
Adjust Consistency: If the chili is too thin, switch the Instant Pot back to 'Sauté' and let it simmer until you achieve your desired consistency.
Serve: Dish the chili into bowls and serve with your favorite toppings, such as shredded cheese, sour cream, and chopped onions.
Enjoy your homemade Wendy's Chili straight from the Instant Pot, offering all the delicious flavors without the drive-thru!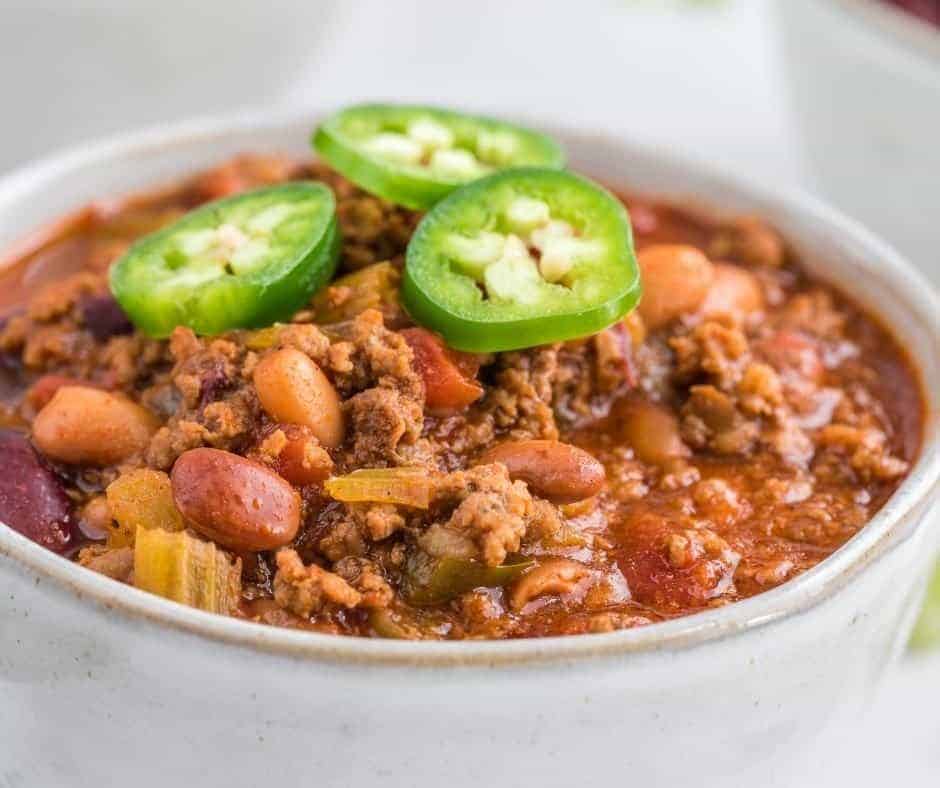 Pro Tips For the Best Copycat Recipe Wendy's Chili Instant Pot
Here are some pro tips to ensure your Instant Pot Wendy's Copycat Chili is a hit:
Quality Meat: Opt for fresh, lean ground beef to avoid excess grease in the chili. If your beef releases a lot of fat, drain most of it after browning.
Natural Release: When the cooking cycle is complete, let the Instant Pot release pressure naturally for at least 10 minutes before a quick release. This allows flavors to meld and settle better.
Bean Choice: While canned beans are convenient, soak dried beans overnight if you have the time. They often have a better texture and flavor.
Toast the Spices: Before adding your chili powder and cumin, lightly toast them in Sauté mode for a minute. Toasting spices can amplify their flavors.
Adjust Heat: Wendy's chili isn't extremely spicy, but if you like a little extra kick, consider adding a diced jalapeño or increasing the chili powder.
Deglaze the Pot: After browning the beef and sautéing the vegetables, deglaze the pot with beef broth or water, scraping up any browned bits from the bottom. This prevents a burn notice and infuses the chili with added flavor.
Simmer to Thicken: If you find your child to be too liquidy after pressure cooking, use the 'Sauté' function to simmer and reduce it to your desired consistency.
Overnight Magic: Chili often tastes even better the next day, after the flavors have had time to meld. Consider making it a day in advance for maximum flavor depth.
Garnish Right: Serve with shredded cheddar cheese, sour cream, chopped green onions, or even a dollop of guacamole to elevate your bowl of chili.
Avoid the Burn: Ensure to layer ingredients as recommended, especially the tomato-based ones, to prevent the dreaded "burn" notice on your Instant Pot.
With these pro tips in your arsenal, your Wendy's copycat chili is bound to be a hit, rivaling the taste of the fast-food favorite.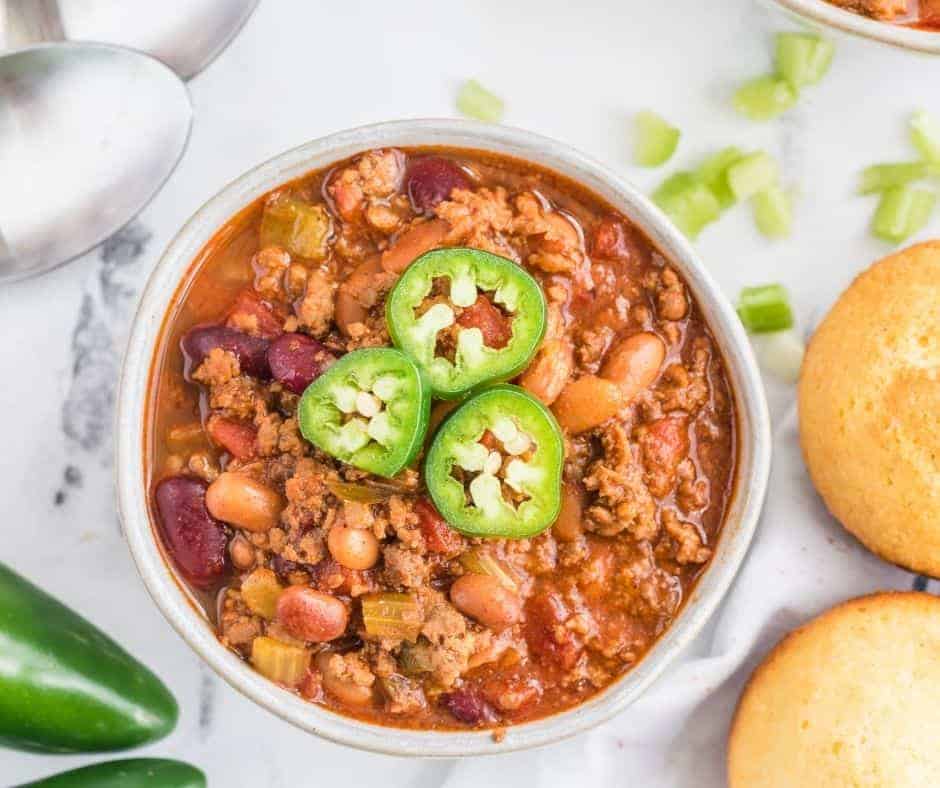 Can I use ground turkey instead of beef? Yes, ground turkey is a lighter alternative to beef and can be used in this recipe. However, it might slightly alter the taste and texture, making the chili leaner.
How long does this chili keep in the refrigerator? Stored in an airtight container, the chili should stay fresh for 4-5 days. Ensure it's cooled to room temperature before refrigerating.
Can I freeze this chili? Absolutely! This chili freezes well. Place it in airtight containers or freezer bags and store it in the freezer for up to 3 months. Thaw overnight in the refrigerator before reheating.
My chili is too watery. How can I thicken it? If your chili is too thin for your liking, switch the Instant Pot to 'Sauté' mode and let the chili simmer, allowing excess liquid to evaporate until you achieve the desired consistency.
Can I add other vegetables to the chili? Yes, feel free to get creative. Vegetables like zucchini, carrots, or corn can be added. Be mindful of the cooking time, as some vegetables might become too soft.
I got a "burn" notice on my Instant Pot. What did I do wrong? The "burn" notice often occurs when there's not enough liquid in the pot or if something is sticking to the bottom. Ensure you deglaze the pot after sautéing ingredients and layer tomato-based products correctly.
Is there a vegetarian version of this chili? Certainly! Replace the ground beef with a plant-based meat alternative or add extra beans and vegetables to make it vegetarian. Adjust the cooking time if necessary.
Can I make this chili on the stovetop or in a slow cooker? While this recipe is tailored for the Instant Pot, you can adapt it for a stove top or slow cooker. Cooking times will vary based on the method you choose.
How spicy is this chili? This copycat version aims to mirror Wendy's original recipe, which is mild in heat. If you desire more spice, adjust the chili powder green chiles or add some diced jalapeños.
More Instant Pot Recipes:
This is one of the BEST WEndy's Chili Sauce recipes! Loved This Instant Pot Wendy's Copycat Chili? If you are looking for even more Instant Pot Soup Recipes, check out these recipes. Remember, you can make these recipes in the Ninja Foodi, Instant Pot, or another pressure cooker!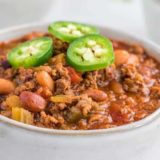 Instant Pot Wendy's Chili Copycat Recipe
Description
Instant Pot Wendy's Chili Copycat Recipe — We're back with another yummy recipe to try out in your Instant Pot! This time it's Wendy's chili. Let me tell you, and this is the best instant pot recipe I have tried yet. It was so easy and quick too! Plus, my kids loved it, and we had plenty of leftovers for lunch the next day. What are you waiting for? Get cooking!
Ingredients
2

pounds

lean ground beef

1

large

onion, peeled and diced

1/2

cup

chopped green bell peppers

1

small

jalapeno, seeded and diced

3

stalks

celery, peeled and diced

1

package

chili seasoning

1

cup

water

15

ounces

dark kidney beans

15

ounces

pinto beans

15

ounces

diced tomatoes with green chillies

15

ounces

tomato sauce

salt and pepper to taste
Instructions
In your Instant Pot, add your meat. Then press the saute button and saute until the meat is browned. (remember to continue to stir it, so it doesn't stick to the pan and/or burn)

Once it's browned, add your vegetables, and saute until they are softened, about 5 minutes. Then add your water and chili seasoning, mix well.

Add your beans and the rest of the ingredients and mix well.

Add your lid, make sure the vent is sealed and set the manual high pressure for 10 minutes when the timer beeps, naturally release.

When the pressure is done, open your lid, mix well and ladle into bowls.
Notes
Storing, Freezing, and Reheating Instant Pot Copycat Wendy's Chili:
Storing:
Refrigerator: Allow the chili to cool to room temperature. Transfer it to an airtight container and store in the refrigerator for up to 4-5 days.
Freezing:
Freezer Prep: Once the chili has cooled, portion it into freezer-safe bags or containers. Leave some space at the top as chili expands when frozen.
Freeze: Lay the bags flat in the freezer for space-saving storage. The chili can be frozen for up to 3 months.
Thawing: For best results, thaw the chili in the refrigerator overnight before reheating. If you're in a hurry, you can also use the microwave's defrost setting.
Reheating:
Stovetop: Pour the chili into a pot and reheat on medium heat, stirring occasionally until warmed throughout.
Microwave: Place the chili in a microwave-safe bowl, cover loosely with a lid or microwave-safe wrap, and reheat at medium power, stirring occasionally, until heated through.
Instant Pot: Pour the chili into the pot and use the 'Sauté' function to reheat, stirring occasionally. Ensure it's well-stirred to avoid any burning at the bottom.
Tip: When reheating, you might need to add a splash of water or broth to achieve your desired consistency, as chili tends to thicken when stored.
Now, enjoy your chili's delectable flavors again, ensuring it's as delicious as the day you made it!
Nutrition
Serving:
1
Serving
Calories:
444
kcal
Carbohydrates:
45
g
Protein:
47
g
Fat:
9
g
Saturated Fat:
4
g
Polyunsaturated Fat:
1
g
Monounsaturated Fat:
3
g
Trans Fat:
1
g
Cholesterol:
94
mg
Sodium:
464
mg
Potassium:
1581
mg
Fiber:
14
g
Sugar:
6
g
Vitamin A:
633
IU
Vitamin C:
28
mg
Calcium:
115
mg
Iron:
9
mg
Don't Forget To Pin: