Do you want the perfect air fryer for your kitchen? Confusion is all around us when it comes to finding a brand and style that's right. So read this Dash Air Fryer Review before investing!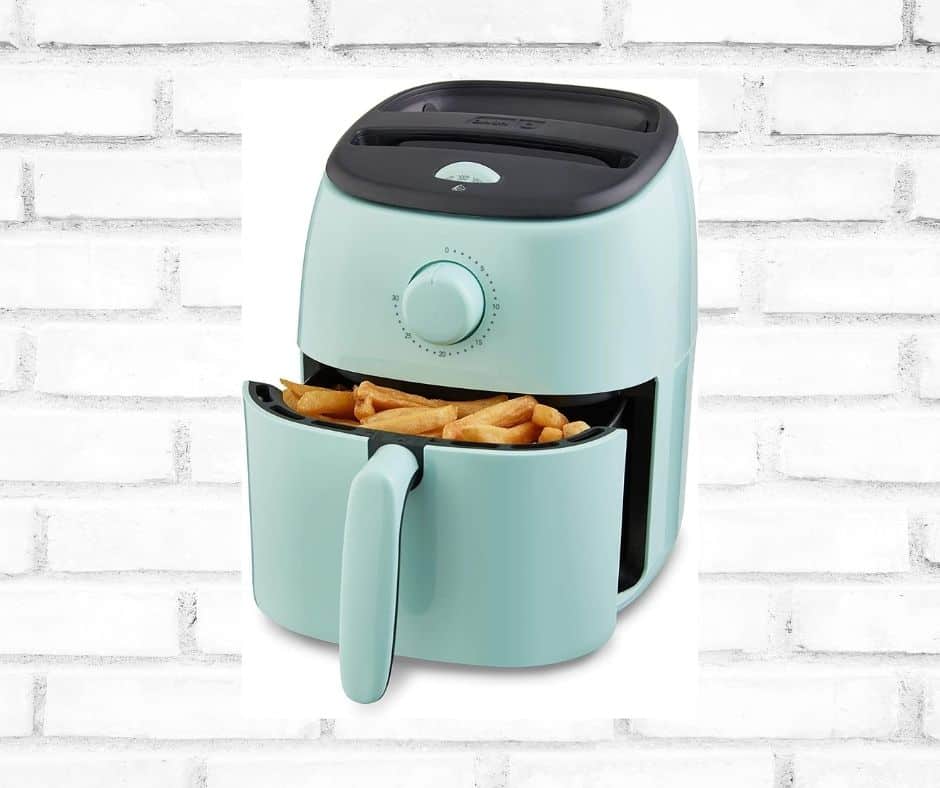 I know what it's like to want the best for your kitchen, and you are confused about which brand is genuinely better. That's why I have taken my time to review the Dash Air Fryer so you can find out if this air fryer would work for you and your family!
I'll still say that there are many factors involved when picking an appliance, and depending on what features you need on an air fryer will differ from person to person.
I have the luxury of using a LOT of air fryers in my life, from ovens, baskets, to combination styles, and I wanted to take time to help you find an air fryer that would be an excellent investment for you and your family.
Size:
The Dash Air Fryer is available in many different sizes. Today I used the 2.6 quarts in my kitchen.
Other available sizes are:
Tasti-Crisp: 2.6 Quart (the one I tested)
Dash Deluxe 6 Quart
Dash Compact Air Fryer 2 Quart
Capacity:
Whether you purchase the 2.6 Quarts or 6 Quarts, the size will vary greatly. To illustrate. I put one hamburger patty into the 2.6 Quart model but could quickly put up to 5 hamburgers in the 6.0 Quart Model.
The Dash's 2.6-quart model is large enough for a family or one person. You will not make enough food simultaneously for any more than one person.
The Dash's a 6-quart capacity, which is more than some of the other air fryers I've reviewed. It features a huge basket, which will easily hold enough food for a family of 4 to 5.
Remember that all food in the air fryer basket will need to be in a single layer, which will cook the food to perfection.
Features:
This is a basic air fryer, and the only feature that it has is the air fryer setting. Depending on which model you purchase, you will also get:
Non-Stick Basket
Dial Knob and Temperature Setting (This makes it easy for anyone who is not comfortable using technology as you turn the dial and set the temperature and time). Another available model does have a digital setting and comes with three presets.
Easy To Use:
This is one of the easiest air fryers that I have ever used, anyone can use this from kids (with adult supervision of course) to teens.
There are only two knobs on this air fryer:
Price:
Depending on the model that you purchase it will run you between $29.99 to $79.99, which makes this a great investment for your first air fryer. The larger model (the 6 Quart) would make a great addition for another air fryer for side dishes, such as Air Fryer French Fries, or make dinner with Air Fryer Lamb Chops or Air Fryer Lobster Tails!
What Pans Can I Use In The Air Fryer?
There's no limit to what you can make with your regular baking pans. Use them in any oven-safe dish or pan, and enjoy preparing all sorts of delicious treats!
Remember this if it's oven safe it's usually Air Fryer Safe!
What Can I Make In My Dash Air Fryer?
Dash air fryers are gaining in popularity for their quick cooking time and health benefits. But with so many recipes out there, what can you actually make in a Dash air fryer?
The best recipes to start with, are easy ones! I always recommend making things that you can make in your oven with ease.
Some of my favorite Air Fryer Recipes are:
Common Problems with DASH Air Fryer
The DASH Air Fryer is one of the most popular air fryers on the market, but it does have its share of common problems. In this post, we'll take a look at some of the most common issues with the DASH Air Fryer and offer some solutions. Keep reading to learn more!
Dash Air Fryer Stopped Working Or Dash Air Fryer Not Turning On!
When your Dash Air Fryer will not turn on. Here are some steps to take.
Make sure your Dash Air Fryer is plugged in
If you find that your air fryer is plugged in, check the circuit breaker, to make sure that you have not tripped your circuit.
Try another outlet.
Try again, making sure that you turn on both the temperature and the time.
If nothing works contact Dash Air Fryer Customer Service at 1-800-898-6970