All About Pies
Who doesn't love a delicious pie? Apple, pumpkin, peanut butter, all pies are delicious! If you are looking to understand pies a little more, then you have come to the right place. Knowing how to make pie is a skill that everyone should know! Not all pies are the same, but we're going to do our best to tell you everything we know about pies!
Types of Pies
Apple Pie
Apple pie is one of those beloved pies that most people enjoy. If you are going to make an apple pie there may be some things you need to know. To make Apple Pie, you will need around 2.5 pounds of apples, which will make a ten-inch pie! 
Best Apples for Apple Pie
You will want apples that don't have any bruises or skin breaks. There are some pies that are better for making applies pies than others. Granny smiths, Ida Red, McIntosh, and Pink Lady are all excellent choices for making apple pies. 
How to Store Apples for Pies
Something to keep in mind about apples is that they can be stored. However, they can't be stored forever. If you put apples in the fridge, they aren't going to ripen as fast as they would on the counter. If you want them to ripen slowly, then you will want to put them in the fridge, easy peasy! 
Types of Pie Crusts
Believe it or not, but there is not only one recipe for the pie crust out there. There are several options for pie crust out there, you just have to know which crust works best for you! You cannot have a good pie without a good pie crust. 
Flaky Pie Crust – This is where the pie crust is a little flaky and comes apart easily, but it is still very delicious! 
Decorative Pie Crust – Some people have amazing talent and decorate their pie crust! 
Store-Bought Pie Crust – You can buy a pie crust from the store! You can use it to make your very own pie at home.
Homemade Pie Crust – Depending on your heritage, you may have a pie crust recipe that awaits you from family. 
Single Pie Crust – This is best known as a pie crust that will be used as the bottom crust of a pie. A bottom crust usually uses more dough than a top crust. 
Double Pie Crust – A double crust pie is a pie that's made with both a bottom and a top crust. 
Lattice Top Pie Crust – Also known as weaving a pie crust is a fancy way of adding a little decor to your pie crust. 
Graham Cracker – Not all pie crust is made out of dough, some pie crusts are made with a graham cracker crust. Graham cracker crusts are made of graham crackers crumbs, butter, sugar, and spices. 
Having the right crust is important, to ensure your pie tastes the best! Luckily, there are many options out there, when it comes to the types of pie crusts. 
How to Bake a Pie
When it comes to cooking a pie in the oven, it's a simple process. Your oven will be set to around 350 degrees. 
Most people put their pie on a cookie sheet to help give it some stability (this is a matter of preference though). A pie that's around 9 inches big will take around 15 to 20 minutes to cook. Use oven mitts to pull the pie out of the oven. 
Make sure you place the pue on the bottom rack of the oven when you're baking it. 
How to Cool a Pie
Are you trying to cool a pie? Keep the pie on the counter for around 30 minutes after you take it out of the oven. After it's cooled to room temperature, you can put the pie in the fridge to help get it cool.
What is Blind Baking?
If you are new to baking and don't know what blind baking is, that's when you pre-bake the pie without the filling. The temperature should be about 350 degrees for 10 to 20 minutes. 
How Do I Cover a Pie?
After a pie is done baking and cooled down, you may need to cover it. Take a dinner plate and put it over the pie. You can then wrap the entire pie, using aluminum foil or plastic wrap. The dinner plate helps to protect the pie. This is a great hack for when you need to transport a pie from one place to another. 
Don't Forget To Pin–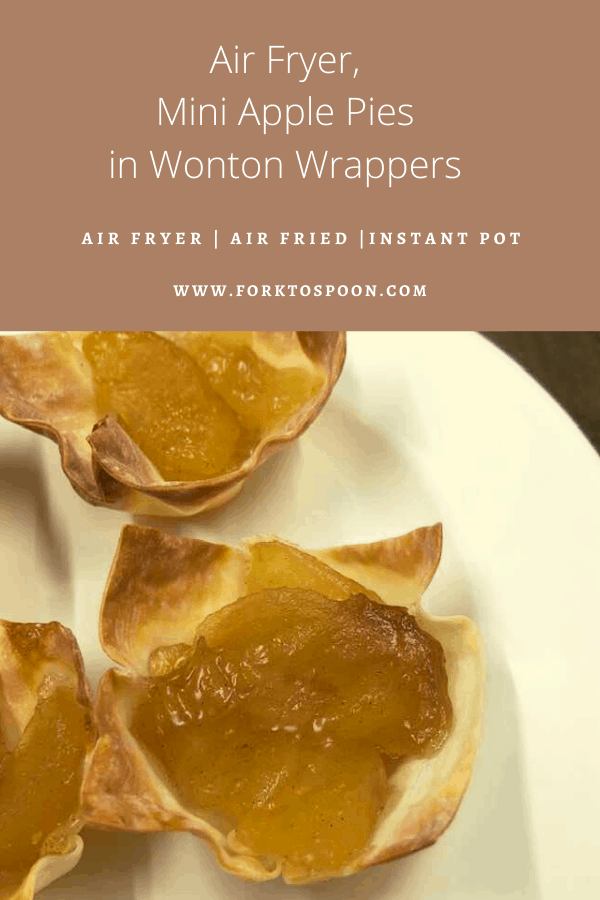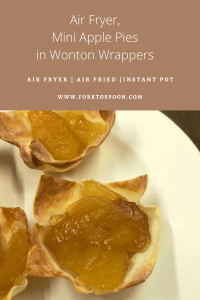 Print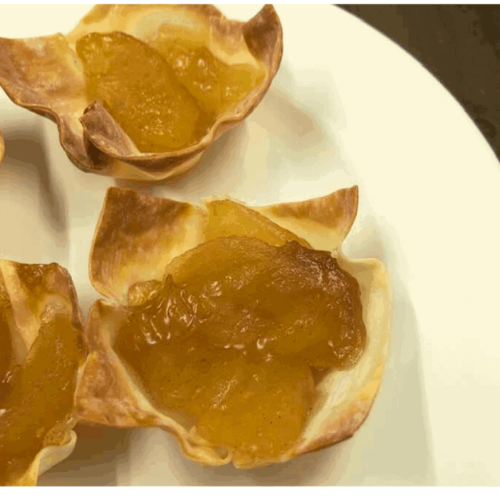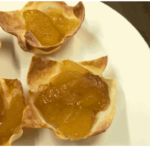 Air Fryer, Mini Apple Pies in Wonton Wrappers
Author:

ForkToSpoon.com

Prep Time:

5 minutes

Cook Time:

5 minutes

Total Time:

10 minutes

Yield:

8

servings

1

x

Category:

Baked Goods

Method:

Air Fryer

Cuisine:

American
---
Description
This is one of the easiest recipes, with 2 ingredients and an air fryer, this can quickly be made to serve a crowd.
---
8

wonton wrappers

1/2 cup

apple pie filling
---
Instructions
Start by spraying the muffin tins with non-stick cooking spray.
Then lie the wonton wrapper inside the muffin tin.

Fill the wonton wrappers with pie filling and pop the pan into the air fryer basket or oven.

Set the temperature to 320 degrees F, for 5 minutes.
Plate, serve and enjoy!

---
Keywords: apple pie egg rolls air fryer apple pie egg roll in air fryer air fryer apple pie air fryer apple egg rolls air fryer dessert egg rolls air fryer apple pie wontons air fryer desserts air fryer apple wontons