Air Fryer Ham and Cheese Sliders are fantastic! There is no better iconic sandwich than this one. If you love a tasty sandwich made on sweet Hawaiian rolls, you will love this recipe!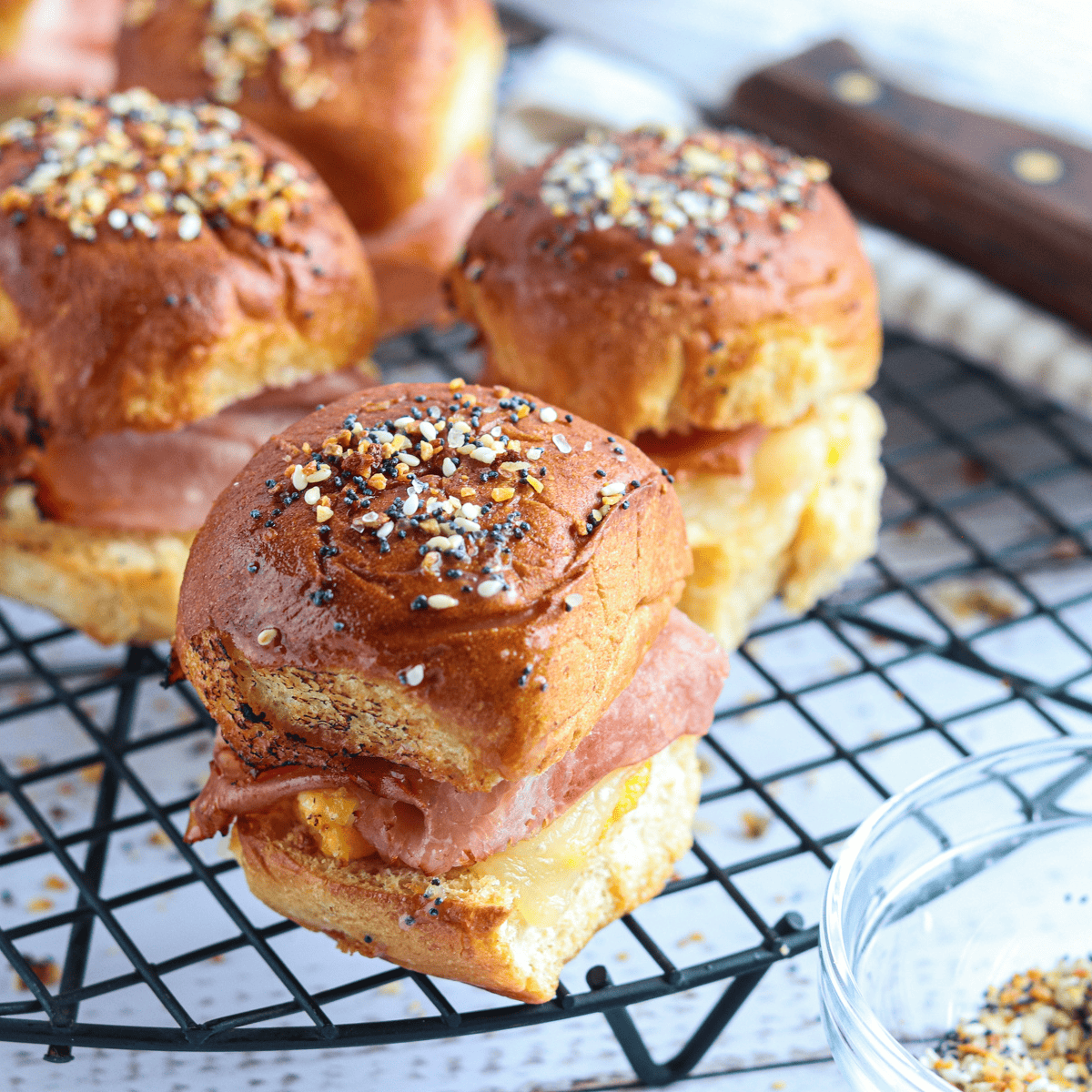 Prepare to elevate your snack game with these scrumptious Air Fryer Ham and Cheese Sliders. This recipe takes the classic ham and cheese sandwich to a whole new level by transforming it into perfectly toasted, gooey, and bite-sized sliders, all thanks to the magic of the air fryer.
Each slider features layers of savory ham, melted cheese, and a delectable spread of buttery garlic sauce, all nestled between soft dinner rolls. The result? An irresistibly crispy and melty treat that's perfect for a quick snack, party appetizer, or a satisfying lunch option.
In just a matter of minutes, you can create these flavor-packed sliders that are crispy on the outside, tender on the inside, and bursting with rich, cheesy goodness. Whether hosting a game day get-together or simply craving a delightful snack, these Air Fryer Ham and Cheese Sliders are here to satisfy your taste buds. Get ready to bite into pure deliciousness!
If you are looking for even more Air Fryer Sandwich Recipes, some of my favorites are FROZEN CHICKEN PATTIES IN THE AIR FRYER, AIR FRYER HARDEE'S BIG HOT HAM 'N' CHEESE, AIR FRYER TURKEY CLUB SANDWICH, and AIR FRYER TUNA MELT GRILLED CHEESE.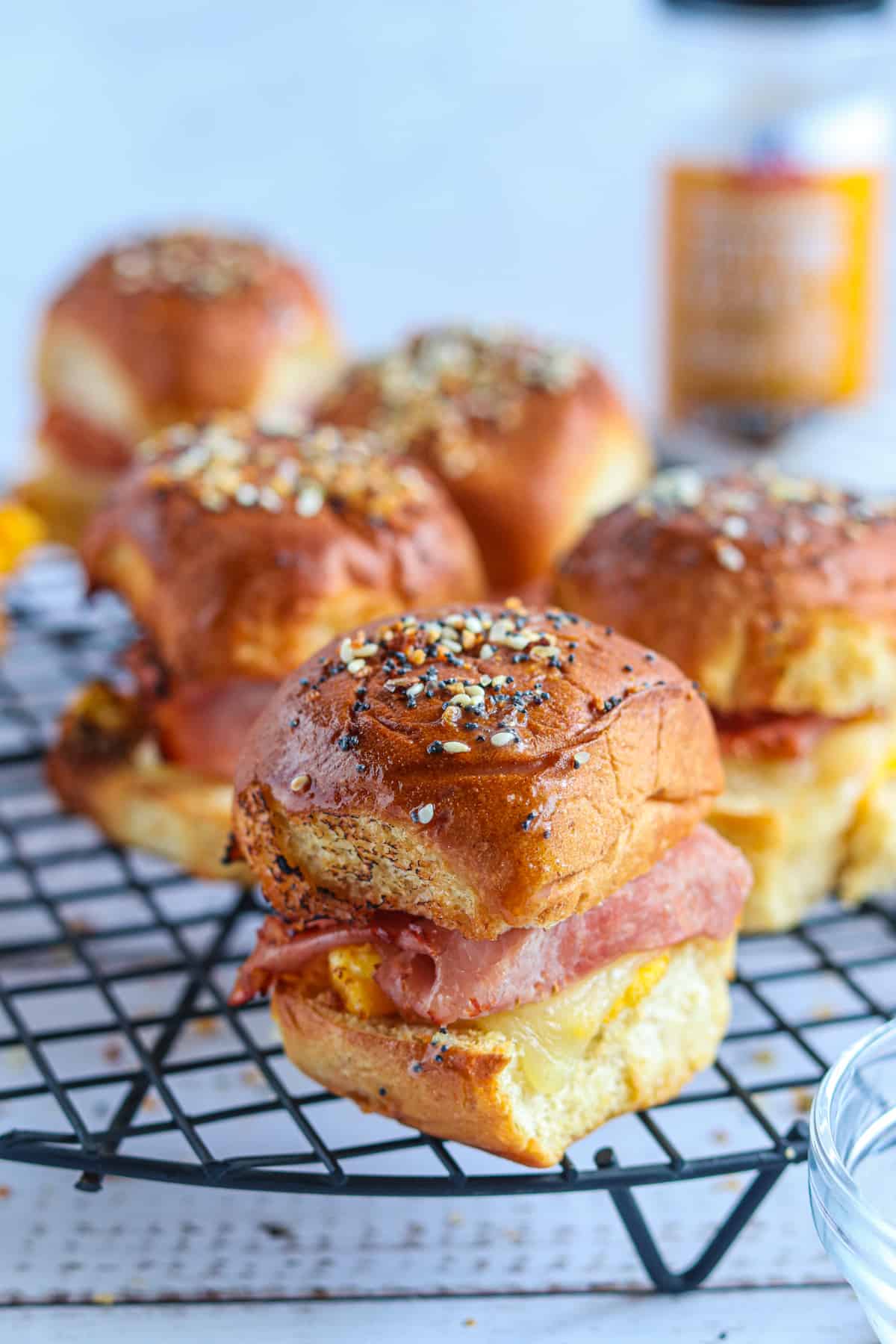 Why You Will Love This Easy Recipe
Quick and Effortless: Perfect choice for leftover ham, leftover turkey, or deli meats.
Irresistible Flavor: Combination of Salty ham and melted Swiss cheese
Crispy Exterior
Versatile
Perfect for Parties: But perfect for meal prep or an easy dinner
Minimal Cleanup
Family-Friendly: The whole family will love this recipe!
Ingredients Needed For Air Fryer Ham and Cheese Sliders
These simple ingredients combine to create a harmonious blend of flavors and textures in your Air Fryer Ham and Cheese Sliders. They're the building blocks of a delicious and satisfying snack or easy meal.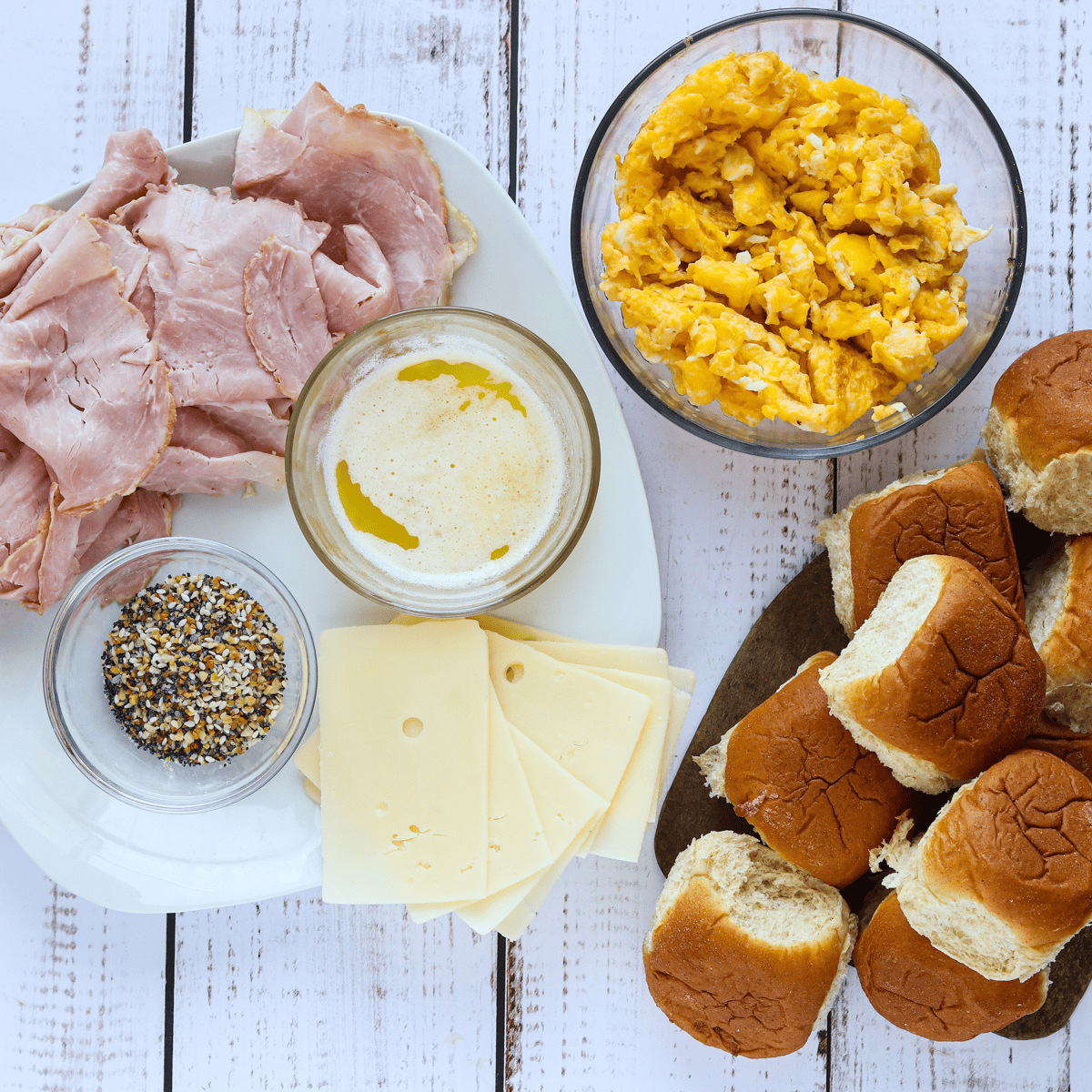 ​Remember the step-by-step directions and complete list are below in the printable recipe card at the bottom of the post, as well as the nutritional information.
​
Dinner Rolls: Soft dinner rolls serve as the base for these sliders, providing a tender and fluffy interior that contrasts beautifully with the crispy exterior. The most popular option is King's Hawaiian rolls, Hawaiian Sweet Rolls, or slider rolls.
Deli Ham Slices: Thinly sliced deli ham adds a savory and meaty flavor to the sliders. You can choose your favorite type of ham, such as honey-glazed or smoked.
Swiss Cheese Slices:

Swiss cheese brings a creamy, nutty, and slightly tangy flavor to the sliders. It melts beautifully, creating that irresistible cheesy goodness.

Butter:

Butter is used to make a garlic-infused spread that enhances the flavor of the sliders and helps achieve that perfect golden-brown crust.

Garlic Powder:

Garlic powder adds a subtle garlic flavor to the buttery spread, giving the sliders a delightful hint of garlic without overpowering.

Dried Parsley Flakes (Optional):

Dried parsley flakes can garnish the sliders, adding a touch of color and a hint of herbaceousness.
Making Ham And Cheese Sliders In Air Fryer
These sliders are perfect for a quick snack, party appetizer, or a satisfying meal. Customize them with your favorite condiments or additional toppings to make them your own.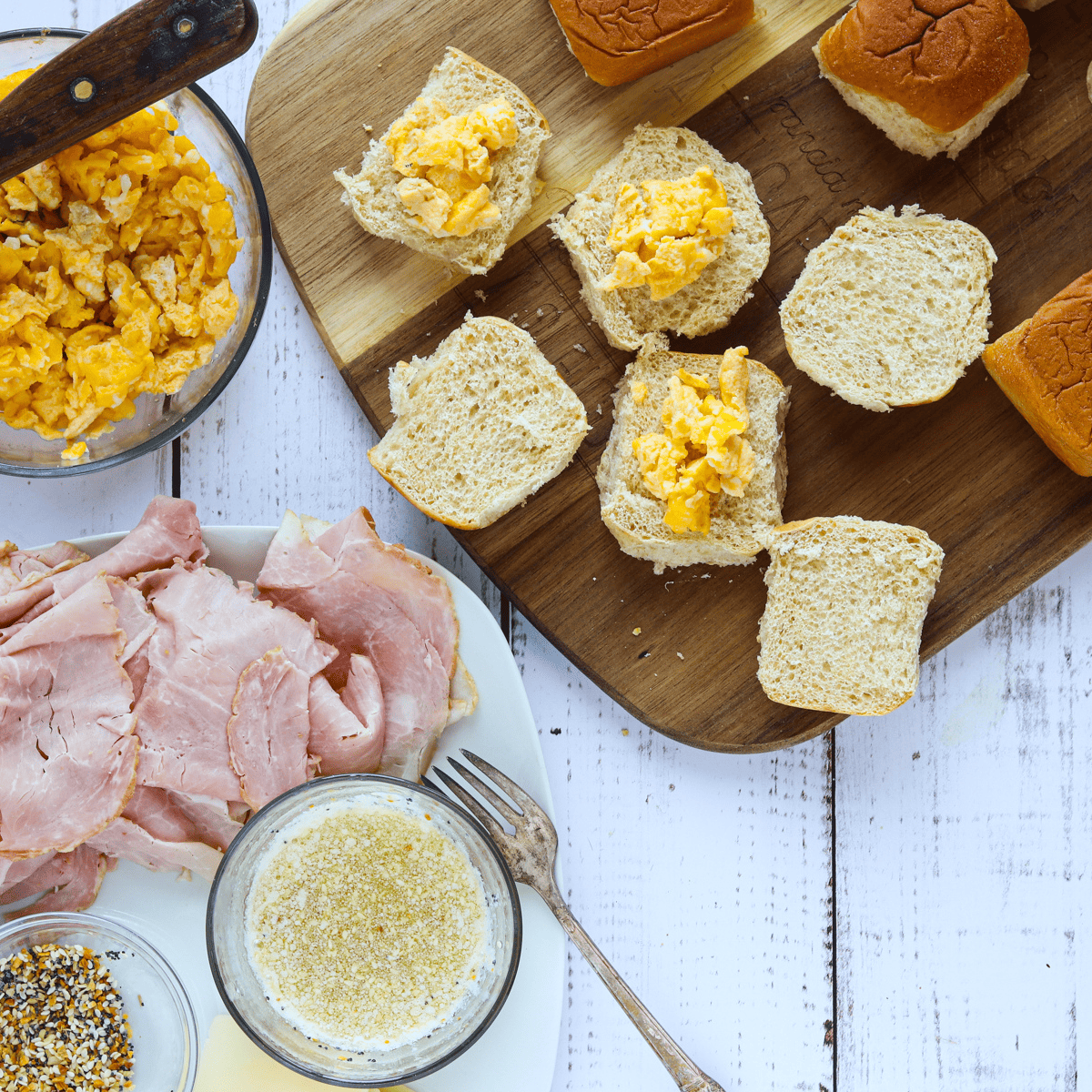 Preheat the Air Fryer:
Preheat your air fryer to 350 degrees F (175°C) for 3-5 minutes. This will ensure that it's ready to cook the sliders evenly.
Prepare the Garlic Butter:
In a microwave-safe small bowl, melt the butter in the microwave. Stir in the garlic powder to create a garlic butter spread.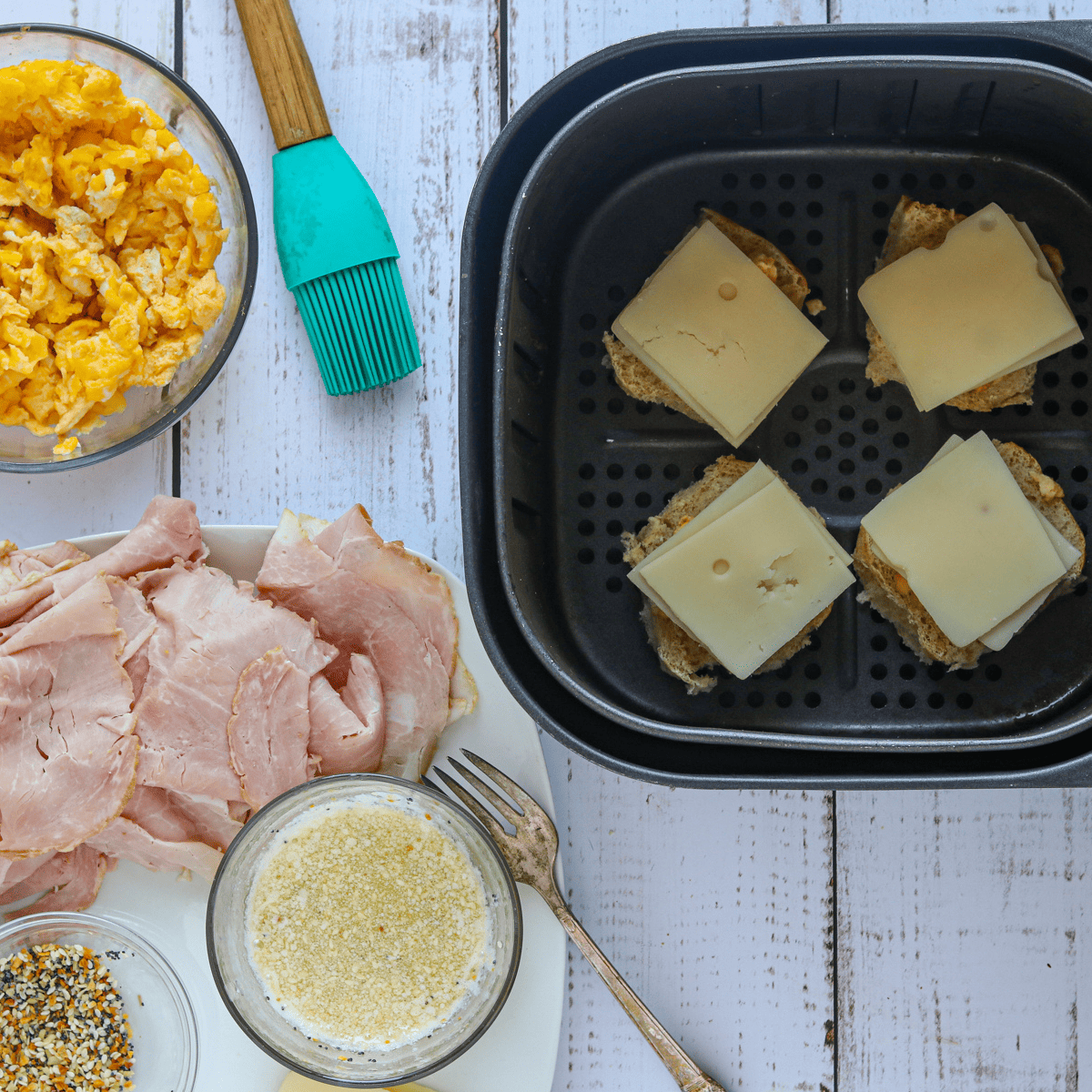 Assemble the Sliders:
Slice the dinner rolls in half horizontally with a serrated knife, keeping them connected as a single sheet. Place the bottom half of your rolls in the air fryer basket. Spread a generous layer of garlic butter on the bottom half of the rolls. Layer the deli ham slices evenly over the garlic butter. Place the Swiss cheese slices over the ham. Put the top half of the dinner rolls back on, creating a sandwich.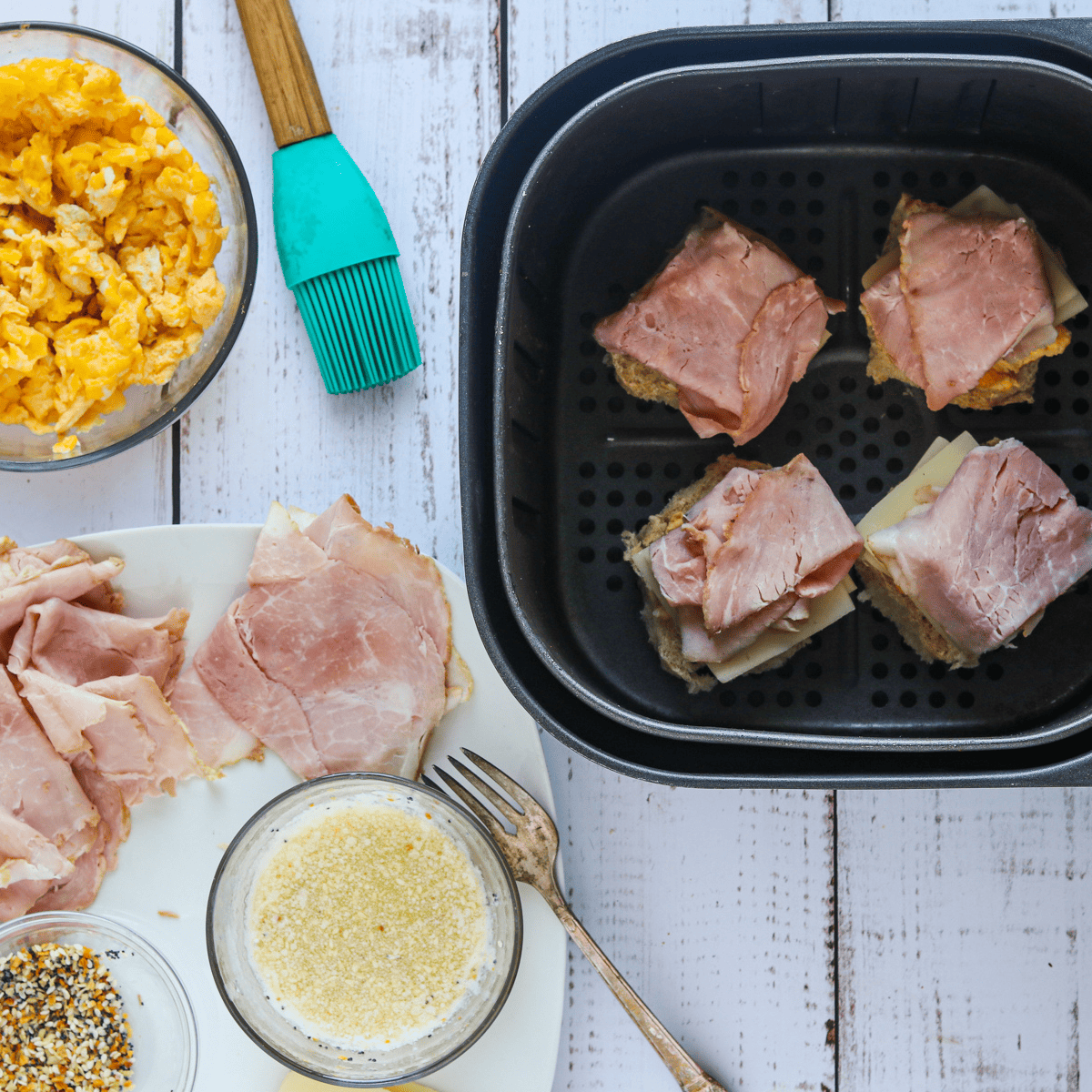 Brush with Garlic Butter:
Brush the top of the rolls with more melted butter. Make sure to coat them evenly for that delicious garlic flavor.
Air Fry the Sliders:
Carefully place the assembled sliders in the air fryer basket. You may need to work in batches depending on the size of your air fryer. Set cook time for 5-6 minutes until the sliders are golden brown and the cheese is melted. Keep a close eye on them to avoid overcooking.
Serving:
If desired, sprinkle dried parsley flakes, poppy seeds, or Everything but the Bagel seasoning over the sliders for a touch of color and flavor. Remove the sliders from the air fryer and let them cool for a minute or two.
Serve your Air Fryer Ham and Cheese Sliders with your favorite dipping sauce.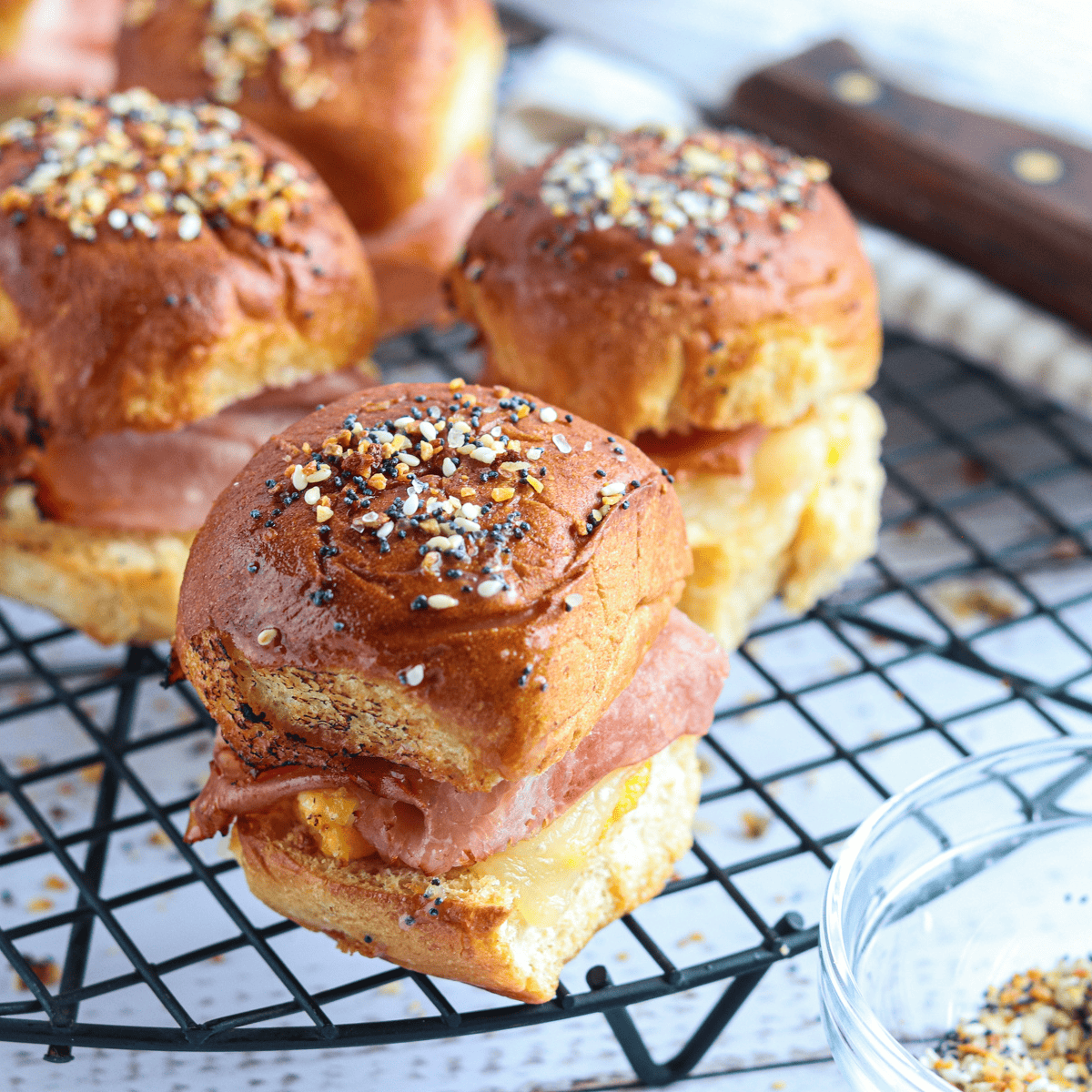 Recipe Variations
Feel free to mix and match ingredients to create your own unique slider variations. These options provide a range of flavors and can cater to different tastes, making them suitable for various occasions and preferences.
Turkey and Swiss Sliders: Substitute the deli ham with thinly sliced turkey breast and use Swiss cheese for a twist on the classic. You can also add a layer of cranberry sauce for a Thanksgiving-inspired flavor.
Bacon Lovers Sliders: Add crispy bacon strips to your sliders for a bacon lover's dream. The combination of ham, bacon, and cheese is incredibly savory.
BBQ Chicken Sliders: Use shredded BBQ chicken instead of ham and pair it with cheddar cheese. Drizzle some barbecue sauce over the chicken for a sweet and smoky flavor.
Veggie Sliders: Create a vegetarian version by layering grilled or roasted vegetables like bell peppers, zucchini, and eggplant. Add your choice of cheese for a meatless delight.
Spicy Jalapeño Sliders: Add sliced pickled jalapeños to your ham and cheese sliders for a spicy kick. Pepper jack cheese complements the heat nicely.
Hawaiian Sliders: Include slices of pineapple and a drizzle of teriyaki sauce for a tropical twist on your sliders. It's a sweet and savory combination.
Italian Sliders: Layer slices of pepperoni, salami, and provolone cheese on your sliders. Add a sprinkle of Italian seasoning and serve with marinara sauce for dipping.
Reuben Sliders: Swap the ham for corned beef, use Swiss cheese, and spread Thousand Island dressing on the rolls. Add sauerkraut for a Reuben-inspired flavor.
Breakfast Sliders: Create breakfast sliders by adding scrambled eggs, cooked sausage or bacon, and your favorite cheese. These are perfect for a morning treat.
Buffalo Chicken Sliders:– Toss shredded cooked chicken in buffalo sauce and layer it with blue cheese or ranch dressing. These sliders have a spicy kick.
Pro Tips For The Best Ham and Cheese Air Fryer Sliders
​
Preheat Your Air Fryer: Preheating your air fryer for a couple of minutes is essential. It helps ensure even cooking and a crispy exterior. Follow your specific air fryer's instructions for preheating.
Use Fresh Rolls: Choose fresh dinner rolls for the best results. Stale or dry rolls won't yield the same soft and fluffy interior.
Keep the Rolls Connected: When slicing the dinner rolls, keep them connected as a single sheet. This makes assembling easier and prevents the individual sliders from falling apart.
Butter the Rolls Well: Be generous with the garlic butter spread. It not only adds flavor but also helps achieve a golden-brown and crispy exterior.
Layer Ingredients Evenly: Distribute the ham and cheese slices evenly across the rolls to ensure every slider has a balanced filling.
Experiment with Cheese: While Swiss cheese is traditional, feel free to experiment with different cheese varieties like cheddar, provolone, or pepper jack for unique flavors.
Don't Overcrowd the Air Fryer Basket: Avoid overcrowding the air fryer basket. Cook the sliders in batches if necessary to allow proper airflow and even cooking.
Keep an Eye on Cooking Time: Cooking times can vary depending on the air fryer model and the thickness of the sliders. Check them frequently to avoid overcooking or burning.
Garnish as Desired: Add dried parsley flakes or other herbs as a garnish to enhance the visual appeal of your sliders.
Customize Your Sliders:– Get creative with additional ingredients. Customize your sliders with pickles, mustard, mayo, or other condiments you love.
Serve Hot:– Sliders are best enjoyed hot and fresh from the air fryer. Let them cool briefly before serving to avoid burning your mouth.
FAQ's
​
Can I use different types of cheese for my sliders?
Absolutely! While Swiss cheese is traditional, you can experiment with any type of cheese, such as Cheddar, provolone, pepper jack, or even mozzarella can work well.
Can I make these sliders ahead of time for a party?
Yes, you can assemble the sliders ahead of time and store them in the refrigerator until you're ready to cook them in the air fryer. Just remember that the sliders are best when served fresh and hot.
Can I make a vegetarian version of these sliders?
Certainly! You can create a vegetarian version by replacing the ham with grilled or roasted vegetables such as bell peppers, zucchini, eggplant, or even sautéed spinach. Pair them with your favorite cheese.
How do I prevent the sliders from becoming soggy?
To prevent sliders from becoming soggy, make sure to use a generous amount of garlic butter spread on the rolls. This creates a barrier that helps keep the moisture from the ingredients inside the bread.
Can I reheat leftover sliders in the air fryer?
Yes, you can reheat leftover sliders in the air fryer. Preheat the air fryer to 350°F (175°C) and place the sliders inside for a few minutes until they are heated through and crispy again.
What side dishes pair well with these sliders?
Sliders go well with various side dishes like coleslaw, potato salad, mixed greens, or a simple fruit salad. You can also serve them with pickles or chips for a complete meal.
Can I freeze these sliders for later?
While it's best to enjoy sliders fresh, you can freeze them for later. Wrap them individually in plastic wrap or foil and store them in an airtight container. To reheat, thaw in the refrigerator and then use the air fryer or oven to crisp them up.
How do I prevent the cheese from oozing out during cooking?
To prevent the cheese from oozing out, make sure it's completely enclosed within the ham layers. Additionally, avoid overstuffing the sliders with too much filling.
More Air Fryer Recipes
Don't Forget To Pin!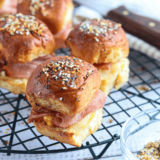 Air Fryer Ham And Cheese Sliders
Description
Air Fryer Ham And Cheese Sliders are amazing! There is no better iconic sandwich than this one
Ingredients
8

slices

deli ham

1

piece

Swiss Cheese

,

sliced into fourths

4

Hawaiian King Bread Slider rolls

,

cut in half
Sauce:
4

tablespoons

mayonnaise

1

tablespoons

Dijon mustard

2

tablespoons

melted butter

1

tablespoons

garlic powder

1

tablespoons

onion powder

1

tablespoons

Worcestershire sauce

2

tablespoons

poppy seeds (

,

(more to be dashed on at the end)
Instructions
Start by spreading mayo on the rolls, then fold the ham and cheese up into the roll.

I put them in my air fryer-safe pan.

Then, mix the melted butter, mustard, poppy seeds, onion powder, garlic powder, and Worcestershire sauce in a small bowl.

Spread the sauce over the sandwiches.

Air Fry for about 5 minutes at 260, then air fry at 350 F (air fryer setting) for another 2 minutes. The cheese should be melted. If not, add a couple of minutes. My sandwiches were nice after the 7 minutes.

Remove from the air fryer, and sprinkle some poppy seeds over them.
Equipment
Air Fryer

Parchment Paper,

optional
Nutrition
Serving:
1
Serving
Calories:
378
kcal
Carbohydrates:
9
g
Protein:
16
g
Fat:
31
g
Saturated Fat:
10
g
Polyunsaturated Fat:
10
g
Monounsaturated Fat:
9
g
Trans Fat:
0.3
g
Cholesterol:
61
mg
Sodium:
914
mg
Potassium:
337
mg
Fiber:
3
g
Sugar:
1
g
Vitamin A:
235
IU
Vitamin C:
1
mg
Calcium:
174
mg
Iron:
2
mg