Air Fryer Crispy Garlic Parmesan Potatoes — Indulge in a delectable side dish with this delicious potato recipe.
This recipe takes ordinary potatoes to a whole new level of flavor and texture. Sliced into bite-sized pieces and tossed with a garlic-infused Parmesan coating, these potatoes are air-fried to perfection, resulting in a delightful crispiness that's simply irresistible.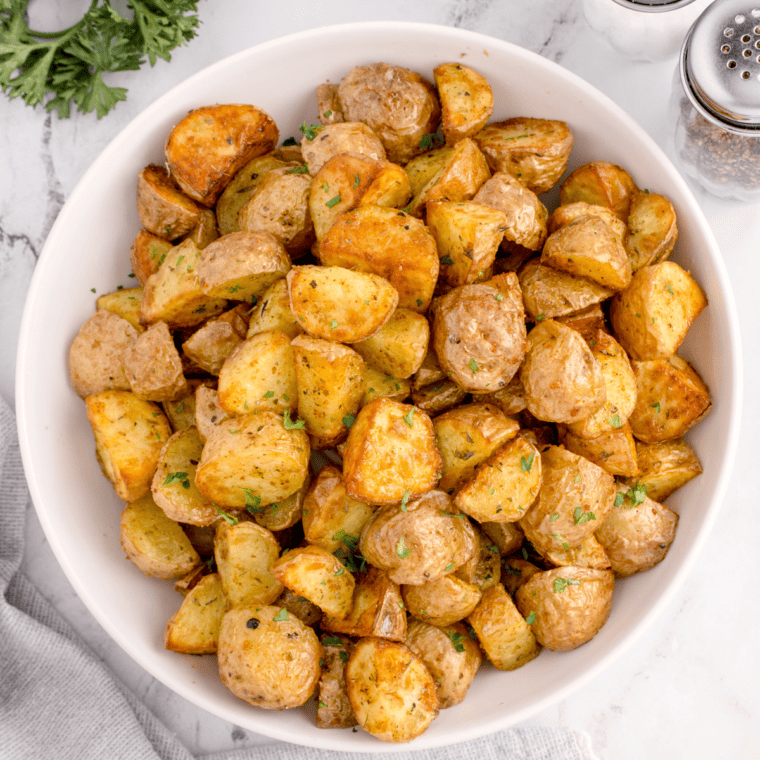 Each bite is a harmonious blend of crispy exteriors and tender interiors, while the aromatic garlic and savory Parmesan cheese elevate the dish to gourmet status.
Whether you serve them as a side for a special meal or enjoy them as a satisfying snack, these Air Fryer Crispy Garlic Parmesan Potatoes will surely become a favorite in your culinary repertoire.
If you are looking for even more air fryer potato recipes, some of my favorites are AIR FRYER LOADED POTATO SKINS, AIR FRYER EASY POUTINE FRENCH FRIES, AIR FRYER GARLIC ROASTED FINGERLING POTATOES, and AIR FRYER TACO BELL COPYCAT NACHO FRIES.
Air Fryer Parmesan Potatoes
Air Fryer Parmesan Potatoes are a culinary delight that combines the comforting appeal of roasted potatoes with the convenience and crispiness of air frying.
These golden-brown potato bites are visually appealing and bursting with flavor. The magic begins with thinly sliced potatoes, which are then generously coated with grated Parmesan cheese, minced garlic, and a medley of aromatic herbs and spices.
As they sizzle in the air fryer, the exterior becomes irresistibly crispy while the interior remains tender and fluffy. The result is a symphony of textures and tastes, with each bite offering a delightful combination of savory Parmesan and the subtle warmth of garlic. Whether served as a side dish, appetizer, or snack, Air Fryer Garlic Parmesan Potatoes are a crowd-pleaser that adds a gourmet touch to any meal.
Ingredients Needed For Air Fryer Crispy Garlic Parmesan Potatoes
These ingredients combine to create the irresistible flavor and texture of Air Fryer Crispy Garlic Parmesan Potatoes, making them a savory and satisfying side dish or snack.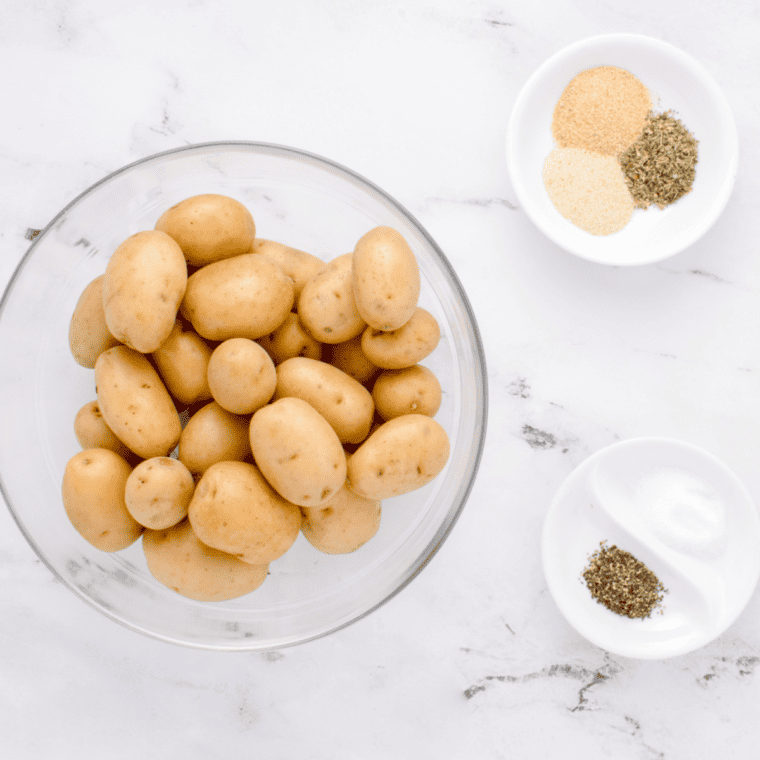 Remember the step-by-step directions, full recipe, and detailed ingredient list are below in the printable recipe card at the bottom of the end of the post, as well as the nutritional information.
Potatoes: The star of the dish, potatoes are sliced into bite-sized pieces, providing a starchy and hearty base for the recipe.
Parmesan Cheese: Grated Parmesan cheese lends a rich and savory flavor, as well as a crispy texture when air-fried.
Garlic: Minced garlic infuses the potatoes with a fragrant and aromatic garlic essence, adding depth of flavor.
Olive Oil: Olive oil not only prevents sticking but also helps achieve a crispy exterior on the potatoes as they cook.
Paprika: Paprika adds a subtle smokiness and a touch of color to the dish, enhancing the overall flavor profile.
Dried Herbs: A blend of dried herbs, such as thyme, rosemary, and oregano, adds an aromatic and herbaceous dimension to the potatoes.
Salt and Pepper: These seasonings are essential for enhancing the overall taste and balance of the dish.
Fresh Parsley (Optional): Chopped fresh parsley can be used as a garnish to add freshness and color to the finished potatoes.
How To Cook Garlic Parmesan Air Fryer Potatoes
These Air Fryer Garlic Parmesan Roasted Potatoes are a delectable side dish that pairs well with various main courses.
Enjoy the crispy exterior, tender interior, and the savory goodness of garlic and Parmesan cheese in every bite. They are the perfect side dish and an excellent substitute for french fries.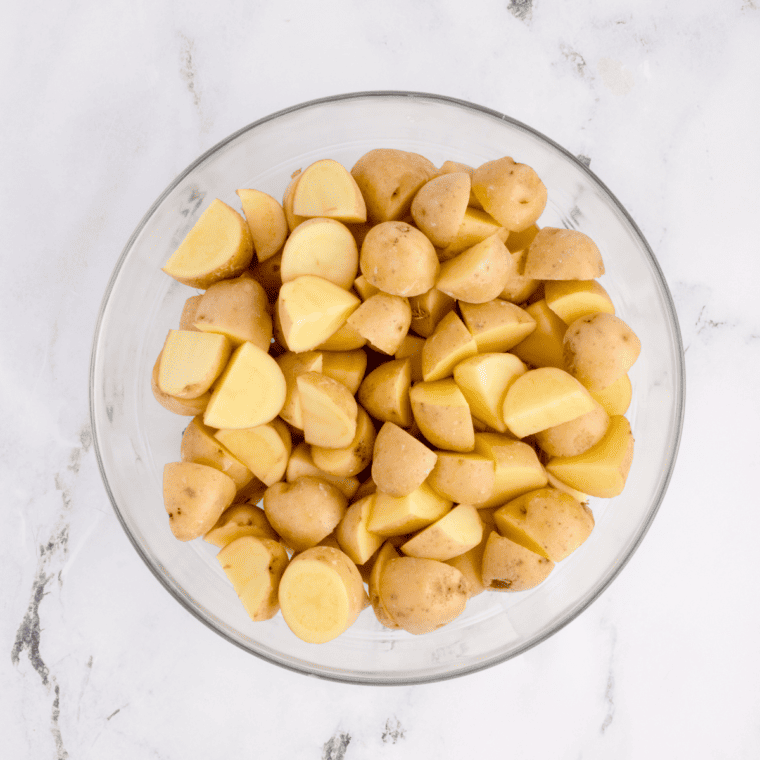 Prepare the Potatoes:
Wash and scrub the potatoes to remove any dirt or debris. You can peel them, but leaving the skins on adds texture and flavor. Cut the potatoes into bite-sized pieces, ensuring they are relatively uniform for even cooking.
Coat with Olive Oil and Seasonings:
In a large mixing bowl or a large ziplock bag, toss potatoes, minced garlic, grated Parmesan cheese, olive oil, paprika, dried herbs, salt, and black pepper. Toss everything together until the potatoes are evenly coated with the seasoning mixture.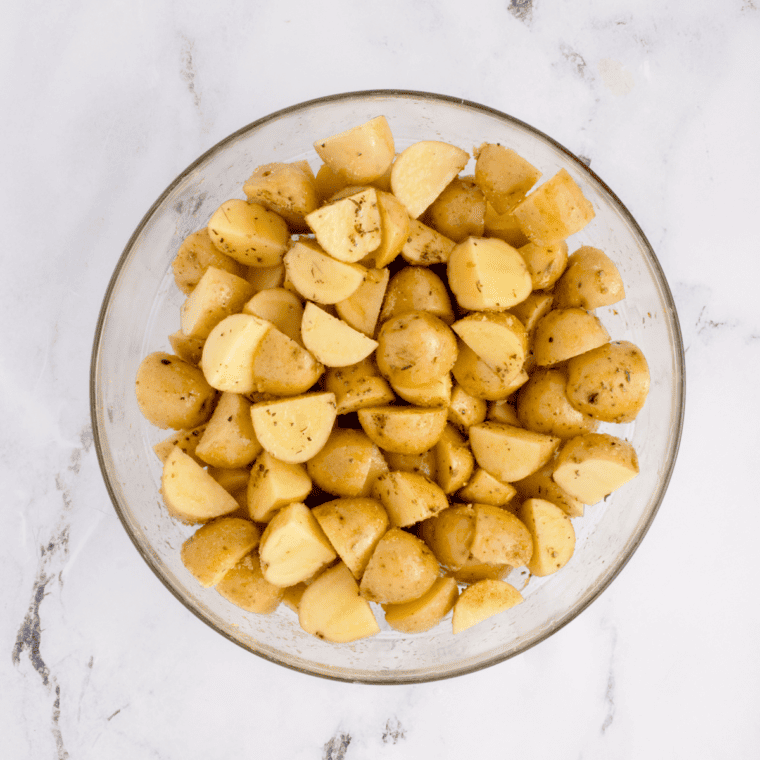 Preheat the Air Fryer:
Preheat your air fryer to 375 degrees F (190°C) for 3-5 minutes. Preheating helps ensure even cooking and a crispy texture.
Air Fry the Potatoes:
Place potatoes in a single layer in the air fryer basket. Avoid overcrowding to allow proper air circulation. You may need to cook them in batches, depending on the size of your air fryer.
Air fry the potatoes at 375°F (190°C) with a cooking time of 20-25 minutes, shaking the basket or tossing the potatoes halfway through the cooking time. Keep an eye on them to ensure they reach your desired level of crispiness and are golden brown on the outside. Remove when fork tender.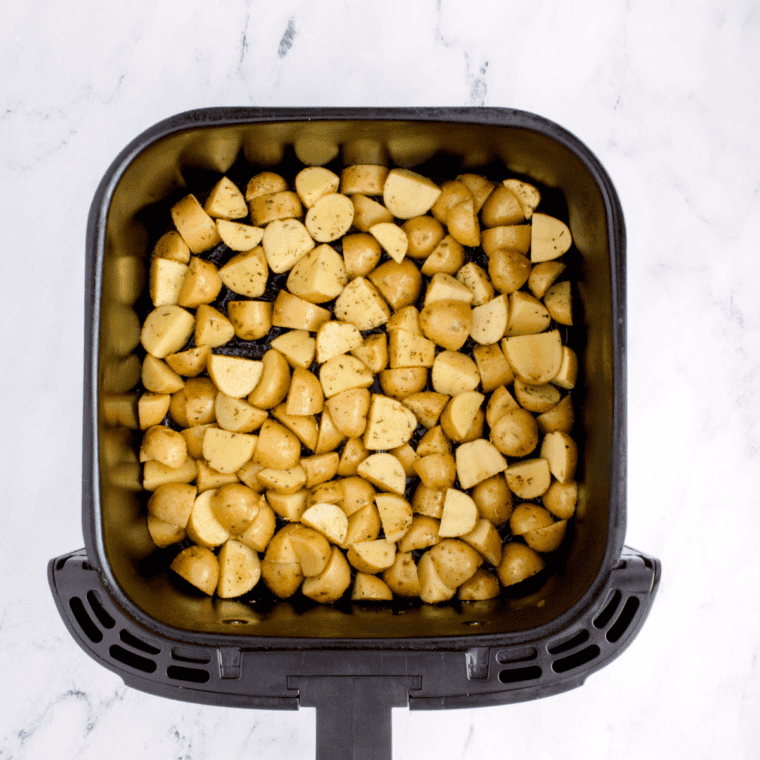 Serving:
If desired, garnish the Air Fryer Garlic Parmesan Roasted Potatoes with freshly chopped parsley for a burst of color and freshness. Once done, remove the potatoes from the air fryer and let them cool slightly for a minute or two. Serve the crispy garlic Parmesan potatoes while they are hot and at their tastiest.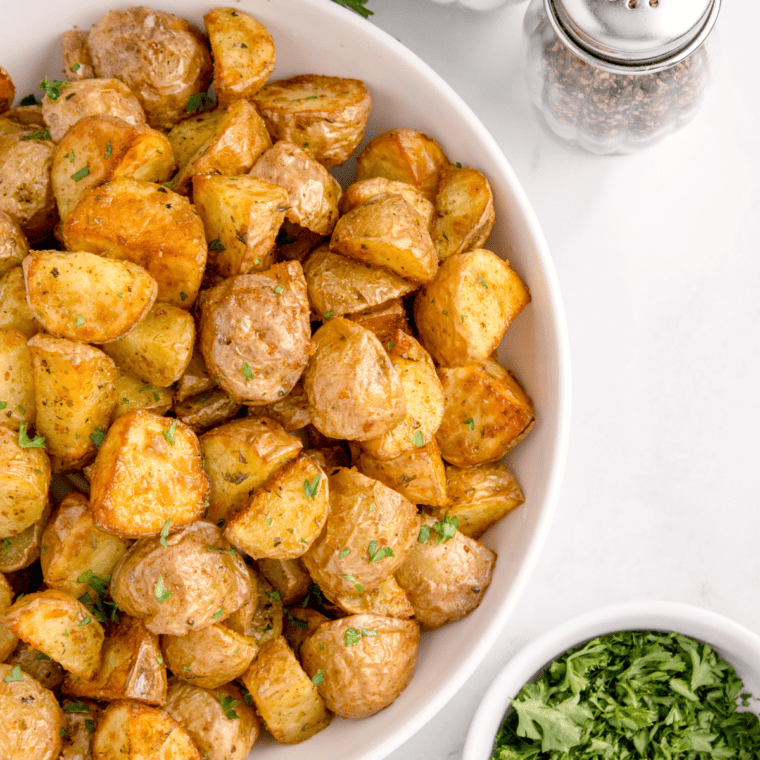 Pro Tips For Cooking Air Fyrer Crispy Parmesan Potatoes
To achieve the perfect Air Fryer Crispy Parmesan Potatoes, consider these pro tips:
Choose the Right Potatoes: Opt for russet potatoes, red potatoes, baby gold potatoes, or Yukon Gold potatoes, which have the ideal starch content for achieving a crispy exterior and tender interior.
Evenly-Sized Potato Pieces: Cut the potato pieces into uniform sizes to ensure even cooking. Smaller pieces will cook faster, so adjust the cooking time accordingly.
Preheat the Air Fryer: Always preheat your air fryer for a few minutes before adding the potatoes. Preheating helps achieve that initial blast of heat needed for a crispy texture.
Coat the Potatoes Thoroughly: Ensure the potatoes are evenly coated with the olive oil and seasonings. Use a large bowl to toss them together to prevent uneven distribution.
Avoid Overcrowding: Arrange the potato pieces in a single layer in the air fryer basket, leaving some space between them. Overcrowding can lead to uneven cooking and less crispiness.
Shake or Toss: Halfway through the cooking time, shake the air fryer basket or use tongs to toss the potatoes. This helps ensure that all sides of the potatoes become crispy.
Check Doneness: Keep an eye on the potatoes as they cook. Cooking times can vary based on your air fryer model and the size of the potato pieces. Remove them when they are golden brown and crispy.
Season to Taste: Adjust the amount of salt, pepper, Italian seasoning, red pepper flakes, and other seasonings to your preferences. Taste a potato piece during cooking to ensure the seasoning is just right.
Use Fresh Parmesan Cheese: Grate fresh Parmesan cheese for the best flavor and texture. Pre-grated cheese may contain anti-caking agents that can affect the texture.
Garnish Before Serving: If you use fresh herbs like parsley, just before serving to maintain their vibrant color and freshness.
Serve Immediately: Enjoy the Air Fryer Crispy Parmesan Potatoes hot and fresh for the crispiest texture and the most enjoyable taste.
By following these pro tips, you'll master the art of making perfectly crispy and flavorful Parmesan potatoes in your air fryer, making them a favorite side dish for any meal.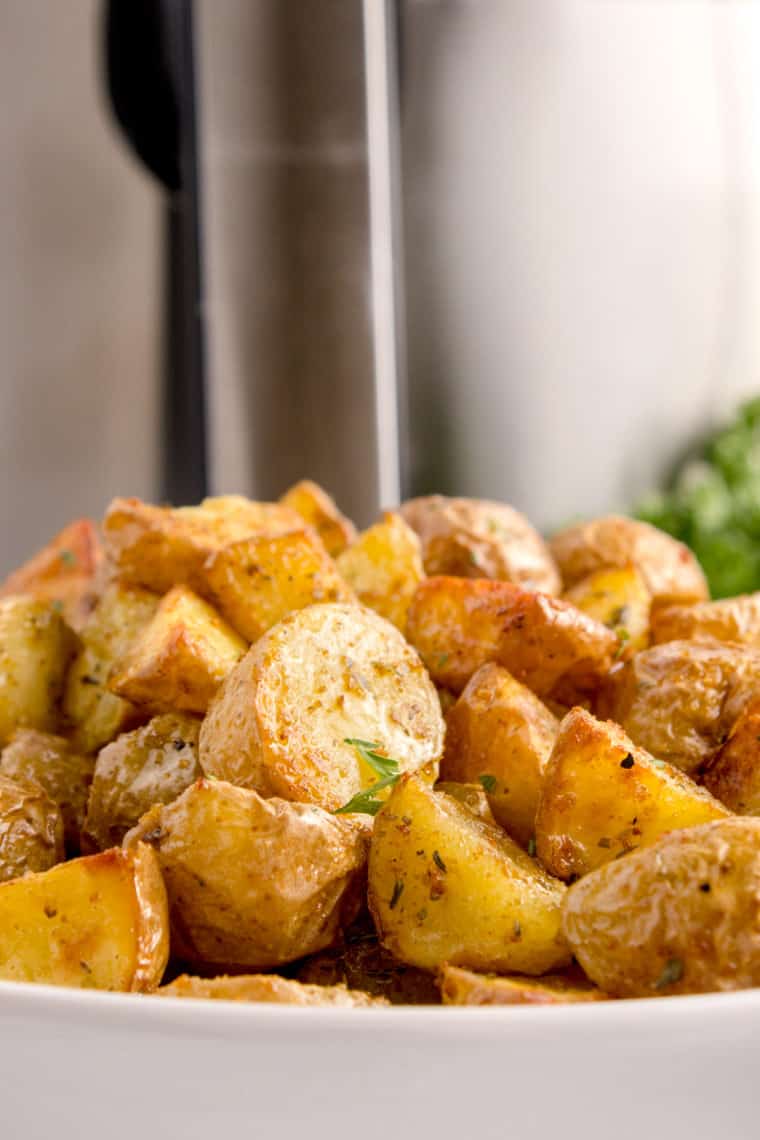 FAQS
Can I use different potato varieties for this recipe?
While russet and Yukon Gold potatoes work well, you can experiment with other varieties like red or fingerling potatoes. Just be aware that different types may yield slightly different textures and flavors.
Can I prepare the potatoes in advance and cook them later in the air fryer?
It's best to cook the potatoes immediately after tossing them with the seasonings to maintain their texture. However, you can parboil the potatoes in advance, store them in the refrigerator, and then coat them with seasonings and air fry when ready to serve.
Can I use pre-grated Parmesan cheese instead of grating it fresh?
While it's convenient to use pre-grated Parmesan cheese, freshly grated Parmesan tends to have a superior flavor and better-melting properties. If you use pre-grated cheese, look for one with minimal additives.
How do I reheat leftover Air Fryer Garlic Parmesan Potatoes?
Reheat leftover potatoes in the air fryer at a lower temperature (around 350°F or 175°C) for a few minutes, or use an oven or toaster oven for similar results.
Can I make these potatoes with a different type of cheese?
Yes, you can experiment with different cheese varieties to suit your taste. Pecorino Romano, Asiago, or a blend of cheeses can add unique flavors to the dish.
What dipping sauce pairs well with these potatoes?
These potatoes are flavorful on their own, but if you prefer a dipping sauce, options like aioli, ranch dressing, or a simple garlic yogurt dip can complement the flavors nicely.
Can I use garlic powder instead of fresh minced garlic?
While fresh minced garlic offers a more robust flavor, you can substitute garlic powder. Use about 1/2 to 1 teaspoon of garlic powder for every clove of fresh garlic, adjusting to your taste.
How do I prevent the potatoes from sticking to the air fryer basket?
Grease the air fryer basket with a light coating of cooking spray or a small amount of olive oil to prevent sticking.
Can I double the recipe to make a larger batch?
Yes, you can double the recipe if you avoid overcrowding the air fryer basket. Cook in batches if necessary to maintain even cooking. Store leftovers in an airtight container, and place them into the refrigerator, they willlast for 2-3 days.
Can I make these potatoes without an air fryer?– Yes, you can bake them in a conventional oven at 425°F (220°C) for approximately 20-30 minutes or until they are golden brown and crispy.
More Air Fryer Recipes
Don't Forget To Pin!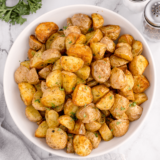 Air Fryer Garlic Parmesan Potatoes
Description
Air Fryer Garlic Parmesan Potatoes — If you're looking for an easy and delicious potato dish to make in your air fryer, look no further than these Air Fryer Garlic Parmesan Potatoes! They're crispy on the outside and soft on the inside, and they're loaded with flavor.
Ingredients
1.5

pounds

potatoes

3

tablespoons

olive oil

1/4

cup

grated parmesan cheese

2

teaspoons

basil

2

teaspoons

Italian Seasoning

2

teaspoons

salt

1

teaspoon

black pepper

5

teaspoons

minced garlic

,

adjust per taste
Instructions
Cut the red potatoes in half and then in quarters, so they end up roughly the same size.

Then in a large mixing bowl, mix everything in with the potatoes, making sure you coat the potatoes.

Pour them into the air fryer basket, set the time for 10 minutes, and the temperature at 390 degrees F, air fryer setting.

When the first 10 minutes are up, flip the potatoes, and set the timer for another 8 minutes.**Note: The exact time will depend on your wattage, the type of air fryer you own, and how man potatoes are in the air fryer.

Serve with a sprinkle of fresh parsley.Plate, serve, and enjoy!
Equipment
Air Fryer

Cooking Spray

Parchment Paper,

optional
Nutrition
Serving:
1
Serving
Calories:
269
kcal
Carbohydrates:
33
g
Protein:
6
g
Fat:
13
g
Saturated Fat:
3
g
Polyunsaturated Fat:
1
g
Monounsaturated Fat:
8
g
Cholesterol:
6
mg
Sodium:
1307
mg
Potassium:
762
mg
Fiber:
4
g
Sugar:
1
g
Vitamin A:
128
IU
Vitamin C:
35
mg
Calcium:
105
mg
Iron:
2
mg