One of the most popular appetizers at Chinese Food Restaurants in America are egg rolls. Egg Rolls are the perfect finger food since you eat them with your hands, and they are so tasty, after a few dips of an accompanying egg roll dipping sauce.
Egg rolls differ from spring rolls, as egg rolls are typically thicker. as they are made with egg dough, whereas spring rolls are made out of rice-flour paper. Spring rolls are often served both hot or cold, whereas egg rolls are usually served cold unless you are like me and you grab them from the refrigerator as part of your midnight snack.
They are typically deep-fried, but now that I have my Air Fryer, which I love, I can make a healthier version. These are loaded with vegetables and contain only a few ounces of meat.
Now, egg rolls look really hard to make, but they are easy, the hardest part is making the filing, but if you know how to make a stir-fry, then you are good to go. I made this filling in my Instant Pot since I am always cooking with it.
One of the hardest parts of making egg rolls is finding the wrappers in the store. Where do you buy them? In any grocery store in the United States, the weirdest part is that you can find them in the produce aisle, right next to the Tofu and Tempeh. Weird place for them, in my opinion, but I guess they are there for a reason? If anyone knows why, please drop me a line, I would love to know?
To Make the Egg Rolls (Any Egg Rolls)
Start by laying out the egg roll on a flat surface, I usually place in on my cutting board, which provides a flat surface and allows me to cut if needed.
Rolling Your Egg Rolls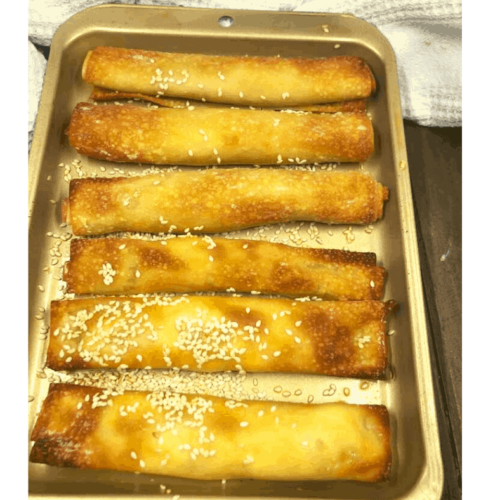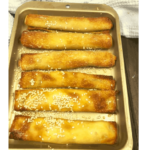 Air Fryer, Easy Air Fried Cream Cheese Rangoon Egg Rolls
These are really easy, my mom used to make them in the oven, but today I am giving you Copycat Panda Express in my air fryer. My kids love these, I love that I can make them in less than 20 minutes.
Ingredients
1

package

egg roll wrappers

8

ounces

cream cheese, room temperature

2

scallions, diced

1

teaspoon

garlic salt

2

tablespoons

olive oil

2

tablespoons

sesame seeds (optional)
Instructions
In a large mixing bowl, mix together the cream cheese, scallions, and garlic salt.

Mix for a couple of minutes, until it becomes spreadable.

Then lay out an egg roll wrapper and add about 2 tablespoons of filling, and smear it, with a rubber spatula, or butter knife.

Then brush water on all of the edges, and roll out.

As you roll them up place them in an air fryer safe pan or basket, just make sure it's sprayed with olive oil so it doesn't stick.

Brush with olive oil, and optional, sprinkle sesame seeds on.

Set the pan in the air fryer and set the temperature to 350 degrees F, for 7 minutes. Check at 5 minutes and if they are golden brown remove.