Looking for an easy and delicious weeknight meal? Try air fryer chicken Parmesan! This dish is simple to make and tastes great. Plus, it's a healthier option than traditional chicken Parmesan. Give it a try!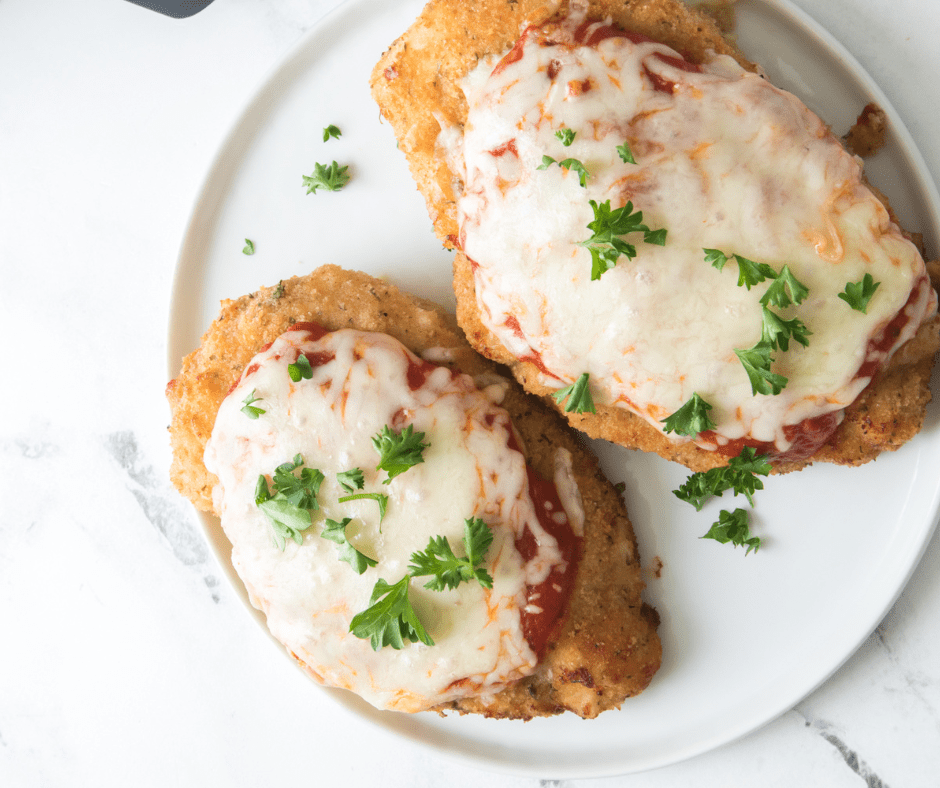 If you're looking for a delicious and easy chicken recipe, you've got to try this Air Fryer Chicken Parmesan. It's the perfect weeknight meal! The chicken is coated in crispy breadcrumbs and then baked in the air fryer until golden brown. Serve it with some marinara sauce and melted cheese for a tasty dinner that the whole family will love.
What Is An Air Fryer?
The new rage is an air fryer, but what is it really? I have been using air fryers for a long time now, and I can tell you, once you get used to them, they cook food faster and beautifully.
The hot air in the air fryer circulates the food perfectly cook the food. Whether it is French Toast or a great plate of chicken parmesan. The food is much healthier since it's not deep-fried or even fried in a skillet, where you need to use oil to crisp up the chicken.
Is Air Fryer Food Healthy?
I love my air fryer, and I feel that my food is much healthier than I serve my family. I make the same food that I would be made by frying and using less oil.
Deep-fried food needs lots of oil and fat to crips up, while the air fryer does not. You hardly need any oil. And you get a great dish. You cut down on calories and fat intake by using the air fryer.
What Can you Cook In An Air Fryer?
There is no limit to what you can make. Here are some of my favorites:
What Is Chicken Parmesan?
If you've ever enjoyed the mouthwatering combination of breaded chicken, marinara sauce, and melted mozzarella cheese, then you've probably tried chicken parmesan. This Italian dish originated in southern Italy in the city of Naples but has become a popular menu item around the world.
The chicken is coated in breadcrumbs and sometimes Parmesan cheese before being fried or baked. It is then topped with marinara sauce and melted cheese, and often served with a side of pasta. Chicken parmesan can be made with either pounded chicken breast or slices of eggplant for a vegetarian option. Whether you enjoy it as an entree or make it into a sandwich, chicken parmesan is sure to satisfy your cravings for Italian cuisine.
Can you Make Chicken Parmesan In Air Fryer?
Can chicken parmesan be made in an air fryer? The answer is a resounding yes! Using an air fryer means less oil and more crispiness, resulting in healthier and tastier chicken parm. Simply bread the chicken cutlets, top with marinara sauce and mozzarella cheese, and air fry until hot and bubbly.
Serve with your favorite pasta for a delicious Italian meal that your whole family will love. Just make sure to preheat the air fryer before cooking for optimal results. So go ahead and give it a try – you won't be disappointed!
The Best Air Fryer Chicken Parmesan Recipe
Are you looking for the perfect air fryer chicken Parmesan recipe? Look no further! The key to achieving a crispy crust without deep frying is to coat the chicken in a combination of panko breadcrumbs and grated Parmesan cheese. The breadcrumbs add crunch while the cheese adds flavor.
For an extra punch of flavor, incorporate some Italian seasoning into the breadcrumb mixture. The air fryer does all the work for you, creating a golden brown crust in just minutes. Serve with your favorite marinara sauce and a sprinkling of mozzarella cheese for an easy and delicious meal. Trust us – this will become your go-to chicken Parmesan recipe. Bon appétit!
Ingredients Needed For Air Fryer Chicken Parm
When it comes time to whip up some crispy Air Fryer Chicken Parm, there are a few key ingredients to have on hand.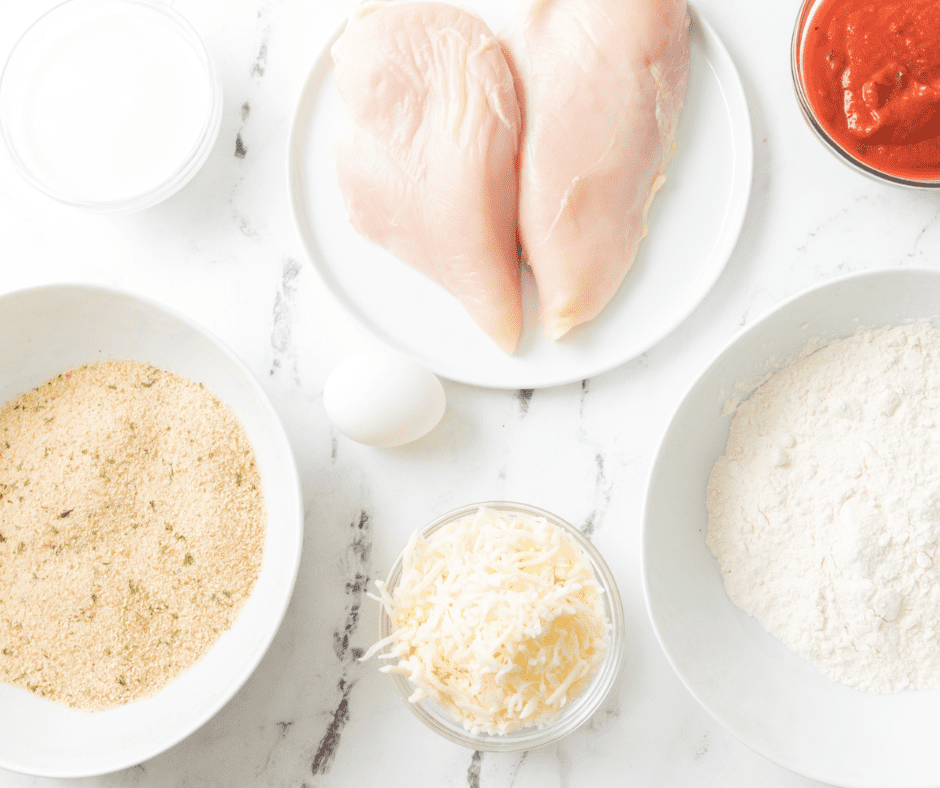 Remember: For all of the details, and specific quantities, keep on scrolling until the end of the page, where you will find a printable recipe card below.
Chicken: Use either boneless skinless chicken breast or chicken tenderloins.
Breadcrumbs: Use either regular panko or breadcrumbs. YOu can also make this recipe gluten-free by using gluten-free panko bread crumbs.
Eggs: Use room temperature large eggs
Seasonings and Spices: Italian Seasoning
Oil: Use olive oil, coconut oil, avocado oil, canola oil, or vegetable oil.
Marinara Sauce: For a regular chicken parmesan use either homemade or store-bought marinara sauce.
Cheese: For the best air fryer parmesan chicken, use freshly grated mozzarella cheese.
How To Cook Classic Chicken Parmesan In Air Fryer
Start by preheating your Air Fryer to 350 degrees F, using the air fryer setting. In the first bowl, add the eggs, and whisk them with a fork. In the second bowl add the breadcrumbs, Italian seasoning, and oil.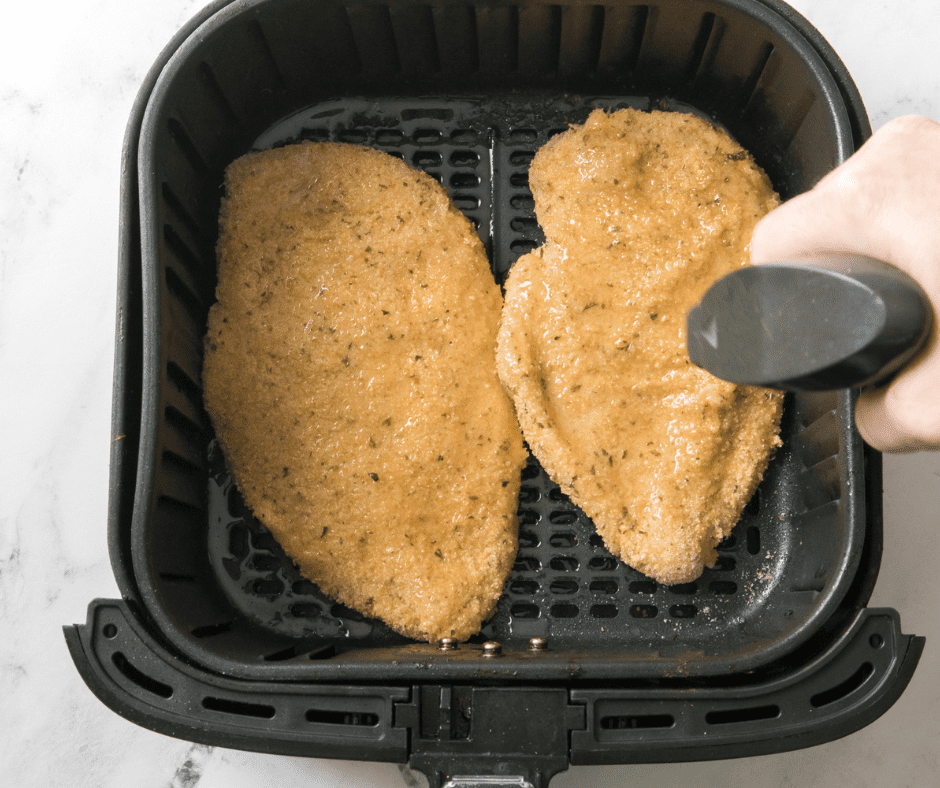 Then dredge chicken into the egg mixture and then into the breadcrumb mixture, making sure that your sides of the chicken are coated. Spray your air fryer basket with nonstick spray, then add your chicken to your Air Fryer basket, in a single layer.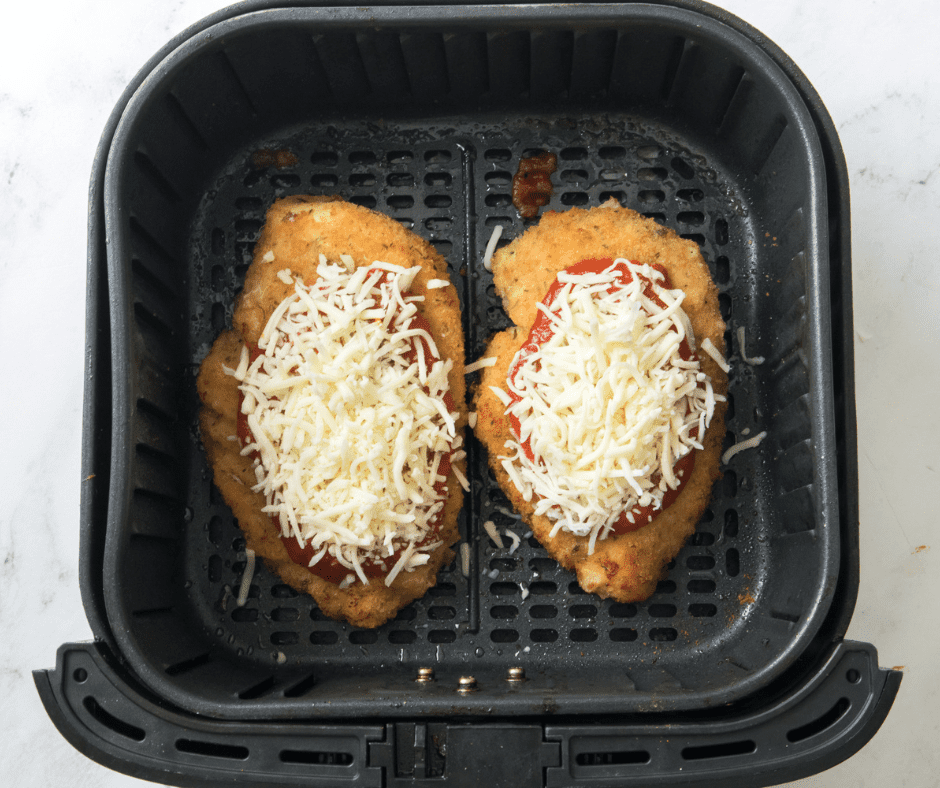 Set the timer for 15 minutes, flipping the chicken halfway during the cooking process.
When the internal temperature reaches 165 degrees F, you can safely remove the chicken.
Spoon the marinara sauce over the chicken, and then sprinkle the shredded mozzarella over the chicken, and return to the air fryer. Cook at 350 degrees F, using the air fryer setting, and cook for 3 to 5 minutes,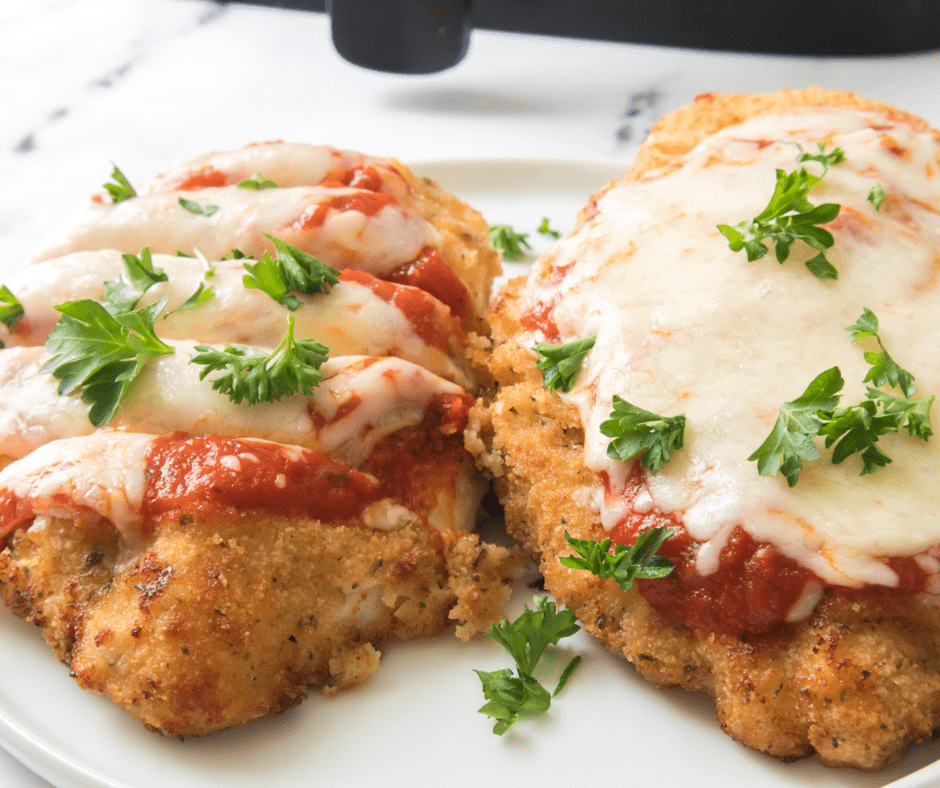 Pro Tips For The Best Air Fried Chicken Parmesan
If you want to make restaurant-quality chicken parmesan at home, look no further than your air fryer! Here are some pro tips for achieving crispy, juicy perfection every time, this will soon be a great air fryer chicken recipe, for busy weeknights!
Chicken: Start with thin cutlets of chicken breast so they cook evenly and don't dry out. Use chicken pieces that are roughly the same size, so they cook up at the same time.
Spray The Chicken: Spray the chicken with a bit of cooking oil, this will help crisp up your chicken.
Crowding: To ensure a crispy, evenly cooked result, make sure not to crowd the basket of your air fryer. Give the chicken plenty of room for heat circulation
Internal Temperature: keep an eye on the internal temperature of your chicken with a meat thermometer – the ideal temperature is 165 degrees Fahrenheit.
Serve: serve with a side of pasta or salad for a complete meal.
How Long To Cook Chicken Parmesan
This is a really easy recipe. The most important thing to remember is that it only takes a few minutes for a really tender and juicy chicken breast. Chicken cutlets, ones that have been pounded with a meat mallet, take even less time.
The most important thing to remember is that you need to make sure that the chicken is fully cooked before removing it from the air fryer basket. So, grab your meat thermometer and check to ensure that the internal temperature reaches 165 degrees F.
How To Store Leftover Chicken Parmesan
How do you store your leftover Chicken Parmesan? The best way to preserve its delicious flavor and texture is to let it cool down completely before transferring it to an airtight container or wrapping it tightly in plastic wrap. It's important to remove as much air as possible from the container to prevent freezer burn. The chicken can be kept in the refrigerator for up to four days, or in the freezer for up to three months. When ready to eat, reheat in the oven or microwave until it reaches an internal temperature of 165 degrees Fahrenheit. Enjoy your tasty leftovers!
How To Reheat Chicken Parmesan In Air Fryer
If you have leftovers from a delicious chicken parmesan dinner, the last thing you want is for them to go to waste. Reheating in a conventional oven can dry out the breaded chicken and make the cheese less melty and gooey. So why not try reheating in an air fryer instead? To start, preheat the air fryer to 350 degrees Fahrenheit. Then, lightly spray the basket with cooking spray and place your leftover chicken parmesan inside. Cook for 3-5 minutes, until the cheese, is melted and the breading is crispy. Enjoy your perfectly reheated chicken parmesan! Bonus tip: if your leftovers are frozen, try thawing them before reheating them in the air fryer for the best results.
What To Serve With Chicken Parmesan
Chicken Parmesan is an Italian dish that is usually served with a side of pasta. Although you don't want to make a whole dinner, this is a great way to make a hearty Chicken Parmesan Sub.
Here are some great dishes to serve along with the air fryer chicken parmesan and a few of my favorite air fryer dishes–
Pasta, any angel hair, ziti, spaghetti, fettuccine, or linguini
Healthier Air Fryer Dinner Recipe
My entire family loves this dish; it's easy, and it's rather healthy, science it is not deep-fried, and therefore less oil and less fat. This is what I call my healthier Chicken Parmesan.
But don't worry, you still get the same amazing flavor. Tender chicken cutlets topped with marinara sauce and mozzarella cheese. It's amazing, and if you have never made homemade chicken parmesan, this is the perfect recipe for you, easy and delicious.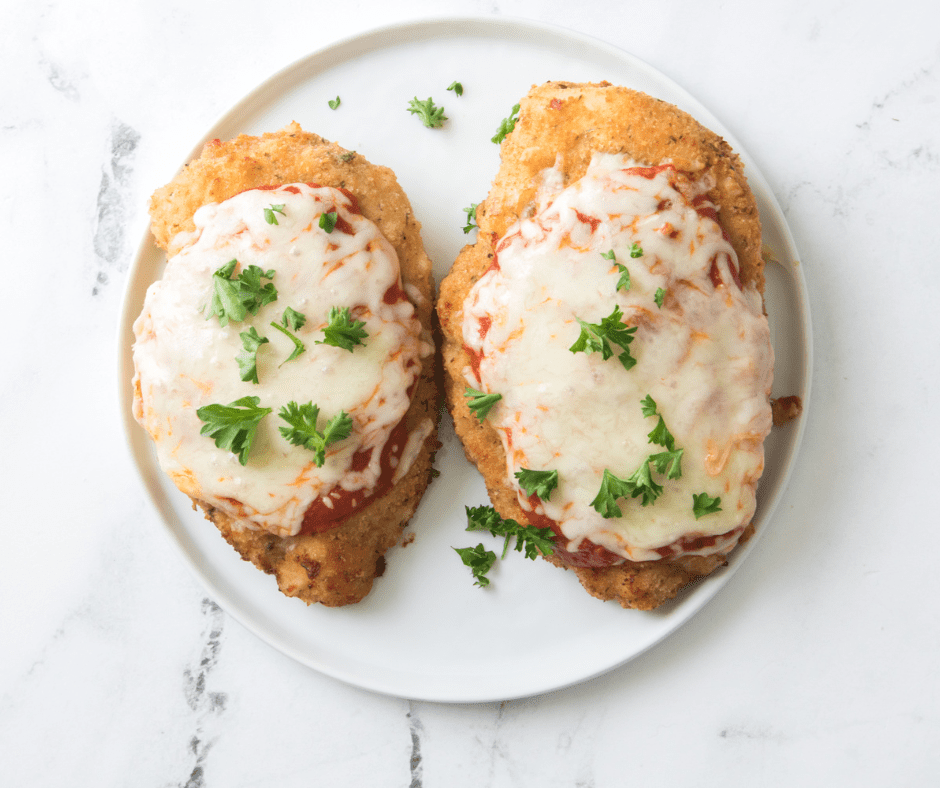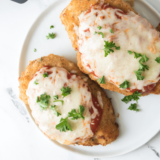 Air Fryer Chicken Parmesan
Description
Air Fryer Chicken Parmesan. This was a staple at our house; we had Chicken Parmesan almost every week. Today, I am showing you how I made my grandmother's recipe in the air fryer.
Ingredients
2

large

eggs

1

cup

breadcrumbs

,

or panko

1

teaspoon

Italian seasoning

4

tablespoons

oil

2

pieces

chicken

,

boneless, skinless chicken breast

1

cup

marinara sauce

1/2

cup

mozzarella cheese

,

shredded
Instructions
Start by preheating your Air Fryer to 350 degrees F, air fryer setting.

Then in a small bowl, break your eggs and mix them,

In another bowl, mix the breadcrumbs or panko, Italian seasoning, and oil.

Then dip the chicken into the egg mixture and then into the breadcrumb mixtur

Then place them in your Air Fryer basket.

Cook until done; it took me 18 minutes. It will depend on your chicken breast's thickness. After 10 minutes, flip your chicken and use cooking spray and spray the side.

When the chicken is done, remove the chicken breasts.

I put my chicken in an air fryer safe bowl, pour the marinara sauce, and then sprinkle the cheese.

Air Fryer for another 3-4 minutes, just so the cheese is melted.
Nutrition
Serving:
1
g
Calories:
325
kcal
Carbohydrates:
24
g
Protein:
11
g
Fat:
21
g
Saturated Fat:
4
g
Polyunsaturated Fat:
5
g
Monounsaturated Fat:
11
g
Trans Fat:
0.1
g
Cholesterol:
104
mg
Sodium:
612
mg
Potassium:
287
mg
Fiber:
2
g
Sugar:
4
g
Vitamin A:
504
IU
Vitamin C:
4
mg
Calcium:
151
mg
Iron:
3
mg