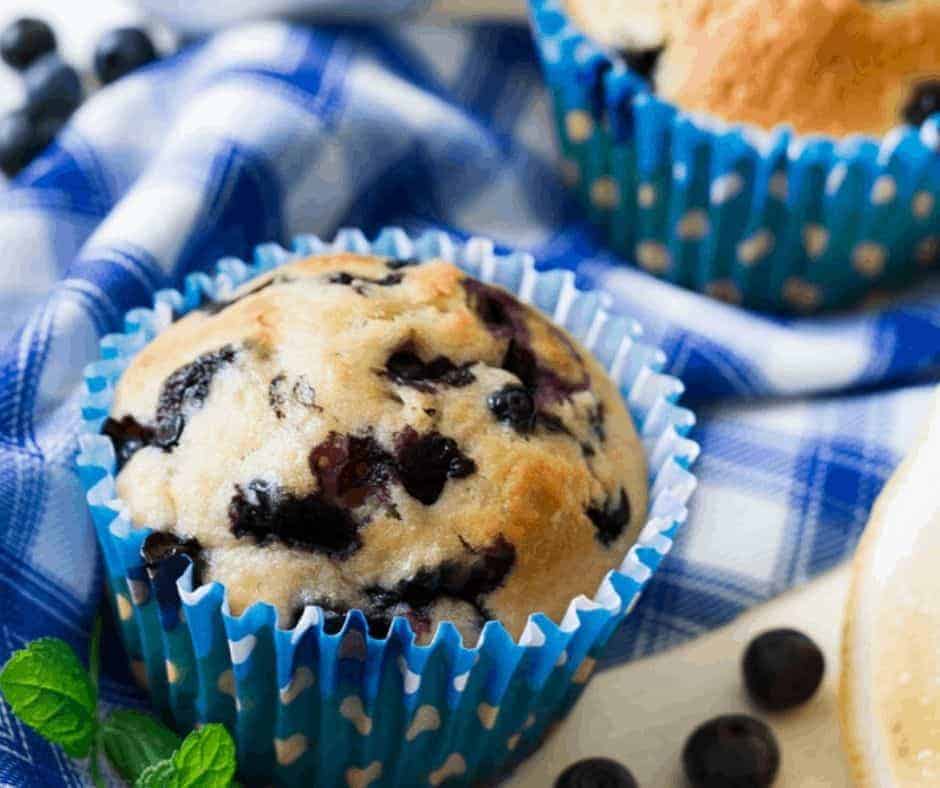 Nothing in the morning is as good as a batch of Homemade Air Fryer Blueberry Lemon Muffins. They are so light and airy and taste amazing.
I love to bake after dinner, where I usually make a batch the night before, and when I come downstairs for breakfast, the muffins are waiting for me. I pour myself a large cup of coffee and check my emails. All ready for a new day! 
If you have not made muffins in your air fryer yet, what are you waiting for? They are everything that you want in a muffin, light, moist, and airy, and you will be hooked once you start making them.
If you are looking for even more Air Fryer Muffin Recipes, some of my favorites are AIR FRYER BLUEBERRY MUFFIN MUG CAKE, AIR FRYER 2 INGREDIENT PUMPKIN MUFFINS, AIR FRYER CINNAMON SUGAR DONUT MUFFINS, and AIR FRYER, CRANBERRY ORANGE MUFFINS.
Ingredients For Air Fryer Blueberry Lemon Muffins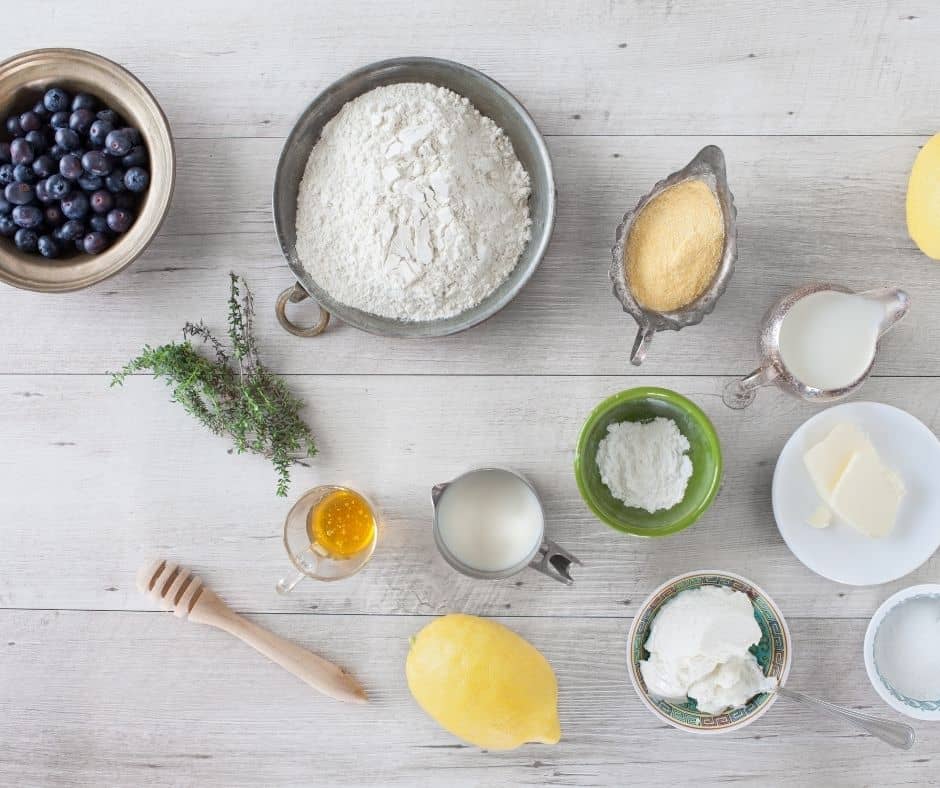 All-purpose

 flour
Granulated sugar
Milk
Egg

Fresh

 blueberries
Lemon zest
Lemon juice
Vanilla extract
Baking powder
Salt
Butter
How To Make The Best Air Fryer Blueberry Lemon Muffins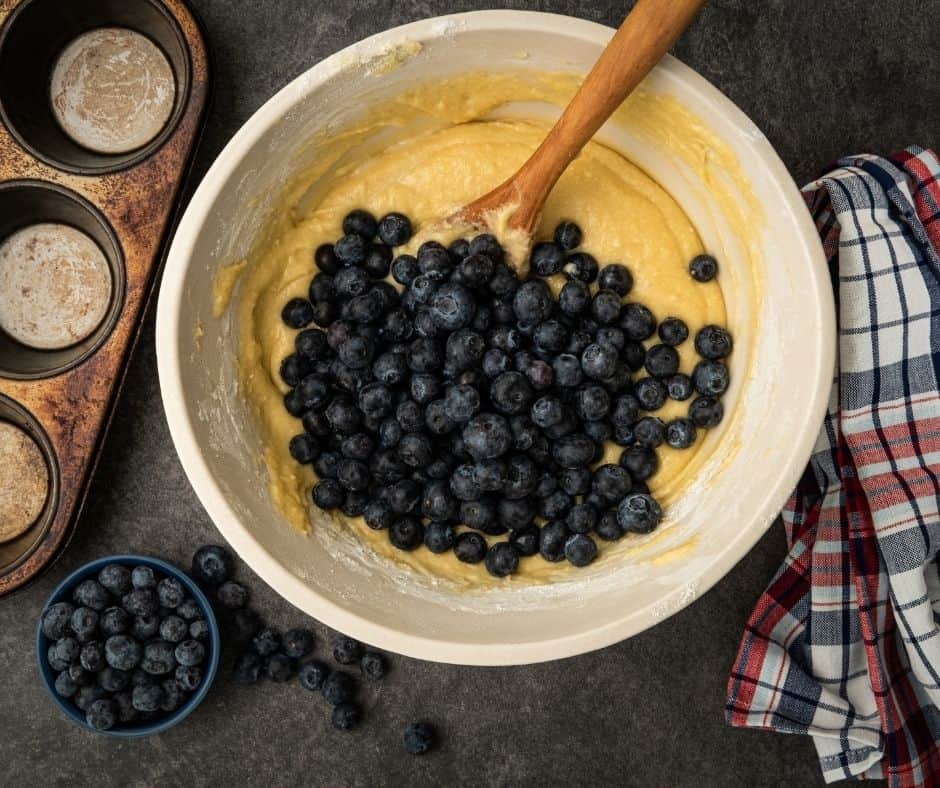 In a large mixing bowl, mix all of the ingredients.
Spray your muffin pan with olive oil spray or non-stick cooking spray. You can also use muffin liners.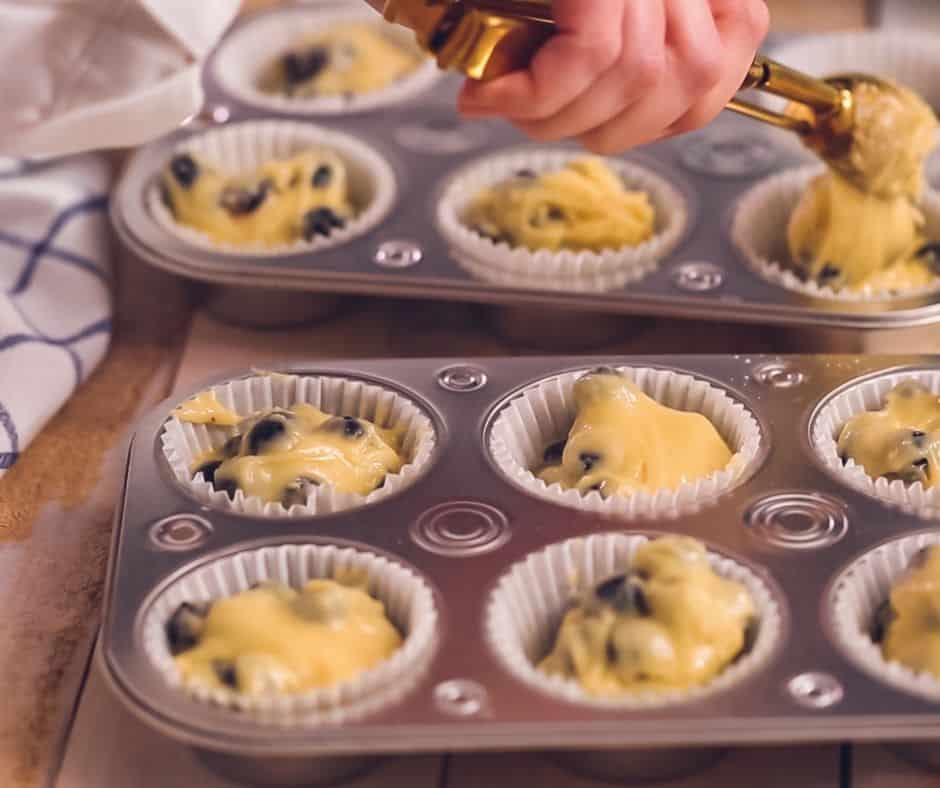 Fill the muffin cups with batter, about ¾ of the way full.
Set your air fryer to 320 degrees F, air fryer setting, for 12 to 14 minutes.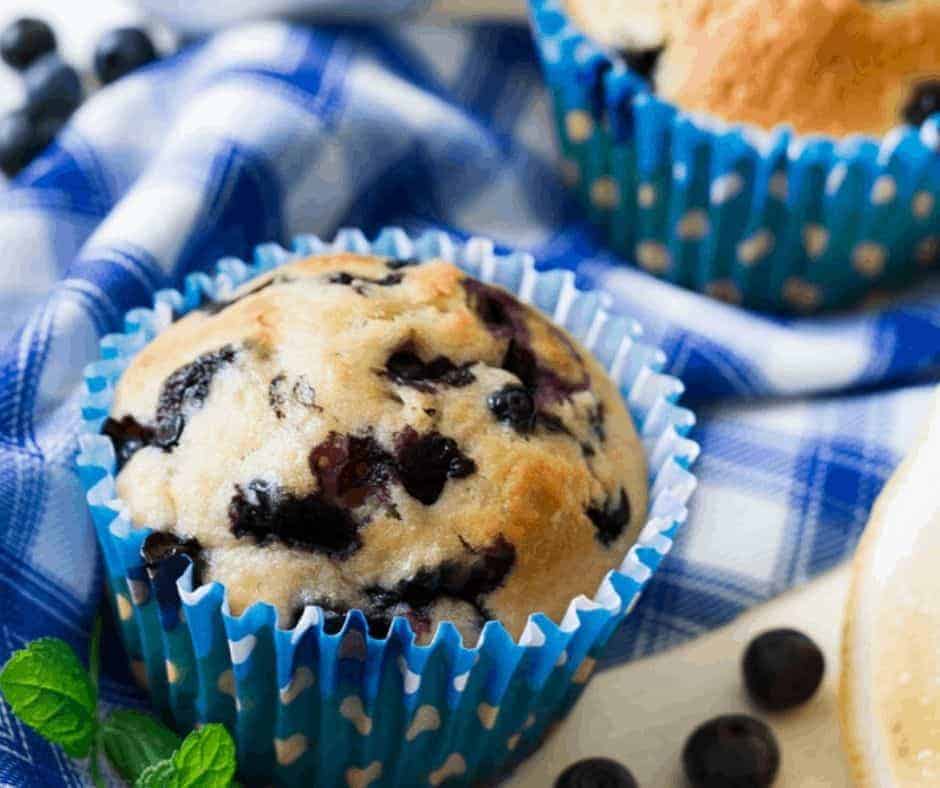 Some Tips For Making The Best Blueberry Muffins
You can use either fresh or frozen blueberries. If you do end up using frozen blueberries, do not thaw, as they will make your muffins soggy.
All air fryers bake at different times. For best results, check your muffins halfway during the cooking process.
Metal pans do a better job of keeping the muffin shape, but silicone muffin tins fit every air fryer.
How Do You Stop Blueberries From Sinking In Muffins?
This is such a common question; the trick is to toss the fresh blueberries in the flour batter before adding them into the wet batter. 
This will help them from sinking to the bottom of your Air Fryer Blueberry Lemon Muffins.
Can You Use Frozen Blueberries Instead of Fresh?
Yes, this is a great way to use frozen blueberries if you do not have fresh ones on hand.
I would recommend that you do not defrost them before adding them to the batter. Otherwise, they will get too watery, and your batter will turn blue from the liquid.
Can I Use Dried Blueberries?
Yes, although they will not be moist and delicious. They are dried. They will never plump up like fresh blueberries.
You will get some of the flavors but none of a tender fresh or frozen blueberry texture.
Storing & Freezing Blueberry Muffins
Here are some great tips for storing your air fryer muffins.
First, bring them to room temperature. These are best eaten within two to three days.
Then if you would like to freeze them, let them cool down, and then place them in an airtight container. These will last for about 1 to 2 months. Then when you want to eat them, remove them from the freezer and either place them on the counter or refrigerator to thaw. YOu can even heat them in the air fryer.
What Are The Best Muffin Tins For Air Fryer Muffins?
The key to a perfect Air Fryer Muffin is the correct muffin pan, I have used silicone muffin liners, but I recommend that you invest in a muffin tin for best results.
Over the years, I have found these are great options (affiliate links included)
Muffin Pan,4 Cup Non-Stick Carbon Steel Cupcake Pan/ Bakeware/Non-Stick Muffin Tin/Cupcake Cup, Easy to Clean , Carbon Steel Muffin Tray Standard Baking
Silicone Muffin Cake Cups, 7Cup Non-Stick Muffin Cupcake Tin Tray Baking Mould for 3.5-5.8 L Air Fryer Accessories, Chocolate Universal Cake Cups
More Air Fryer Muffin Recipes
AIR FRYER, EASY HOMEMADE APPLE MUFFINS FOR TWO
AIR FRYER, CRANBERRY ORANGE MUFFINS
EASY AIR FRYER CINNAMON SUGAR DONUT MUFFINS
Do Not Forget To Pin, 
Yield: 5 Servings
Air Fryer Blueberry Lemon Muffins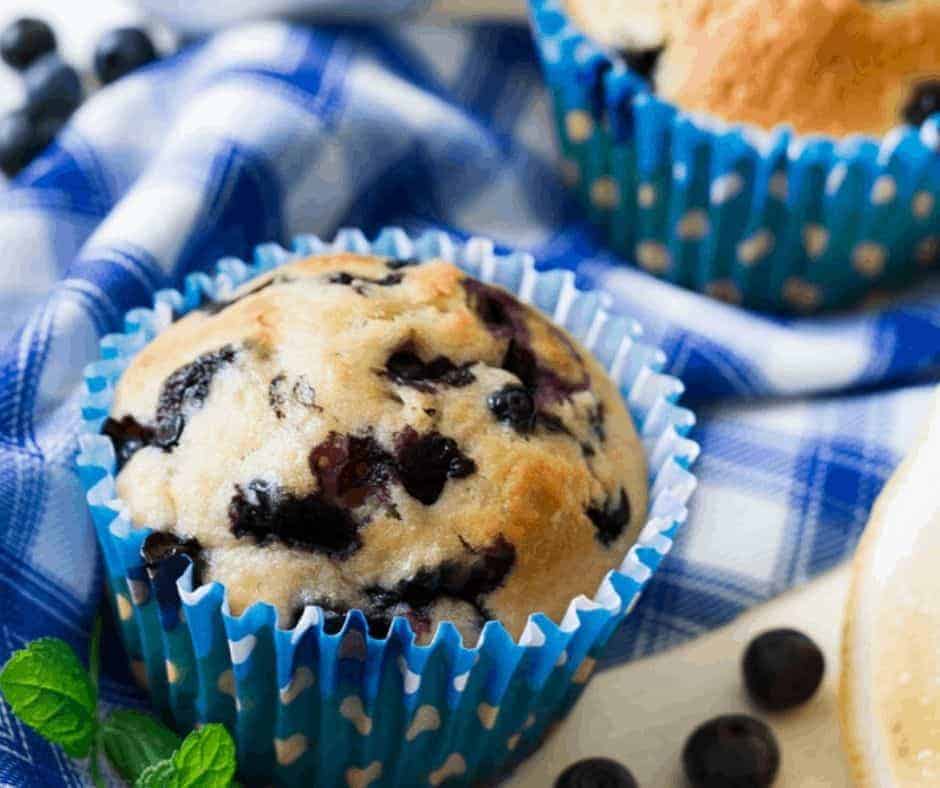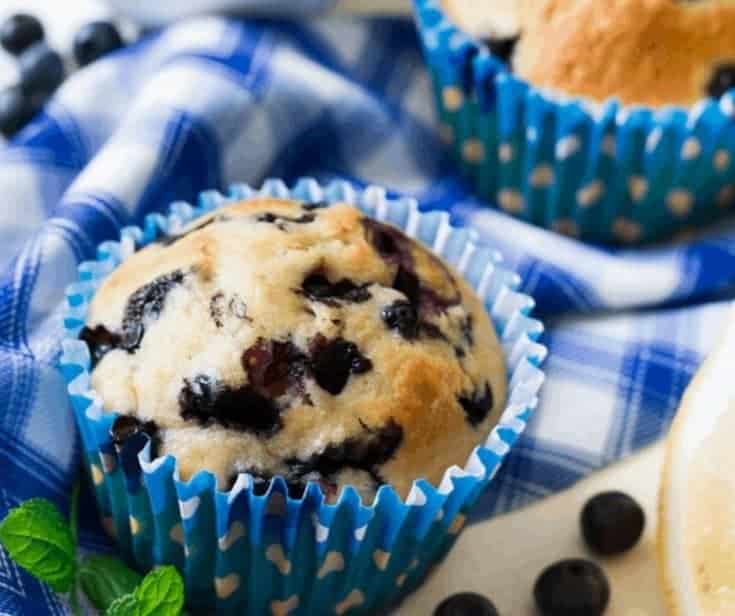 There is nothing better for breakfast, than a homemade blueberry muffin, today I added some lemon, which made for a great addition. Family Favorite and Kid-Friendly.
Ingredients
1 cup flour
1/2 cup sugar
1/4 cup milk
1 egg
1/2 cup blueberries
1 tablespoon lemon zest
2 tablespoons lemon juice
1 teaspoon vanilla extract
1 teaspoon baking powder
1/2 teaspoon salt
1/4 cup melted butter
Instructions
In your mixing bowl, mix everything.
Then spray your silicone muffin tins with non-stick cooking spray. Fill the muffin cups with batter, about ¾ of the way full.
Set your air fryer to 320 degrees F, air fryer setting, for 10 to 14 minutes.
Let cool slightly before serving.
Plate, serve, and enjoy!
Nutrition Information:
Yield:
5
Serving Size:
1
Amount Per Serving:
Calories:

283
Total Fat:

11g
Saturated Fat:

6g
Trans Fat:

0g
Unsaturated Fat:

4g
Cholesterol:

63mg
Sodium:

405mg
Carbohydrates:

43g
Fiber:

1g
Sugar:

22g
Protein:

5g