Does anyone else remember Saturday or Sunday morning pancakes breakfasts? My family would head every Sunday after to church to IHOP, for a great pancake breakfast. They had amazing combinations with all the toppings, yummy.
Now, that I am a hockey mom, I don't get a lot of weekends (truth, I do not get any free weekends from September until May, but I wouldn't change it for anything, even pancakes) free, so I have tried to come up with the same traditions, using homemade recipes.  Living in New Hampshire/Vermont Border for a while, I also learned that one of the best ways to indulgence is to have pure maple syrup on the table for serving.
I am a BIG fan of homemade pancake mix, because, I think they just taste much better, and they are simple enough to whip up. If you are running short of time, you could also make a batch of homemade pancake mix, and you can also freeze pancakes. I love that idea, I usually make a batch on a Sunday morning, when I am free, and I make enough to last a month.
To freeze them, all you need to do is to make them how you usually do, and then put them onto a cookie sheet and pop them into the freezer, after about 5 minutes, they will be frozen enough to stack on top of each other and place into a Ziploc bag.
I'm still having the greatest time using my playing with my air fryer, and every month or so, I am lucky enough to get a new one, my favorite air fryers, because everyone asks me,
GoWise Air Fryer, I think this is the best model to get you into the air fryer world, it doesn't mean that you are going to stick with it, but it's a solid machine, large enough for a chicken and inexpensive enough that you can upgrade later, and use it for sides.

Secura Air Fryer: This is MY first air fryer, I have had it since (Amazon tells me I ordered it on August 23, 2017), It is a fabulous machine, and I always recommend it to my Facebook group, when they are on sale because it works. And to be honest, once you get into the air fryer world, you want another one for side dishes (and, I'm so hoping that is true and not just me)

Omni Air Fryer, By Instant Pot: This is my newest addition and I am in love. There are a lot of things I love about this, but the main ones are that I can make a LOT of food for my family, and since I have 2 teenage boys, I really need the same. Also, this was my first air fryer oven, so I am loving making cookies, pancakes and other food that needed a flat surface.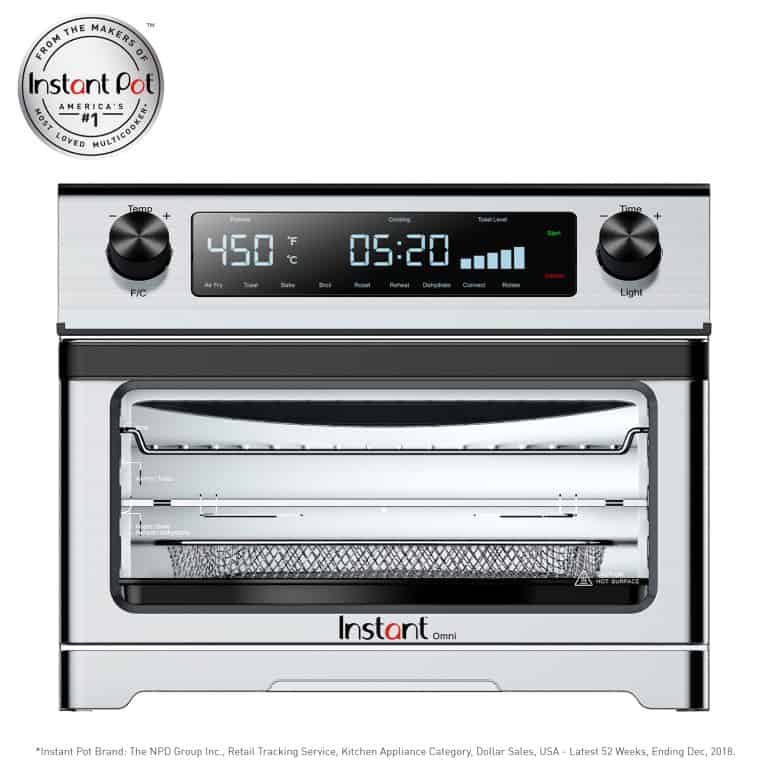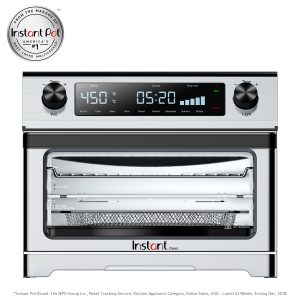 I have been wondering how long it becomes an obsolete cooking appliance. I am also using it to see what and how I can cook stuff.
This is one recipe that I had on my bucket list of things to try, and it worked, I love playing with new recipes in my air fryer or Instant Pot. They were thicker than regular pancakes. But, they totally were awesome!
The exact time will depend upon the thickness of the pancakes and the wattage of your air fryer. Therefore, it's best to set the timer for 3-minute intervals and keep on checking. I would want no one to ruin a perfectly good pancake.
Also, I wanted to mention that I am a fan of the air fryer griddle pan; it makes the pancake and eggs so much easier to control and to clean up, so if you are wondering what pan I use, that would be found here: 

If you are using a basket air fryer, I would recommend this air fryer safe pan for you, 
Now, it seems odd that one would try to make pancakes in the air fryer, but my question is why not?  So, I hope this recipe serves you on how to make pancakes in the air fryer.  And I also hope that it answers your question on whether you can air fry pancakes. So, whether you use pancake mix, of you want frozen pancakes in the air fryer or even air fryer pancake bites, hopefully, my collection of air fryer pancake recipes will suit you well.
I have not tried reheating pancakes in the air fryer, but I would recommend that you start at 320 degrees F, for about 2 minutes.
Know Your Ingredients:
Buttermilk: 
Splurge and go for the real stuff, before you make any pancakes. The buttermilk has a higher acid, which really helps the baking soda in your pancake recipe, give a light and fluffy appearance and texture.
If you do not have buttermilk on hand, you have two options:
Buttermilk Powder: I always keep a bag of this on hand, since there are days when I want to make pancakes, but don't want to run to the store.

Homemade Buttermilk: My mom used to make this when I was a child, it's 1 cup of milk and then an acid, either tablespoon of vinegar or lemon juice.
Butter: 
With the exception of a few recipes, I always use butter in my recipes, as I tend not to use vegetable oil (again, with a few exceptions) in my baking. I think that butter gives you a better end product than vegetable or corn oil.
Baking Soda: 
Since there are so few ingredients in homemade pancakes, this is a really important one, it goes back to buttermilk. We all know that baking products (especially baking soda) lose their zest after a while, fresh baking soda is really important. So, if you are in doubt, on how old your baking soda, pick one up next time you are at the grocery store. My favorite one for baking is this one. 

Flour: 
My general rule of thumb for baking is to use all-purpose flour, as most of my loyal readers know, my son (Ethan) has a gluten allergy, therefore, I usually make his pancakes with this gluten-free flour, and I find it works great for baking. it's a bit more expensive, but it tastes better. Feel free to switch out the flour, to whole wheat, if you are trying to eat healthier.
Techniques:
Overmixing: 
This is one of the most common problems when making pancakes at home. People like to mix, I love to mix, I don't blame you. But, when you overmix pancake batter, what happens is the gluten in the flour starts to form gluten bonds, which makes for dense pancakes. Since we don't want that, the trick really is to mix the dry ingredients first, in one bowl and the wet ingredients in another bowl, and combine the two, gently.
Allow Your Batter To Breath: 
One of the best hints I got from a local chef, was that he makes the pancake batter, then brews himself a coffee and then comes back to making pancakes. He joked that this does two things for him, one he gets his coffee, second and most importantly, is that it allows the baking soda and buttermilk to do its magic.  He believes that it gives you lighter and fluffier pancakes, without really doing anything special. I have always done this since he told me, and I have noticed the difference.
Air Fryer Process:
The first thing that I will admit to you, is that it is way easier to air fry pancakes in an air fryer oven than in a basket, today I used my air fryer oven, so I'm going to illustrate that here.
Here are some other recipes for Air Fryer Pancakes,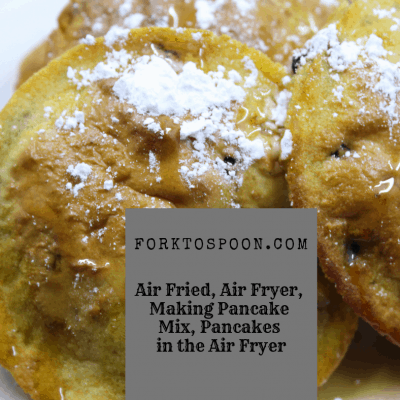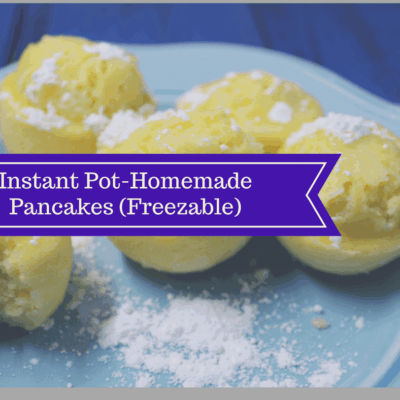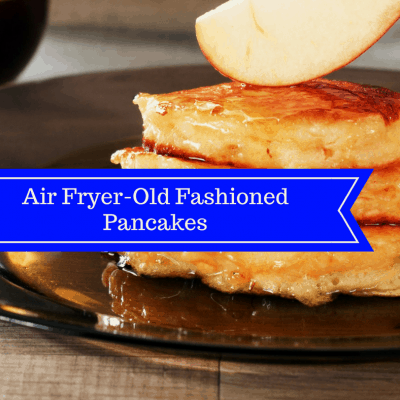 In the coming weeks, I am hoping to feature some of the most request air fryer pancake recipes and questions, such as:
How To Make Pancakes In the Air Fryer
Air Fryer Pancake Mix
How to Make Frozen Pancakes In the Air Fryer
Air Fryer Pancake Bites
Keto Air Fryer Pancakes
How to reheat pancakes in the air fryer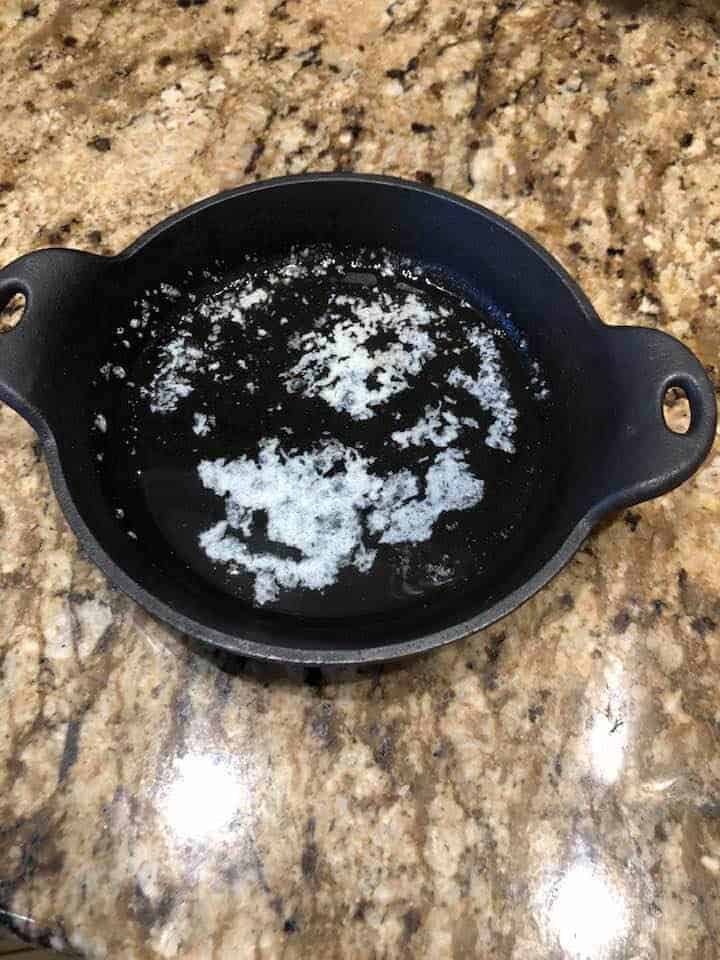 Place your butter into an air fryer safe pan (I used cast iron) and set the pan in the air fryer, for a few minutes at 300 degrees.
As soon as the butter is melted, remove the pan. (Use gloves the pan will be hot)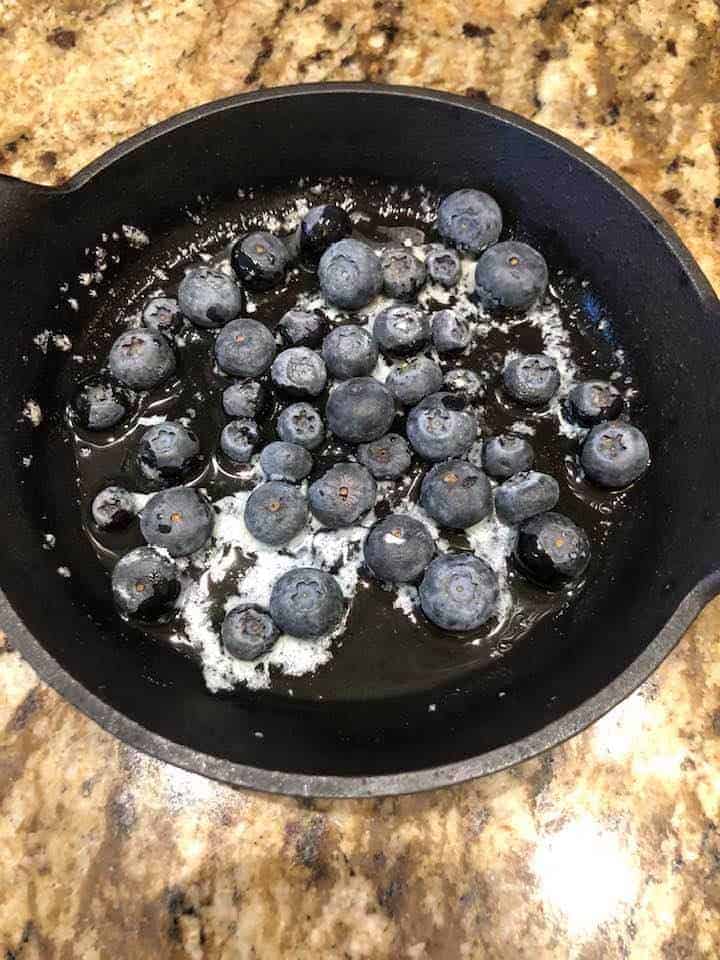 Then pour your blueberries into the prepared pan and pour the mixture over it,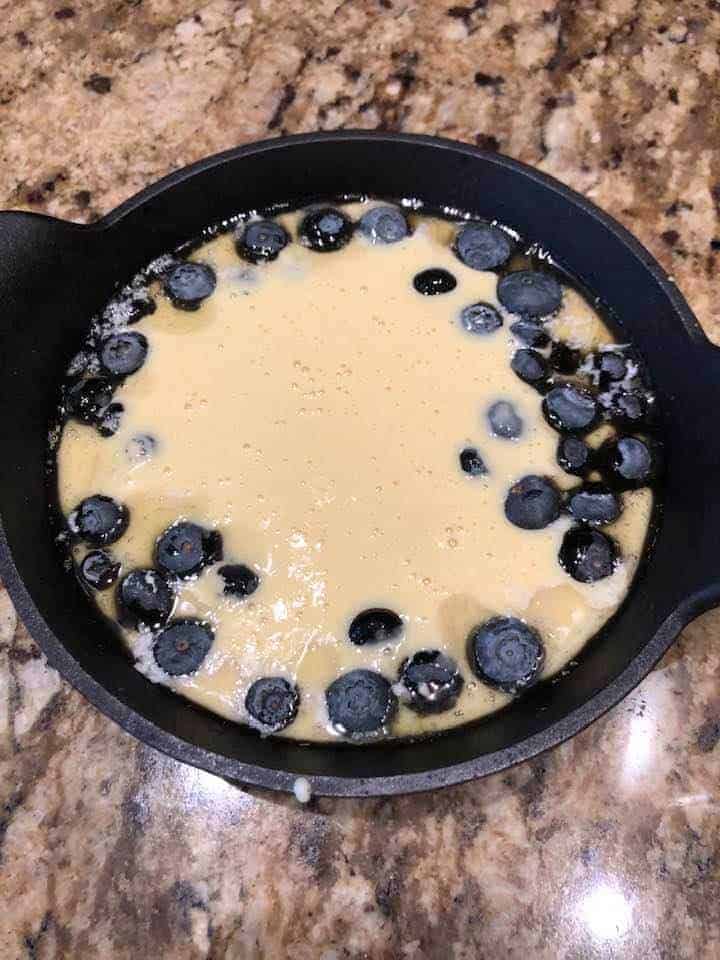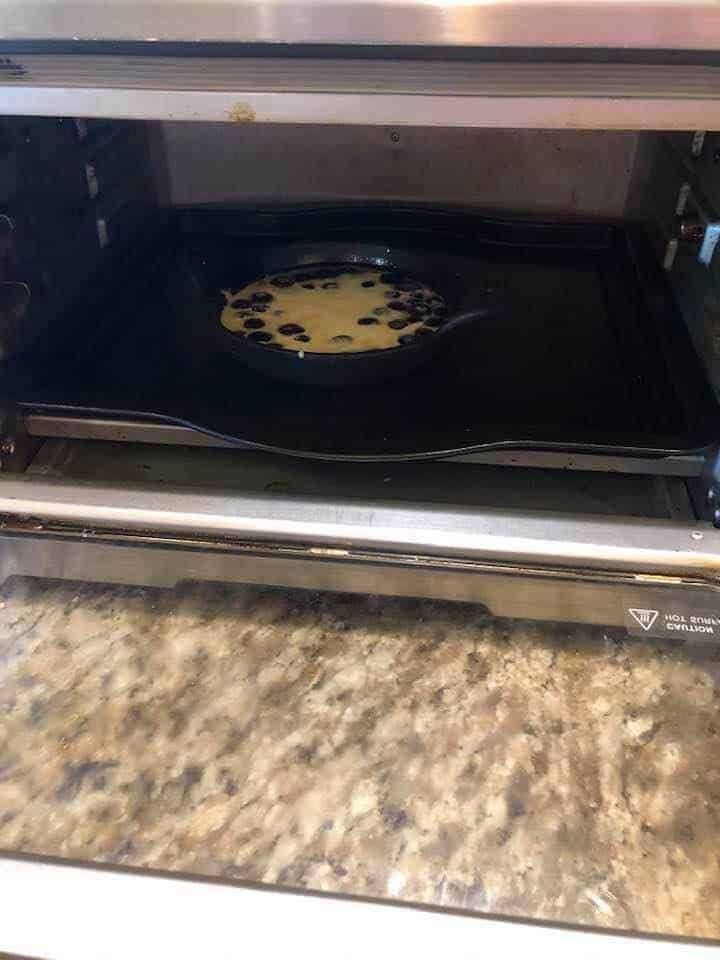 set in the air fryer 330 degrees for 5 minutes.
Then after the 5 minutes, turn the temperature to 400 degrees F, air fry for another 3 minutes. It will be puffy at that point.
If you haven't been following along, we are at www.ForktoSpoon.com
Kitchen Items Used: (Note: I include affiliate links in this post)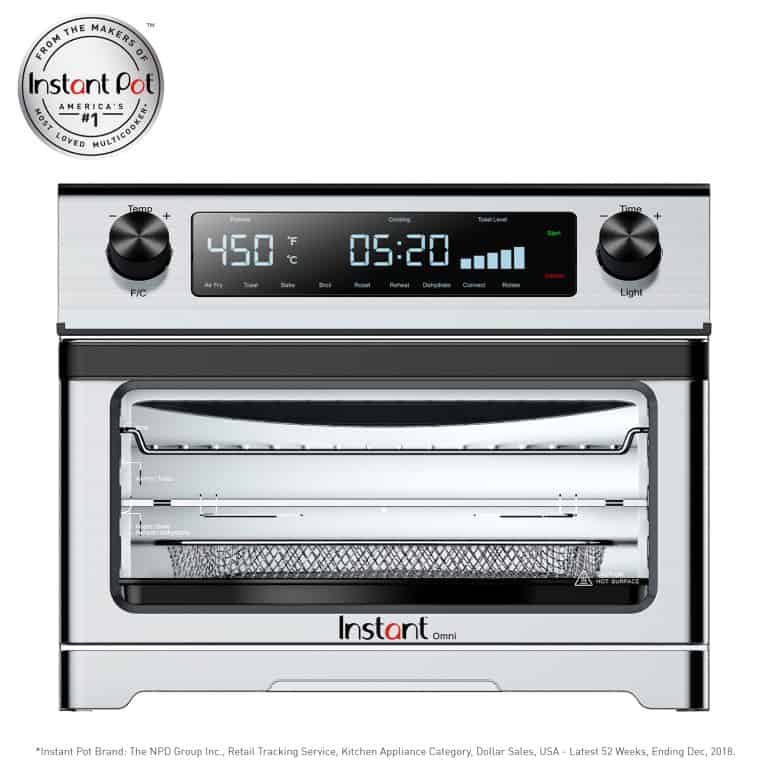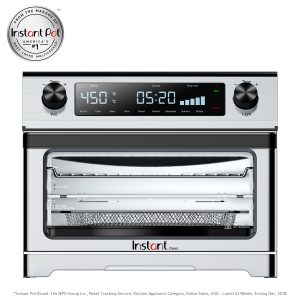 J. A. Henckels 6-Inch High Carbon Stainless Steel Chef's Kitchen Knife
 Stainless Steel Measuring Cups, 5 Piece Set
Hudson Essentials Stainless Steel Measuring Cups Set-6 Piece Stackable Set with Spout
Anchor Glass Measuring Set–This is one of the handiest tools in the Kitchen 
OXO Good Grips 12 Inch Stainless-Steel Locking Tongs
Today, I used these as I picked them up in a lighting deal with Amazon Prime, on Amazon Prime Day, they were so awesome, hardly any clean up (my worst part of cooking). So, if you are looking for a set, that will decrease your time in the kitchen, I found them here.
This is the pan that I used in this recipe, it's one of my favorites and fits most air fryers,

Don't Forget To Pin–
Print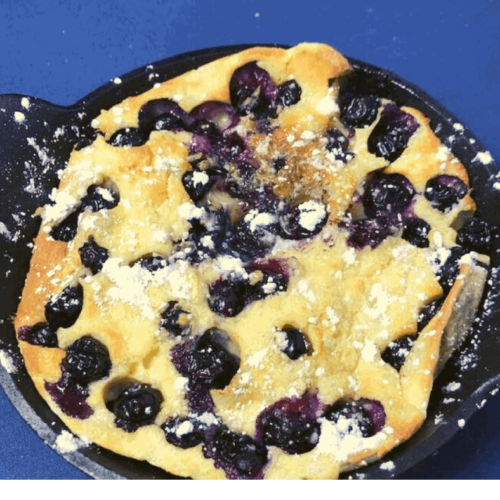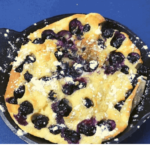 Air Fryer, Blueberry Filled Dutch Baby (Puffed Pancake)
Author:

ForkToSpoon.com

Prep Time:

5

Cook Time:

10

Total Time:

15

Yield:

1

pancake

1

x

Category:

Breakfast

Method:

Air Fryer

Cuisine:

American
---
Description
This is a really easy breakfast that does really well in the air fryer. It is filled with blueberries and a great puffed pancake on top. This is a great breakfast. I made this for my son, since it only makes enough for one, if you want to double it, it does well with that. I changed the temperature in the last few minutes, so you really get that rise at the end. (So it's a true puffed pancake)
---
2 tablespoons

butter

1

egg

1/4 cup

milk

1 teaspoon

vanilla extract

1 teaspoon

sugar

1/4 cup

flour

1/4 cup

fresh blueberries
---
Instructions
.Place your butter into an air fryer safe pan (I used cast iron) and set the pan in the air fryer, for a few minutes at 300 degrees. As soon as the butter is melted, remove the pan. (Use gloves the pan will be hot)
Then in small mixing bowl, mix together the egg, milk, vanilla, sugar, flour.
Mix well, I used a whisk, so that it really gets well blended, remember to scrape the sides too.
Then pour your blueberries into the prepared pan and pour the mixture over it,
set in the air fryer 330 degrees for 5 minutes.
Then after the 5 minutes, turn the temperature to 400 degrees F, air fry for another 3 minutes. It will be puffy at that point.
Plate, serve and enjoy!
---
Keywords: air fryer pancake bites air fryer pancakes dutch baby pancake without cast iron skillet dutch baby german pancake recipe apple dutch baby pancake savory dutch baby dutch baby with pancake mix dutch baby recipe original pancake house