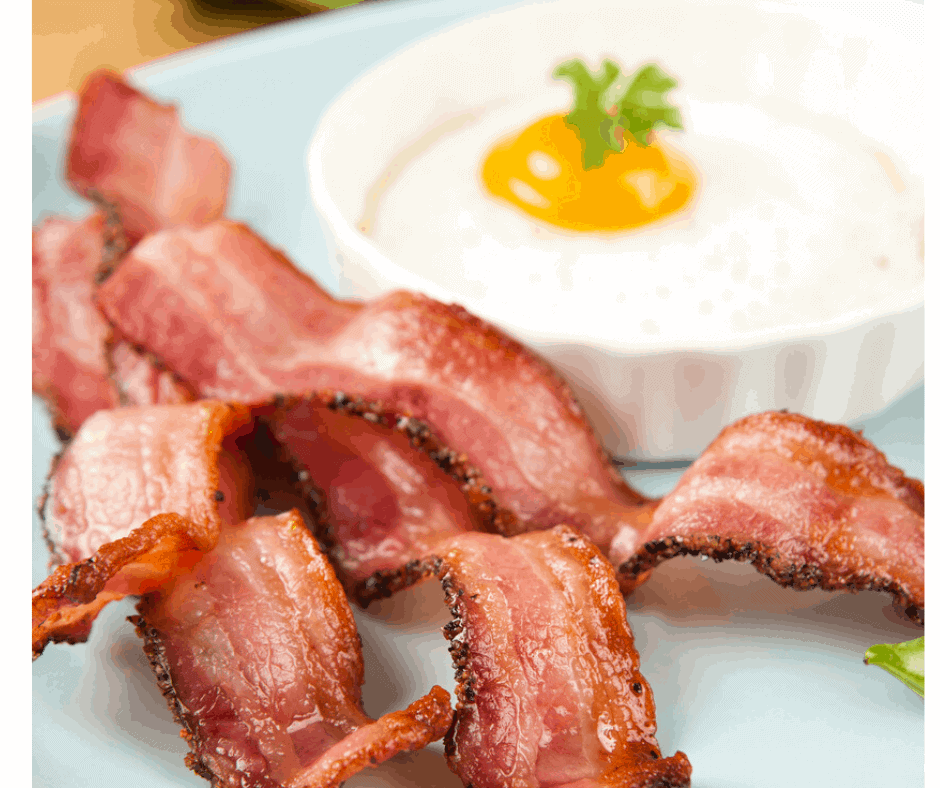 Today, I made a batch of air fryer turkey bacon. It was amazing. I know that there are many, many debates about turkey bacon. Not really being bacon, etc. But I'm here to tell you that you really elevate it to another level when you use the air fryer. So, if you have not tried it as yet, give it a whirl.
The real tip I will give you when air frying any bacon is to pre-heat the air fryer. This means if you do not have a preheat setting, turn the temperature to whatever is called for in the recipe and let the air fryer heat up for about 5-7 minutes before adding your bacon.
This way, you have delicious and perfectly crispy turkey bacon. I recently purchased a huge package at Costco last weekend, as I am trying to eat healthier.
Bacon in the air fryer is amazing, whether it's turkey or it's pork.  Everyone loves crispy turkey bacon, and I will tell you how to make it perfect every time.
If you are looking for other Weight Watcher Recipes, here are some of my favorites, AIR FRYER 2 INGREDIENT WEIGHT WATCHER FRIENDLY BAGELS, AIR FRYER NAKED CHICKEN TENDERS, and 2 INGREDIENT AIR FRYER PIZZA.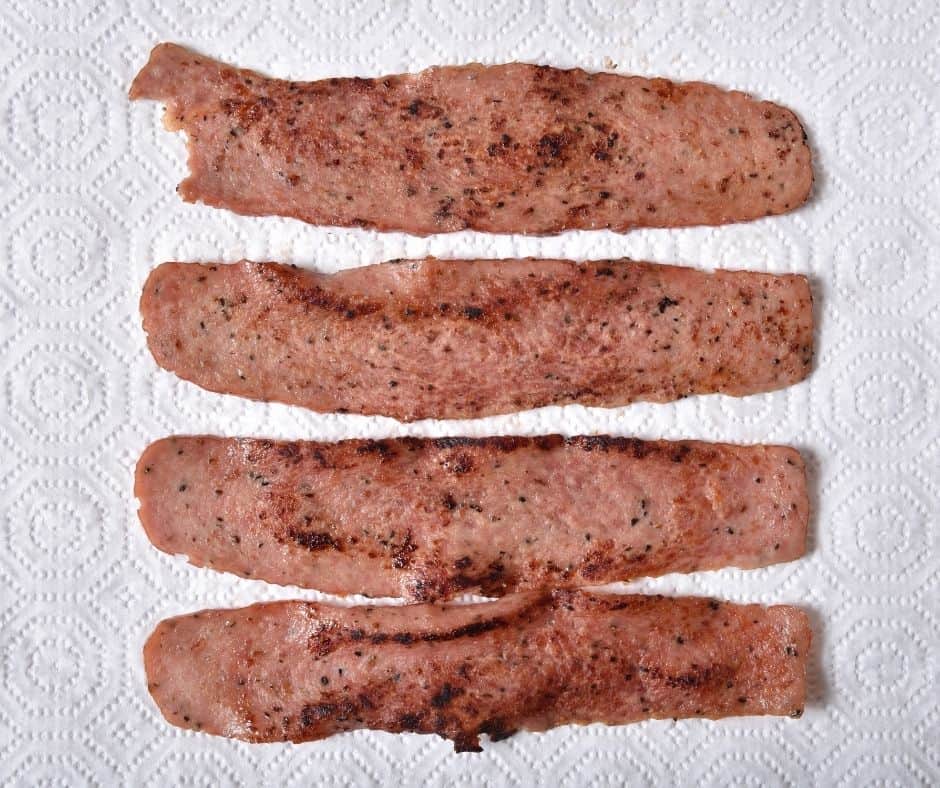 Turkey Bacon, Cured Or Uncured?
First off, what exactly is turkey bacon made of? Well, if you do not like turkey bacon, it is sold in two forms:
The difference between cured and uncured means that the bacon has not been cured with sodium nitrates.
Uncured Turkey Bacon will be labeled as such, meaning no nitrates have been added to the turkey. Sodium Nitrates are typically added to bacon to help preserve the shelf life and give bacon the ironic color.
What Is Turkey Bacon?
Turkey bacon is a great Weight Watchers food item. Since it's made with smoked turkey, it is much lower in fat and calories than the pork alternative.
One thing to realize about turkey bacon is that since there is not much fat in the turkey bacon, it will not shrink as much as regular bacon. Therefore, in most cases, you will need to cut the bacon in half.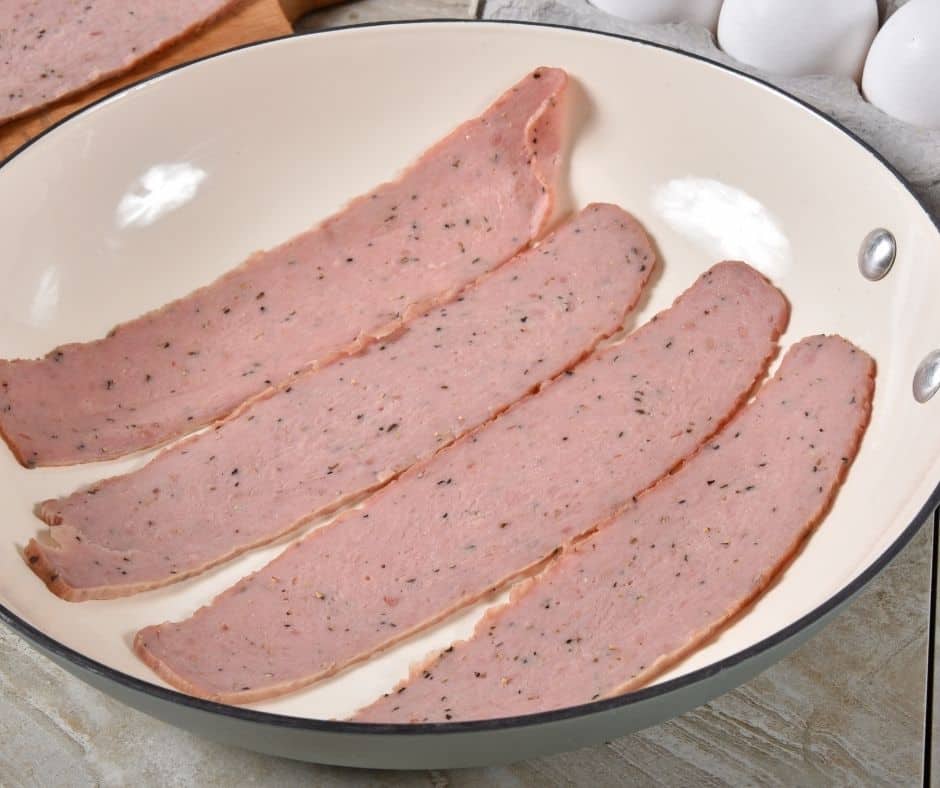 Where To Buy Turkey Bacon?
I usually grab a few packages of my turkey bacon at Trader Joe's, but the other great place to get Turkey Bacon is Costco, and of course, your local grocery store.
You will find turkey bacon right next to the regular bacon at your local grocery store. The major companies that sell Turkey Bacon are:
How To Make Turkey Bacon In The Air Fryer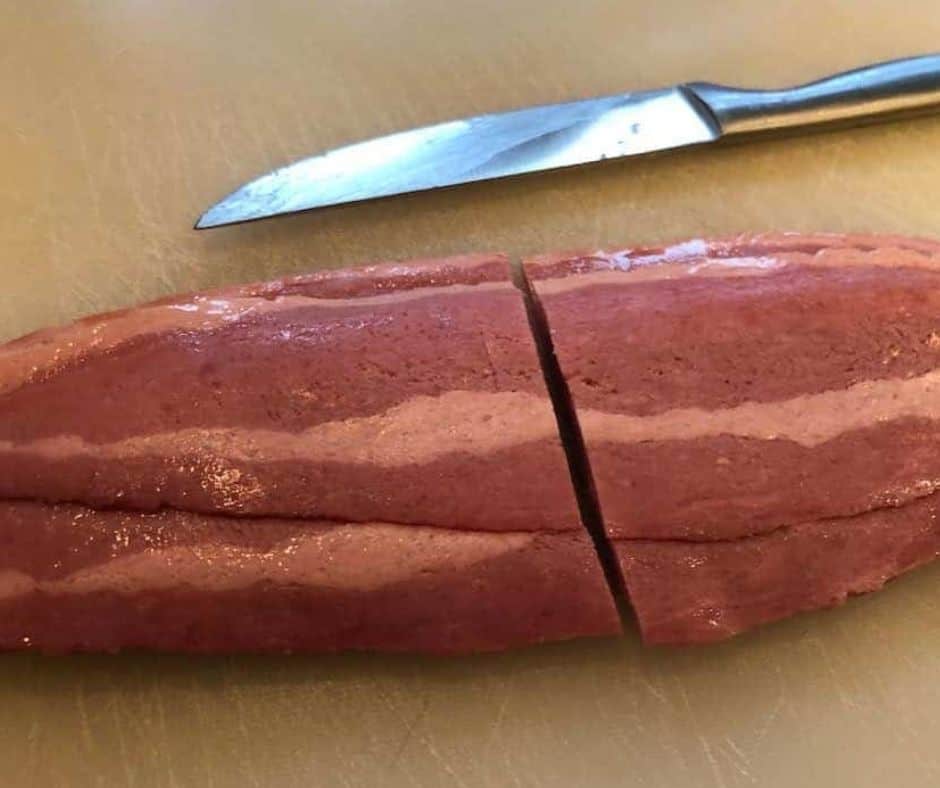 Slice your bacon in half, so the slices fit in the air fryer basket. Then preheat your air fryer to 350 degrees Fahrenheit. (air fryer setting)
Unfortuenly since the turkey bacon does not shrink during the cooking process, you will need to run several batches to get the turkey bacon done.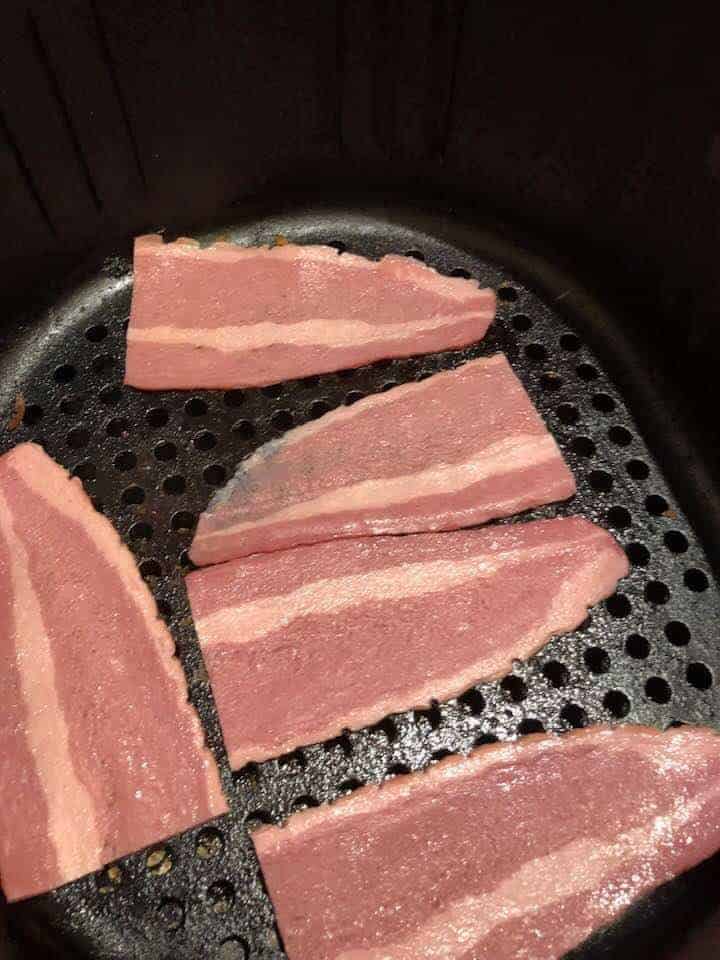 Add your bacon, leaving space around the bacon, so it perfectly cooks up.
How Long Do You Cook Turkey Bacon In An Air Fryer?
Set your timer for 5 minutes. After 5 minutes, flip over the bacon and cook for another 4 minutes.
The exact time will depend on the air fryer you own and how crispy you like your bacon. The golden rule of thumb is about 9 minutes, plus or minutes 1 minute.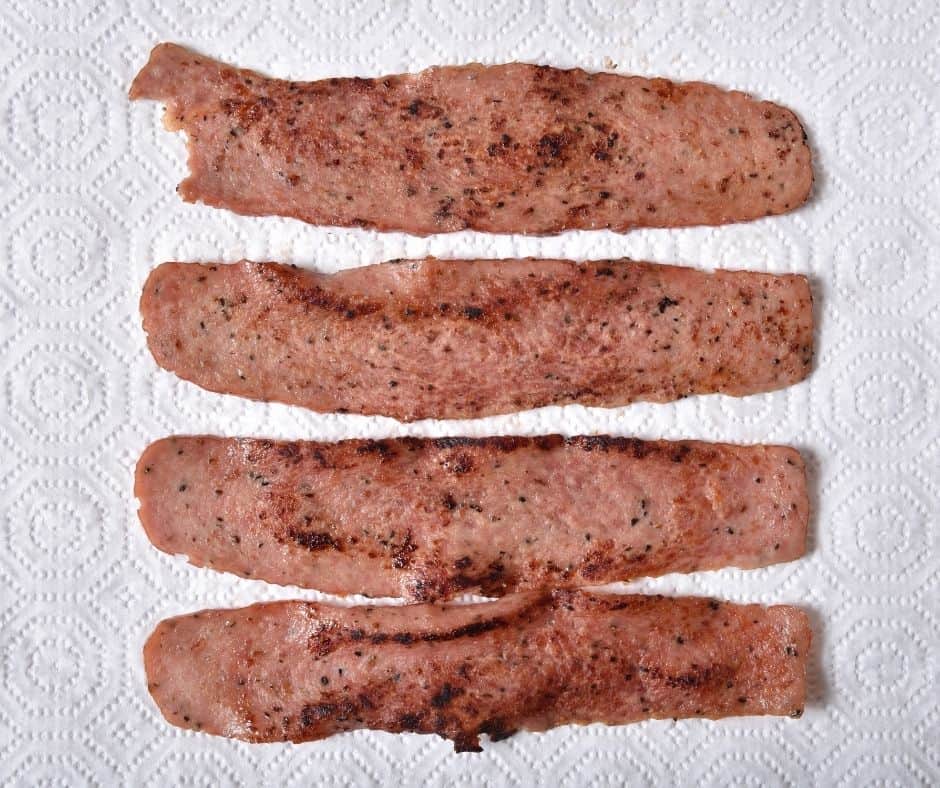 Is Turkey Bacon Healthy?
Yes, it's very healthy; there are so much less fat and calories in turkey bacon. This is why it makes great low-calorie food.
If you are watching your cholesterol or are on a heart-healthy diet, this is the perfect substitute for you.
How Many Points Are In Turkey Bacon?
The average calories are 30 calories per 1 slice of bacon. But please check your package for the exact calorie count.
There is also about 1 Smart Point per turkey bacon point; this includes the following plans:
Green Plan
Blue Plan
SmartPoints (Purple Plan)
Points Plus
Some Other Great & Easy Air Fryer Weight Watcher Breakfast Recipes,
Yield: 8 Servings
Air Fryer Turkey Bacon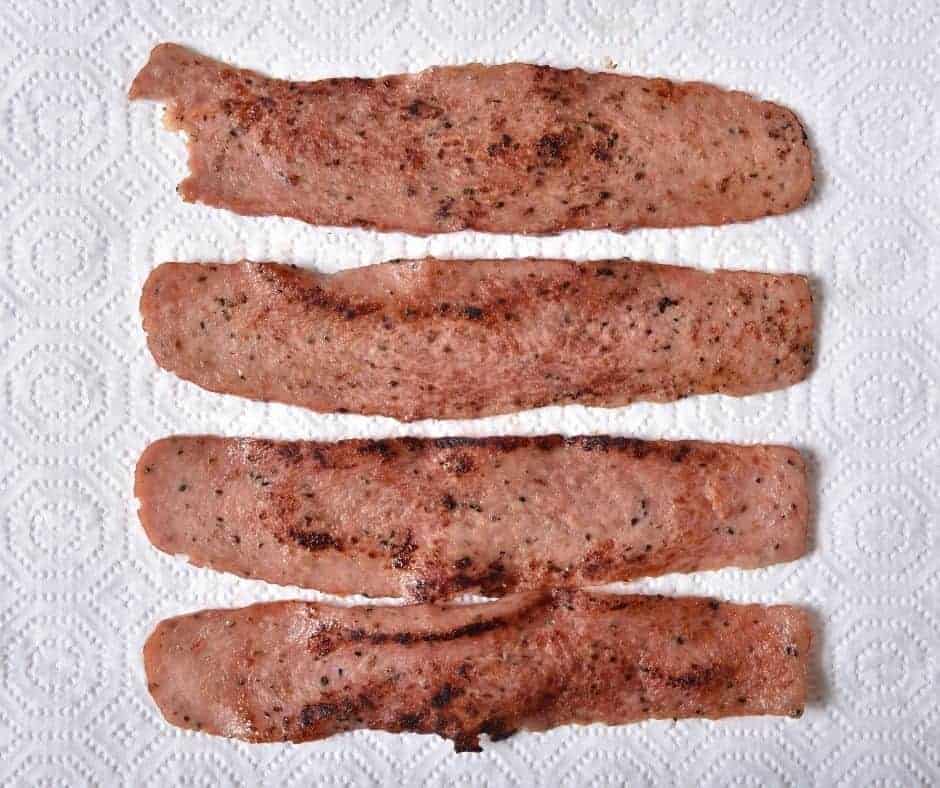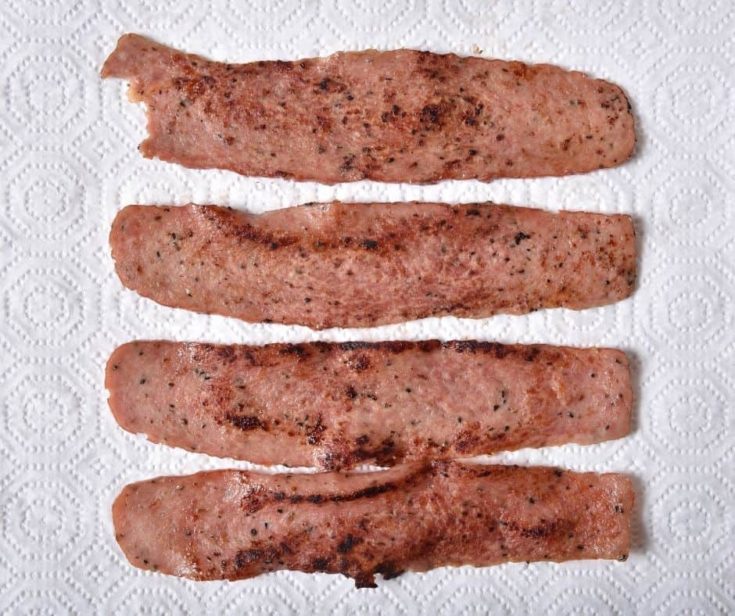 Nothing like air fryer turkey bacon. If you have not tried turkey bacon in the air fryer, you are really missing out. It crisps up nicely and makes a great and healthy alternative to regular bacon. Trader Joe's sells great turkey bacon without nitrates.
Ingredients
1 package uncured turkey bacon
Instructions
Start by preheating the air fryer to 350 degrees F. (for 5-7 minutes) air fryer setting.
Slice your bacon in half, so the slices fit in the air fryer basket.
Place the bacon slices into the air fryer basket.
Set your timer for 5 minutes. After 5 minutes, flip over the bacon and cook for another 4 minutes.
Plate, serve, and enjoy!
Nutrition Information:
Yield:
8
Serving Size:
1
Amount Per Serving:
Calories:

4
Total Fat:

0g
Saturated Fat:

0g
Trans Fat:

0g
Unsaturated Fat:

0g
Cholesterol:

2mg
Sodium:

20mg
Carbohydrates:

0g
Fiber:

0g
Sugar:

0g
Protein:

0g