Air Fryer Turkey Meatballs — Welcome to our air fryer recipe collection, where we explore the versatility of this fantastic kitchen appliance. Today, we're diving into the world of savory and delicious air fryer turkey meatballs. These lean and flavorful bites are perfect for a quick weeknight dinner or a crowd-pleasing appetizer. Let's get started!
This is an excellent recipe for homemade turkey meatballs, served with your favorite Instant Pot Marinara Sauce, and in less than 10 minutes of prep time, you will have a great recipe!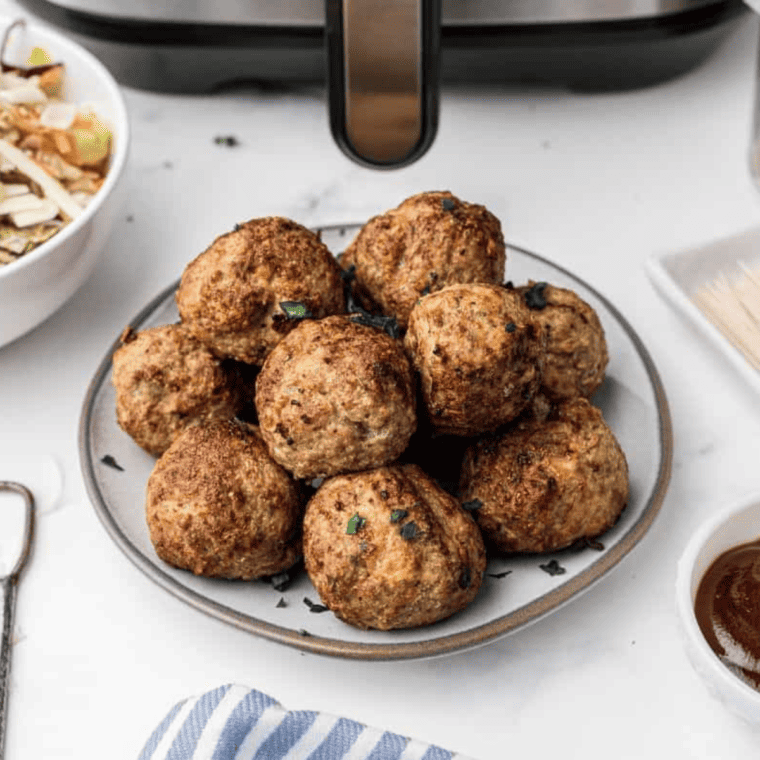 The Best Air Fryer Turkey Meatball Recipe
​The Best Air Fryer Meatball Recipe brings you a delightful combination of lean ground turkey, aromatic herbs, and savory spices, all cooked perfectly in the air fryer. These meatballs are a healthier alternative to their beef counterparts without sacrificing flavor or juiciness. Whether you're looking for a quick weeknight dinner or a versatile party snack, these air-fried turkey meatballs will satisfy your cravings and leave your taste buds wanting more.
If you have been making turkey meatballs in your slow cooker, you will soon find that this meatball recipe is fantastic for meal prep and can be easily adapted for low carb. Of course, since these Air Fryer Meatballs are incredible, your whole family will love them!
If you are looking for other easy air fryer dinner recipes, my family's favorites are Air Fryer Popeyes Fried Chicken and Air Fryer Jerk Chicken.
Ingredients Needed For Air Fryer Turkey Meatballs
Creating these delectable, Easy Homemade Air Fryer Turkey Meatballs is a breeze with just a few simple ingredients. These meatball ingredients combine harmoniously to produce tender, juicy meatballs with an irresistible taste.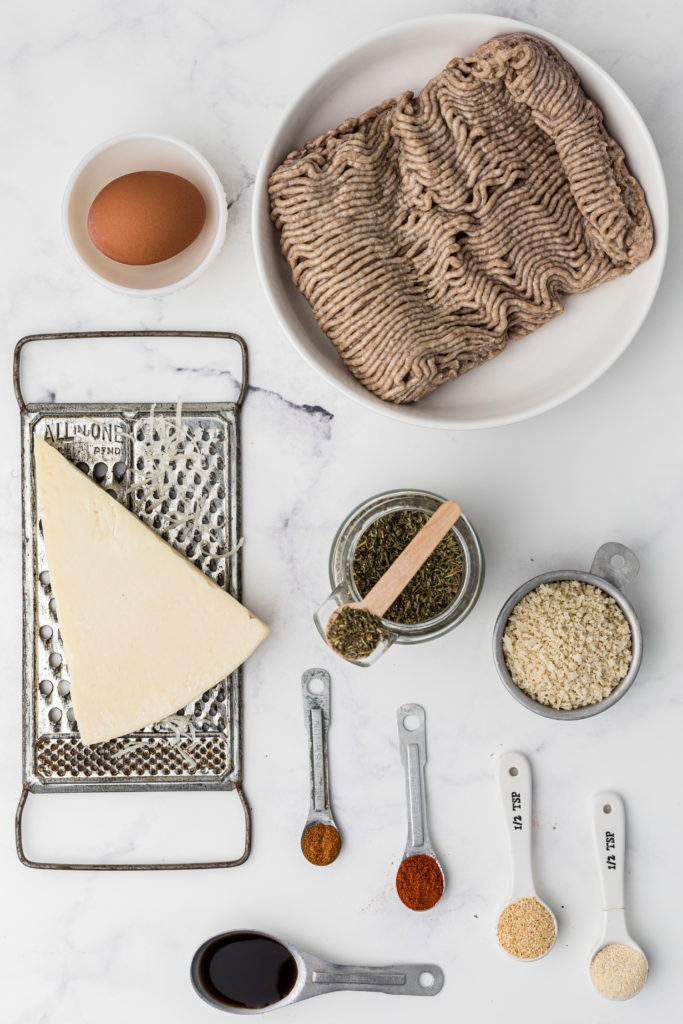 Remember the step-by-step directions and detailed ingredient list are below in the printable recipe card at the bottom of the post, as well as the nutritional information.
Lean Ground Turkey: Lean ground turkey serves as the base of these meatballs, providing a healthier alternative to beef.
Breadcrumbs: Breadcrumbs are essential for binding the meatballs together and adding a pleasant texture.
Grated Parmesan Cheese: Cheese brings a rich, savory flavor to the meatballs, enhancing their overall taste.
Large Egg: An egg acts as a binder, holding the meatballs together and preventing them from falling apart during cooking.
Garlic: Fresh garlic adds a robust, aromatic flavor to the meatballs, elevating their taste.
Fresh Parsley: Chopped fresh parsley lends freshness and color to the meatballs, enhancing their visual appeal.
Dried Italian Seasoning: A blend of dried Italian seasonings infuses the meatballs with a classic Italian taste profile.
Kosher Salt: Salt is essential for seasoning and bringing out the flavors of the other ingredients.
Black Pepper: Ground pepper adds mild heat and depth to the meatballs, complementing the other seasonings.
Serving: Marinara Sauce, Pesto Sauce. or your favorite dipping sauce.
These ingredients work harmoniously to create delicious and perfectly seasoned turkey meatballs in the air fryer.
How To Make Turkey Meatballs In Air Fryer
Creating delicious and healthy turkey meatballs is a breeze with the convenience of an air fryer. Follow these step-by-step instructions to enjoy a scrumptious meal.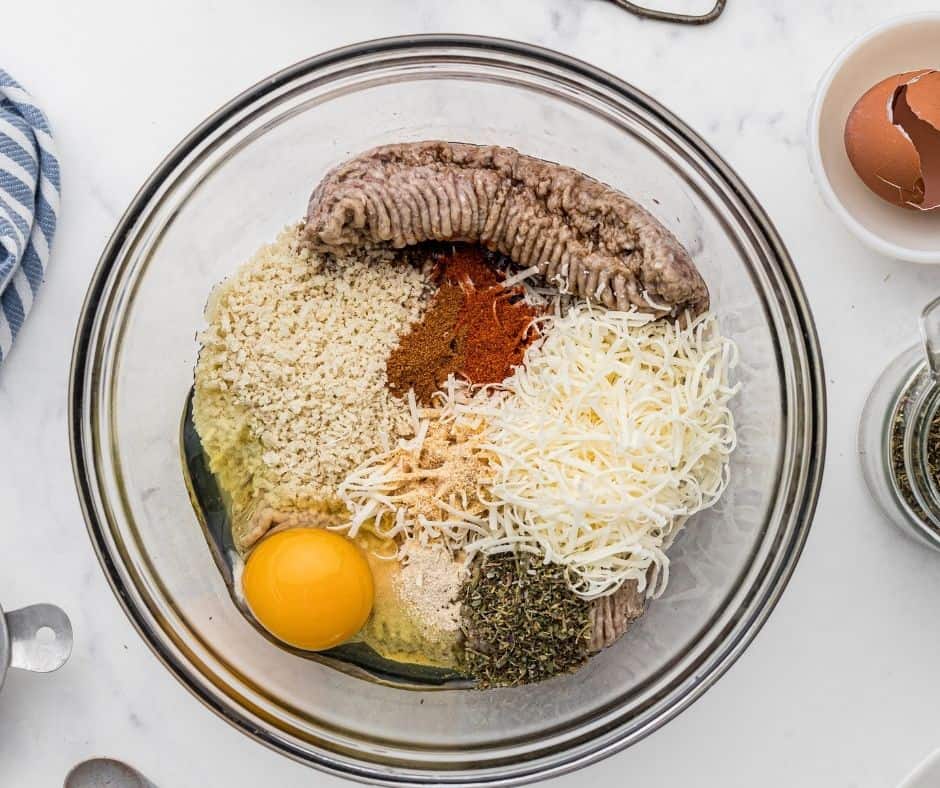 Step 1: Preheat and Mix The Ingredients
Preheat the Air Fryer: Preheat your air fryer to 400 degrees F (200°C) for a few minutes while you combine the air fryer meatballs.
Prepare the Meatball Mixture: In a large bowl, combine the lean ground turkey, breadcrumbs, grated cheese, minced garlic, chopped fresh parsley, dried Italian seasoning, salt, and black pepper. Crack an egg into the mixture as well.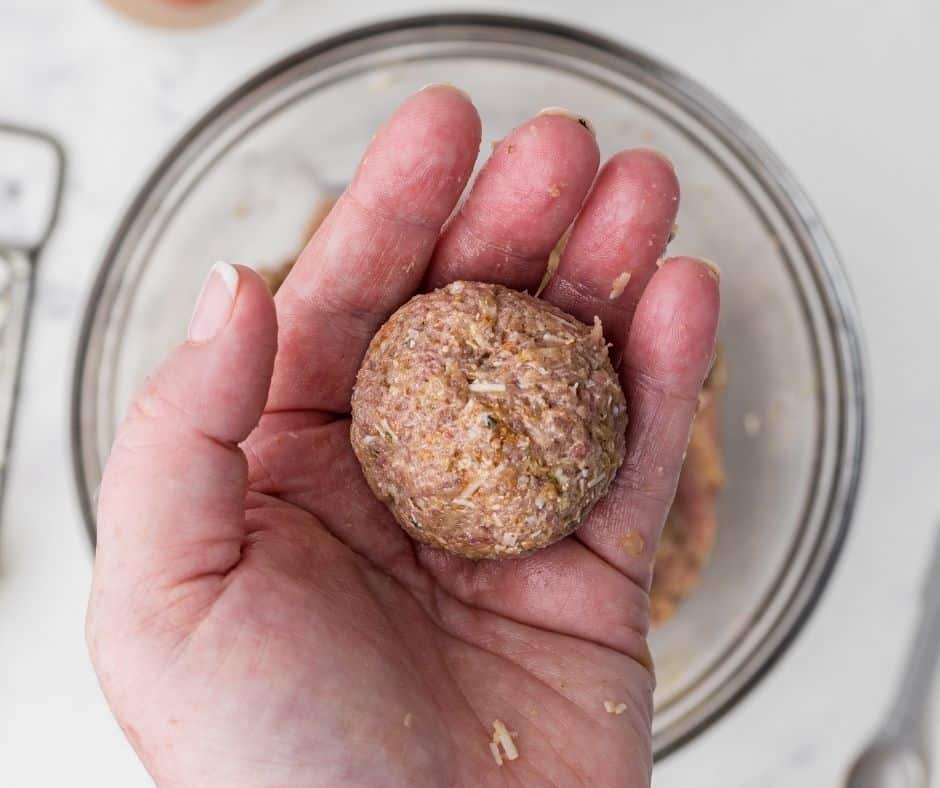 Step 2: Form and Arrange The Meatballs
Mix Thoroughly: Use your hands or a spoon to mix all the ingredients until well combined. Be careful not to overmix, as this can make the meatballs tough.
Form Meatballs: Take small portions of the mixture and roll them into meatballs, about 1 to 1.5 inches in diameter. Ensure they are evenly sized for even cooking.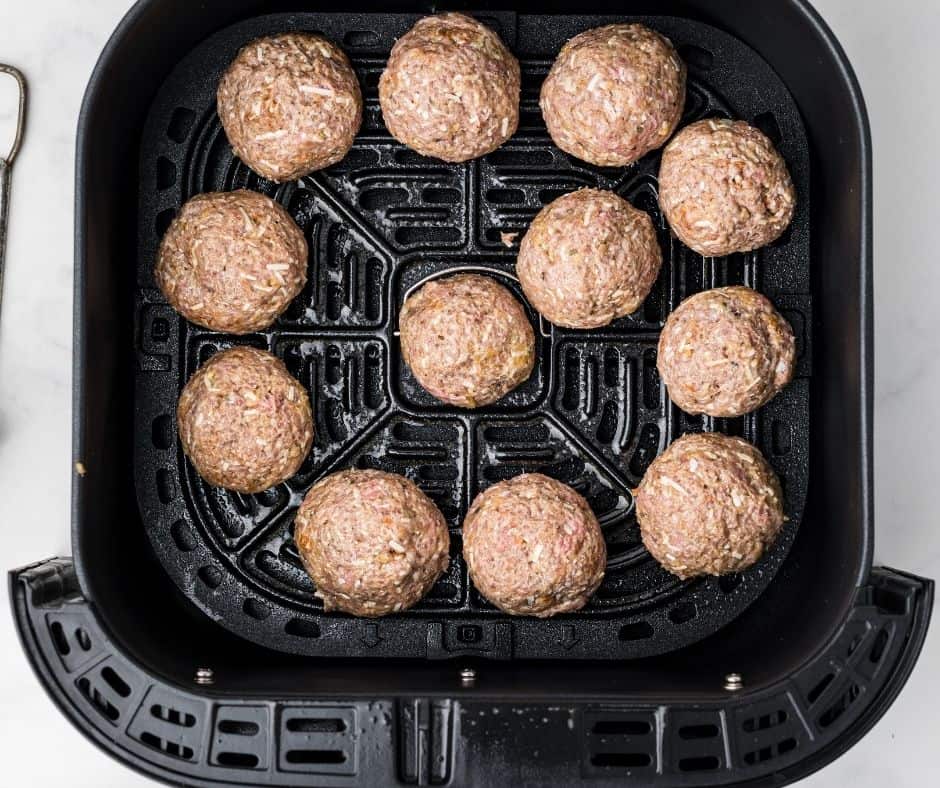 Step 3: Cook and Serve
Air Fry the Meatballs: Place the meatballs in the preheated air fryer basket in a single layer, ensuring they are not touching to allow for proper airflow. You may need to cook them in batches, depending on the size of your air fryer.
Cook: Set the air fryer to 370 degrees F (188°C) and cook time for 10-12 minutes, turning them halfway through the cooking time for even browning. The exact time may vary depending on your air fryer model, so keep an eye on them.
Check for Doneness: To ensure the meatballs are cooked thoroughly, use a meat thermometer to check their internal temperature. They should reach at least 165°F (74°C).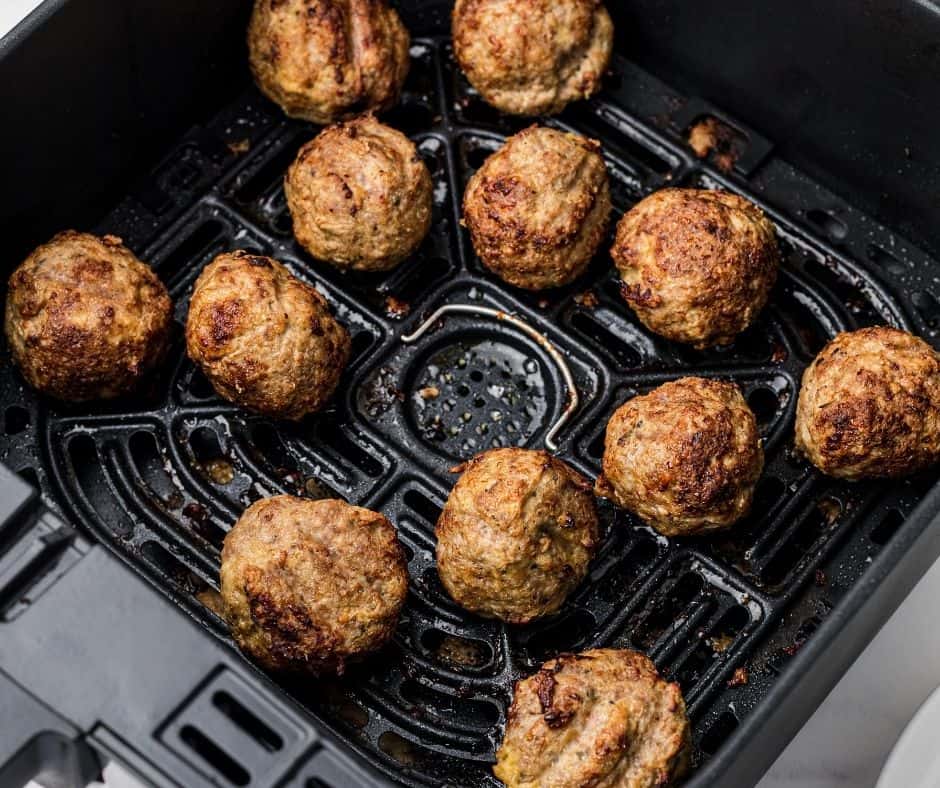 Serve: Once cooked, remove the cooked meatballs from the air fryer and let them cool for a minute before serving. You can serve them with your favorite dipping sauce or use them in various dishes, such as spaghetti, meatballs, or subs.
These air fryer turkey meatballs are a healthier alternative to traditional beef meatballs, and they turn out juicy and flavorful with a crispy exterior.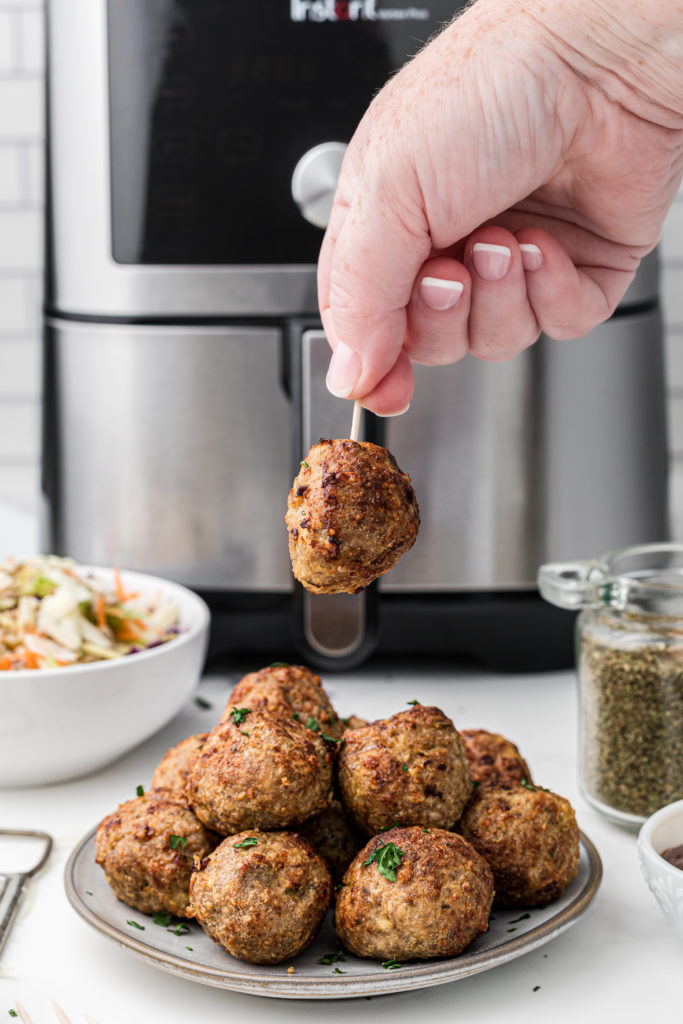 Pro Tips For Cooking Homemade Turkey Meatballs In Air Fryer
Achieving the perfect homemade turkey meatballs in an air fryer can be a breeze with a few pro tips:
Use Lean Ground Turkey: Opt for lean turkey, preferably 93% lean or higher, to keep your meatballs healthier and less prone to excess grease. It also ensures that the meatballs don't become overly dry during cooking.
Don't Overmix: When combining the meatball mixture, avoid overmixing. Overmixing can lead to dense and tough meatballs. Mix just until all ingredients are combined.
Breadcrumbs: Consider using panko bread crumbs instead of regular breadcrumbs.They are lighter and can help create a lighter, fluffier texture in your meatballs.
Add Flavor with Fresh Herbs: Fresh herbs like parsley, basil, or cilantro can flavor your meatballs. Finely chop them and mix them into the meatball mixture.
Season Generously: Don't skimp on seasonings. Season the meatball mixture well with salt, pepper, and your choice of herbs and spices to ensure they're flavorful.
Keep Meatballs Uniform: When forming the meatballs, try to make them as uniform in size as possible. This ensures even cooking and prevents some meatballs from overcooking while others remain undercooked.
Preheat the Air Fryer: Always preheat your air fryer for a few minutes before adding the meatballs. This helps achieve even cooking from the start.
Avoid Crowding: Ensure enough space between the meatballs in the air fryer basket. Overcrowding can lead to uneven cooking and less crispy results.
Use a Meat Thermometer: To ensure your turkey meatballs are cooked to perfection and reach a safe internal temperature of 165°F (74°C), use an instant-read thermometer.
Experiment with Seasonings: Feel free to get creative with seasonings and spices. Add a pinch of red pepper flakes for heat, or try different herbs and spices to suit your taste.
By following these pro tips, you'll create delicious and juicy turkey meatballs with a crispy exterior, perfect for enjoying on their own or in your favorite recipes.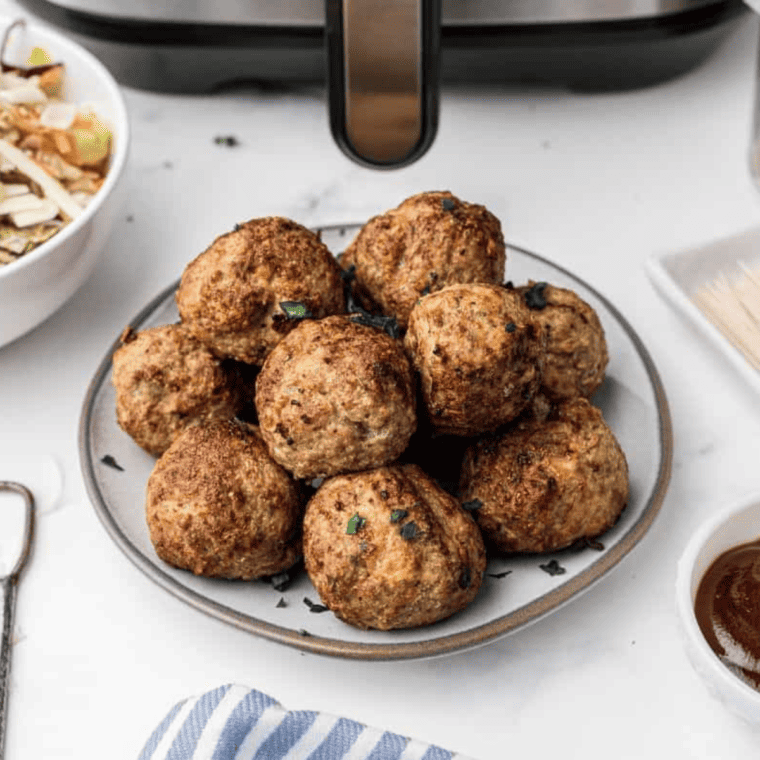 FAQ's:
Can I use any type of ground turkey for meatballs in the air fryer?
While you can use any type of ground turkey, it's recommended to use it, preferably 93% lean or higher, to prevent excess grease and ensure the meatballs stay moist.
How do I prevent the meatballs from sticking to the air fryer basket?
To prevent sticking, you can lightly grease the air fryer basket, with olive oil or avocado oil or use parchment paper or perforated parchment sheets designed for air fryers. This also makes cleanup easier.
What temperature should I set the air fryer to for turkey meatballs?
Preheat your air fryer to 375°F (190°C) before adding the meatballs. The cooking temperature may vary, but this temperature works well for most air fryer models.
How long should I cook turkey meatballs in the air fryer?
The cook time can vary depending on the size and thickness of your meatballs and your specific air fryer model. On average, it takes about 12-15 minutes at 375°F (190°C), flipping the meatballs halfway through for even cooking. It's crucial to cook the meatballs in a single layer, and check the internal temperature with a meat thermometer to ensure they reach 165°F (74°C).
Can I cook frozen turkey meatballs in the air fryer?f
Yes, you can cook frozen turkey meatballs in the air fryer. Set the temperature to 400 degrees F, and cook for 10-15 minutes.
What should I serve with turkey meatballs?
Turkey meatballs are versatile and can be served with various sides like pasta, rice, salad, or as a sandwich filling. You can pair them with different sauces like marinara, barbecue, or creamy gravy.
Can I use other meats or meat substitutes for air-fried meatballs?
Absolutely! You can use ground beef, chicken, pork, or plant-based meat substitutes like tofu or tempeh to make air-fried meatballs. Adjust the air frying time accordingly.
How can I keep my turkey meatballs moist and flavorful?
Using lean ground turkey, adding herbs and spices, and not overmixing the meat mixture will help keep your turkey meatballs moist and flavorful.
Can I make a large batch of meatballs and freeze them for later?
Yes, you can make a batch of meatballs, cook them in the air fryer, and then freeze them later in an airtight container or freezer container. Reheat them in the air fryer or oven when ready to eat.
More Air Fryer Recipes
Air Fryer Peanut Butter Chicken Legs With Spicy Jelly Aioli
Don't Forget To Pin!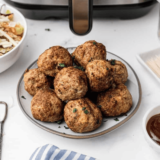 Air Fryer Turkey Meatballs
Description
Are you looking for a healthy and delicious way to enjoy meatballs? If so, then you need to try air fryer turkey meatballs! These tasty little morsels are made with lean ground turkey, panko bread crumbs, and Parmesan cheese, and they are cooked in just minutes in your air fryer. So easy and so good!
Ingredients
1 1/2

pound

ground turkey breast

,

lean

1/4

cup

panko breadcrumbs

1/2

teaspoon

Italian Seasoning

1/2

teaspoon

Garlic Powder

1/2

teaspoon

Onion Powder

1/2

teaspoon

Paprika

1/4

teaspoon

Cayenne

1/2

tablespoon

Worcestershire Sauce

1/3

cup

Parmesan, or Pecorino Cheese

1

large

egg

4

sprays

cooking spray
Instructions
Preheat the air fryer to 400 degrees F.

In a large mixing bowl mix all the ingredients together (except the cooking spray).

Form into round meatballs (about 2" dia. Each), keep even in size to aid uniform cooking.

Spray the basket with cooking spray first, then evenly arrange the meatballs on the rack in the basket.

Spray the meatballs very lightly with cooking spray and cook for 10 minutes. When there is about 3 minutes left take the basket and shake a little to have the meatballs move around a little.

Serve hot with your favorite dip
Nutrition
Serving:
1
Serving
Calories:
157
kcal
Carbohydrates:
3
g
Protein:
28
g
Fat:
4
g
Saturated Fat:
1
g
Polyunsaturated Fat:
1
g
Monounsaturated Fat:
1
g
Trans Fat:
0.02
g
Cholesterol:
93
mg
Sodium:
107
mg
Potassium:
372
mg
Fiber:
0.3
g
Sugar:
0.4
g
Vitamin A:
125
IU
Vitamin C:
1
mg
Calcium:
18
mg
Iron:
1
mg