Banana muffins are a classic breakfast or snack food. But who has time to make them from scratch? With an air fryer, you can have banana muffins in no time! These homemade muffins are delicious and nutritious and a great way to use up overripe bananas. Plus, they're air-fried, so they're healthier than traditional muffins. Give this recipe a try today!
The hot air circulating around these muffins makes for an easy air fryer banana muffins! This might be one of the great things you can make in the air fryer! With only a few simple ingredients, you can make this easy recipe!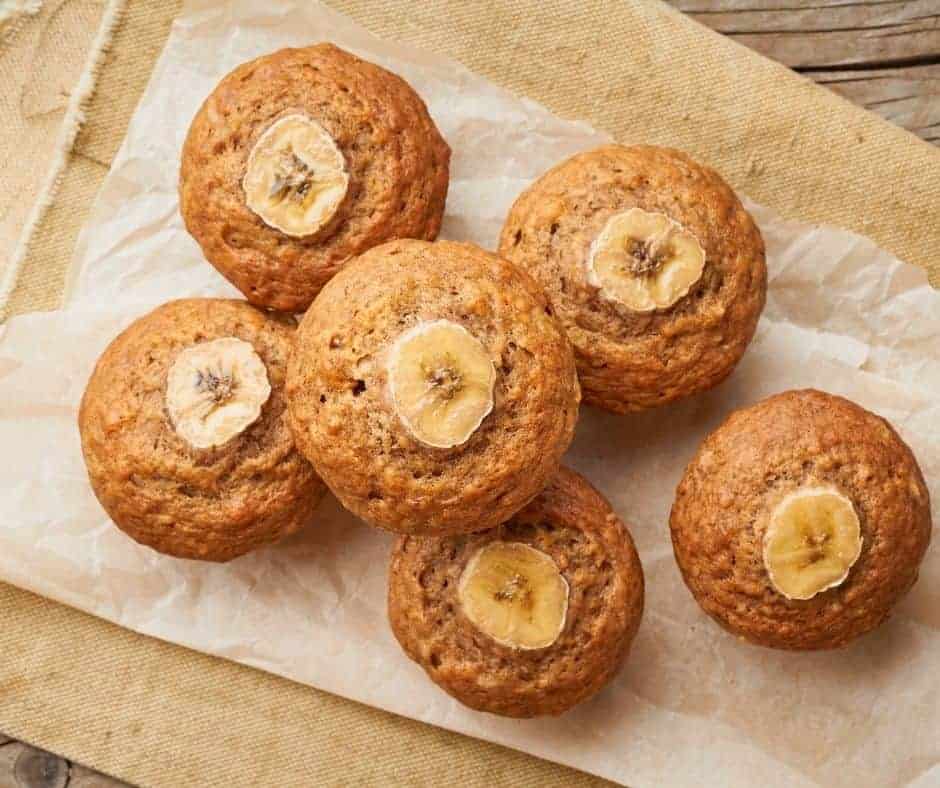 Air Fryer Banana Muffins are so great! My kids loved them for breakfast; they go amazingly well with a hot cup of coffee or a cold glass of milk.
These are some of my favorite muffins, and I usually whip up a batch on Sunday night. This way, breakfast is already made when I wake up on Monday. And everyone knows how painful Mondays are.
My kids love them too, and I always buy a couple of extra bananas so I have some ripe bananas.
This is a wonderful recipe to use those overripe bananas. And they are so easy! Suppose you are looking for even more Air Fryer Muffin Recipes. My favorites are AIR FRYER BLUEBERRY MUFFIN MUG CAKE, AIR FRYER CINNAMON SUGAR DONUT MUFFINS, and AIR FRYER THE BEST BLUEBERRY MUFFINS.
Homemade Air Fryer Banana Muffins
There is nothing better on the counter than ripe bananas that you know are perfect for baking. Today, I made a homemade batch of Air Fryer Muffins, light, fluffy and moist; they are delicious.
Everyone loves a great slice of banana bread, but this one is much easier, and they are portable—Ready for a great and quick breakfast.
So, if you have been looking for delicious air fryer banana muffins for a filling breakfast, give this recipe a try!
Why You Will Love This Banana Muffin Recipe
There are so many reasons you will love making muffins in the air fryer; air fry muffins require a shorter time than traditional oven baking! This will soon be the best way to make your air fryer banana muffins recipe!
Easy
Quick! Who has a lot of time?
Delicious Recipe
Kid-Friendly–Perfect Recipe For The Family!
So Good…
Ingredients Needed For Air Fryer Banana Muffins
Looking for a delicious and easy breakfast recipe made with simple everyday ingredients you can make in your air fryer? These Air Fryer Banana Muffins are simple to make and require only a few ingredients. Plus, they're gluten-free and vegan-friendly! So if you're looking for a tasty breakfast option that everyone will love, give these Air Fryer Banana Muffins a try!
Remember The Step By Step Instructions are below in the printable recipe card at the bottom of the post, as well as the nutritional information.
All-purpose flour: You can also use a blend of whole wheat flour and all-purpose flour for a healthier option.
White Sugar: For a sweeter muffin, you can use brown sugar
Baking soda
Salt
Bananas: Mash Bananas
Egg: Use large eggs
Vegetable oil: You can also use olive oil.
Vanilla extract
How To Cook Banana Muffins In The Air Fryer
Step One: Mix Dry Ingredients
Start by mixing the flour, sugar, baking soda, and salt in a large bowl. Then add the mashed bananas and egg.
Step Two: Mix Wet Ingredients
Add the vegetable oil and vanilla extract, and mix the ingredients well. For the best results, use a hand mixer or electric mixer, and mix at medium-high speed until there is no trace of four in the batter. If you do not have a mixer, use a potato masher.
Step Three: Air Fry The Delicious Muffins
Spray or line your muffin pan with paper-lined muffin cups. Use a spoon, and add the muffin batter to the muffin tins about 2/3 of the way up. Add a slice of banana to the top of the muffins for an added touch. Set the muffin pan in the air fryer basket.
Set the temperature to 320 degrees F, the cooking time of 12 to 15 minutes, and the air fryer setting. Check the muffins for doneness by sticking a toothpick into the center, and when it comes out clean, it is completely cooked.
If they are not baked all the way through, add another 2-3 minutes at a lower temperature and cook until the muffins are fully cooked.
Step Four: Serving
Cool on a wire rack for a few minutes, then serve with maple syrup or unsalted butter.
Pro Tips Air Fryer Banana Bread Muffins
Air Fryer: You can use any air fryer, basket, or oven style; the cook time may vary, I have made these in my 6-quart air fryer by Cosori, but any air fryer will work.
Add-Ins: The most popular add-in is chocolate chips; who can resist a batch of banana chocolate chip muffins?
Mixing: Be careful not to over-mix; I recommend that you sprinkle flour into the muffin batter so that the gluten doesn't develop, making your muffins hard.
Healthy Banana Muffins: For a healthy batch, you can use half whole-wheat flour and half all-purpose flour.
Mini Loaves: If you want to make mini loaves, you can use a mini loaf pan; the recipe will remain the same; it makes for a sweet treat for a great breakfast!
Frequently Asked Questions:
What Bananas Make The Best Muffins?
Believe it or fresh bananas do not work well in this recipe. The riper the banana, the better the muffin. As a banana gets riper, it becomes sweeter and has a better flavor. I always wait for my bananas to get a few black spots before I use them. Remember, brown bananas make a sweeter banana muffin.
Can I Make These in the Oven?
Of course, set the pan into a preheated up at 375 degrees F for 12-15 minutes. When you place a toothpick in the center of the muffins and it comes out clean, remove the muffins from the oven.
How Do You Store These Muffins?
Simple. Let them cool to room temperature on a cooling rack, then place them in an airtight container or wrap them tightly with saran or plastic wrap. You can leave it on the counter or in the refrigerator. They should last between 2 and 4 days.
To Freeze:
Let cool to room temperature, and then wrap them in saran wrap and place them in a Ziploc or freezer bag; when ready to have them, let them thaw on the counter or in the refrigerator. They will stay well in the freeze for about 1 to 2 months.
What Type of Muffin Tins (Pans) Can I Use in My Air Fryer?
I have been baking muffins since I started using my air fryer in 2017. I have evolved or time. When I started using my air fryer, there were no pans I could find that would fit my air fryer. As times change and air fryers have become more popular, manufacturers have started designing and selling smaller air fryer pans.
I used to use paper cupcake liners. After a few of my readers have told me that the muffin liners caught fire. I stopped recommending them and stopped using them myself. I was lucky to find these two alternatives, which I highly recommend. You can also use paper muffin cases and silicone cups. Silicone muffin cups or a mini loaf pan.

More Air Fryer Muffin Recipes:
If you love air fryer muffin recipes, then you're going to love this post! We've collected some of our favorite recipes for you to enjoy. From savory to sweet, there's definitely something for everyone in this roundup. So what are you waiting for? Get started cooking!
Air Fryer Banana Muffins have so many uses and can make a wonderful snack or dessert at any time of the day. Whether you are looking for a guilt-free indulgence or just a quick breakfast on the go, these delicious muffins are sure to do the trick! The result is always a tasty treat with great flavor, texture, and health benefits. Plus, they're vegan-friendly and low in sugar, so they are guaranteed to satisfy everyone's cravings. If you have an air fryer at home, this recipe is an absolute must-try – it'll become one of your favorite recipes from the very first bite!
Remember to join our easy air fryer recipes group, leave a star rating, and a comment in the comment section, if you loved this recipe!
Don't Forget To Pin: 
Air Fryer Banana Muffins
These are some of my kid's favorite muffins, Light and fluffy, serve with a cup of yogurt for a complete breakfast.
Course:
Breakfast, Brunch, Dessert
Keyword:
Air Fryer Banana Muffins
Ingredients
1 1/2

cup

all-purpose flour

1

cup

granulated sugar

1

teaspoon

baking soda

1/4

teaspoon

salt

3

ripe

bananas

1

large

egg

1/3

cup

vegetable oil

1

teaspoon

vanilla extract
Instructions
Start by mixing the flour, sugar, baking soda, and salt in a large mixing bowl.

Then add the vegetable oil and vanilla extract.

Mix all of the ingredients well.

Then spray or line your muffin tin with paper-lined muffin cups.

Fill the muffin tins about 2/3 the way up.

Set the temperature to 320 degrees F for 12 to 15 minutes. (air fryer setting)

Check the muffins for doneness by sticking a toothpick into the center, and when it comes out clean, it is completely cooked.

Let cool slightly before serving.
Nutrition Facts
Air Fryer Banana Muffins
Amount Per Serving (1 g)
Calories 273
Calories from Fat 90
% Daily Value*
Fat 10g15%
Cholesterol 23mg8%
Sodium 219mg10%
Potassium 36mg1%
Carbohydrates 43g14%
Protein 3g6%
Vitamin A 34IU1%
Vitamin C 0.03mg0%
Calcium 7mg1%
Iron 1mg6%
* Percent Daily Values are based on a 2000 calorie diet.