Whether you're looking for a quick breakfast on the go or a delicious dessert, these Berry Cream Muffins are sure to please! They're easy to make and can be customized with your favorite berries. So why not give them a try today?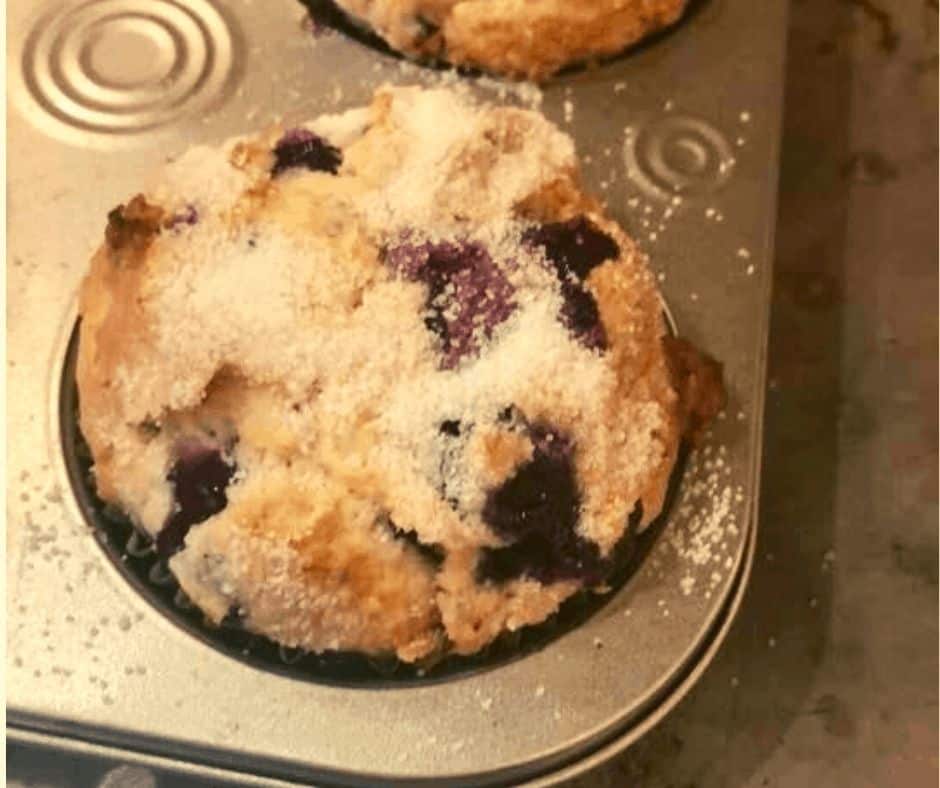 This batch of Air Fryer Berry Cream Muffins is amazing! Lightly, fluffy, and filled with berries in every bite!
Today, I used three berries, blueberries, blackberries, and raspberries, and there was a berry in each bite. Whether you use fresh or frozen berries, this recipe is amazing!
Baking muffins in the Air Fryer will change your life; they come out light, tender, and absolutely delish!
If you want to continue baking adventures in the air fryer, some of my favorite recipes are AIR FRYER S'MORES, AIR FRYER LEMON PIE, and AIR FRYER CINNAMON ROLL BITES, are some great recipes to get you started!
Why You Are Going To Love These Triple Berry Muffins!
They are so easy to make, but they are so good. They are the perfect muffin, full of flavor, and bake up incredible in the Air Fryer.
With the hot air circulating the muffin, you get perfectly cooked up muff minutes, and they are almost as good as any muffin you would get at a bakery.
Ingredients Needed For Air Fryer Berry Cream Muffins
If you're looking for an easy and delicious breakfast recipe, look no further than these air fryer berry cream muffins! These muffins are packed with flavor and only require a few simple ingredients. Plus, they're perfect for summertime brunches or picnics. So, what are you waiting for? Try this recipe today!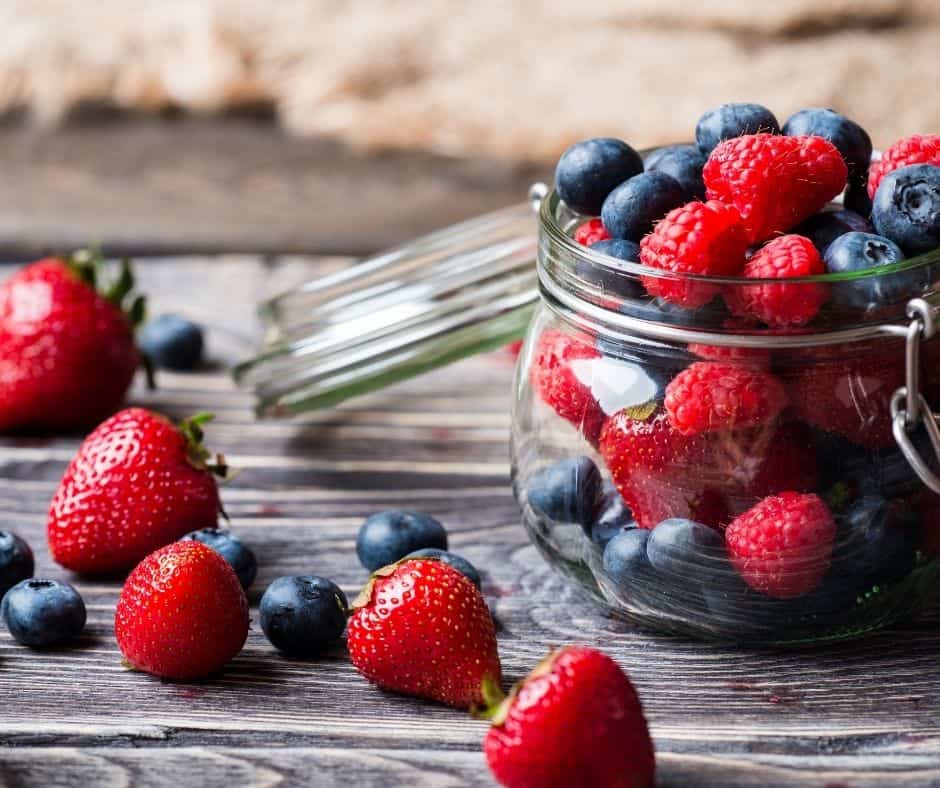 All-Purpose Flour
Granulated Sugar
Baking Powder
Baking Soda
Salt
Fresh or Frozen Berries (Strawberries, Raspberries, Blackberries or Blueberries)
Sour Cream
Canola Oil
Pure Vanilla Extract
How To Make Air Fryer Berry Cream Muffins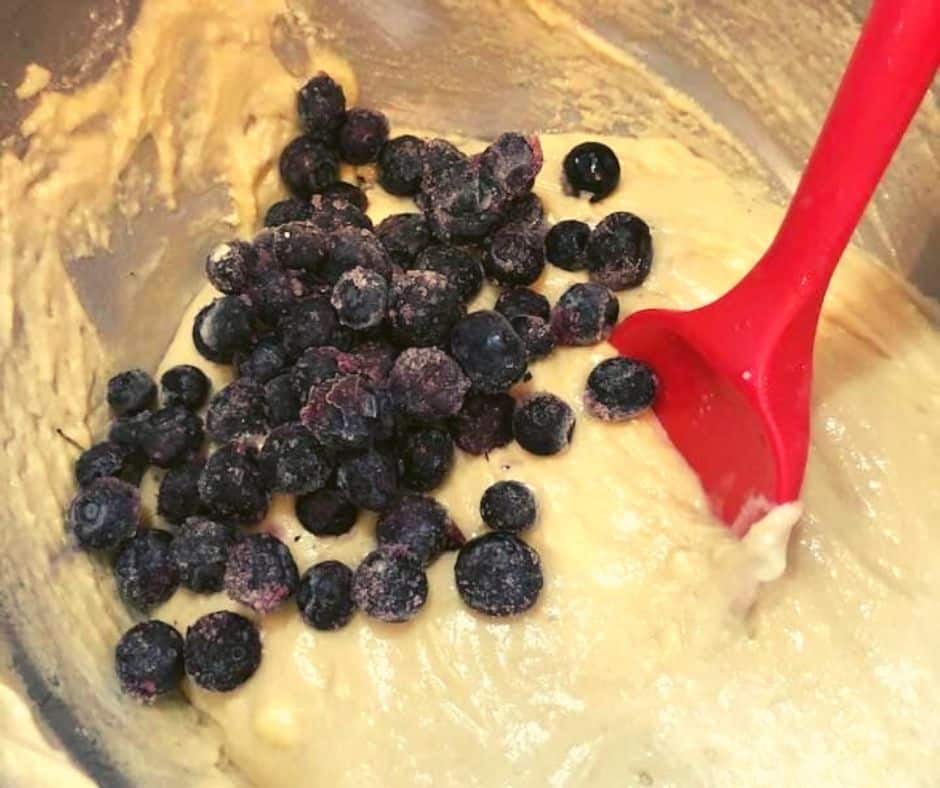 Mix the flour, sugar, baking powder, baking soda, and salt in a large bowl. Mix well. Then fold in the berries, eggs, sour cream, oil, and vanilla extract, mix well until combined.
Spray your muffin tins or silicone liners with cooking spray. Fill your muffin cavities with batter about 2/3 way full. Set the pan or silicone liners into the Air Fryer Basket and set the temperature to 320 degrees F for 10 to 12 minutes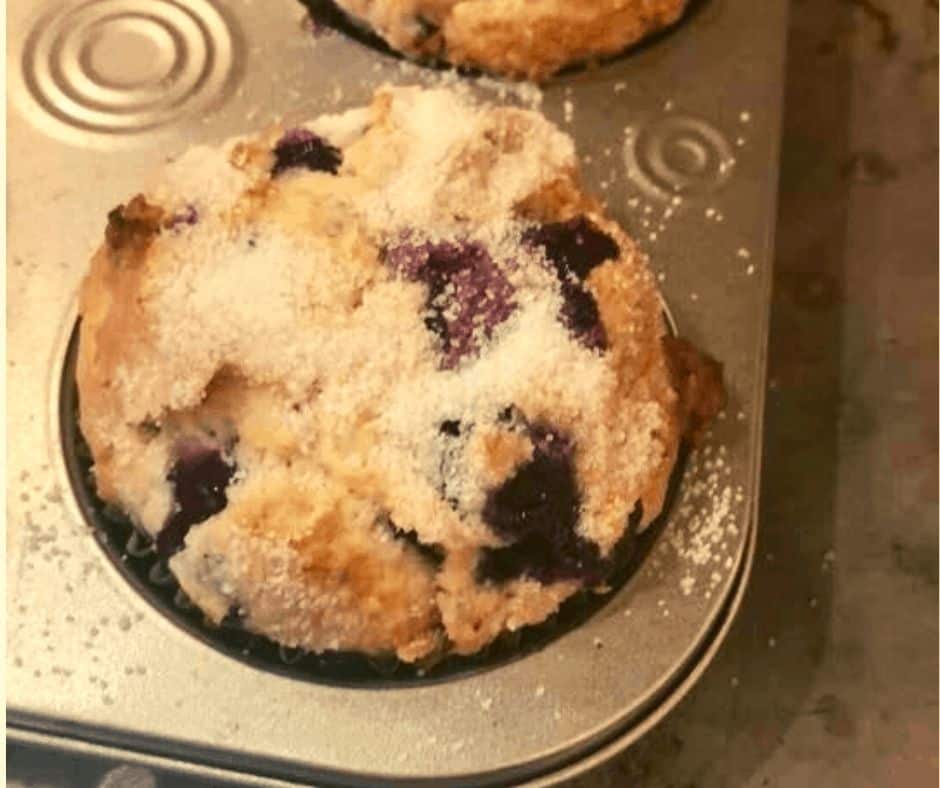 Baking With Frozen Berries
I have made this recipe with both fresh and frozen berries. They will work the same. Here are some pointers:
Add the frozen berries directly to the batter, do not thaw them out. Otherwise, your batter will become too watery.
Smaller berries work better, so you should purchase the diced strawberries for this recipe if you use strawberries rather than the whole strawberries.
You can also use the frozen berry medley for this recipe.
How To Store Leftovers
If you have any leftovers, you can let them cool to room temperature and then place them into an airtight container, where they will last for about 2 to 3 days at room temperature. For any longer, I would refrigerate them.
How To Reheat Muffins
There is nothing better than a warmed muffin, so I usually heat my muffin before eating leftover muffins.
You can either reheat them in the microwave or the Air Fryer. Heat until warmed through. If you use the air fryer to reheat muffins, set them in the basket for 2 to 3 minutes at 300 degrees F, air fryer setting.
How To Freeze Muffins
This is a great make-ahead meal. You can easily freeze Air Fryer Berry Cream Muffins for great quick breakfast meals.
To Freeze: Let them cool to room temperature and then wrap them in saran wrap, and then a couple of times in foil. Place them into a freezer bag. Place the bag into the freezer for 1 to 2 months.
To Use From Frozen: Let them thaw in the refrigerator or at room temperature until thawed.
Frozen muffins will last between 1 to 2 months.
What Pans To Use For Making Muffins in The Air Fryer
While you can use silicone liners, I have gotten the best batch from using a smaller muffin tin, which can be purchased on Amazon. (Affiliate links below)
Here are some of my favorites:
Don't Forget To Pin-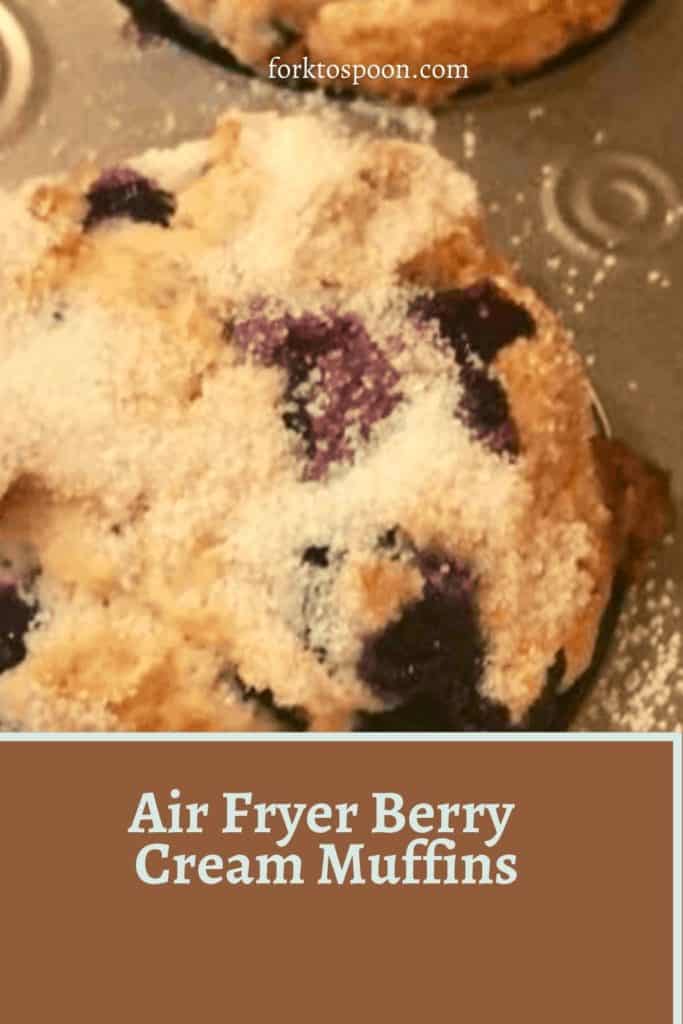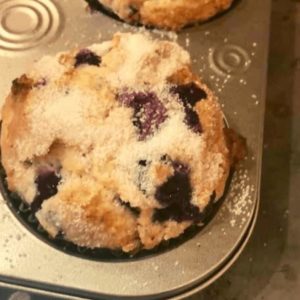 Air Fryer Berry Cream Muffins
Description
This batch of Air Fryer Berry Cream Muffins is amazing! Lightly, fluffy, and filled with berries in every bite!
Ingredients
1

cups

all-purpose flour

1

cup

granulated sugar

1

teaspoon

baking powder

1/2

teaspoon

baking soda

1/2

teaspoon

salt

1 1/2

cup

berries

,

1 1/2 cups fresh blueberries, raspberries, or strawberries (or a combination of the three, adding up to 1 1/2 cups)

2

large

eggs

1

cup

sour cream

1/2

cup

canola oil

1/2

teaspoon

pure vanilla extract
Instructions
Mix the flour, sugar, baking powder, baking soda, and salt in a large bowl. Mix well. Then fold in the berries, eggs, sour cream, oil, and vanilla extract, mix well until combined.

Spray your muffin tins or silicone liners with cooking spray. Fill your muffin cavities with batter about 2/3 way full.

Set the pan or silicone liners into the Air Fryer Basket and set the temperature to 320 degrees F for 10 to 12 minutes
Nutrition
Serving:
1
g
Calories:
245
kcal
Carbohydrates:
28
g
Protein:
3
g
Fat:
14
g
Saturated Fat:
3
g
Polyunsaturated Fat:
3
g
Monounsaturated Fat:
7
g
Trans Fat:
0.04
g
Cholesterol:
42
mg
Sodium:
196
mg
Potassium:
58
mg
Fiber:
1
g
Sugar:
19
g
Vitamin A:
173
IU
Vitamin C:
1
mg
Calcium:
47
mg
Iron:
1
mg