Air Fryer Kielbasa and Potatoes is an easy weeknight dinner! This kielbasa and potatoes recipe is one of my favorites. It's simple to make, and it's a great way to use up leftover kielbasa. Plus, the air fryer cooks everything evenly and produces crispy results.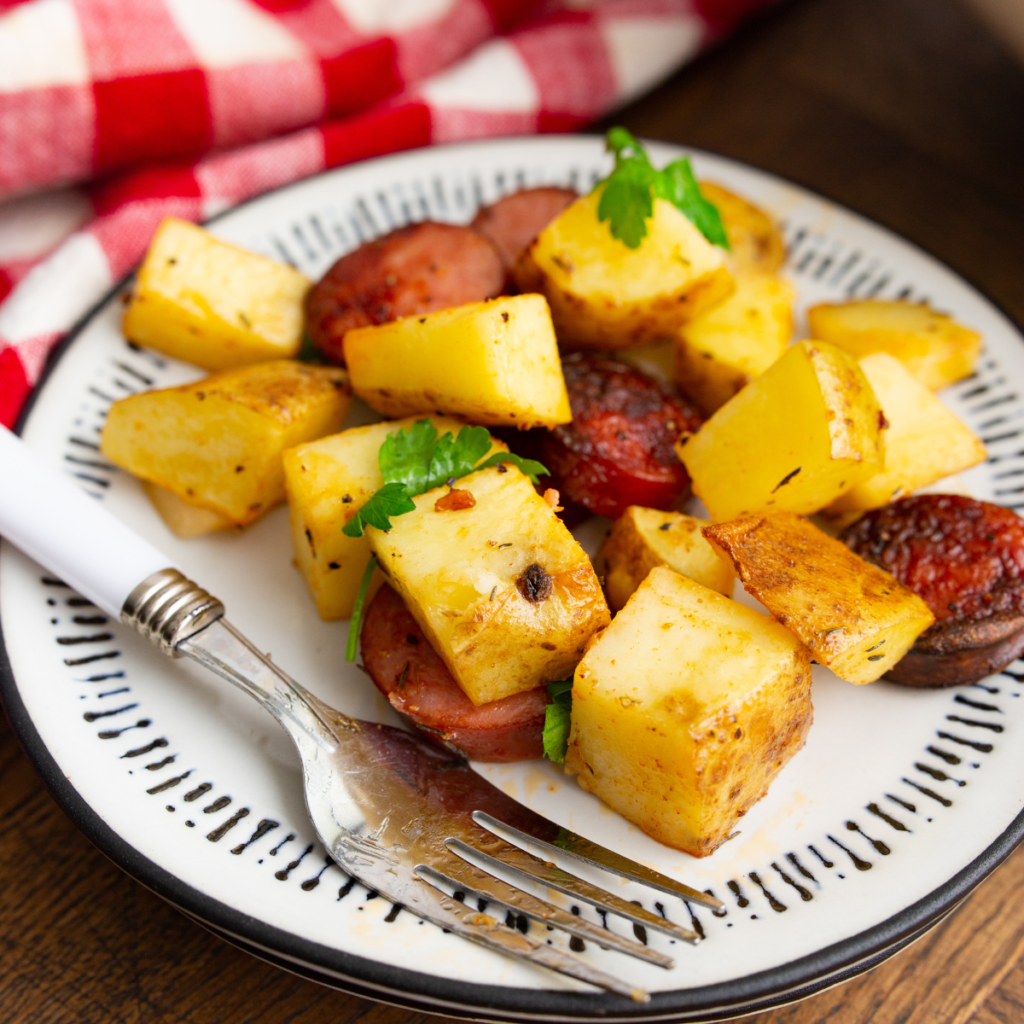 Air Fryer Sausage and Potatoes
As the school year is starting, lots and lots of parents are looking for easy meals to make. They want meals that you don't have to spend all day prepping for, and something you can easily throw into your air fryer. My air fryer kielbasa and potatoes is perfect to add into the rotation!
I present to you my easy air fryer sausage and potatoes sheet pan meal! This is a great recipe with simple ingredients that the whole family will love! And you will soon realize that cooking potatoes and kielbasa in the air fyrer is the best way to cook this simple dish!
If you've never air fried sausage before, some of my favorite air fryer sausage recipes are: SMOKED SAUSAGE IN THE AIR FRYER, BROCCOLI AND SAUSAGE IN AIR FRYER, AIR FRYER ANDOUILLE SAUSAGE, or AIR FRYER CHICKEN SAUSAGE.
Why You'll Love This Kielbasa and Potatoes Recipe
Everything cooks together in the air fryer for ultimate convenience
On the table in under 30 minutes
Easy and stress free for busy weeknights
What is Kielbasa?
Kielbasa is the Polish word for Polish sausage. It really just refers to sausage. It is a salted and smoked sausage that is super flavorful right out of the package. Depending on what type of kielbasa you choose, it can be flavored with spices such as garlic, cloves, pimento, and marjoram.
Kielbasa is typically a blend of pork and beef. It is easily prepared in the air fryer, grill, or oven.
It is a great addition to casseroles, soups, and even sandwiches. As part of Oktoberfest, it's usually served with sauerkraut.
Can You Cook Kielbasa In The Air Fryer?
Yes! Since most of the kielbasa sold in the United States grocery store are already cooked (please check your package), you simply need to heat it up. For this recipe, you are slicing the kielbasa and potatoes and cooking them together.
This is the perfect recipe for a busy weeknight!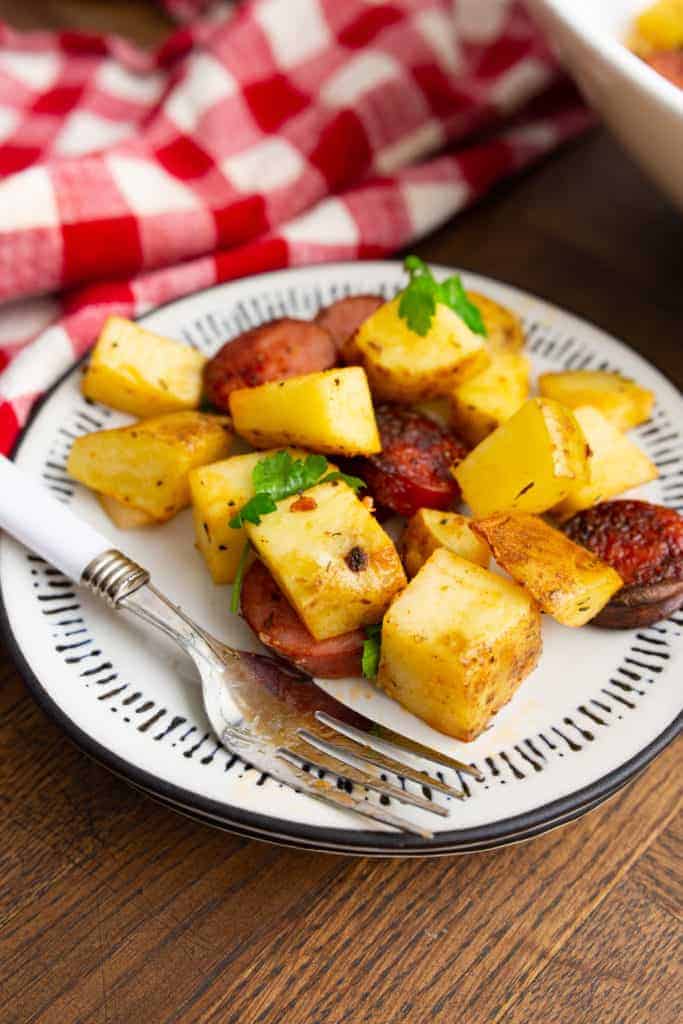 Ingredients Needed For Kielbasa and Potatoes
If you're looking for an easy, hearty dinner recipe, this kielbasa and potatoes recipe is for you. You can vary the spices to taste, but the basics in this recipe will get you started.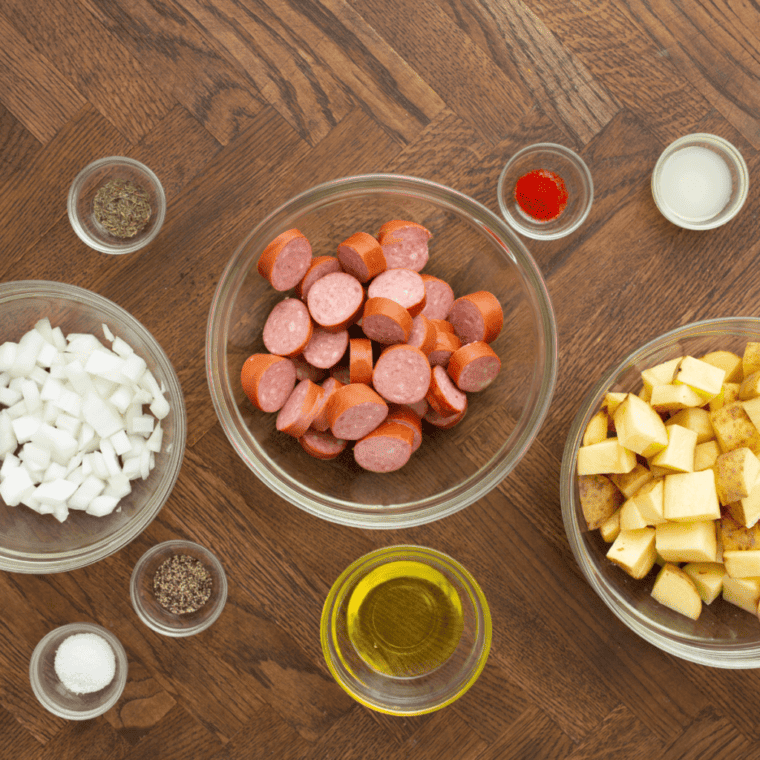 For complete ingredients and quantities, keep on scrolling until you get to the bottom with a printable recipe card.
Kielbasa sausage (Polska kielbasa)
Sweet onion: You can also use yellow onions or red onions
Potatoes
Olive oil
Seasonings/Spices: Salt, Black pepper, Ground thyme, Paprika, and Lemon juice
Where Can You Find Kielbasa In The Grocery Store?
You can find kielbasa at your local grocery store.
It is often sold alongside other packaged meats, including hot dogs, bacon, and cocktail wieners. Usually, you'll find it with the other types of sausage.
How to Cook Potatoes and Kielbasa in the Air Fryer
Step 1: Cut Your Sausage and Potatoes
Using a sharp knife, cut your potatoes and kielbasa into 1-inch pieces. Add both the sliced sausage and potatoes into a large bowl.
Step 2: Mix The Ingredients In A Large Bowl
Add the olive oil, kosher salt, black pepper, ground thyme, paprika, and lemon juice to the kielbasa and potatoes. Toss well to coat evenly.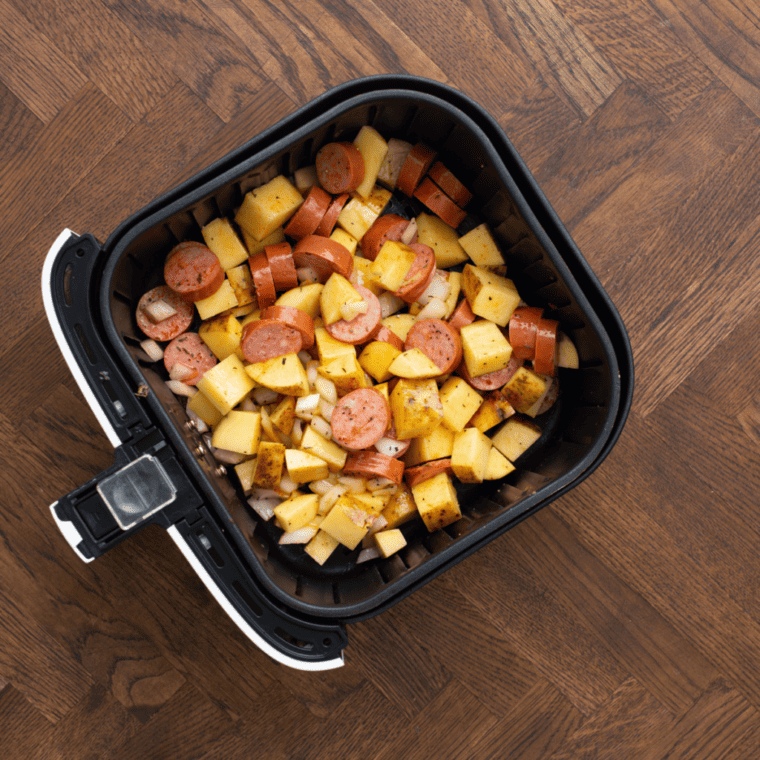 Step 3: Air Fry The Sausage And Potatoes
Transfer the seasoned potatoes and kielbasa to the bottom of the air fryer basket or air fryer tray. Set the cooking temperature to 370 degrees F, using the air fryer setting, and set the cook time for 10-12 minutes.
Shake the basket frequently during the cooking process. If you want a crispy texture, add a couple of minutes to the cooking time.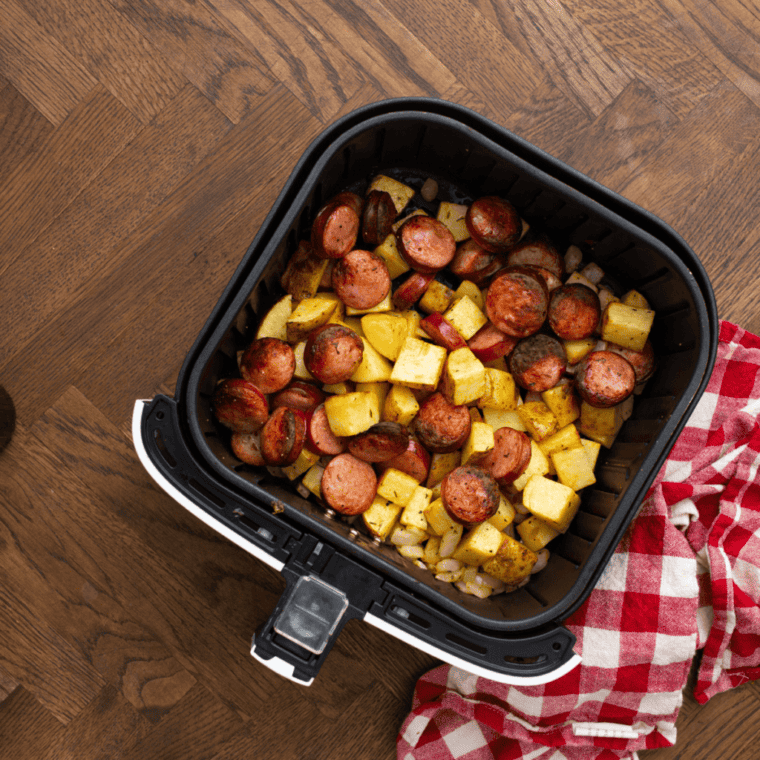 Step 4: Serving
Serve with your favorite dipping sauce or fresh herbs.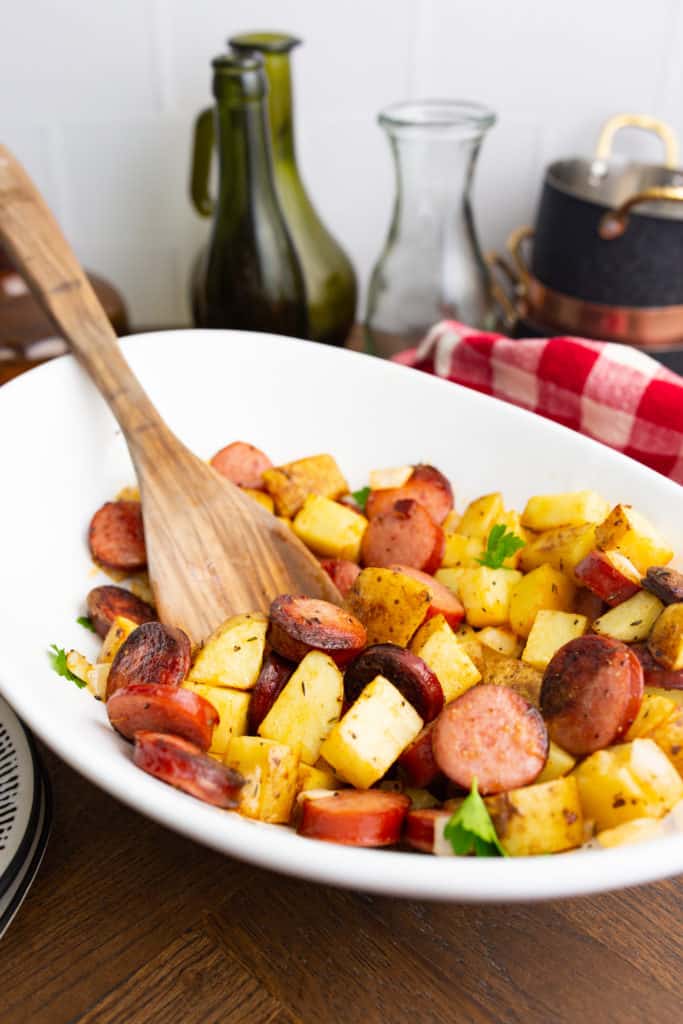 Pro Tips For The Best Kielbasa and Potatoes
Equal Size: Cut the potatoes into cubes of equal size. This allows them to cook evenly in the air fryer.
Seasoning: Add your favorite seasonings — some great ones are garlic powder,
Vegetables: Make this a complete meal by adding some sliced green bell peppers, Brussels sprouts, or green beans.
Potatoes: You can use different potatoes for this recipe like sweet potatoes, little potatoes, baby potatoes, or red potatoes.
How To Store Sausage And Potatoes
Let the kielbasa and potatoes cool to room temperature, then place them into an airtight container. In the refrigerator, air fryer sausage and potatoes will last for 2-3 days.
Leftovers taste amazing the next day after they have a chance to stew in the seasoning overnight!
What To Serve With Air Fryer Kielbasa and Potatoes
This kielbasa and potatoes recipe is a combination that's sure to please any crowd. Whether you make it in an air fryer or on the stovetop, this hearty dish will definitely fill bellies and warm hearts.
A great way to round out the meal is with some fresh vegetables like air fryer green beans or air fried Brussels sprouts.
Additionally, a side salad with a light vinaigrette dressing is always a welcome accompaniment to this type of dish. For a heartier meal, consider adding some crusty bread with butter and cheese or some roasted vegetables like red pepper, carrots, and onions.
You can also serve it with a bowl of vegetables or white rice.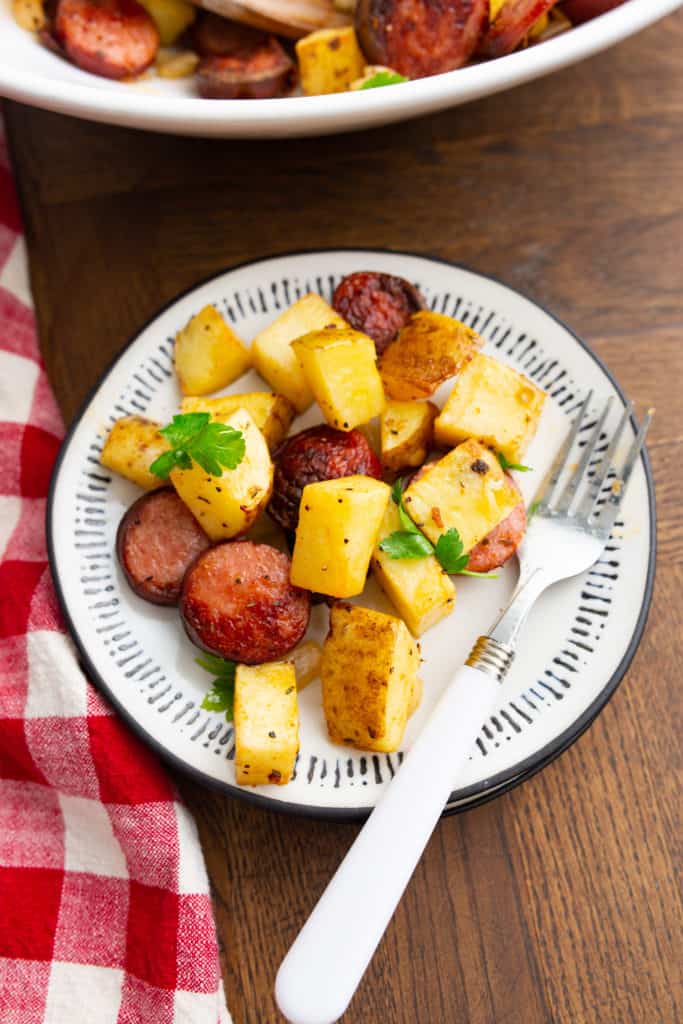 The Internal Temperature Of Kielbasa
Kielbasa is a type of sausage that is widely enjoyed in Eastern Europe and around the world. It is often cooked on the stovetop, in a skillet, or even grilled over an open flame. While kielbasa can be consumed cold, many prefer to serve it hot, so knowing the correct internal temperature for safety and quality is important.
The internal temperature for cooked kielbasa should be 165 degrees Fahrenheit (74 degrees Celsius). In order to ensure it has been cooked through, use a meat thermometer to check the internal temperature.
What Dipping Sauces To Serve With Kielbasa
When it comes to the perfect dipping sauce for kielbasa, the possibilities are endless. Some popular options for this air fryer sausage and kielbasa include honey mustard sauce (which pairs perfectly with the sweetness of the sausage), yellow mustard, spicy brown mustard, and even a simple mixture of ketchup and mayonnaise.
For something more exotic, you could try an Asian-style dipping sauce made with soy sauce, garlic, and ginger. Additionally, a classic barbecue sauce or other sweet-and-spicy sauces like Sriracha are great choices as well. No matter which dipping sauce you choose, it's sure to make your kielbasa even more delicious!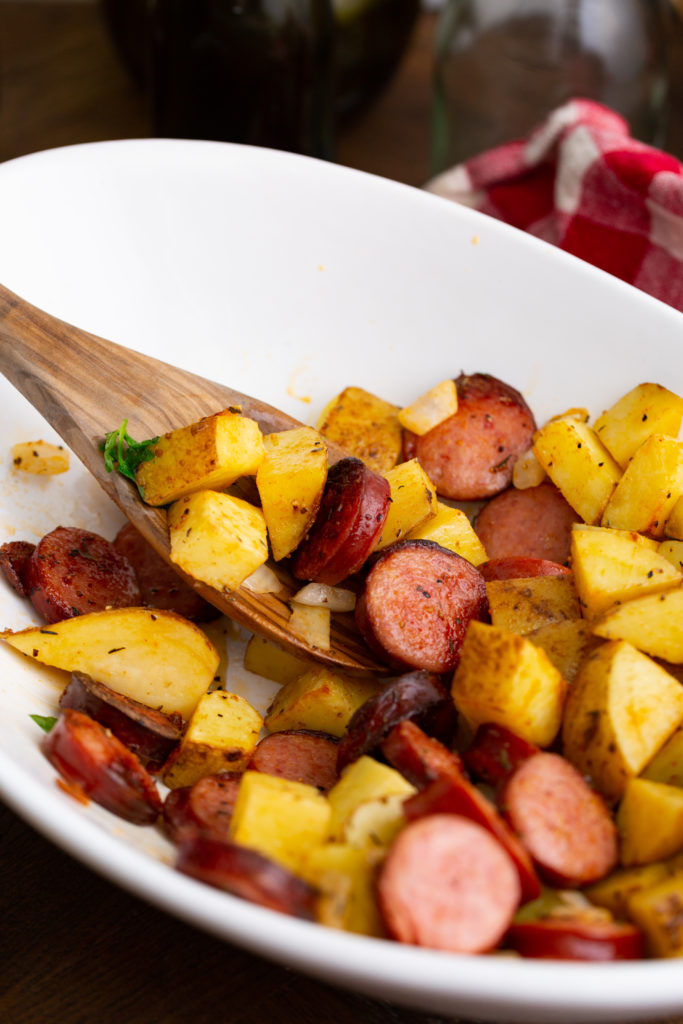 Air Fryer Kielbasa and Potatoes is a flavorful combination that's quick and easy to put together. Not only does this recipe make a tasty lunch or dinner, but it can also help to take the stress out of meal planning when you're tight on time. The whole family will love this recipe, and it's a hearty meal!
More Air Fryer Recipes
Don't Forget To Follow Us Along on Social Media; Instagram, Facebook, and TikTok, and Join Our Facebook Page and group for all your Air Fryer Recipes and Tips!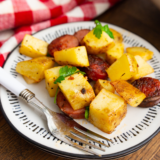 Air Fryer Kielbasa and Potatoes
Description
Air Fryer Kielbasa and Potatoes is an easy weeknight dinner! This kielbasa and potatoes recipe is one of my favorites. It's simple to make, and it's a great way to use up leftover kielbasa.
Ingredients
1

pound

kielbasa sausage

,

sliced

1/2

cup

sweet onion

1

pound

potatoes

,

diced

1/4

cup

olive oil

1

teaspoon

kosher salt

,

or sea salt

1/2

teaspoon

black pepper

1

teaspoon

ground thyme

1

teaspoon

paprika

1

teaspoon

lemon juice
Instructions
Start by cutting all your sausage.

Then add your diced onions and potatoes.

Mix in the olive oil, salt, pepper, ground thyme, paprika, and lemon juice.

Pour it into the air fryer basket. And set the temperature to 370 and the cooking time to 12-15 minutes.

Shake the basket about 1/2 way and check to see if the potatoes are done when the time is up. If not, add another 5 minutes.
Equipment
Air Fryer

Parchment Paper,

or Cooking Spray
Nutrition
Serving:
1
g
Calories:
588
kcal
Carbohydrates:
25
g
Protein:
19
g
Fat:
46
g
Saturated Fat:
14
g
Polyunsaturated Fat:
5
g
Monounsaturated Fat:
25
g
Cholesterol:
79
mg
Sodium:
1480
mg
Potassium:
792
mg
Fiber:
3
g
Sugar:
2
g
Vitamin A:
91
IU
Vitamin C:
27
mg
Calcium:
58
mg
Iron:
4
mg