Instant Pot Fudge is a creamy, dreamy treat that can be easily made in the instant pot! For this holiday season, whip up some easy, delicious fudge.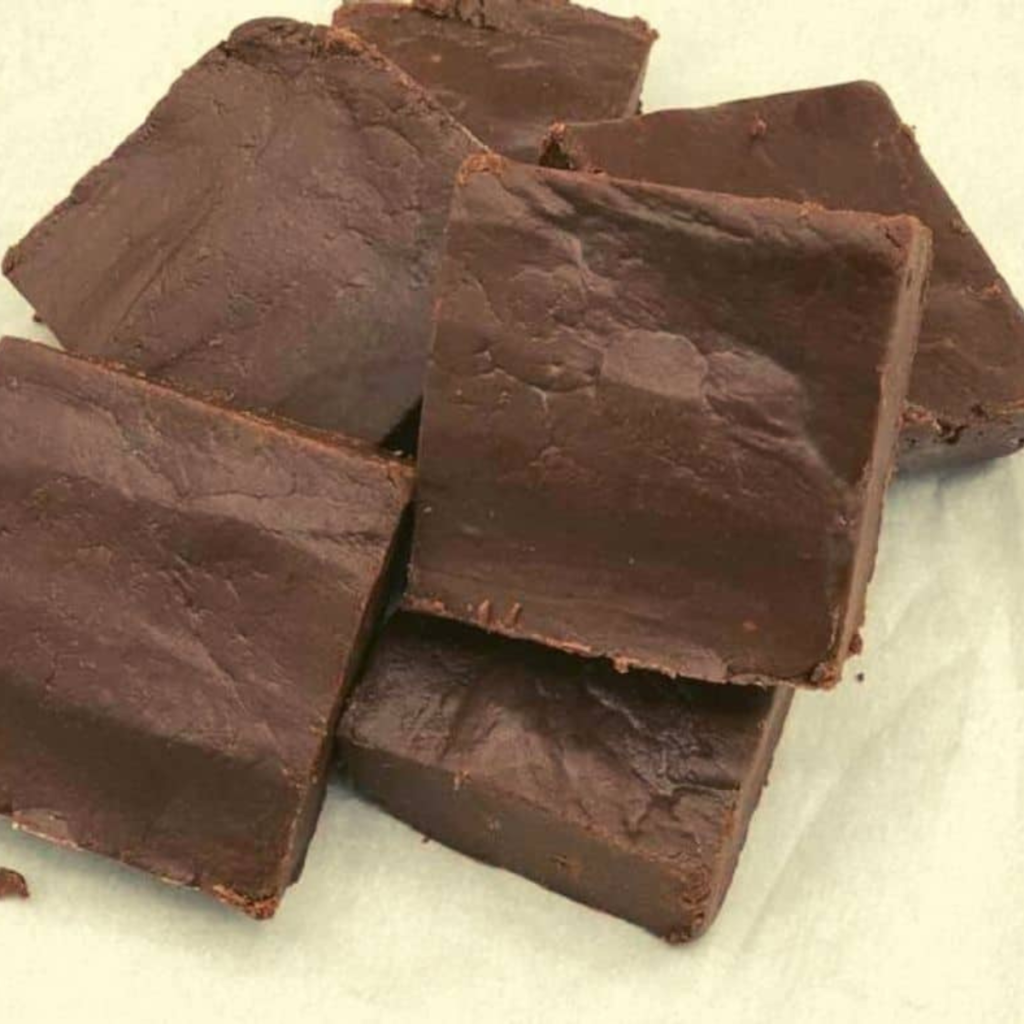 Instant Pot Fudge Recipe
I am not exaggerating when I say that this Instant Pot Fudge Recipe is so easy! Most fudge recipes are made by cooking sugar to a specific temperature and then adding the ingredients. This recipe skips the complicated sugar cookery and uses chocolate chips and condensed milk for the sweetness.
I love my Instant Pot and Air Fryer, and I am constantly cooking with both. I knew when I was working on making fudge with my son, the Instant Pot would not disappoint.
This fudge recipe is super simple. It's also foolproof if you are just beginning your adventures with the Instant Pot. Everyone loves fudge, so this is a great recipe to start with. This will creamy and perfectly chocolatey once set!
Ingredients Needed For Instant Pot Chocolate Fudge
Sweetened condensed milk- Canned sweet condensed milk lends this fudge a creamy and sweet flavor.
Semisweet chocolate chips- I like to use a mixture of semisweet chocolate chips and milk chocolate chips for a sweet fudge, but not too sweet!
Milk chocolate chips
Butter– Butter helps with the texture and flavor of the fudge.
Pure Vanilla Extract– Adding some vanilla extract adds flavor!
How to Make Fudget In Instant Pot

Add the butter and semi sweet chocolate chips to your Instant Pot Bowl.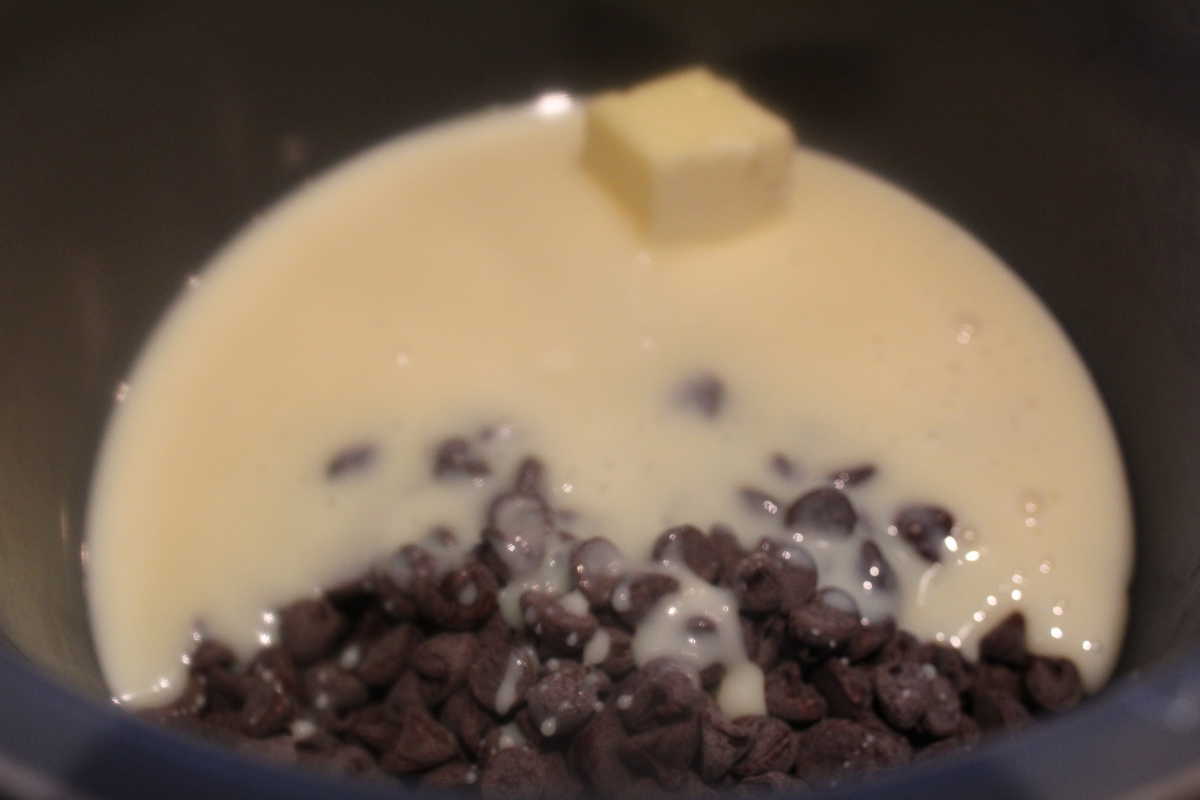 Then add your sweet condensed milk and vanilla and mix well.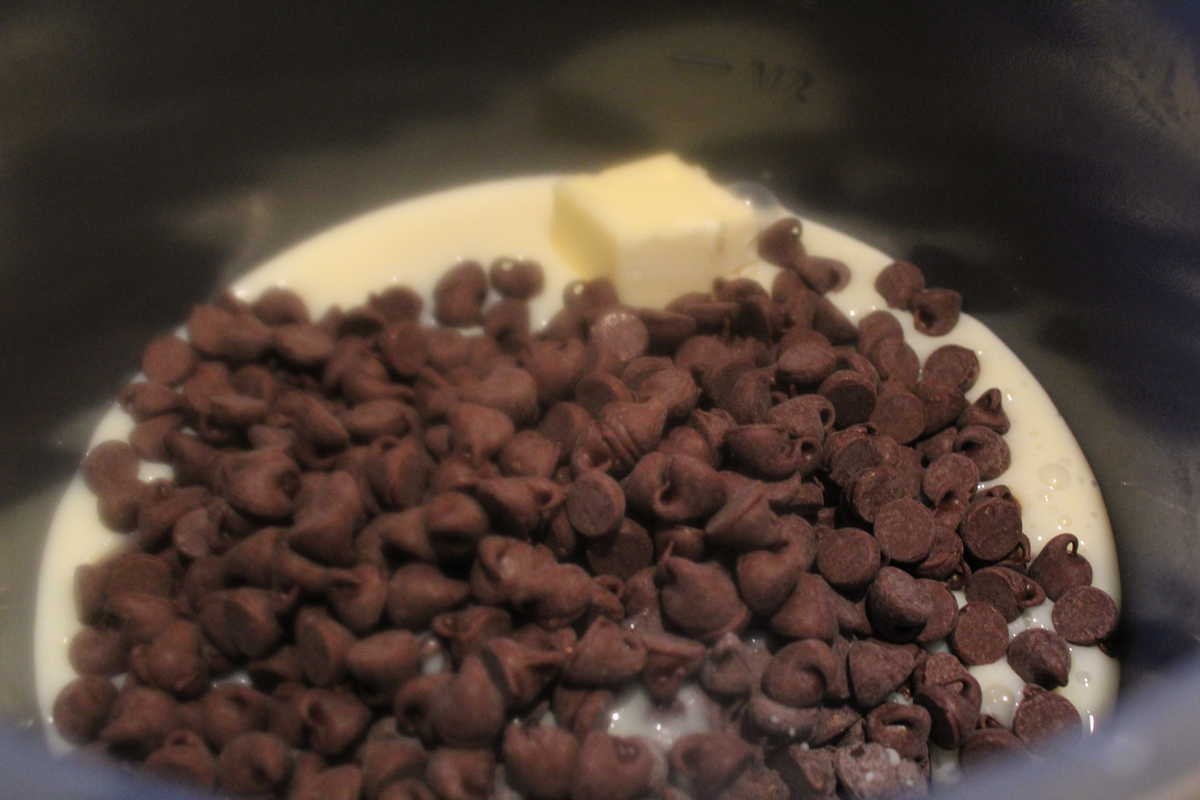 Press the "sauté" button on the Instant Post and continue stirring until everything is combined. Then, add your milk chocolate chips. Move the setting to "keep warm" and continue to mix everything until it is melted.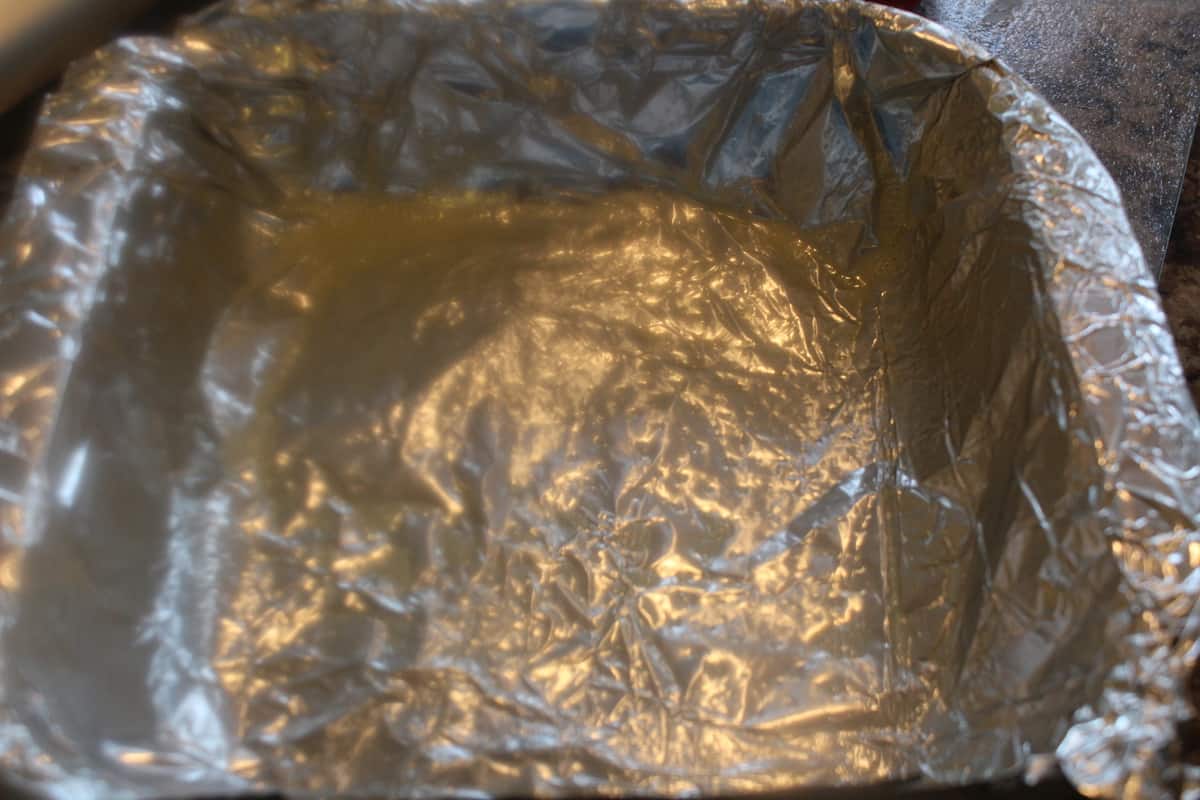 Line a baking sheet or brownie ban with foil and spray it with nonstick spray. Pour the chocolate mixture into the pan.
Place into the fridge until set. Then, cut into squares and enjoy!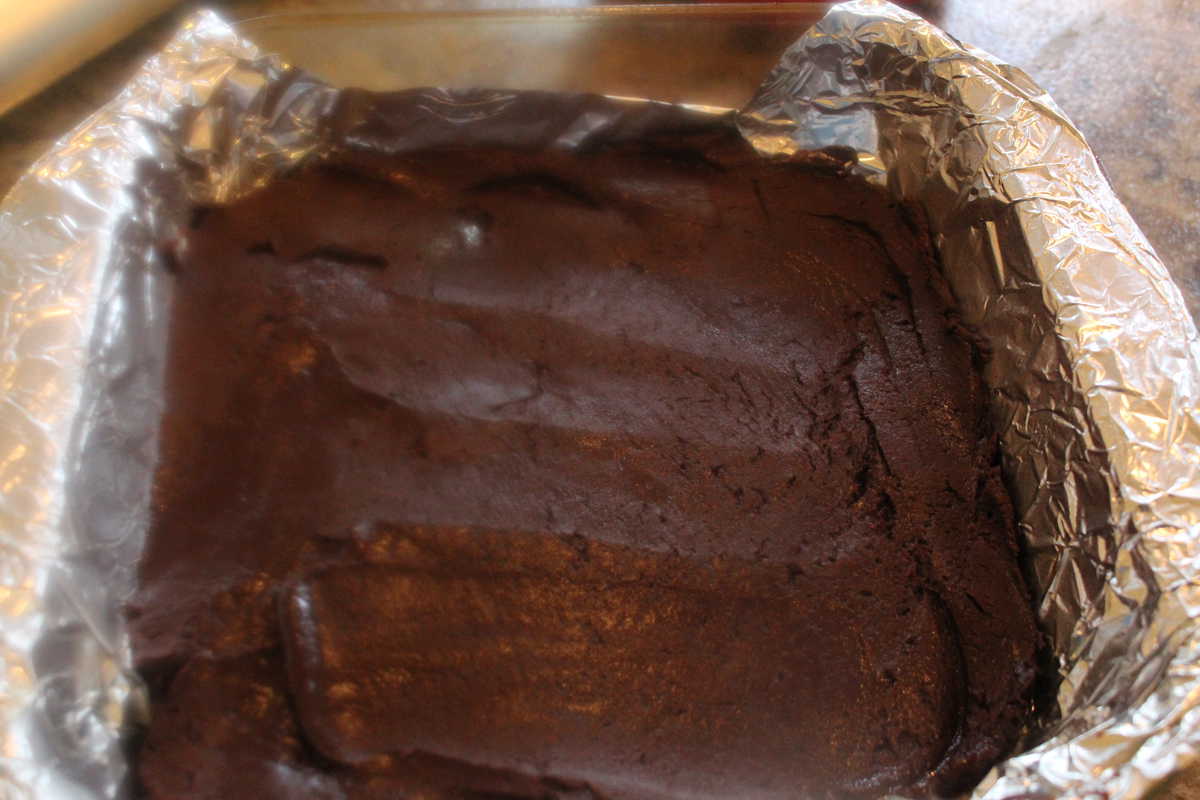 Variations for Fudge
This is just a classic, chocolate fudge recipe and is a great base for you to go off of and add your favorite toppings or fillings! Some of my favorite instant fudge variations are:
Walnuts or Pecans – A classic option is to add chopped walnuts into the fudge.
Add candy canes – During the holiday season it is fun to add some crushed candy canes into the fudge for a minty bite!
Stir in Spices – Try stirring in some cinnamon and nutmeg for a spicy fudge!
Add Peanut Butter – Are you a peanut butter and chocolate fan? Try mixing in some peanut butter!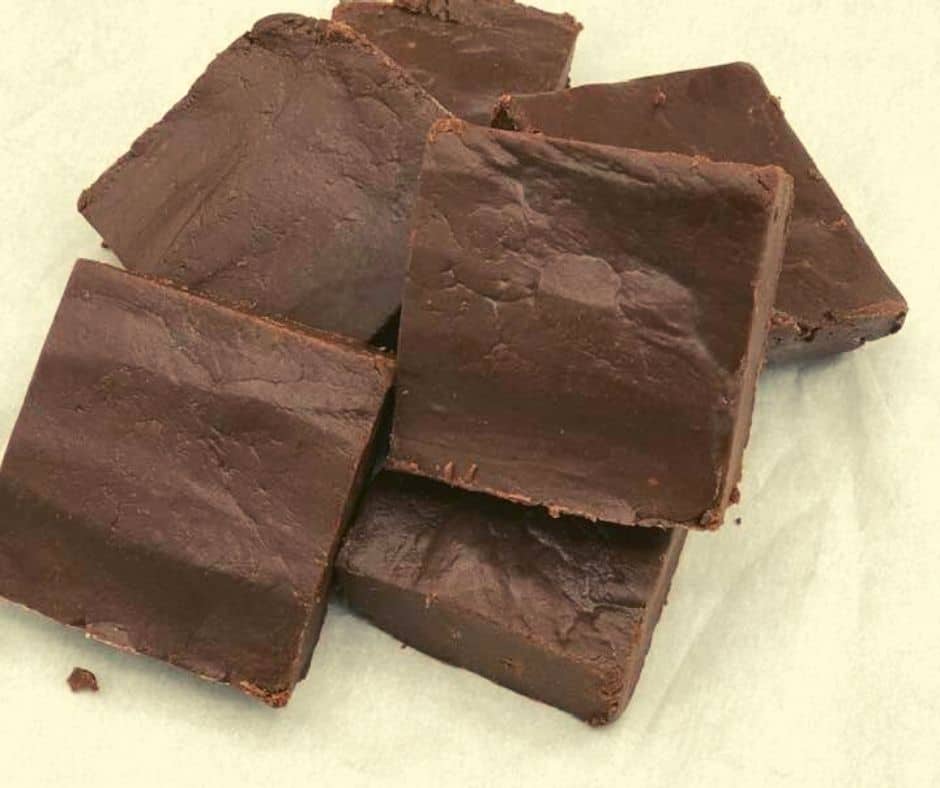 Frequently Asked Questions
How long should I cook the fudge in the instant pot?
You want to cook the fudge in the instant pot just until everything is melted. You don't want to cook it longer than about 10 minutes, or else it could turn out dry and crumbly.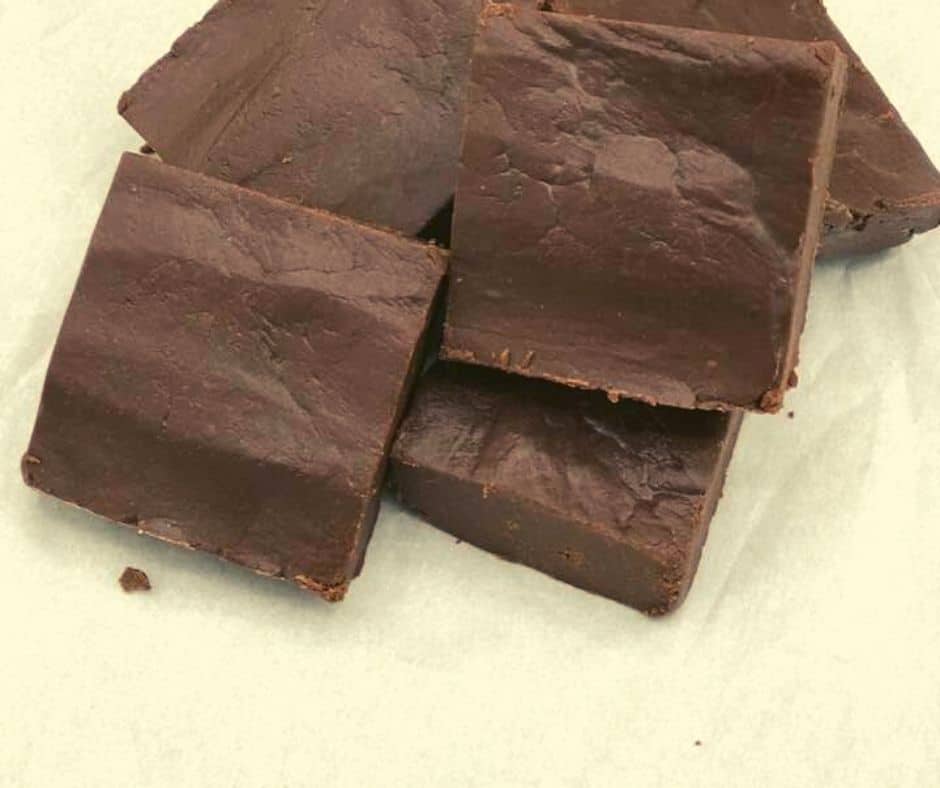 Pro Tips For Making Fudge In Instant Pot
Making fudge in an Instant Pot can quickly and conveniently achieve smooth and creamy results. Here are some pro tips to ensure success:
Line the Pan: Line the pan or baking dish with parchment paper or aluminum foil before pouring in the fudge mixture. This will make it easier to remove the fudge once it has cooled and set.
Correctly Measure Ingredients: Accurate measurements are crucial for fudge-making success. Use measuring cups and spoons to ensure precise amounts of ingredients, especially for the sweetened condensed milk and chocolate.
Use High-Quality Chocolate: Opt for high-quality chocolate or chocolate chips for a rich and flavorful fudge. Good-quality chocolate will contribute to the overall taste and texture of the fudge.
Avoid Scorching: Prevent scorching by using a water bath method. Place the trivet or a heatproof container with water at the bottom of the Instant Pot, then place the fudge mixture on top. This indirect heating method will prevent the fudge from burning on the bottom.
Use the Manual/Pressure Cook Setting: Set the Instant Pot to the Manual/Pressure Cook setting and adjust the cooking time according to the recipe. Be mindful of the recommended cooking time to avoid overcooking the fudge.
Natural Pressure Release: After the cooking time is complete, allow for a natural pressure release. This gradual release of pressure helps prevent sudden temperature changes that can cause the fudge to become grainy.
Cool and Set Properly: Once the fudge is cooked, remove it from the Instant Pot and let it cool completely at room temperature. Then, refrigerate it for a few hours or overnight to allow it to set and firm up.
Slice with a Warm Knife: When ready to slice the fudge, use a warm knife to make clean cuts. Dip the knife in hot water, dry it, and cut the fudge into squares. This will help prevent the fudge from sticking to the knife and ensure neat slices.
By following these pro tips, you'll be well on your way to making delicious and smooth fudge in your Instant Pot. Experiment with different flavors and add-ins to create your own unique fudge variations.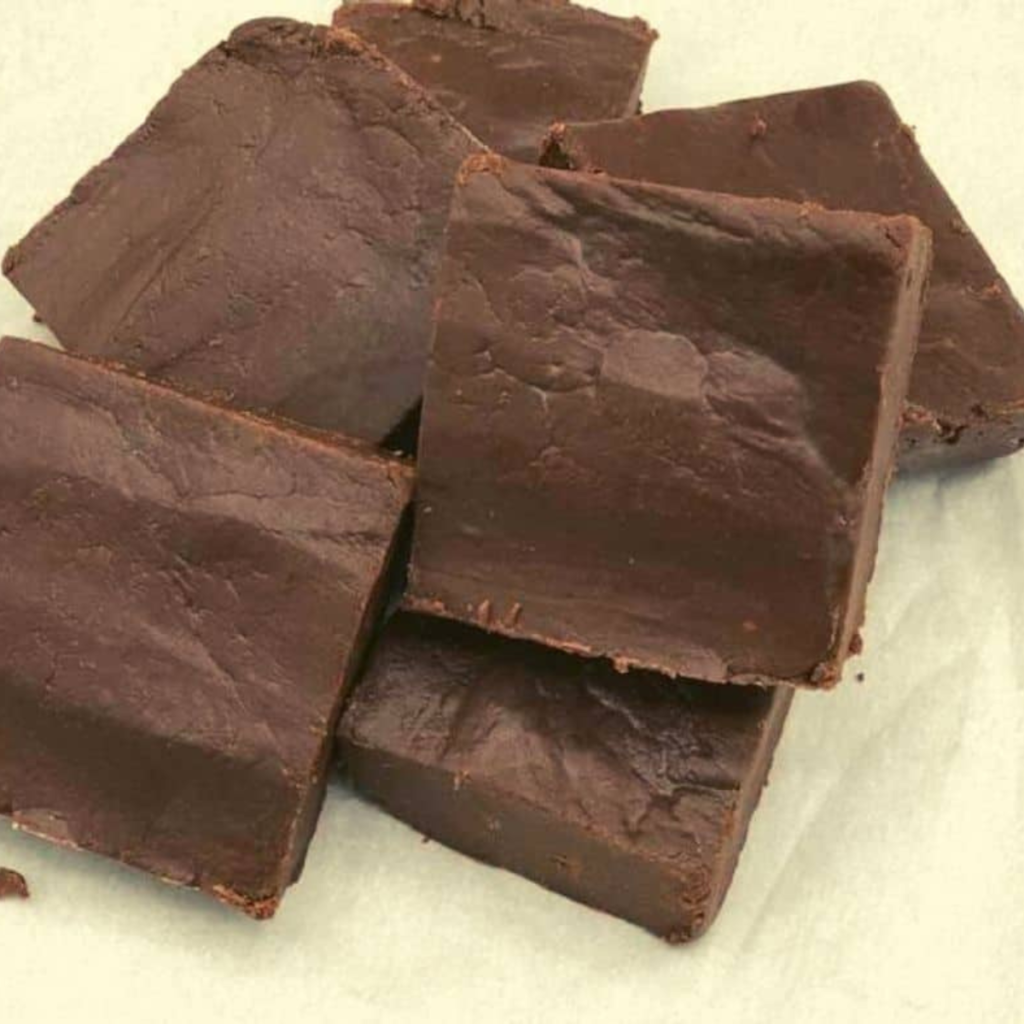 Frequently Asked Questions About Making Fudge In Instant Pot (Pressure Cooker)
Can I use any fudge recipe in the Instant Pot?
It's best to use recipes specifically designed for the Instant Pot or pressure cooker. Traditional stovetop fudge recipes may require adjustments in cooking time and ingredient ratios to work correctly in the Instant Pot.
How long does it take to make fudge in the Instant Pot?
The cooking time can vary depending on the recipe and the specific Instant Pot model. On average, cooking fudge in the Instant Pot may take around 5-10 minutes under pressure, with additional time for natural pressure release and cooling.
Can I double or halve the fudge recipe for the Instant Pot?
It's generally not recommended to double the recipe, as it may affect the cooking time and result in unevenly cooked fudge. Halving the recipe should be fine, but adjust the cooking time accordingly.
Can I substitute ingredients in the fudge recipe?
It's best to follow the recipe as closely as possible for consistent results. However, minor substitutions like using different flavors of chocolate or adding mix-ins like nuts or dried fruits are usually fine. Major substitutions may affect the texture and taste of the fudge.
Why did my fudge turn out grainy or gritty?
Grainy or gritty fudge can occur if the sugar is not fully dissolved or if the fudge is overcooked. Ensure that you stir the mixture well and cook it for the recommended time to prevent graininess.
How should I store fudge made in the Instant Pot?
Once the fudge has cooled and set, store it in an airtight container at room temperature or in the refrigerator. Keep it away from moisture and direct sunlight. Fudge can generally be stored for up to 2 weeks, but check the recipe for specific storage recommendations.
Can I freeze fudge made in the Instant Pot?
Yes, fudge can be frozen for longer storage. Wrap individual pieces tightly in plastic wrap or place them in a freezer-safe container or bag. Thaw the fudge in the refrigerator before serving.
Can I use a springform pan or silicone mold for fudge in the Instant Pot?
Yes, you can use a springform pan or silicone mold as long as it fits inside your Instant Pot and allows for proper cooking and release of pressure. Ensure that it is well-greased or lined with parchment paper for easy removal.
Can I add toppings or decorations to the fudge?
You can add toppings or decorations to the fudge once it has cooled and set. Standard options include sprinkles, chopped nuts, or a drizzle of melted chocolate.
Can I make different flavors of fudge in the Instant Pot?
Absolutely! The Instant Pot is versatile, and you can experiment with various fudge flavors by using different types of chocolate, extracts, or flavorings. Follow a recipe or adapt one to create your desired flavor profile.
More Instant Pot Recipes
Equipment Used
ForkToSpoon.com may earn a small commission via affiliate links in this post. Please read our full disclosure policy here.
Instant Pot Duo 7-in-1 Electric Pressure Cooker, Sterilizer, Slow Cooker, Rice Cooker, Steamer, Saute, Yogurt Maker, and Warmer, 6 Quart, 14 One-Touch Programs
DO NOT FORGET TO PIN–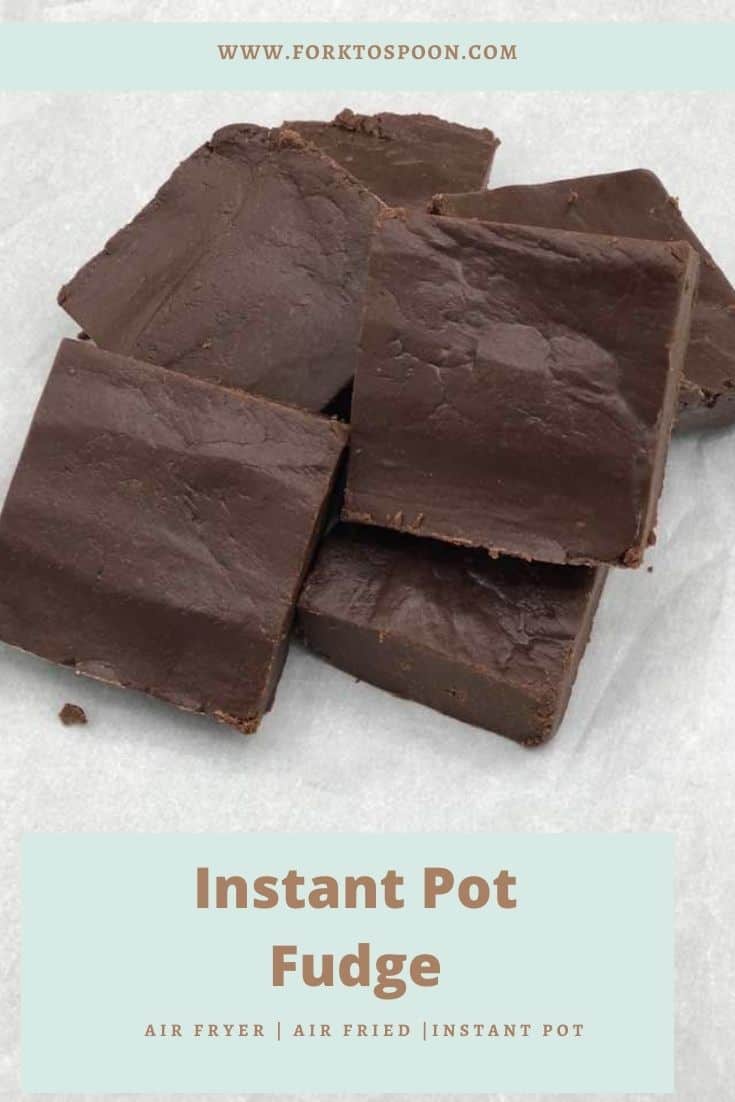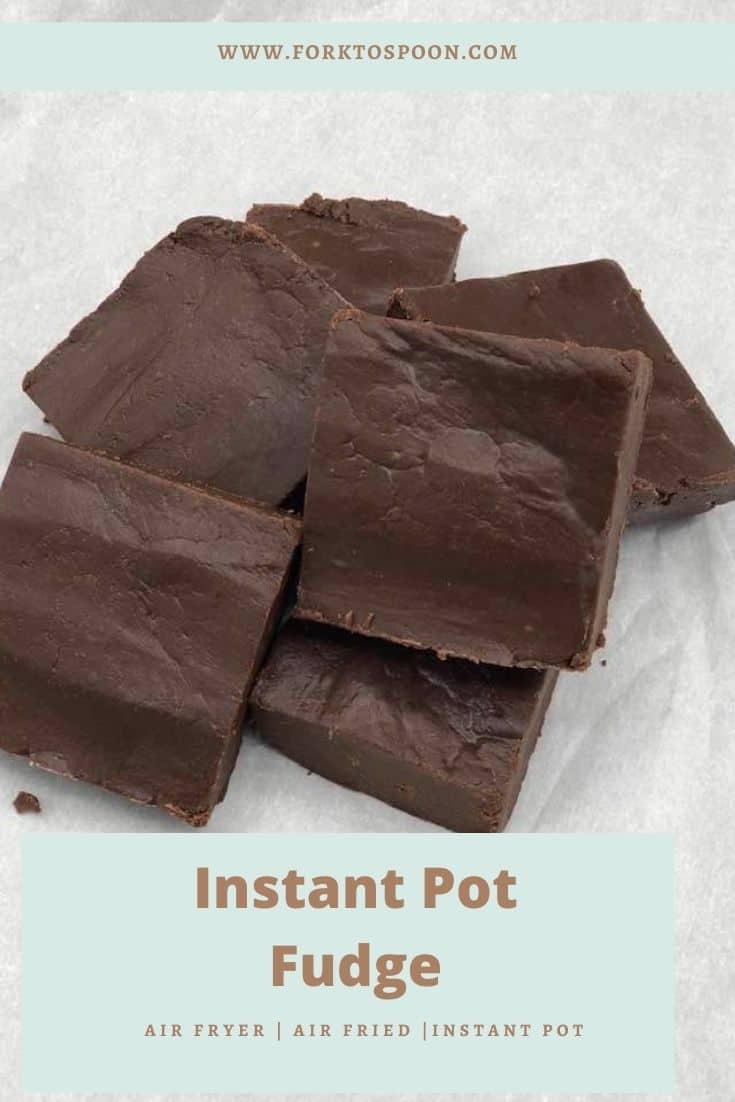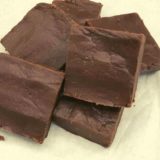 Instant Pot Fudge
Description
Instant Pot Fudge is one of my first experiences with the Instant Pot. I figured I could use it to make fudge, and it was easy!
Ingredients
14

ounces

sweetened condensed milk

2

cups

semisweet chocolate chips

1

cup

milk chocolate chips

2

tablespoons

butter

,

unsalted

1

teaspoon

vanilla extract
Instructions
Start by adding your butter, condensed milk, semisweet chocolate chips, and vanilla to the Instant Pot bowl. Mix well.

Then press the saute' button, continue to stir until the mixture is combined, then add your milk chocolate chips. Change over to the "keep warm" setting and continue to mix until it's all melted.

Then pour the mixture into a baking sheet lined with foil that's sprayed with non-stick cooking spray.

Place into the refrigerator until it's firm.

Cut into pieces and enjoy.
Equipment
Instant Pot,

Or Ninja Foodi
Nutrition
Serving:
1
g
Calories:
497
kcal
Carbohydrates:
60
g
Protein:
7
g
Fat:
26
g
Saturated Fat:
15
g
Polyunsaturated Fat:
1
g
Monounsaturated Fat:
6
g
Trans Fat:
1
g
Cholesterol:
24
mg
Sodium:
77
mg
Potassium:
445
mg
Fiber:
4
g
Sugar:
52
g
Vitamin A:
161
IU
Vitamin C:
1
mg
Calcium:
173
mg
Iron:
3
mg