There is nothing better than Fudge. I mean, come on, it's amazing. Today, I made a simple batch of Instant Pot Rocky Road Fudge, and it's easy and absolutely delicious.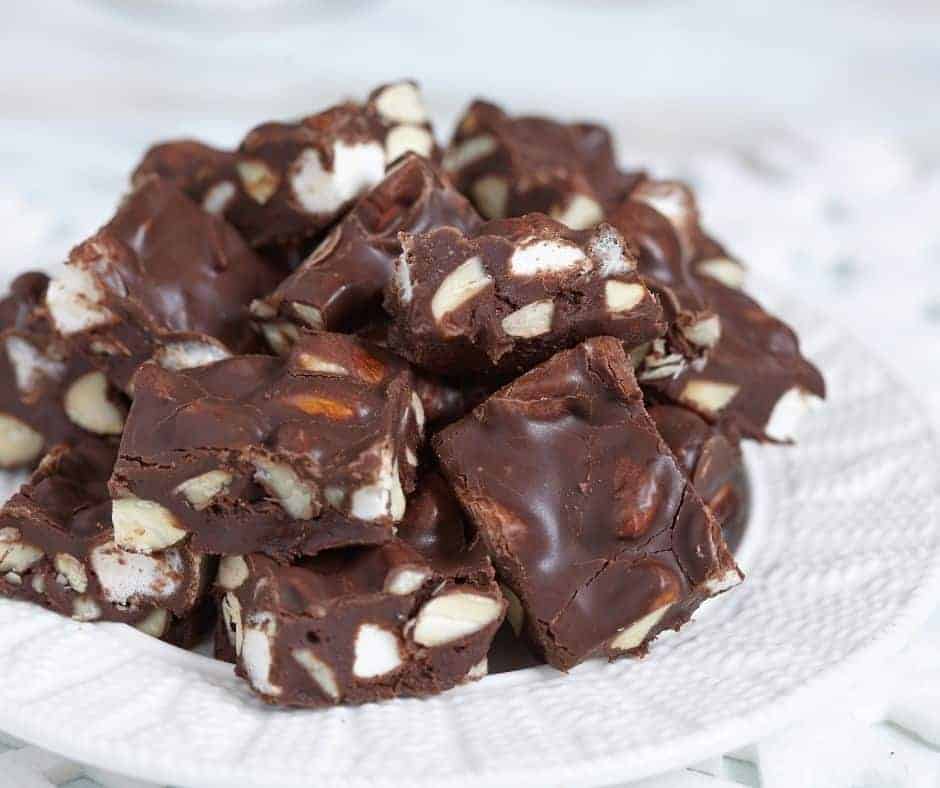 If you have not made fudge in your Instant Pot. I am telling you, it's simple. I started making it in 2018, and it's one of the best things I have ever made.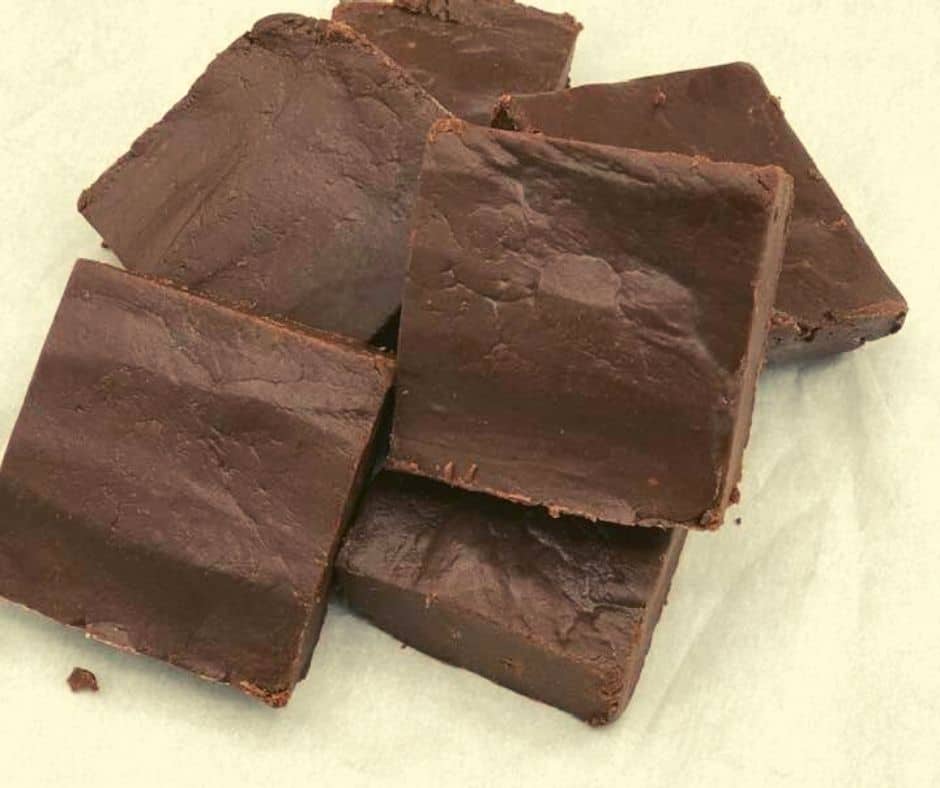 Now, if you do not like chocolate fudge stuffed with peanuts and marshmallows, you will not like this recipe. Rocky Road Fudge is my family's favorite; trust me, it's costly to buy a pound of it. I am so armed with my Instant Pot. I made a quick batch, and it was amazing!
What Is Rocky Road Fudge?
Rocky Road Fudge is a chocolate fudge filled with nuts and mini marshmallows. You can use whatever nuts that you want to. The most common nut to use is diced pecans or diced walnuts.
Ingredients Needed For Instant Pot Rocky Road Fudge
Instant Pot Rocky Road Fudge is a decadent, delicious treat that you can whip up in just 15 minutes! Who doesn't love fudge? Sweet, creamy, and mouthwatering – it's the perfect pick-me-up on a busy weeknight or an indulgent dessert for special occasions. What makes this recipe unique is that all of the ingredients can be combined in an Instant Pot; no need to stand over a hot stove stirring continuously until everything melts together. With just a few simple ingredients, plus one optional add-in if desired, this showstopping dessert will have your guests oohing and ahhing before they even take their first bite!
Today, we used only a few ingredients to make a sweet and delicious Instant Pot Rocky Road Fudge:
Granulated Sugar
Water
Butter
Semi-Sweet Chocolate Chips
Dry Milk Powder
Mini-Marshmallows
Diced Walnuts
Why Is It Called Rocky Road Fudge?
The name of the fudge is said to be called Rocky Road after the crash of 1929 when William Dreyer came up with the name.
Dreyer was the owner of Dreyer's Ice Cream and came up with the flavor of the ice cream, and obviously, Rocky Road has gone on to be used in everything sweet, from Cheesecakes to Fudge and, of course, ice cream.
How To Make Rocky Road Fudge In The Instant Pot
Add water and sugar to the Instant Pot Bowl; this will be your simple sugar.
Add the lid, and set manual high pressure for 11 minutes, doing a quick release after.
Mix in the chocolate chips, butter, dry milk powder, mini marshmallows, and diced walnuts, and mix well.
Line your brownie pan with a piece of parchment paper.
Spread the fudge batter into the prepared pan and smooth the top off with a knife.
Set the pan into the refrigerator.
It will take about 3 hours to set.
Then, cut into square pieces.
Plate, serve, and enjoy!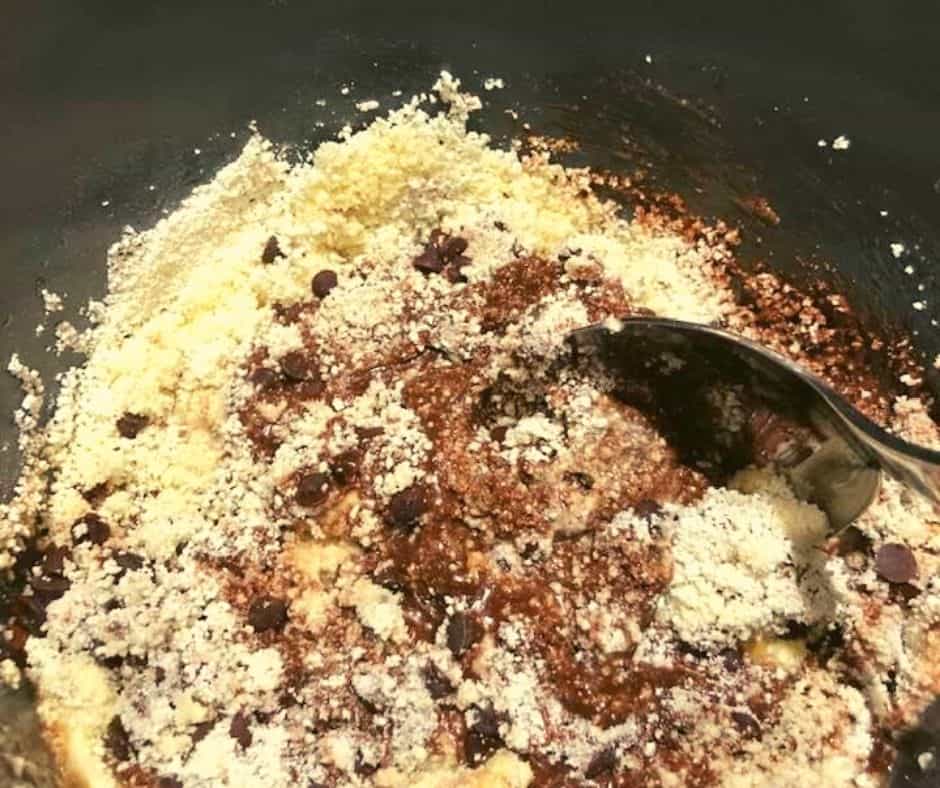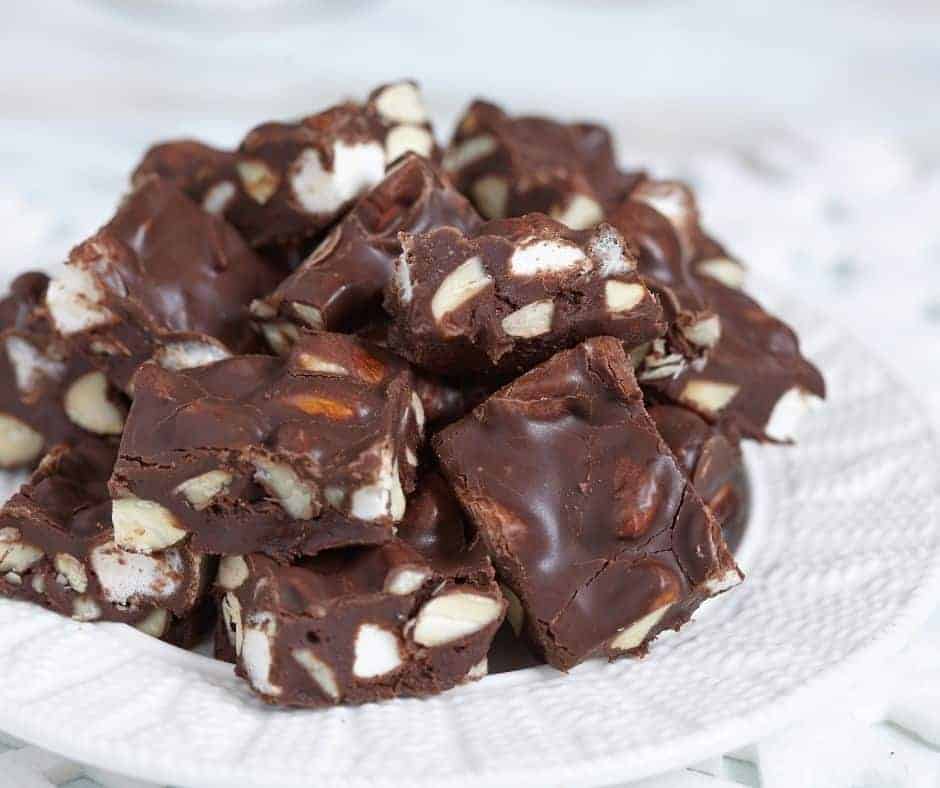 Pro Tips For Making Rocky Road Fudge In A Pressure Cooker
Making Rocky Road Fudge in a pressure cooker is a convenient way to prepare this decadent treat, especially if you don't want to use a stovetop or microwave. Here are some pro tips for ensuring your Rocky Road Fudge turns out perfect:
Use a Quality Pressure Cooker: Make sure you're using a reliable pressure cooker, preferably one with a non-stick inner pot, to ensure even heating and easy removal of the fudge.
Use a Pot-in-Pot Method: Instead of cooking the fudge directly in the pressure cooker pot, use a separate, oven-safe container placed inside the cooker. This method prevents the fudge mixture from scorching or sticking to the bottom.
Melt Ingredients Slowly: If you're melting chocolate and butter, use the sauté or low heat setting first to gently melt these ingredients together before proceeding to the pressure cooking phase.
Stir Frequently: To avoid any ingredient separation or burning, stir your fudge mixture frequently, especially if using the sauté function before pressurizing.
Monitor the Time: Fudge doesn't take long to cook. Typically, you'll only need a few minutes of pressure cooking. Overcooking can result in a grainy texture.
Natural Pressure Release: Once the cooking time is done, let the pressure cooker release pressure naturally. This ensures that the fudge doesn't undergo rapid temperature changes that might affect its texture.
Add-Ins After Cooking: Once your basic fudge mixture is prepared and slightly cooled, stir in your Rocky Road ingredients like marshmallows, nuts, and any other add-ins. This prevents them from melting or becoming too soft during the cooking process.
Setting the Fudge: Pour your fudge mixture into a parchment-lined tray or dish. Allow it to cool to room temperature and then refrigerate for several hours or until set.
Cutting: To cut your fudge into squares, use a sharp knife dipped in hot water. This makes slicing easier and cleaner.
Store Properly: Store your Rocky Road Fudge in an airtight container in the fridge. It can last up to a week or more, but chances are it'll be eaten long before that!
Remember, as with any recipe, the first attempt might be a learning experience. Adjust ingredients, timings, or techniques based on your own preferences and the specific equipment you're using.
FAQ About Making Rocky Road Fudge In Instant Pot or Ninja Foodi Pressure Cooker
Is it safe to make fudge in an Instant Pot or Ninja Foodi?
Yes, it's safe. These devices are designed to handle various cooking tasks, including dessert recipes like fudge. Just make sure to follow the user manual's safety guidelines.
Do I need to adjust the cooking time based on my pressure cooker's size?
Generally, the cooking time for fudge remains the same. However, if you scale up the recipe for larger quantities, monitor closely as slight adjustments might be needed.
Why do I need the pot-in-pot method for making fudge?
The pot-in-pot method allows for more even heating, ensuring the fudge doesn't burn or stick directly to the bottom of the main pot.
Can I double the recipe in the Instant Pot or Ninja Foodi?
Yes, you can, but ensure that you do not fill the inner pot more than half full to allow for the expansion of ingredients and proper pressure build-up.
Why is my fudge grainy?
Fudge can become grainy if the sugar isn't fully dissolved, or if the mixture is overcooked. Cooking on a gentle heat and stirring frequently helps prevent this.
How can I make my fudge creamier?
Ensure all the sugar is dissolved properly and consider using condensed milk or cream in your recipe. Also, do not overcook; it's better to err on the side of undercooking than overcooking when it comes to fudge.
Can I use the sauté function for melting ingredients?
Yes, the sauté function is great for melting chocolate, butter, or other ingredients gently. Just remember to stir frequently to avoid burning.
How do I clean the pot after making fudge?
The pot-in-pot method should keep your main pot clean. For the inner pot, let it soak in warm, soapy water to loosen any stuck bits, then scrub gently with a non-abrasive sponge.
Can I add other ingredients to my Rocky Road Fudge?
Absolutely! Besides the traditional marshmallows and nuts, consider adding dried fruit, other types of nuts, or even flavored chips (like peanut butter or butterscotch chips).
How long should I refrigerate the fudge before it sets?
Typically, allowing it to cool to room temperature and then refrigerating for 4-6 hours should be sufficient. However, for best results, consider letting it set overnight.
More Instant Pot Recipes
SOME HELPFUL PRODUCTS USED IN MAKING THIS RECIPE-
ForkToSpoon.com may earn a small commission via affiliate links in this post. Please read our full disclosure policy here.

Instant Pot Duo 7-in-1 Electric Pressure Cooker, Sterilizer, Slow Cooker, Rice Cooker, Steamer, Saute, Yogurt Maker, and Warmer, 6 Quart, 14 One-Touch Programs
DO NOT FORGET TO PIN–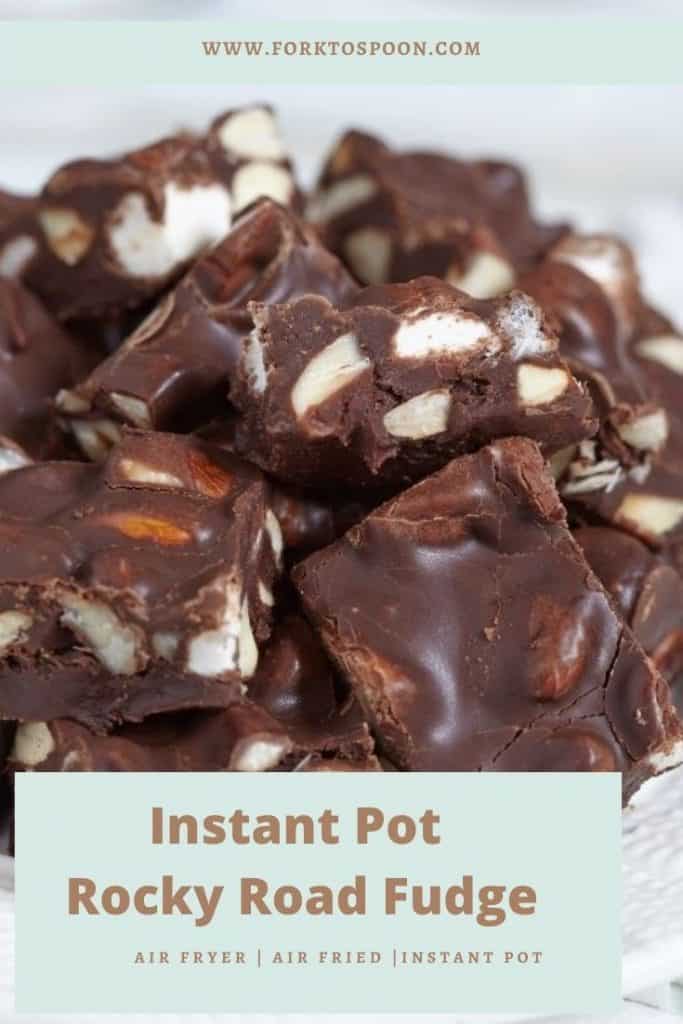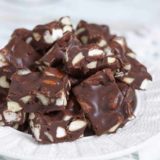 Instant Pot Rocky Road Fudge
Description
There is nothing better than Fudge. I mean, come on, it's amazing. Today, I made a simple batch of Instant Pot Rocky Road Fudge, and it's easy and absolutely delicious.
Ingredients
1

cup

Granulated Sugar

1/3

cup

Water

1

stick

Butter

,

room temperature

2

cups

Semi-Sweet Chocolate Chips

1

cup

Dry Milk Powder

2

cups

Mini-Marshmallows

1/2

cup

Diced Walnuts
Instructions
Start by adding the water and sugar to the Instant Pot Bowl; this will be your simple sugar.

Add the lid, and set manual high pressure for 11 minutes, doing a quick release after.

Mix in the chocolate chips, butter, dry milk powder, mini marshmallows, and diced walnuts, mix well.

Line your brownie pan with a piece of parchment paper.

Spread the fudge batter into the prepared pan, smooth the top off with a knife.

Set the pan into the refrigerator.

It will take about 3 hours to set.

Then cut into square pieces.

Plate, serve, and enjoy
Equipment
Pressure Cooker,

Ninja Foodi or Instant Pot

Cooking Spray
Nutrition
Serving:
1
Serving
Calories:
800
kcal
Carbohydrates:
90
g
Protein:
13
g
Fat:
45
g
Saturated Fat:
24
g
Polyunsaturated Fat:
6
g
Monounsaturated Fat:
12
g
Trans Fat:
1
g
Cholesterol:
48
mg
Sodium:
249
mg
Potassium:
747
mg
Fiber:
5
g
Sugar:
76
g
Vitamin A:
938
IU
Vitamin C:
1
mg
Calcium:
305
mg
Iron:
4
mg