Instant Pot Banana Pecan Bundt Cake — Cakes are a favorite dessert for many people. They come in all shapes and sizes, with different flavors, textures, and frostings.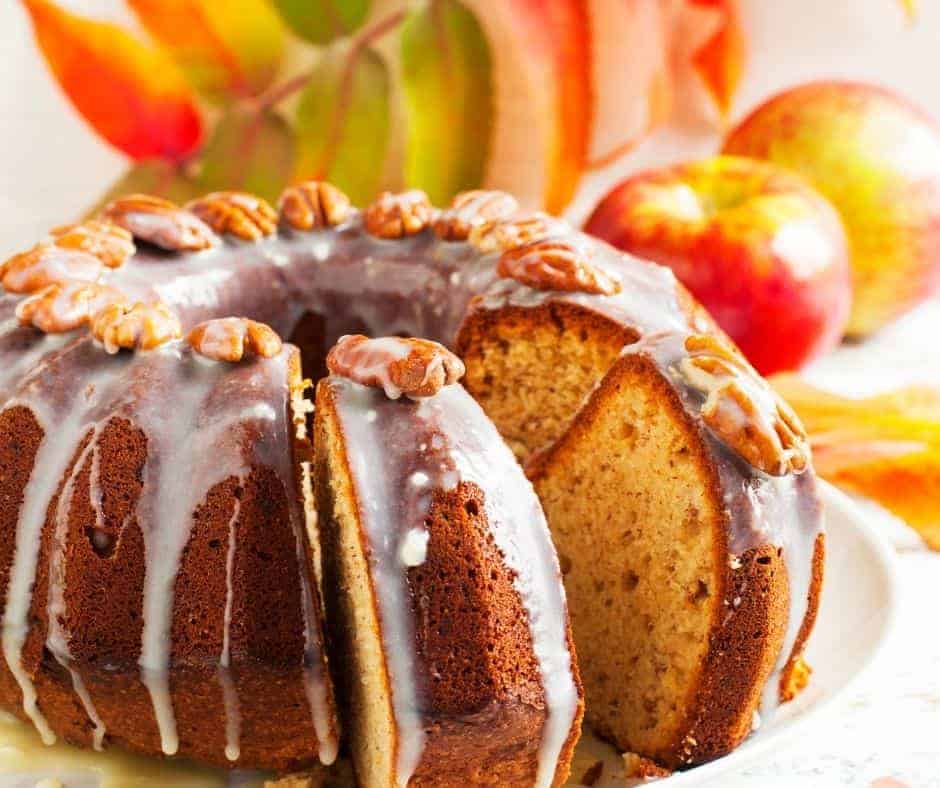 Today, I'll be sharing a recipe for Instant Pot Banana Pecan Bundt Cake, one of my favorites since I was a little girl. This is a moist cake that you can dress up or down depending on the occasion – it's perfect for an afternoon tea party or a celebratory dinner! Let me show you how to make this fantastic treat!
Instant Pot Banana Pecan Bundt Cake is a rich and decadent dessert recipe that's perfect for the holidays. It will be the star of your Thanksgiving table! This banana pecan bundt cake has an incredible flavor, with hints of bourbon, cinnamon, nutmeg, and cloves. The addition of creamy mashed bananas gives it a moist texture that will leave you wanting more.
I love a significant slice of moist cake, and this cake is loaded with flavor!
If you have been looking for some great Instant Pot Dessert Recipes, some of my favorite recipes are INSTANT POT CARROT CAKE WITH CREAM CHEESE FROSTING, INSTANT POT RED VELVET CAKE, INSTANT POT MONKEY BREAD, and INSTANT POT STRAWBERRY CHEESECAKE.
What Is A Bundt Cake?
Bundt cakes are a type of cake typically baked in a round, fluted tube pan, with the shape of the batter being what gives it its name. You can make a bundt cake from any batter, but most people use white or yellow cake mix to create unique flavors. Hilda Rickoff developed the recipe for this particular variety in 1950 after she had trouble getting her traditional pound cakes out of her mold and tried something different instead. The result was a fluffy, moist Bundt Cake!
Bundts are not just for Sunday brunch anymore-these versatile treats make great desserts for dinner parties, too! Make your next party shine by serving up some delicious new recipes!
And the Instant Pot does a fantastic job at perfectly cooking a Bundt Cake up!
Ingredients Needed For Instant Pot Banana Pecan Bundt Cake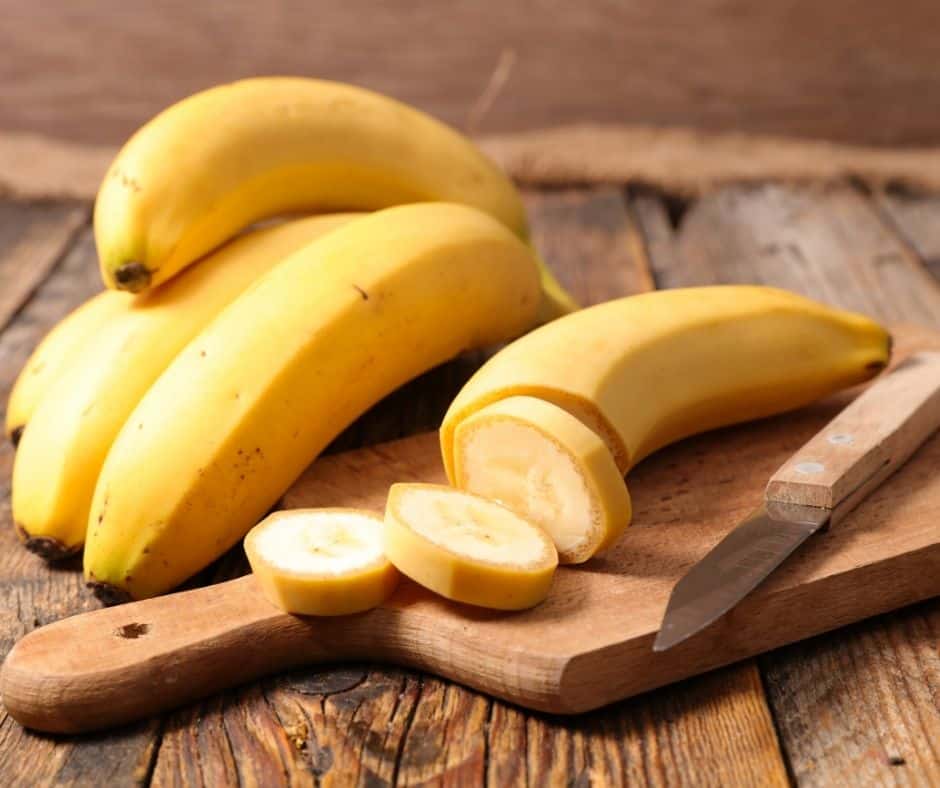 Butter
Granulated Sugar
Brown Sugar
Eggs
Bananas
All-Purpose Flour
Baking Soda
Salt
Ground Cinnamon
Powdered Sugar
Pure Vanilla Extract
Milk
Pecans
How To Make Instant Pot Banana Pecan Bundt Cake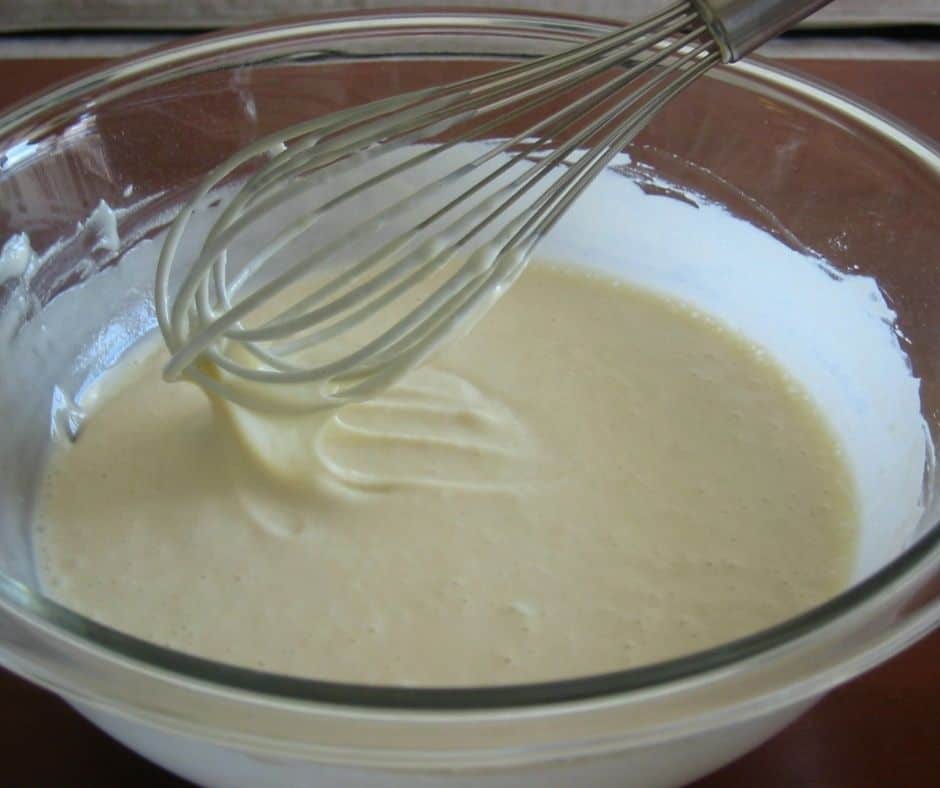 In your mixer, add the flour, baking soda, salt, and cinnamon. Mix well. Then add the butter, sugars, eggs, and bananas, mix well.
In a bundt pan that is small enough to fit into your Instant Pot, spray non-stick cooking spray.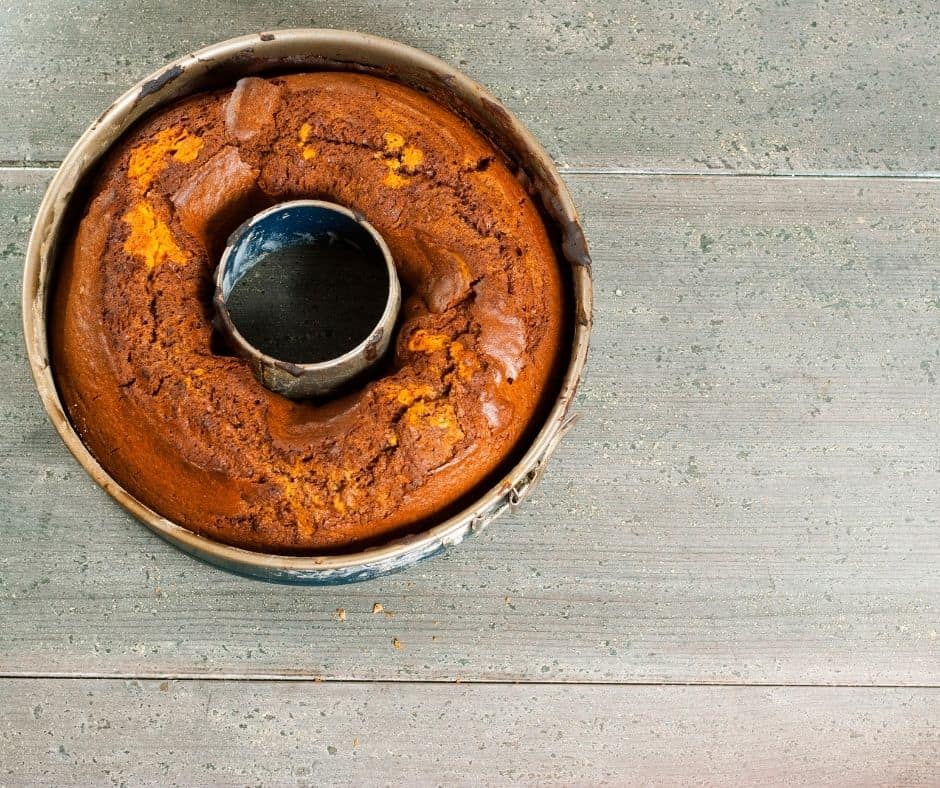 Then add the mixture to the bundt pan. Place your trivet that came with your Instant Pot, and add 2 cups of water. Then place the bundt pan on top of the trivet.
Set your manual high pressure for 50 minutes, making sure that the vent is sealed. Let it naturally release.
Then let it cool down. Then if you would like to add the glaze, mix it all together in a mixing bowl and then pour it on top of the cake.
Drizzle the pecans over the top,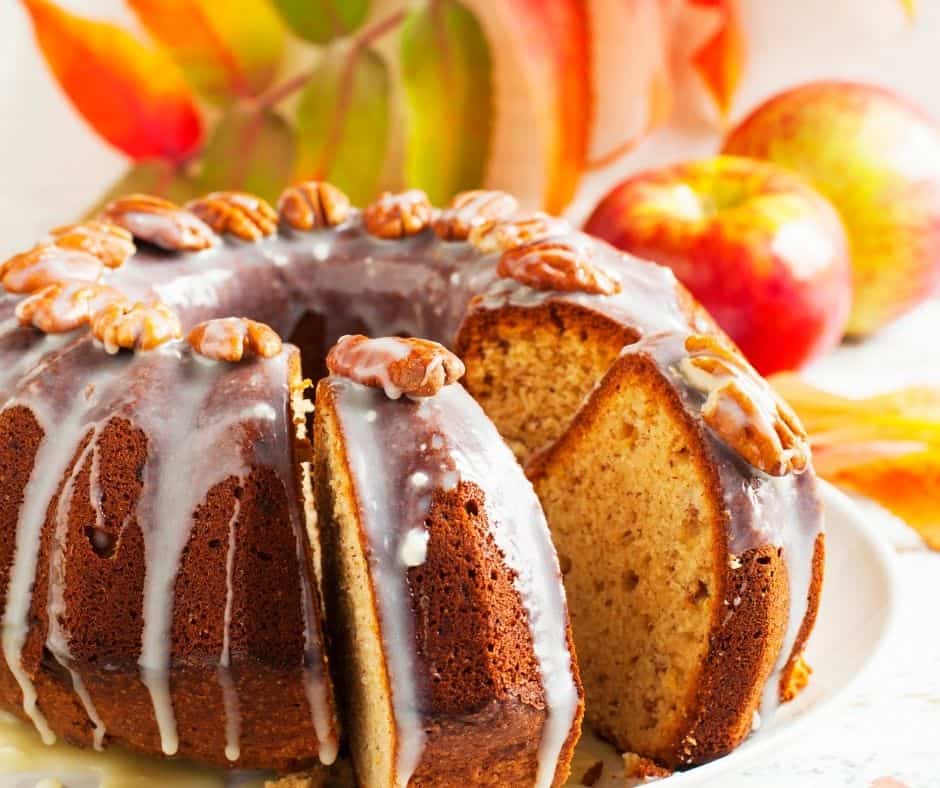 PRO TIPS:
Now mix thoroughly until all ingredients are incorporated. After each mixing stage, scrape down the bowl so you can check for any stray chunks or untouched bits at this point!
You can glaze this cake with icing by mixing powdered sugar until it reaches the desired consistency, then pour over your banana cake.
To ensure that every step of the process goes smoothly, always make sure your ingredients (especially butter) are at room temperature before starting.
Mixing the batter too much will result in harsh and dry banana bread. Just make sure you mix it well enough to combine all ingredients well into one another before baking!
To avoid the hassle of removing your cake from its pan after baking, grease and flour them first. This will make it much easier for you to detach.
You may want to let it cool completely with a cake like this before removing the bundt pan. The texture should be knife-slice upon the first touch and soft throughout with no cracks or hard spots when taken out of the Instant Pot; if these things don't feel right, then give those ten more minutes!
CAN I MAKE THIS A DAIRY-FREE CAKE RECIPE?
You can use any milk substitute for this recipe, including Oat Milk, Almond Milk, or even Soy Milk.
CAN I MAKE THIS A GLUTEN-FREE BANANA CAKE RECIPE?
Yes, you can substitute the all-purpose flour for Gluten-Free flour, be sure to use the exact measurements.
HOW LONG DOES IT LAST?
This delicious cake is perfect for any occasion. You can keep it covered at room temperature if you're having a party or want toad your sweet tooth satisfied sooner. Still, I recommend refrigerating it so that the flavors have more time to meld together and settle into every detail of each. Mouthwatering bite!
When they do emerge from refrigeration again- whether three days later on their own accord as some cakes may do without being appropriately stored -they will be even tastier than ever before because all those yummy ingredients come alive all over again in this particular moment after being tempered by coldness (although don't worry: adding iced moisture results mean less frosting!).
CAN IT BE FROZEN?
Yes, this is an excellent cake for freezing; make sure to wrap it in plastic wrap and foil tightly, then freeze it flat.
This cake will last between 2 to 3 months. For best results, defrost in the refrigerator. Overnight. You can heat it in the microwave before serving.
MORE INSTANT POT CAKE RECIPES:
DON'T FORGET TO PIN: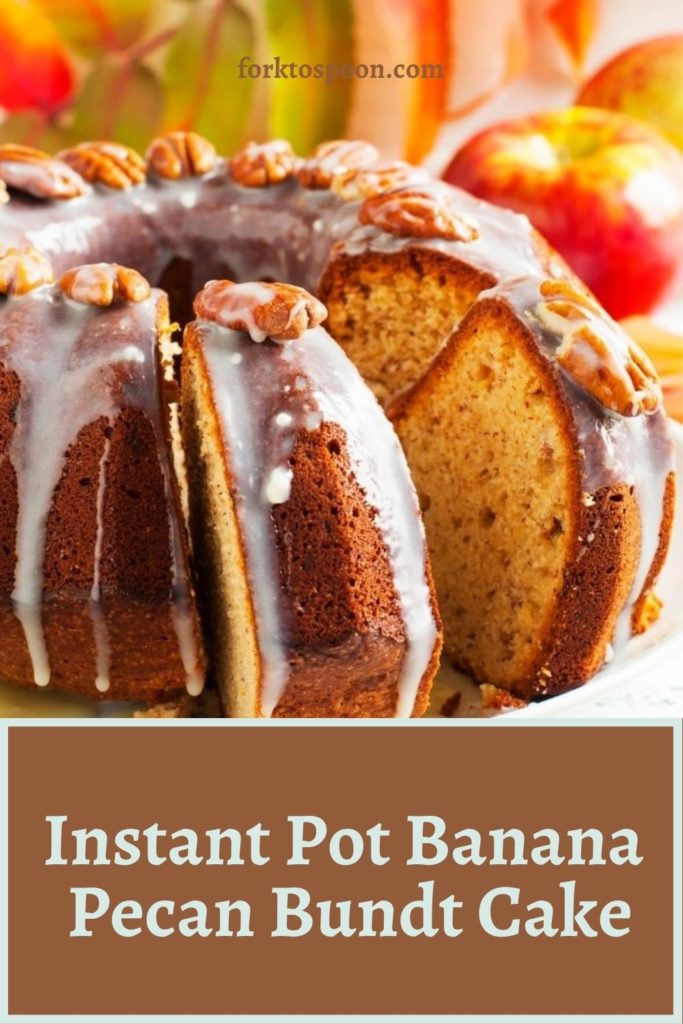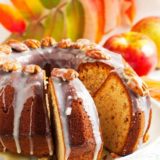 Instant Pot Banana Pecan Bundt Cake
Description
Instant Pot Banana Pecan Bundt Cake — Cakes are a favorite dessert for many people. They come in all shapes and sizes, with different flavors, textures, and frostings.
Ingredients
Banana Bundt Cake:
1

stick

butter

,

unsalted

1/4

cup

granulated sugar

1/4

cup

brown sugar

2

large

eggs

3

large

bananas

2

cups

all-purpose flour

1

teaspoon

baking soda

1

teaspoon

salt

3

teaspoons

ground cinnamon
Glaze/Pecan Topping:
1

tablespoon

butter

,

melted

1/2

cup

confectioners sugar

1

teaspoon

vanilla

1

teaspoon

milk

1/2

cup

whole pecans
Instructions
In your mixer, add the flour, baking soda, salt, and cinnamon. Mix well.

Then add the butter, sugars, eggs, and bananas.

In a bundt pan that is small enough to fit into your Instant Pot, spray non-stick cooking spray.

Then add the mixture to the bundt pan.

Then add your trivet that came with your Instant Pot, and add 2 cups of water. Then place the bundt pan on top of the trivet.

Set your manual high pressure for 50 minutes, making sure that the vent is sealed.

Let it naturally release.

Then let it cool down. Then if you would like to add the glaze, mix it all in a mixing bowl and then pour it on top of the cake.

Drizzle the pecans over the top
Equipment
Bundt Cake Pan

Instant Pot
Nutrition
Serving:
1
g
Calories:
387
kcal
Carbohydrates:
58
g
Protein:
6
g
Fat:
19
g
Saturated Fat:
9
g
Polyunsaturated Fat:
2
g
Monounsaturated Fat:
6
g
Trans Fat:
1
g
Cholesterol:
81
mg
Sodium:
551
mg
Potassium:
277
mg
Fiber:
3
g
Sugar:
20
g
Vitamin A:
504
IU
Vitamin C:
5
mg
Calcium:
37
mg
Iron:
2
mg