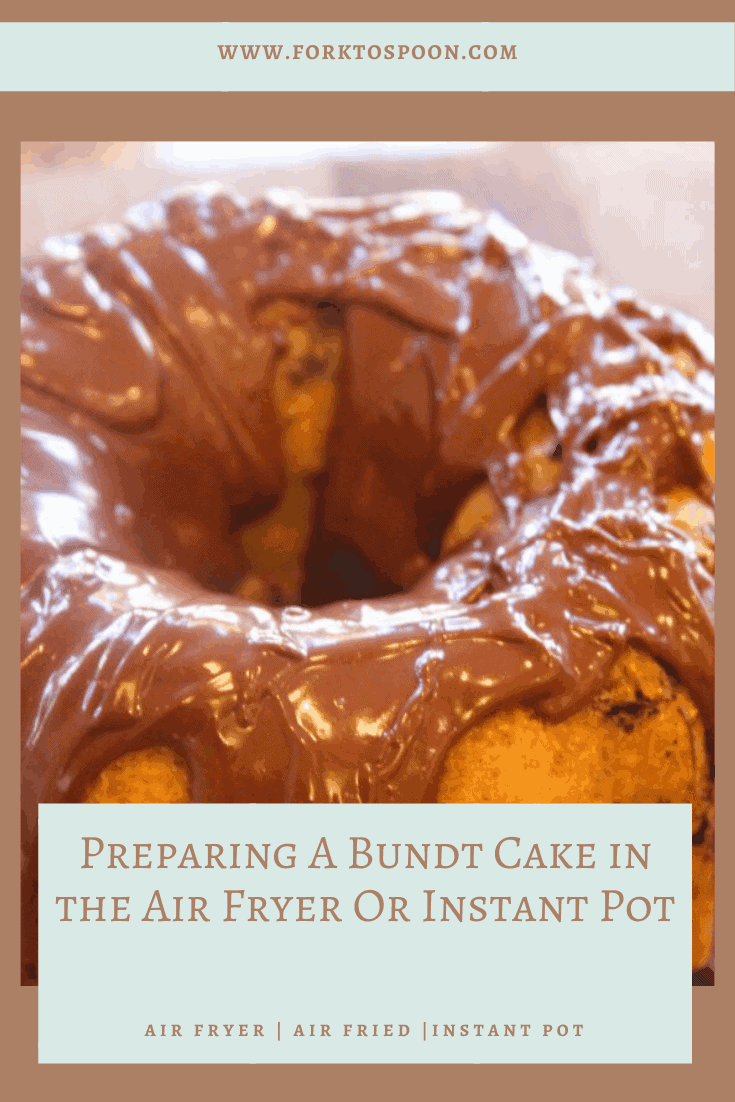 Here are some of my tips for, Preparing A Bundt Cake in the Air Fryer Or Instant Pot.
Making a Bundt cake in the air fryer or Instant Pot (Pressure Cooker) is easy. You only need a few items, and you should be all set to go. They look gorgeous when they are done, assuming you got yourself a good pan, and the cake did not stick to the pan. (Two of the hardest parts about baking, pressure cooking or air frying a bundt cake)
The real key to any excellent bundt cake is to purchase the correct pan. Searching the aisles at Target or Williams Sonoma showed me a few options. The options at Amazon.com are limitless. Below, I will share a few of my favorites with you.
Here Are Some Of My Favorite Bundt Pans–
The making company that makes Bundt Cakes is Nordic Ware.
(affiliate links are included in this post)
This is a classic Nordic Ware Heritage Bundt, Pan.
Nordic Ware Brillance Bundt Pan-One Size Gold
Here are some of my favorite mini-Bundt Pans
Nordic Ware-Bakeable Plastic Mini Bundt Pans
Mini Bundt Pan (4 Inch Mold Nonstick Baking Cake Pans) 4 piece set
There are many shapes and styles, so do a good search and keep your eyes open. I am sure that you will find one that you fall in love with.
One of the reasons that bundt cakes work well in both the air fryer and Instant Pot (Pressure Cooker) is the middle hole, which allows the cake to cook evenly. You will not end up with a soggy middle at the end of your cooking time.
The bundt cake pan is a traditional cast in aluminum. Due to technological advances, you will now find them in both silicone and metal.
Bundt cake pans come in a variety of sizes. The size that you need will be based on the size (capacity) of your Air Fryer or Instant Pot. The larger the appliance you are using, the larger bundt cake you can use.
You can also find mini bundt pans above (are my favorite), and they will allow you to bake 2 or 3 in your air fryer. You will probably only be able to place on bundt cake in your Instant Pot, though.
Next week, we will continue on our Bundt Cooking Tips to prevent sticking, an important topic, which will allow you to get the best from your air fryer or Instant Pot (Pressure Cooker).
Don't forget to check out the recipes in the Instant Pot or Air Fryer cake section.
Thanks again for reading!
I hope you enjoyed it and find some helpful information.
Some of my Favorite Air Fryer, Bundt Cake Recipes–