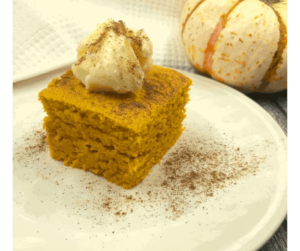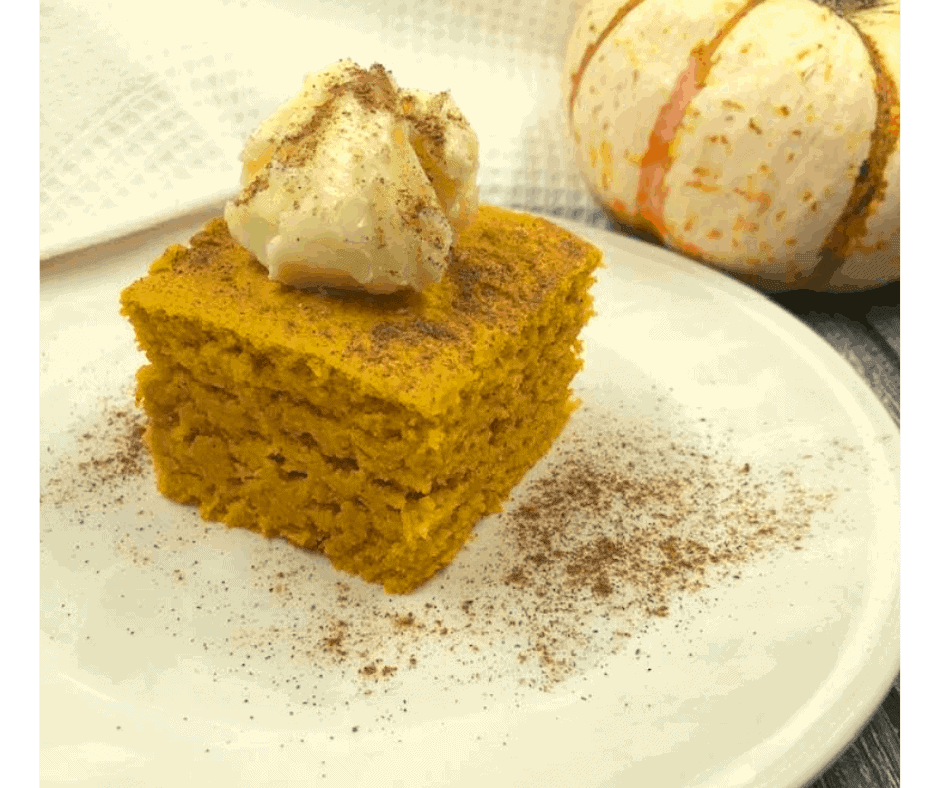 My kids love cornbread, they love it when we are at a restaurant and a basket of the cornbread comes out, before the meal. It might be the best part of the meal for them. The difference between this cornbread and the normal cornbread is that is much sweeter, that normal cornbread, as it has the sweetness of the half and half cream.
I grew up in Boston, and the only time we ever had cornbread was with BBQs in the summer. So, I was missing out.
I did a great cornbread recipe a few months ago, in the Air Fryer, and I will be honest with you, I have an obsession with muffins, just ask my husband, I am always experimenting with muffins.  I think all of his breakfasts last week had a muffin, he actually brought a bag of them into work for his co-workers. Who raved about them.
Today's recipe is a standard recipe for classic southern buttermilk cornbread,  I just stumbled upon my cast iron skillet and thought to myself, this would totally fit in my air fryer, and it opened a whole new world to me. I was looking for the perfect cornbread recipe and I came up with this recipe, and I thought why not? Cornbread if you are not familiar with it, is a typical northern United States recipe, but has long roots in the southern part of the United States and Mexico. It was originally served by both Native American Indians, Mayans and Aztec. Given that one of the most common crops in the United States at the time, which I am sure you all heard the story of planting corn, was corn. It was also known as hoecake. Probably cooked over an open fire or over rocks. (If I remember my US History correct)
There are several common cornbread recipes, that I plan on trying, those are:
Mexican Cornbread
Jonnycakes
Hushpuppies
Hot Water Cornbread (this might have to be done in an Instant Pot)
Corn Pone
Cracklin'Bread
Other ones, I find interesting. I love finding new recipes, so if you have a twist on a classic cornbread, email me the recipes, I would love to try them all.
This is a classic recipe, I am looking forward to within the next few months, jazzing it up with vegetables and jalapeno peppers, because who doesn't love a good cornbread?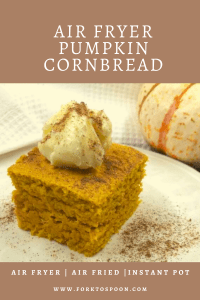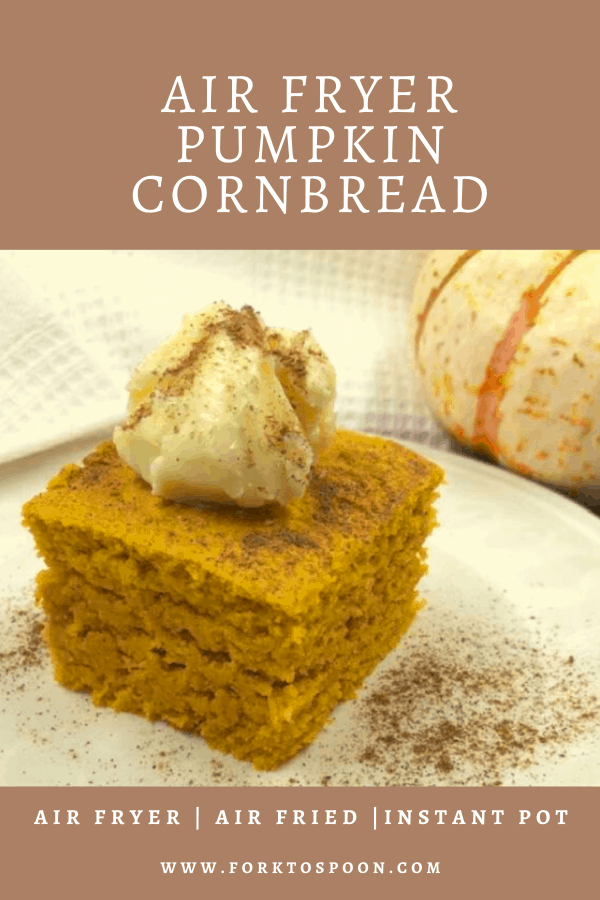 Print
Air Fryer, The Best Homemade Pumpkin Cornbread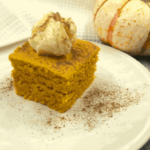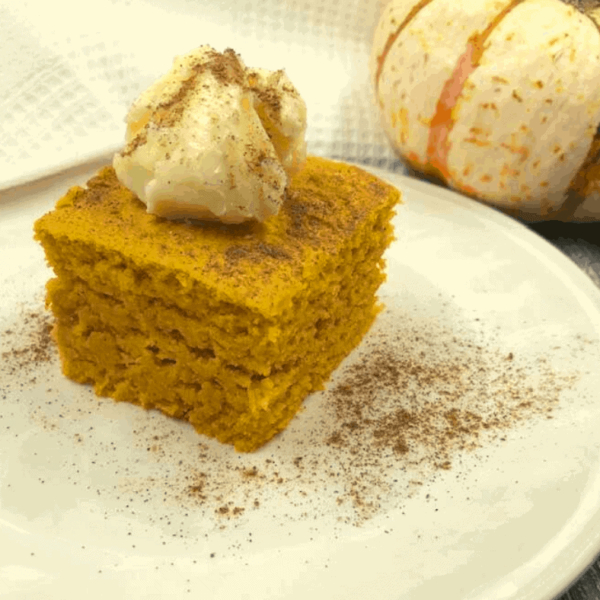 This is fabulous, just in time for the fall, the rich flavors of the Pumpkin against the great flavor of the whipped butter, really bring out the best of the fall. With just a touch of pumpkin spice dusted on top, what is better?
Author: ForkToSpoon.com
Prep Time:

5 minutes

Cook Time:

15 minutes

Total Time:

20 minutes

Yield:

12

servings

1

x
Category:

Baked Goods

Method:

Air Fryer

Cuisine:

American
Scale
Ingredients
Pumpkin Cornbread:
1 cup

all-purpose flour

1 cup

yellow cornmeal

1 tablespoon

baking powder

1/2 teaspoon

baking soda

1 teaspoon

ground cinnamon

1 teaspoon

salt

1 teaspoon

ground nutmeg

1/2 cup

sour cream

1 cup

pumpkin puree

1/3 cup

brown sugar

1/4 cup

melted butter
Instructions
In a large mixing bowl, mix together the flour, cornmeal, baking powder, baking soda, ground cinnamon, salt, and ground nutmeg.

Then add in the sour cream, pumpkin, brown sugar and melted butter.

Mix well.
Spray your air fryer pan (check to make sure your pan fits before you spray it) with non-stick cooking spray or olive oil spray.

Pour the batter into the pan and smooth the top with a spatula.

Set in your air fryer and set the temperature to 320 degrees F, for 12 minutes. After 12 minutes check and see if the bottom is cooked, if not add another 3-4 minutes.

Let cool slightly before serving. I whipped some butter, while I was waiting, just leave the butter out for about 10 minutes, until you can place it into a cup and mix, until whipped, serve with a dash of pumpkin spice.
Plate, serve and enjoy!

Keywords: fried cornbread in air fryer air fryer corn bread recipe airfryer oven cornbread jiffy corn muffin air fryer best cornmeal for cornbread fried cornbread with onions fried buttermilk cornbread casserole in air fryer