Do you own an air fryer? If not, you need to get one! They are amazing and so versatile. You can cook all kinds of things in them, including these delicious air fryer lemon squares. They are really easy to make and taste fantastic. Plus, they are a lot healthier than regular lemon squares because they are cooked using the air fryer instead of being fried in oil. Give them a try today!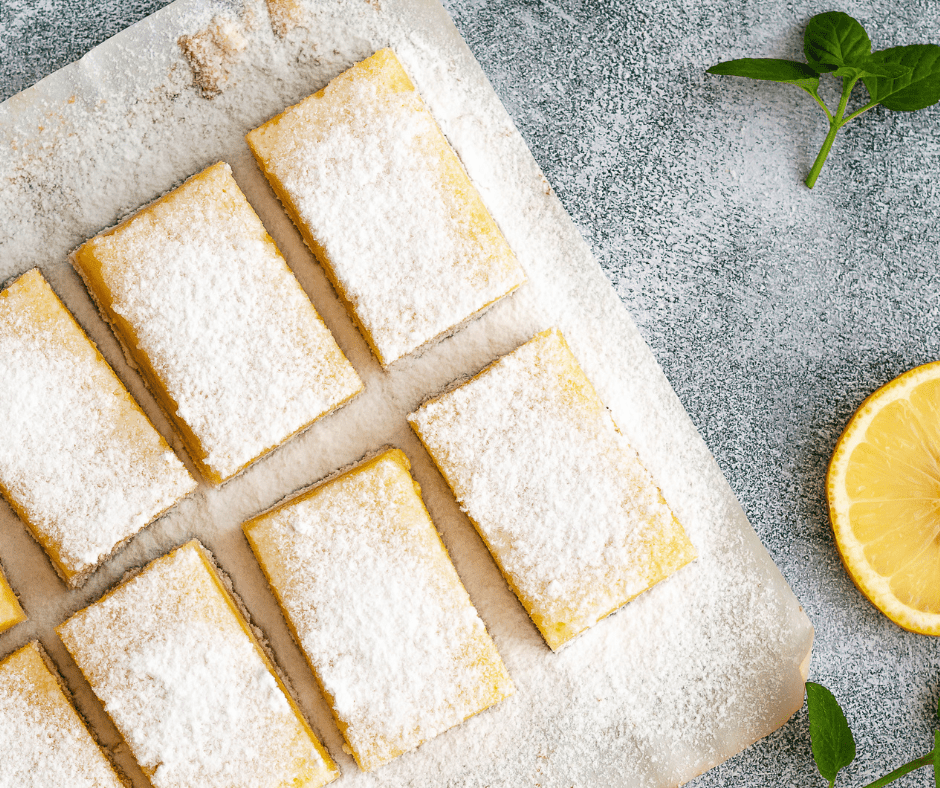 This is one of the tastiest desserts, but it is also incredibly easy. And, if you have been reading for a while, those are two of my favorite things, because life is already complicated, let us not get it more complicated. Today's recipe is Air Fryer Lemon Squares.
There is nothing like a butter shortcrust, topped with lemon filling and dusted with powdered sugar. It's the perfect dessert. And now, with an air fryer, it's simple as can be.
The secret is to use a thin pan, which will enable your air fryer to circulate the air around it, and a thin pan will ensure it gets cooked. If you use a really thick pan, the inside will never get completely cooked.
Whip up a batch of these air fryer lemon bars for using up your fresh lemons: an easy lemon bars recipe that has a buttery and flakey crust and a gooey lemon filling.
Lemon squares in the air fryer are so easy to make and use simple pantry essentials. This lemon dessert is one I have made over and over again.
You will find that this lemon recipe is great for serving up at a potluck, holiday gathering, summer cookout, or even weeknight dessert.
Looking for some other Easy Air Fryer Dessert Recipes? Some of my favorites are AIR FRYER DESSERT NACHOS, AIR FRYER CHERRY CHIMICHANGAS, AIR FRYER PEANUT BUTTER BANANA EGG ROLLS, and AIR FRYER PANCAKE BATTER OREO.
What Are Lemon Squares?
What could be better than biting into a sweet, tangy lemon square? This classic dessert is made with a buttery crust, a creamy lemon filling, and a dusting of powdered sugar on top. Whether you're looking for something to enjoy during the summertime or you're just in the mood for something citrusy, these squares are sure to hit the spot!
Why Cook Lemon Squares In The Air Fryer
Cooking lemon squares in the air fryer is a great way to make them quickly and easily. The air fryer cooks them evenly and they come out crispy on the outside and soft on the inside. You can customize them to your liking by adding different spices or toppings. They are perfect for a quick snack or dessert!
The Best Recipe For Air Fryer Lemon Squares
Do you own an air fryer? If not, you should definitely consider purchasing one – they are amazing! And if you do have one, then you know that there are endless possibilities for recipes. Today, we're going to share with you our favorite recipe for air fryer lemon squares. This dish is perfect for any occasion, and it's so easy to make! Plus, the lemon flavor gives it a refreshingly delicious twist. Ready to give it a try? Let's get started!​
Ingredients Needed For Air Fryer Lemon Squares
Are you in the market for a new air fryer? If so, you're going to want to try these delicious lemon squares! This recipe only calls for a few simple ingredients, so it's perfect for beginners. Plus, the air fryer gives them a crispy crust that is sure to please. So what are you waiting for? Give this recipe a try today!
All-Purpose Flour: You can also use gluten-free all-purpose flour. 
Granulated Sugar: You can also use half of Splenda and half of regular sugar if you want a diabetic-friendly recipe. 
Butter: Use unsalted butter.
Eggs: Use large room-temperature eggs.
Lemons: Use both the juice and the zest
How to Make Lemon Bars In The Air Fryer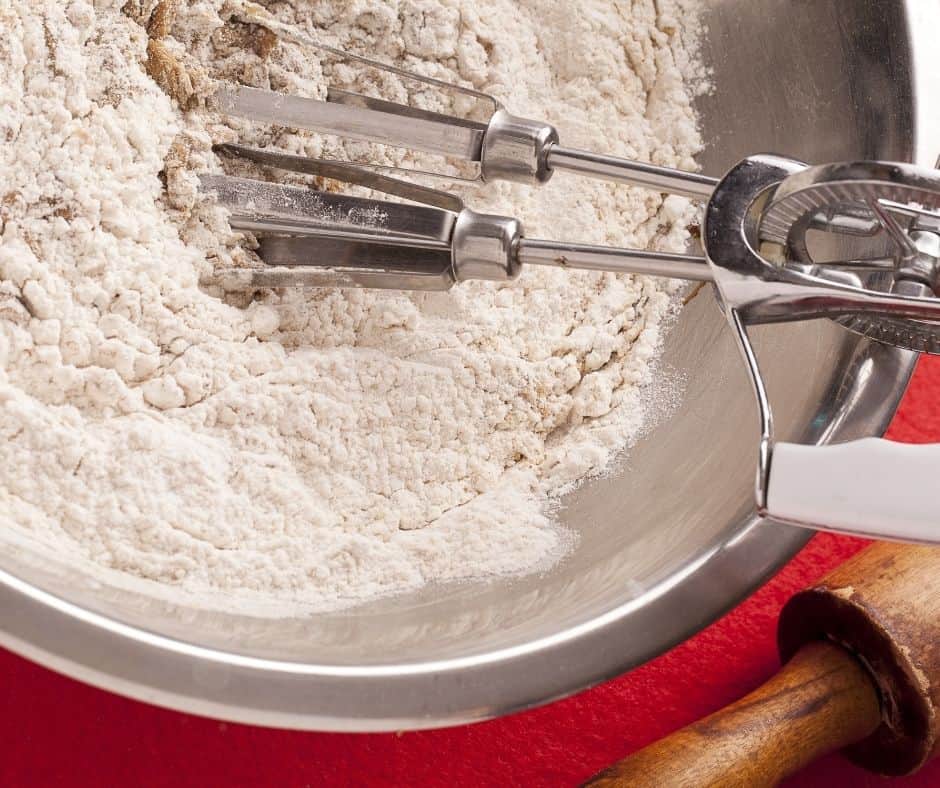 Start by working on the crust. You will add flour, powdered sugar, salt, and cornstarch into a food processor. Add in the butter and pulse.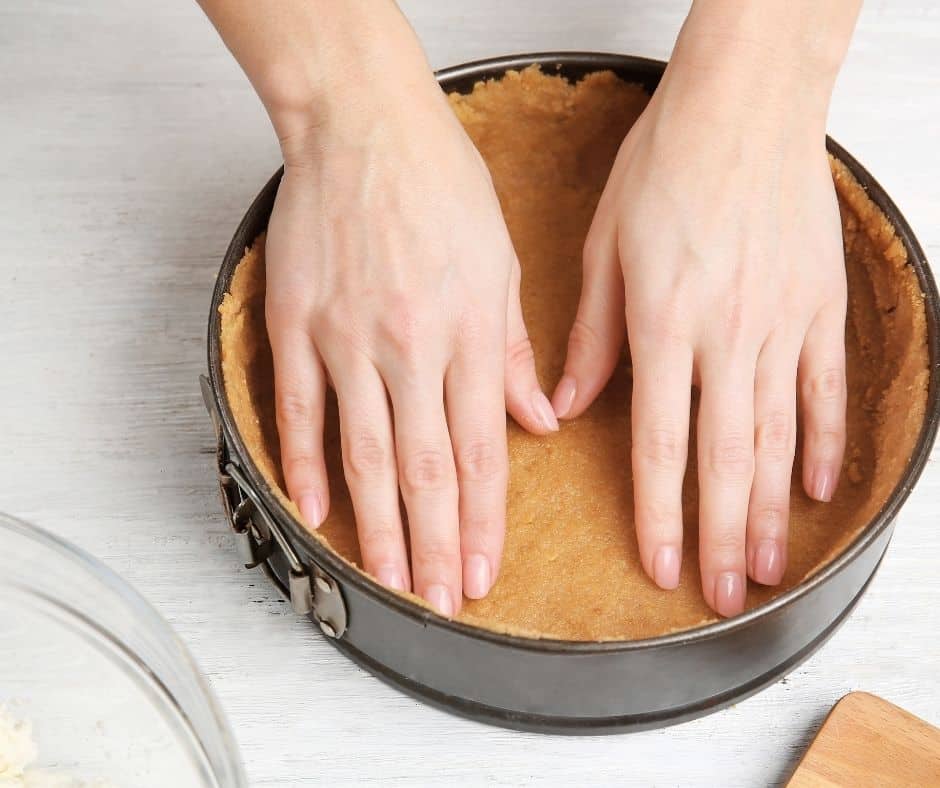 You want the mixture to be crumby little balls. Sprinkle the mixture into the pan and press it down firmly. Toss in the fridge for 30 minutes.  Now you will cook for 15-20 minutes or until the top is golden brown. Once done, set aside.  I work on the filling while it is air frying. Whisk up the eggs, flour, and sugar in a bowl. Toss in the milk, lemon zest, and lemon juice along with salt. 
Stir until combined and pour into baked crust. Bake another 10-12 minutes. Allow bars to cool, then dust with powdered sugar.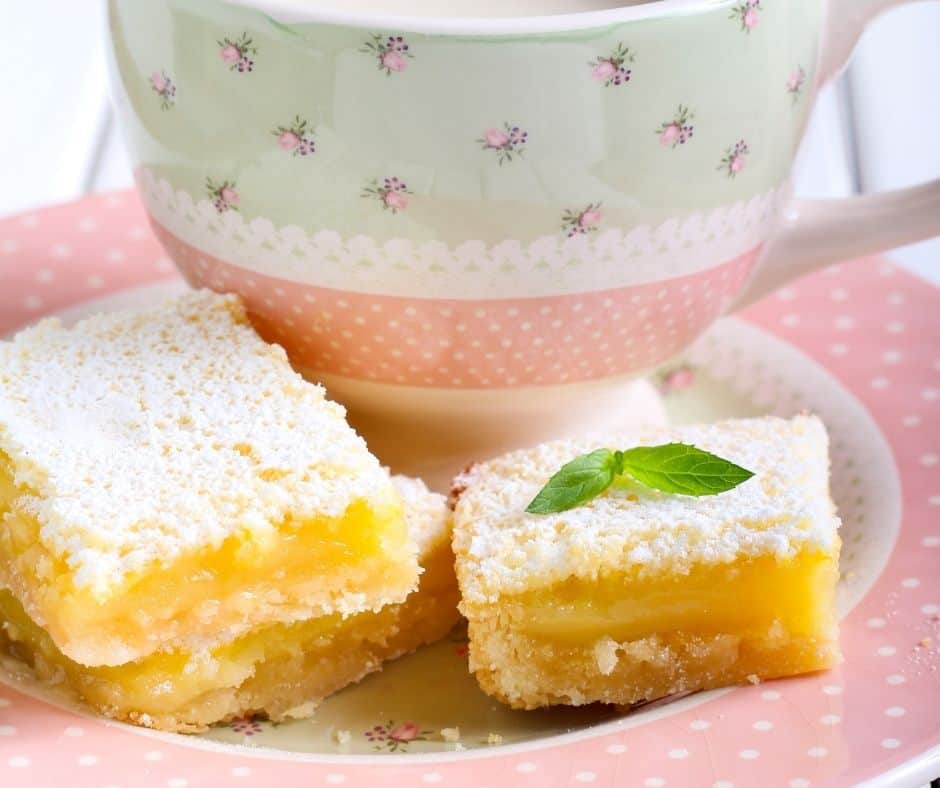 How to zest a lemon? 
To zest a lemon, you will use a zester or grater. Take your washed lemon and run it across the blades. You want to remove only the yellow portion of the skin. 
Avoid the white as that will make your zest very bitter. Carefully work your way all around the lemon. 
If you don't have either of those tools, a pairing knife works, you need to carefully cut the peel and then slice it up into tiny pieces. 
Can you buy lemon zest? 
Some stores do sell dried lemon zest. While it can save time on prep, you will find it does not provide that crisp fresh citrus flavor you will get from fresh lemon zest. 
How much zest per lemon? 
One medium-sized lemon will roughly provide around 1 tablespoon of lemon zest and 2-3 tablespoons of lemon juice. 
I use this as a good guide to know how many lemons to buy for any lemon recipe I make. 
What's the point of lemon zest? 
The lemon zest will elevate the flavor of your lemon squares. Giving it that nice punch of citrus in each bite. 
If you don't want to use lemon zest, replace every 1 teaspoon of zest with 2 teaspoons of lemon juice. 
This will help amp up the lemon flavor without zesting your lemons. 
How do I know when lemon bars are done?
The best guide is a jiggle test. Carefully jiggle the pan slightly, and if you find the bars don't wiggle, they are done. 
You might find the center of the bars will wiggle just a bit. If yours do, that is okay. 
Allow your bars to sit on a cooling rack to cool as well. That can help the center finish baking and set up as well. 
Storing Lemon Squares
Lemon squares need to be refrigerated if you don't plan to eat them right away. The lemon bars need to be covered in a container. 
If you prefer eating them at room temperature, take a slice or two and let it warm up for n hour on the counter. 
You never want your lemon bars to sit out for more than 2 hours. Or you run the risk of bacteria growing at a rapid pace. 
Can You Freeze Lemon Bars?
Yes, the key is to let the lemon bars cool to room temperature, before storing them!
How To Freeze Lemon Bars 
Absolutely. Let the bars fully cool. Do not put powdered sugar on bars. Slice and place in an airtight container or bag. Suppose you stack bars and place wax paper between layers to prevent sticking. 
Freeze for 3-4 months. When you want some, remove and thaw on the counter for an hour or do a slow thaw in the fridge overnight. 
If you do freeze it with powdered sugar on top, it will just melt into the squares. It's ok to do it will create a sticker top to the bars. 
More Air Fryer Lemon Recipes
Some Other Great Air Fryer Dessert Recipes
SOME HELPFUL ITEMS FOR MAKING LEMON SQUARES IN THE AIR FRYER–
Disclosure: Some of the links below are affiliate links. At no cost to you, I will earn a commission if you click through and make a purchase.
Don't Forget to Pin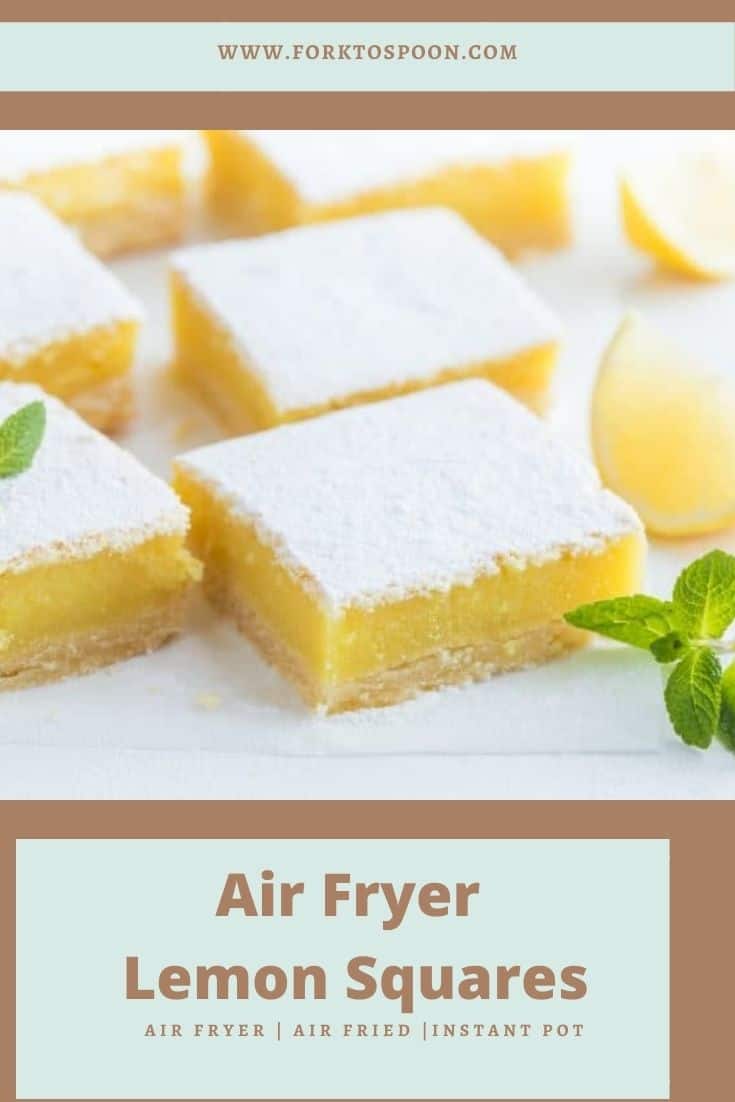 Air Fryer Lemon Squares
The air fryer is a great appliance to have in the kitchen, and these lemon squares are the perfect example of why. They're easy to make and so delicious that you'll be hard-pressed to save any for later. Instead, you'll just want to gobble them all up as soon as they come out of the air fryer! Trust us, these lemon squares are definitely worth trying out.
Keyword:
Air Fryer Easy Dessert Recipes, Air Fryer Lemon Squares
Ingredients
Crust:
1

cup

butter

room temperature

1/2

cup

granulated sugar

2

cups

all-purpose flour
Lemon Filling:
4

large

eggs

1 1/2

cup

granulated sugar

1/4

cup

all-purpose flour

1/2

cup

lemon juice
Serve With Powdered Sugar, and Lemon Zest
Instructions
Start by making the crust, mix the butter, flour, and sugar. Then press into a pan. Set into the air fryer for 7 minutes at 320 degrees F. Once it is golden brown, remove.

Then to make the filling, mix together in a large mixing bowl, the eggs, sugar, flour and lemon juice, Pour the filling over the baked crust.

Place the pan into the air fryer temperature at 320 degrees F, for 12 minutes. They will harden as they cool.
Nutrition Facts
Air Fryer Lemon Squares
Amount Per Serving (1 g)
Calories 563
Calories from Fat 234
% Daily Value*
Fat 26g40%
Cholesterol 154mg51%
Sodium 219mg10%
Potassium 96mg3%
Carbohydrates 78g26%
Protein 7g14%
Vitamin A 845IU17%
Vitamin C 6mg7%
Calcium 27mg3%
Iron 2mg11%
* Percent Daily Values are based on a 2000 calorie diet.