Air Fryer Sweet Potato Casserole is one of those Thanksgiving classics that you just have to know how to make! It's the perfect combination of sweet and savory, and will take you back to childhood. Making it in the Air Fryer is super easy and convenient!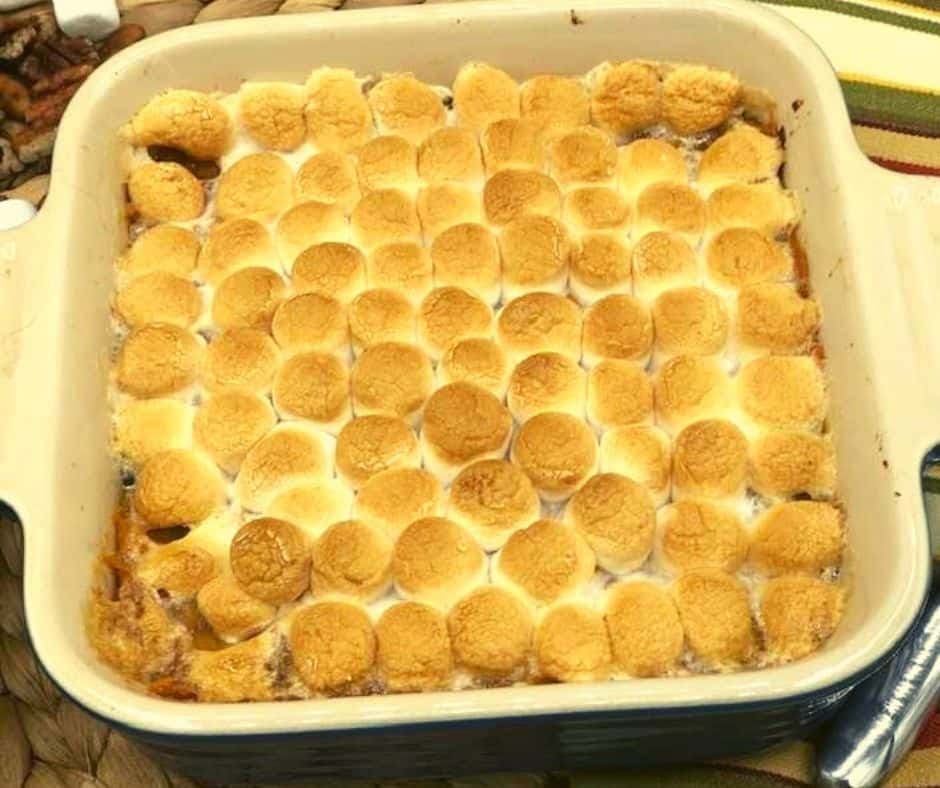 This Thanksgiving might be a little different than those in the past (due to Covid), so I made a small version. You can adjust the recipe based on how many people you will have at Thanksgiving! This recipe will also work in the oven, if you end up having a large gathering.
This is one of my traditional Thanksgiving dishes. Made with sweet potatoes, and then mixed with diced pecans, and then of course topped with mini marshmallows. It is gooey, as my son would say, it's amazingly easy to prepare it the air fryer.
I started this recipe off by making sweet potatoes in the air fryer because they are so easy!! Try my AIR FRYER SWEET POTATO (POTATOES) to get started.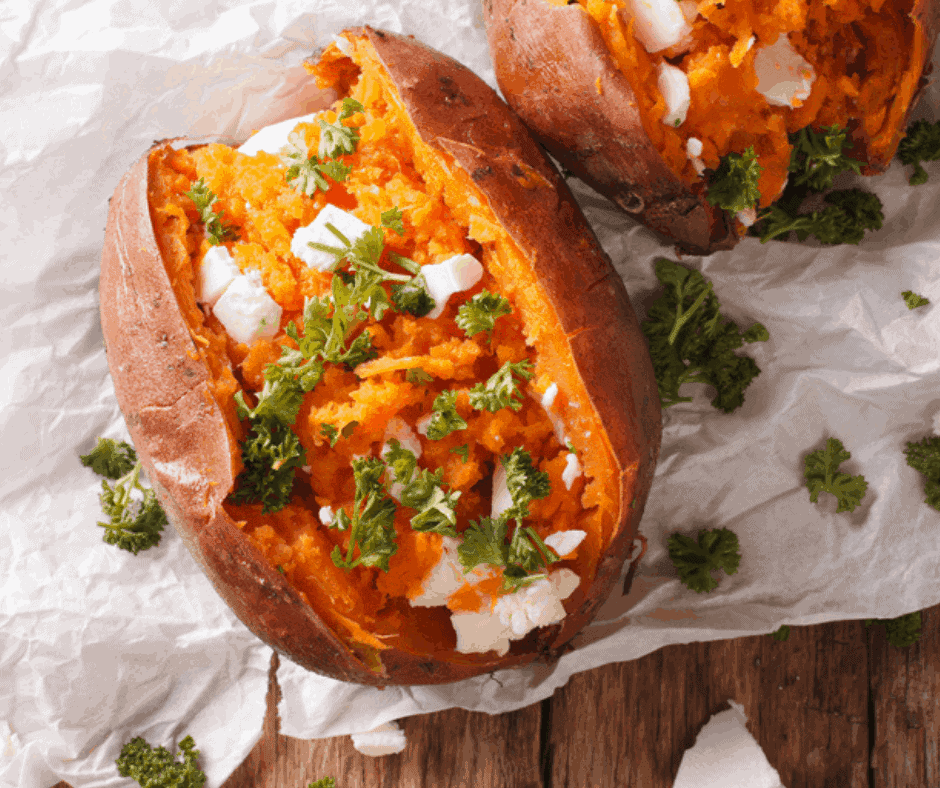 What We Love About This Air Fryer Sweet Potato Casserole
Like any good casserole recipe, this Air Fryer Sweet Potato Casserole is easy and full of flavor. It is a classic crowd pleaser and anyone will be happy to eat this, including picky eaters.
The steps to making this recipe are fairly straightforward as well. You can either make the sweet potatoes in the air fryer, or boil them in some salt water until they are fork tender. Once they are done, let them cool a little and peel the skin off. Once you assemble the casserole, you just bake in the air fryer and you are done!
Make this recipe on any holiday, especially Thanksgiving. You can also serve this on a cold winter day when you are feeling nostalgic for the delicious meals of the holidays. Consider serving this casserole alongside:
What You'll Need to Make Air Fryer Sweet Potato Casserole
Cooked Sweet Potatoes (air fried or boiled)
Butter
Brown Sugar
Vanilla Extract
Diced Pecans
Ground Cinnamon
Salt
Black Pepper
Mini Marshmallows
How to Make Air Fryer Sweet Potato Casserole
All you have to do to make this air fryer sweet potato recipe is prepare your filling, assemble, and pop in the air fryer! Check out the steps below.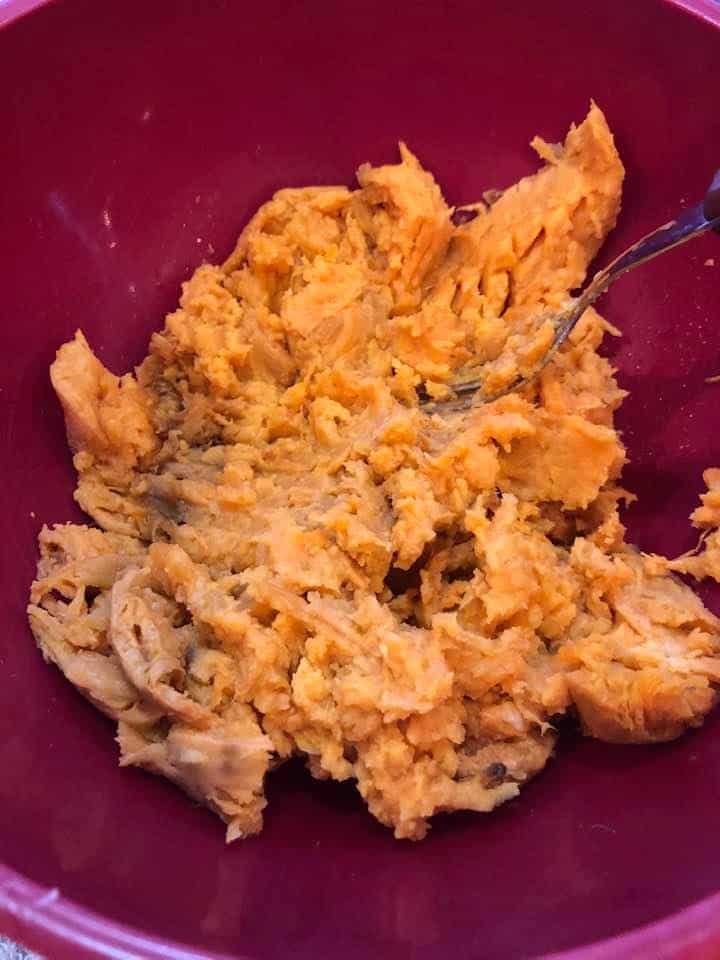 Add the melted butter, brown sugar, vanilla extract, salt, pepper, and ground cinnamon and mix well.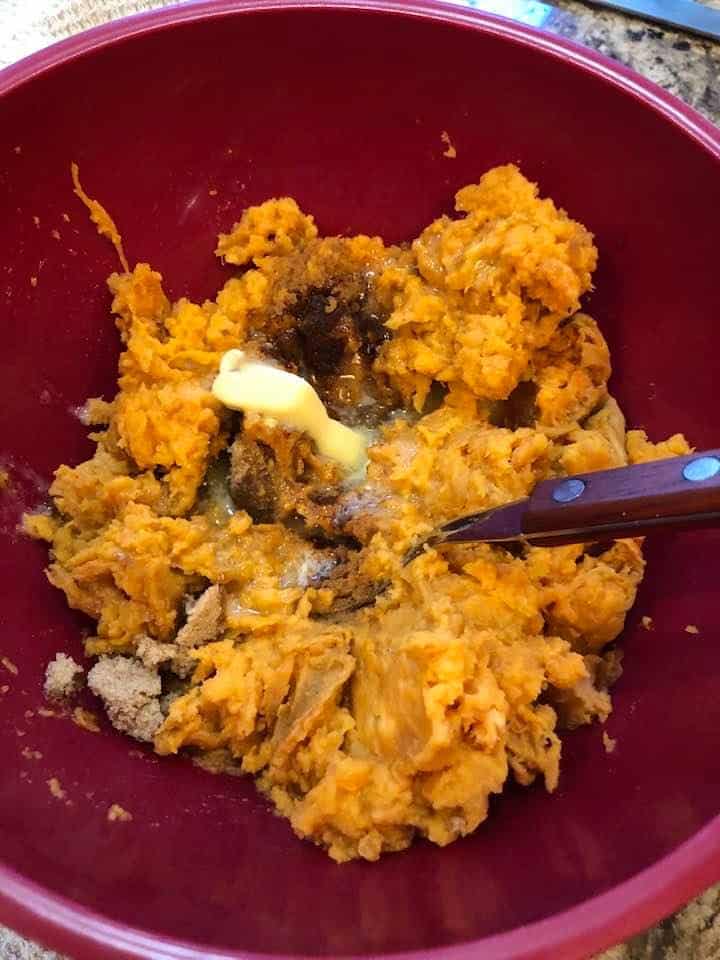 Fold in your diced pecans.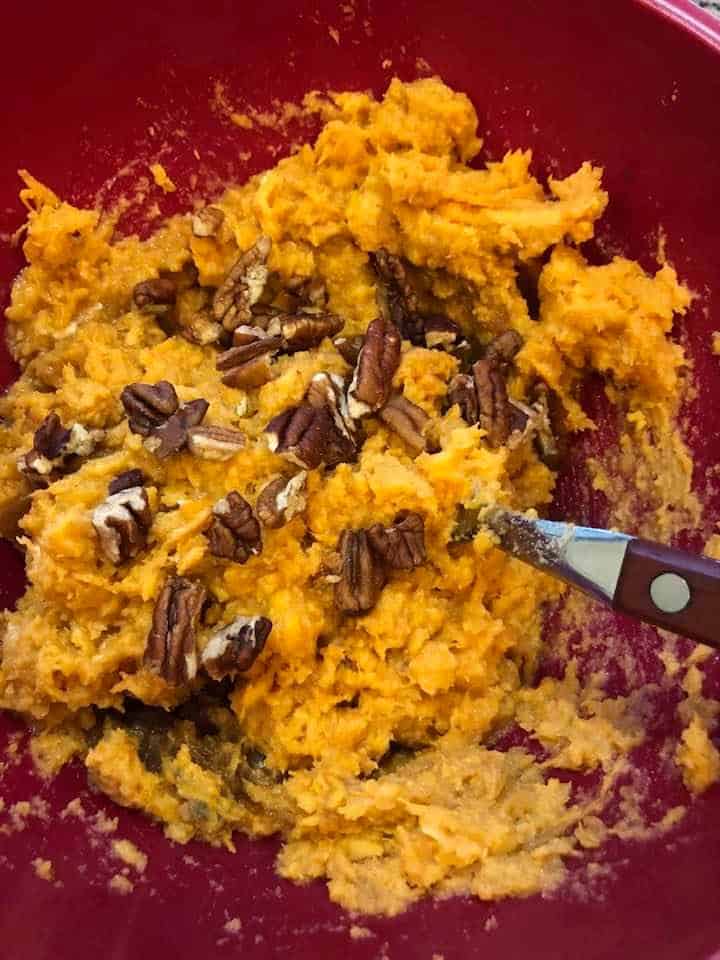 Spray your casserole dish with either non-stick cooking spray or olive oil spray.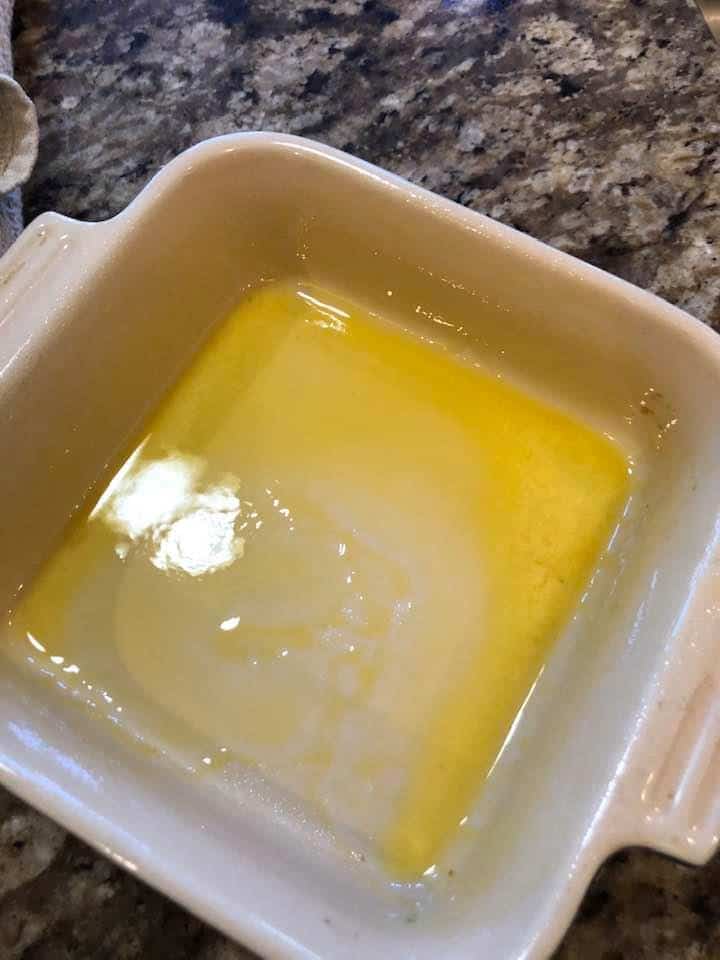 Spoon your sweet potato filling into the prepared pan.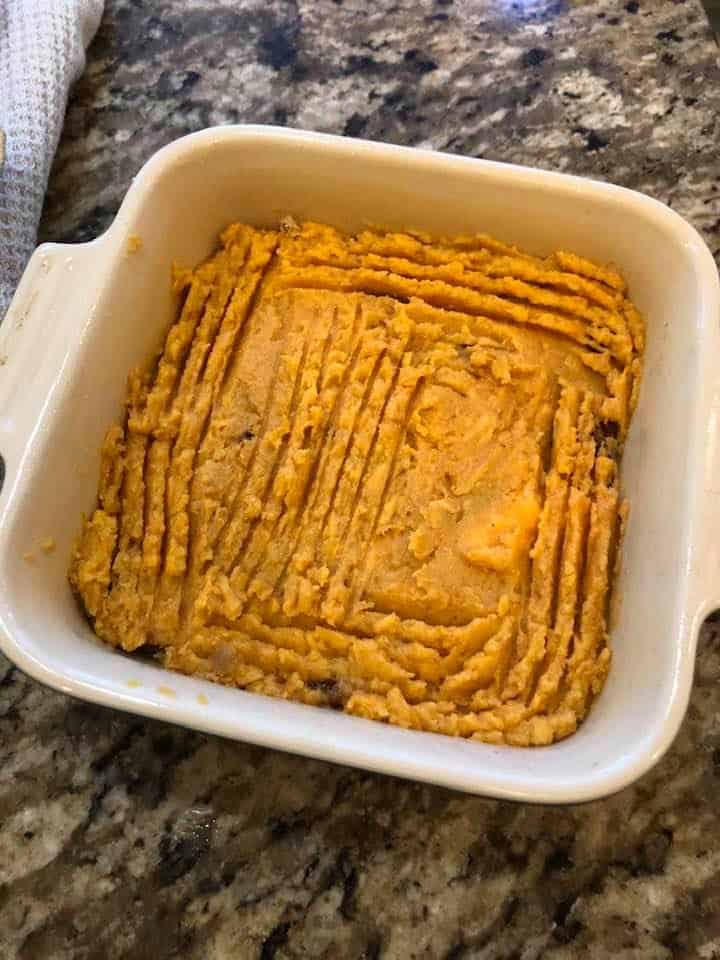 Top with the mini marshmallows.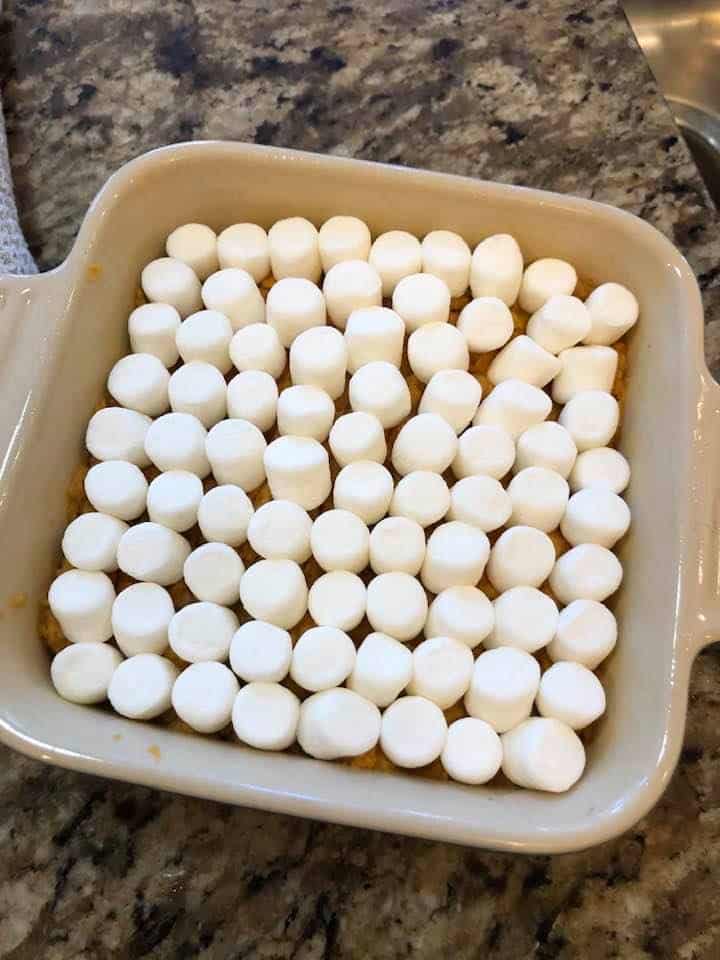 Set into the air fryer for 10-12 minutes at 320 degrees F. (air fryer setting)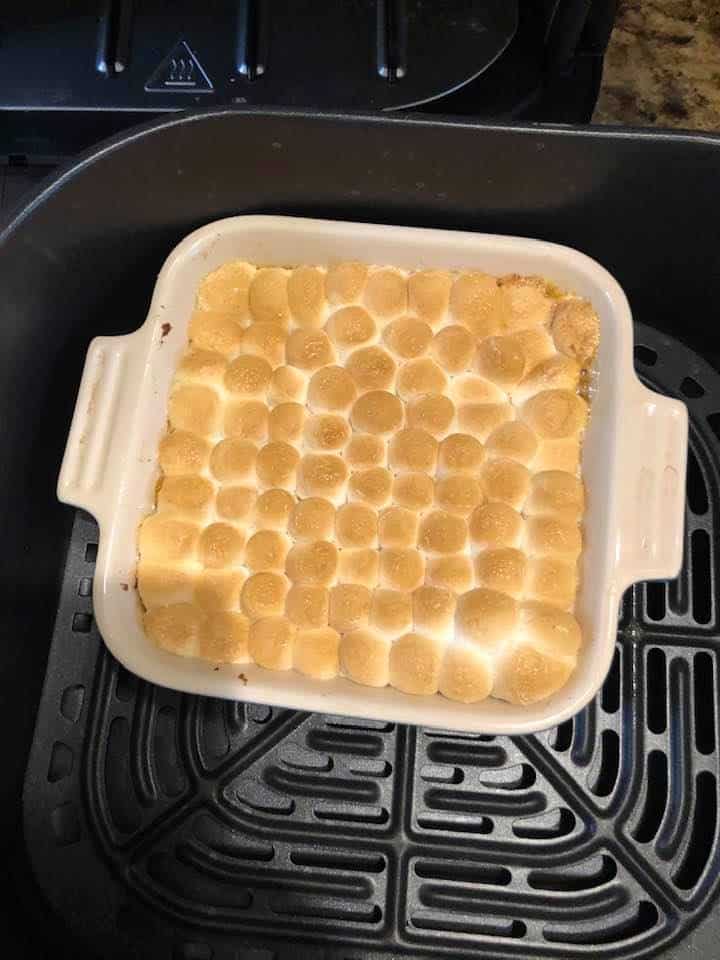 Plate, serve, and enjoy!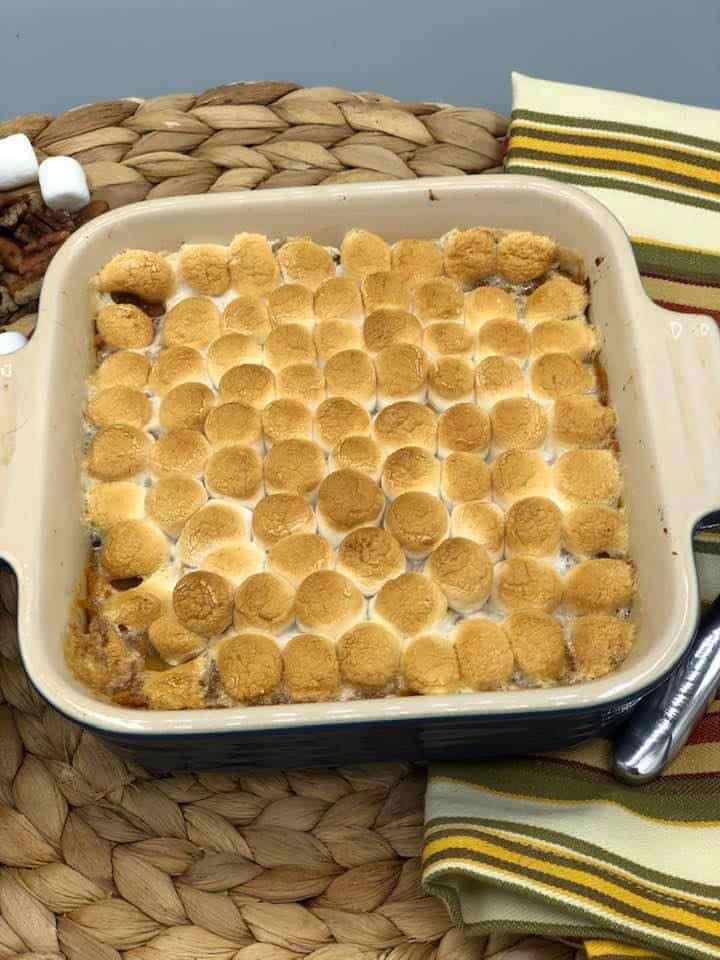 FAQs
How do I know my Sweet Potato Casserole is done?
Since all of the parts of the recipe are already safe to eat, you just want your sweet potato casserole to be hot and toasty on the top. Once the marshmallows turn a golden brown, you are safe to take the casserole out of the air fryer. For me, that took about 12 minutes.
Can I make this recipe in an oven?
Absolutely! Set your oven to 375 F and bake for about 25 minutes or until the marshmallows are golden brown.
Can I make my Sweet Potato Casserole ahead of time?
Yes, this is a great recipe to make ahead of time. You can assemble your casserole in an oven-safe dish, cover with some foil or plastic wrap and refrigerate it until you are ready to bake it. I wouldn't make this recipe more than two days ahead since it will be sitting in the fridge and you want it to still be fresh!
What is the difference between a sweet potato and a yam?
Believe it or not, sweet potatoes and yams are very different. Yams are starchier and more yellow in the center, whereas sweet potatoes are sweeter and more orange. For this recipe, make sure you use sweet potatoes and not yams.
Some Other Great Air Fryer Side Dish Recipes
SOME HELPFUL PRODUCTS USED, IN MAKING AIR FRYER SWEET POTATO CASSEROLE
Disclosure: Some of the links below are affiliate links. At no cost to you, I will earn a commission if you click through and make a purchase.

Sweese 514.204 Porcelain Baking Dish Set of 2, Square Lasagna Pans, 8 x 8 inch & 6 x 6 inch Non-stick Brownie Pan with Double Handle – Red
Don't Forget To Pin, Air Fryer Sweet Potato Casserole–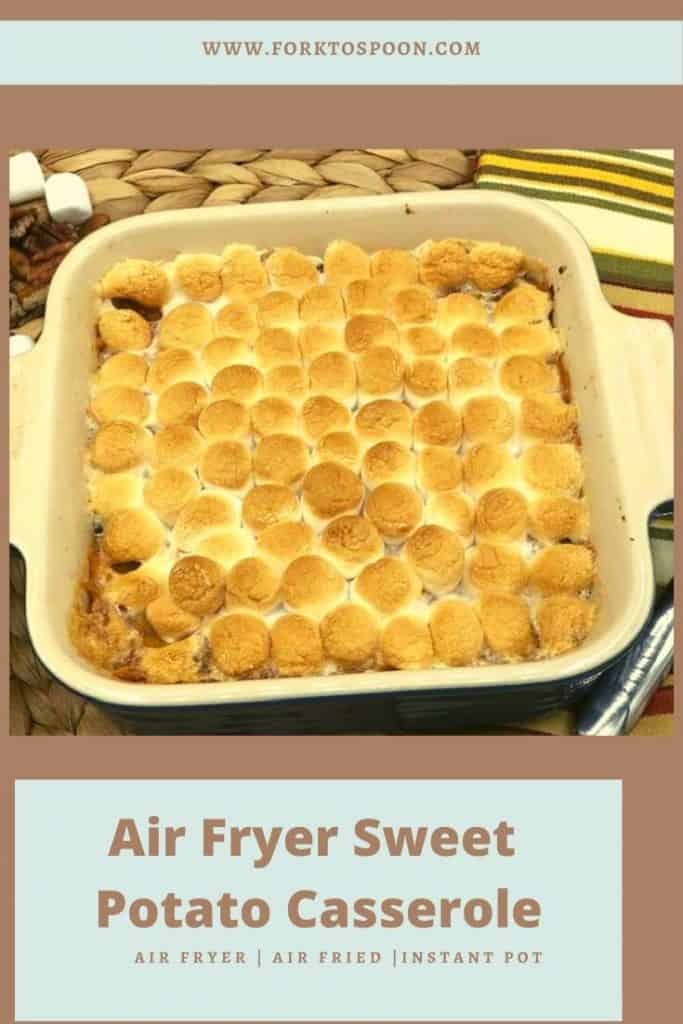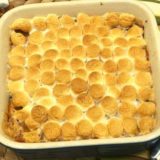 Air Fryer Sweet Potato Casserole
Description
Today, I wanted to work on one of the most classic Thanksgiving dishes, for everyone to enjoy. Air Fryer Sweet Potato Casserole.
Ingredients
3

cups

sweet potatoes

,

cooked, and cooled

1/3

cup

butter

,

melted, unsalted

1/2

cup

brown sugar

1

teaspoon

vanilla extract

1/2

cup

pecans

,

diced

1

teaspoon

ground cinnamon

1

teaspoon

kosher salt

1/2

teaspoon

black pepper

1

cup

Mini Marshmallows
Instructions
In a large mixing bowl, mash your sweet potatoes with either a fork or potato masher.

Add the melted butter, brown sugar, vanilla extract, salt, pepper, and ground cinnamon and mix well.

Fold in your diced pecans.

Spray your casserole dish with either non-stick cooking spray or olive oil spray.

Spoon your sweet potato filling into the prepared pan.

Top with the mini marshmallows.

Set into the air fryer for 10-12 minutes at 320 degrees F. (air fryer setting)
Nutrition
Serving:
1
Serving
Calories:
456
kcal
Carbohydrates:
60
g
Protein:
3
g
Fat:
24
g
Saturated Fat:
11
g
Polyunsaturated Fat:
3
g
Monounsaturated Fat:
9
g
Trans Fat:
1
g
Cholesterol:
41
mg
Sodium:
776
mg
Potassium:
436
mg
Fiber:
5
g
Sugar:
39
g
Vitamin A:
14634
IU
Vitamin C:
3
mg
Calcium:
73
mg
Iron:
1
mg