Craving something savory but don't want to fire up the stove? Enter air fryer salmon nuggets! These delicious snacks are easy to make and packed with protein.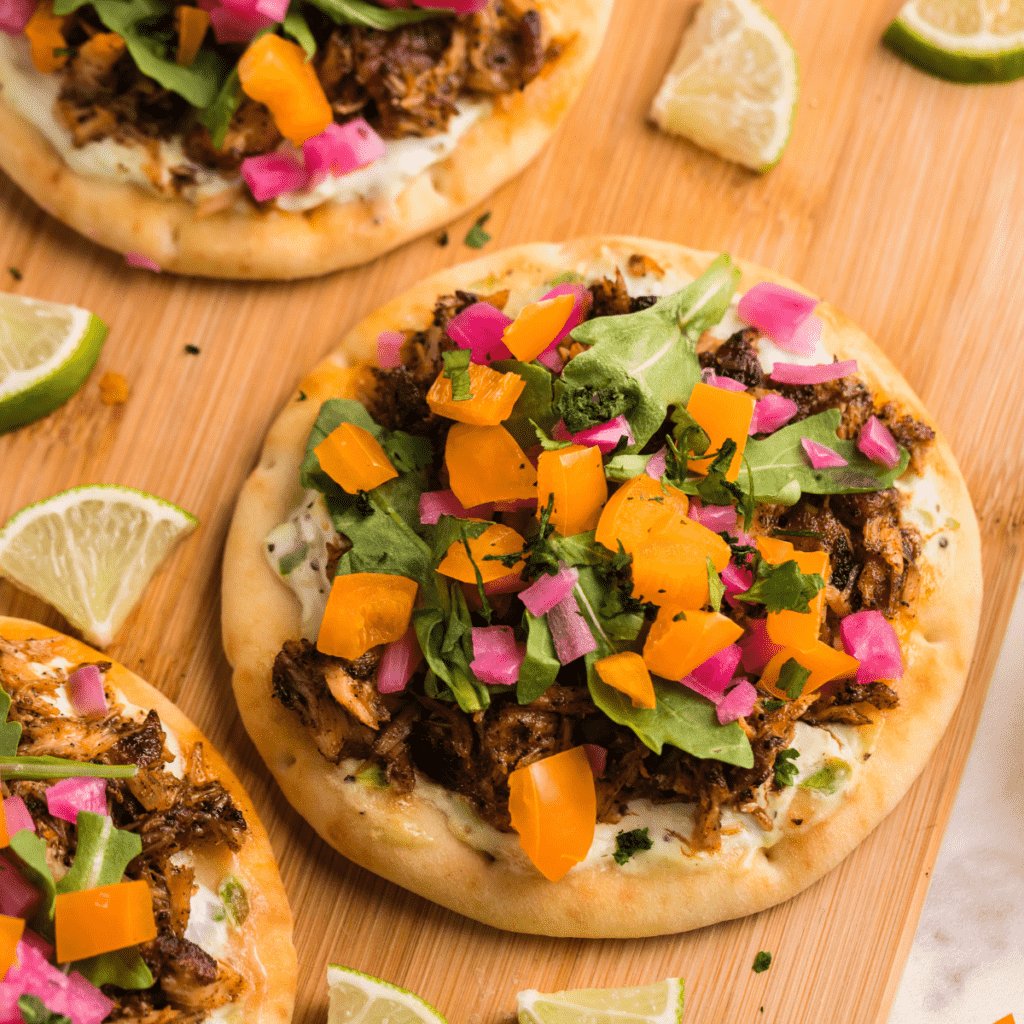 Take your taste buds on a guilt-free journey around the world of flavors – from zesty citrus seasonings to creamy honey mustard glazes – as you whip up these tasty morsels in no time flat. This quick kitchen hack makes it easy to satisfy your cravings without sacrificing nutrition or flavor. So, pull out that air fryer, and let's start making some outrageously delicious air-fried salmon nugget perfection!
The Best Air Fryer Salmon Bites Recipe
Salmon is a popular and healthy seafood choice, and air fryers are versatile kitchen appliances that perfectly cook it. Air fryer salmon bites are a quick and easy dish to enjoy as a snack, appetizer, or part of an easy weeknight dinner.
The air fryer cooks the salmon bites to a crispy golden brown on the outside while keeping them tender and juicy on the inside.
Today, we'll share our favorite recipe for the best air fryer salmon bites, so if you are a salmon lover, this is a recipe for you, and don't forget to check out my Air Fryer Salmon Patties or Air Fryer Frozen Salmon Recipe.
This recipe uses simple ingredients and can be made in minutes, easy enough for the whole family. This makes it perfect for a quick and healthy meal. We'll also share some pro tips for cooking salmon in the air fryer to help you get the ideal texture every time.
Whether you're a seafood lover or just looking to try something new, this recipe is a great way to enjoy salmon in a fun and flavorful way. So get ready to fire up your air fryer, and let's get cooking!
Ingredients Needed For Salmon Nuggets Air Fryer
If you're a fan of seafood but don't have the time or kitchen know-how to prepare it properly, these delicious and simple salmon nuggets made in an air fryer are perfect. These light and flavorful bites offer a healthy alternative to processed fish sticks, using only fresh ingredients with no additives or preservatives.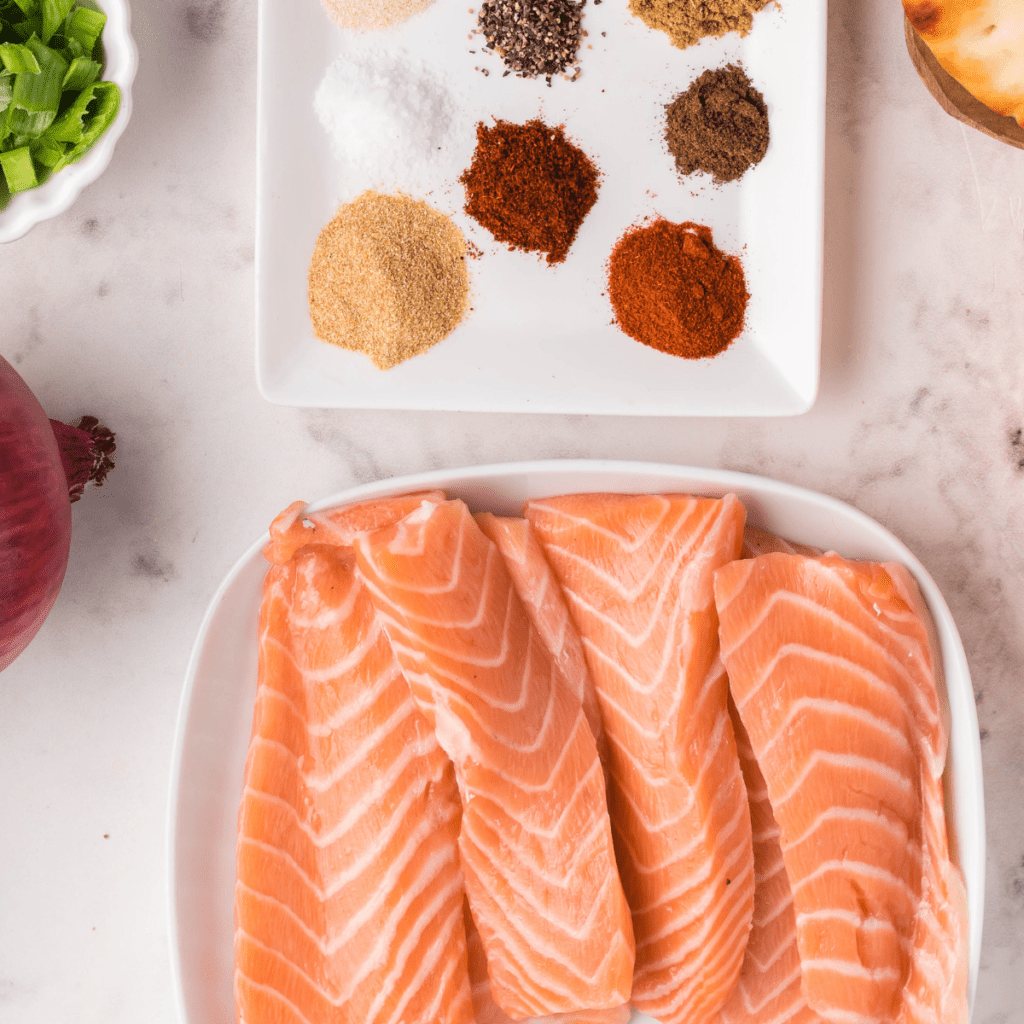 Remember the step-by-step instructions and detailed ingredient listing are below in the printable recipe card at the bottom of the page, as well as the nutritional information.
Salmon Fillets
Blackening Seasoning: Paprika, Ground Cumin, Garlic Powder, Onion Powder, AllSpice, Black Pepper, Sea Salt, and Chili Powder
Olive Oil
Serve With: Lemon Wedges, Tartar Sauce, or Fresh Cilantro
How To Make Crispy Blackened Salmon Bites In Air Fryer
For an easy, healthy, weeknight, must-try recipe for dinner that may surprise you with just how delicious it is, try making this simple yet flavorful dish of crispy blackened salmon bites in the air fryer. Whether you are a fan of seafood or not, these bite-sized morsels will be sure to tantalize your taste buds and leave everyone at the dinner table wanting more!
This recipe is low in calories and full of all the nutrients that heart-healthy salmon provides, like Vitamin D and omega-3 fatty acids. Plus, there's no need to get out a pan; with just one appliance—the air fryer—you can prepare this tasty meal quickly. Read on to find out how!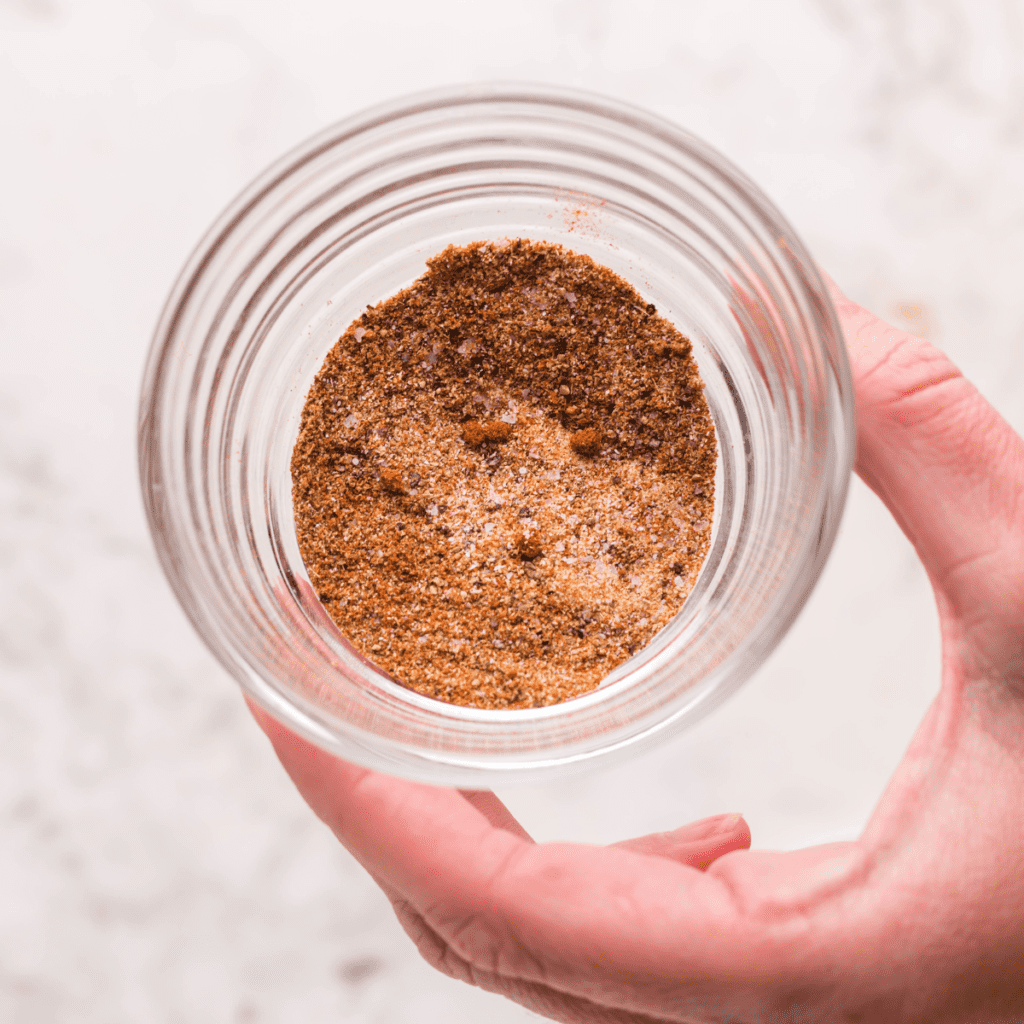 Step One: Season Salmon
Add the blackened seasoning mix in a small bowl, and mix well. Rub the olive oil over the salmon, then coat it with blackened seasoning. Preheat the air fryer to 400 degrees F for 2-3 minutes; either sprays your basket with cooking spray or wait until the air fryer has done preheated, and then line your air fryer basket with parchment paper.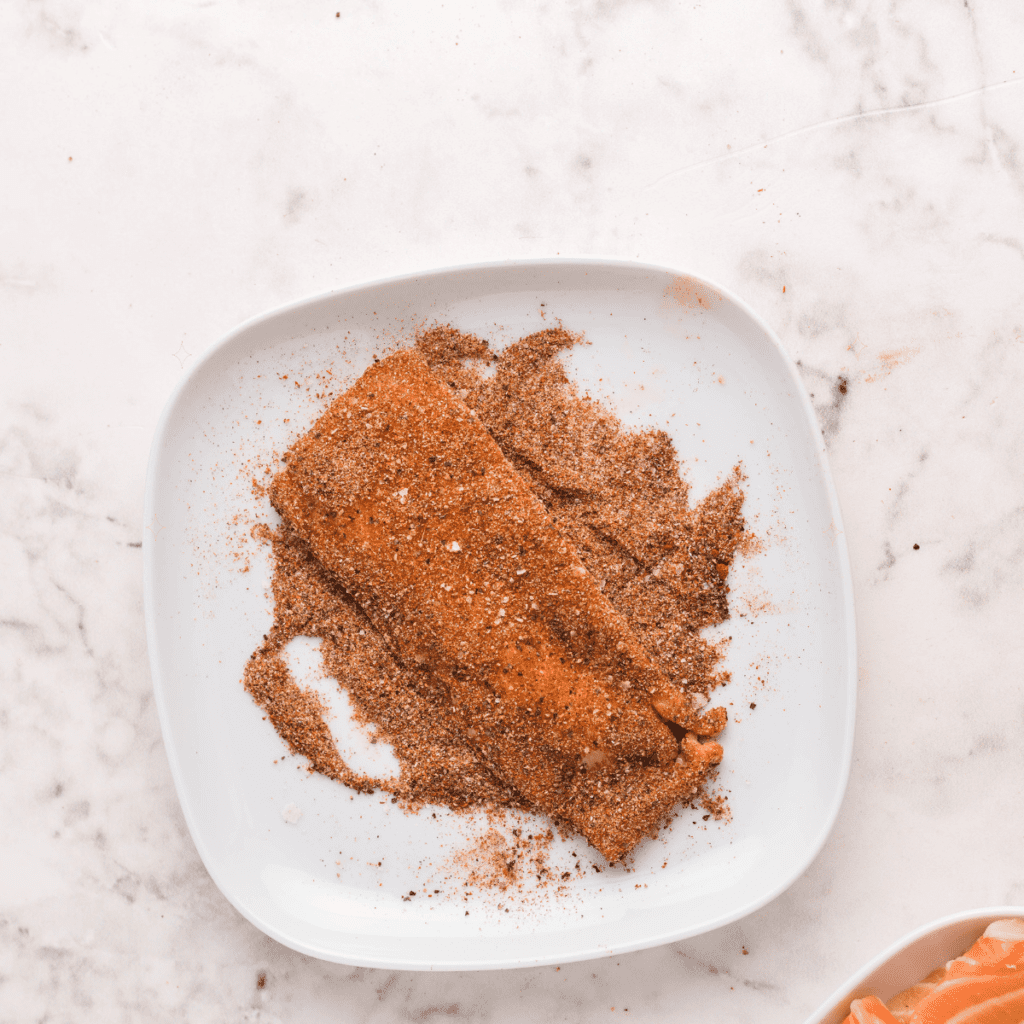 Step Two: Air Fry
Place the salmon filets into the air fryer basket in a single layer, salmon skin down.. Air Fry, The Salmon for a cooking time of 8-10 minutes at 400 degrees F.
Remove when the salmon easily flakes or the internal temperature reaches 145 degrees F, using a meat thermometer. Use a sharp knife to cut the salmon into salmon chunks or salmon pieces.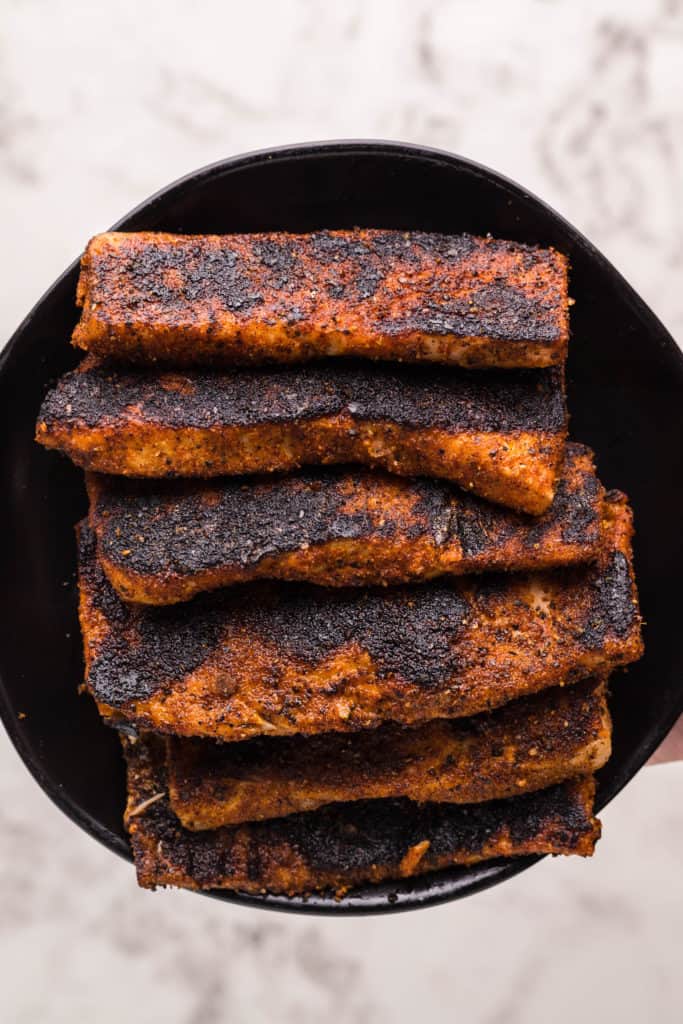 Step Three: Serving
Serve with some lemon wedges, lemon juice, lime just, or fresh cilantro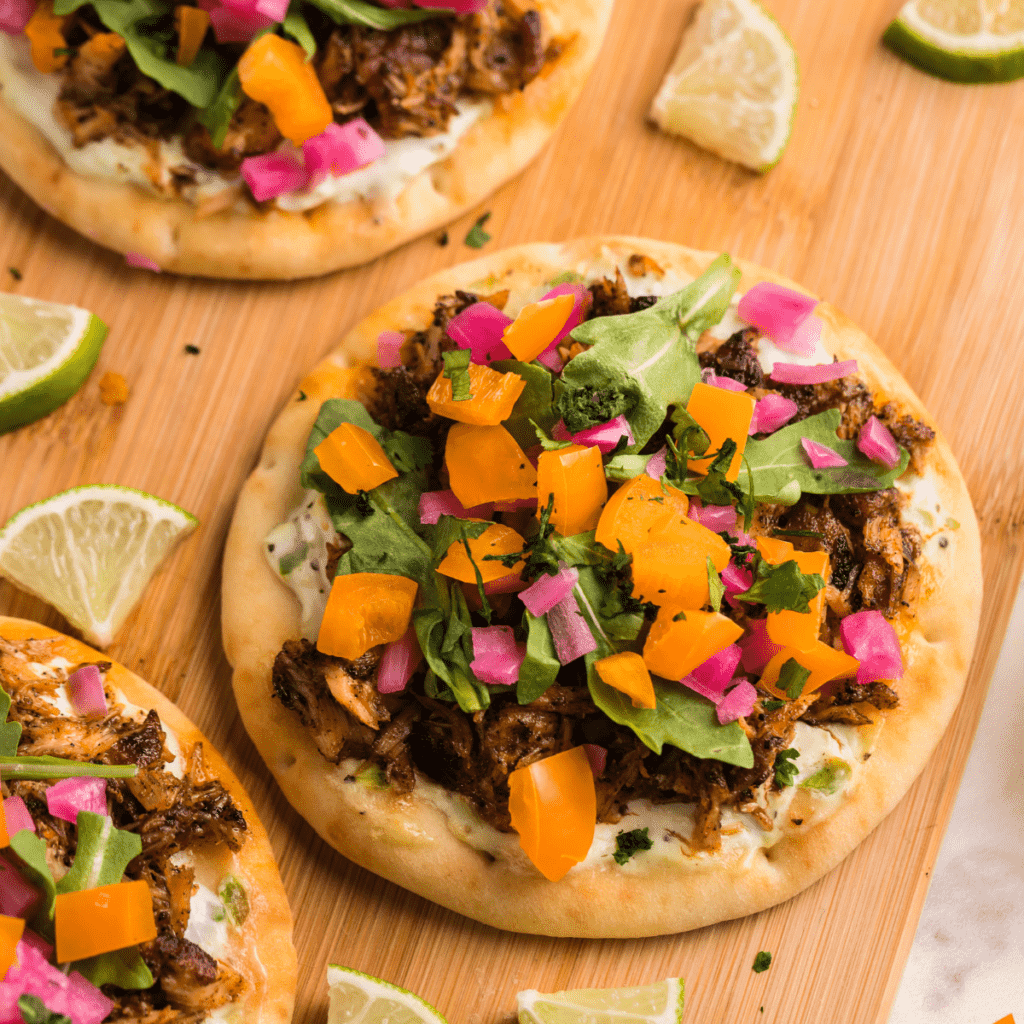 Pro Tips For Easy Air Fryer Salmon Bites
Here are some pro tips to help you make the best air fryer salmon bites:
Use fresh salmon: Fresh salmon is always the best choice for any recipe, especially for air fryer salmon bites. Fresh salmon will have a better texture and flavor compared to frozen salmon.
Cut the salmon into bite-sized pieces: Cutting the salmon cubes helps to ensure that the salmon cooks evenly and quickly in the air fryer.
Preheat the air fryer: Preheating the air fryer to 400°F for 2-3 minutes before cooking will help to ensure that the salmon bites cook evenly and have a crispy exterior.
Brush salmon with oil: Brushing the salmon bites with a little oil will help prevent them from sticking to the air fryer basket and give them a crispy texture.
Season the salmon bites: Seasoning the salmon bites with salt and pepper, or your favorite seasoning blend, will help to enhance their flavor.
Don't overcrowd the air fryer basket: Overcrowding the air fryer basket can lead to uneven cooking and a less crispy texture. Cook the salmon bites in batches if necessary.
Check the internal temperature: Use a meat thermometer to check the internal temperature of the salmon bites. The salmon should be cooked to an internal temperature of 145°F.
Serve with a dipping sauce: Serve the air fryer salmon bites with a delicious dipping sauce like tartar sauce, remoulade, or honey mustard.
Following these tips, you can make easy and delicious air fryer salmon bites that are crispy and tender on the outside.
What To Serve With Air Fryer Salmon Bites
Air fryer salmon bites can be served as a main dish or an appetizer. Here are some delicious sides that pair well with salmon bites:
Air Fryer Vegetables: Serve your salmon bites with steamed vegetables like broccoli, asparagus, or green beans for a healthy and well-balanced meal.
Air Fryer Steakhouse Potatoes: Roasted potatoes are a classic side dish with salmon bites.
Instant Pot Rice pilaf: Rice pilaf is a flavorful side dish that complements the flavors of the salmon bites. Add herbs, vegetables, or nuts to the pilaf for flavor and texture.
Salad: A fresh salad made with mixed greens, cherry tomatoes, cucumbers, and a light vinaigrette dressing is a great way to balance out the richness of the salmon bites.
Coleslaw: A creamy and tangy coleslaw is a perfect complement to the crispy texture of the salmon bites.
Lemon wedges: Serve the salmon bites with lemon wedges on the side to add a bright and citrusy flavor.
These sides are just a few options but feel free to get creative and add your twist to the meal.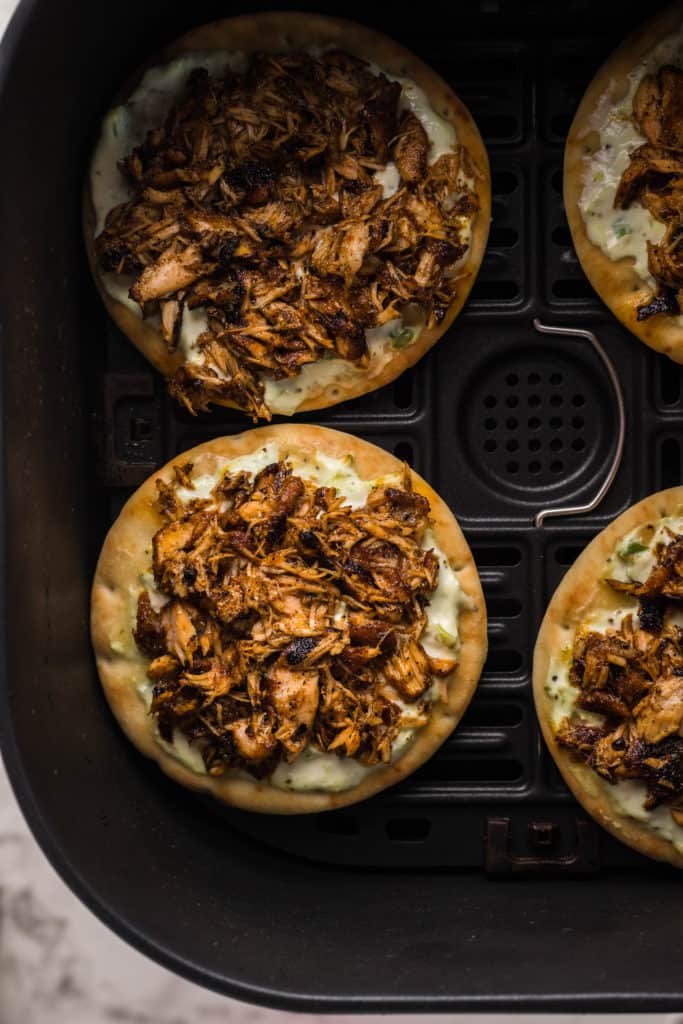 How To Store Leftover Tender Salmon Bites
If you have any leftover air fryer salmon bites, here are some tips on how to store them properly:
Let the salmon bites cool down: Allow them to cool to room temperature before storing them.
Store in an airtight container: Transfer the salmon bites to an airtight container or a freezer bag. Make the container large enough to hold the salmon bites without squishing them.
Refrigerate: Place the container with the salmon bites in the refrigerator. The salmon bites can be stored in the refrigerator for 3-4 days.
Reheat properly: To reheat the salmon bites, preheat the air fryer to 375°F and cook the salmon for 4-5 minutes or until heated. Alternatively, you can reheat the salmon in the microwave or oven.
Following these tips, you can adequately store your leftover air fryer salmon bites and enjoy them again later.
Are Crispy Salmon Bites Healthy
Air fryer salmon bites can be a healthy option if they are made with fresh salmon and minimal oil. Salmon is an excellent source of protein, omega-3 fatty acids, and essential vitamins and minerals. This is a low-carb and keto-friendly healthy dinner.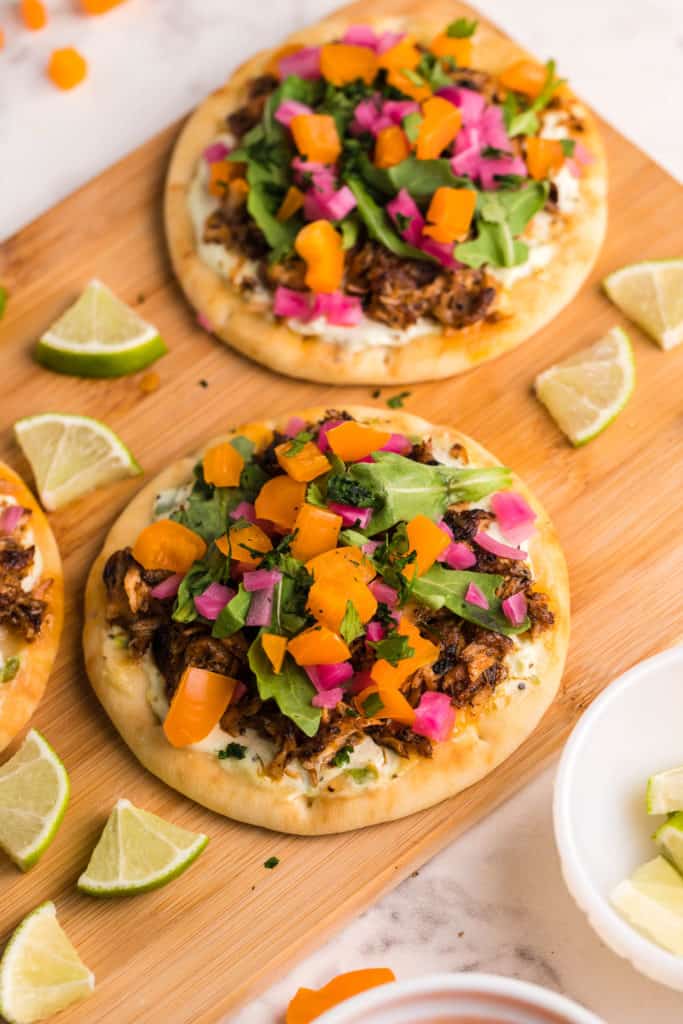 More Air Fryer Recipes
Air fryer salmon nuggets are a delicious and healthy way to enjoy seafood in a fun and flavorful way. You can achieve a crispy and golden brown texture outside with the proper seasoning and cooking techniques while keeping the salmon tender and juicy.
The air fryer cooking method can reduce the amount of oil used compared to traditional frying, making it a healthier option. Whether serving them as an appetizer or as part of a main meal, air fryer salmon nuggets are a versatile dish that can be paired with various sides and dipping sauces. So, get ready to fire up your air fryer and enjoy these delightful salmon nuggets' crispy and tender goodness!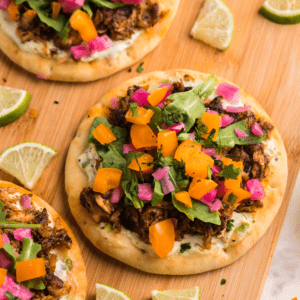 Air Fryer Salmon Nuggets
Description
Craving something savory but don't want to fire up the stove? Enter air fryer salmon nuggets! These delicious snacks are easy to make and packed with protein.
Ingredients
1

pound

salmon filets

2

teaspoons

olive oil
Blackened Seasoning (or Cajun Seasoning)
1/2

teaspoon

paprika

1/2

teaspoon

cumin

1/2

teaspoon

garlic powder

1/2

teaspoon

onion powder

1/4

teaspoon

allspice

1/4

teaspoon

black pepper

1/4

teaspoon

kosher salt

,

or sea salt

1/4

teaspoon

chili powder
Instructions
Add the blackened seasoning mix in a small bowl, and mix well. Rub the olive oil over the salmon, then coat it with blackened seasoning.

Preheat the air fryer to 400 degrees F for 2-3 minutes; either sprays your basket with cooking spray or wait until the air fryer has done preheated, and then line your air fryer basket with parchment paper.

Place the salmon filets into the air fryer basket in a single layer, salmon skin down.. Air Fry, The Salmon for a cooking time of 8-10 minutes at 400 degrees F.

Remove when the salmon easily flakes or the internal temperature reaches 145 degrees F, using a meat thermometer. Use a sharp knife to cut the salmon into salmon chunks or salmon pieces.

Serve with some lemon wedges, lemon juice, lime just, or fresh cilantro
Equipment
Air Fryer,

Air Fryer Basket or Air Fryer Oven
Nutrition
Serving:
1
Serving
Calories:
122
kcal
Carbohydrates:
1
g
Protein:
15
g
Fat:
6
g
Saturated Fat:
1
g
Polyunsaturated Fat:
2
g
Monounsaturated Fat:
3
g
Cholesterol:
42
mg
Sodium:
132
mg
Potassium:
383
mg
Fiber:
0.1
g
Sugar:
0.05
g
Vitamin A:
71
IU
Vitamin C:
1
mg
Calcium:
13
mg
Iron:
1
mg