Air Fryer Pumpkin Donut Holes — Embrace the essence of fall with these delightful Air Fryer Pumpkin Donut Holes, a treat that combines the seasonal charm of pumpkin with the convenience of air frying.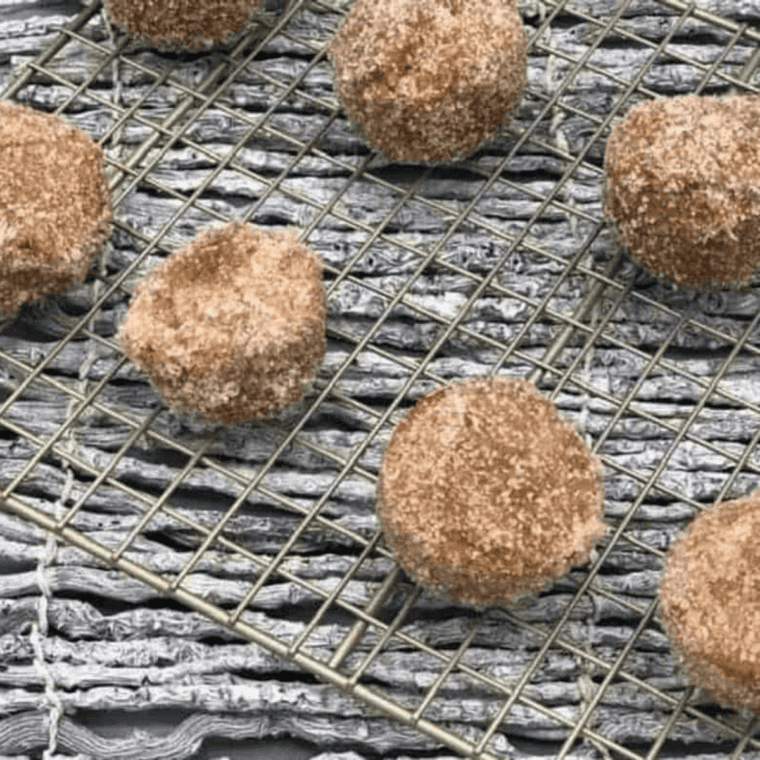 Infused with the warm flavors of pumpkin spice and cooked to perfection in an air fryer, these donut holes offer a healthier alternative to their deep-fried counterparts. They are the perfect blend of a soft, moist interior and a slightly crispy exterior, capturing the cozy feel of autumn in every bite. Whether you're looking for a festive snack, a delicious addition to your brunch table, or a sweet treat to accompany your coffee, these pumpkin donut holes will satisfy your fall cravings. Easy to make and irresistibly tasty, they are an autumnal delight, bringing the season's flavors to your kitchen.
What Are Pumpkin Donut Holes?
Pumpkin Donut Holes are small, bite-sized treats that encapsulate the essence of fall in a deliciously sweet package. Made with pumpkin puree and a blend of warm, aromatic spices like cinnamon, nutmeg, and cloves, these donut holes embody the flavors of the season. They are essentially mini donuts, often rolled in sugar or glazed, and are characterized by their moist, tender crumb rich with pumpkin flavor.
These treats are a popular autumnal snack, dessert, or breakfast item, especially around holidays like Halloween and Thanksgiving. They can be deep-fried, baked, or, for a healthier option, cooked in an air fryer, reducing the oil content without compromising taste and texture. Pumpkin Donut Holes are not only delightful to eat but also fun to make, and their small size makes them perfect for sharing and snacking. Whether you're a pumpkin spice enthusiast or just looking for a cozy, seasonal treat, Pumpkin Donut Holes will surely hit the spot.
If you love a great homemade donut, some of my favorite Air Fryer Donut Recipes are AIR FRYER BAKED VANILLA DONUTS, AIR FRYER NUTELLA DONUTS, AIR FRYER APPLE FRITTERS, and AIR FRYER MAPLE FROSTED DONUTS.
Why You Will Love This Recipe
You will love this Pumpkin Donut Holes recipe for several compelling reasons:
Seasonal Delight: The recipe captures the essence of fall with its pumpkin flavor and aromatic spices. It's perfect for enjoying the cozy, comforting tastes of the season.
Healthier Option: Using an air fryer, these donut holes are cooked with significantly less oil than traditional deep-fried donuts, offering a healthier alternative without sacrificing flavor or texture.
Ease of Preparation: This recipe is straightforward and easy to follow, making it accessible for bakers of all skill levels. It's a great way to enjoy homemade donuts without the fuss of deep frying.
Perfectly Portable and Shareable: Their bite-sized nature makes these pumpkin donut holes ideal for gatherings, potlucks, or quick snacks. They're also great for portion control.
Versatile in Flavor: You can easily customize the recipe by adjusting the spice levels, adding different glazes or toppings, and making each batch unique to your taste preferences.
Deliciously Moist and Flavorful: The pumpkin puree ensures that each donut hole is wonderfully moist and packed with flavor, creating a treat that's as delicious as it is satisfying.
Whether hosting a fall get-together, looking for a festive snack, or simply looking for a seasonal sweet, these Pumpkin Donut Holes will surely be a crowd-pleaser. Enjoy this delightful recipe's perfect combination of convenience, health, and deliciousness.
Ingredients Needed For Air Fryer Pumpkin Donut Holes
Savor autumn flavors with these Air Fryer Pumpkin Donut Holes, a delightful treat that perfectly marries the warmth of pumpkin spices with the convenience of air frying. These donut holes are simple to make and bring a burst of fall coziness to your kitchen. Each of these simple ingredients in this recipe contributes to creating a perfect bite-sized indulgence, ideal for satisfying those seasonal sweet cravings. Here are the ingredients you'll need to whip up these delectable treats: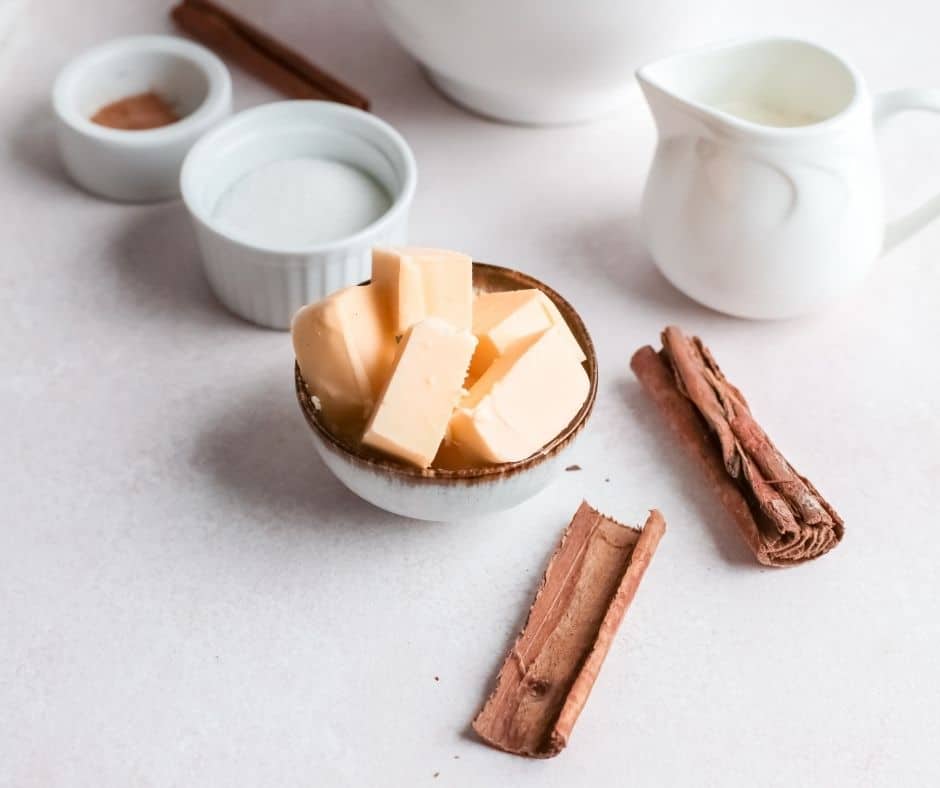 Remember the step-by-step directions and detailed ingredient list are below, in the printable recipe card at the bottom of this post, as well as the nutritional information.
Pumpkin Puree: This adds a rich, moist texture and the quintessential fall flavor to your donut holes.
All-Purpose Flour: Forms the foundation of the donut holes, giving them structure and a soft, cake-like texture.
Granulated Sugar: Sweetens the dough and coats the donut holes after they are air-fried for an extra layer of sweetness. For a sweeter donut, you can use brown sugar.
Baking Powder: Helps the donut holes rise, making them light and fluffy.
Pumpkin Pie Spice: A blend of cinnamon, nutmeg, ginger, and cloves, this spice mix infuses the donut holes with the classic, warm autumn flavors.
Salt: Enhances the overall flavor of the donut holes and balances the sweetness.
Egg: Binds the ingredients together and contributes to the tenderness of the donut holes.
Milk: Adds moisture to the batter, ensuring the donut holes are soft and not dry.
Vegetable Oil: Used in the batter for moisture and helps to create a tender crumb.
Vanilla Extract: Adds a hint of sweet, aromatic flavor that complements the pumpkin and spices.
Topping: Optional: Cinnamon Sugar Mixture or Pumpkin Pie Mixture.
Each ingredient plays a crucial role in achieving these delicious donuts, making them a must-try fall treat. Whether you're enjoying a cozy morning at home or looking for a festive snack, these donut holes will bring joy to your autumn days.
How To Make Air Fryer Pumpkin Doughnut Holes
Making Homemade Donut Holes in an Air Fryer is a delightful and straightforward process with a few simple steps. Here's a step-by-step guide to creating these sweet treats: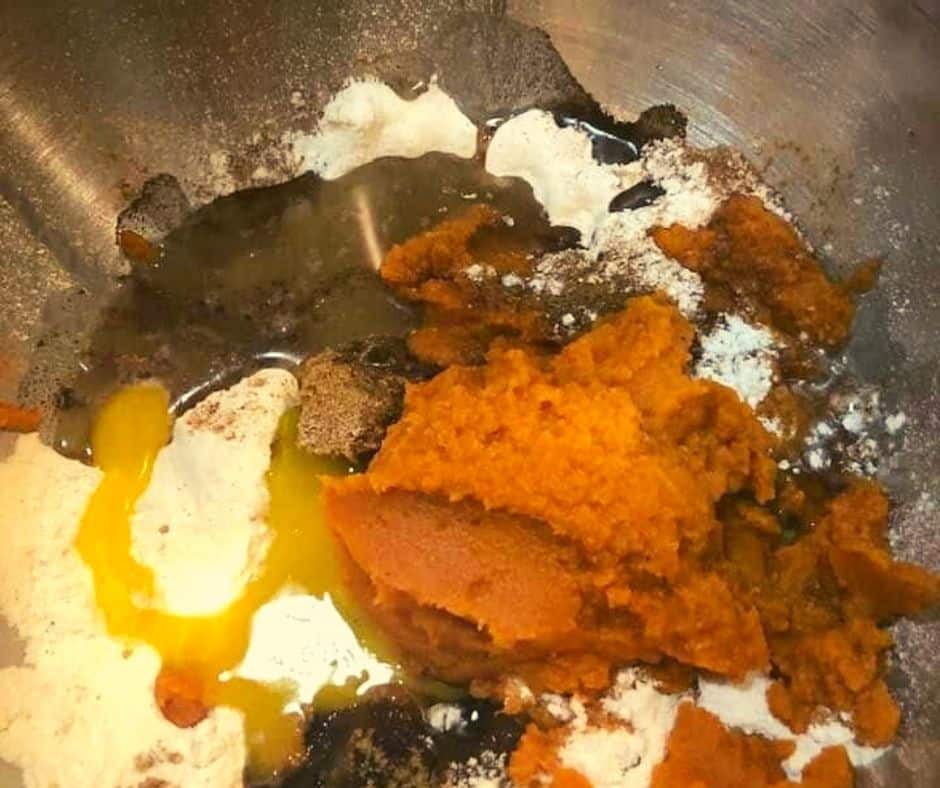 Step 1: Prepare the Batter
Combine the wet ingredients, pumpkin puree, and granulated sugar in a large mixing bowl. Add in the egg, milk, vegetable oil, and vanilla extract, mixing until well combined.
Whisk together the all-purpose flour, baking powder, pumpkin pie spice, and salt in a separate bowl.
Gradually mix the dry ingredients into the wet mixture until a smooth batter is formed.
Preheat the Air Fryer:
Preheat your air fryer to 350 degrees F (175°C) for a couple of minutes. This ensures even cooking of the donut holes.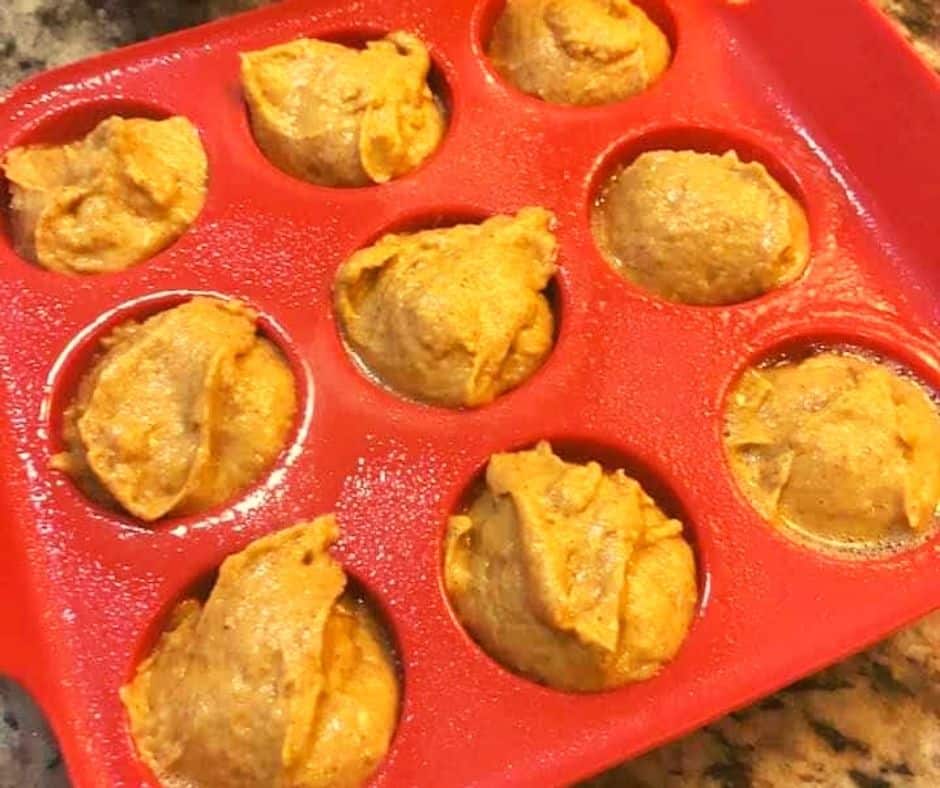 Step 2: Add batter to mold
Shape the Donut Holes:
Form small balls of dough using a small spoon or a cookie scoop. If the dough is too sticky, lightly oil your hands to make handling easier.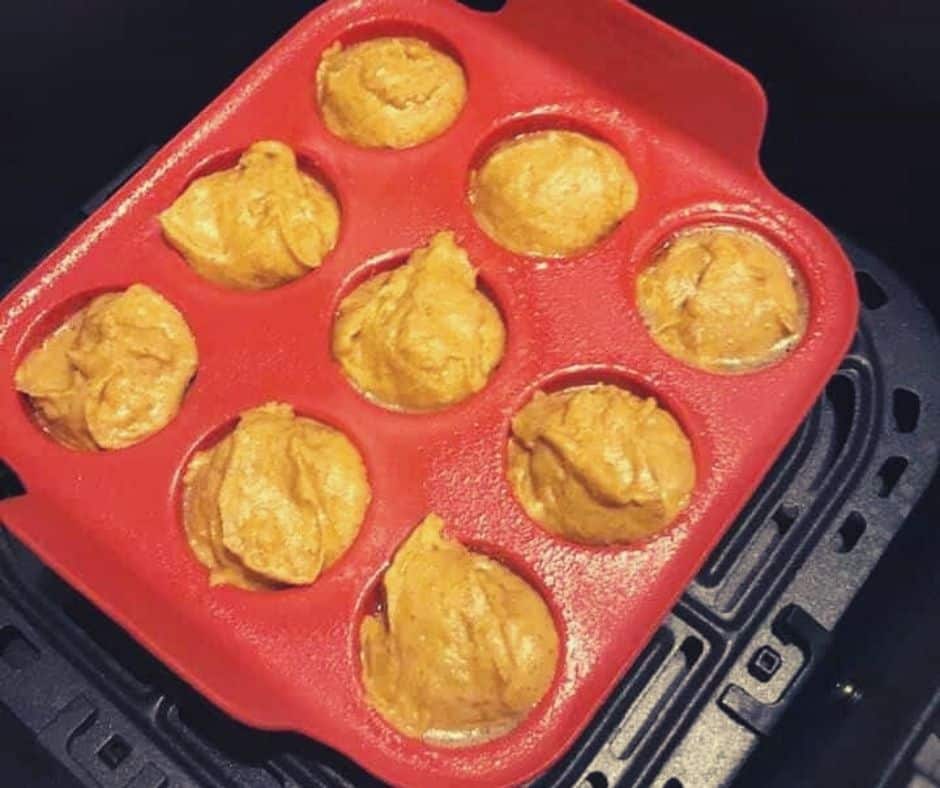 Step 3: Cook in the Air Fryer:
Spray your air fryer basket with non-stick spray. Place the dough balls in the air fryer basket in a single layer, ensuring they are spaced apart for proper air circulation. You may need to cook them in batches to avoid overcrowding.
Air fry for 10-12 minutes or until the golden brown donut holes are cooked through. Halfway through the cooking time, you can gently shake the basket to ensure they brown evenly.
Coat the Donut Holes:
Once cooked, roll the warm donut holes in granulated sugar or a cinnamon-sugar mixture, depending on your preference. Then, let the little donut holes on the wire rack for a few minutes.
Serve and Enjoy:
Serve the donut holes warm for the best flavor and texture.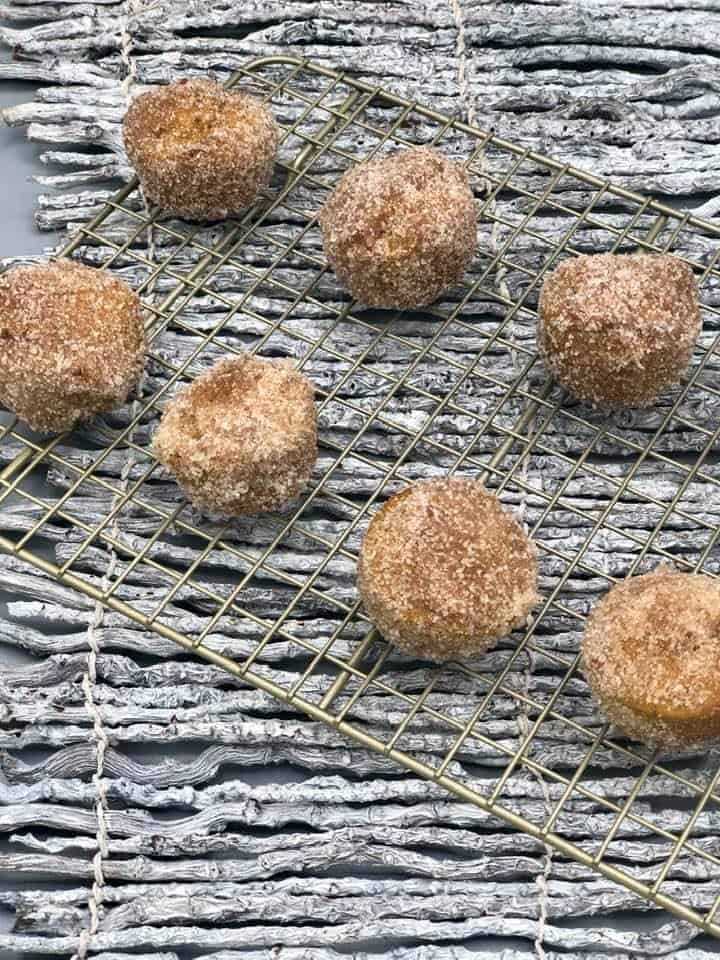 Recipe Variations
Holes. Here are some creative ideas to customize this autumn treat:
Chocolate Glazed Pumpkin Donut Holes: Dip the cooked donut holes in a rich chocolate glaze. Melt chocolate chips with some cream for a smooth, decadent coating.
Maple Cinnamon Sugar: Instead of plain sugar, mix cinnamon with maple sugar or use a blend of granulated sugar and maple syrup for coating. This adds a unique, autumnal sweetness.
Spiced Glaze: Create a glaze using powdered sugar, milk, and additional pumpkin pie spice or cinnamon. Drizzle this over the donut holes for a spiced, sweet finish.
Cream Cheese Filled: Inject a small amount of cream cheese frosting into the center of each donut hole using a piping bag for a creamy surprise.
Vanilla Bean Glaze: Mix powdered sugar with vanilla bean paste and milk to make a fragrant glaze. This adds an elegant flavor that pairs beautifully with pumpkin.
Almond Crunch: After glazing, sprinkle the donut holes with chopped toasted almonds for a nutty texture and flavor contrast.
Espresso Sugar Coating: Mix espresso powder with granulated sugar and roll the cooked donut holes in this mixture for a coffee-infused twist.
Pumpkin Seed Topping: Garnish the donut holes with toasted pumpkin seeds after glazing for an added crunch and a boost of autumn flair.
Caramel Drizzle: A drizzle of caramel sauce over the donut holes can elevate them to a dessert-like treat, perfect for indulging your sweet tooth.
Citrus Glaze: Add a zesty twist with an orange or lemon glaze. Mix citrus juice and zest with powdered sugar for a tangy coating.
These variations on Air Fryer Pumpkin Donut Holes offer delightful ways to enjoy the classic fall flavors, whether you're looking for something sweet, nutty, or with a hint of spice. Each variation brings unique taste and appeal, making these treats perfect for any autumn occasion.
Pro Tips
Creating pumpkin donut holes in an air fryer is a delightful way to enjoy a fall treat with less oil and a quicker cooking time than traditional frying. Here are some pro tips to help you make the perfect air fryer pumpkin donut holes:
Ingredient Temperatures: Ensure your wet ingredients (like eggs or milk) are at room temperature to ensure an even mixture.
Consistent Size: Portion the dough with a small ice cream scoop, a small cookie scoop, or a tablespoon. This ensures that all your donut holes cook at the same rate.
Spice Balance: Pumpkin spice is key in these treats. For a fresher flavor, you can buy pre-mixed pumpkin spice or blend it with cinnamon, nutmeg, ginger, and cloves.
Dough Thickness: The dough should be moist but not too sticky. The donut holes might not hold their shape well if it's too wet. Add a bit more flour if needed, but do so sparingly.
Avoid Overcrowding: Give each donut hole space in the air fryer basket. Air needs to circulate around each one for even cooking and crispiness.
Cooking in Batches: If you have a small air fryer, cook the donut holes in batches to avoid overcrowding.
Shaking the Basket: Halfway through cooking, shake the basket gently to help the donut holes brown evenly.
Checking for Doneness: Use a toothpick to check if the donut holes are cooked through. When inserted into the center, it should come out clean or with a few crumbs.
Coating: Mix sugar with some cinnamon or pumpkin spice for a sugary coating. Roll the warm donut holes in the mixture right after they come out of the air fryer so it sticks well.
Cooking Spray: Lightly spray the donut holes before cooking to help them brown. Use a neutral oil spray that won't add unwanted flavor.
Preheat the Air Fryer: Preheating your air fryer for a few minutes can create a crisper exterior.
Resting Dough: If you have time, let the dough rest for a few minutes before shaping. This can make the dough less sticky and easier to handle.
Serving Warm: Serve them warm for the best taste and texture. If you have leftovers, reheat them for a few minutes in the air fryer to restore their crispiness.
Non-Stick Parchment: Use perforated parchment paper for air fryers to prevent sticking and make cleanup easier.
Customize Your Toppings: Beyond the sugary coating, you can dip the donut holes in a powdered sugar glaze or top them with cream cheese frosting.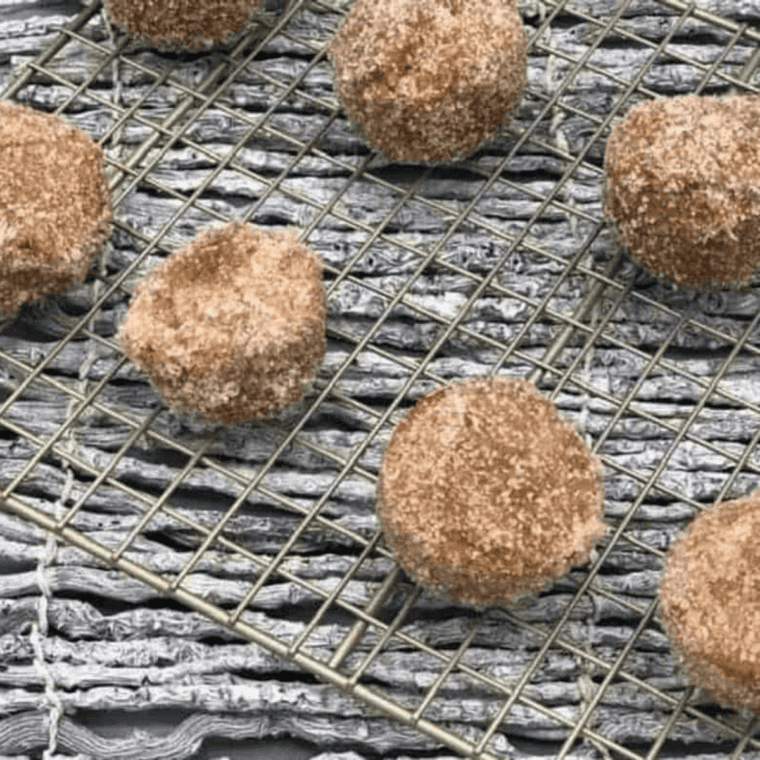 FAQ's
What ingredients do I need for air fryer pumpkin donut holes? Typically, you'll need all-purpose flour, baking powder, salt, pumpkin pie spice (or a blend of cinnamon, nutmeg, ginger, and cloves), canned pumpkin puree, sugar, a neutral oil (like vegetable or canola), an egg, milk, and vanilla extract. For the coating, you might need additional sugar and ground cinnamon.
Do I need canned pumpkin puree, or can I make my own? You can use canned pumpkin puree for convenience, but homemade pumpkin puree works just as well as it's not too watery. Make sure it's pumpkin puree and not pumpkin pie filling with added sugars and spices.
How long do you cook donut holes in the air fryer? Cooking times can vary depending on the air fryer model, but pumpkin donut holes generally take about 8-10 minutes at 350°F (175°C). Always check for doneness by inserting a toothpick into the center of a donut hole to see if it comes out clean.
Can I make the dough ahead of time? Yes, you can prepare the dough ahead of time and store it covered in the refrigerator. However, please bring it back to room temperature before you begin air frying for more even cooking.
Do I need to flip the donut holes halfway through cooking? It's a good idea to shake the basket or flip the donut holes halfway through the cooking time to ensure they brown evenly on all sides.
How do I prevent the donut holes from sticking to the air fryer basket? Use a light cooking oil or nonstick cooking spray on the basket, or place a piece of prepared parchment paper at the bottom. This will help prevent sticking and make for easy cleanup.
Can I use gluten-free flour for this recipe? You can typically substitute all-purpose gluten-free flour in a 1:1 ratio for all-purpose wheat flour. Keep in mind that the texture might be slightly different.
Are air fryer pumpkin donut holes healthier than regular fried donuts? Air fryer donut holes are generally lower in fat because they use significantly less oil than traditional deep-frying methods.
How should I store leftover air fryer pumpkin donut holes? Store them in an airtight container at room temperature for up to two days. You can also refrigerate them for up to a week. Reheat them in the air fryer for a few minutes to restore their crispiness before serving.
Can I freeze air fryer pumpkin donut holes? Yes, once cooled, you can freeze the donut holes on a baking sheet, then transfer them to a freezer-safe bag or container. They can be reheated in the air fryer straight from the freezer.
Equipment Used:
More Air Fryer Recipes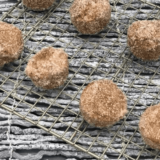 Air Fryer Pumpkin Donut Holes
Description
Pumpkin Donut Holes made in the air fryer are soft, tender bites that are coated in cinnamon sugar. Each of the air fryer donut holes has the perfect amount of pumpkin spices too!
Ingredients
1 3/4

cup

all purpose flour

2

teaspoons

baking powder

1

teaspoon

salt

1

teaspoon

ground cinnamon

1

teaspoon

ground nutmeg

1

teaspoon

ground allspice

1/2

teaspoon

ground cloves

1

teaspoon

pumpkin pie spice

1/3

cup

vegetable oil

1/2

cup

brown sugar

1

egg

1

tablespoon

vanilla extract

3/4

cup

pumpkin puree

,

not pumpkin pie filling

1/2

cup

milk
Coating
4

tablespoons

butter

,

melted

1

cup

sugar

3

tablespoons

ground cinnamon
Instructions
In a large mixing bowl, mix together the flour, baking powder, salt, ground cinnamon, ground nutmeg, allspice, ground cloves, and pumpkin pie spice.

Add in the vegetable oil, brown sugar, egg, and vanilla extract.

Add in the pumpkin and milk, and mix well.

Spray your mold with olive oil spray, or non-stick cooking spray.

Fill the molds with the batter.

Set the filled mold into the air fryer and set the temperature to 320 degrees F (air fryer setting) for 10-12 minutes.

Let cool, before coating them.

In one bowl add the melted butter.

In another bowl, mix together the sugar and ground cinnamon. Then dip the cooled donuts into the melted butter, and then roll them into the cinnamon/sugar mixture.
Equipment
Air Fryer

Parchment Paper,

optional

Cooking Spray
Nutrition
Serving:
1
Serving
Calories:
280
kcal
Carbohydrates:
44
g
Protein:
3
g
Fat:
11
g
Saturated Fat:
4
g
Polyunsaturated Fat:
4
g
Monounsaturated Fat:
3
g
Trans Fat:
0.2
g
Cholesterol:
25
mg
Sodium:
308
mg
Potassium:
100
mg
Fiber:
2
g
Sugar:
27
g
Vitamin A:
2544
IU
Vitamin C:
1
mg
Calcium:
94
mg
Iron:
2
mg
DON'T FORGET TO PIN: