Air Fryer Pickle-Brined Chicken Tenders –Ah, dill pickle juice and chicken tenders meet, the result a delicious and tender chicken tender that the entire family will love.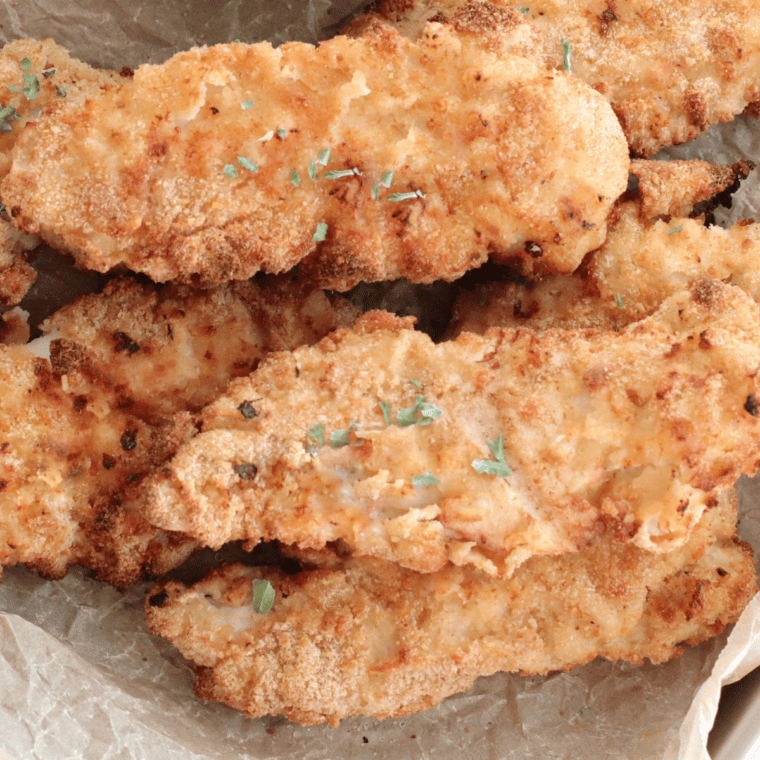 Pickle juice is unique to the chicken; it makes a juicy and tender chicken. Just like the Chick-fil-A Restaurant, where everyone knows the secret ingredient is pickle juice!
I have been air-frying chicken with pickle juice for years, ever since my son, an avid Chick-fil-A eater, was upset one day that they were closed on Sunday. So, I realized soon that the air fryer does a fantastic job crisping chicken tenders.
If you are looking for even more Air Fryer Chicken Tender Recipes, some of my favorites are AIR FRYER BUTTERMILK CHICKEN TENDERS, HOW TO REHEAT MCDONALD'S CHICKEN NUGGETS IN AN AIR FRYER, AIR FRYER CHICKEN NUGGETS (CHICK-FIL-A COPYCAT), and DORITOS AIR FRYER CHICKEN TENDERS.
Why Marinate Your Chicken Tenders In Pickle Juice
Marinating chicken tenders in pickle juice may seem unconventional, but it can be a game-changer for your chicken dishes. Here's why marinating chicken tenders in pickle juice is worth a try:
Tenderizing Effect: Pickle juice is slightly acidic due to the vinegar content. This acidity helps break down the muscle fibers in the chicken, resulting in a more tender and juicy texture. It acts as a natural meat tenderizer without the need for chemical additives.
Flavor Infusion: Pickle juice imparts a unique and tangy flavor to the chicken. The briny, sour, and slightly salty notes complement the mild taste of chicken, adding depth and complexity to the dish. It can be especially appealing for those who enjoy a touch of acidity in their meals.
Moisture Retention: The pickle juice helps the chicken retain moisture during cooking. This means your chicken tenders are less likely to dry out, resulting in a succulent and flavorful final product.
Reduced Sodium Content: While pickle juice does contain salt, using it as a marinade allows you to control the overall sodium content of your chicken dish better compared to using salt directly. You can choose lower-sodium or homemade pickle juice to customize the flavor further.
Quick Marination: Pickle juice can work its magic relatively quickly. Unlike marinades that require hours or overnight marinating, pickle juice can infuse flavor and tenderness into your chicken tenders in as little as 30 minutes to an hour.
Versatility: Marinating in pickle juice can be the basis for various flavor profiles. You can further enhance the taste by adding herbs, spices, or other seasonings to the marinade, allowing you to customize it to your liking.
In summary, marinating chicken tenders in pickle juice can tenderize the meat, infuse it with a unique flavor, and help retain moisture during cooking. It's a versatile and efficient way to elevate your chicken dishes, especially if you enjoy the tangy and slightly salty notes that pickle juice brings.
Ingredients Needed For Air Fryer Pickle-Brined Chicken Tenders
Prepare for a flavorful journey with our Air Fryer Pickle-Brined Chicken Tenders. This recipe combines the classic appeal of crispy chicken tenders with the zesty twist of pickle brine marinade.
With just a handful of ingredients, you'll have a delectable dish perfect for snacking, dipping, or serving as a satisfying meal. Let's dive into the list of ingredients that will transform your chicken tenders into a delightful treat.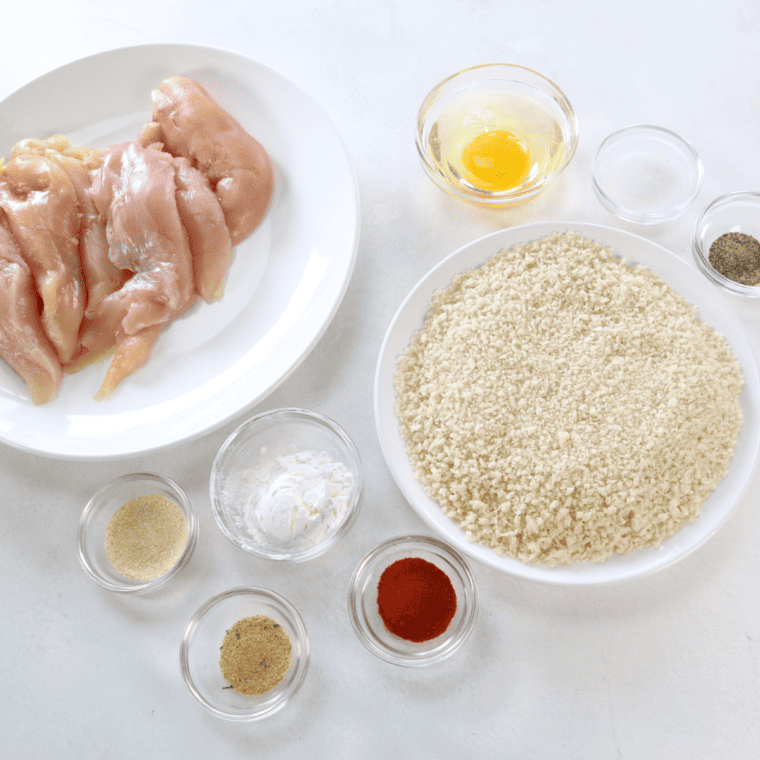 Remember the step-by-step directions and detailed ingredient list are below in the printable recipe card at the bottom of the post, as well as the nutritional information.
Chicken Tenders: Succulent and boneless, chicken tenders are the star of this dish, providing a tender and juicy base for the pickle-brine marinade.
Pickle Brine: The flavorful liquid from your favorite jar of pickles serves as the chicken's marinade and flavor booster, infusing it with a tangy and slightly salty kick.
All-Purpose Flour: Used to coat the chicken before air frying, all-purpose flour adds a crispy texture to the tender chicken tenders.
Paprika: Paprika lends a mild, smoky flavor and a warm, reddish hue to the coating, enhancing the overall taste and appearance.
Garlic Powder: Garlic powder contributes a savory, garlicky essence to the breading, complementing the pickle-brined flavor.
Onion Powder: Onion powder provides a subtle onion flavor that pairs well with the other seasonings and the tangy pickle brine.
Black Pepper: A pinch of black pepper adds a hint of heat and spice to the breading, balancing the flavors.
Salt: Salt seasons the chicken and helps the breading adhere and crispen during the air frying process.
Egg: Whisked eggs act as the binding agent for the breading, ensuring it adhere to the chicken tenderloins.
How To Make Air Fryer Pickle-Brined Chicken Tenders
Prepare to embark on a culinary adventure that combines the crispy satisfaction of chicken tenders with the zesty and tangy twist of pickle brine marinade. Air frying these pickle-brined chicken tenders is not only a healthier cooking option but also a surefire way to achieve that irresistible crunch without excessive oil.
In this recipe, we'll walk you through the simple steps to create a dish perfect for snacking, dipping, or serving as a hearty meal. Let's dive into the kitchen and discover how to make these delectable pickle-infused chicken tenders that will tantalize your taste buds.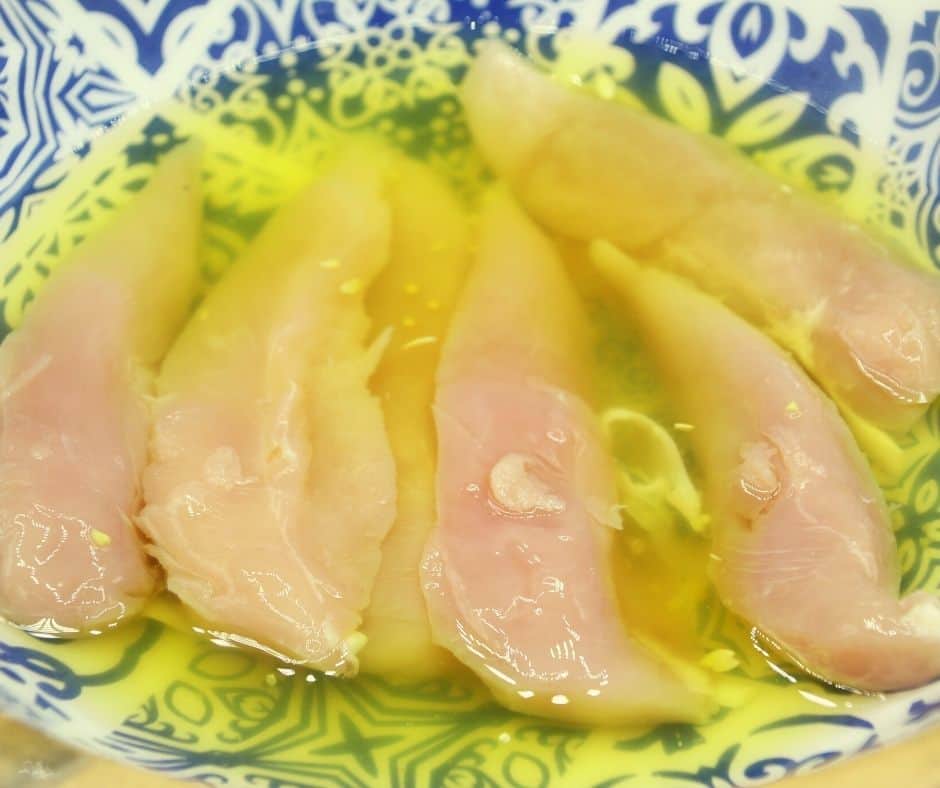 Marinate the Chicken: Place the chicken tenders in a bowl and pour the pickle brine. Ensure the tenders are fully submerged.
Cover the bowl and let them marinate in the refrigerator for at least 30 minutes, or up to 4 hours for more intense flavor.s.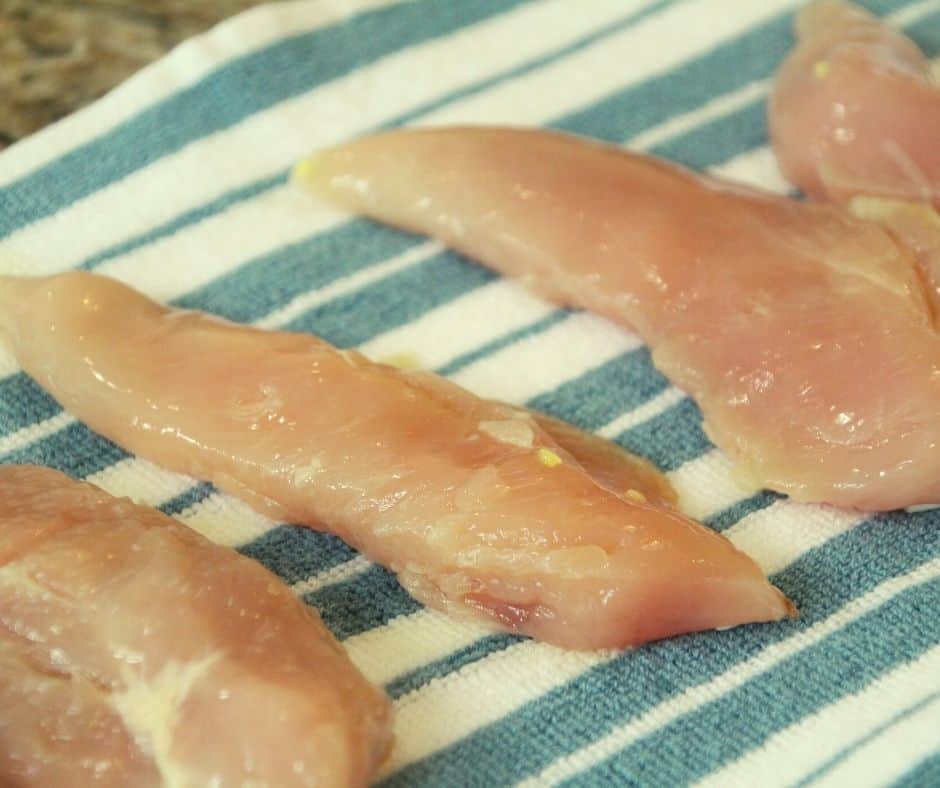 Preheat the Air Fryer: Preheat your air fryer to 400°F (200°C) for about 5 minutes.
Prepare the Breading: In a shallow dish, combine the all-purpose flour, paprika, garlic powder, onion powder, black pepper, and salt. Mix well to create the seasoned breading mixture.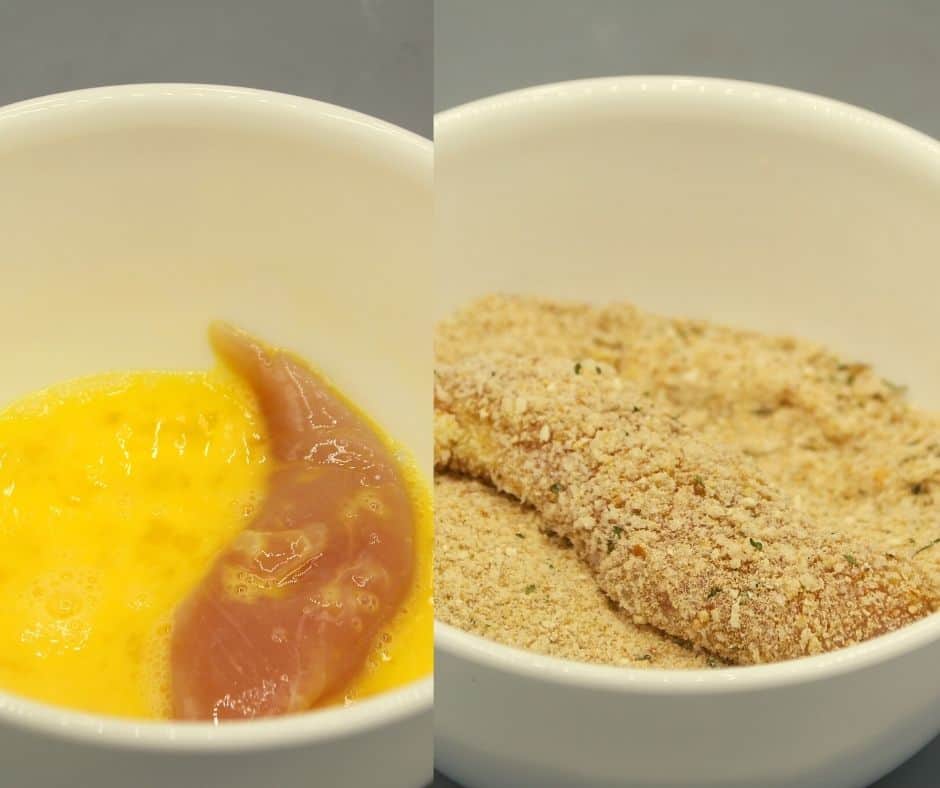 Bread the Chicken: Remove the marinated chicken tenders from the pickle brine and pat them dry with a paper towel. Dip each tender into the beaten eggs, allowing any excess to drip off, and then coat it thoroughly with the seasoned breading mixture. Ensure an even coating.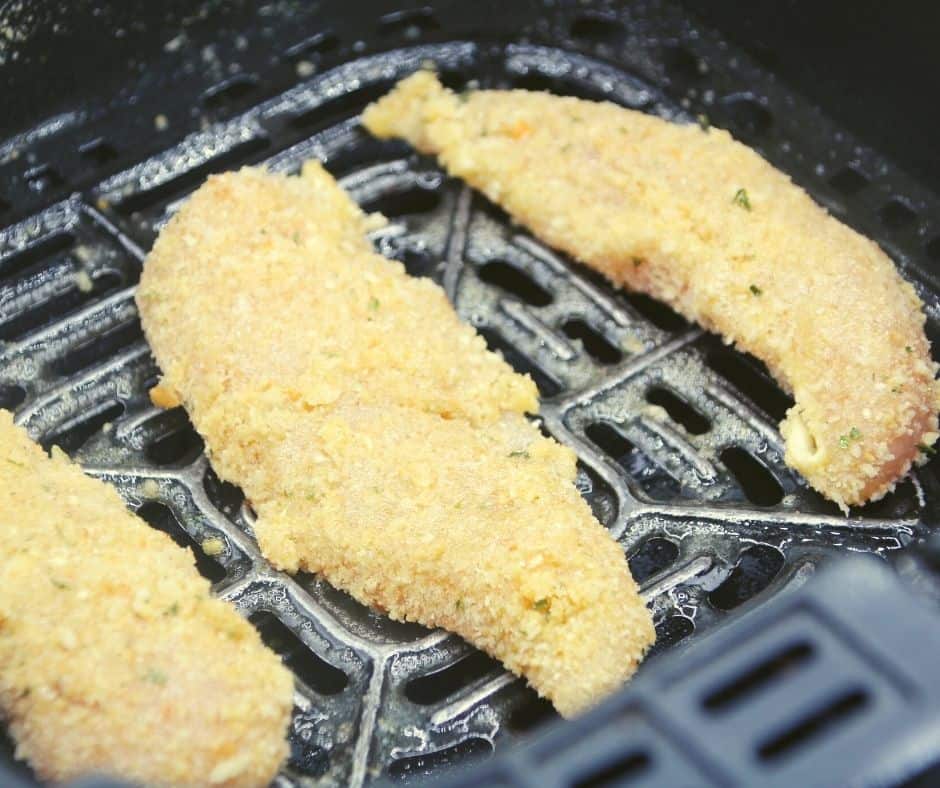 Air Fry the Tenders: Carefully place the breaded chicken tenders into the preheated air fryer basket. Arrange them in a single layer, making sure they don't overlap. Cook in batches if necessary.
Air Fry to Perfection: Air fry the chicken tenders at 400 degrees F (200°C). Set cook time for 10-12 minutes, flipping them halfway through to ensure even cooking. The tenders are ready when golden brown, crispy, and have an internal temperature of 165°F (74°C).
Serve Hot: Remove the pickle-brined chicken tenders from the air fryer and let them cool for a moment. Serve them hot with your favorite dipping sauce, ranch, honey mustard, or barbecue sauce.
These Air Fryer Pickle-Brined Chicken Tenders are irresistibly crispy and bursting with tangy pickle flavor. Whether enjoyed as a snack or part of a meal, they will surely be a crowd-pleaser.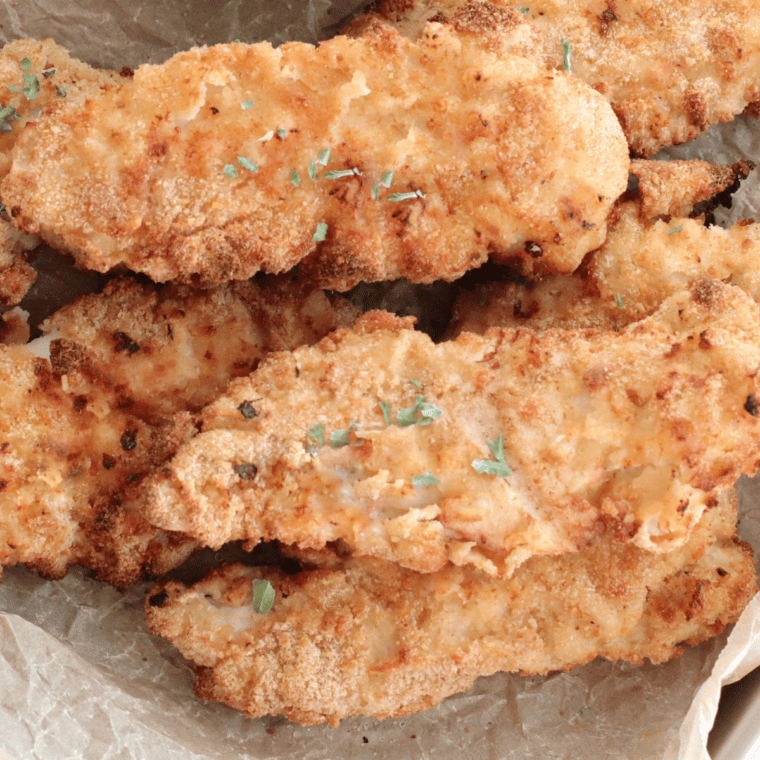 Pro Tips Air Fryer Pickle-Brined Chicken Tenders
Don't Rush the Marinating Process: To fully infuse your chicken tenders with that delightful pickle flavor, be patient with the marinating time. While 30 minutes is the minimum, allowing them to marinate for up to 4 hours in the pickle brine will yield the best results.
Pickle Brine Selection: The quality and flavor of your pickle brine matter. Use brine from pickles you genuinely enjoy, as it will influence the taste of your chicken tenders. Experiment with different pickle varieties to find your favorite.
Pat Dry Before Breading: After marinating, pat the chicken tenders dry with a paper towel before breading. Excess moisture can prevent the breading from adhering properly and may result in a less crispy texture.
Evenly Coat the Tenders: When breading the chicken, ensure an even coating of the seasoned flour mixture. This helps achieve uniform crispiness and flavor throughout.
Preheat the Air Fryer: Preheating the air fryer is crucial for consistent cooking. It allows the chicken tenders to start crisping immediately when placed in the basket.
Avoid Overcrowding: Arrange the breaded tenders in a single layer in the air fryer basket. Overcrowding can lead to uneven cooking and less crispy results. Cook in batches if needed.
Use a Meat Thermometer: For perfectly cooked chicken tenders, use a meat thermometer to check their internal temperature. They should reach 165°F (74°C) to ensure they're safe to eat while remaining juicy.
Serve with Dipping Sauces: Elevate the flavor by serving your pickle-brined chicken tenders with a variety of dipping sauces. Classic choices like ranch, honey mustard, or barbecue sauce complement the tangy pickle infusion wonderfully.
By following these pro tips, you'll master the art of making Air Fryer Pickle-Brined Chicken Tenders that are not only crispy and delicious but also brimming with that signature pickle zing. Enjoy your homemade crispy delights!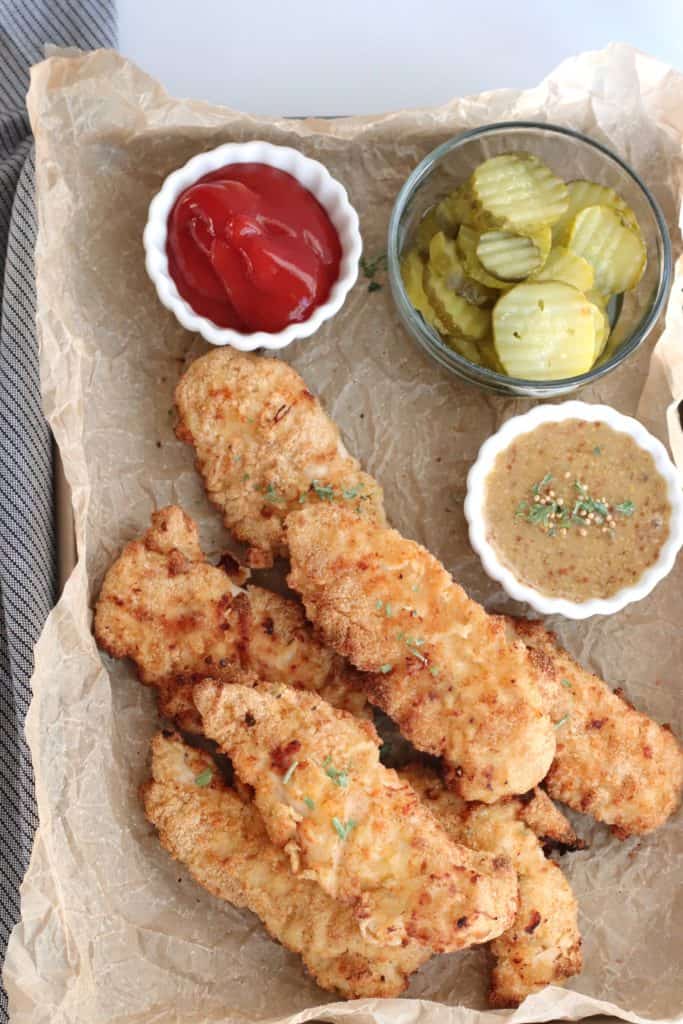 Can I use frozen chicken tenders for this recipe?
While it's best to use fresh chicken tenders for marinating and breading, you can use frozen tenders with a few adjustments. Thaw and pat them dry before marinating to ensure the pickle brine can penetrate the meat effectively.
Can I make these chicken tenders gluten-free?
Absolutely! To make gluten-free pickle-brined chicken tenders, substitute all-purpose flour with a gluten-free blend or almond flour. Ensure the pickle brine and any additional seasonings are also gluten-free.
How do I prevent the breading from sticking to the air fryer basket?
To prevent sticking, lightly coat the air fryer basket with cooking spray or oil brush before placing the breaded chicken tenders inside. This helps create a barrier and ensures they cook evenly without sticking.
What's the best way to reheat leftover pickle-brined chicken tenders?
To maintain their crispiness, reheat leftover tenders in the air fryer at 350°F (175°C) for a few minutes until heated. This method revives their crunchiness better than a microwave.
Can I use pickle juice from homemade pickles for the brine?
Yes, homemade pickle juice works perfectly for the brine. It can add a unique flavor profile to your chicken tenders, allowing you to experiment with different pickle recipes and flavors.
Can I use pickle brine for marinating other meats besides chicken tenders?
Certainly! Pickle brine can infuse flavor into meats like chicken breasts, pork chops, or fish fillets. Adjust the marinating time depending on the thickness of the meat for optimal results.
How long do these tenders stay crispy after cooking?
While they're best enjoyed fresh from the air fryer for maximum crispiness, you can store any leftovers in an airtight container in the refrigerator. Use the air fryer or oven to reheat and regain some of the crispiness.
More Air Fryer Recipes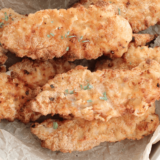 Air Fryer Pickle-Brined Chicken Tenders
Description
This is a great and easy pickle brine chicken recipe, reminding me of my son's favorite Chicken Restaurant. Enjoy!
Ingredients
1

pound

chicken tenders

1

cup

dill pickle juice

1

teaspoon

salt

1/2

teaspoon

black pepper

1

cup

seasoned bread crumbs

1

cup

panko bread crumbs

Cooking Spray
Instructions
In a large bowl, add your chicken tenders and cover them with pickle juice—cover and refrigerator for about 30 to 60 minutes.

Dry the chicken off with a kitchen towel or paper towel.

In one bowl, add the egg and egg white, salt, and black pepper beat well with a fork. In the other bowl, add the bread crumbs and panko.

Dip the dried chicken into the egg mixture and then into the bread crumb mixture.

Preheat your air fryer to 400 degrees F, air fryer setting, Then spray your basket with cooking spray, add your chicken and coat the coating GENEROUSLY with cooking spray. Set the time for 8 to 10 minutes, .flipping and spraying once during the cooking process.

Plate, serve, and enjoy!
Equipment
Air Fryer

Cooking Spray

Parchment Paper,

optional
Nutrition
Serving:
1
Serving
Calories:
129
kcal
Protein:
24
g
Fat:
3
g
Saturated Fat:
1
g
Polyunsaturated Fat:
0.5
g
Monounsaturated Fat:
1
g
Trans Fat:
0.01
g
Cholesterol:
73
mg
Sodium:
132
mg
Potassium:
420
mg
Vitamin A:
34
IU
Vitamin C:
1
mg
Calcium:
6
mg
Iron:
0.4
mg