Do you love snickerdoodle cookies, but hate all of the hassle that goes into making them? Well, with your air fryer, you can make amazingly delicious and crispy cookies in no time at all! This recipe is simple to follow and only requires a few basic ingredients. So go ahead and give it a try – your family and friends will be amazed!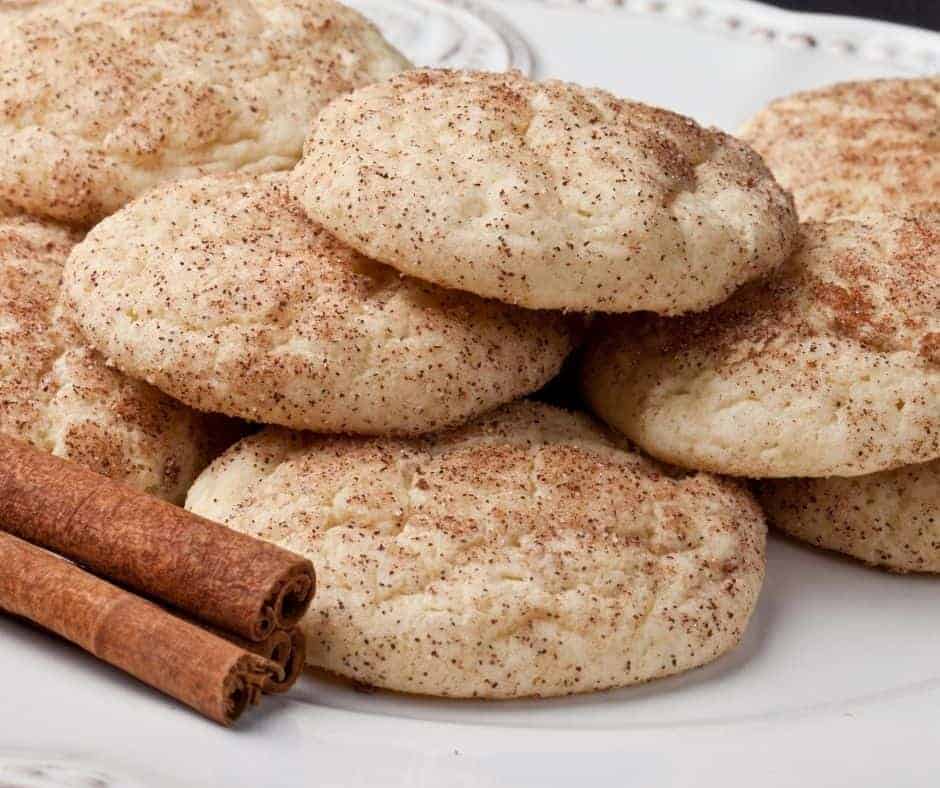 Air Fryer Homemade Snickerdoodle Cookies are amazing! If you love cookies, you will truly love this recipe!
Baked up perfectly in the Air Fryer, these cookies are truly breathtaking!
Soft and Chewy, these are the perfect cookie, and if you love Snickerdoodles, let me tell you there is no better way to make them!
In less than 10 minutes, you can have a fresh batch of cookies that you can share (if you want to) with your family!
If you are looking for even more Air Fryer Cookie Recipes, some of my favorites are AIR FRYER COPYCAT DOUBLETREE COOKIES, and AIR FRYER BREAKFAST COOKIES, AIR FRYER STARBUCKS CRANBERRY BLISS BARS COPYCAT RECIPE, and AIR FRYER CHRISTMAS BUTTER SPRINKLE COOKIES.
What Is A Snickerdoodle Cookie?
A Snickerdoodle Cookie is a cookie prepared with butter, granulated sugar, salt, and flour and then baked up and rolled in cinnamon and sugar!
They are light cookies with a slight crisp to them, but they are known for being soft and delicious cookies with lots of flavors.
Why is it called a Snickerdoodle?
According to Wikipedia, they are called Snickerdoodles because it comes from the German word, Schneckennudeln, which means snail noodles. No idea how that translated, but obviously, the name stuck.
But at least the name is fun to say!
Ingredients Needed For Air Fryer Homemade Snickerdoodle Cookies
The Air Fryer has quickly become one of my favorite kitchen appliances. I love that it cooks food evenly and with minimal oil. Plus, cleanup is a breeze! So when I saw a recipe for Snickerdoodle Cookies that could be made in the air fryer, I knew I had to try it. This post will share the ingredients needed and steps needed to make these delicious cookies in your air fryer. Enjoy!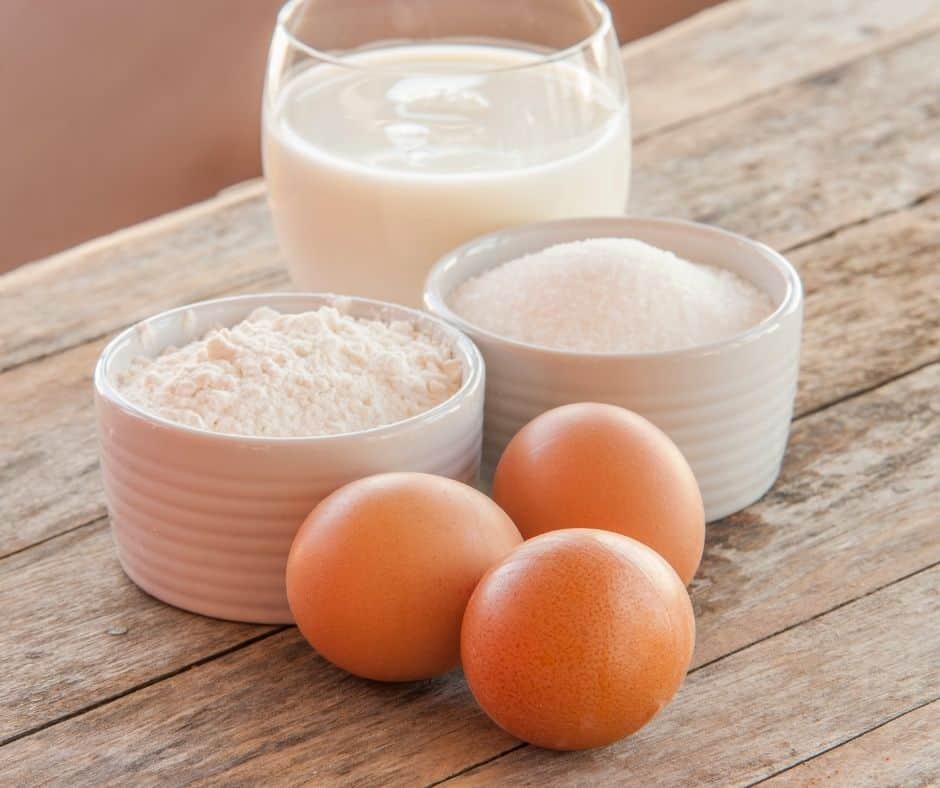 Butter: Use unsalted room temperature butter, which is easier to cream.
Granulated Sugar: You can also use a sugar substitute, such as Splenda or another sugar alternative.
Eggs: Use large, room-temperature eggs.
Pure Vanilla Extract: For best results, use pure vanilla extract.
All-Purpose Flour: If you want to make gluten-free Snickerdoodles, you can use gluten-free all-purpose flour.
Cream of Tartar
Baking Soda: Use fresh baking soda.
Salt: Adds some flavor:
Ground Cinnamon: The signature topping for Snickerdoodle Cookies!
FOR THE FULL RECIPE & INGREDIENT LIST, KEEP ON SCROLLING UNTIL YOU GET TO A RECIPE CARD BELOW–
How To Cook Snickerdoodle Cookies In the Air Fryer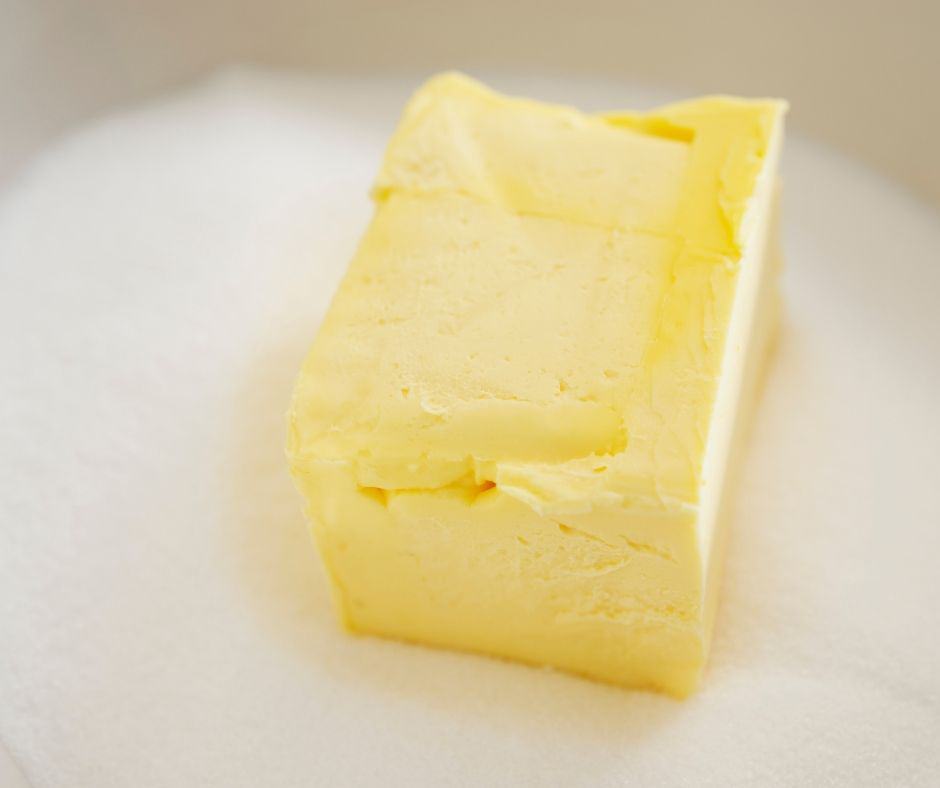 Start by creaming the butter and sugar in a large mixing bowl.
Then add in the eggs, vanilla, flour, cream of tartar, baking soda, and salt, and mix well.
Mix well, dip the cookies into the sugar/ground cinnamon mixture, and roll around, so all sides are covered.
As you make them, place them on a greased air fryer pan or in a greased air fryer basket.
Set the tray in the oven or place the basket back into the air fryer. Set the temperature to 340 degrees F, air fryer setting, for 4 minutes.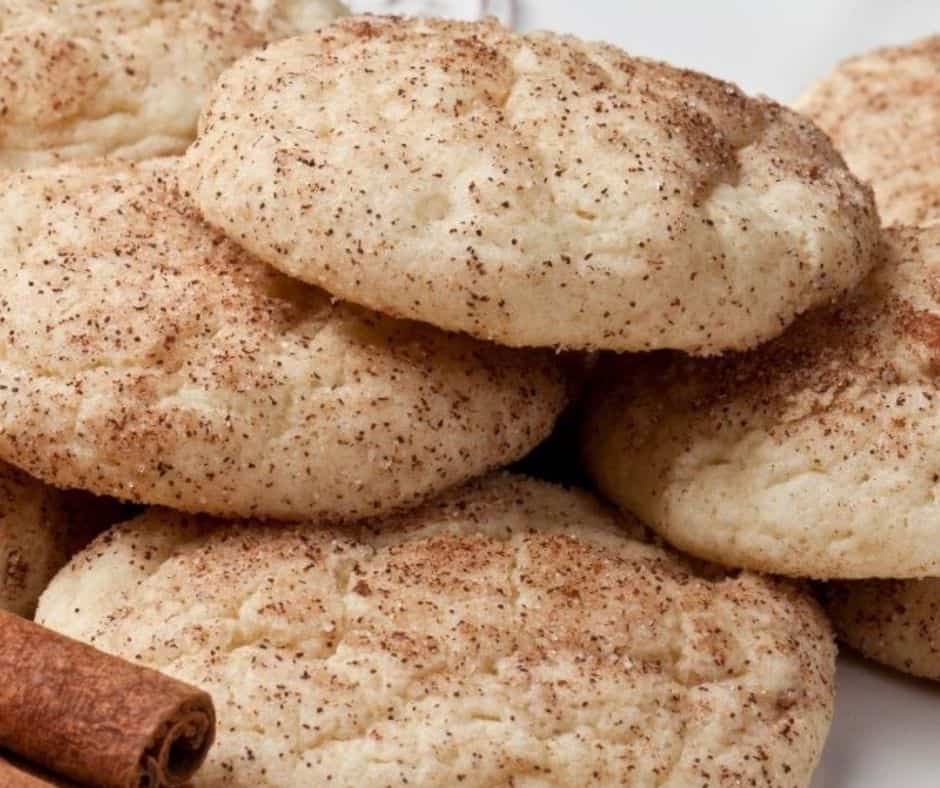 How To Keep Snickerdoodle Cookies Soft
There is nothing worse than making a batch of cookies, only to find that they go hard. So, to keep Snickerdoodle Cookies soft, like they are supposed to be, here are some hints:
Do not overbake them. When they start to harden up, remove them from the air fryer, as they will harden as they cool down.
Let them sit in the air fryer for a couple of seconds to harden up, then remove.
Place them into an airtight container or sealable bag to keep them soft. They will keep at room temperature for about 3 days.
Snickerdoodle Cookie Recipe Without Cream Of Tartar
While we might not all keep cream of tartar on hand, it is a vital ingredient for a true Snickerdoodle cookie.
If you do not have it, you can use lemon juice or white vinegar for it. It will provide the same tangy flavor that a traditional snickerdoodle cookie has.
How To Store
To keep them soft, you need to transfer them into an airtight container and leave them on the counter.
They will last for about 2 to 3 days before they start to harden.
Can You Freeze Snickerdoodles?
Yes, it's a great cookie to freeze. They will last between 2 to 3 months in your freezer. To freeze correctly, let them cool to room temperature and then place them in an airtight container.
To use from frozen: Thaw them in the refrigerator or counter, and then consume.
How To Make Cookies In An Air Fryer Basket or Tray
The real key to making cookies lies with parchment paper, which is sold in two forms; depending on which air fryer you own and what your Air Fryer Instructions or manual Recommends,
Reynolds Kitchens Cookie Baking Sheets, Pre-Cut Parchment Paper, 25 Sheets (Pack of 4), 100 Total Sheets
Air Fryer Parchment Paper: 200Pcs 7.5 inch Air Fryer Liners Parchment Paper for Air Fryer Perforated Parchment Paper for Air Fryer Parchment Paper…
More Air Fryer Cookie Recipes
If you're looking for some delicious new recipes to try out in your air fryer, look no further! In this post, we've collected some of our favorite air fryer cookie recipes. From chocolate chip cookies to sugar cookies, there's something for everyone here. So grab your apron and let's get baking!
Don't Forget To Pin-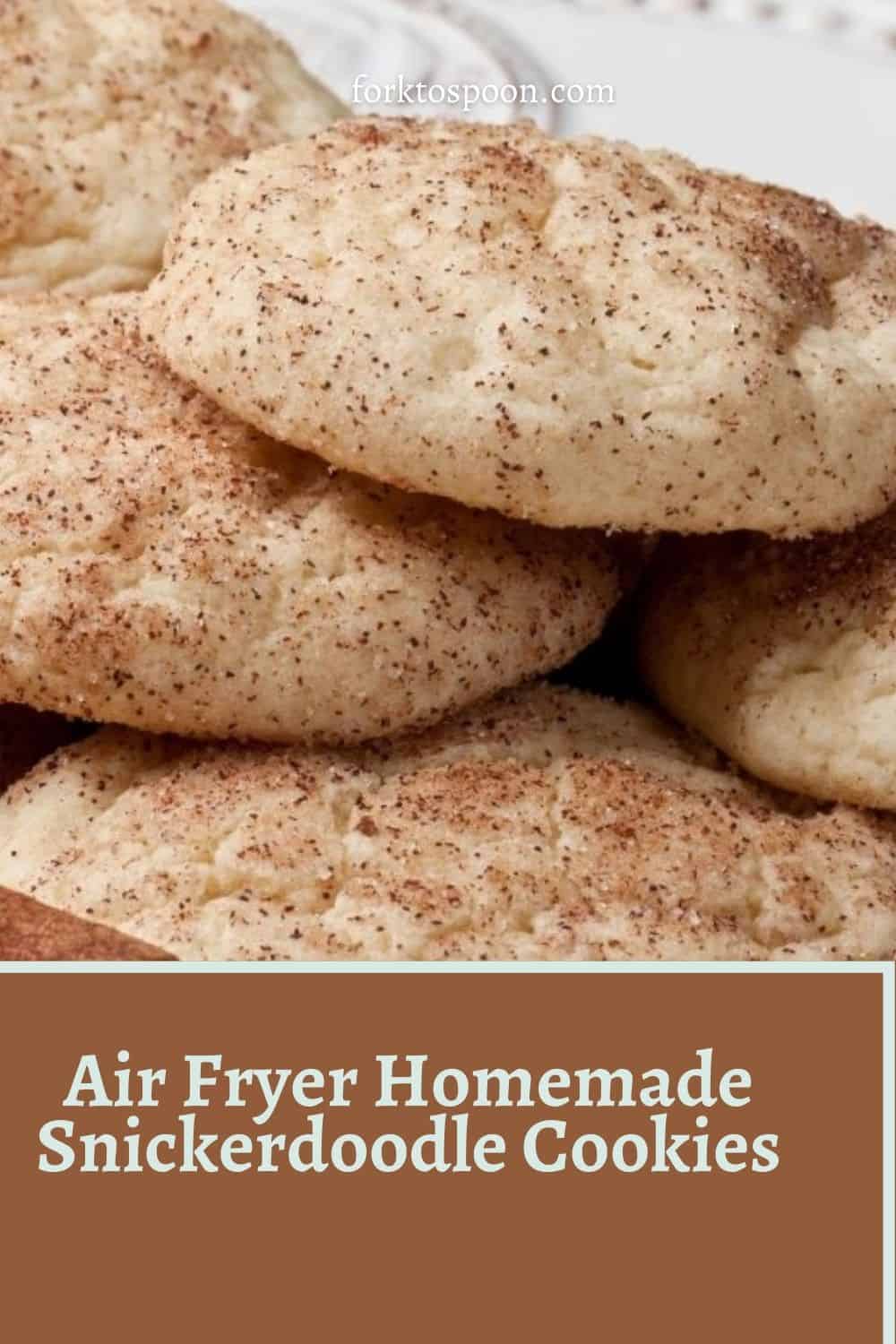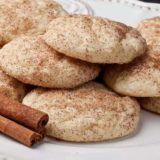 Air Fryer Homemade Snickerdoodle Cookies
Description
Air Fryer Homemade Snickerdoodle Cookies are amazing! If you love cookies, you will truly love this recipe!
Ingredients
1

cup

butter

,

room temperature

1 1/2

cup

granulated sugar

2

large

eggs

2

teaspoons

pure vanilla extract

2 3/4

cup

all-purpose flour

1

teaspoon

cream of tartar

1/2

teaspoon

baking soda

1

teaspoon

salt
Cinnamon Mixture:
1/4

cup

granulated sugar

1

teaspoon

ground cinnamon
Instructions
Start by creaming the butter and sugar in a large mixing bowl.

Then add in the eggs, vanilla, flour, cream of tartar, baking soda, and salt, mix well.

Mix well, Then dip the cookies into the sugar/ground cinnamon mixture., roll around so all sides are covered.

As you make them, place them on a greased air fryer pan or in a greased air fryer basket. (or use parchment paper)

Set the tray in the oven or place the basket back into the air fryer, set the temperature for 340 degrees F. for 4 minutes. (air fryer setting)
Equipment
Air Fryer

Cookie Parchment Paper
Nutrition
Serving:
1
g
Calories:
184
kcal
Carbohydrates:
26
g
Protein:
2
g
Fat:
8
g
Saturated Fat:
5
g
Polyunsaturated Fat:
0.4
g
Monounsaturated Fat:
2
g
Trans Fat:
0.3
g
Cholesterol:
36
mg
Sodium:
187
mg
Potassium:
45
mg
Fiber:
0.4
g
Sugar:
15
g
Vitamin A:
259
IU
Vitamin C:
0.003
mg
Calcium:
8
mg
Iron:
1
mg