This is one of my favorite breakfasts that I usually make at least once a week for my family. This is a simple Air Fryer Cinnamon Baked French Toast.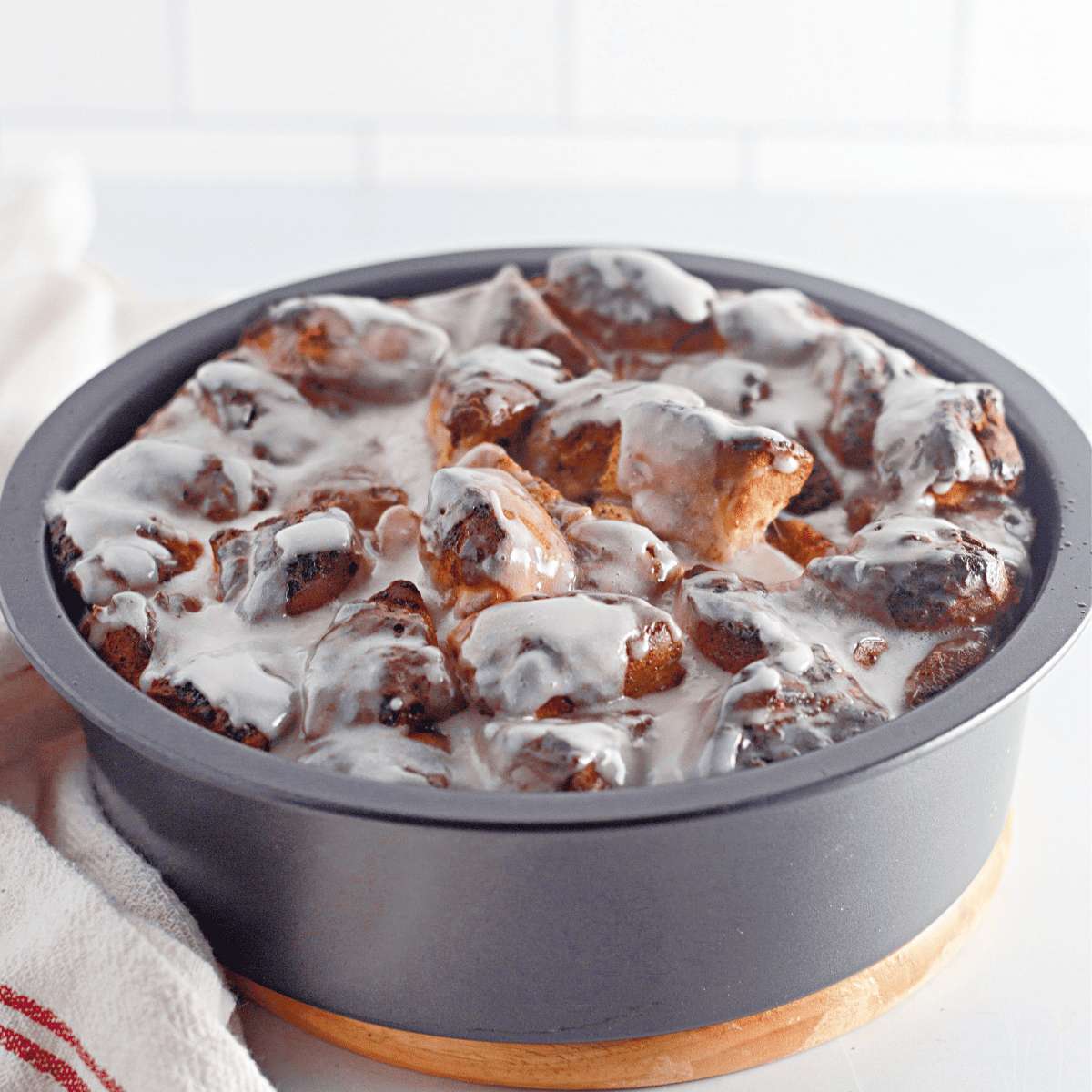 The best thing about this recipe is that it is not only easy but also really delicious. Have you ever met anyone who would turn down a cinnamon roll breakfast?
Can You Cook French Toast Casserole In Air Fryer
Yes, you can cook French Toast Casserole in an air fryer. The air fryer's circulating hot air allows the casserole to get a nice golden crust on the top while ensuring the inside remains soft and custardy.
Below is our simple guide on how to make the best Air Fryer Cinnamon Baked French Toast.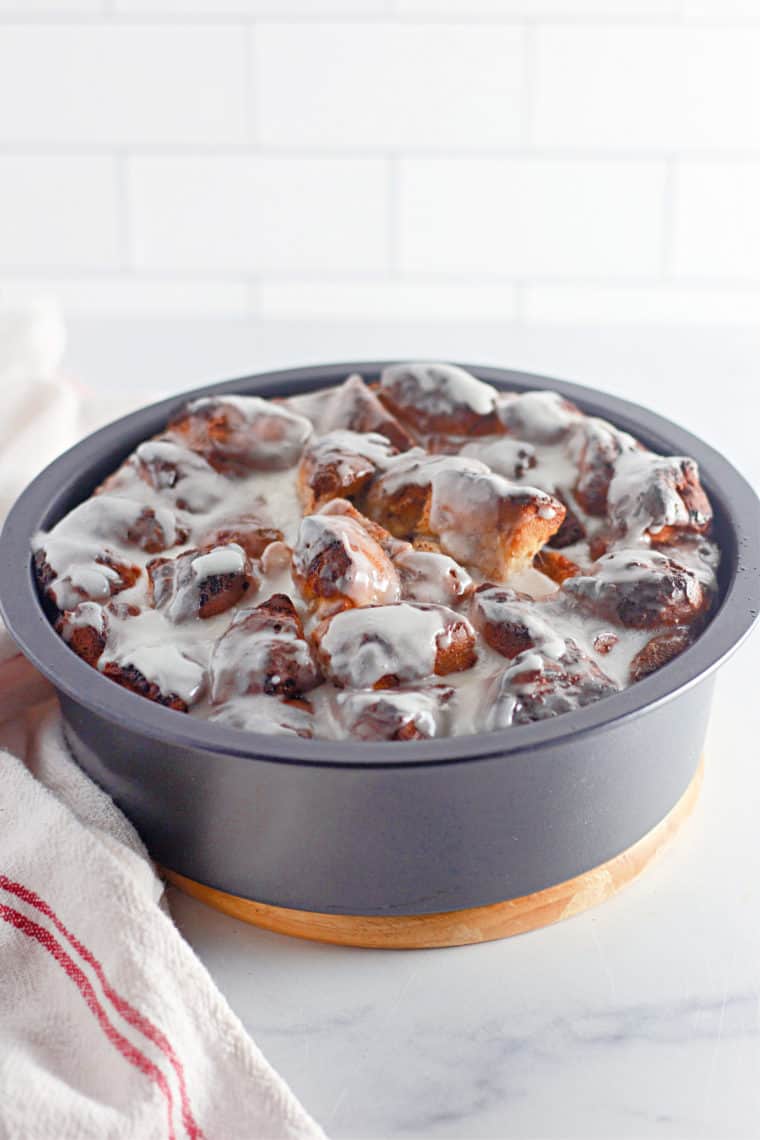 Why Cook Cinnamon Baked French Toast In Air Fryer
Cooking Cinnamon Baked French Toast in an air fryer offers several advantages that can elevate the dish and streamline the cooking process:
Efficient Cooking Time: Due to its compact space and rapid air circulation, an air fryer often cooks food faster than traditional ovens. This means you can have your Cinnamon Baked French Toast ready in a fraction of the time it might take in a conventional oven.
Even Browning and Crisping: The circulating hot air in the air fryer ensures that the French toast gets a uniformly golden-brown crust. The edges become especially crispy, which provides a delightful contrast to the soft, custardy inside.
Energy Efficiency: Using an air fryer can be more energy-efficient than heating a large conventional oven, especially for smaller portions or single servings.
Less Need for Monitoring: With a clear timer and consistent temperature, there's less need to constantly check or worry about potential oven hot spots that might unevenly cook your French toast.
Space-Saving: If kitchen space is a constraint or if your main oven is occupied with other dishes, the air fryer is a great alternative for cooking Cinnamon-Baked French Toast without monopolizing your kitchen.
Enhanced Flavor: The quick and high-heat method of an air fryer can intensify the flavors. Your cinnamon and other accompanying spices might come out even more pronounced, offering a richer tasting French toast.
Reduced Need for Added Fats: While many love the buttery crust of French toast, air fryers can achieve a crispy finish without the need for excessive butter or oils, making it a slightly healthier option.
Perfect for Small Batches: If you're cooking for one or two or just want a few servings, the air fryer is ideal. By heating a large oven, you can make smaller batches of Cinnamon Baked French Toast without wasting energy.
In conclusion, while traditional methods of making Cinnamon Baked French Toast are cherished and time-tested, an air fryer offers a modern twist that can save time, enhance the dish's characteristics, and seamlessly fit into busy lifestyles.
Ingredients Needed For Air Fryer Cinnamon Baked French Toast
Are you looking for a delicious breakfast recipe that is both easy to make and undeniably tasty? Look no further than air fryer cinnamon-baked French toast! This recipe has the perfect combination of sweet flavors from the cinnamon and nutmeg and comes together quickly with minimal effort.
Whether you are serving this easy dish on an early weekday morning or as part of a relaxed Sunday brunch, your family will be sure to love it! With just four main ingredients, you don't have to worry about having too much time in the kitchen either – let your air fryer do all of the work for you! Read on to learn more about what basic ingredients are needed for this amazing dish.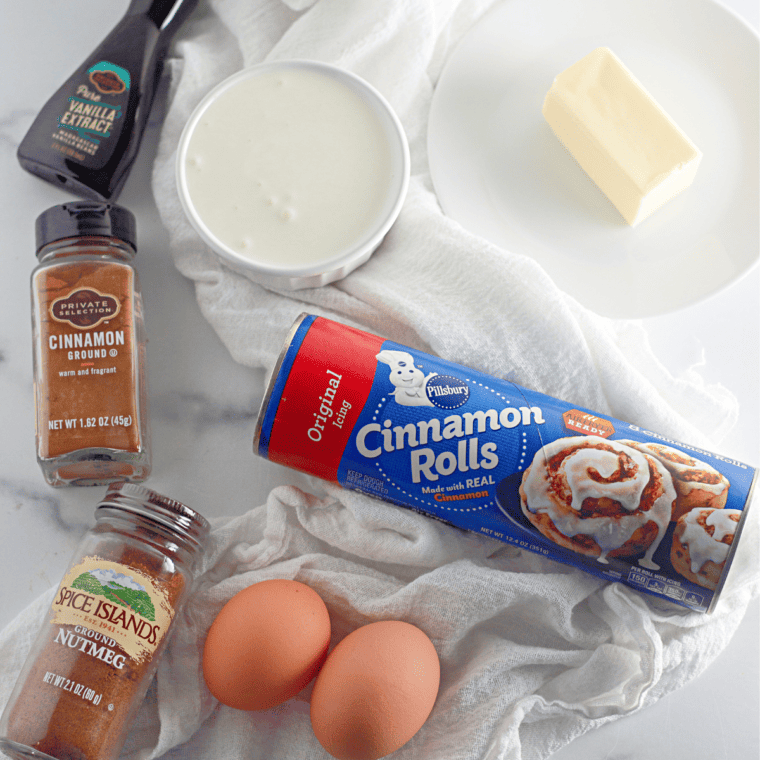 Rememmber teh step by step directions and detailed ingredient list are below in the printable recipe card, at the bottom of the post, as well as the nutriataioanl infroamtion.
Pillsbury Cinnamon Rolls, with icing: These pre-made cinnamon rolls are the main star of the dish, offering a convenient and flavorful base, complete with their own sweet icing for an added touch of indulgence.
Melted butter: Melted butter gives the French toast a rich, buttery flavor and ensures a golden-brown finish when cooking.
Large eggs: Eggs act as a binding agent, helping to keep the dish cohesive, while also adding a custardy texture that's essential for any French toast recipe.
Heavy cream: The cream contributes a luscious, velvety consistency to the dish, making it even more decadent.
Ground cinnamon: Cinnamon adds a warm, spiced flavor that complements the sweetness of the rolls and is quintessential to any cinnamon-infused dish.
Ground nutmeg: Nutmeg offers a slightly nutty and aromatic touch, perfectly accentuating the overall flavor profile of the dish.
Pure vanilla extract: Vanilla extract brings a sweet, aromatic depth that rounds out and enhances the other ingredients in the recipe.
How To Make Cinnamon Baked French Toast In Air Fryer
Cinnamon baked French toast is the perfect way to start the day with a sweet and savory indulgence. Not only does this dish take minimal effort, but you can also use an air fryer to make it! So if you're looking for a delicious breakfast option that's nearly fuss-free, cinnamon baked French toast in an air fryer may just be your go-to dish. Deliciously golden brown on the outside yet soft and custard-like on the inside, this easy breakfast treat has become one of our family favorites – and with very little effort required – we're sure it'll soon become yours too!
Making Cinnamon Baked French Toast in an air fryer is a quick and simple process, and using Pillsbury Cinnamon Rolls as your base makes it even easier. Here's a step-by-step guide: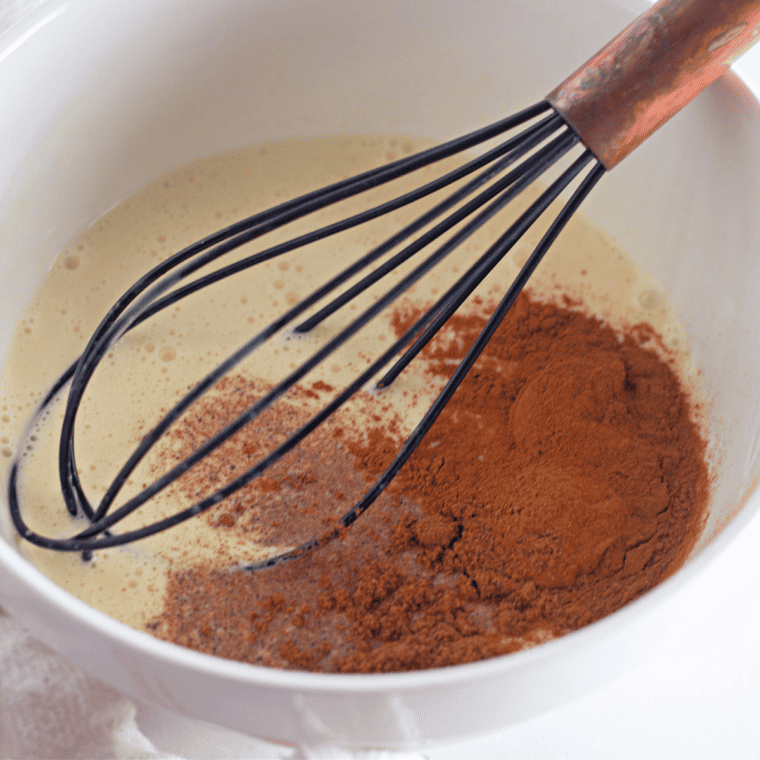 Preparation:
Begin by opening the cans of Pillsbury Cinnamon Rolls. Separate the rolls and set the icing aside for later.
Cut each roll into quarters or smaller pieces to ensure even cooking.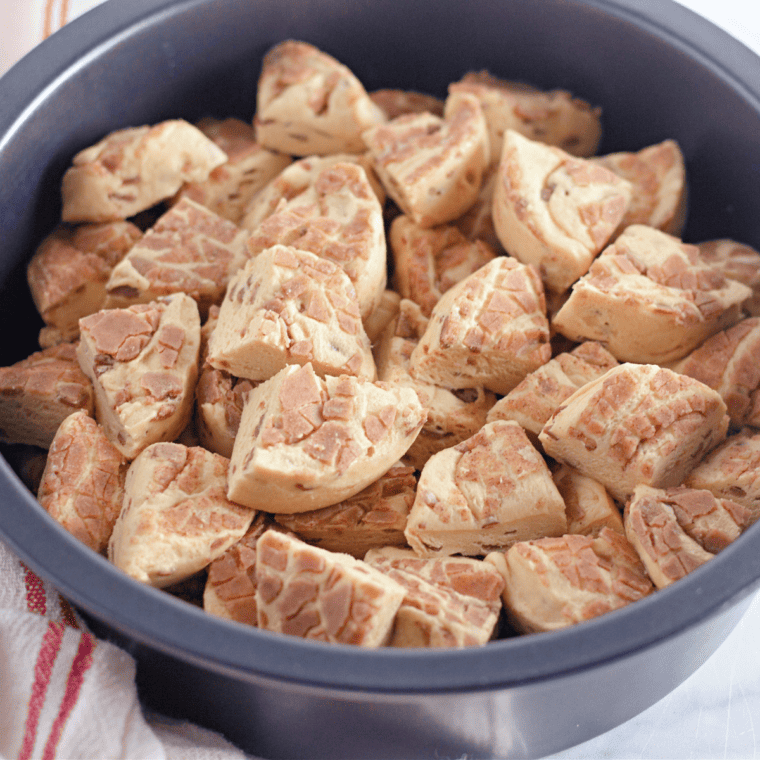 Make the Egg Mixture:
In a mixing bowl, whisk together the eggs, cream, cinnamon, nutmeg, and vanilla extract until well combined.
Dip the cinnamon roll pieces into the egg mixture, ensuring each piece is fully coated. Let any excess mixture drip off.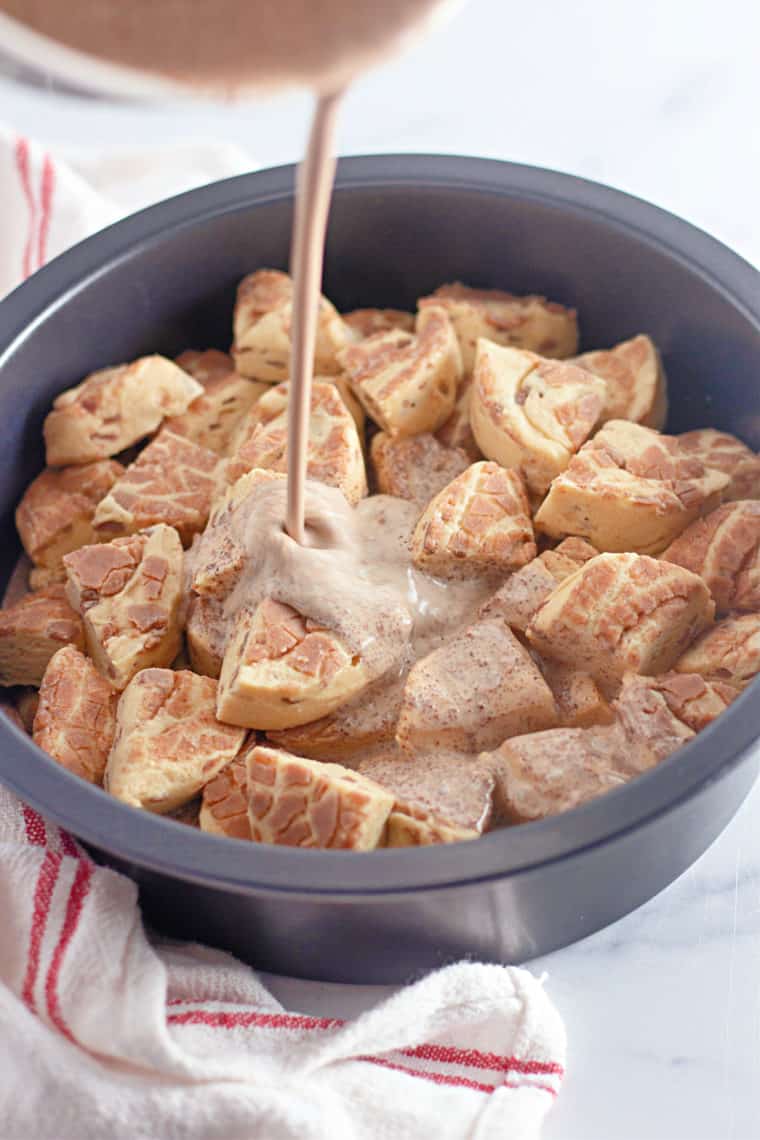 Air Fryer Preparation:
Preheat your air fryer to 350°F (175°C). If your air fryer has a preheat setting, you can use that.
Lightly brush or spray the air fryer basket with a small amount of melted butter to prevent sticking.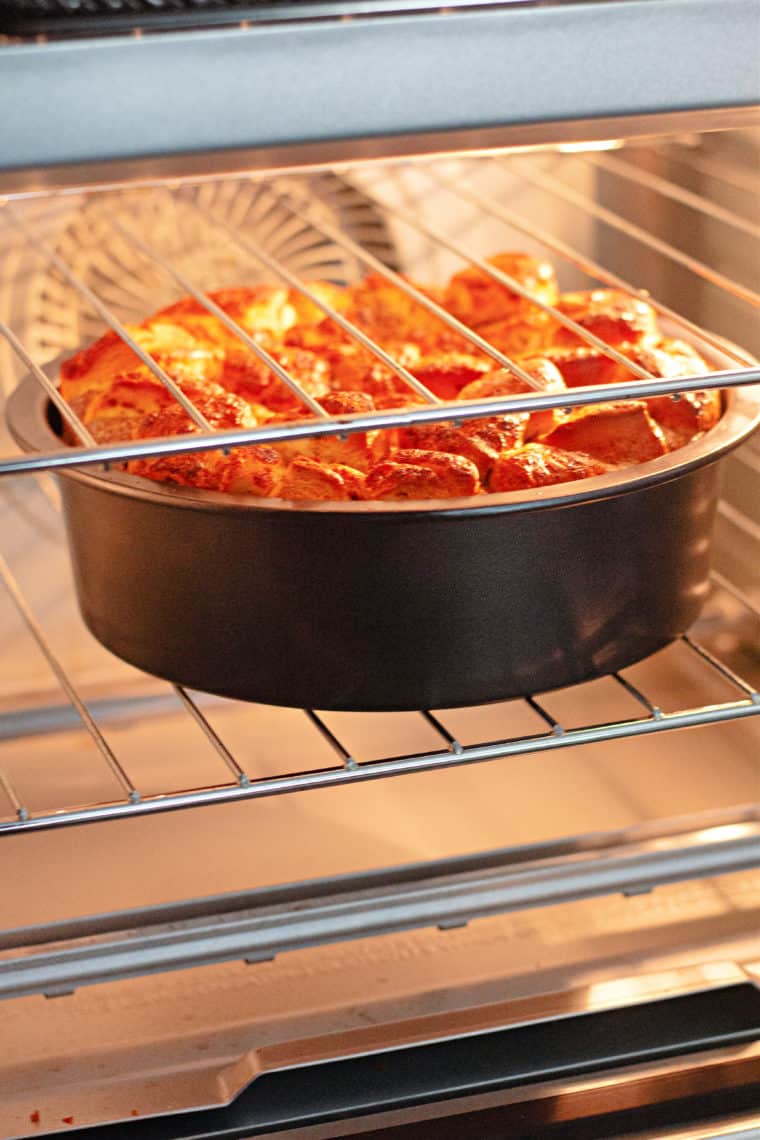 Cooking:
Arrange the cinnamon roll pieces in a single layer in the air fryer basket. Make sure they are not overcrowded to ensure even cooking.
Drizzle or brush the remaining melted butter over the cinnamon roll pieces.
Cook for 8-10 minutes or until they are golden brown and cooked through, turning them halfway through the cooking process for even browning.
Serving:
Once cooked, remove the Cinnamon Baked French Toast pieces from the air fryer and place them on a serving plate.
Warm the reserved icing (from the Pillsbury Cinnamon Rolls) for a few seconds in the microwave until it reaches a drizzling consistency. Drizzle over the baked French toast pieces.
Serve immediately, and enjoy your delicious, air-fried Cinnamon Baked French Toast!
Note: Adjust cooking times based on your specific air fryer model and the number of pieces you're cooking. Some air fryers cook faster than others. Always monitor closely the first time you try a new recipe to avoid overcooking.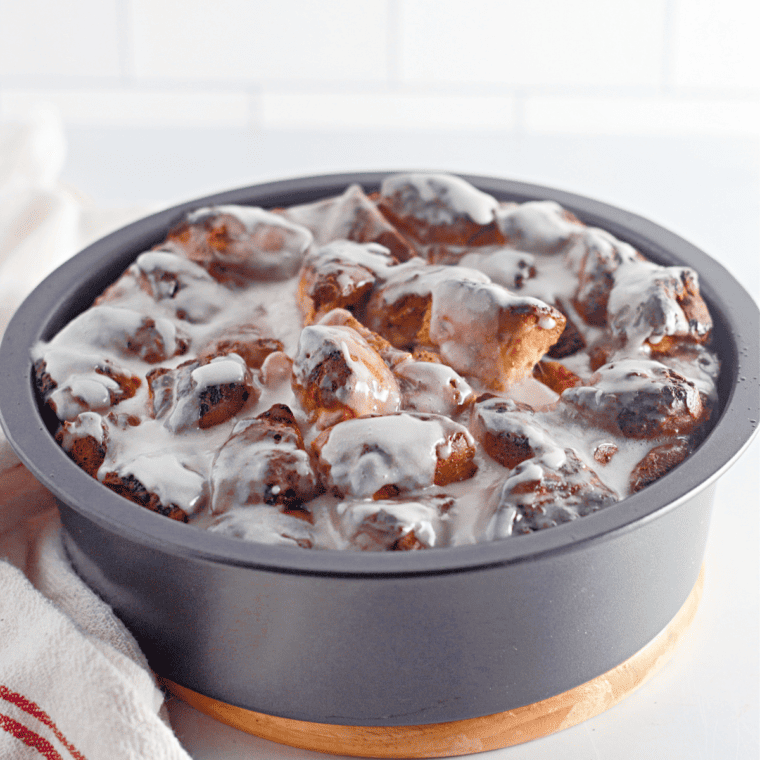 Pro Tips For Cooking French Toast Casserole In Air Fryer
When making French Toast Casserole in an air fryer, consider the following pro tips to ensure you get the best results:
Preheat Your Air Fryer: Always preheat your air fryer for a few minutes before adding your casserole. A preheated air fryer ensures that the casserole starts cooking immediately upon insertion, leading to even cooking.
Use a Suitable Dish: Ensure you use an air fryer-safe dish that fits comfortably within your air fryer, allowing for proper air circulation. A shallow dish works best for even cooking.
Do Not Overcrowd: When placing the bread and mixture into the dish, ensure it's not overfilled. Overcrowding can result in uneven cooking.
Check For Doneness: Air fryers can vary in cooking times. Use a toothpick or knife to check for doneness. If it comes out clean, your casserole is ready.
Rotate or Shake: Halfway through the cooking process, rotate your dish (if your air fryer doesn't rotate automatically) to ensure even browning.
Tent with Foil: If you notice the top browning too quickly but the inside still needs more time, you can tent the casserole with foil to prevent further browning while continuing to cook.
Add Toppings at the End: If you're adding toppings like nuts, chocolate chips, or fruit, consider adding them towards the end of the cooking process to prevent burning.
Let It Rest: Once cooked, allow the casserole to sit for a few minutes before serving. This lets it set a bit and makes it easier to cut and serve.
Customize Flavors: French Toast Casserole is versatile. Feel free to add flavors like citrus zest, different spices, or even a splash of liqueur to the custard mix to tailor it to your liking.
Enjoy your delicious and crispy Air Fryer French Toast Casserole with your favorite syrup or fresh fruits!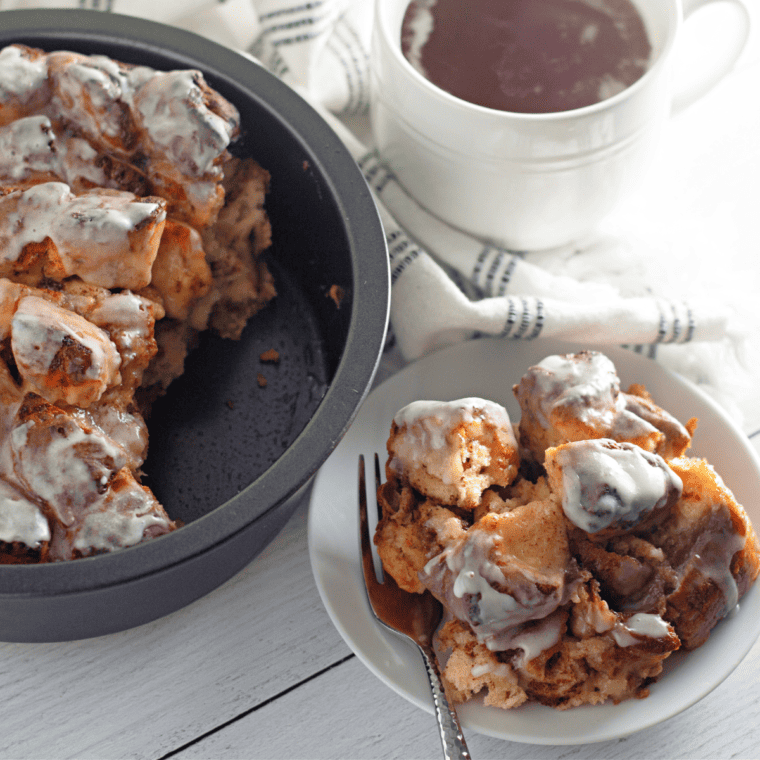 FAQ About Cooking Air Fryer Cinnamon Baked French Toast
Can I use fresh bread instead of canned cinnamon rolls?
Yes, you can use fresh bread, preferably one that's a day old. It'll soak up the custard mixture better. However, using canned cinnamon rolls adds an extra layer of flavor and sweetness.
How long does it take to cook in the air fryer?
Cooking times can vary based on your specific air fryer model and the thickness of your casserole. On average, it should take about 20-25 minutes at 350°F (175°C), but always check for doneness.
Can I make this ahead of time?
Yes, you can prepare the casserole and store it in the refrigerator overnight. Before air frying, let it sit at room temperature for about 20 minutes.
Do I need to use the icing that comes with the cinnamon rolls?
It's optional. Drizzling the icing over the cooked casserole adds extra sweetness and flavor, but if you prefer, you can omit it or use a different topping.
Can I add fruits or nuts to this recipe?
Absolutely! Blueberries, raisins, pecans, or walnuts can be great additions. Just ensure they are evenly distributed for uniform cooking.
Why did my casserole turn out soggy?
It could be due to the casserole not cooking long enough or the bread not being stale enough to absorb the custard mixture effectively. Make sure to soak the bread evenly and check for doneness before removing it from the air fryer.
Can I double the recipe?
You can, but ensure that the dish you're using fits comfortably in your air fryer and allows for proper air circulation. You might also need to adjust the cooking time.
What should I serve with the Cinnamon Baked French Toast?
This dish pairs well with fresh fruits, whipped cream, maple syrup, or even a dusting of powdered sugar.
How can I store leftovers?
Store any leftover French toast casserole in an airtight container in the refrigerator for up to 3 days. Reheat in the air fryer or microwave before serving.
Can I use regular milk instead of cream?
Yes, you can substitute regular milk, but using cream gives the casserole a richer texture and flavor.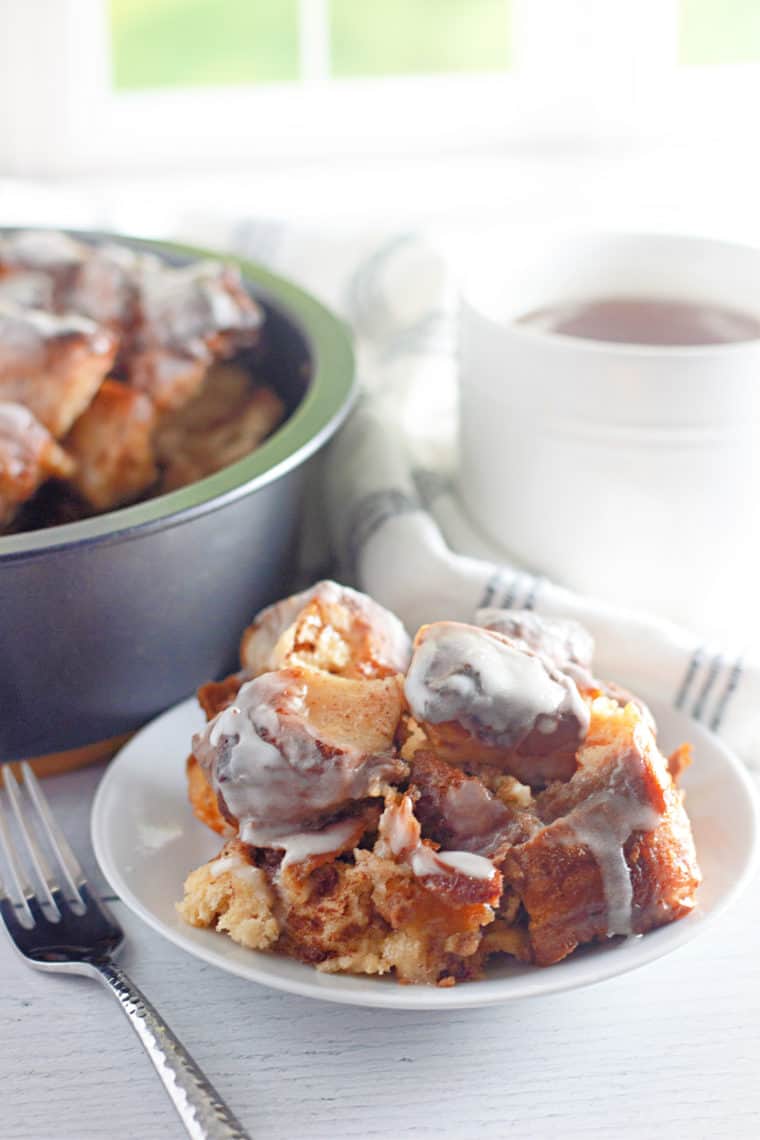 More Air Fryer Recipes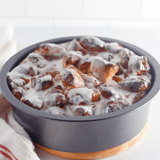 Air Fryer Cinnamon Baked French Toast.
Description
This is such an easy Cinnamon French Toast Bake. My kids absolutely love this. I usually serve this on lazy weekends and as our holiday breakfast.
Ingredients
2

packages

Pillsbury Cinnamon Rolls

1/4

cup

butter

,

unsalted and melted

2

large

eggs

1/2

cup

cream

3

teaspoons

ground cinnamon

1

teaspoon

nutmeg

1

teaspoon

pure vanilla extract
Instructions
Start by melting the butter, and then using it to spread on the air fryer safe pan.

Then cup the cinnamon rolls into 4ths, then spread them on the air fryer pan.

Then mix in a small bowl the eggs, cream, cinnamon, nutmeg, and vanilla extract.

Pour the mixture over the cinnamon rolls.

Place your air fryer safe pan into the air fryer basket and set the time for 12 minutes, at 350 degrees F.

After 12 minutes, check your casserole. Mine was done. But the exact time for your machine is going to be different. Make sure it's cook through; if it does not, add another 3 minutes, and check every 3 minutes until it's completely cooked.

Remove from the air fryer basket and immediately pour the icing (that comes with the rolls).
Equipment
1 Air Fryer

Baking Pan,

A Thin Pan will work best, to assure that it is fully cooked.
Nutrition
Serving:
1
Serving
Calories:
592
kcal
Carbohydrates:
63
g
Protein:
8
g
Fat:
35
g
Saturated Fat:
18
g
Polyunsaturated Fat:
1
g
Monounsaturated Fat:
4
g
Trans Fat:
2
g
Cholesterol:
105
mg
Sodium:
970
mg
Potassium:
51
mg
Fiber:
1
g
Sugar:
28
g
Vitamin A:
621
IU
Vitamin C:
0.2
mg
Calcium:
35
mg
Iron:
2
mg