Salad can be a healthy and delicious meal, but it's often not very exciting. This air fryer grilled Caesar salad is a fun and easy way to jazz up your salad routine! The air fryer gives the lettuce a nice char, while the Caesar dressing adds flavor and creaminess. Give this salad recipe a try today!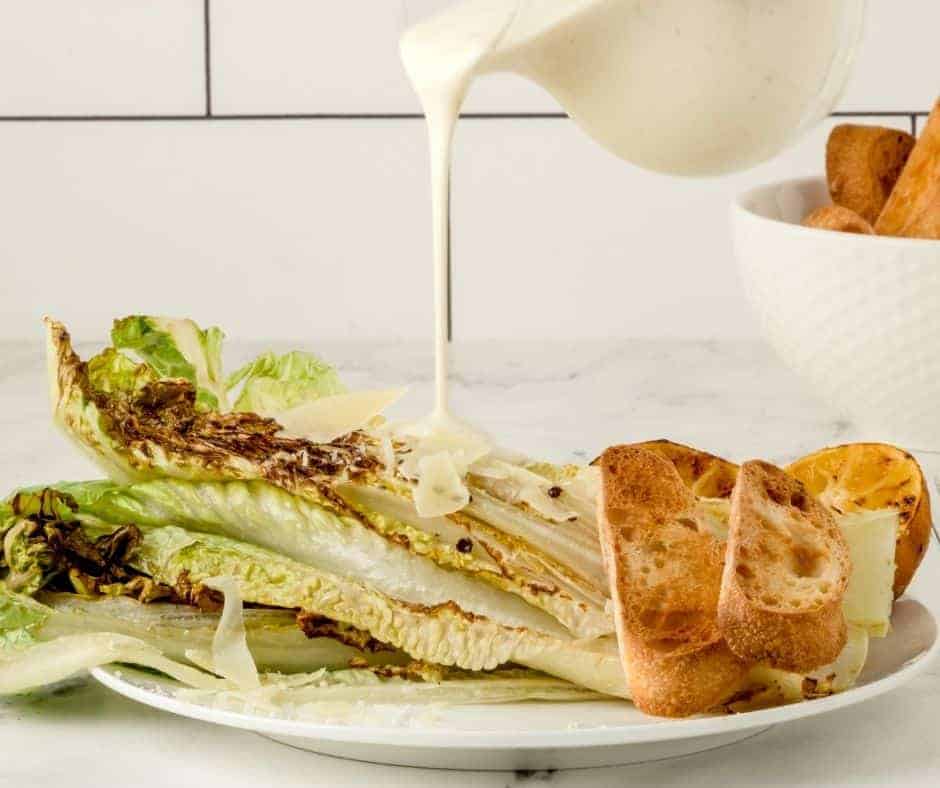 Air Fryer Grilled Caesar Salad is amazing! If you are looking for the perfect side dish or main salad entree this spring and summer, head to make a perfect Air Fryer Grilled Caesar Salad.
There is nothing better on a hot day than a homemade salad, today I turned it up a notch and made a simple Air Fryer Grilled Caesar Salad.
This salad is amazing, ready to be one of your favorite Summer Salad recipes, a perfect salad recipe for dinner. But even better thanks to Ary Fryer, there is nothing better than Grilled Lettuce!
If you are looking for even more recipes, some of my favorite Air Fryer Vegetable Recipes are AIR FRYER CARROT FRENCH FRIES, AIR FRYER BROCCOLI, AIR FRYER FROZEN BATTERED CAULIFLOWER, AIR FRYER BUFFALO CAULIFLOWER FROM RAW OR FROZEN!
Can You Air Fryer Lettuce?
You read that headline correctly – you can air fryer lettuce! And it's not just a novelty – this method of cooking produces some delicious and healthy results. So if you're looking for a new way to prepare your leafy greens, keep reading for instructions on how to do it yourself.
Air Fryer Romaine Lettuce
If you have never grilled lettuce before, let me tell you, it's life-changing. The lettuce produces a smoky flavor that is so unlike anything you have ever eaten, and it's a Unique salad recipe.
Ingredients Needed For Grilled Romaine Lettuce Salad
Grilled romaine lettuce might just be the best salad you've ever had. The slightly charred taste pairs perfectly with the creamy dressing and crunchy croutons. Plus, it's a lot healthier than traditional salads because you're grilling the lettuce instead of frying it. Here are the ingredients you'll need to make this delicious salad.
Romaine Lettuce: You can also use butter lettuce, but grilled romaine lettuce is amazing!
Olive Oil: You can also use grapeseed oil, avocado oil, or even coconut oil.
Seasonings/Spices: Salt, and Black Pepper
Shaved Parmesan Cheese
Croutons: Homemade or store-bought! Air Fried Croutons are amazing!
Homemade or Store-Bought Caesar Dressing
How To Make Air Fryer Grilled Caesar Salad
Preheat the air fryer to 400 F, air fryer setting. Brush the cut sides of the romaine lettuce with olive oil and season with salt and pepper.
Place the lettuce in the air fryer cut side up and cook for 3 minutes or until the top of the lettuce is slightly charred.
Plate the charred lettuce and top with Ceasar dressing, croutons, and shaved parmesan. Plate, serve, and enjoy!
What will I need to complete this recipe?
You will need the following ingredients:
Romaine lettuce hearts: Be sure to use the hearts, not the full heads of romaine. The hearts are more tender and compact, so they will be easier to fit in your air fryer.
Olive oil-Any Extra Virgin Olive Oil Will work
Salt- I use Morton's kosher salt
Pepper– Use freshly ground if you can.
Shaved Parmesan. You can buy tubs of shaved parmesan or shave it yourself using a wedge of parmesan and a sharp vegetable peeler. Whatever you do, DON'T use the stuff in the green shaker jar.
Croutons. You can use store-bought croutons or make your own by slicing a baguette and toasting it in your air fryer for 2 minutes @ 400 F.
Caesar dressing. I like to use the kind in the refrigerated section. They seem to be fresher tasting, but feel free to use whatever you like.
You will need the following supplies: (affiliate links)
How To Store
The grilled romaine is best served straight out of the air fryer. It cools off quickly, so be sure to serve it immediately. Only cook what will be eaten right away as any leftovers will not be enjoyable to eat the next day.
What are romaine hearts?
Romaine's hearts are heads of romaine lettuce that have had the outer leaves removed. Romaine's hearts are typically packaged with 2 or 3 hearts in a bag.
How do you make grilled Romaine?
You make grilled romaine by cutting a heart of Romaine lettuce in half and placing it in your preheated air fryer. The warm lettuce with the cold dressing and crispy crouton provides a nice temperature and texture contrast.
What are substitutions that I can make?
If you are a fan of blue cheese, you can use blue cheese dressing and crumbles instead of caesar dressing. Air fryer candied pecans can also be used instead of croutons on the blue cheese version for a nice sweet contrast.
Do I have to use store-bought caesar dressing or can I make my own?
You are welcome to make your own caesar dressing. My favorite homemade caesar dressing that doesn't have the raw egg is here.
Can I make this ahead of time?
No. This recipe is best served as soon as it is ready. Be sure to have any other dishes you plan on serving ready before you even start cooking the romaine since it cooks so quickly.
More Air Fryer Vegetable Recipes
Are you looking for some more delicious air fryer vegetable recipes? Look no further! In this post, we will share some of our favorite recipes that are perfect for busy cooks. Whether you are a novice or an experienced chef, these recipes are sure to be a hit. So fire up your air fryer and get cooking!
Don't Forget To Pin:
Air Fryer Grilled Caesar Salad
Do you love grilled Caesar salads, but hate heating up your kitchen in the summer? Fear not! With an air fryer, you can make this delicious salad without turning on your oven. Plus, it will only take a few minutes to cook. So, what are you waiting for? Try this easy recipe today!
Course:
Appetizers, Side Dish, Snack, Vegetables
Keyword:
Air Fryer Grilled Salad
Ingredients
2

heads

Romaine lettuce

cut in half

1

tablespoon

olive oil

1/4

teaspoon

salt

1/8

teaspoon

black pepper

1/4

cup

Parmesan cheese

shaved

1/4

cup

croutons

2-3

tablespoons

Caesar dressing
Instructions
Preheat the air fryerto 400 F

Brush the cut sides of the romaine lettuce with olive oil and season with salt and pepper.

Place the lettuce inthe air fryer cut side up and cook for 3 minutes or until the top of thelettuce is slightly charred

Plate the charredlettuce and top with ceasar dressing, croutons and shaved parmesan. Eat rightaway.
Nutrition Facts
Air Fryer Grilled Caesar Salad
Amount Per Serving (1 g)
Calories 313
Calories from Fat 189
% Daily Value*
Fat 21g32%
Cholesterol 14mg5%
Sodium 745mg32%
Potassium 1568mg45%
Carbohydrates 24g8%
Protein 13g26%
Vitamin A 54628IU1093%
Vitamin C 25mg30%
Calcium 365mg37%
Iron 7mg39%
* Percent Daily Values are based on a 2000 calorie diet.