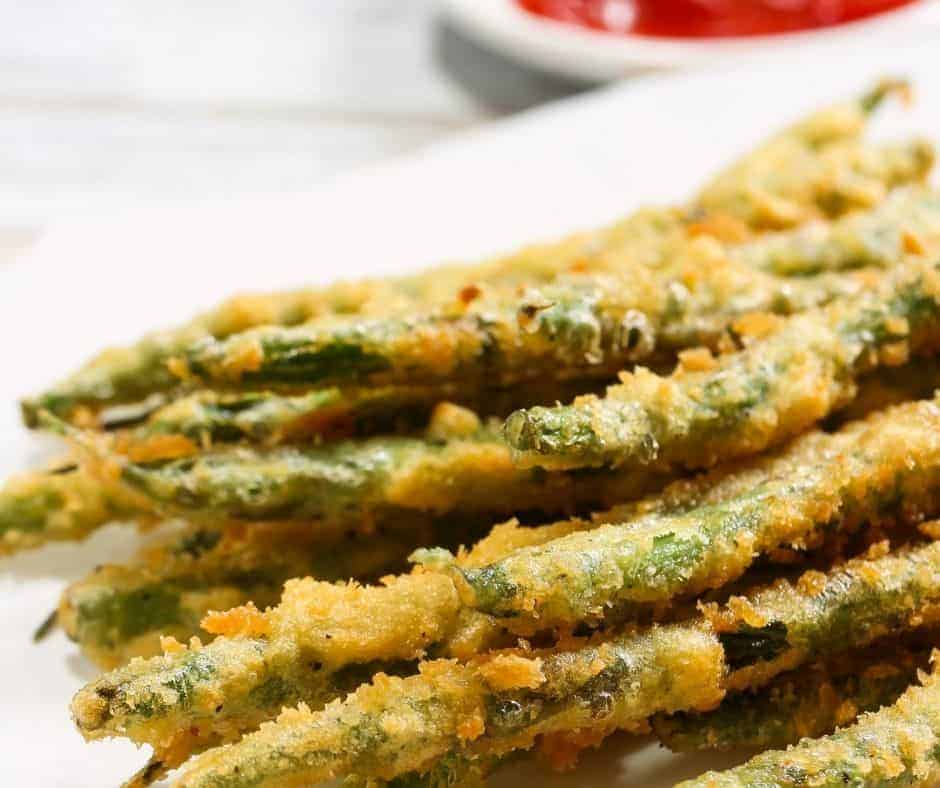 Air Fryer Green Bean Fries are the ultimate appetizer paired with their famous dipping sauce. Whip these green bean fries up at home and serve up for game-day snacking. Serve these up to go with burgers at dinner or for any other occasion.
If you are looking for the perfect appetizer, crispy, but crunchy and of course, you will not be able to eat just one. They are the perfect side dish, appetizer, or snack that the entire family will absolutely love.
If you are looking for more air fryer appetizer-style foods, give these other options a try. Whip up this air fryer pull-apart pepperoni pizza, air fryer honey garlic meatballs, or for a sweet option, try these green bean fries.
Air Fryer Green Bean Fries
If you have never made these, they are made with fresh green beans and then coated with some.
Breaded and air-fried green bean fries are a great alternative to frying. You get that same crispy texture but without the excess oil. This is a straightforward recipe that will bring you all the flavors of a great French fry.
What Sauce Do You Dip Green Bean Fries In
I created the dip recipe to mimic the same sauce you can order. It is full of mayonnaise, sour cream, wasabi powder, dried herbs, and more. It is a creamy and flavorful dip that compliments the green bean fries.
Tips For Making Green Bean Air Fryer Fries
To go from the wet batter to dry, I find using a fork or small set of tongs helps. If you use your hands, it can get to be a sticky mess.
For a crispier texture, you can use Panko breadcrumbs to replace classic breadcrumbs.
Make sure not to overlap the air fryer green beans, or they will not cook up crispy as you would like.
Batch cook the green beans if you need to. Then keep the cooked ones on a baking sheet and stick them in the oven at 200 degrees to keep them warm. Do a single layer, or they will sog up in the oven.
All air fryers heat differently, so always keep an eye on the beans to ensure they do not overcook. Or, if they don't seem fully done, let them cook a few minutes longer.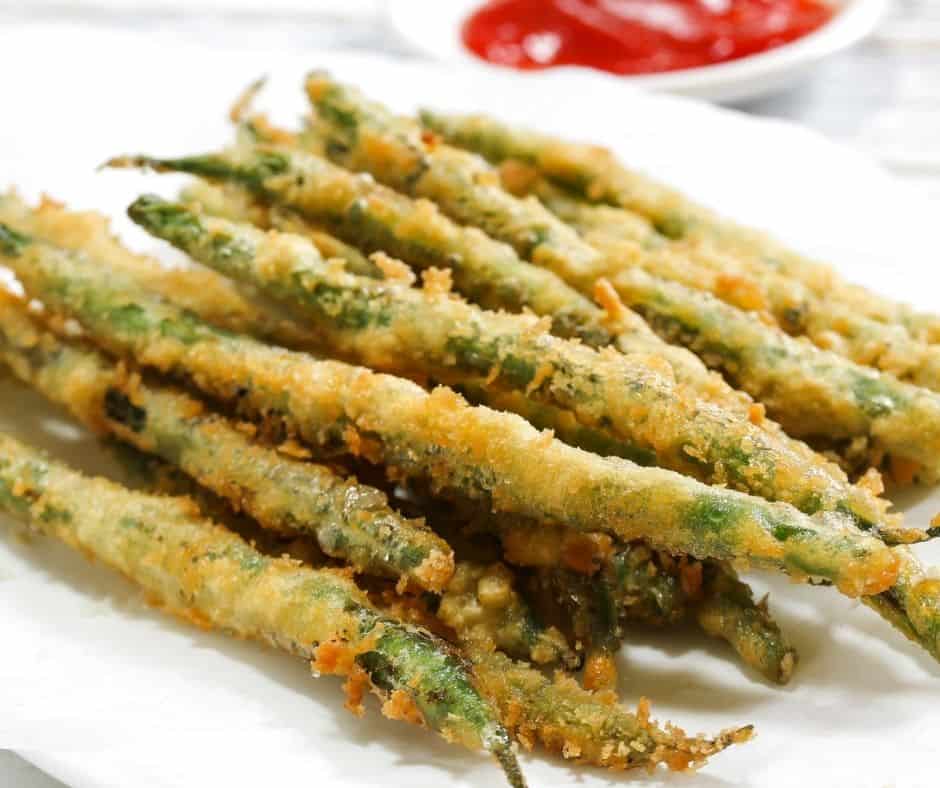 Tips For Buying Fresh Green Beans
When buying fresh green beans, there is something to look for to ensure you buy quality good green beans. Here are some tips for you to use when you go to buy some.
Color | Make sure the green beans are a bright, vibrant color. You don't want to have discoloration like brown spots, softer style spots, etc.
Snap Test | You can take a green bean and bend it in half. If the green bean snaps cleanly, it is fresh and good. If you find it kind of bends and doesn't seem to snap, it means they are probably not the best in flavor.
How to Prepare Green Beans
You will want to wash your green beans in cold water. This is going to help get rid of any dirt or debris on the beans. Then in a colander, shake off the excess water. Lay the beans out on a towel and pat them dry.
You will find that when you buy fresh beans in the store, most of the time, they have not been cleaned yet.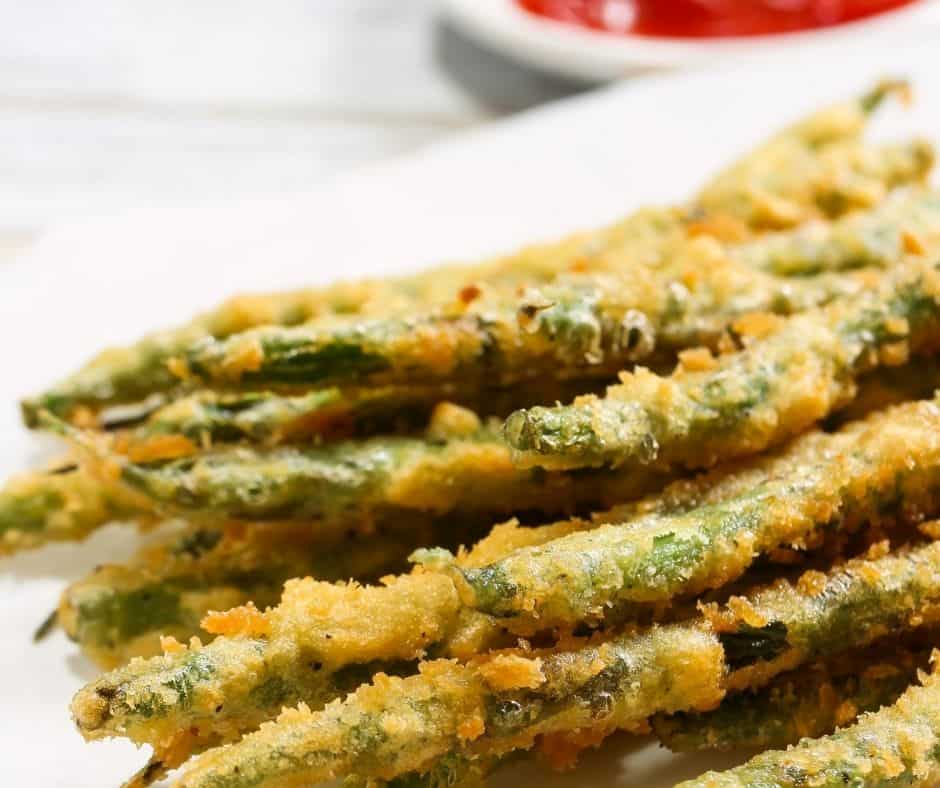 Yield: 4 servings
Air Fryer Green Bean Fries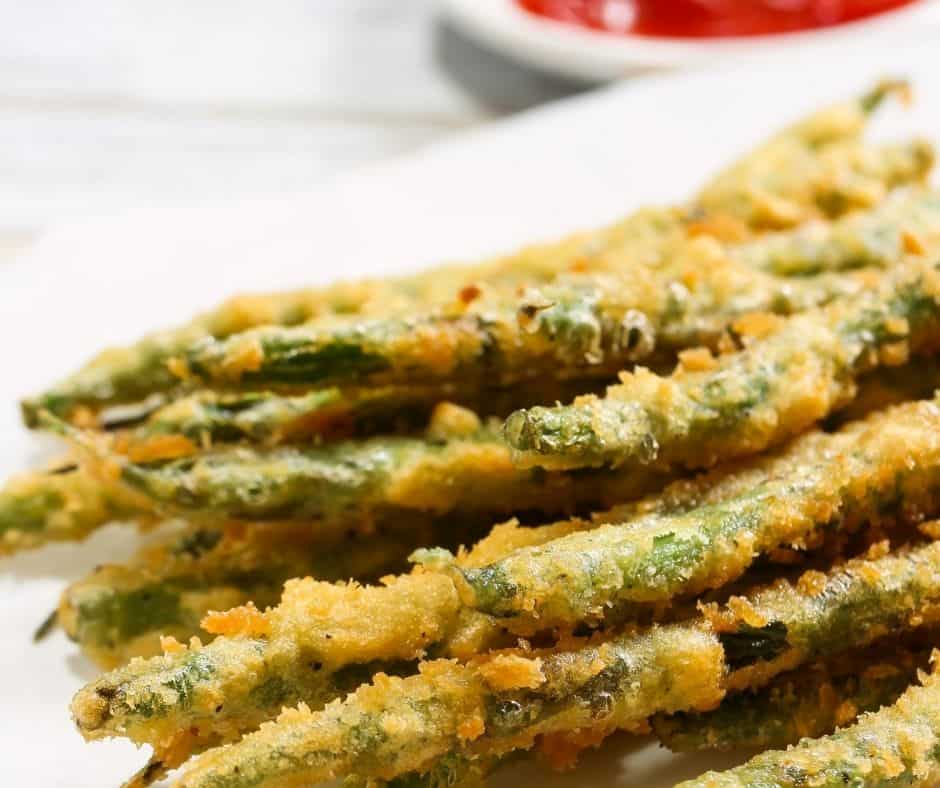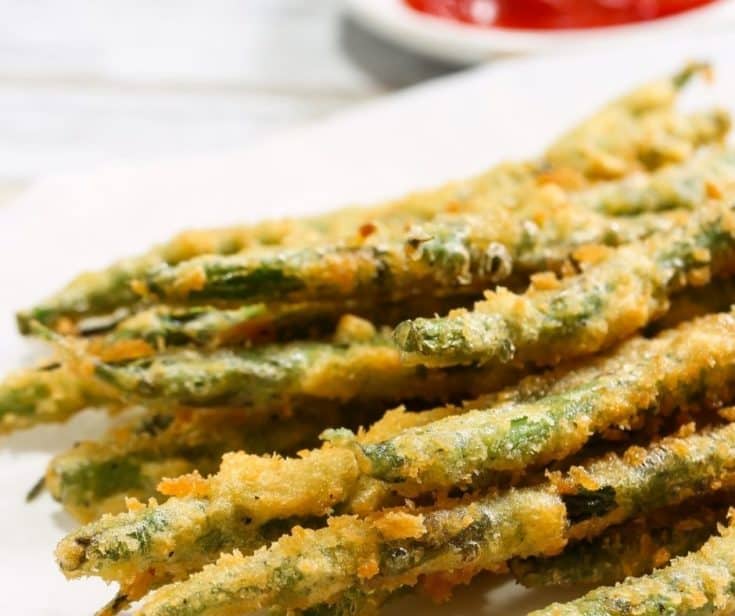 This is such an easy way to make Green Bean Fries. They are a perfect snack or a great appetizer. My kids love these; they are a family favorite and kid-friendly.
Ingredients
1 pound fresh green beans
1 cup panko bread crumbs
1/4 cup Parmesan cheese
2 eggs
1 cup of flour
Instructions
Start by cleaning your green beans, and cutting off the stems, if desired.
Coat your green beans in flour.
Then coat your green beans in the egg (add the eggs and 1 tablespoon of water, and beat with a fork)
Then dip your green bean into the panko bread crumbs.
As you coat them, place them into a greased air fryer basket (sprayed with cooking spray)
Set the temperature to 390 degrees F, air fryer setting for 5 minutes.
Plate, serve, and enjoy!