Cooking Frozen Shrimp in the Air Fryer will give you plump, juicy, and impeccably crisp results every time. Add your favorite seasonings and dig into this simple meal!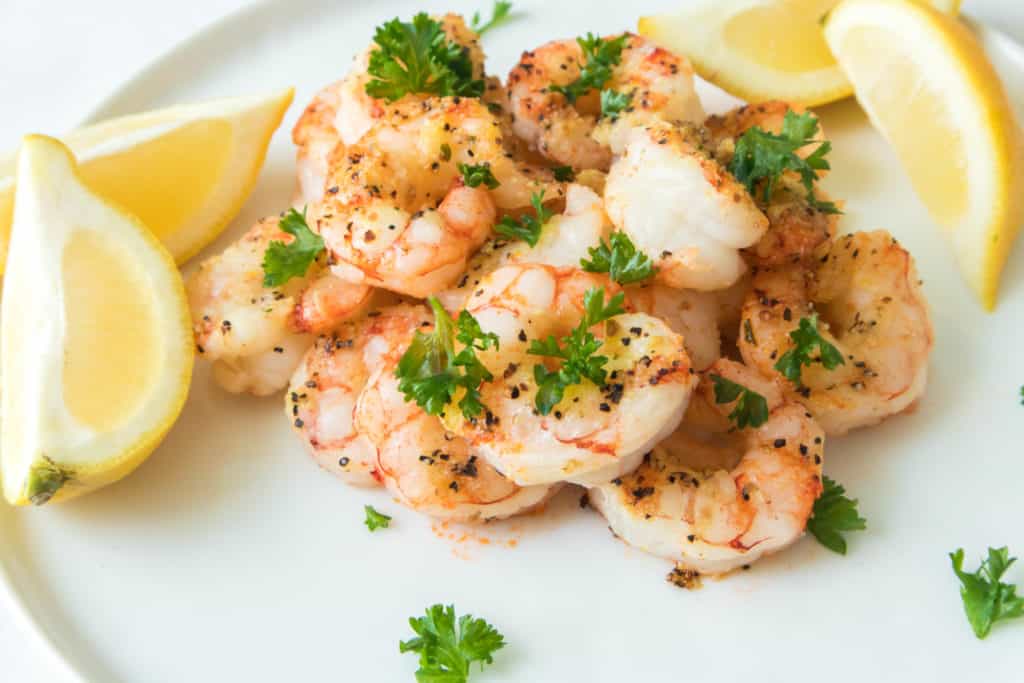 Frozen Shrimp in Air Fryer
We all love really quick meals, and shrimp is one of the best meals to make in the air fryer! The shrimp comes out nice and juicy, and you can add any flavoring that you want. I recently made Frozen Shrimp in Air Fryer, and it was wonderfully easy.
If you're looking for more inspiration, some more of my favorite Air Fryer Shrimp Recipes include AIR FRYER GARLIC-BUTTER SHRIMP KEBABS (KETO FRIENDLY), AIR FRIED BAKED SHRIMP SCAMPI, AIR FRYER SHRIMP TACOS, and AIR FRYER SOUTHERN STYLE SHRIMP.
We're all familiar with frozen shrimp in the supermarket — at my local grocery store, there are literally bags and bags of frozen shrimp in one freezer case! Finding it is the easy part, so just grab a bag the next time you are shopping. It makes a great dinner when you have no idea what to make.
I'm going to show you how to have a tasty and healthy meal on the table in less than 10 minutes. So, keep on reading (and pin this recipe) to learn how to cook frozen shrimp in the air fryer!
Why You'll Love Cooking Frozen Shrimp With This Recipe
Ready in minutes
No need to thaw
Great appetizer or meal
Use your favorite seasonings
Kid-friendly
Ingredients Needed For Cooking Frozen Shrimp in Air Fryer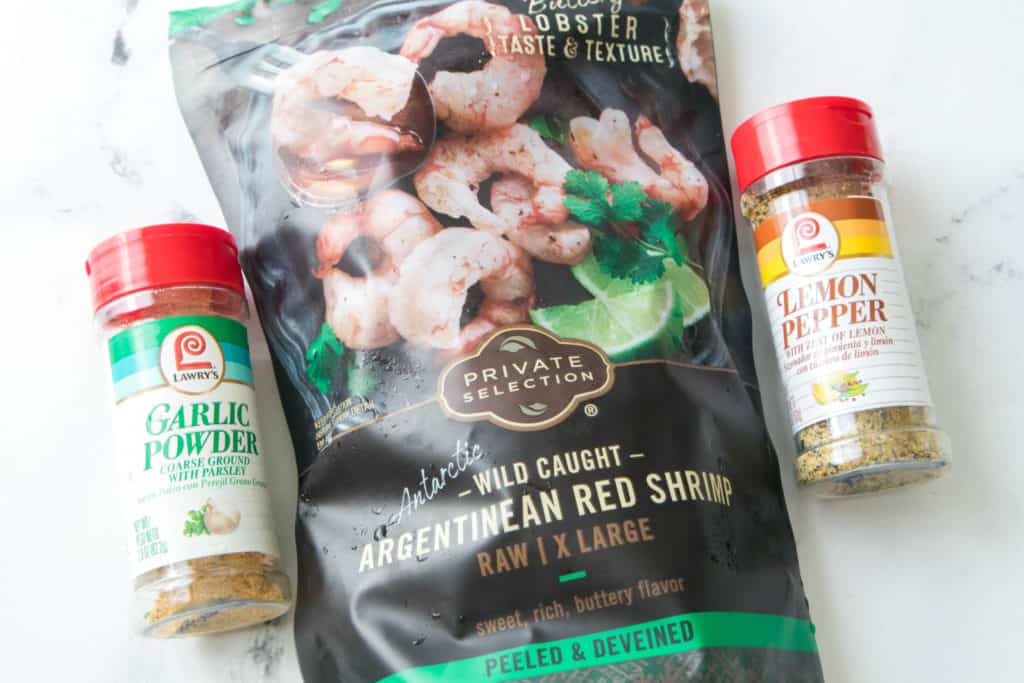 1 pound of frozen shrimp, any size
Seasonings – I like to use Garlic Powder and Lemon Pepper, but you can use whatever sounds good! Old Bay or Cajun Seasoning are great choices.
Note: I personally like the large, jumbo, or colossal size for this frozen shrimp air fryer recipe. You can use either raw or precooked shrimp, depending on what is available. If you decide to cook raw shrimp in air fryer, you'll simply need to increase the cooking time slightly.
How To Cook Frozen Shrimp In Air Fryer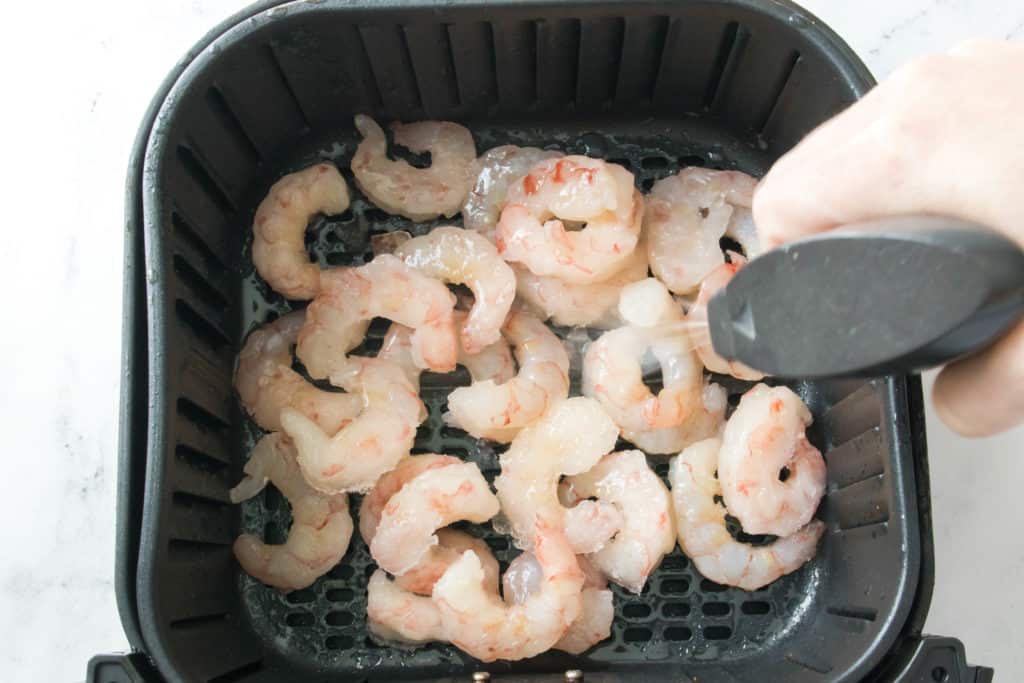 Step 1: Add shrimp to the basket
Place the frozen shrimp in the air fryer without thawing first. Spray with your cooking oil of choice.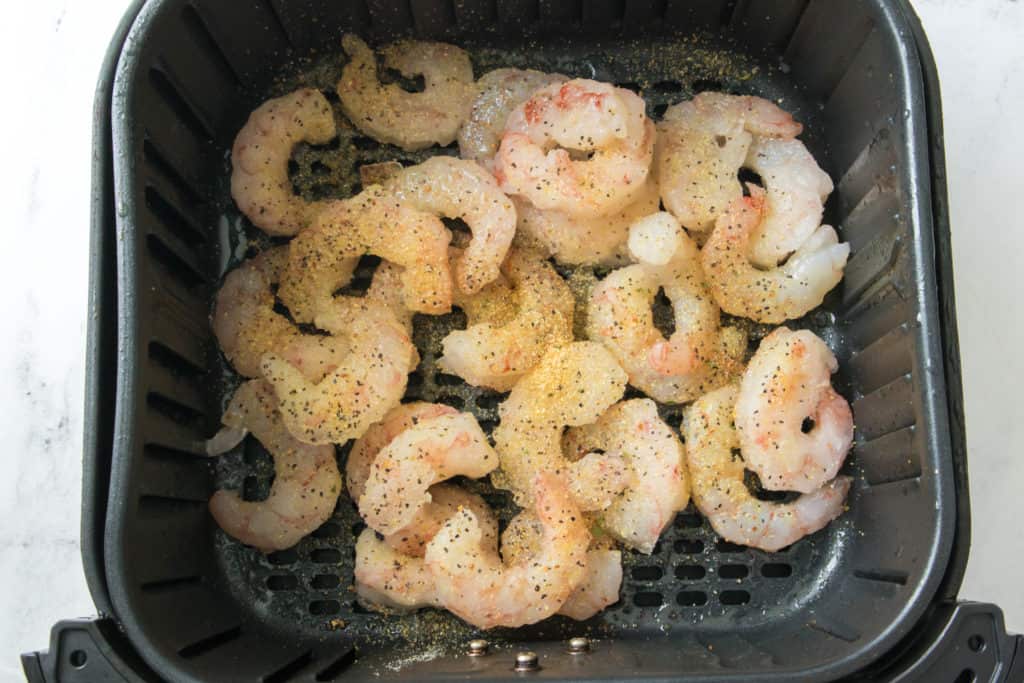 Step 2: Add seasonings
Sprinkle garlic powder and lemon pepper liberally over the top.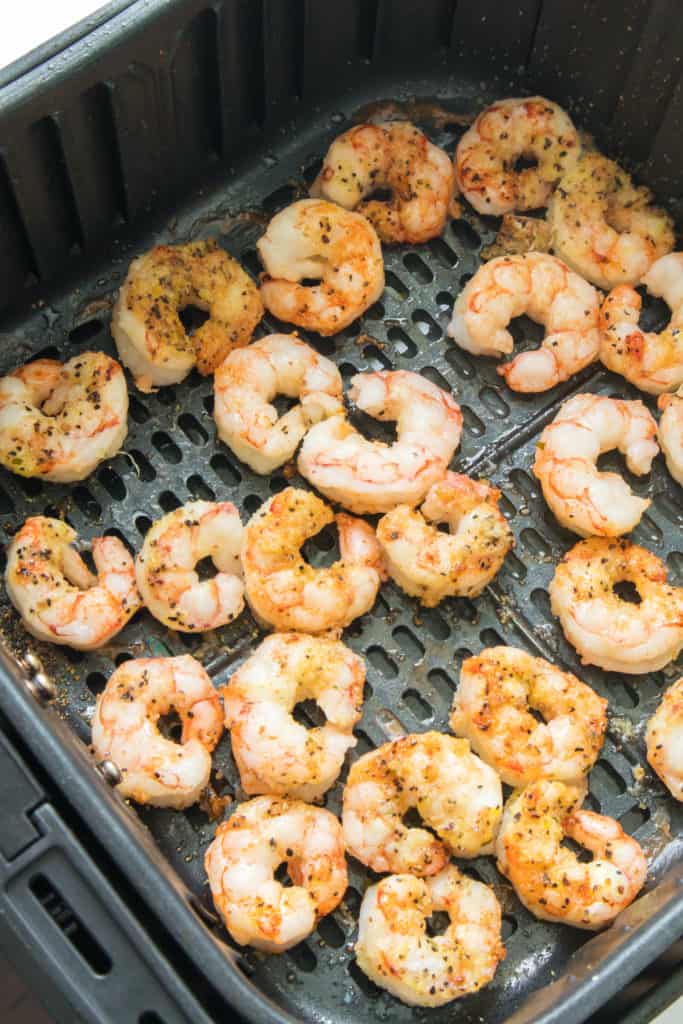 Step 3: Cook
Set the temperature to 370 degrees F, air fryer setting. Set the timer for 5 minutes for precooked shrimp, or 10 minutes for raw.
You can flip them halfway if you would like, but I don't find that it's necessary.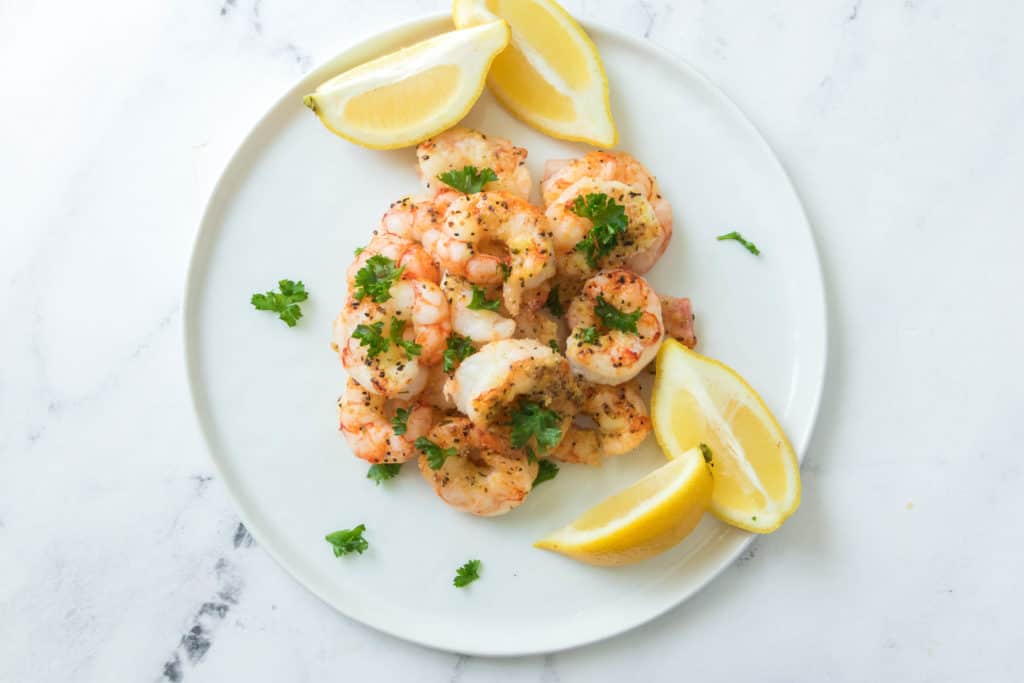 Step 4: Serve
Plate the air fryer frozen shrimp, garnish with fresh parsley, and serve with lemon wedges. Enjoy!
Pro Tips:
Season before cooking. Add your spices immediately after placing the shrimp in the air fryer (after spraying with oil). It will absorb the flavor as it cooks, and the spices will help form a nice crust.
Check the bag carefully. It's fine if the tails are still on, but the shrimp should be peeled and deveined. Otherwise, you'll need to thaw and do that yourself (and reduce the cooking time).
Want to use fresh shrimp? You can absolutely cook fresh raw shrimp in air fryer using this recipe! I usually air fry raw shrimp for 5 minutes at 400 degrees F, but you may need to adjust the time and temperature based on your model.
Best Sauces For Air Fryer Frozen Shrimp
While you're cooking frozen shrimp in the air fryer, why not make some tartar sauce? I even have a version that tastes just like the one from Popeye's.
If I don't have time to whip up something homemade, these are some of my favorite store-bought options:
Can I Cook Raw Frozen Shrimp In The Air Fryer?
Absolutely! Simply add the raw, frozen shrimp to your air fryer and set the temperature to 400 degrees F. Since they are not previously cooked, you will need to cook them for about 10 minutes.
How Long Should You Air Fry Frozen Breaded Shrimp?
Cook breaded frozen shrimp for about 8 minutes at 400 degrees F, shaking halfway. If you want to add the breading yourself, follow my recipe for Air Fryer Crispy Shrimp instead.
What To Serve With Shrimp
For a simple meal, add a side of rice and your favorite vegetables — we love these with broccoli or green beans.
You could also serve air fryer frozen shrimp over pasta, with or without a sauce. Need a low-carb option? Zoodles, cauliflower mash, or a simple green salad would all be delicious!
Is Frozen Shrimp Healthy
Yes! Most people think that frozen shrimp is not healthy, but they are wrong. Frozen shrimp is very healthy, and it is a good source of protein. It is also low in calories and cholesterol. Frozen shrimp is also a good source of omega-3 fatty acids. So, if you are looking for a healthy, low-calorie protein option, then frozen shrimp is a good choice.
How To Tell If Frozen Shrimp Is Bad
When it comes to seafood, shrimp is one of the most popular options. It's versatile, relatively affordable, and generally easy to prepare. Plus, it has a mild flavor that pairs well with a variety of other ingredients.
But before you can enjoy shrimp, you need to make sure that it's fresh. And if you're working with frozen shrimp, that can be a bit of a challenge. Here are a few tips to help you tell if frozen shrimp is bad:
Look for any obvious signs of freezer burn. This includes discoloration, dehydration, and crystallization. If the shrimp looks dried out or has any translucent patches, it's probably not going to be very good.
Smell the shrimp. Fresh shrimp should have a slightly salty smell. If it smells fishy or off in any way, it's probably not good anymore.
Touch the shrimp. If it feels slimy or tacky, that's a sign that it's starting to go bad. You want your shrimp to be slightly firm to the touch.
If you're not sure whether or not your frozen shrimp is still good, err on the side of caution and throw it out. It's better to be safe than sorry when it comes to seafood!
How Long Does Frozen Shrimp Last
When it comes to seafood, shrimp is one of the most popular options. It's versatile, easy to cook, and best of all, it's delicious.
But if you're buying frozen shrimp, you might be wondering how long it will last in your freezer. Luckily, frozen shrimp can be stored for up to six months without losing its flavor or texture. That means you can stock up on shrimp when it's on sale and enjoy it all year round!
Just be sure to keep an eye on the expiration date and make sure to use it before it goes bad. With proper storage, frozen shrimp can be a great way to always have fresh seafood on hand.
More Air Fryer Frozen Shrimp Recipes:
Some Helpful Products Used in Today's Recipe:
(affiliate links included)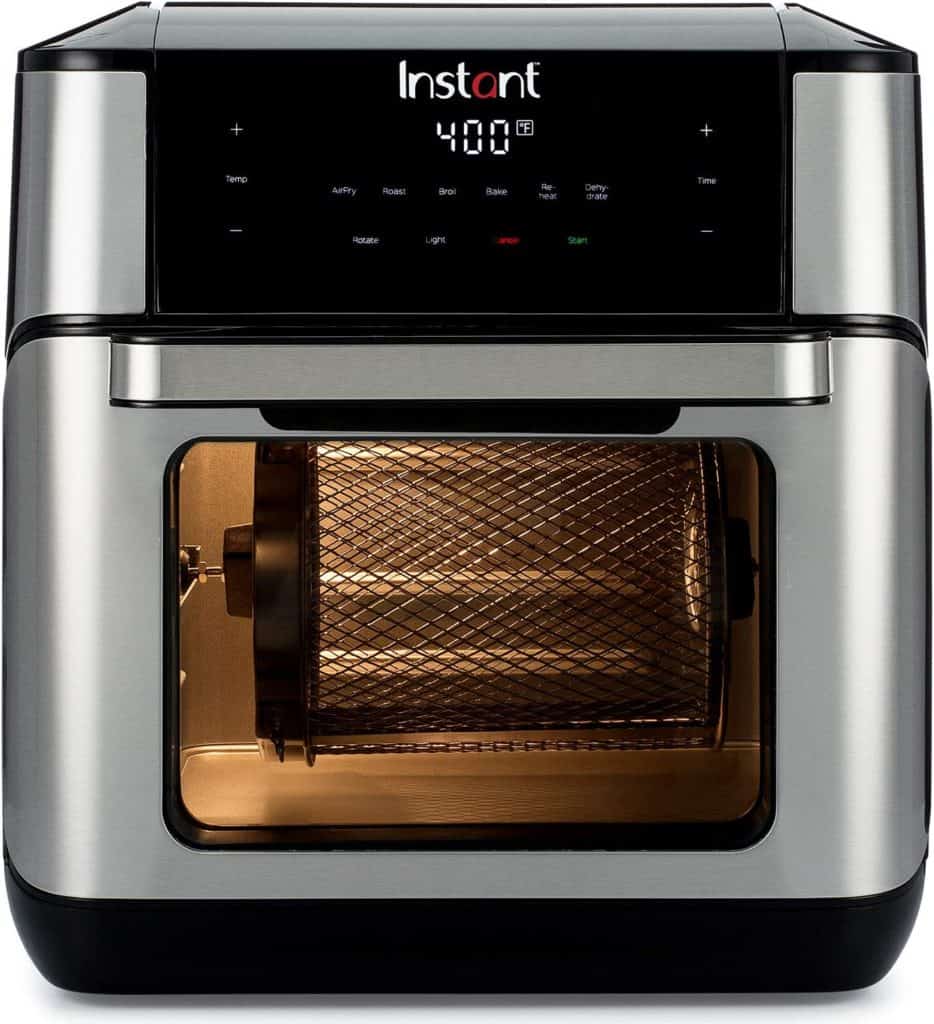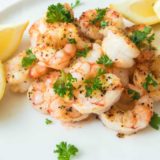 How to Cook Frozen Shrimp in the Air Fryer
Description
Cooking Frozen Shrimp in the Air Fryer will give you plump, juicy, and perfectly crisp on-the-outside shrimp every time. Add your favorite seasonings and dig into this simple meal!
Ingredients
20

ounces

frozen shrimp

2

teaspoons

seasonings

,

assorted
Instructions
ace the frozen shrimp into a single layer in the air fryer basket.

Set the temperature to 370 degrees F, for 8 to 10 minutes.
Nutrition
Serving:
1
g
Calories:
460
kcal
Carbohydrates:
2
g
Protein:
108
g
Fat:
6
g
Saturated Fat:
0.04
g
Polyunsaturated Fat:
0.03
g
Monounsaturated Fat:
0.02
g
Cholesterol:
1616
mg
Sodium:
4990
mg
Potassium:
31
mg
Fiber:
1
g
Sugar:
0.1
g
Vitamin A:
42
IU
Vitamin C:
0.1
mg
Calcium:
606
mg
Iron:
11
mg