Air Fryer Crostini –– The air fryer is one of my favorite appliances. Not only does it make perfect fries, but it can also be used to make other tasty treats, like these air fryer crostini. They are the perfect appetizer for any party or gathering, and they're so easy to make! You just need a few simple ingredients, and your air fryer will do all the work for you. So give these a try – I guarantee you won't be disappointed!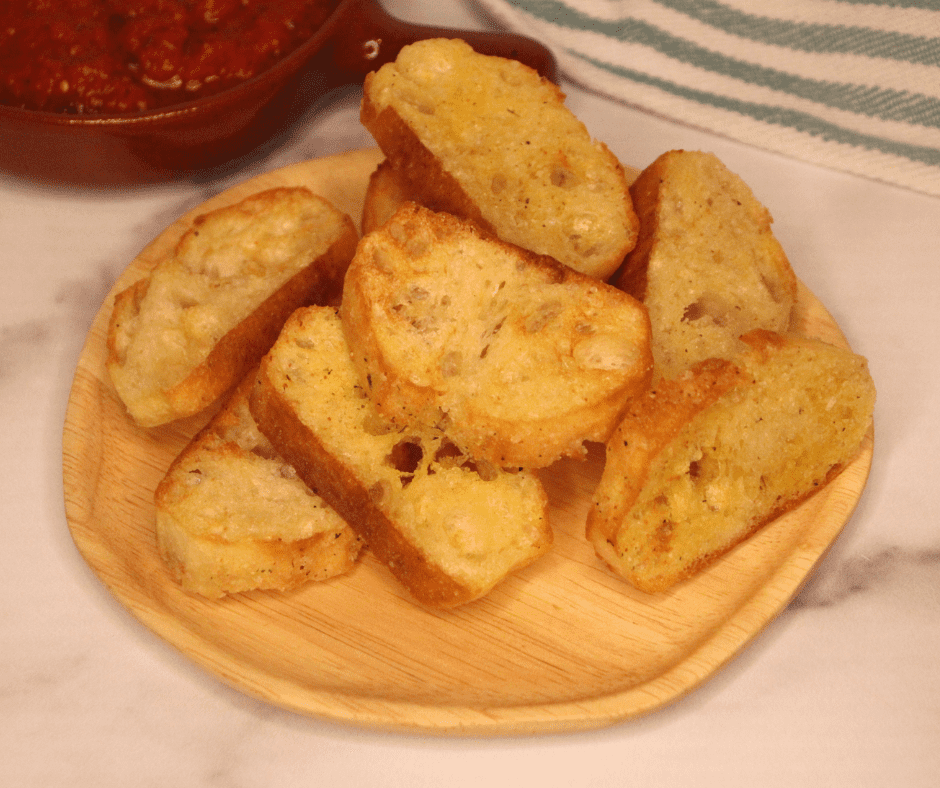 If you're looking for a quick and easy appetizer, look no further than air fryer crostini. Crostini are simple to make and can be topped with almost anything you like. With the air fryer, they cook quickly and evenly, so they're perfect for a party. Try topping them with your favorite dip, or go for something a little more complicated like this recipe for air fryer crostini with bacon jam and brie. They're sure to be a hit!
What Is Crostini?
A crostini is a small, thin slice of bread that is grilled or baked and then topped with a variety of ingredients.
Crostini is a popular appetizer that can be easily made in an air fryer. Crostini is simply bread that has been cut into small pieces and then toasted or grilled. The bread is then topped with various savory toppings, such as cheese, meats, or vegetables. Crostini is a versatile dish that can be enjoyed as a tasty snack or a light meal. Whether you're hosting a party or just looking for something to munch on, crostini is always a good option. So what are you waiting for? Get your air fryer out and start making some crostini!
Ingredients Needed For Air Fryer Crostini
If you're looking for an easy appetizer to serve at your next party, look no further than crostini! This simple dish can be made with a variety of toppings, but we've chosen to focus on air fryer crostini. Keep reading to learn what ingredients you'll need and how to make them. Enjoy!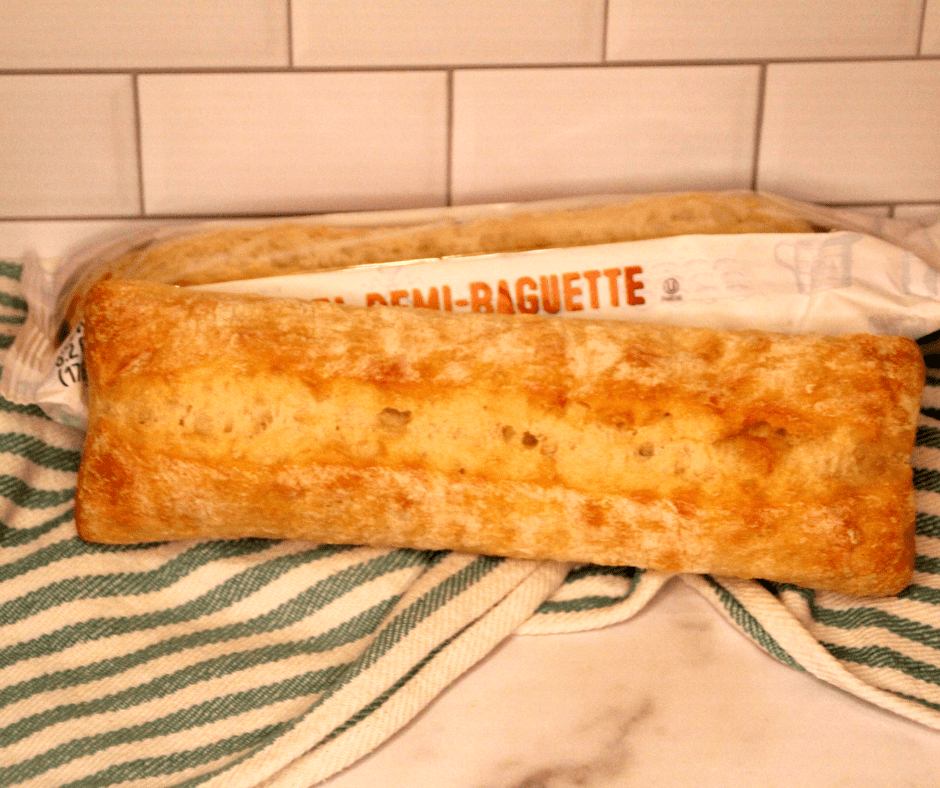 Bread: Use either crusty French bread or baguette. You can also use Italian bread.
Oil: Use either avocado oil, olive oil, or coconut oil
Salt: Use either sea salt or fine salt.
How To Cook Crostini In The Air Fryer
Crostini are a versatile appetizer that can be enjoyed at any time of day. Whether you're looking for a quick snack or an elegant starter, these bite-sized pieces of toast are sure to please. And thanks to the air fryer, they're now easier than ever to prepare.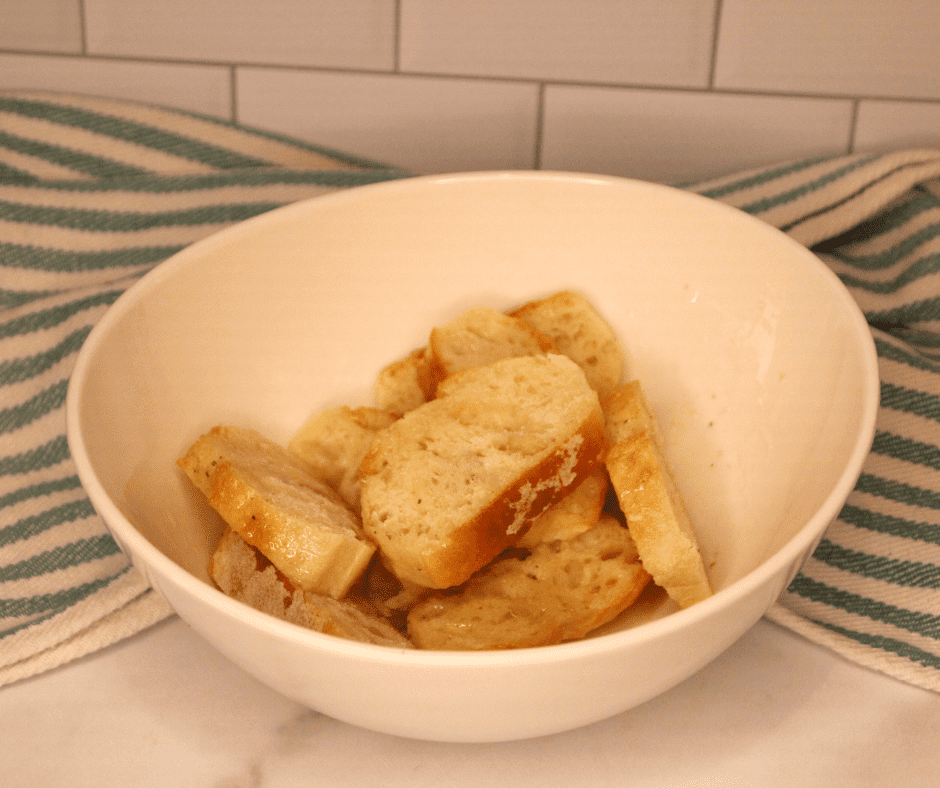 To cook crostini in the air fryer, start by slicing a baguette into 1/2-inch thick slices. Spread each slice with a thin layer of olive oil, then place them in the air fryer basket in a single layer. Cook at 400 degrees F, for three minutes, or until the bread is crispy and golden brown.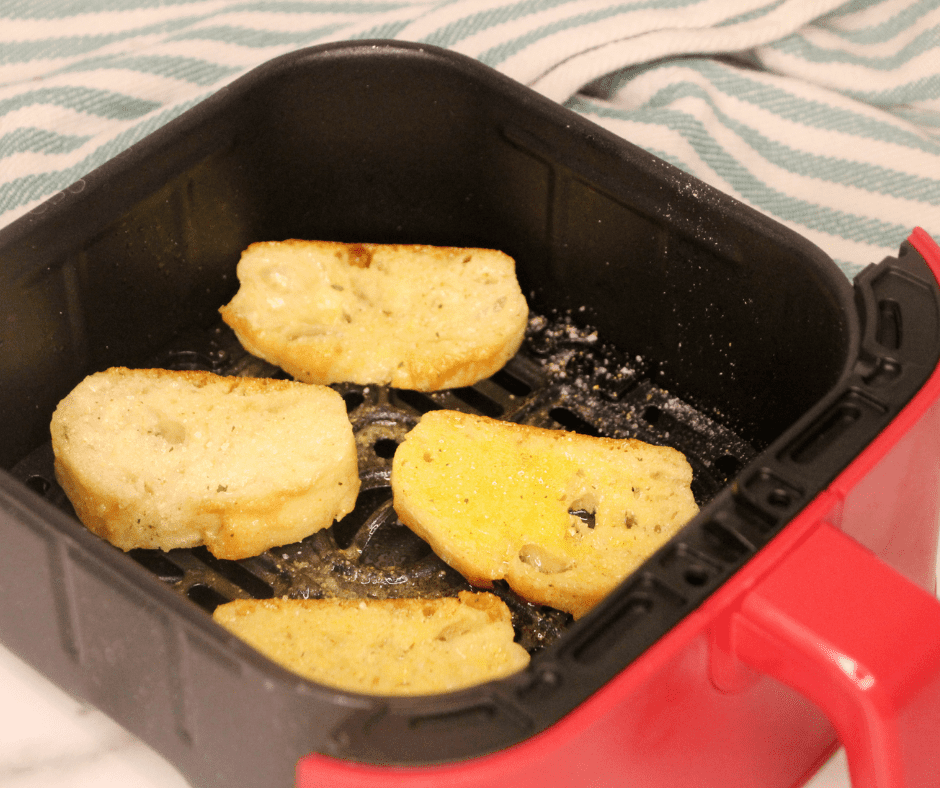 Once the crostini are cooked, toppings can be added as desired. For a savory option, try topping with shredded cheese and chopped bacon. Or, for something sweet, top with Nutella and sliced strawberries. The possibilities are endless! So why not give air fryer crostini a try next time you're entertaining? Your guests will be sure to thank you.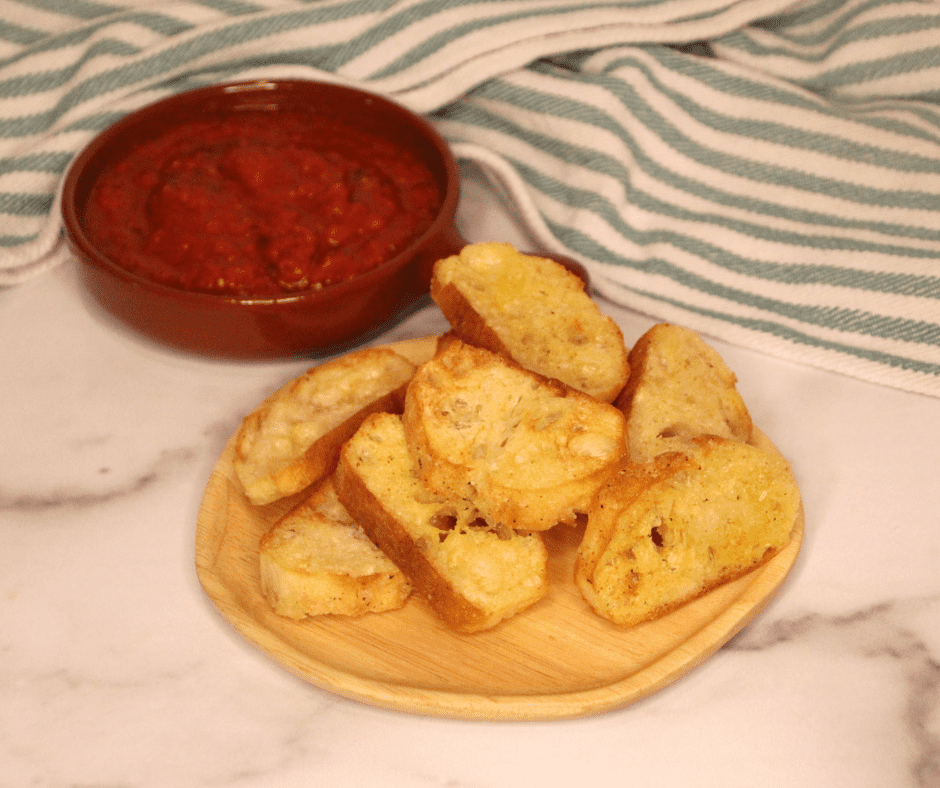 Tips For The Best Air Fried Crostini
One of the best things about air-fried foods is that they can be just as crispy and delicious as their deep-fried counterparts but without all the oil and mess. And when it comes to air fryer recipes, crostini are a great option. Here are a few tips for making the best air-fried crostini:
Start with a good baguette. Look for a baguette that is fresh and has a good crust. Avoid baguettes that are soft or have been pre-sliced, as they will not get as crispy in the air fryer.
Slice the baguette into thin slices, about ¼ inch thick. If the slices are too thick, they will not get crispy.
Brush both sides of each slice with olive oil. This will help to ensure that the crostini get nice and crispy.
Place the crostini in the air fryer in a single layer and cook at 400 degrees Fahrenheit for about 3 minutes, or until golden brown and crisp. Serve immediately.
Frequently Asked Questions
Best Bread For Crostini
When it comes to finding the best bread for crostini, there are a few things to keep in mind. First, you'll want to choose bread that is firm enough to support the toppings without falling apart. Second, you'll want bread with a nice flavor that will complement the toppings. And third, you'll want to choose bread that is easy to slice into thin pieces. With those criteria in mind, here are three of the best bread for crostini:
French baguette: A classic choice, French baguettes are firm and have a slight crust that makes them easy to slice. They also have a subtle, buttery flavor that pairs well with both sweet and savory toppings.
Italian ciabatta: Ciabatta is another great option for crostini. It's slightly softer than a baguette, but still firm enough to support toppings. And its large, open crumb makes it easy to slice into thin pieces. Best of all, ciabatta has a delicious olive oil flavor that complements almost any topping.
Sourdough loaf: If you're looking for something with a bit more flavor, try sourdough bread. Its tangy taste pairs well with savory toppings like cheese and charcuterie. And its firm texture makes it easy to slice into thin pieces. Just be sure to slice the bread thinly, as sourdough can be quite dense.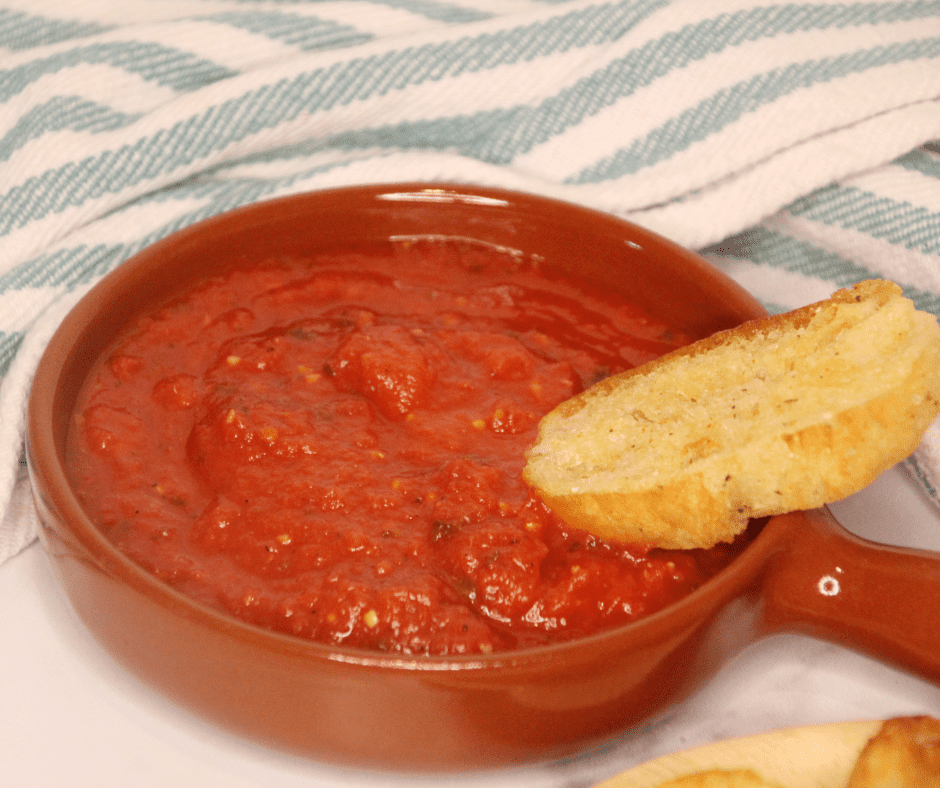 What To Serve With Air Fryer Crostini
Air fryer crostini is a versatile dish that can be served as an appetizer or a main course. Here are some ideas of what to serve with air fryer crostini:
Smoked salmon and cream cheese: This classic pairing is delicious and always a hit with guests.
Caprese salad: The combination of fresh mozzarella, tomatoes, and basil is a perfect match for the crispy crostini.
White bean and rosemary spread: This flavorful spread is perfect for those who want a vegetarian option.
Roasted vegetables: You can't go wrong with roasted vegetables, whether it's a mix of mushrooms, peppers, and onions or just roasted Brussels sprouts.
Prosciutto and figs: This sweet and salty combination is sure to please everyone at the table.
More Air Fryer Appetizers
The air fryer has quickly become one of the most popular kitchen appliances, and it's no wonder why. This versatile appliance can do everything from cooking a delicious steak to fry up a batch of crispy french fries. And when it comes to appetizers, the air fryer is king. Whether you're looking for something sweet or savory, there's an air fryer appetizer out there for you. Need some inspiration? Here are a few of our favorite air fryer appetizers:
No matter what you're in the mood for, these air fryer appetizers are sure to please. So fire up your air fryer and get cooking!
Don't Forget To Pin: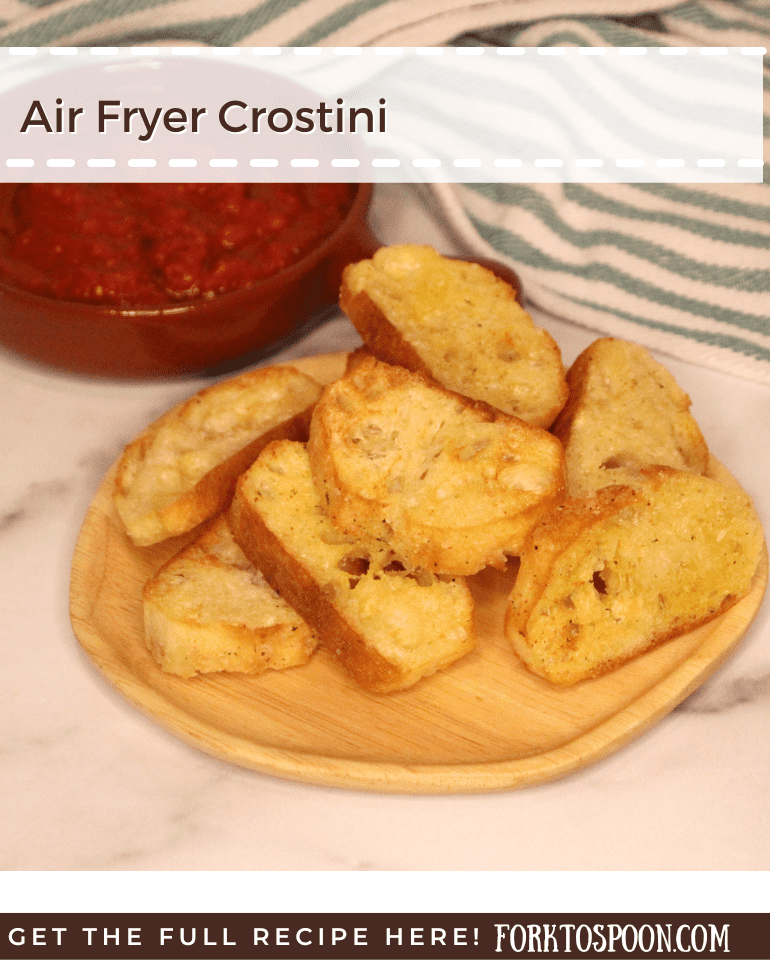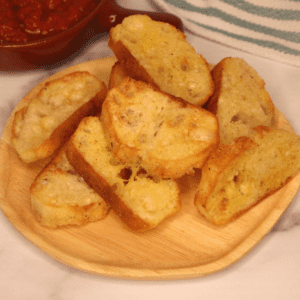 Air Fryer Crostini
Description
The air fryer is a miraculous appliance. You can make just about anything in it, from chicken to fries to cake. This time, we're making crostini. Crostini are essentially just slices of bread that have been toasted and topped with something delicious. We're using ours to make a simple olive tapenade spread. Want to learn how? Keep reading!
Ingredients
1

baguette

2

teaspoons

olive oil

1

teaspoon

salt

,

or sea salt
Instructions
To cook crostini in the air fryer, start by slicing a baguette into 1/2-inch thick slices.

Spread each slice with a thin layer of olive oil, then place them in the air fryer basket in a single layer. Cook at 400 degrees F, for three minutes, or until the bread is crispy and golden brow
Nutrition
Serving:
1
g
Calories:
120
kcal
Carbohydrates:
20
g
Protein:
4
g
Fat:
2
g
Saturated Fat:
0.4
g
Polyunsaturated Fat:
1
g
Monounsaturated Fat:
1
g
Sodium:
258
mg
Potassium:
52
mg
Fiber:
1
g
Sugar:
2
g
Calcium:
44
mg
Iron:
1
mg