The classic pound cake recipe only has four ingredients, and you make a simple air fryer classic pound cake.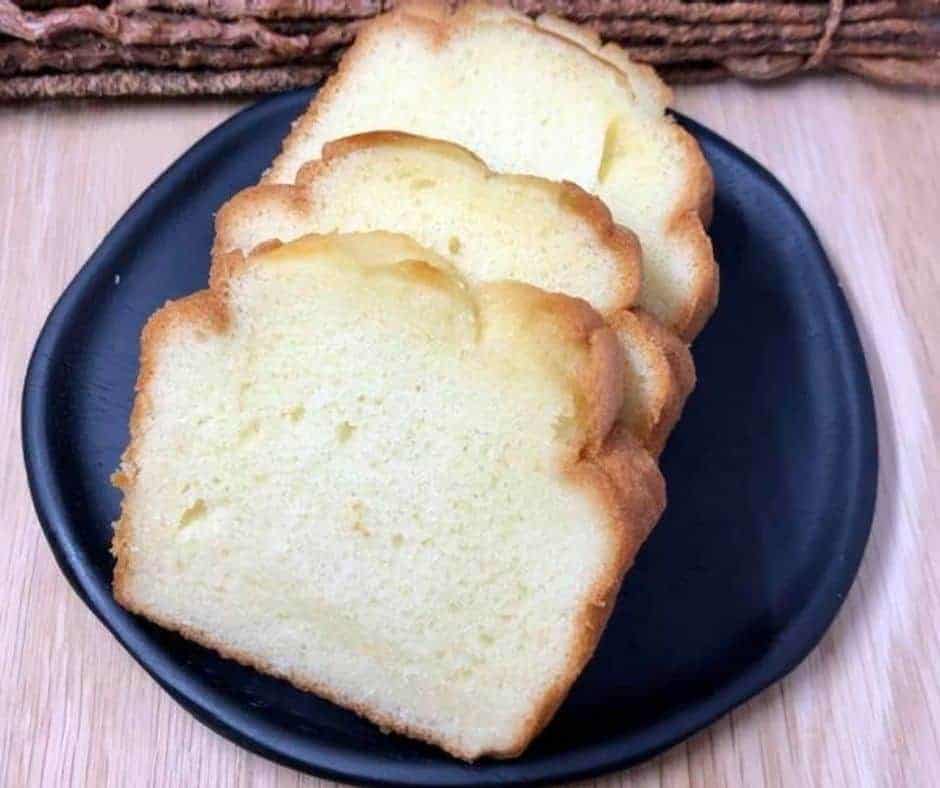 I love a good slice of pound cake in the morning. I usually run around in the mornings, so my trick to remain sane in the morning is the night before. While cleaning the kitchen, I bake an air fryer pound cake.
If you have never eaten pound cake, let me tell you that it's been around for years and years.
If you love quick breads, some of my favorites that I have made in the Air Fryer are AIR FRYER BANANA WALNUT POUND CAKE, AIR FRYER BANANA BREAD, AIR FRYER APPLE CRANBERRY BREAD, and AIR FRYER BANANA BREAD MUG CAKE.
What Are The Ingredients For An Air Fryer Pound Cake?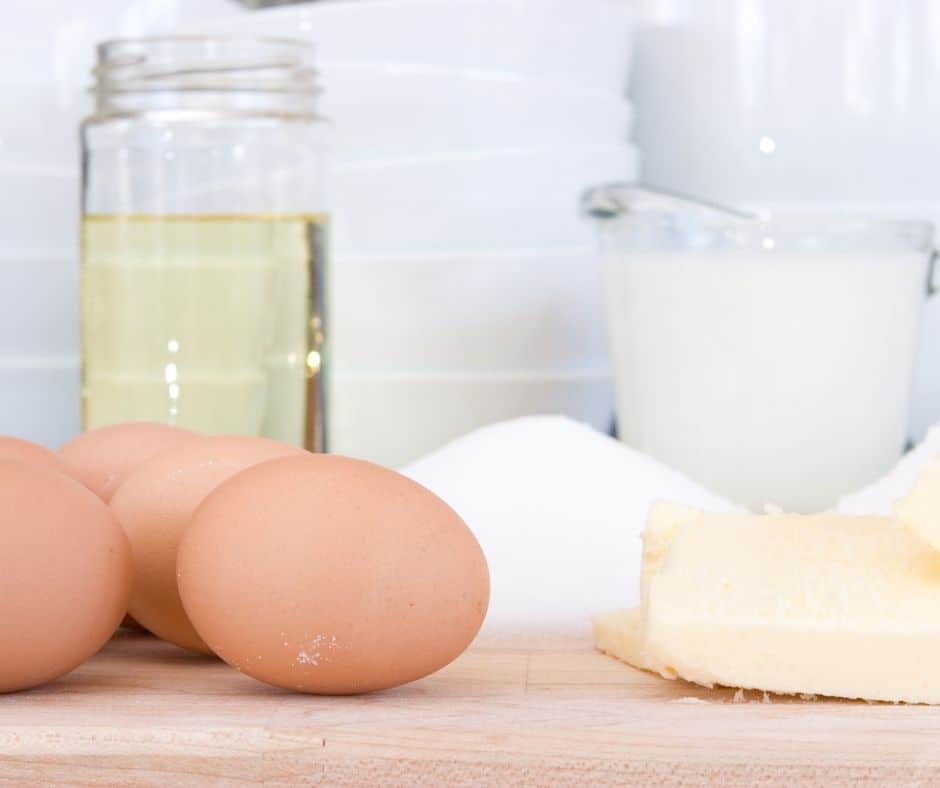 The name pound cake refers to the fact that you are using precisely a pound for the ingredients:
Flour
Sugar
Butter
Eggs
This surprises me when someone says nine eggs; you need nine eggs for this recipe. That is a pound of eggs if you google it.
I kept to the exact classic pound cake for this recipe, and it makes about three loaves. So, if you only want one, divide the recipe by 3. And you will have a pound cake.
What Other Flours Can I Use For Air Fryer Pound Cake?
You can substitute it for anything you usually use, although the texture might be altered. I typically do all of my baking with all-purpose flour because that is what most of you use.
Gluten-Free
Whole Wheat
Cake Flour
How Can I Tell If My Pound Cake is Finished Baking?
Here is the key, which I tell everyone. Everyone's air fryer is slightly different; it may take your air fryer 20 minutes to bake this pound cake, and it might take your neighbor 25 minutes.
The key is the pan. I know a lot of you want to use what is on hand, and I am a huge fan of using what's already in your cabinets, but if you're going to make loaf cakes or quickbreads in your air fryer, you need to invest the money in a small loaf pan. It will air-fry quicker and get done in the middle.
To tell if any baked good is done, whether in the oven or the air fryer, stick a toothpick in the center of the bread. If it comes out with moist crumbs, it is done. If it comes out with wet batter, it needs more time.
Continue to bake (like you would do in an oven recipe) until it's done. The exact temperature continues to bake. After about 5 minutes, I check and continue until the pound cake is entirely made.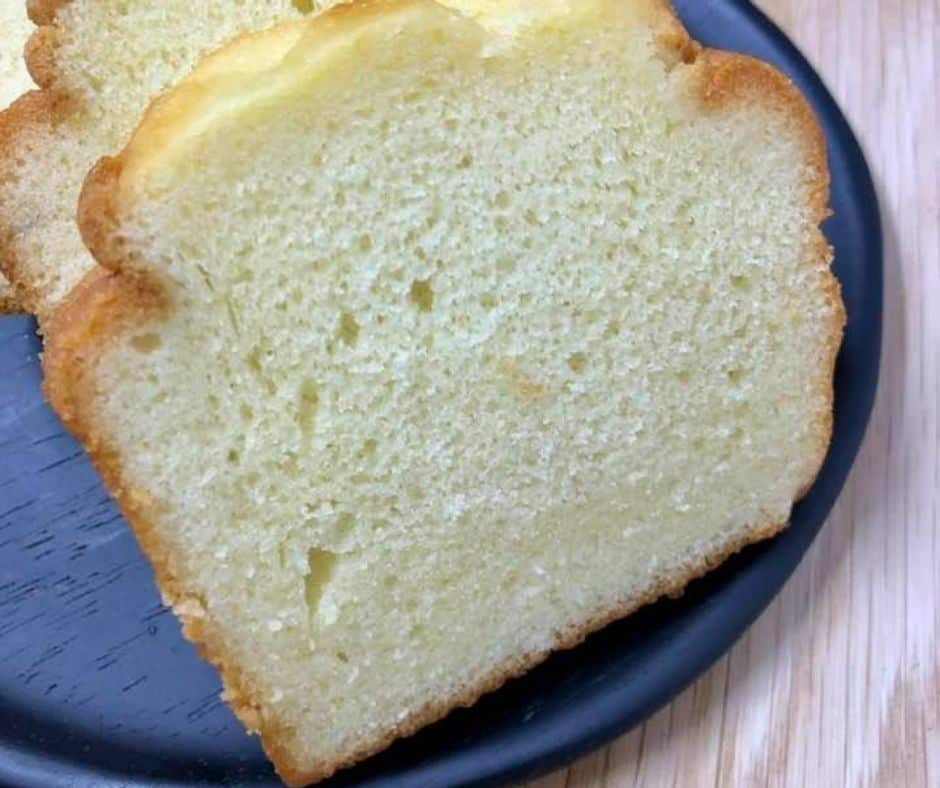 How To Store:
If you have any leftover pound cake, cover it with saran wrap and leave it on the counter for 2 to 3 days. Any longer than that, refrigerate the pound cake.
To Freeze Pound Cake: let it cool to room temperature, wrap it in saran wrap, and wrap it a few times in aluminum foil. Place the wrapped bread into a freezer-safe bag, which will last for 2 to 3 months.
To Use From Frozen: Take the bread out of the freezer and leave it on the counter or in the refrigerator until thawed.
Variations:
There are so many ways that you can change this pound cake up. Some great add-ins are:
Chocolate Chips
Strawberries, Raspberries, Blackberries, or Blueberries
Diced Pecans or Diced Walnuts
Air Fryer Safe Pans:
If you want to keep the classic shape of the quick bread, then I recommend these. The mini loaf pans will give you a better end product, as they are smaller, and the air fryer will do a better job at cooking them through. (affiliate links included)
More Air Fryer Quick Bread Recipes:
Don't Forget To Pin: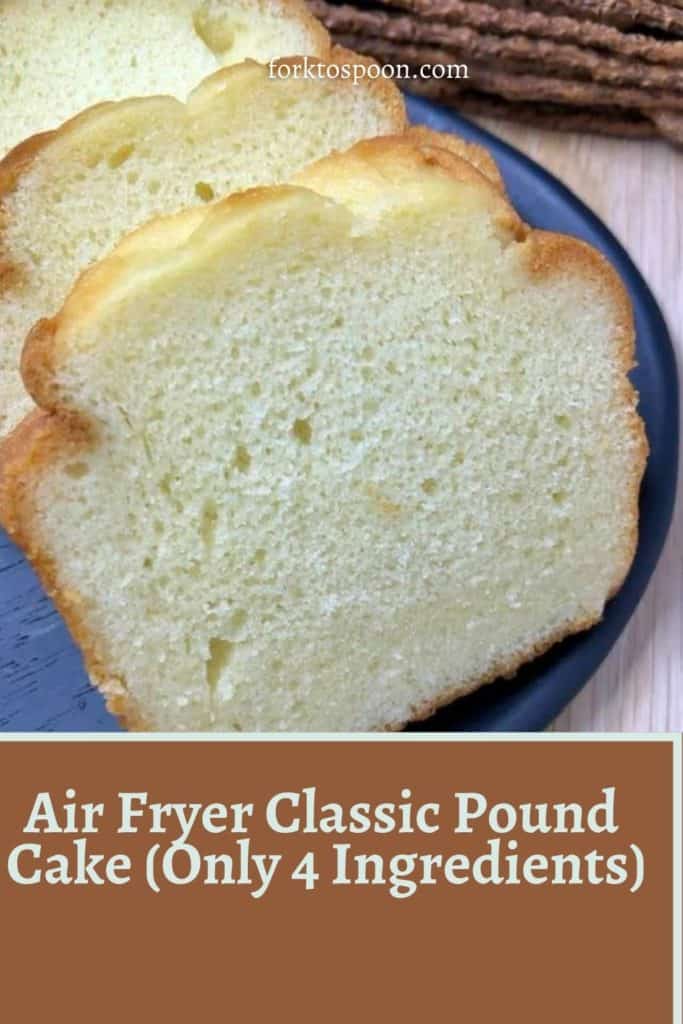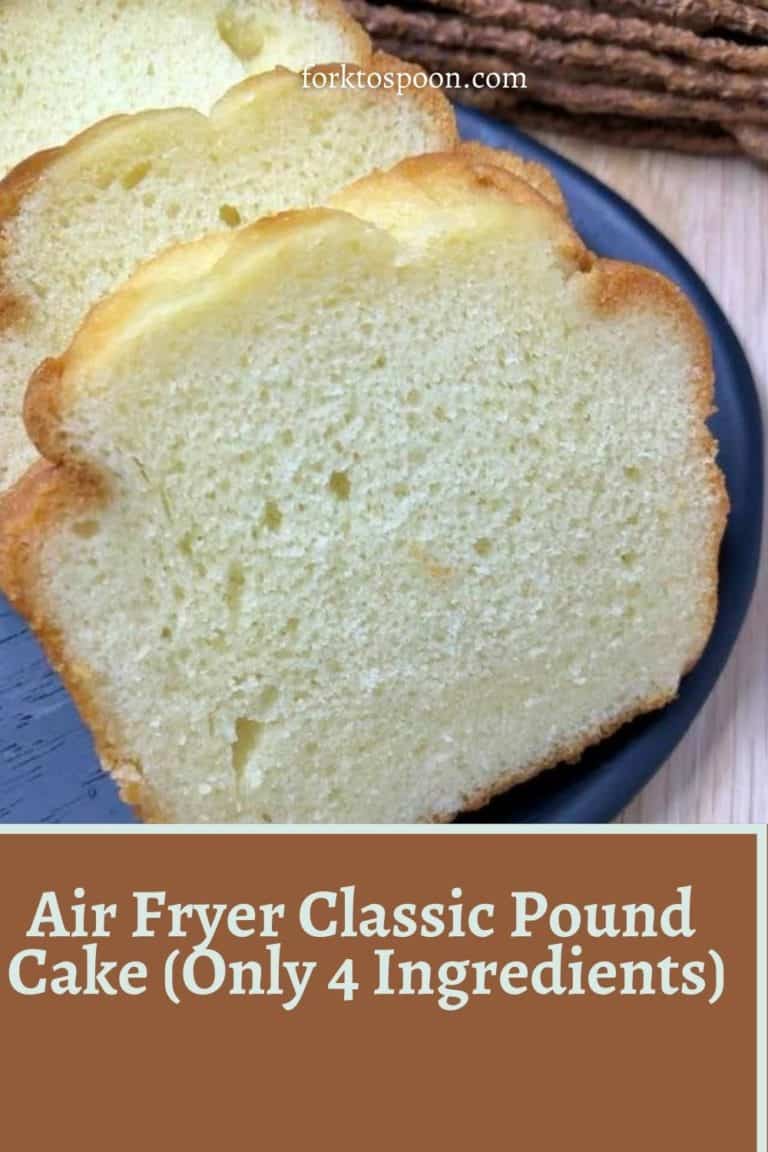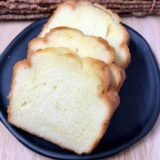 Air Fryer Classic Pound Cake (Only 4 Ingredients)
Description
The classic pound cake recipe only has four ingredients, and you make a simple air fryer classic pound cake.
Ingredients
9

large

eggs

2

cups

granulated sugar

2

cups

butter

,

unsalted, room temperature

3 1/2

cups

all-purpose flour
Instructions
In a large mixing bowl, cream the butter and sugar together. This will make for a fluffy pound cake. Then mix in the eggs and flour.

Pour the batter into a greased air fryer-safe pan.

Set the pan into the air fryer, and set the temperature to 320 degrees F for 20 minutes. (air fryer setting)

When the time is up, place a toothpick in the pound cake, and check to see that the toothpick comes out clean. If not, add another 5 minutes.

Plate, serve, and enjoy!
Equipment
Air Fryer

Cooking Spray

Mini Loaf Pans
Notes
Note: Depending on your air fryer and the pan you use. I highly recommend that you purchase mini-loaf pans as they are better at cooking the entire quick bread.
Note; This will make 3 Mini Loaves
Nutrition
Serving:
1
g
Calories:
879
kcal
Carbohydrates:
92
g
Protein:
13
g
Fat:
52
g
Saturated Fat:
31
g
Polyunsaturated Fat:
3
g
Monounsaturated Fat:
14
g
Trans Fat:
2
g
Cholesterol:
331
mg
Sodium:
446
mg
Potassium:
151
mg
Fiber:
1
g
Sugar:
50
g
Vitamin A:
1722
IU
Calcium:
54
mg
Iron:
4
mg