Air Fryer Cinnamon Raisin Bread — The air fryer is a handy appliance to have in the kitchen. Not only does it make quick work of frying foods, but it can also be used for baking. In this blog post, we'll show you how to make cinnamon raisin bread in your air fryer. This recipe is simple and easy to follow, and the results are delicious! So whether you're a novice cook or an experienced chef, you'll be able to make this tasty dish in no time. Enjoy!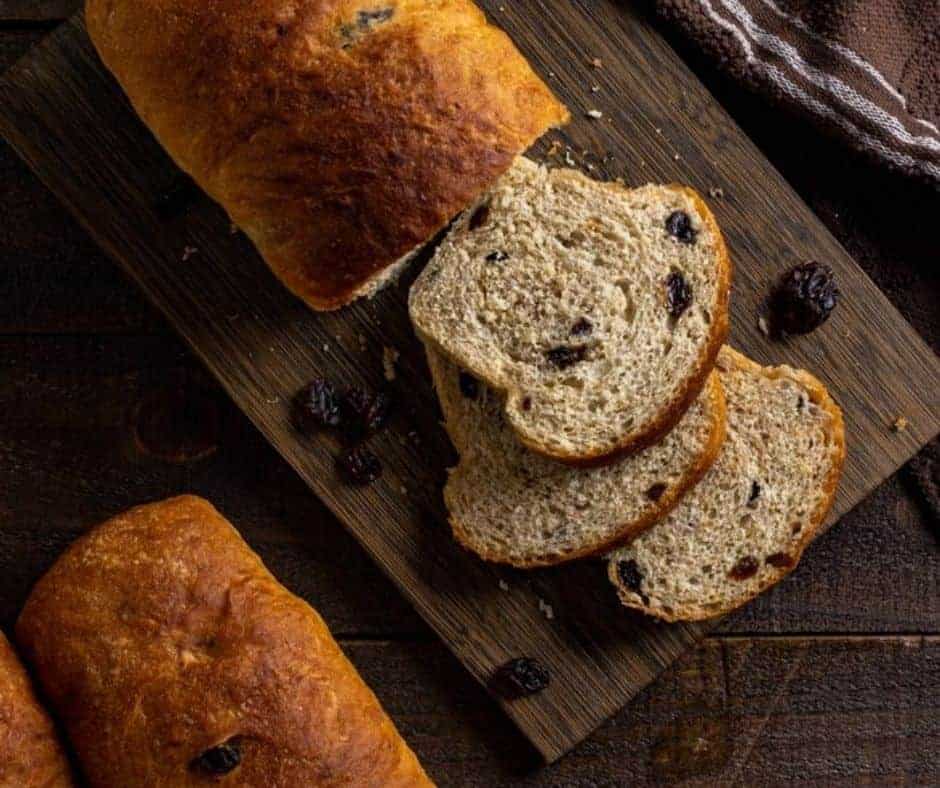 Air Fryer Cinnamon Raisin Bread is one of the easiest bread recipes you can make in your air fryer, and it is truly delicious.
If you are a fan of homemade bread, you have to give this air fryer cinnamon raisin homemade bread recipe a try.
Tender and fluffy white bread that has the perfect golden crust. Slice and serve with a slab of butter that melts down into all the nooks and crannies.
This bread is amazing, and with the air fryer, it baked up in minutes! Who wouldn't want a fresh slice in the morning, on their way to work! This is a great and easy recipe.
If you become an air fryer bread queen, here are some easy Air Fryer Bread Recipes, AIR FRYER SOFT DINNER ROLLS, AIR FRYER GARLIC BREAD, FROZEN BISCUITS IN AIR FRYER, and
Ingredients Needed For Air Fryer Cinnamon Raisin Bread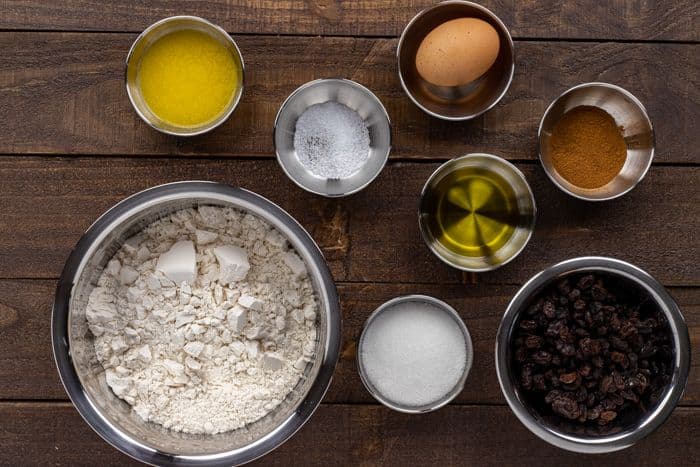 Active Dry Yeast
Warm Water
Granulated Sugar
Vegetable Oil
Salt
Egg
All-Purpose Flour
Raisins
Ground Cinnamon
How To Make Air Fryer Cinnamon Raisin Bread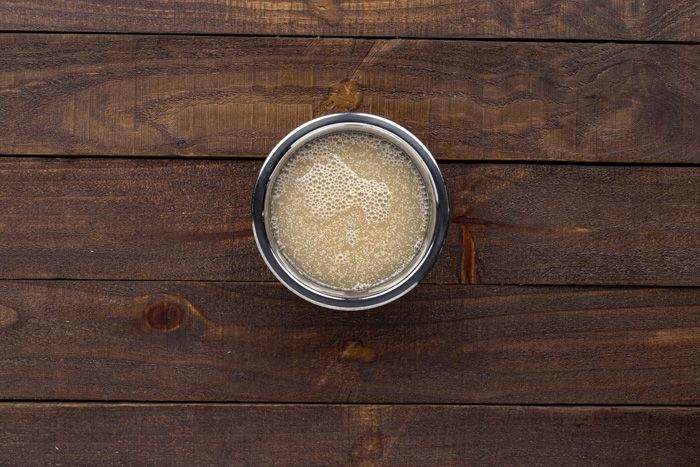 Start by adding the yeast, sugar, and warm water to a small mixing bowl. Let the yeast sit for about 10 minutes. When it starts to foam, you are ready to add the next set of ingredients.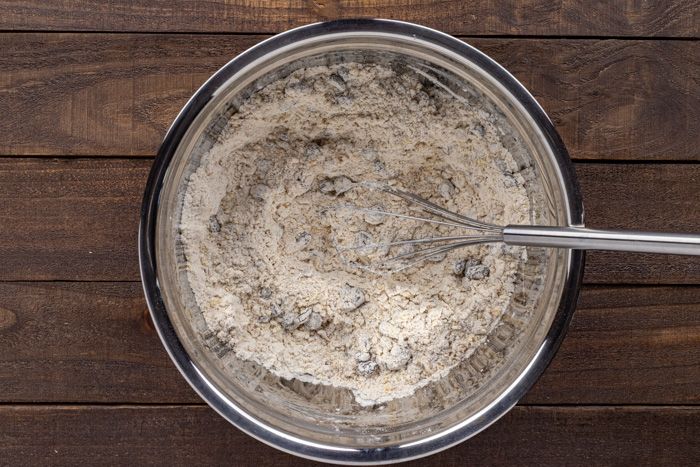 I added the rest of the sugar, oil, salt, egg, all-purpose flour, ground cinnamon, and raisins to my large mixing bowl and then mixed in the yeast mixture.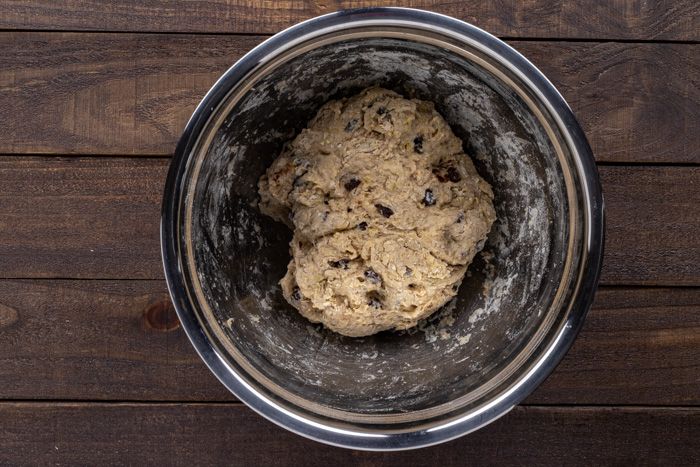 Transfer the mixed dough to a bowl, coated with olive oil, and cover and let sit for about an hour until it's doubled in size.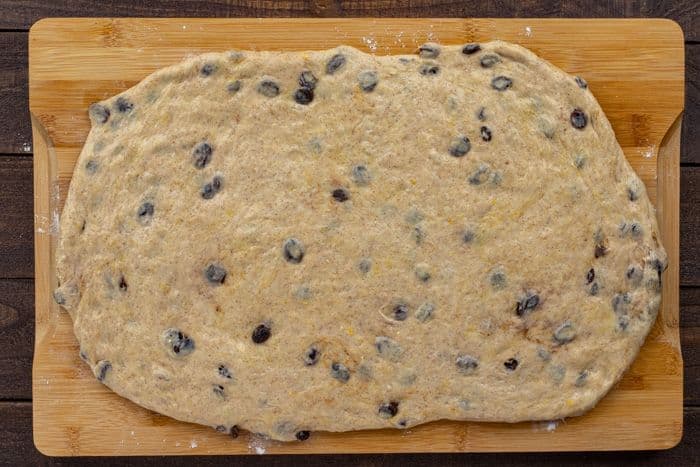 Once the dough has risen, knead for a few minutes. Then on a floured surface, roll out the dough. You can add more ground cinnamon. Roll up the dough, from the short size to the long side.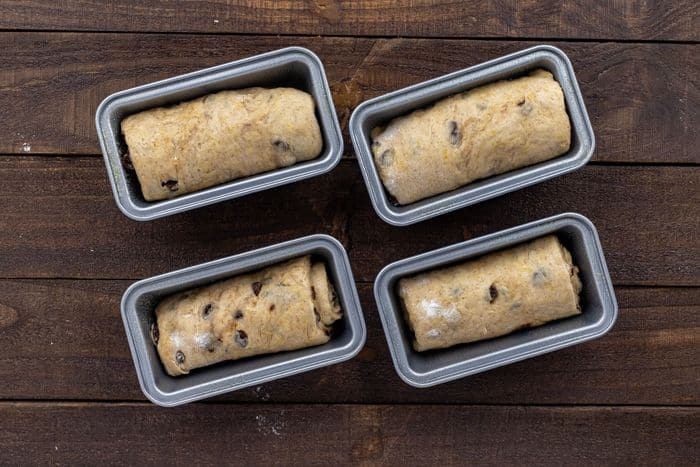 Roll up the dough, and place in a greased loaf pan. Cover and let rise for about an hour.
Brush with melted butter and then set the loaf pans into the air fryer; air fry at 320 degrees F until cooked through (about 10-12 minutes). Make sure it's fully cooked by sticking a toothpick into the center of the bread)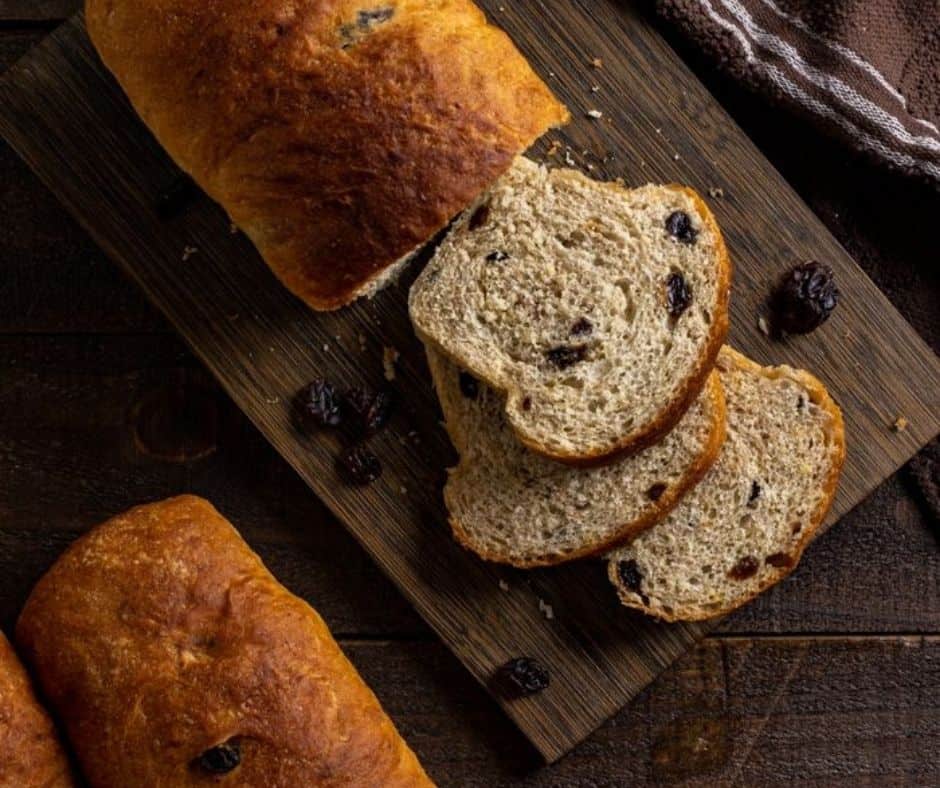 The Key Ingredient:
Flour: I have been reading up on flour since I am really baking a storm these days. I always use all-purpose, which is really made for the home baker, since most of us wouldn't run to a store to buy special types of flour for each recipe. The key to the all-purpose flour and why it is suitable for baking is that it has a medium gluten protein count of about 9.5-11.5% (Thank you, Wikipedia).
This protein count is critical to remember because it's essential not to mix when you are baking. After all, overmixing the gluten will cause your final product, whether it's cakes, cookies, or quick bread, to be harder and denser.
Looking for more air fryer recipes
Apple Fries | If you are a fan of apples, why not try my fry recipe. This is simple to make and dip in dulce de leche or a caramel sauce—the ultimate dessert.
Stuffed Bell Peppers | Stuffed peppers are a classic dish that so many homes regularly use if you want to try an unforgettable dinner idea.
Fried Raviolis | Whether you serve this up as an appetizer or a weeknight dinner, these air-fried ravioli are phenomenal. Breaded, crispy, and perfect for dipping into marinara.
What Temperature Does Water Need To Be For Proofing Yeast
I want to point out that water needs to be around 105-110 degrees Fahrenheit. If it is too hot of water, it will kill the yeast. If not warm enough, it will not allow it to bloom.
How to Know Yeast Is Activated
Once you mix your yeast in the water along with the sugar, you let it sit. When you see the yeast beginning to foam and rise a bit, you know the yeast is activated and used in the recipe.
If your yeast does nothing, and no bubble froth is created, your yeast is not activated, and you probably have a bad batch and need to restart. If the yeast doesn't bloom, you will not get your bread to rise the way you want when you air fry it.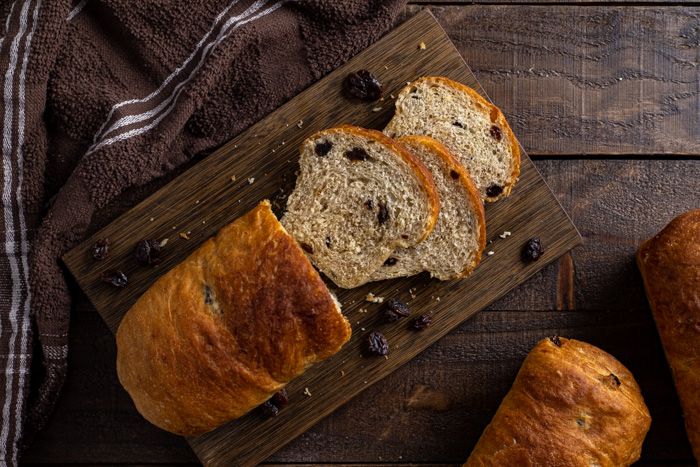 How To Speed Up The Rise Time For Bread Dough
If you want to speed up the time it takes for your bread dough to rise, follow this tip. Preheat the oven to 180 degrees, and then move on to the next step. You will grease an oven-safe bowl with oil. Make sure to turn the bread dough all over on the greased bowl to have a light coating of oil.
Cover the bowl with plastic wrap. Turn the oven off, and then sit your bowl in the oven with the door cracked open. Let it rise until it doubles in size. Generally, it will take around 45 minutes instead of 2 hours to rise on the counter.
Remove the dough, punch down and then place in your air fryer pan and cook as directed in the printable recipe card below.
Storing Bread
Suppose you have some bread leftover; allow it to cool down on a cooling rack. Then you can store your bread in an airtight container or sealable bag on the counter at room temperature.
You can also freeze any leftover bread you do not plan to eat right away. Just store properly in the freezer for up to three months. Then thaw on the counter and then slice and serve!
HINTS FOR AIR FRYER SAFE PANS

If you want to keep the classic shape of the quick bread, then I recommend these (affiliate links included)

Don't Forget To Pin-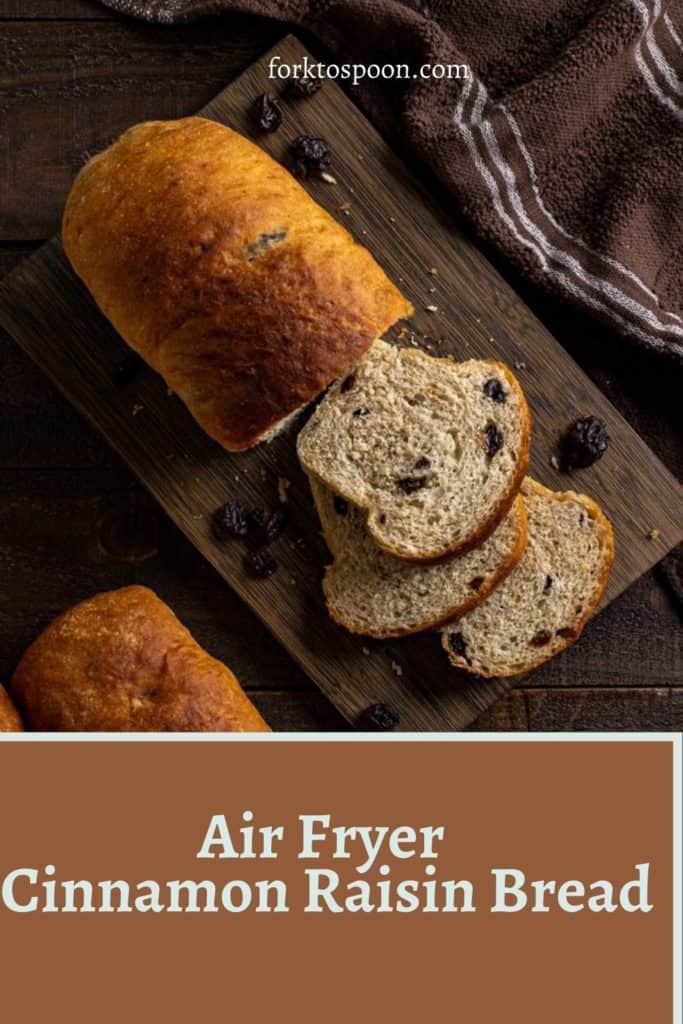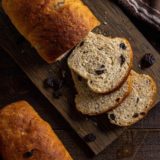 Air Fryer Cinnamon Raisin Bread
Description
Air Fryer Cinnamon Raisin Bread is one of the easiest bread recipes you can make in your air fryer, and it is truly delicious.
Ingredients
Yeast Mixture:
1

tablespoon

active dry yeast

1

cup

water

,

warm, between 110-115

1/4

cup

granulated sugar
Dough Ingredients:
1/4

cup

sugar

1/8

cup

olive oil

1

teaspoon

salt

1

large

egg

3

cups

all-purpose flour

1

cup

raisins

1-2

teaspoons

ground cinnamon
Other:
1-2

tablespoons

butter

,

melted
Instructions
Start by adding the yeast, sugar, and warm water to a small mixing bowl. Let the yeast sit for about 10 minutes. When it starts to foam, you are ready to add the next set of ingredients.

I added the rest of the sugar, oil, salt, egg, all-purpose flour, ground cinnamon, and raisins to my large mixing bowl and then mixed in the yeast mixture.

Transfer the mixed dough to a bowl, coated with olive oil, and cover and let sit for about an hour until it's doubled in size.

Once the dough has risen, knead for a few minutes. Then on a floured surface, roll out the dough. You can add more ground cinnamon. Roll up the dough, from the short size to the long side.

Roll up the dough, and place it in a greased loaf pan. Cover and let rise for about an hour.

Brush with melted butter and then set the loaf pans into the air fryer; air fry at 320 degrees F until cooked through (about 10-12 minutes). Make sure it's fully cooked by sticking a toothpick into the center of the bread)
Nutrition
Serving:
1
Serving
Calories:
326
kcal
Carbohydrates:
63
g
Protein:
6
g
Fat:
6
g
Saturated Fat:
2
g
Polyunsaturated Fat:
1
g
Monounsaturated Fat:
3
g
Trans Fat:
0.1
g
Cholesterol:
27
mg
Sodium:
319
mg
Potassium:
215
mg
Fiber:
3
g
Sugar:
13
g
Vitamin A:
78
IU
Vitamin C:
1
mg
Calcium:
20
mg
Iron:
3
mg