Frozen Ravioli In Air Fryer — Looking for a new game day appetizer? Look no further than this delicious appetizer recipe for air-fried ravioli!
For the best results of crispy toasted ravioli, you will love this easy recipe!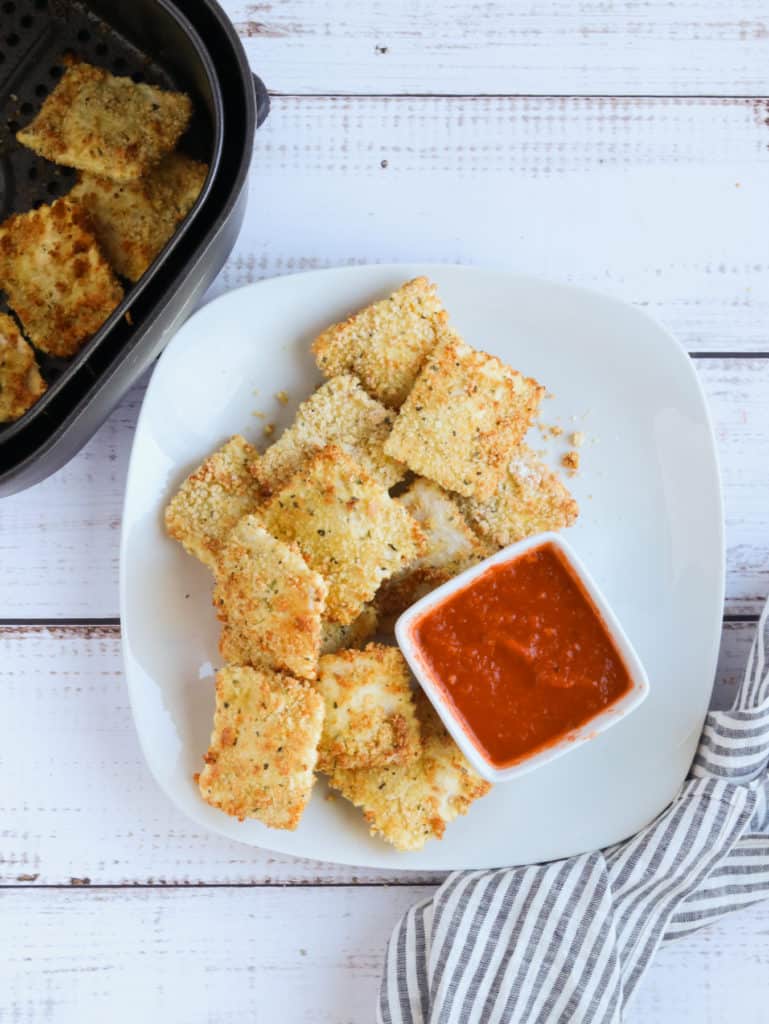 Who doesn't love a delicious, melt-in-your-mouth ravioli dish? Now you can make your own golden-brown and crispy version of this Italian classic at home with your air fryer! Not only is frozen ravioli an easy weeknight meal option, but it's also straightforward to cook. Learn how to perfect the art of making frozen ravioli in the air fryer for perfectly cooked crispiness that will be sure to satisfy even the pickiest eaters. Plus, you can customize the dish however you like by adding protein or brunch items. Read on for our top tips on mastering Frozen Ravioli In Air Fryer!
There is nothing more satisfying than a quick and easy meal that tastes delicious. If you have ever wished for a way to make frozen ravioli without pre-boiling in water, this post is for you. By using an air fryer, it's now possible to enjoy restaurant-style home-cooked ravioli from the comfort of your own kitchen. In just minutes, with minimal preparation and no special equipment, you can create crispy and tasty ravioli with ease – perfect for lunch or dinner! Keep reading to find out how easy it is to make frozen ravioli in an air fryer.
Frozen Ravioli In Air Fryer
Are you looking for a delicious and easy-to-prepare meal that won't require too much effort but will still yield mouthwatering results? If so, then the frozen ravioli in the air fryer is an idea worth exploring. As opposed to conventional cooking methods, such as baking or frying in oil, this modern technology allows us to make a quick yet nutritious meal with minimal ingredients and effort.
It's one of those timesaving snacks that can be whipped up with absolute ease—all you need is your trusty air fryer! In this recipe, we'll explore why frozen ravioli is such a great choice for an air fryer dish (hint: it's easier than you think). We'll discuss the simple steps required to prepare this sizzling treat as well as provide tips on how to maximize its flavor and texture. So come join us as we share the secrets behind making crispy kinds of ravioli using nothing more than your favorite kitchen appliances!
After all who doesn't love crispy ravioli? This is a great and easy air fryer appetizers!
Ingredients Needed
Making frozen ravioli in an air fryer solves the age-old conundrum of how to get a light crusty coating on your favorite pasta dish. The secret lies in mastering the delicate balance between time, temperature, and quantity. If you love breaded ravioli, here is a foolproof recipe with simple ingredients, this is the best way to make this tasty side dish!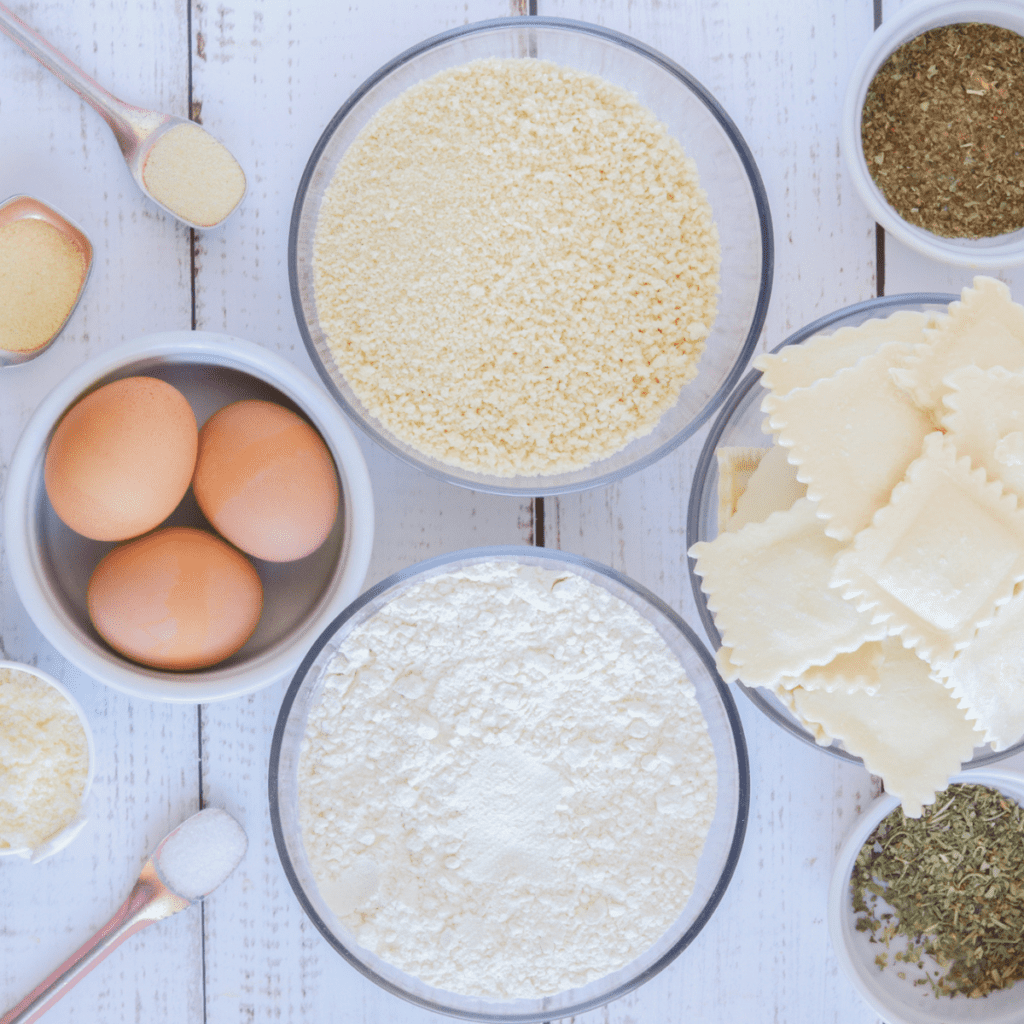 Remember the step-by-step ingredients, and the full recipe is below in the printable recipe card, at the bottom of the page.
Frozen Ravioli (Use Your Favorite Type): Cheese Ravioli or Meat Ravioli
All-Purpose Flour
Egg: Use large room-temperature eggs.
Breadcrumbs or Panko: You can use gluten-free bread crumbs, plain breadcrumbs, seasoned breadcrumbs, or panko breadcrumbs
Parmesan cheese
Seasonings and Spices: Onion Powder, Garlic Powder, Dried Basil, Italian Seasoning, and Kosher Salt
Olive oil spray: Or Olive Oil
Dipping sauce: Marinara Sauce or Alfredo sauce.
How To Cook Air Fry Toasted Ravioli
If you love frozen toasted ravioli in the air fyrer this is one of the best recipes, after all, who doesn't love unhealthy deep-fried ravioli, you can get the same flavor, without the calories and oil! You will only need a little oil.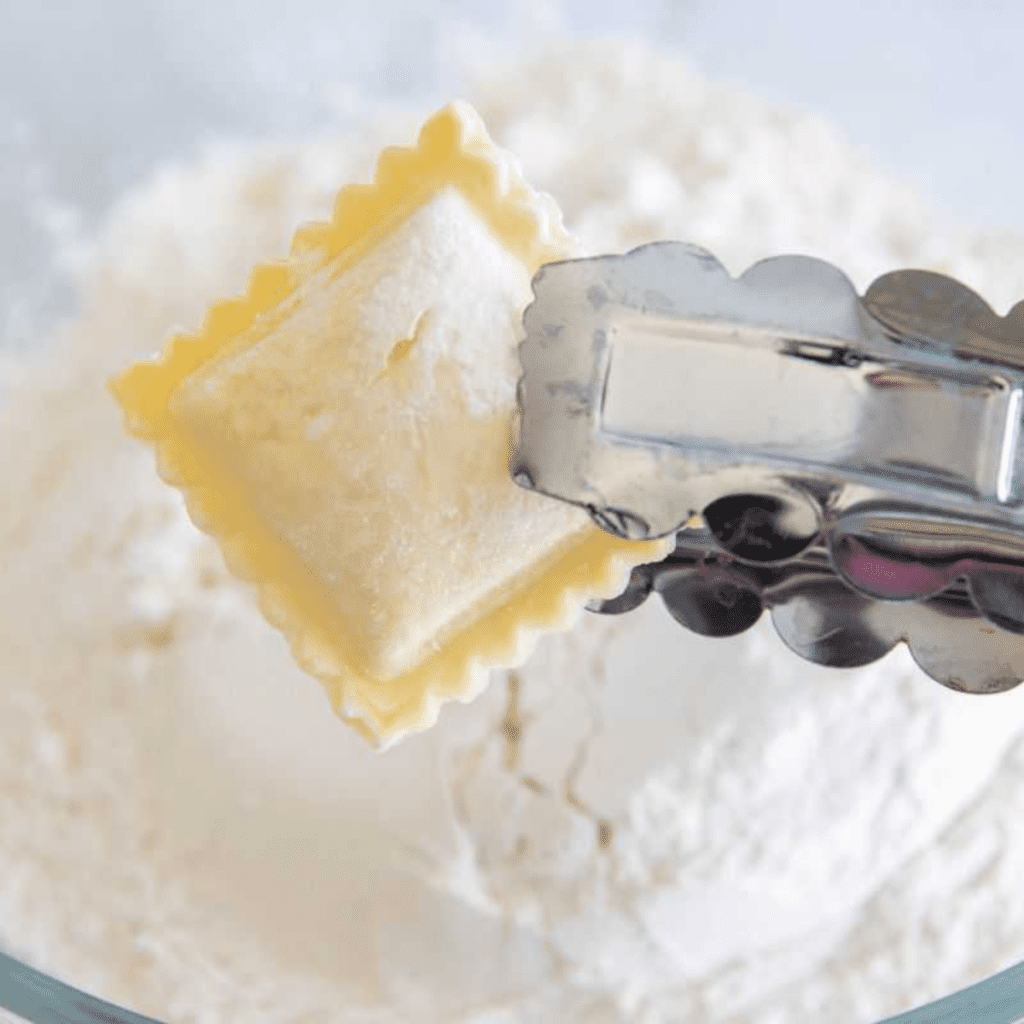 Step One: Prepare Your Air Fryer Basket
Spray your air fryer basket with cooking spray, or olive oil spray. You can also line your air fryer basket with parchment paper or a silicone air fryer liner.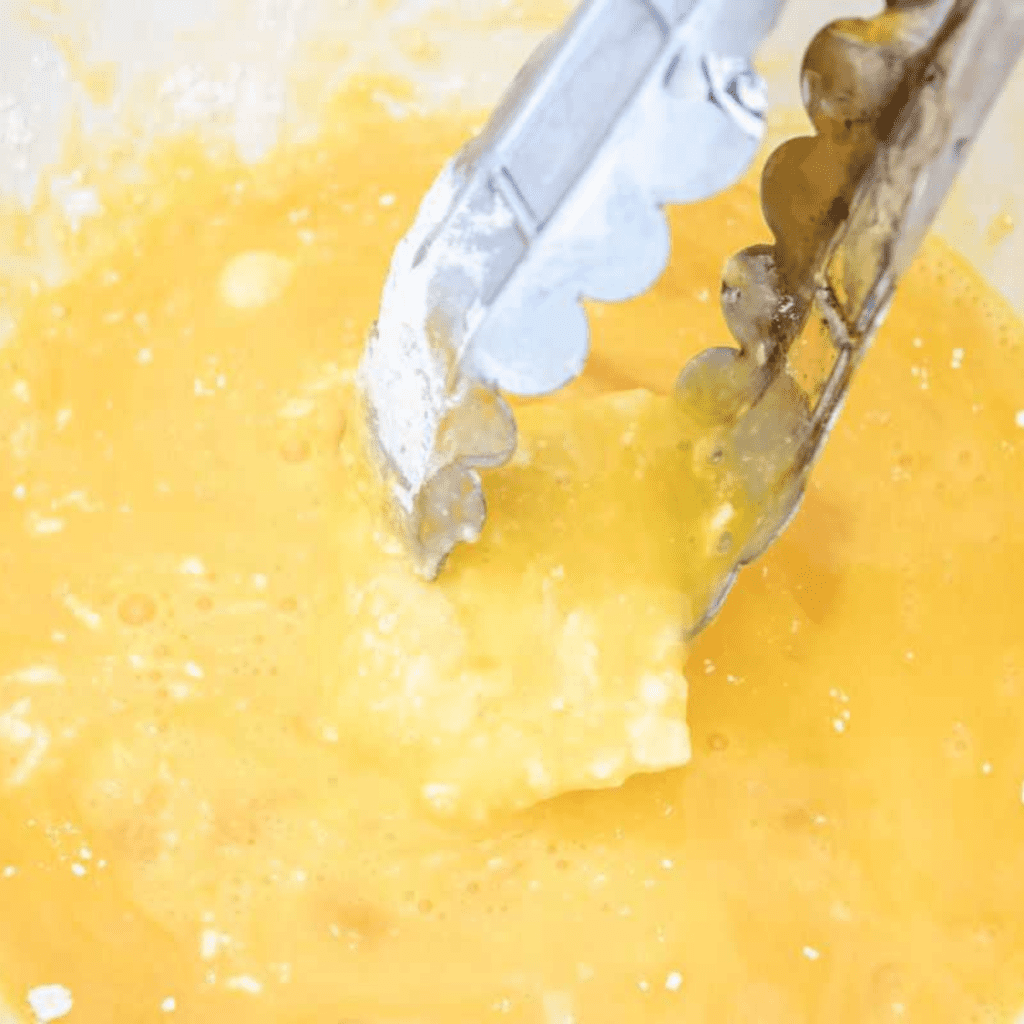 Step Two: Prepare Your Breading Stations
In a large bowl, add your all-purpose flour, in another shallow bowl, prepare your egg mixture, crack your eggs, and beat them, until frothy. In a small bowl, prepare your bread crumb mixture, add the breadcrumbs, Parmesan cheese, onion powder, garlic powder, dried basil, and Italian seasoning, and mix well.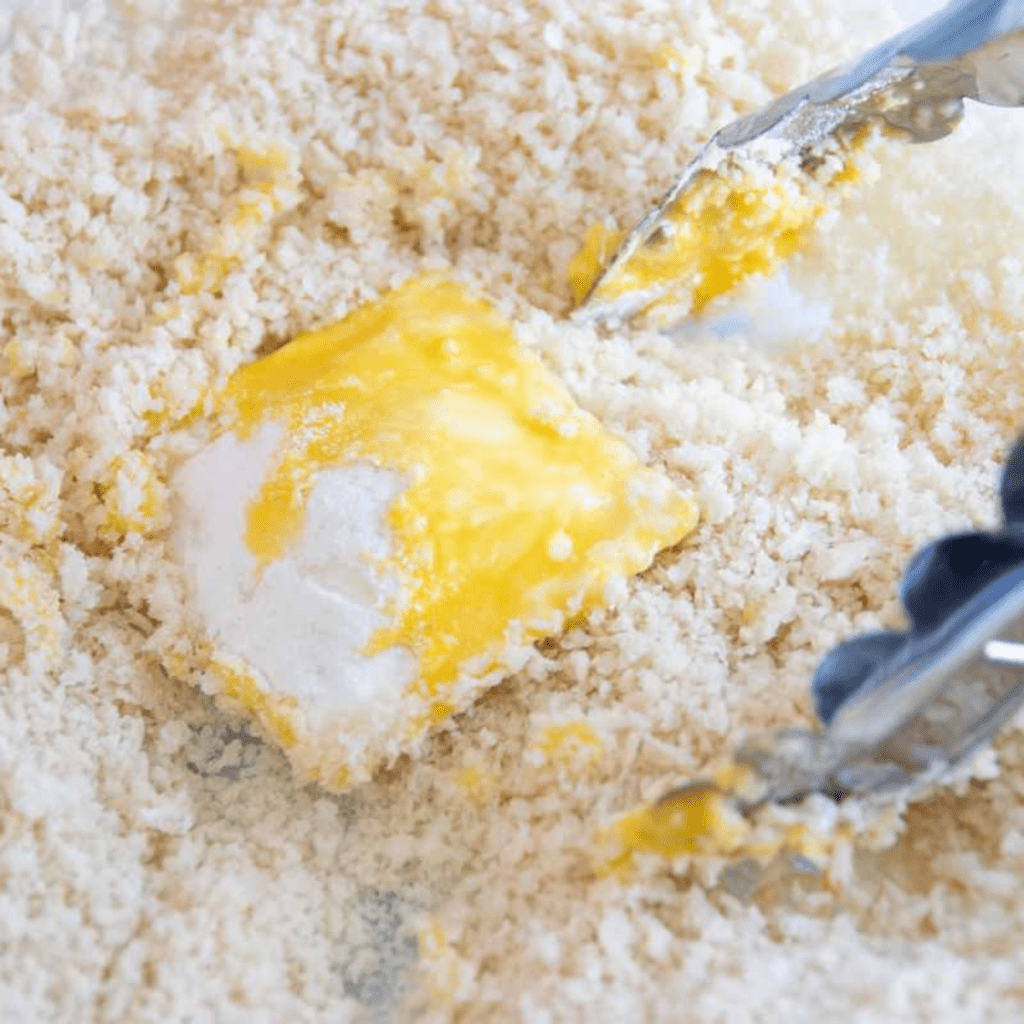 Step Three: Batter Your Frozen Raviolis
Then dip ravioli into flour, then the egg wash, then the breadcrumbs.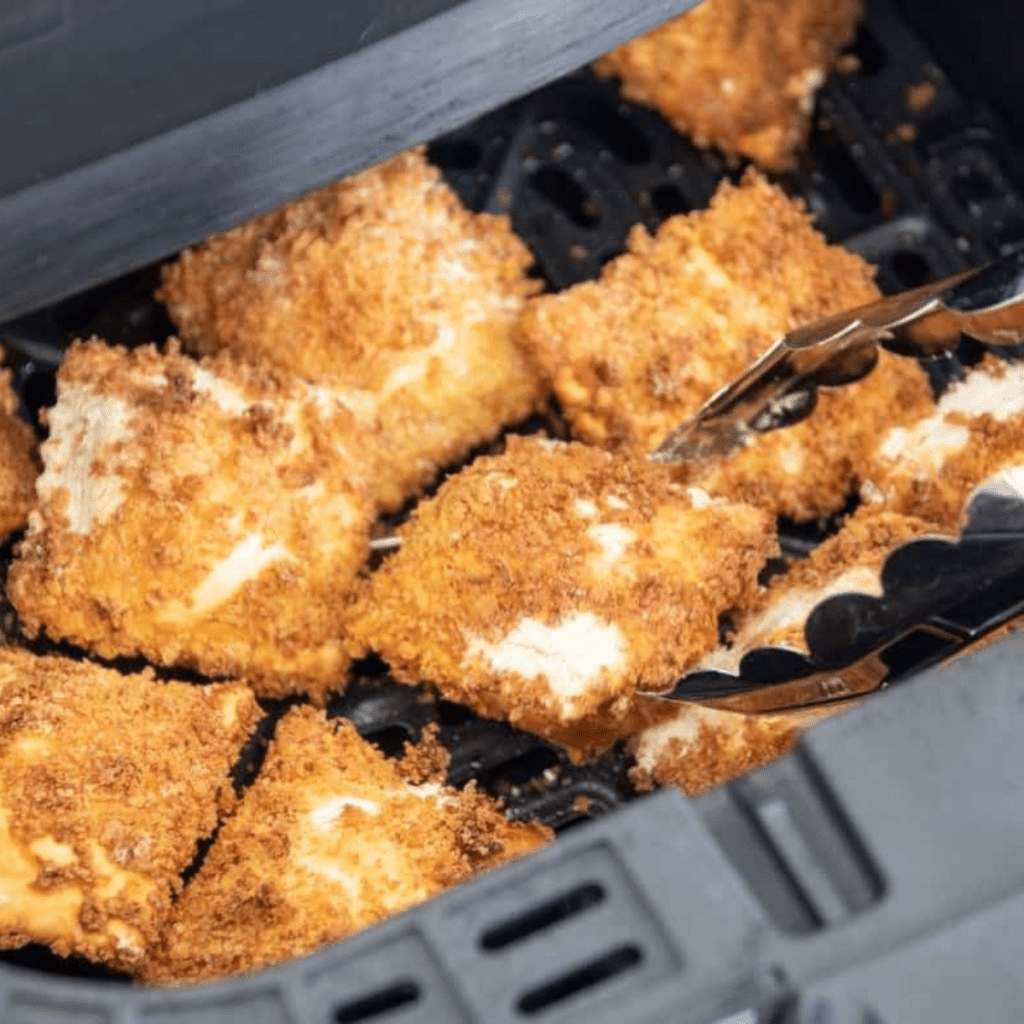 Step Four: Air Fry Ravioli
Place the coated ravioli into the air fryer basket, in a single layer, cook at 380 degrees F, and set the cooking time for 8 to 10 minutes. (air fryer setting), remove when golden brown.
Step Five: Serving
Serve with a side of marinara sauce.
Pro Tips:
Cook Time: The cooking time will depend on the size of your ravioli.
Batches: Depending on the size of your air fyrer basket, you may need to cook these in small batches.
Tongs: Use tongs or a slotted spoon, to flip the ravioli, air fryer fried ravioli.
Seasonings: For some added heat sprinkle with red pepper flakes, right before serving.
For Cripsy Toasted Ravioli: You can spray your ravioli with cooking spray, and then air fry for 1-2 minutes.
Serve: Serve as a main course or tasty appetizer.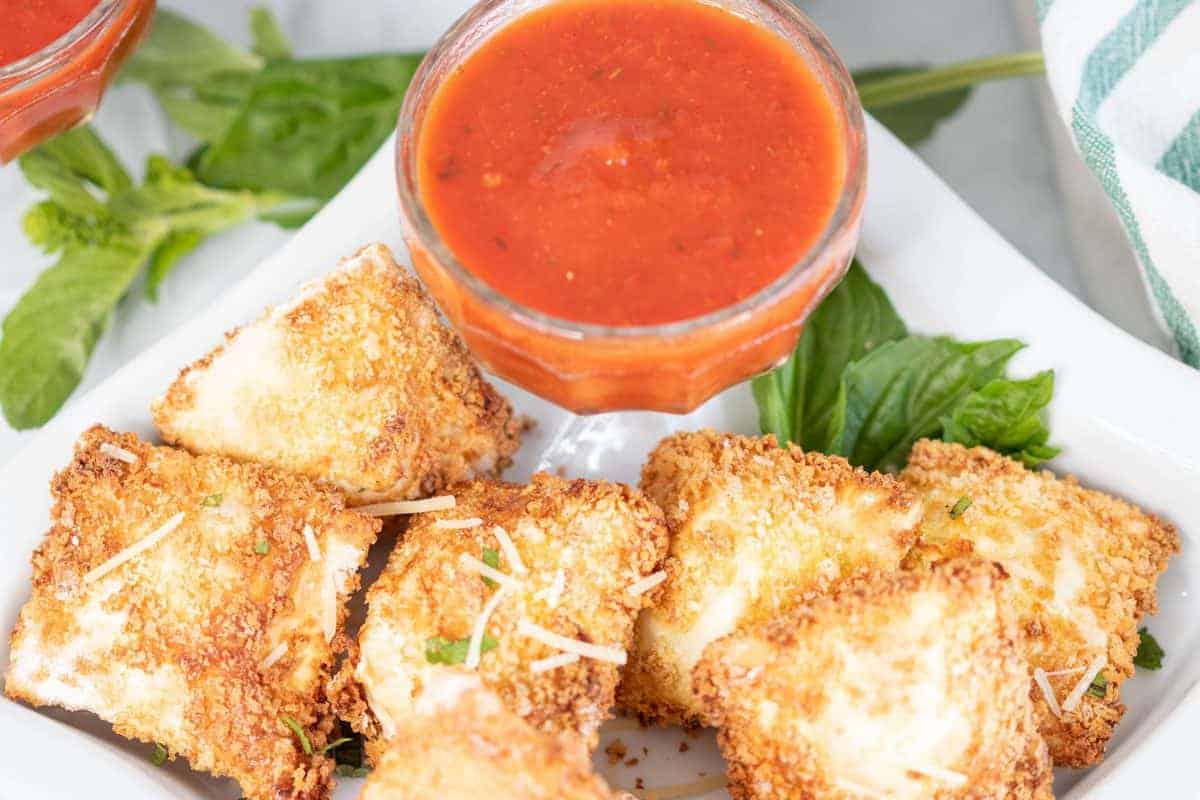 Can I Make Air Fryer Frozen Toasted Ravioli In The Oven?
Yes, prepare them, and then instead of putting them into the air fryer, place them into a preheated 400 degrees F for 12-15 minutes.
Making them in the oven is an excellent idea if you make a massive batch of them for a party or get-together.
Can I Make Use Fresh Ravioli?
Yes, change the air frying time to about 3-5 minutes, as they will cook faster than the frozen ones.
Next time you are at the store, look around in both the freezer section and the grocery store's refrigerator section. You will be amazed at all of the different varieties now available.
What Are Some Dips To Go With Air Fried Raviolis?
Here are some of my favorites,
Alfredo sauce
Ranch Dressing
Pesto Sauce
Any sauce you like will be a great dipping sauce, even if you want to add some garlic and melted butter in a small saucepan.
Optional toppings: Grated Parmesan cheese, or mozzarella cheese, and fresh herbs!
Can I Use Filled Ravilois With Meat?
Yes, you can use whatever stuffed ravioli you would like. I often change between cheese and meat.
There are so many different varieties now available in the supermarket. Whether fresh or frozen, they are excellent in the air fryer.
How Long To Cook Frozen Toasted Ravioli In Air Fryer
Add the frozen ravioli to the air fryer basket; a d then set the temperature to 350 degrees F for 6 minutes. Make sure they are fully cooked before you remove them from your air fryer basket.
How To Cook Frozen Louisa Toasted Ravioli In Air Fryer
Place the frozen ravioli in the air fryer basket, and then spray with olive oil, or brush with vegetable oil. Set the temperature to 350 degrees F, air fryer setting, and air fry for about 5-7 minutes.
What If My Breaded Ravioli Looks Dry?
This is a great recipe, and with a few sprays of olive oil, it will come out perfectly toasted and never dry. If it does come out dry, reduce the temperature, and spray halfway with olive oil (or cooking spray)
How To Reheat Ravioli in Air Fryer
If you have any leftover toasted ravioli, add them to the air fryer basket, and then spray them with olive oil.
Air fry for about 3-4 minutes, at 380 degrees F, until the toasted ravioli is heated through.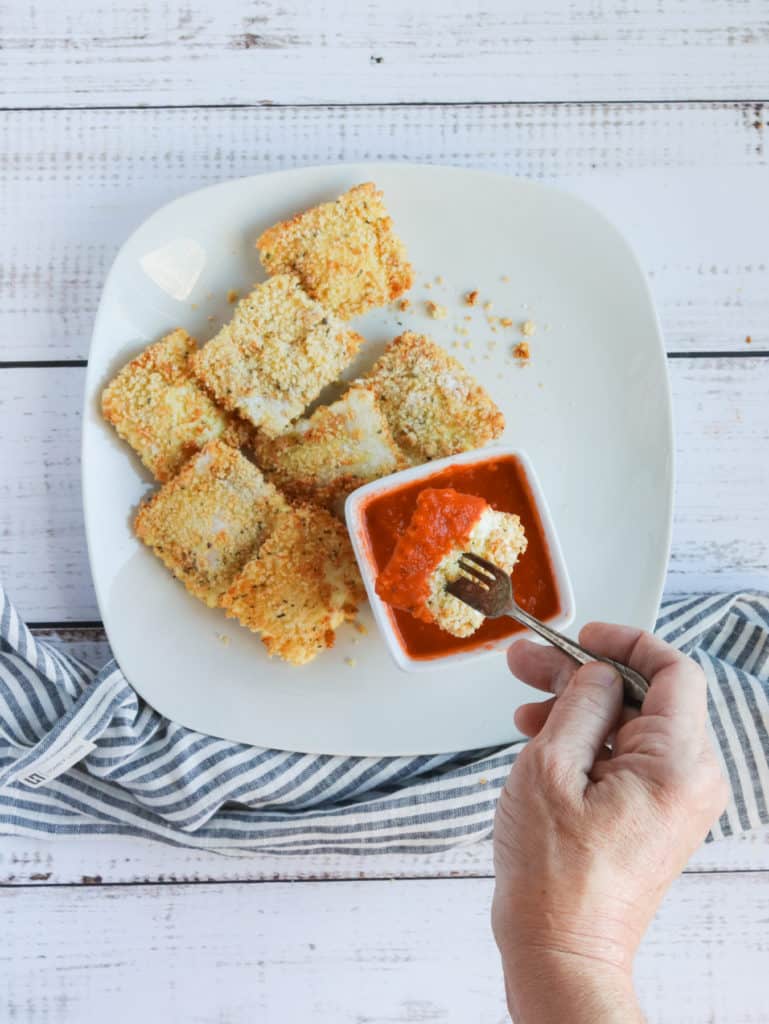 How To Reheat Frozen Toasted Ravioli In the Air Fryer
Now that they have frozen air fryer toasted ravioli products to make them, they are already breaded for you.
You can toss them into the air fryer and then set the temperate to 350 degrees F and air fry for about 3-5 minutes.
Some of the ones I have tried at Pioneer Woman's that come in the freezer have been found at Costco and my local grocery store. (Both in the freezer section)
Can You Freeze Air Fryer Fried Raviolis?
Yes. Just bring them to room temperature, then place them into a Ziploc bag, or an airtight container, and store them for up to 2 months.
To Reheat From Frozen: Set them into your air fryer at 350 degrees F and cook time for 8 minutes, flipping halfway.
More Air Fryer Recipes:
If you have been looking for a new air fryer ravioli recipe or a new favorite appetizer, I hope that you will try this, remember to leave a star rating after trying this recipe!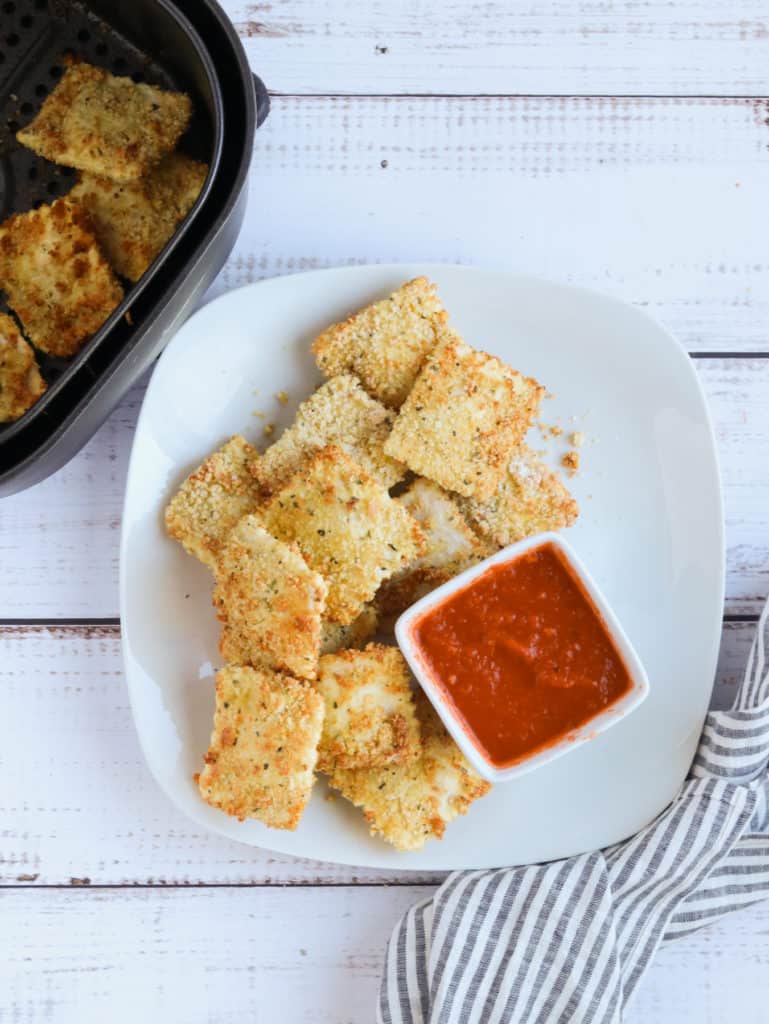 Don't Forget To Follow Us Along on Social Media; Instagram, Facebook, and TikTok, and Join Our Facebook Page and group for all your Air Fryer Recipes and Tips!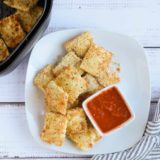 Frozen Ravioli In Air Fryer
Description
Air Fryer Toasted Ravioli — Did you know that your air fryer can make toasted ravioli? Not only is this a great way to use up leftover pasta, but it's easy appetizers or finger food for parties. And the best part is that there are no pots of boiling water involved! Follow these simple steps below and soon you'll be serving some delicious deep-fried goodness in minutes
Ingredients
16

ounces

ravioli

,

frozen

2

cups

all-purpose flour

3

large

eggs

2

cups

breadcrumbs

1/4

cup

Parmesan cheese

,

grated

1

teaspoon

onion powder

1

teaspoon

garlic powder

1

teaspoon

dried basil

1

teaspoon

Italain seasoning

1/2

teaspoon

salt

1

cup

Marinara sauce

,

for dipping
Instructions
Spray your air fryer basket with olive oil spray.

In one bowl, pour your flour.

In one bowl, crack your eggs, and beat them until they are frothy.

In another bowl, mix the breadcrumbs, Parmesan cheese, onion powder, garlic powder, dried basil, Italian seasoning, and salt. Mix well.

Then dip the ravioli into flour, then beaten egg, then the breadcrumbs

Place the coated ravioli into the air fryer basket.

Bake at 380 F for 8 to 10 minutes. (air fryer setting)
Nutrition
Serving:
1
Serving
Calories:
917
kcal
Carbohydrates:
138
g
Protein:
38
g
Fat:
22
g
Saturated Fat:
7
g
Polyunsaturated Fat:
2
g
Monounsaturated Fat:
2
g
Trans Fat:
0.01
g
Cholesterol:
205
mg
Sodium:
1832
mg
Potassium:
439
mg
Fiber:
9
g
Sugar:
8
g
Vitamin A:
527
IU
Vitamin C:
4
mg
Calcium:
251
mg
Iron:
19
mg
Don't Forget To Pin: