Air Fryer Garbanzo Beans are crispy, crunchy, and flavorful treats! They come together in 25 minutes and are a great snack on the go.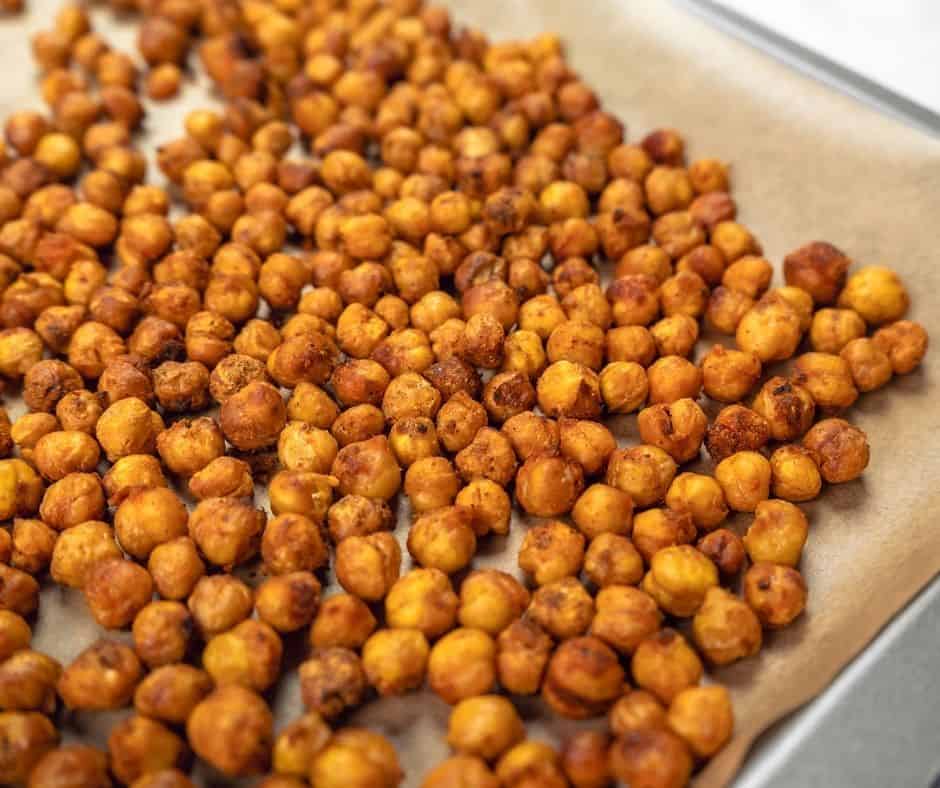 Air Fry Garbanzo Beans
Air fryers are all the rage right now, and for a good reason! They make delicious, crispy foods with hardly any oil. Today, I'm going to show you how to make air fryer garbanzo beans, a great source of protein and fiber. They're also vegan and gluten-free so that they can be enjoyed by just about anyone.
This garbanzo beans recipe is truly an easy and wonderful snack. My son has been eating them long before the air fryer, and we were paying a fortune for them! It was one of the first snacks I tried in the air fryer, and they turned out awesome.
Craving some more tasty snacks? Try out my Air Fryer Salt and Vinegar Chips, Air Fryer Beef Empanadas, Air Fryer Classic Homemade Nuts and Bolts, and Air Fryer Honey Roasted Almonds.
What Are Roasted Garbanzo Beans?
Roasted garbanzo beans are protein-packed legumes that can be served as a snack or added to other dishes.
Chickpeas are a great choice for a snack because they have many health benefits, including:
They are high in fiber, and they are an excellent snack for people with diabetes as they have been shown to reduce blood glucose levels.
Fried garbanzo beans are great for bone health because they contain iron, phosphate, calcium, magnesium, zinc, and vitamin K. These are all shown to improve bone strength and structure.
Vitamin K also helps your body absorb calcium, which is great if you have osteoporosis.
Chickpeas are low-sodium, which is great for keeping your blood pressure low.
High fiber is shown to help cholesterol.
Chickpeas contain the mineral selenium, and some studies show that they reduce cancer risks.
You can flavor chickpeas with any variety of spices; they absorb spices and rubs very well.
Ingredients Needed For This Garbanzo Beans Recipe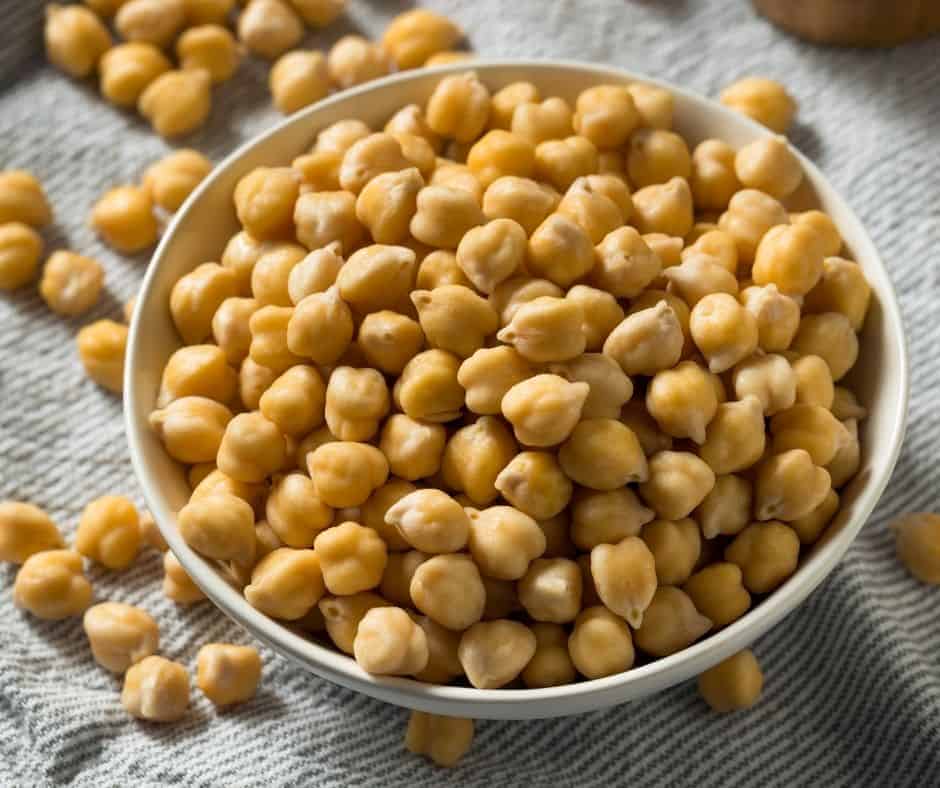 Garbanzo Beans/Chickpeas (I always use canned, as it is so easy)
Olive oil
Salt
Other Seasonings
How To Make Air Fryer Garbanzo Beans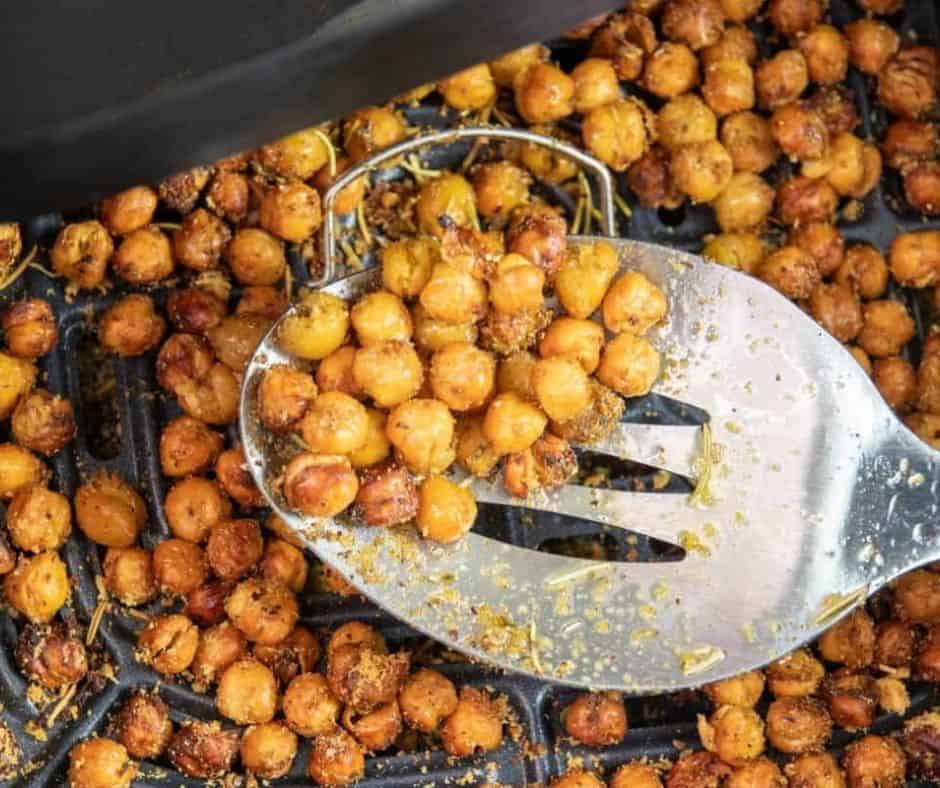 Step 1: Drain and rinse
Start by draining your chickpeas (garbanzo beans). Give them a rinse under cool water and drain again.
Step 2: Add seasonings
In a small mixing bowl, mix together the drained and rinsed chickpeas with olive oil, salt, and other seasonings. Mix well.
Step 3: Air Fry garbanzo beans
Pour the chickpeas into the air fryer basket. Set the time for 7 minutes at 370 degrees F. Check the chickpeas after 7 minutes, then cook for another 7 minutes.
Let cool slightly, then transfer to a serving dish.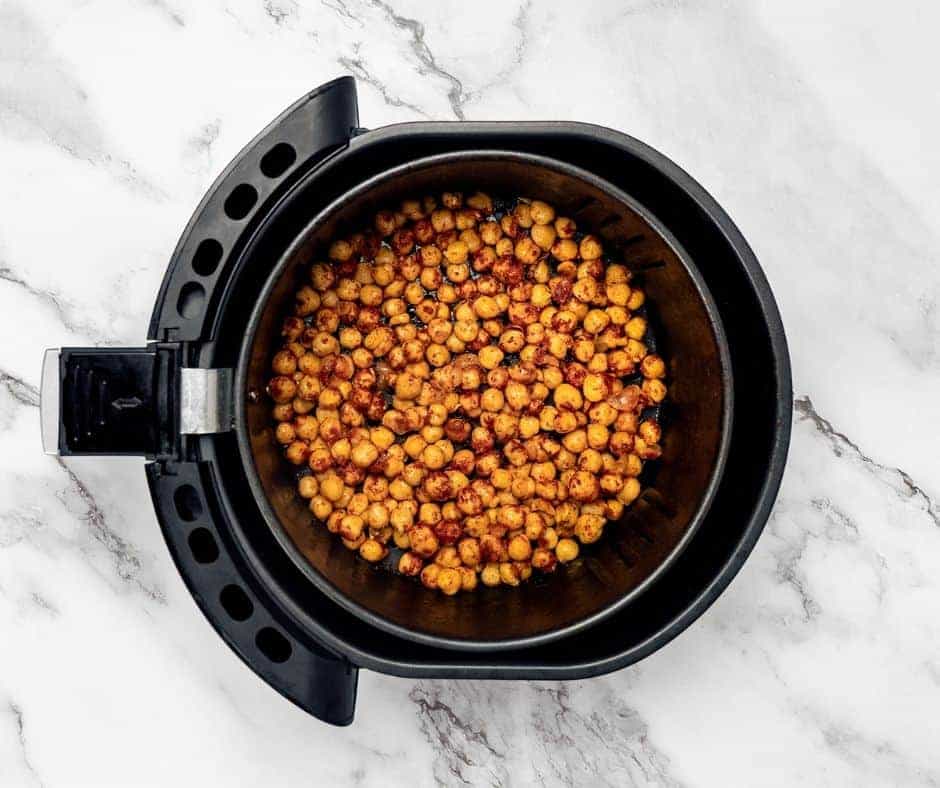 Frequently Asked Questions
What is the best way to cook canned chickpeas?
One of the easiest ways methods is to air fry garbanzo beans. They will cook in minutes, and you will get a crispy and delicious batch!
Additionally, you can make roasted garbanzo beans in the oven. Or, you can make fried garbanzo beans in a skillet with a little bit of oil.
Are chickpeas and garbanzo beans the same?
Chickpeas and garbanzo beans are different names for the same legume! You can call them air fryer garbanzo beans or air fryer chickpeas, and you won't be wrong!
Do you have to cook canned chickpeas?
No, you can eat the garbanzo beans right out of the can because they are pre-cooked. However, if you are going to be serving dried chickpeas, you will need to cook them first.
How long do fried garbanzo beans last?
After making this garbanzo beans recipe, let the chickpeas cool. Once cooled, keep them in an airtight container in a dry, cool place, and they will last up to 2 weeks.
More Air Fryer Recipes: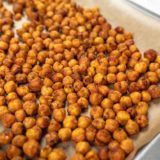 Air Fryer Garbanzo Beans
Description
Air Fryer Garbanzo Beans are crispy, crunchy, and flavorful treats! They come together in 25 minutes and are a great snack on the go.
Ingredients
15

ounces

canned chickpeas

2

tablespoons

olive oil

1

teaspoon

salt

1/2

teaspoon

black pepper
Instructions
Start by draining your chickpeas, then lie them on a kitchen towel or paper towels, and let them drain for about 10 to 15 minutes. This will help your chickpeas get crunchy.

Add the chickpeas to a large bowl, add the olive oil, and seasonings.

Set the coated chickpeas into the air fryer basket, and cook for 12 to 16 minutes at 390 degrees F, air fryer setting, or until the chickpeas are crispy.

Then Plate, serve, and enjoy!
Nutrition
Serving:
1
g
Calories:
156
kcal
Carbohydrates:
15
g
Protein:
5
g
Fat:
9
g
Saturated Fat:
1
g
Polyunsaturated Fat:
2
g
Monounsaturated Fat:
6
g
Sodium:
877
mg
Potassium:
157
mg
Fiber:
5
g
Sugar:
1
g
Vitamin A:
17
IU
Vitamin C:
1
mg
Calcium:
39
mg
Iron:
1
mg