Air Fryer Sweet and Salty Roasted Chickpeas — Have you ever tried roasted chickpeas? They are delicious, healthy snacks that can be enjoyed by cooks of all levels. Today, we're sharing a simple recipe for sweet and salty roasted chickpeas that can be made in your air fryer. These little bites are perfect for when you're looking for something tasty to munch on!
Chickpeas are also called garbanzo beans, which are used a lot in Mediterranean cooking. The most common recipes for chickpeas (garbanzo beans) are for hummus or falafel. Roasting chickpeas give them a crunch, making them low-calorie, savory, addictive, healthy, and crunchy snacks. They can be flavored with almost anything; just like chicken, they take on the spices' flavor.
What Are Chickpeas?
Chickpeas are a type of legume that originated in the Middle East. They are widely used in Mediterranean and Indian cuisine and can be found in a variety of dishes such as hummus, falafel, and chana masala. Chickpeas are high in protein and fiber and are a good source of iron, folate, and manganese. They can be purchased either dry or canned and can be cooked in a variety of ways. When cooked, they have a nutty flavor and a firm, creamy texture. Chickpeas can be enjoyed as a side dish or added to soups, salads, and grain bowls. They are an excellent plant-based source of protein and an easy way to add more nutrients, fiber, and flavor to your diet.
Are Chickpeas Keto?
Are Chickpeas Keto? This is a question that many people ask when they are on a keto diet. The answer is yes and no. Chickpeas are high in carbs, so they are not considered to be keto-friendly. However, if you consume them in moderation, they can be part of a healthy keto diet. Chickpeas are a good source of fiber and protein, and they contain a variety of vitamins and minerals. They also have a low glycemic index, which means that they will not cause a sudden spike in blood sugar levels. So, if you are looking for a healthy snack that is also keto-friendly, chickpeas are a good option.
Chickpeas Whole30
Chickpeas are one of the most popular legumes and are often used in a variety of dishes, such as hummus and falafel. They are also a good source of protein, fiber, and other nutrients. However, some people wonder if chickpeas are Whole30 compliant.
Whole30 is a program that lasts for 30 days and focuses on eating whole, unprocessed foods. During Whole30, legumes are not allowed. This means that Chickpeas are not Whole30 compliant. Chickpeas are also not paleo-friendly because they contain gluten. However, some people who follow a paleo diet do eat Chickpeas. So, if you're wondering whether or not Chickpeas are Whole30 compliant or paleo-friendly, the answer is no to both.
What Are Air Fryer Sweet and Salty Roasted Chickpeas?
So, what are chickpeas that we hear so much about?
The chickpea is a legume of the plant family Fabaceae; The plant is not for its seeds, high in protein and fiber.
What Else are chickpeas (chick peas) called?
They are also known as gram, Bengal gram, garbanzo, garbanzo beans, and Egyptian pea.
What Are Some Common Recipes for Chickpeas?
They are mostly known for their use in making hummus. Hummus is the smooshing of chickpeas into a paste with some other ingredients.
How Should You Store Chickpeas?
Chickpeas are available in both dried and in canned. Dried chickpeas should be used in a year; the older the beans, the longer the cooking time, as the beans become dried out.
Canned chickpeas have a longer shelf life and should just be stored in a cool, dry place.
Should You Rinse Chickpeas?
Rinsing chickpeas decreased the sodium level by about 50%.
Why Eat Chickpeas?
Chickpeas are a great choice for a snack because they have many health benefits, including:
Chickpeas are high in fiber; they are an excellent snack for people with diabetes, as it is shown that it reduces blood glucose levels.
They are great for bone health because they contain iron, phosphate, calcium, magnesium, zinc, and vitamin K. These are all shown to improve bone strength and structure.
Vitamin K also helps your body absorb calcium, which is great if you have osteoporosis.
Chickpeas are low-sodium, which is great for keeping your blood pressure low.
High fiber is shown to help cholesterol.
Chickpeas contain the mineral selenium, which helps reduce cancer risks.
You can flavor chickpeas with various spices; they absorb spices, rubs, etc., very well.
Some Other Great Air Fryer Chickpea Recipes-
SOME HELPFUL PRODUCTS USED IN MAKING THIS RECIPE-
Affiliate links are included
Don't Forget to Pin: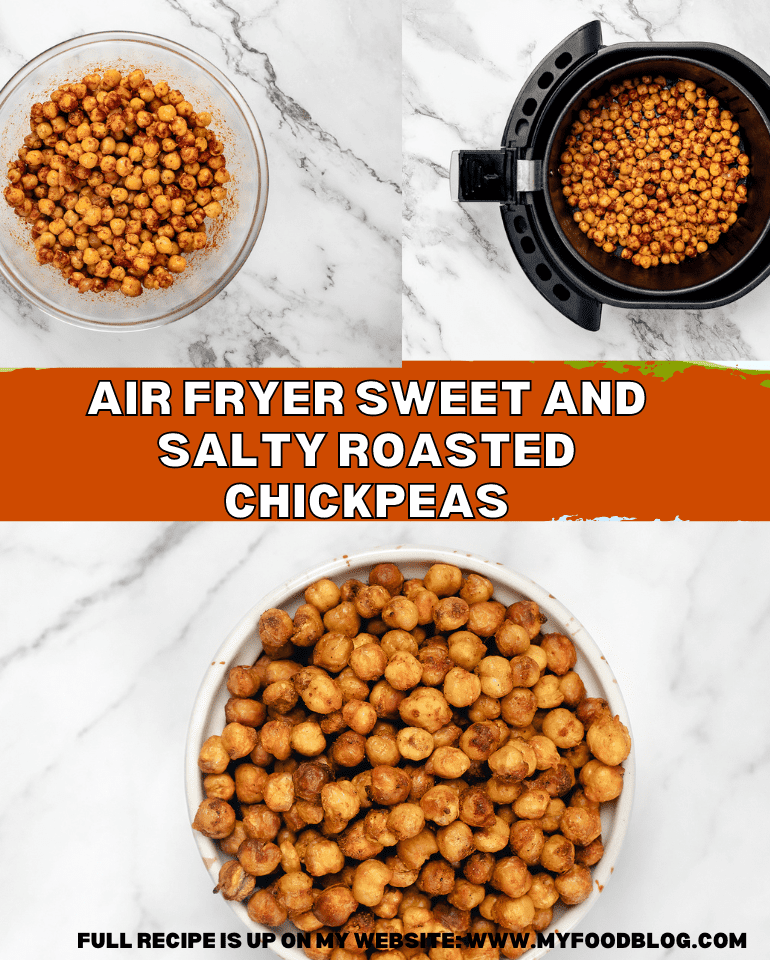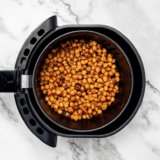 Air Fryer Sweet and Salty Roasted Chickpeas
Description
Air Fryer Sweet and Salty Roasted Chickpeas — If you're looking for a healthy and delicious snack, look no further than air fryer sweet and salty roasted chickpeas. This easy recipe is perfect for when you need a quick snack or something to take with you on the go. Best of all, it's super affordable and takes just minutes to prepare. So what are you waiting for? Get started with this easy air fryer recipe today!
Ingredients
14

ounces

canned chickpeas, drained

2

teaspoons

olive oil

1

teaspoon

ground cinnamon

2

teaspoons

brown sugar

1

teapoon

sea salt
Instructions
Start by roasting your chickpeas. Add them to the air fryer basket, give them a generous spray of olive oil. At a temperature of 390 degrees F, for 15 minutes. Shake every 5 minutes.

Meanwhile, in a small bowl, mix the olive oil, cinnamon, brown sugar, and salt.
When the time is up, mix in about 1/2 of the seasoning mix, and set the air fryer for another 2 minutes.
When the time is up, pour them into a mixing bowl and mix in the rest of the spices.
Nutrition
Serving:
1
g
Calories:
189
kcal
Carbohydrates:
30
g
Protein:
9
g
Fat:
5
g
Saturated Fat:
1
g
Polyunsaturated Fat:
1
g
Monounsaturated Fat:
2
g
Sodium:
104
mg
Potassium:
294
mg
Fiber:
8
g
Sugar:
7
g
Vitamin A:
28
IU
Vitamin C:
1
mg
Calcium:
55
mg
Iron:
3
mg