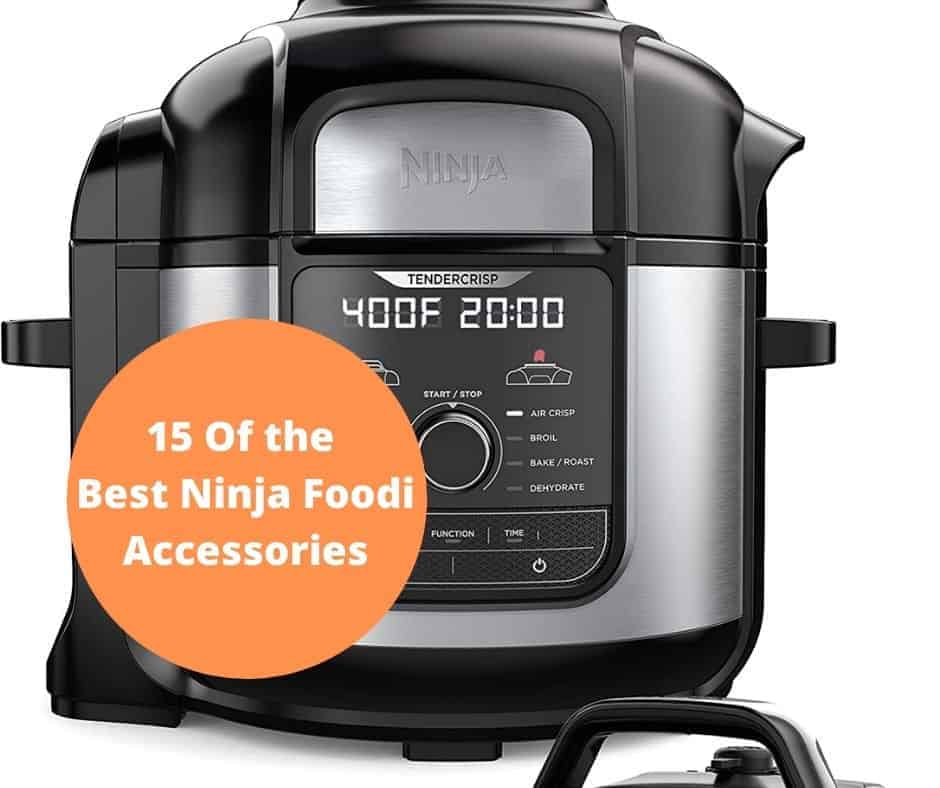 15 Of the Best Ninja Foodi Accessories includes everything you need to use your Ninja Foodi to its full potential.
The Ninja Foodi is one of the best kitchen tools you can have in your kitchen, and it includes both a pressure cooker and an air fryer. All in one appliance, so if you have been looking at both but only have room for one, this is a great machine.
I have used one for years, and I really love mine. It's easy to operate, easy to clean, and makes some amazing dishes.
If you are looking for some simple Ninaj Foodi Recipes, some of my favorites are NINJA FOODI OR INSTANT POT SPAGHETTI SQUASH, NINJA FOODI SOUTHWESTERN CHILI, NINJA FOODI RUM RAISIN RICE PUDDING, and NINJA FOODI CHICKEN PAD THAI.
WHAT IS A NINJA FOODI?
This year, a Ninja Foodi is so popular because it combines two appliances: the Pressure Cooker and an Air Fryer. It is very much like the new Instant Pot Lid. It changes out the lid for each function, one lid for the Pressure Cooker and one lid for the Air Fryer.
This is the Air Fryer I used in this recipe–(affiliate link)
15 Of the Best Ninja Foodi Accessories

Esjay Cake Baking Pan Set for Ninja Foodi 6.5, 8Qt, Accessories for Instant Pot 6, 8Qt
This is one of the best sets that you can get, which has a bit of everything. No need to pay more for the same items. It includes a mini loaf pan, Bundt Cake Pan, silicone gloves, silicone liners, and much more.
Pressure Cooker Sling,Silicone Bakeware Sling for 6 Qt/8 Qt Instant Pot, Ninja Foodi and Multi-function Cooker Anti-scalding Bakeware Lifter Steamer
A great way to lift pans out of the Ninja Foodi, without burning yourself.
Kispog Dehydrator Rack For Ninja Foodi 6.5 & 8 qt, Instant Pot Duo Crisp 8 qt. Food Grade Stainless Steel
Goldlion Stainless Steel Inner Pot Compatible with Ninja Foodi 8 Quart Accessories Replacement Insert Liner
Ninja Deluxe Foodi Accessory Bake Kit, 6.5 & 8 qt, Grey+
Ninja Foodi Multi-Purpose Pan Nonstick, Compatible with 6.5 Quart and 8 Quart, Grey
The Best! Ninja Foodi Tube Pan, OP300, OP400, FD400, Grey

Goldlion Steam Diverter Pressure Release Accessory Compatible with Instant Pot LUX, Ninja Foodi, Crock-Pot Express and Power Pressure Cooker
[2 Pack] Silicone Egg Bites Molds For Instant Pot by Sensible Needs – Instant Pot Accessories – Fits Instant Pot 5, 6, 8 Qt Pressure Cooker Reusable Storage…

Packism Egg Steamer Rack, Steaming Rack Fit 6,8Qt Instant Pot Accessories Air Fryer Ninja Foodi, Cook 18 Eggs, Stainless Steel Kitchen Trivet Stackable.

Podoy Grill Kebab Skewer Stand for Compatible with Ninja Foodi AG302, AG301, G300, AG300C, AG301C, AG400, IG301A Pressure Cooker Accesories Op400 FD400 8 qt…

Ninja Foodi Pressure Cooker Lid, OP100, OP300, OP400, FD400, Glass/Black Handle

CHEFTOS Stackable Stainless Steel Pressure Cooker Insert Pans compatible with Instant Pot or Ninja Foodi Pressure Cooker Accessories – Cook and Steam Tasty…

HOMEST Pressure Cooker Dust Cover with Pocket, Compatible with Ninja Foodi 8 Quart Pressure Cooker, These Cover Have Wipe Clean Liner for Easy Cleaning,…
The Big Ninja Foodi Pressure Cooker Cookbook: 175 Recipes and 3 Meal Plans for Your Favorite Do-It-All Multicooker
Don't Forget To Check Out These Great Ninja Foodi Recipes To Get You Started-
Don't Forget To Pin-