Do you have a Ninja Foodi? If so, you're probably looking for fun and creative ways to use it. Well, look no further! This spaghetti squash recipe is quick, easy, and delicious. Plus, it's perfect for those who are trying to eat healthier. So give it a try today! You won't be disappointed.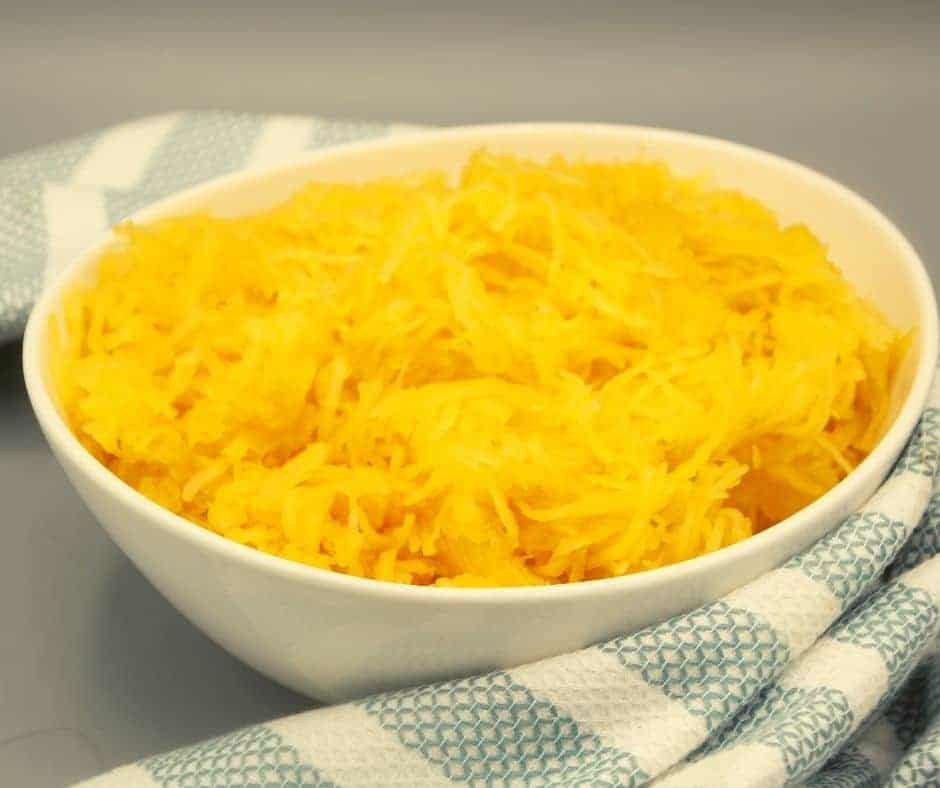 One of the easiest vegetables to pressure cook is using a Ninja Foodi or Instant Pot Spaghetti Squash. This is a great low-carb and KETO-friendly option as a replacement for pasta.
You will get perfectly cooked spaghetti squash every single time. For my son, who loves a great plate of pasta but isn't a fan of the carbs, I added some pasta sauce and grated cheese, and it's a great substitute. You actually will not miss eating pasta!
My mother used to slow roast the squash or place the spaghetti squash in the crockpot, but that would take hours. Who has time for that? With the Ninja Foodi or Instant Pot Pressure cooker, you get it done in less than 30 minutes. And literally, you only need to put it in. What can be an easier or healthier side dish?
Some other great and easy vegetable side dishes of my favorites are INSTANT POT ASPARAGUS, INSTANT POT BROCCOLI, INSTANT POT-SPICY BASIC BEANS, and INSTANT POT ACORN SQUASH.
HOW TO PRESSURE COOK A SPAGHETTI SQUASH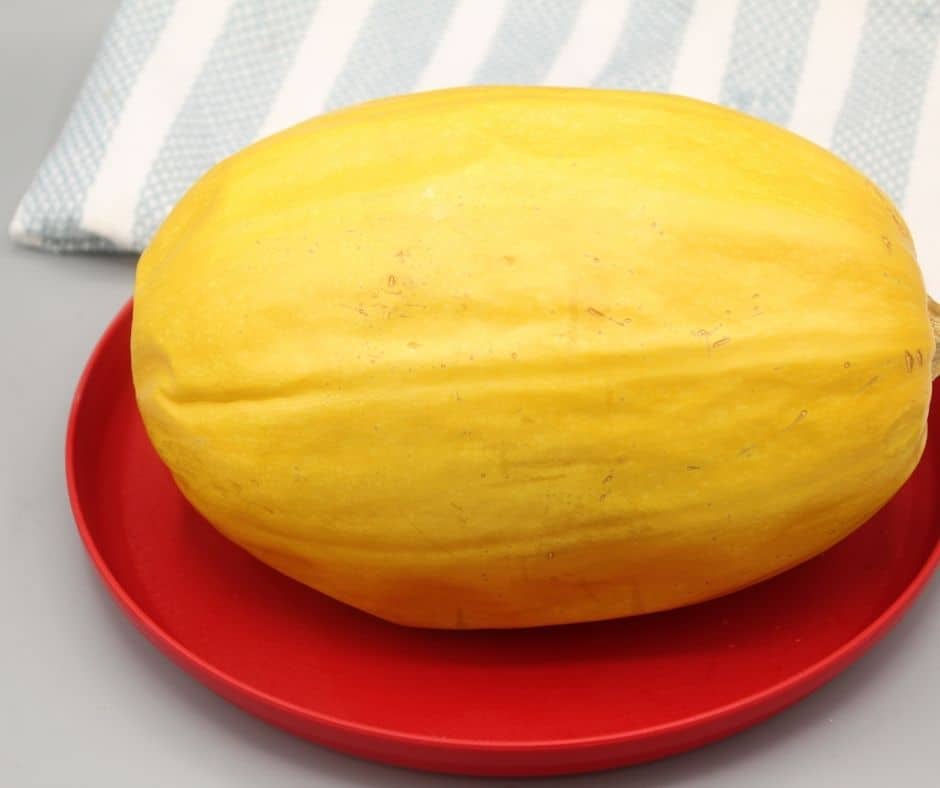 The ingredients for this recipe as so simple. The key for the timing will depend on the size of your spaghetti squash. But let me tell you that you can use the time for 17 minutes, and you will get a perfect spaghetti squash every single time.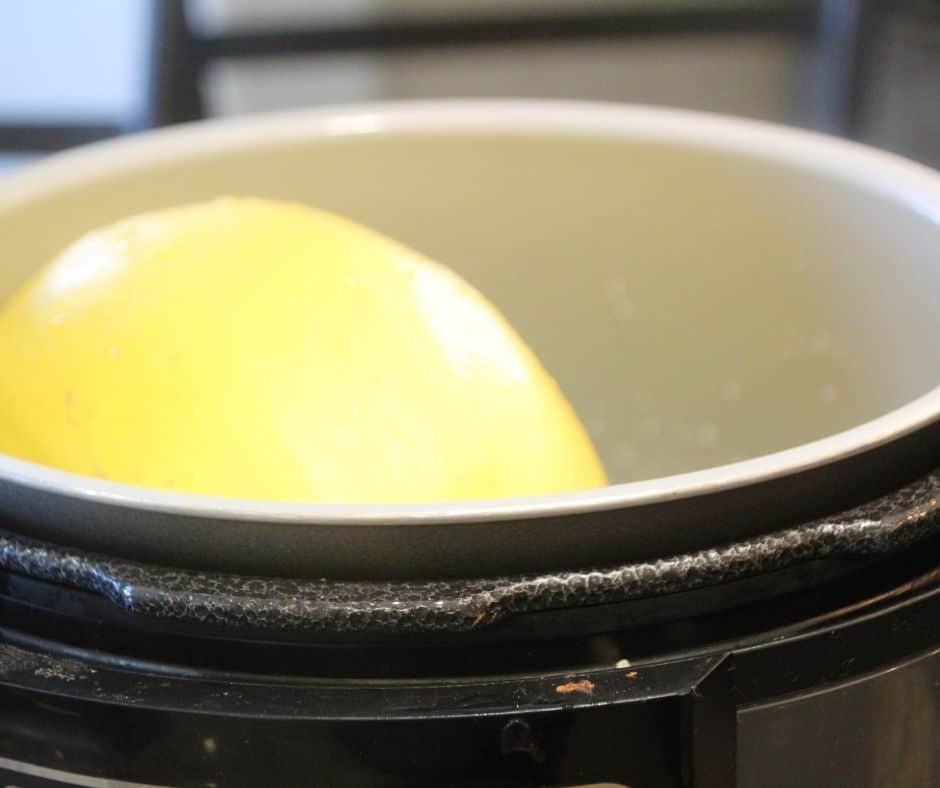 Place the Spaghetti Squash into the Ninja Foodi or Instant Pot. Then add about 1 cup of water to the Instant Pot or Ninja Foodi; remember a pressure cooker needs liquid (water) to pressure the food. Add your lid and then set the pressure cooker for 17 minutes at High pressure and do a natural release.
When the squash is done, and the pressure has been released from the pressure cooker, remove the lid.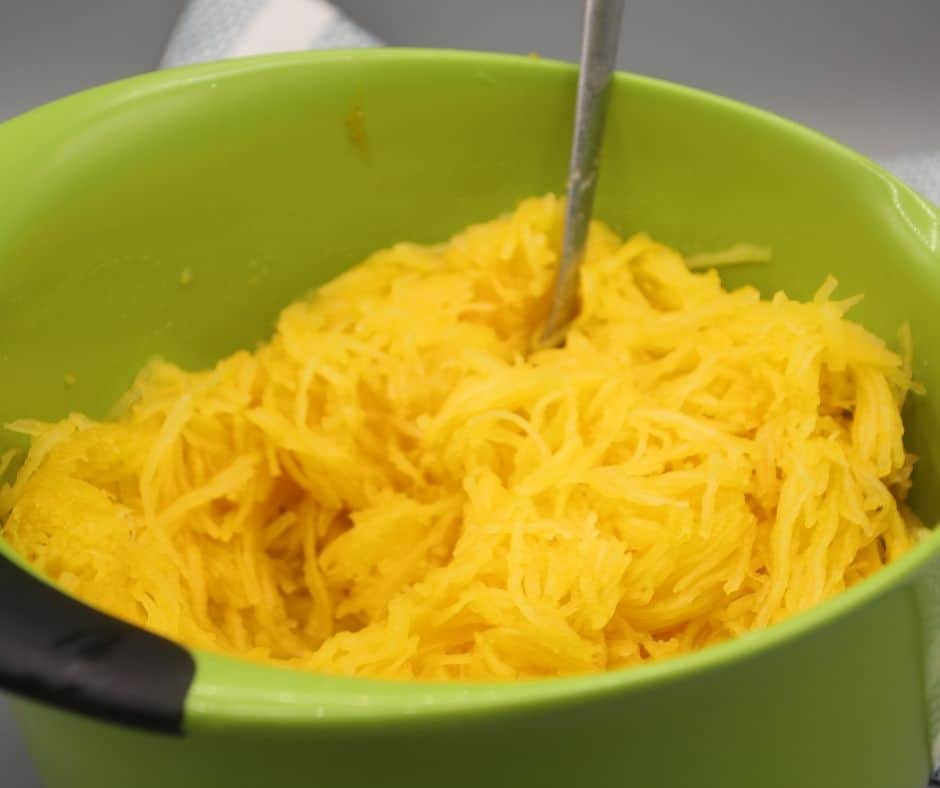 When the squash cools down a bit, remove it from the pressure cooker. Cut it in half, remove the seeds. And then scoop out the squash.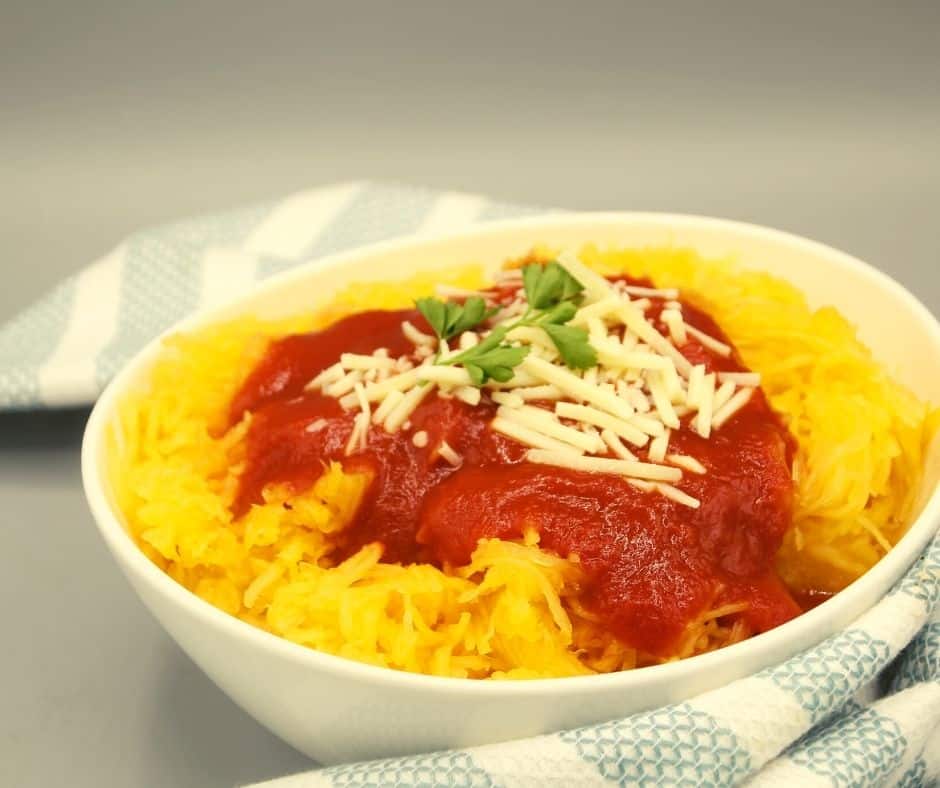 Some Common Questions Asked About This Recipe & Making Ninja Foodi or Instant Pot Spaghetti Squash–
Do I have to poke holes in a spaghetti squash before pressure cooking?
No, there is no need to poke holes in the Spaghetti Squash.
The vegetable's skin is porous so the vegetable will not explode while pressure cooking.
Can I cut the spaghetti squash in half and remove the seeds before pressure cooking?
Yes, if the squash does not fit inside your Instant Pot or Ninja Foodi, then you can cut it in half.
If you are looking to roast the squash instead of pressure cooking it, drizzle some olive oil over it, add some spices and use the air fryer crisp lid. You can get a nice roasted squash every single time.
Is Spaghetti Squash Keto?
Spaghetti Squash is low-carb, KETO-friendly and Weight Watchers Friendly, so this is a great and healthy vegetable option.
Plus, following a KETO or low-carb diet, the spaghetti squash makes an excellent replacement for pasta. So, grab your favorite pasta sauce, and go wild. Nothing is better than a homemade alfredo sauce or homemade marinara sauce drizzled on top of your spaghetti squash.
How do you steam spaghetti squash in Instant Pot?
To steam, the spaghetti squash adds about 1 to 2 cups of water to the Instant Pot bowl, then place the steamer insert into the bowl.
Place the squash in the steamer basket, and set the timer for 7 minutes.
What is the easiest way to cut a spaghetti squash?
The easiest way is to cut the squash in half with a large and sharp knife, as you will need to pierce the skin.
Then open the squash up, and remove the seeds. Use a spoon to scoop the seeds out of the squash. Then use a fork to shred the squash, which will give you the long spaghetti-like strands.
What goes well with spaghetti squash?
If you are trying to make a quick and easy meal using your new favorite vegetable, here are some ways to serve it up.
Bolognese Sauce
Salad
Alfredo Sauce
Marinara Sauce
Some Other Great & Easy Ninja Foodi Recipes-
WHAT IS A NINJA FOODI?
This year, a Ninja Foodi is so popular because it combines two appliances: the Pressure Cooker and an Air Fryer. It is very much like the new Instant Pot Lid. It changes out the lid for each function, one lid for the Pressure Cooker and one lid for the Air Fryer.
This is the Air Fryer I used in this recipe–(affiliate link)
Don't Forget To Pin: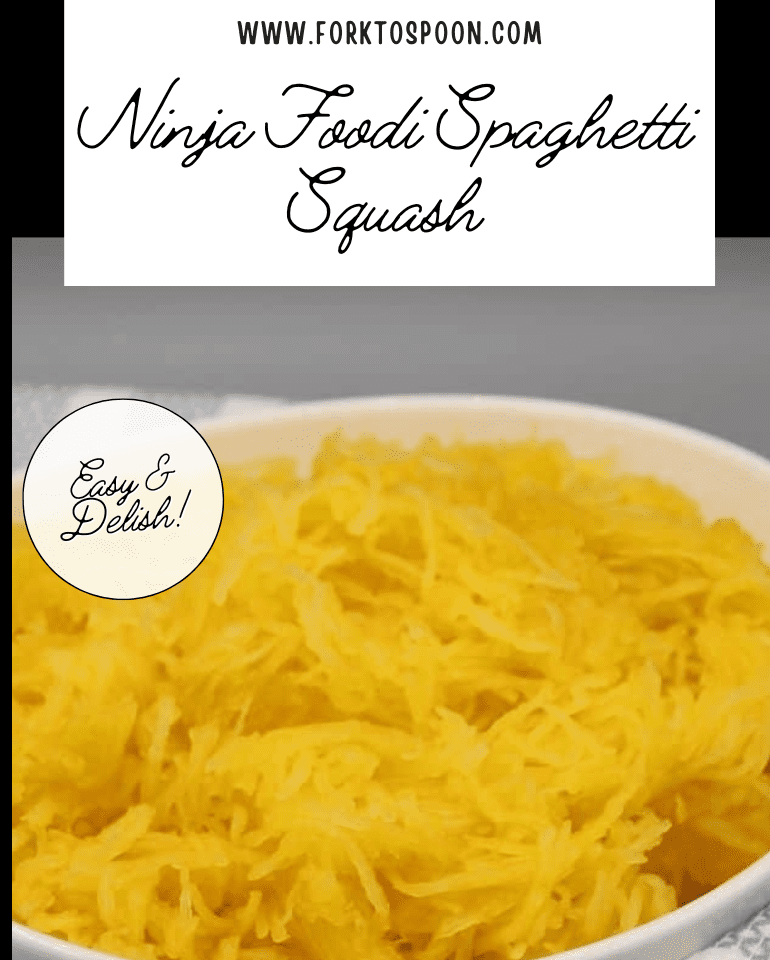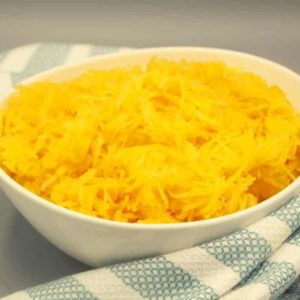 Ninja Foodi Spaghetti Squash
Description
There is nothing better than a perfectly cooked spaghetti squash, in minutes you can have a great and easy Spaghetti Squash side dish at your next meal. So easy and delicious.
Ingredients
1

Spaghetti Squash

,

between 2 and 3 pounds

1

cup

water

,

cold
Instructions
Add your spaghetti squash to the Ninja Foodi Bowl or Instant Pot Bowl.

Pour the water into the bowl.

Add your lid and close the vent.

Set the manual high pressure for 17 minutes.

Let the pressure come down naturally when the time is up. (about 10-15 minutes)

Remove the spaghetti squash and let cool slightly. Then cut in half, removing the seeds, use a fork to remove the spaghetti squash.
Nutrition
Serving:
1
Serving
Calories:
75
kcal
Carbohydrates:
17
g
Protein:
2
g
Fat:
1
g
Saturated Fat:
0.3
g
Polyunsaturated Fat:
1
g
Monounsaturated Fat:
0.1
g
Sodium:
44
mg
Potassium:
261
mg
Fiber:
4
g
Sugar:
7
g
Vitamin A:
290
IU
Vitamin C:
5
mg
Calcium:
57
mg
Iron:
1
mg