If you're tired of waiting for traditional dinner rolls to rise and bake in the oven, look no further than Instant Pot Dinner Rolls. These rolls require minimal prep and rise in just a fraction of the time, thanks to the steamy environment provided by the Instant Pot.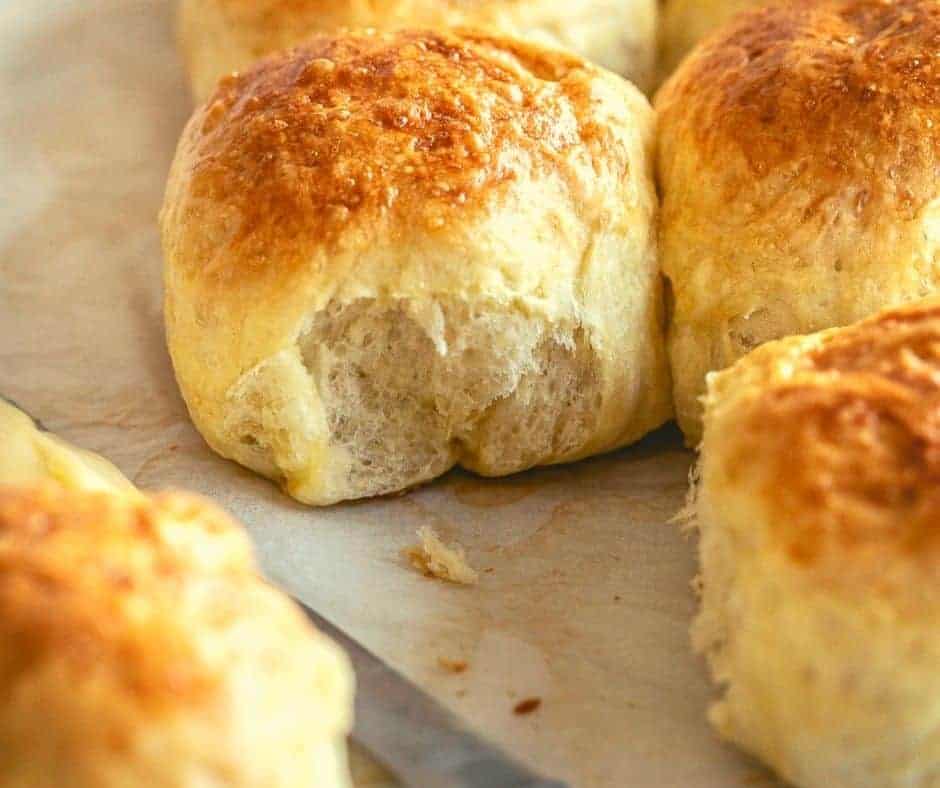 Instant Pot Dinner Rolls are truly amazing and are actually really easy to make. They are the perfect side dish for any meal. These might be the best thing I have ever made in my Instant Pot.
Today, I will teach you how to make a great batch of Instant Pot Dinner Rolls. These are light, fluffy, and absolutely mouth-watering. The texture is amazing, and they are so awesome with a smear of butter.
Follow the steps to make a great and easy batch of Instant Pot Dinner Rolls.
Can You Bake Bread In Instant Pot?
yes! In fact, the steam generated by the Instant Pot can create a soft, moist environment for bread to rise, resulting in delicious homemade bread. The key is to have a suitable container for the bread dough.
For round loaves, a standard bundt pan or cake pan works well. For sandwich bread or loaf pans, use an oven-safe cooking pot with a lid. Make sure there are several inches of clearance between the top of the dough and the lid to allow room for rising. And remember, always follow a tested recipe when baking bread in an Instant Pot to ensure success. Now grab your bread ingredients and give it a try – you won't be disappointed with the results!
Ingredients Needed For Instant Pot Dinner Rolls
If you're looking for a simple and delicious way to add bread to your dinner table, look no further than these Instant Pot dinner rolls.
Here Are The Ingredients That You Will Need To Make These Dinner Rolls: Remember all of the specific quantities and directions are below in the printable recipe card and keep on scrolling until the end of the page.
All-Purpose Flour
Active Dry Yeast
Water
Salt
Brown or Granulated Sugar
Olive Oil
Egg
How To Make Dinner Rolls In Instant Pot
Pro Tips For The Best Instant Pot Dinner Rolls
Make sure you mix the active yeast with lukewarm water and not with hot. Hot water may kill the yeast, and the dough may not raise.
You may need to use slightly less or slightly more water for the dough. For that reason, avoid pouring it all at once.
Alternatively, you can make the dough in a stand mixer fitted with a dough attachment, following the ingredients' same order. When the dough is ready, transfer it to the instant pot to proof it.
These rolls are fluffy and soft, with a mild crust on top. Store them in airtight containers for up to 2 days. You can also freeze them in closed freezer bags for up to 3 months.
Frequently Asked Questions:
Can You Freeze These Dinner Rolls
When it comes to dinner rolls, the answer is yes, you can freeze them! In fact, freezing dinner rolls helps to keep them fresh and extend their shelf life. To freeze, simply put the rolls in an airtight container or plastic bag before placing them in the freezer. To thaw, let them sit at room temperature for a few hours or microwave them for a few seconds until they are warm and ready to serve.
However, it is important to note that freezing dinner rolls may alter their texture slightly, making them less fluffy and soft. For the best results, only freeze dinner rolls if you won't be able to finish them within a few days of buying or making them. This way, you will get to enjoy them at their freshest and fullest flavor. So go ahead and stock up on dinner rolls – just pop any leftovers in the freezer for later!
Can I make dinner rolls ahead of time?
Planning a dinner party can be overwhelming, but one takeaway is that you can make the preparation process easier by cooking ahead of time. One dish that can often be made in advance: is dinner rolls. Simply shape the dough into rolls, place them on a baking sheet, cover them with plastic wrap and refrigerate until you're ready to bake them.
They can also be frozen at this stage for even longer storage. Before serving, allow the rolls to come to room temperature and then pop them in the oven according to the recipe's instructions. This way, your dinner rolls will still be warm and fluffy when it's time for your guests to dig in. It's just one small hack that can take some stress out of hosting a beautiful meal for friends and family. Bon appétit!
More Instant Pot Recipes:
Some Helpful Products Used In The Recipe:
ForkToSpoon.com may earn a small commission via affiliate links in this post. Please read our full disclosure policy here.

Instant Pot Duo 7-in-1 Electric Pressure Cooker, Sterilizer, Slow Cooker, Rice Cooker, Steamer, Saute, Yogurt Maker, and Warmer, 6 Quart, 14 One-Touch Programs
DO NOT FORGET TO PIN–
Instant Pot Dinner Rolls
Instant Pot Dinner Rolls are truly amazing and are actually really easy to make. They are the perfect side dish for any meal. These might be the best thing I have ever made in my Instant Pot.
Keyword:
Instant Pot Dinner Rolls
Ingredients
4

cups

all-purpose flour

1

tablespoon

active dry yeast

1 1/4

cup

water

lukewarm

2

teaspoon

salt

1

teaspoon

sugar

white or brown

3

tablespoons

olive oil

1

large

egg

beaten
Instructions
In a cup or a glass combine yeast, sugar and about 1/3 cup lukewarm water. Mix well and set aside for 5 minutes.

In the Instant Pot combine the flour, salt and the yeast mixture. Start mixing with a wooden spoon. Add the olive oil and continue stirring. Little by little add the remaining water. Mix until a soft and not too sticky dough forms. Knead it with a hand shortly, to make sure all the flour is evenly absorbed.

Make a ball out of the dough and leave it in the Instant Pot. Cover with the glass lid of the pot or with a plate: you don't need to use the pressure lid.

Press the yogurt button and set to 60 minutes at "normal". Make sure it is not on "boil"!

When the program is over, the dough should have at least doubled its size.

Divide the dough in 12 parts. Knead each part gently and then extend it on your hand. Wrap the sides, creating a roll with the wrapped size down. This step would make the bread puffier.

Arrange the rolls into a rectangular pan (7 x 11 inch or similar), lined with parchment paper. Let them sit for 15 minutes in the oven with just the light on.

Brush the rolls with the lightly beaten egg. Bake for 20-25 minutes at 390 degrees F/ 200 degrees C or until the tops start becoming golden.
Nutrition Facts
Instant Pot Dinner Rolls
Amount Per Serving (1 g)
Calories 286
Calories from Fat 54
% Daily Value*
Fat 6g9%
Cholesterol 23mg8%
Sodium 594mg26%
Potassium 80mg2%
Carbohydrates 48g16%
Protein 7g14%
Vitamin A 34IU1%
Vitamin C 0.001mg0%
Calcium 15mg2%
Iron 3mg17%
* Percent Daily Values are based on a 2000 calorie diet.