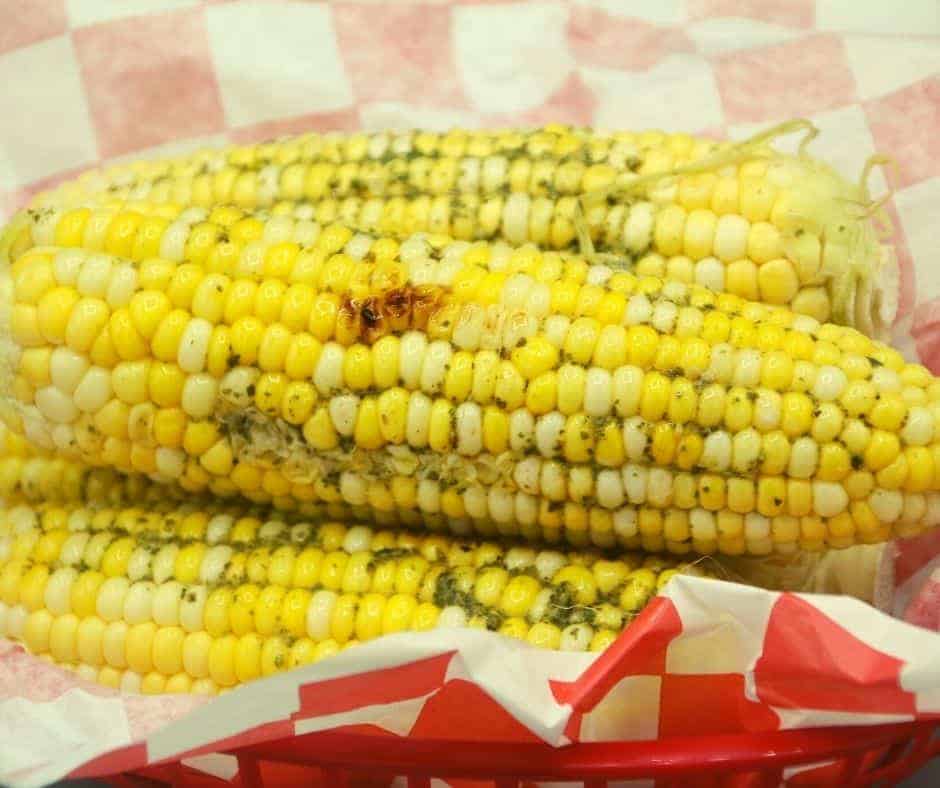 There is nothing better in the summer than an ear of Blackstone Grilled Corn on the Cob. Within a few minutes, you will have an amazing side dish for any BBQ or dinner.
If you loved Air Fryer Roasted Corn, you would go bonkers for an ear of Blackstone Grilled Corn on the Cob.
There is nothing like sweet corn, and grilling it really enhances the flavor. You can also cut it off the ear, so you end up with many grilled corn kernels that you can toss in summer salads or even make a creamed corn dish.
My husband is from Ohio, and he loves a great ear of corn. In fact, his mother used to make a batch and then even eat some in the morning for breakfast.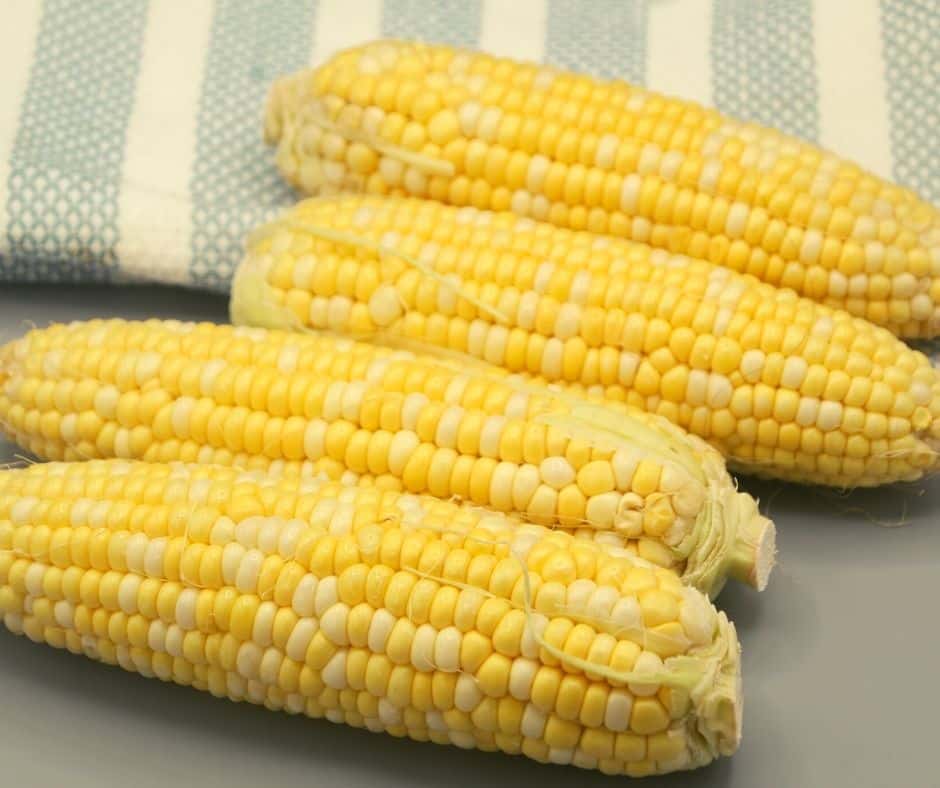 How to Pick the Best Sweet Corn
There are a few tricks that you can use if you cannot husk them in the store. Or prefer to leave the husk on the corn so that you can grill them up.
Here are some hints of what to look for:
Bright and Plump Kernels, if you can not peel your corn, use your fingers and check for plump kernels.
Avoid any husks with brown holes, which means that wormholes have been in your corn.
Check out the tassels (the stringy part of the corn husk); if they are black, that means the corn is old; look instead for light brown.
The color of the husk should be bright green and tightly wrapped around the corn.
How to Grill Corn
Some people love to shuck the corn, while others prefer to leave the husk on. The method is slightly different, depending on which method you prefer.
Should I Grill Corn in the Husk?
If you have corn that has not been shucked, keep the husk on, it will act the same way as aluminum foil.
The corn will remain tender and juicy. You will also get the added benefit of a charred husk, which will add lots of flavors.
How to Grill Corn Without The Husk
If you prefer shucked corn when you grill it, or you purchased the corn without the husk, the key to perfectly grilled corn every single time is to wrap the corn with foil.
The foil keeps the corn moist, much like the husk does.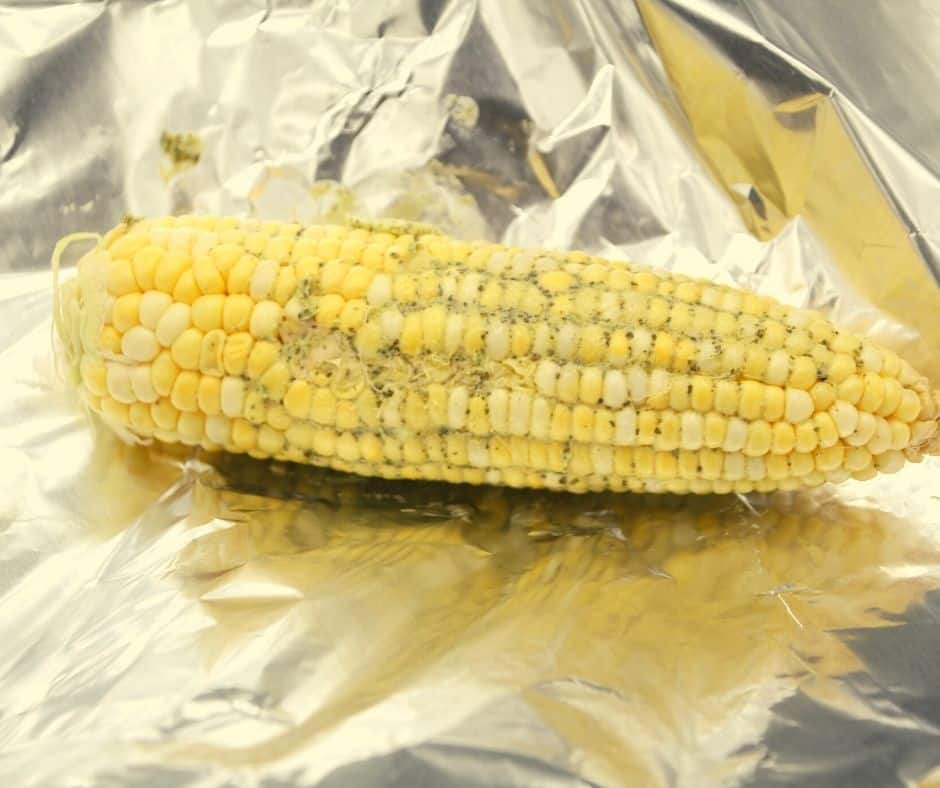 How to Grill Corn Perfectly Every Time
To grill any corn, place the corn on the Blackstone, which has been turned to high, for about 5 minutes so that you get the nice char as soon as you put the corn onto the grill.
Close the cover, so the heat stays in the grill. It will probably take you about 10-15 minutes. I like to flip them frequently through the cooking process, so all sides get perfectly grilled.
Flavored Butters for Corn
One of the best things about roasting corn is that you can flavor the corn with a butter mixture. Today I used simple basil, butter and salt, and pepper. But you really can use any.
The key is to rub it on the corn before you wrap it up in foil. Some great options are:
Butter, Basil, Salt & Black Pepper
Old Bay Seasoning and Butter
Butter, Sugar, and Ground Cinnamon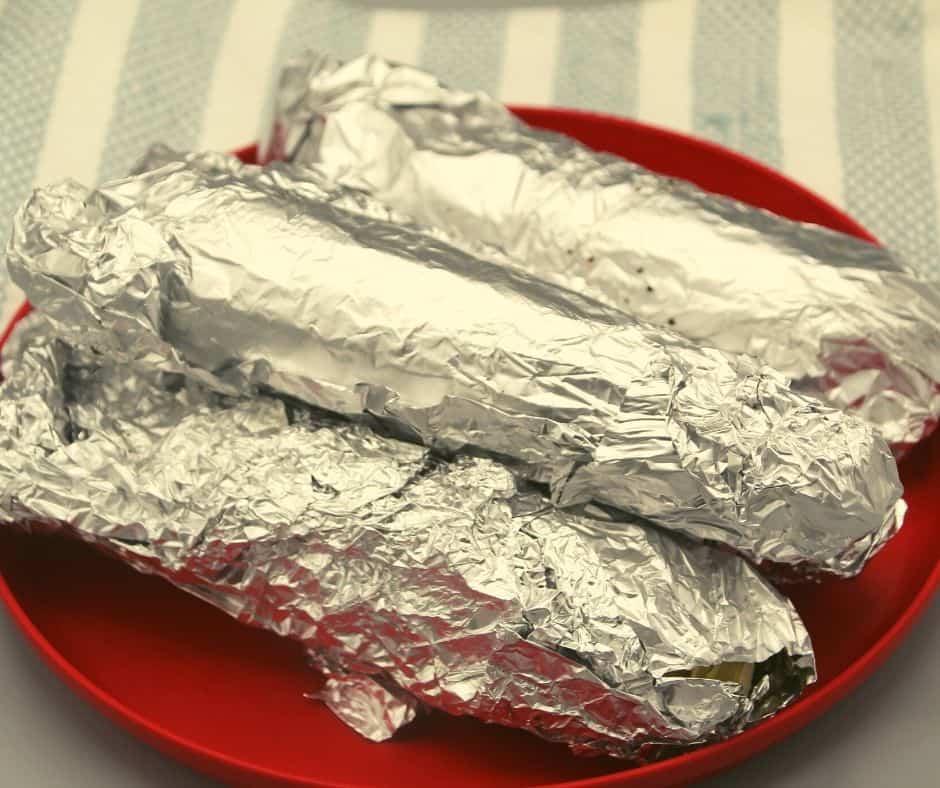 Can You Grill Frozen Corn?
If you have some frozen corn in the freezer, it's a great way to use it. Since most frozen corn is already parboiled, before freezing it's important that you do not overcook it.
Wrap it up in foil, add some butter and spices, then heat until it's warmed through. If you grill it up to long it will be overcooked.
So, watch it closely.
How To Keep Corn Fresh At Home
If you purchase corn and wonder how to keep it at its peak when you get home from the market or farmer's market, here are some suggestions.
If you will grill it up in a few hours from when you get home, leave it at room temperature. But only if you are going to use the corn for hours.
If you plan on eating it in the next day or so, place it in the refrigerator, keep the husks on and wrap it tightly in a plastic bag.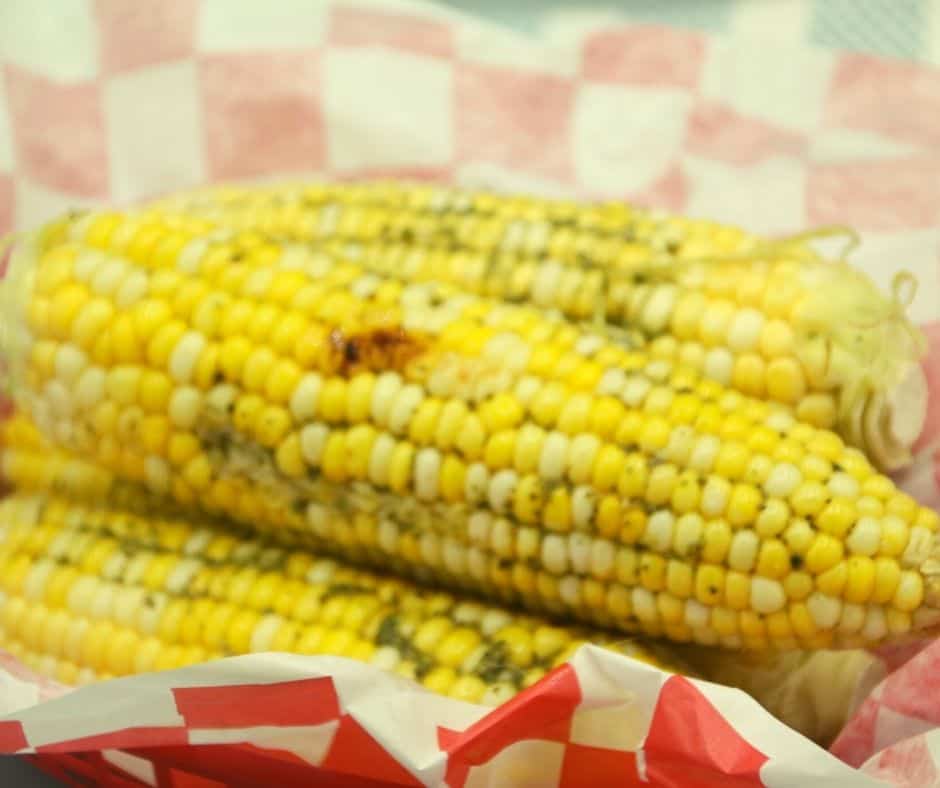 Some Other Blackstone Recipes-
BLACKSTONE PERFECT GRILLED PORK CHOPS
BLACKSTONE GRIDDLE MOJO CHICKEN TACOS
(affiliate link included)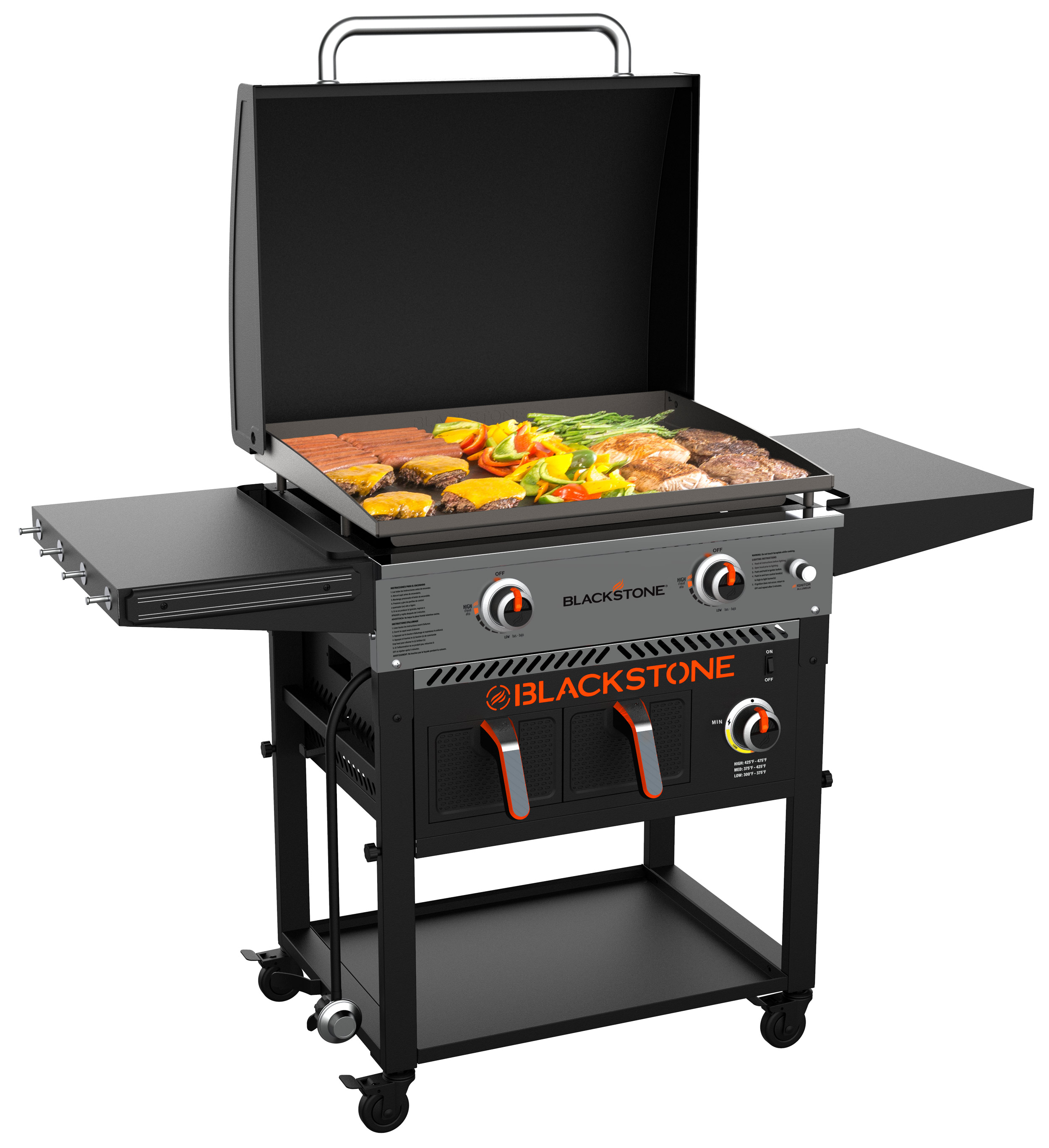 Yield: 2-4 Servings
Blackstone Grilled Corn on the Cob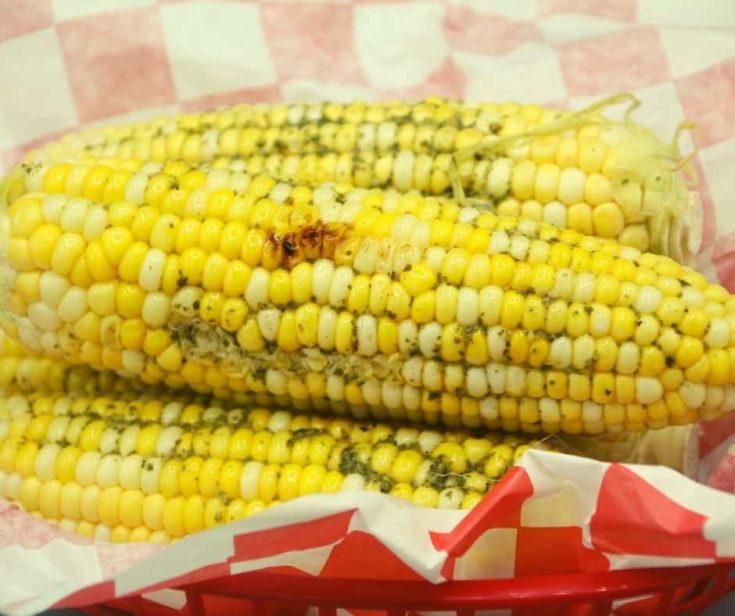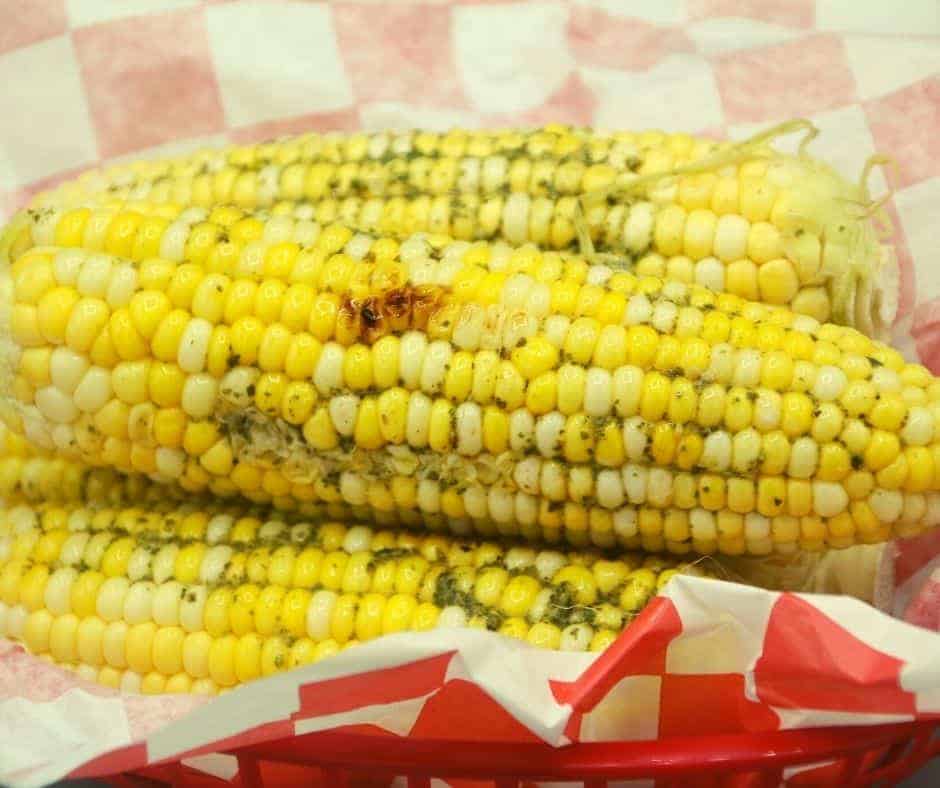 There is nothing better in the summer than grilled corn. Today, I made a batch of corn on my Blackstone Griddle. Flavored with seasoned butter infused with Basil, salt, and black pepper.
Ingredients
2-4 Ears of Corn *Shucked or not
1/2 cup room temperature butter
10-12 leaves of fresh basil
1 teaspoon salt
1/2 teaspoon black pepper
Instructions
Start by making the basil butter. In a small bowl or food processor, mix the butter, basil, salt, and pepper. Mix until smooth.
Rub the basil butter on the corn and then wrap it up in foil.
Place on the griddle for 10-15 minutes on high heat. Every 5 minutes, use a pair of tongs and flip the corn.
Remove when cooked.
Plate, serve, and enjoy!
Nutrition Information:
Yield:
2
Serving Size:
1
Amount Per Serving:
Calories:

562
Total Fat:

48g
Saturated Fat:

29g
Trans Fat:

2g
Unsaturated Fat:

15g
Cholesterol:

122mg
Sodium:

1424mg
Carbohydrates:

34g
Fiber:

4g
Sugar:

7g
Protein:

6g