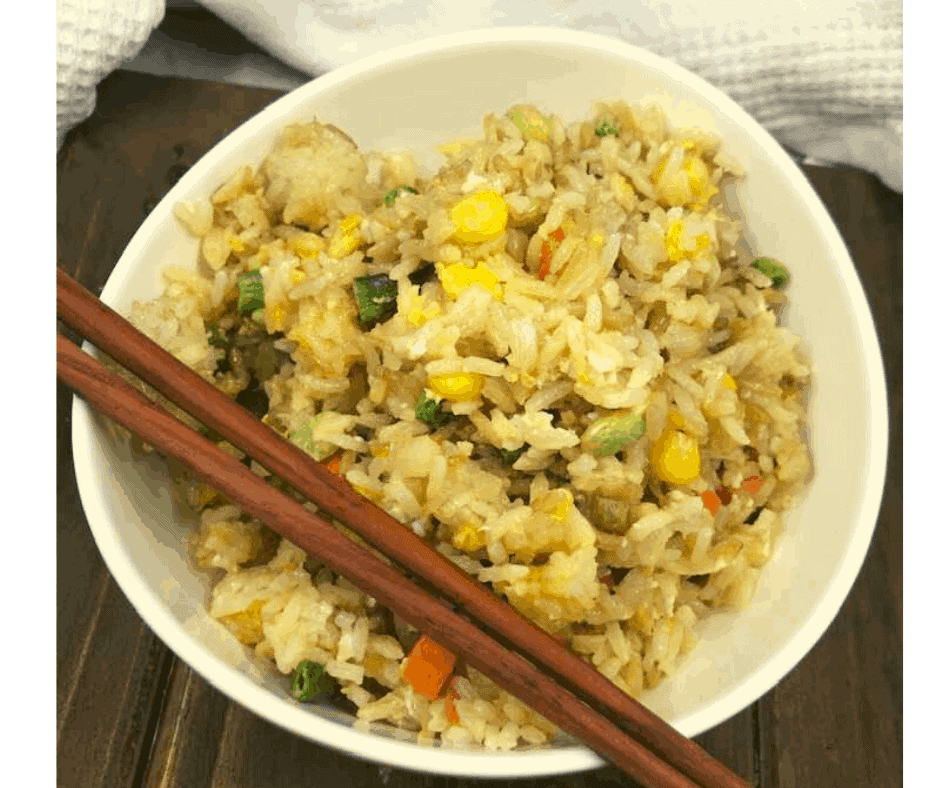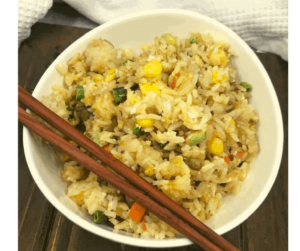 This is the recipe that I made for the Instant, Pot, which is one of my best recipes, and you know it's good, when your 80-year-old aunt, mentions it to everyone she meets.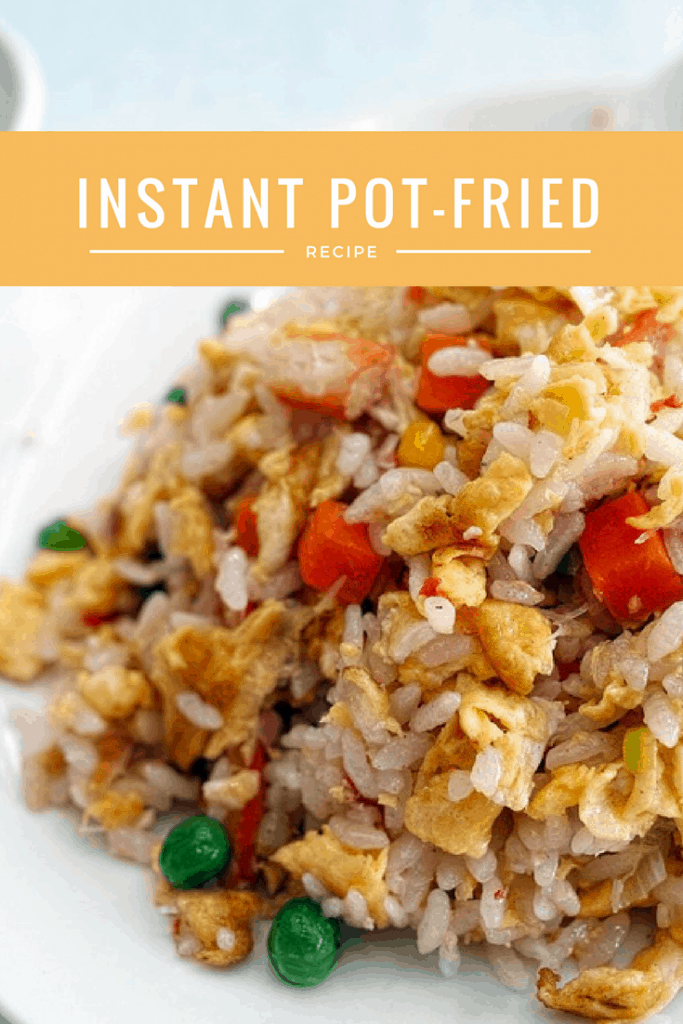 When I was a child, we would usually just have plain white rice for a side dish, we would either have white rice or if my mother purchased a box of Near East, we would have a fancy dish and have rice pilaf. We didn't have it often, because having plain rice was just a necessary side, nothing anyone was looking forward to.
When I got married, my husband lived in Japan for a while, during college, and in Japan as one can imagine they had rice at every meal. In Asian countries having a rice cooker is seen as a necessary appliance.
When we registered for our wedding gifts, my husband wanted a rice cooker. So, we got one, and it quickly became one of my favorite kitchen appliances.
Fast forward 20 years and the new kitchen gadget for rice is the Instant Pot (Pressure Cooker) and using the Instant Pot, couldn't be easier for making tasty and easy recipes. The mini (3 quarts) is also amazing for side dishes. So, wait for a sale and snag one, you will not be sorry.
You will soon be able to make foolproof and delicious side dishes with your Instant Pot.  You can all sorts of rice dishes, from Pilafs, Risottos, Polenta, Porridge, Puddings and more.
Here are some tips for getting the best tasting rice dishes from your Instant Pot (Pressure Cooker)
Always wash the rice (or at least rinse the rice)–In the United States we are never told to rinse the rice because in American the rice has been fortified with powdered vitamins, and when you rinse the rice, you also wash out the fortified vitamins. Washing or at least rinsing the rice removes the loose surface starch and in turn that will reduce the stickiness of the rice. The only kinds of rice you should not rinse are Arborio and other risotto styles rice because you need the starch to make the rice creamy.
I have found that the Ceramic Instant Pot Bowl works better than the regular stainless steel bowl, that comes with it. I find that there is less burning or scorching. I think because with the thicker surface the Instant Pot Ceramic bowl controls the heat better.
Sauteeing the rice in butter before cooking. This does two things for your dish, first, it increases the flavor of the rice dish and second the butter or oil coats the rice grain, which prevents them from sticking to each other. For the best rice, after it is cooked and it does a natural release, let it sit for a few minutes before opening the lid, this gives time for the moisture to evenly distribute through the rice.
So, How Do You Make Rice in the Instant Pot?
Rice believes it or not is one of the easiest things to make in the Instant Pot. Once you get the ratios correct, everything else falls into place.  Normally the ratio of rice to water is a 1 to 1 balance, except for special kinds of rice.
One of the tricks that I have learned along the way, about making rice in the Instant Pot, is to add a teaspoon of oil for each 1 cup you are making of rice. This does two things, you will find, it prevents the rice from sticking to the bottom of the Instant Pot liner and it prevents the rice from foaming.
I usually make either white rice or brown rice.
Instant Pot White Rice: Usually high pressure for 8 minutes and then naturally release, for about 10 minutes, and then do a quick release.
Instant Pot Brown Rice: Pressure Cook for 20 minutes and then naturally release, for about 10 minutes, and then do a quick release.
Easy Steps For Making Rice In the Instant Pot:
Always rinse the rice, under cold water, until the water runs clear. This will take out excess starches, it will make your rice light and fluffy.
Always add a teaspoon of olive oil, for each 1 cup of rice you are making.
Always double-check and make sure that the vent is in the sealing position.
Allow the pressure to release naturally, for about 10 minutes, before doing a quick release.
Unless you are on a salt-restricted diet, add about a teaspoon of salt for each rice dish you prepare, I think it gives a great taste.
Which Button Should I use for Rice in The Instant Pot:
Most Instant Pots have a rice button on the display panel. I usually do not use these, since it's generally only used for white rice. I usually just hit the manual high-pressure button on the panel, and then set my time.
Can I Use Other Liquids In the Instant Pot, for making rice, besides water?
Absolutely, change it out for beef stock, beef broth, chicken stock, chicken broth, vegetable stock, vegetable brother, or a combination of any of them.
How To Freeze Instant Pot Rice:
Most of you probably do not know, that I usually make a batch of rice on the weekends and then freeze it. I  used to be a huge Trader Joe's Jasmine Frozen rice purchaser, until one day, when I had extra rice and I thought why not?
To Freeze–Just let the rice completely cool, then place it in a freezer bag or freezer-safe container. when you are ready to use it, pop it in the microwave.
Don't Forget to Pin—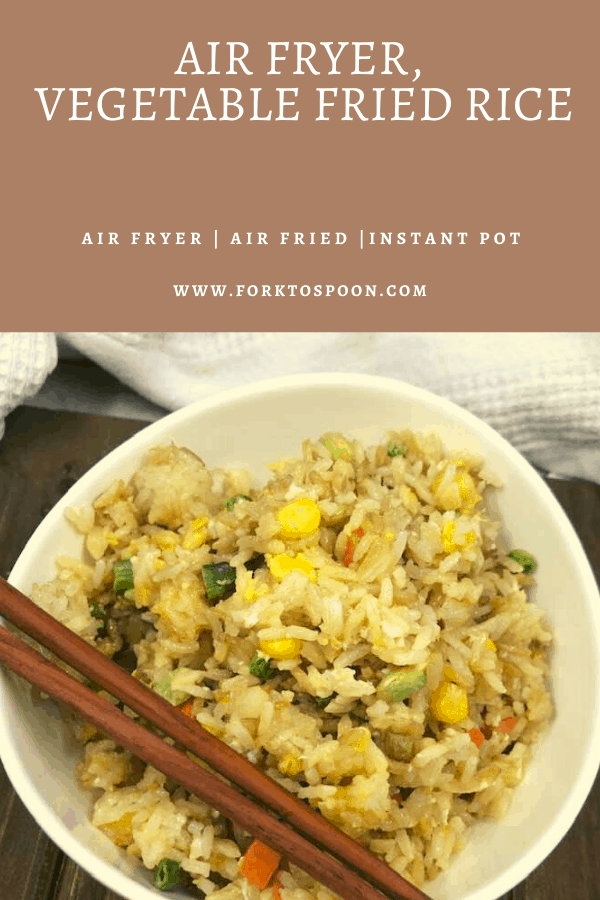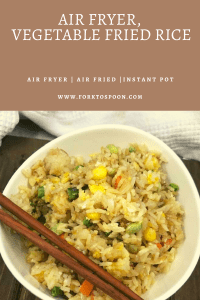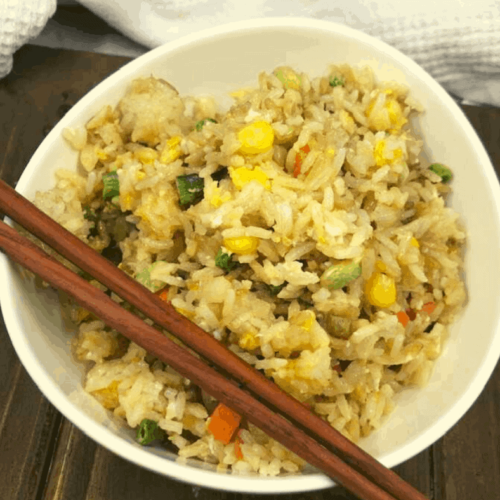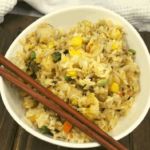 Air Fryer, Vegetable Fried Rice
This is one of the best dishes, I have made in the air fryer to date, it was a great and healthy lunch fo my son, he loved it.
Ingredients
2

teaspoons

sesame oil

2

cups

leftover rice

1/2

cup

diced onions

1

cup

vegetable medley (canned or thawed)

2

teaspoons

soy sauce

2

teaspoon

sesame oil
Instructions
Start by placing 2 teaspoons of sesame oil in the bottom of an air fryer safe pan.

Then add the rice and onions, mix in with the sesame oil.

Mix in the vegetable medley

Toss well to coat, and then place in the air fryer basket or oven and set the temperature for 320 degrees F, for 5 minutes. After 5 minutes, mix well and air fry for another 5 minutes.

After the 2nd time, mix well add 2 teaspoons of soy sauce, and 2 more teaspoons of sesame oil. Mix well.

Then add 2 eggs to a small bowl, and beat.

Pour over the rice and mix well, air fry for another 7 minutes at 320 degrees F.

Once the egg is fully cooked (check before you serve)