Air fryers are all the rage these days and for a good reason! They're a great way to cook healthy, delicious meals with little effort. Today, we will show you how to make air fryer scallops. This quick and easy dish is perfect for an appetizer or a main course. So let's get started!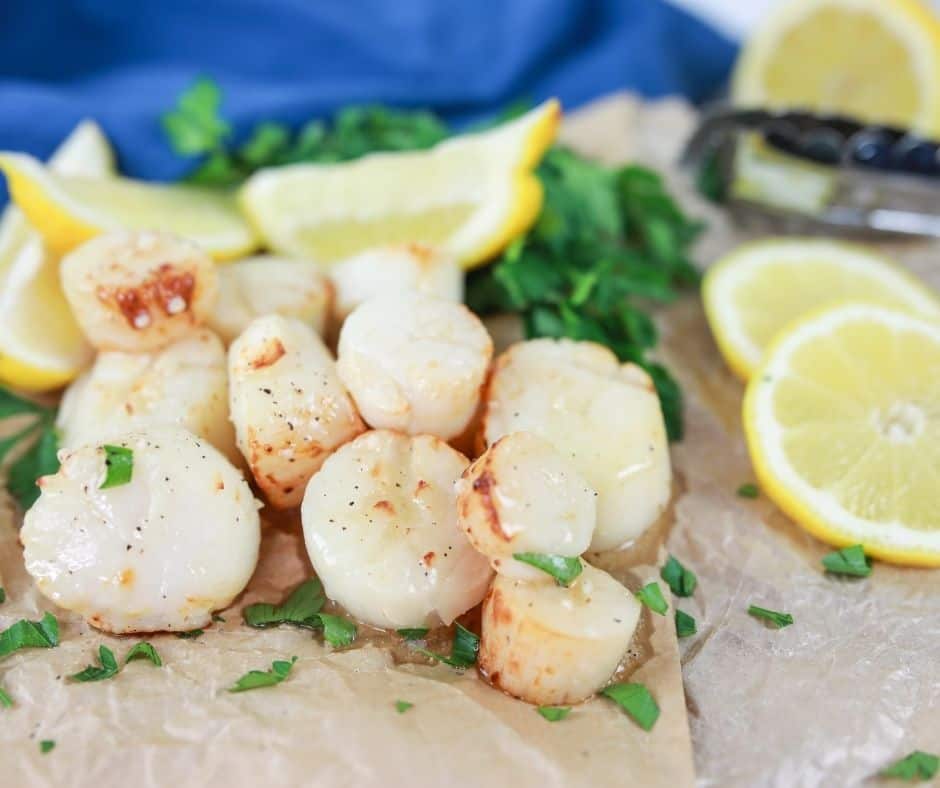 Air Fryer Scallops is a simple dish prepared in the air fryer. They are such a healthy and delicious dinner. So easy to make in the air fryer and so fast.
I love a great plate of scallops, but they are so expensive in restaurants, so today, I air-fried my own, and they were fabulous. I made a simple sauce for them using only lemon and garlic. They were perfectly cooked and seasoned.
This recipe is easy for a quick KETO and Low-Carb dinner or lunch! And with the air fryer, these cook up so quickly.
If you are looking for some other great and easy Air Fryer Seafood Recipes, some of my favorites are AIR FRYER FROZEN COCONUT SHRIMP, AIR FRYER FLOUNDER FISH, AIR FRYER LEMON PEPPER SHRIMP,
What Are Scallops?
Scallops are nothing more than the interior of a mollusk. They are similar to oysters, mussels, or clams.
The inside of the shell is where the meat lies. You can prepare the scallops in many different ways, including pan-frying, grilling, baking, or in our case Air Fried.
Scallops are a type of shellfish that is found in saltwater. They are often eaten as an appetizer or a main course and boiled, baked, or grilled. What makes scallops so unique? Read on to find out!
Ingredients Needed For Air Fryer Scallops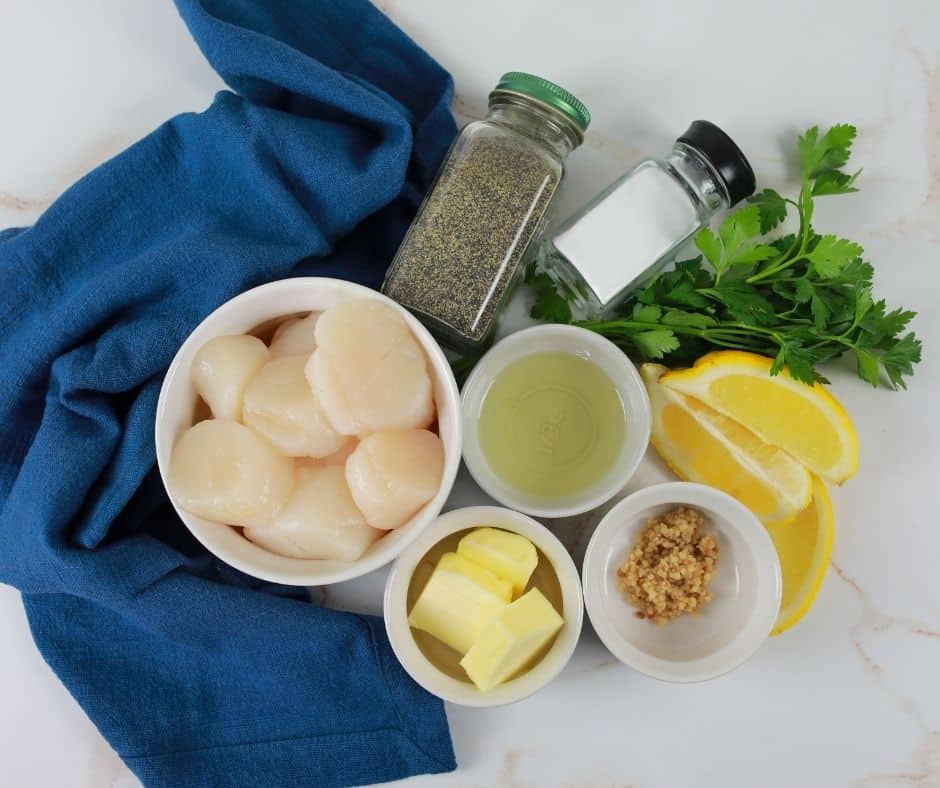 Thawed Scallops
Olive Oil
Butter
Minced Garlic
Lemon Juice
Salt, Black Pepper, and Parsley
How To Make Air Fryer Scallops
Spray your air fryer basket with olive oil spray. Place the scallops into the air fryer basket. Set the temperature to 400 degrees F, for about 4 to 6 minutes, air fryer setting.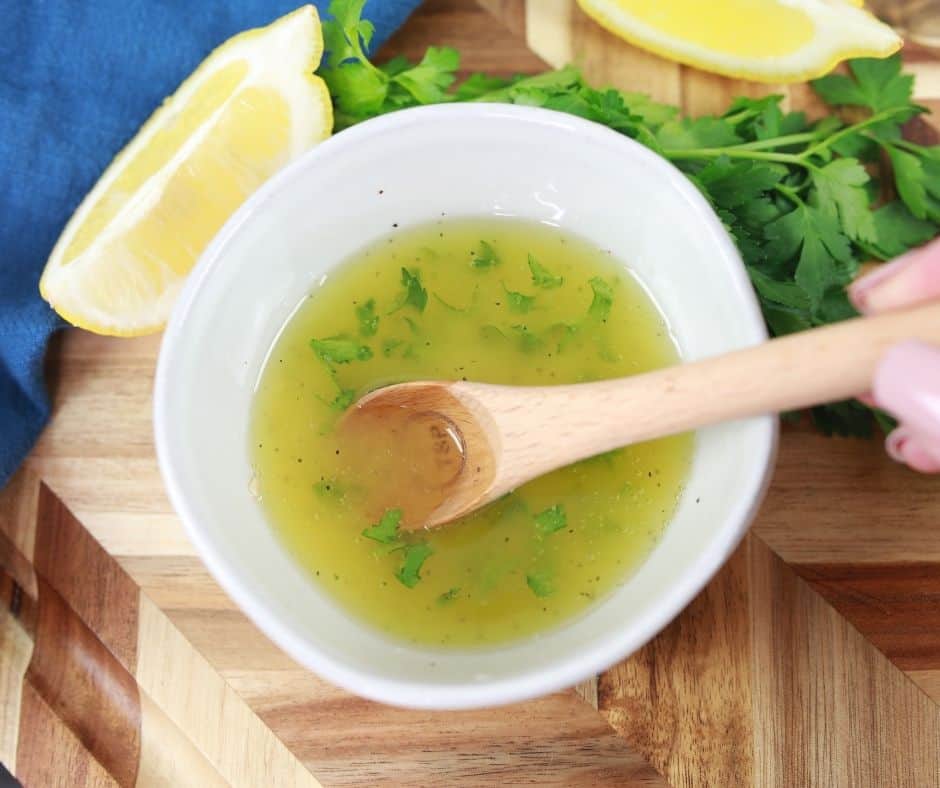 Check the internal temperature of the scallops with a meat thermometer.
Remove scallops from the air fryer. Mix the olive oil, melted butter, minced garlic, salt, black pepper, lemon juice, and parsley in a small mixing bowl. Serve the scallops with the side of the sauce, or drizzle over them before serving.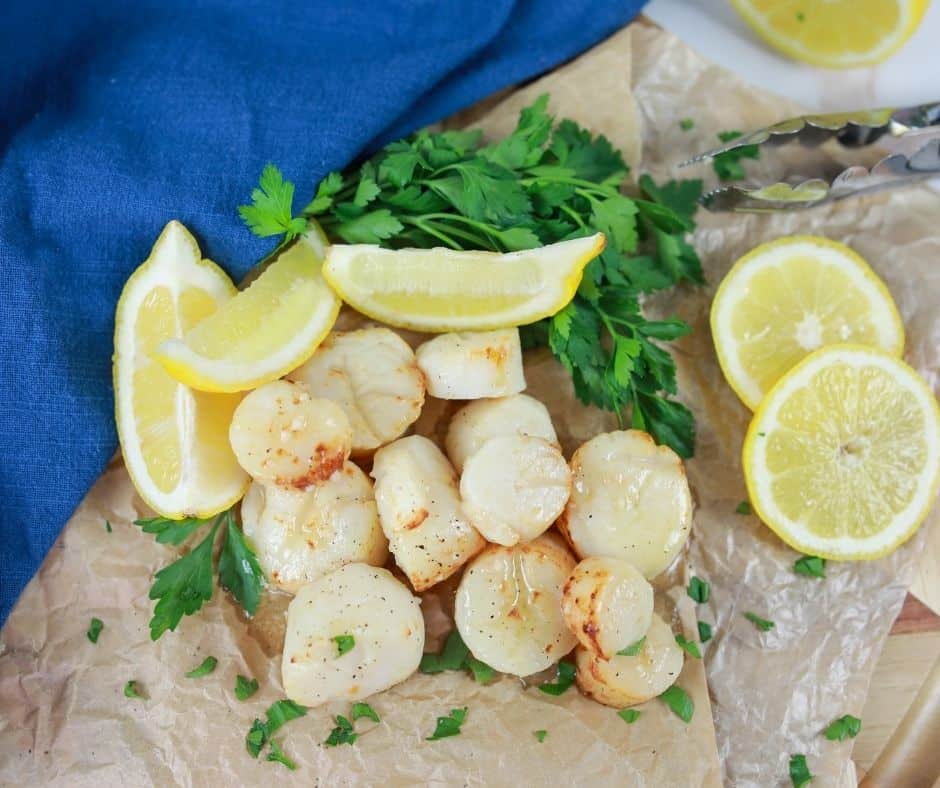 How To Thaw Scallops
If you have frozen scallops, you can quickly thaw them for a quick dinner or lunch. To safely thaw them,
Place them into a bowl of cold water; it will take about 10 to 20 minutes to thaw the scallops fully.
If you want to thaw them overnight, place them into the refrigerator overnight to thaw safely.
How To Air Fry Frozen Scallops
It is beautiful to air fry frozen scallops, although it is hard to marinade them. Place the frozen scallops directly into the air fryer basket.
Set the temperature to 400 degrees F, air fryer setting, and flip halfway for 6 to 8 minutes. And basting with butter during the cooking process.
How To Pan Fry Scallops:
If you want to make the recipe in your cast-iron skillet or another skillet, it will take you about 10 minutes. Here is how to prepare them:
Add vegetable oil into your skillet, turn it to medium-high heat until the oil is heated up.
Then add your scallops, cook for bout 2 to 3 minutes per side, and then use a spatula to flip the scallops and continue to cook until fully done.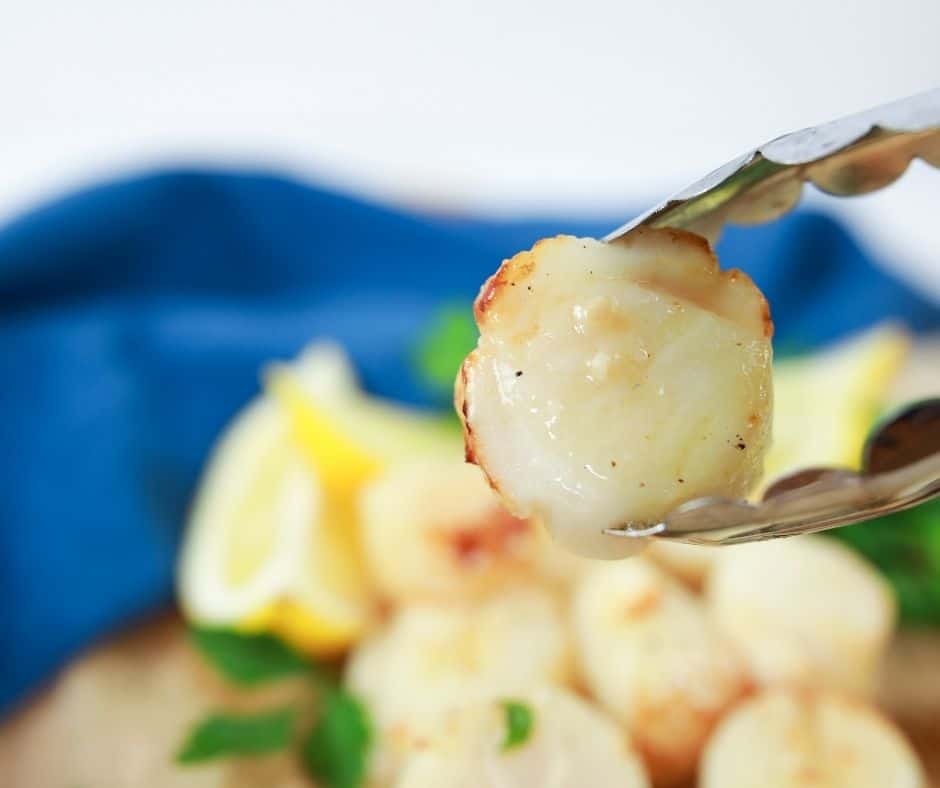 What are the best scallops to use?
You can purchase two types of scallops at your local grocery store, bay scallops or sea scallops.
I typically buy sea scallops because they are more significant than bay scallops. People say that sea scallops are sometimes more tender, but they are best used in baked dishes because they are minimal.
If you are looking for a meaty entree to serve your family, I will go with typical sea scallops. But, if you are looking for an appetizer, go with the bay scallops.
How To Buy Scallops
If you buy frozen scallops, I will choose more giant scallops. Scallops like shrimp are sold in different sizes. Here are the different types available:
U/10 -This means that it would take about 10 of them to make a pound
U/15- This means that it would take about 15 of them to make a pound
U 20/30- This means that it would take about 20 to 30of them to make a pound
Wet- Vs. Dry-Packed Scallops
When I went to the grocery store and then on a trip to Whole Foods, I noticed that there are two different types sold, wet or dry-packed scallops.
The difference is that scallops are typically packed in grocery stores with water, a process referred to as Wet Packed Scallops. Unforutnley, the cost of the water is something you will be paying for since the water is inside the scallop.
The other type is Dry-Packed Scallops, which means that dried packed, without any water, which means you are paying only for the scallops themselves.
The price of the wet-packed scallops is far less than dry-packed. I have found that some of the best prices for scallops are actually at Costco or Trader Joe's.
Can you make them ahead of time?
Truthfully, since these take such a little time to cook up, and they taste so much better fresh, This is one item that I would make and then serve right away.
If you have any leftovers, place them into an airtight container and reheat them on the stove or back into the air fryer. You will only need a few minutes, and for the best flavor, I would brush them with butter.
How To Serve
I love serving scallops with a big old garden salad, especially as the summer comes and produces in season.
But you can serve it with pasta or rice as a side dish. Or make a great air fryer surf and turf dinner with a tremendous air-fried steak.
However you serve it, it will be delicious!
More Air Fryer Recipes: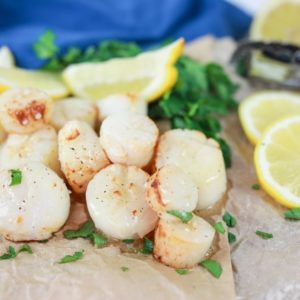 Air Fryer Scallops
Description
Air Fryer Scallops, a simple dish prepared in the air fryer. They are such a healthy and delicious dinner. So easy to make, in the air fryer, and so fast.
Ingredients
1

pound

scallops

,

thawed

2

tablespoons

olive oil

3

tablespoons

butter

,

melted

1

teaspoon

minced garlic

1

teaspoon

salt

1/2

teaspoon

black pepper

2

tablespoons

lemon juice

1

teaspoon

dried parsley
Instructions
Spray your air fryer basket with olive oil spray.

Place the scallops into the air fryer basket.

Set the temperature to 400 degrees F, for about 4 to 6 minutes, air fryer setting.

Check the internal temperature of the scallops with a meat thermometer. Remove scallops from the air fryer.

In a small mixing bowl, mix the olive oil, melted butter, minced garlic, salt, black pepper, lemon juice, and parsley.

Serve the scallops with the side of the sauce, or drizzle over them before serving
Nutrition
Serving:
1
g
Calories:
219
kcal
Carbohydrates:
5
g
Protein:
14
g
Fat:
16
g
Saturated Fat:
7
g
Polyunsaturated Fat:
1
g
Monounsaturated Fat:
7
g
Trans Fat:
0.3
g
Cholesterol:
50
mg
Sodium:
1094
mg
Potassium:
250
mg
Fiber:
0.1
g
Sugar:
0.2
g
Vitamin A:
268
IU
Vitamin C:
3
mg
Calcium:
13
mg
Iron:
1
mg
Don't Forget To PIn: