Air Fryer Puff Pastry Donuts — If you love donuts and you love your air fryer, then this recipe is for you!
These Air Fryer Puff Pastry Donuts are simple to make and delicious. You'll be amazed at how crispy they come out – just like the real thing! Plus, there's no frying required – the air fryer does all the work for you. So give these a try soon – your taste buds will thank you!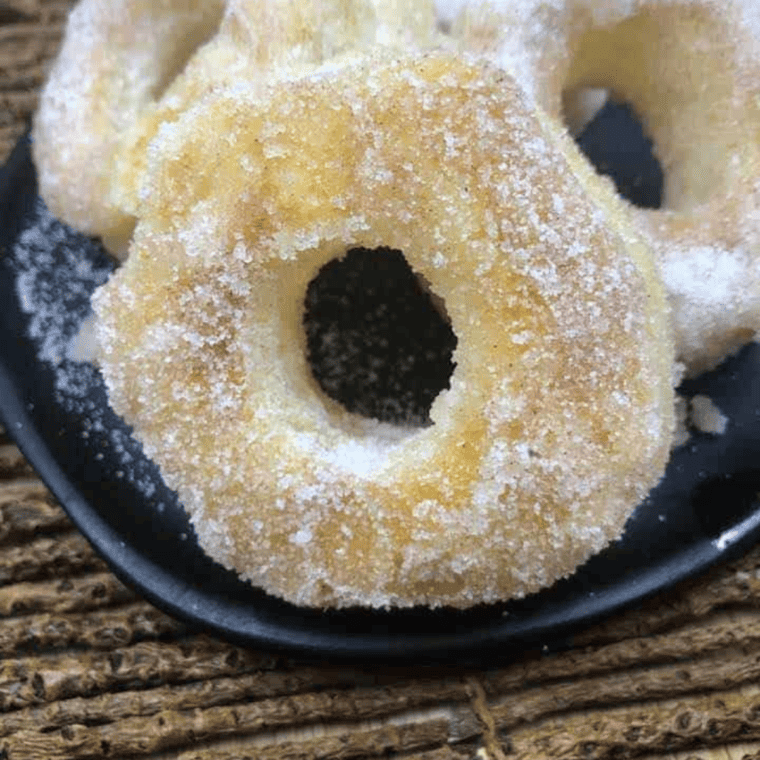 Air Fryer Puff Pastry Donuts! Think of this: you are brewing your favorite cup of coffee, and you think to yourself. Wow, a nice light pastry would go great with your morning coffee. In your freezer or refrigerator, you look for a package of Pepperidge puff pastry dough. And a donut plan is racing through your mind.
This is one of the most straightforward recipes if you have not prepared homemade donuts in the air fryer yet.
Why You Will Love Puff Pastry Donuts
You will absolutely love Puff Pastry Donuts for a variety of delightful reasons:
Ease of Preparation: Utilizing puff pastry for donuts significantly simplifies baking. With pre-made pastry dough, you bypass the need for mixing and kneading, making the process quick and straightforward.

Light and Flaky Texture: Puff pastry offers a wonderfully light and flaky texture that is hard to achieve with traditional donut dough. Each bite delivers a delicate crunch followed by melt-in-your-mouth layers.

Versatility in Flavors and Toppings: Puff pastry is like a blank canvas; it pairs beautifully with a wide range of toppings and fillings. From classic sugar coatings to rich chocolate glazes or fruit fillings, the possibilities for customization are endless.

Elegance and Sophistication: There's something undeniably elegant about the layers and textures of puff pastry. These donuts offer a sophisticated twist on a classic favorite, perfect for special occasions or as a refined treat.

Perfect for Entertaining: Their impressive appearance and delicious taste make puff pastry donuts ideal for entertaining. They can be easily made in large batches and are sure to impress your guests.
In summary, Puff Pastry Donuts brings a unique and delightful experience to the table, combining the simplicity of preparation with the exquisite textures and flavors that make puff pastry so beloved. Whether for a special breakfast, a chic dessert, or a delectable snack, these donuts are a treat everyone will surely enjoy.
Ingredients Needed For Air Fryer Puff Pastry Donuts
Savor the delightful fusion of simplicity and elegance with Air Fryer Puff Pastry Donuts, a treat that transforms the classic donut into a flaky, airy delight. Using puff pastry as the base, this recipe offers a quick yet sophisticated approach to donut-making, perfect for an indulgent breakfast, an elegant dessert, or a fancy snack. Here's what you'll need to bring these exquisite donuts to life: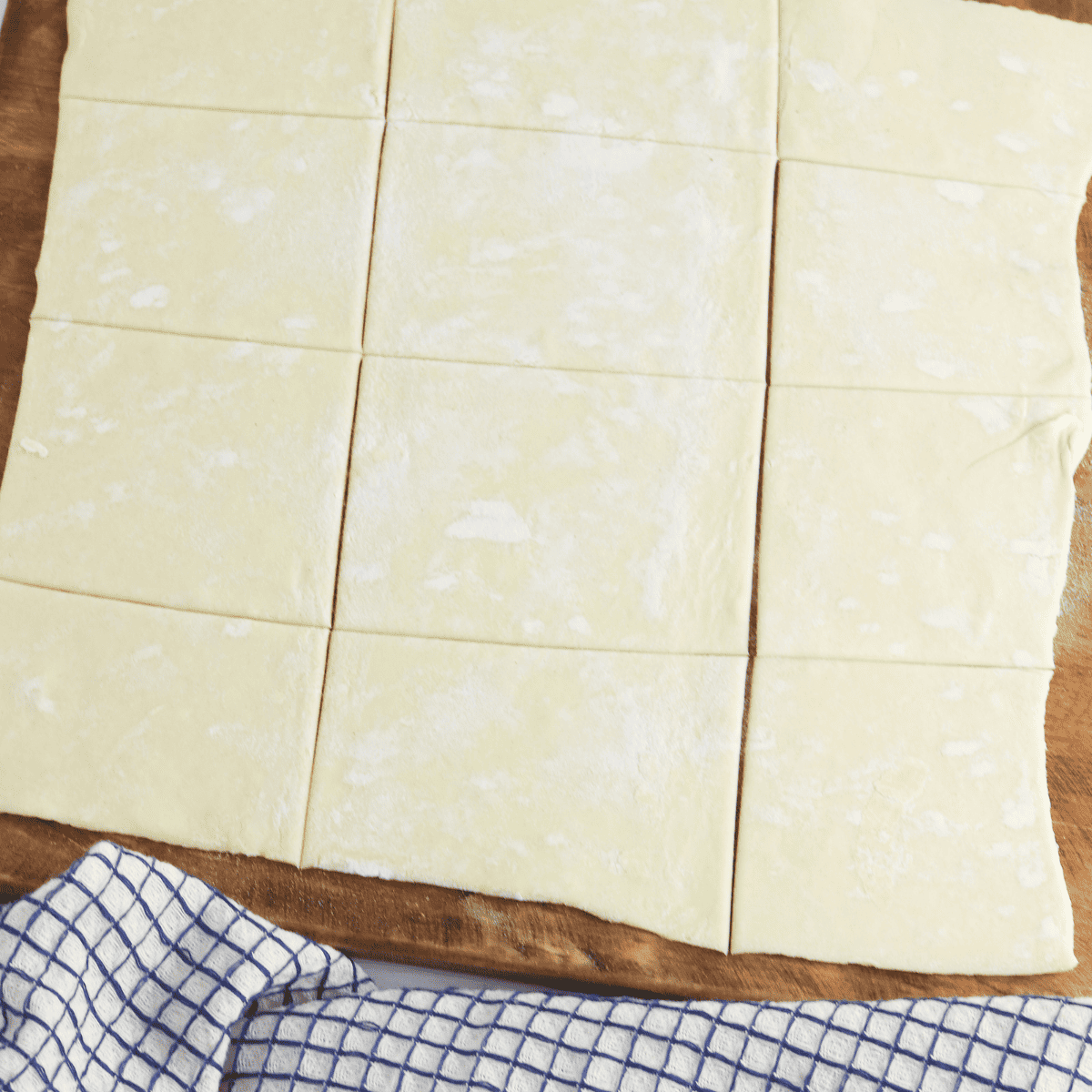 Remember the step-by-step directions and detailed ingredient list are below, in the printable recipe card at the bottom of the post, as well as the nutritional information.
Puff Pastry Sheets: The star of the show, puff pastry sheets puff up beautifully in the air fryer, creating light, flaky layers that form the perfect donut texture.

Sugar: Granulated sugar is used to coat the donuts, giving them a sweet, crystalline crust that enhances flavor and texture.

Egg (for Egg Wash): Lightly beaten egg brushed over the puff pastry adds a lovely golden color and helps the sugar adhere to the donuts.

Powdered Sugar: For those who prefer a finer coating, powdered sugar can be dusted over cooked donuts for a sweet, elegant finish.

Chocolate, Jam, or Cream (Optional Fillings): These optional fillings can inject an extra flavor into your puff pastry donuts, making them even more irresistible.
Each ingredient in this Air Fryer Puff Pastry Donuts recipe plays a crucial role in creating a luxurious treat that's easy to make and a joy to savor. Whether you're a seasoned baker or a novice in the kitchen, these donuts are sure to impress with their delicate layers and exquisite taste.
How To Make Air Fryer Puff Pastry Donuts
Making Air Fryer Puff Pastry Donuts is a simple and elegant way to create a delightful treat. Here's how to whip up these flaky and delicious donuts: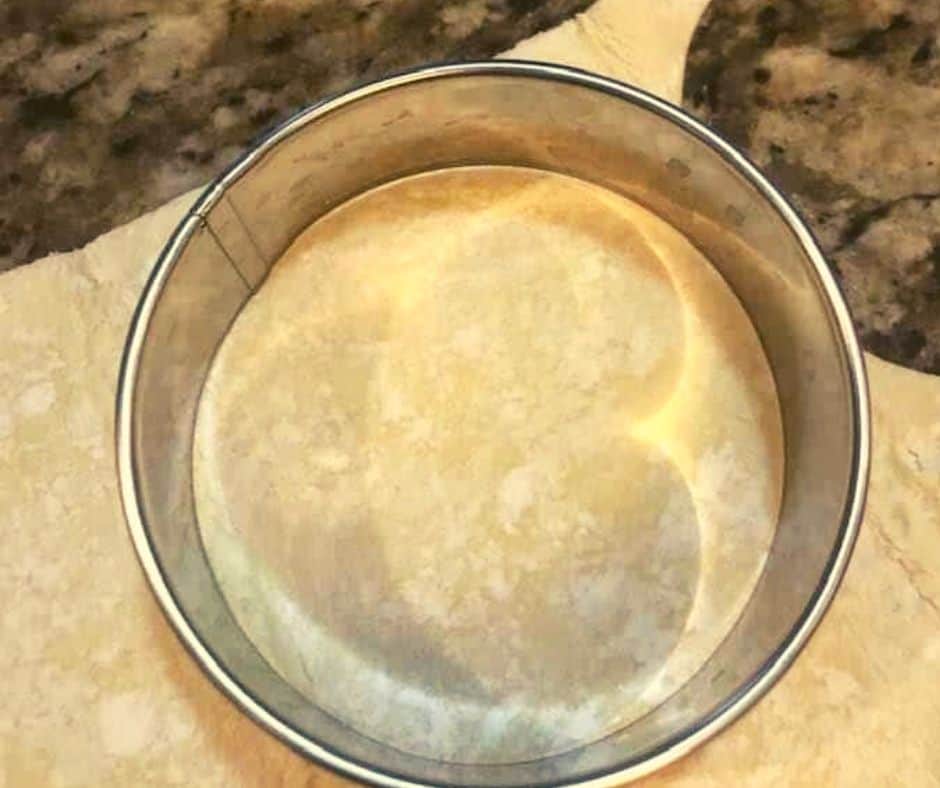 Prepare the Puff Pastry:
Thaw the puff pastry sheets according to package instructions.
Once thawed, roll out the pastry slightly to even out the folds.
Use a donut cutter or two differently sized round cutters to cut out donut shapes from the pastry.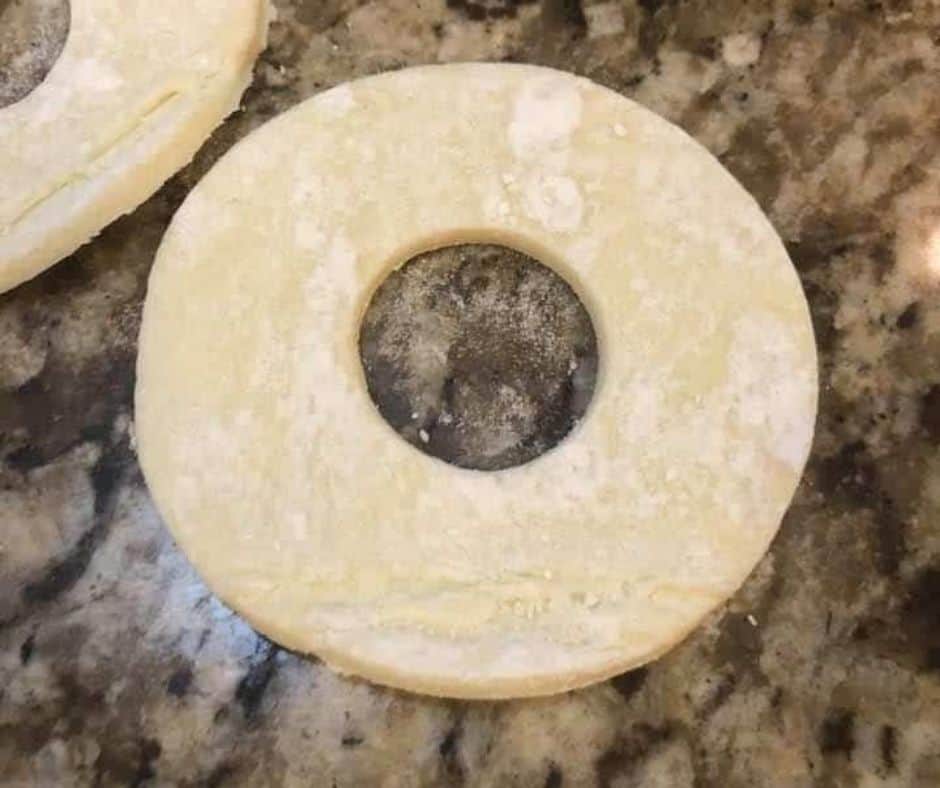 Preheat the Air Fryer:
Preheat your air fryer to 400°F (200°C). This ensures the pastry puffs up and gets a nice golden color.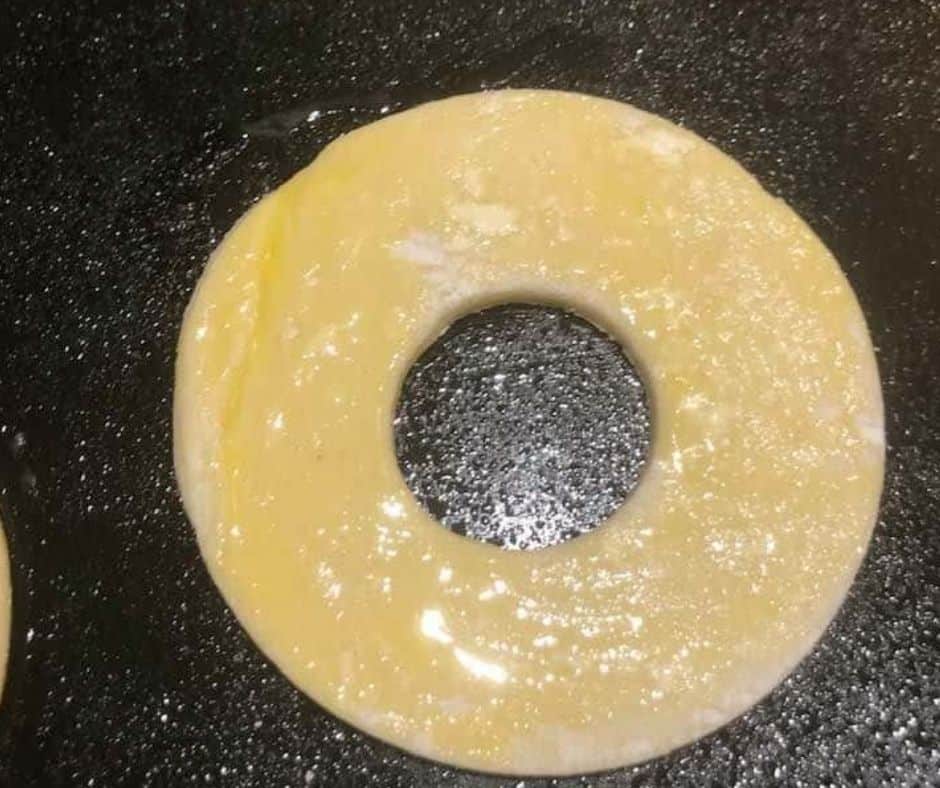 Egg Wash:
Lightly brush each puff pastry donut with the beaten egg. This will give them a beautiful golden finish.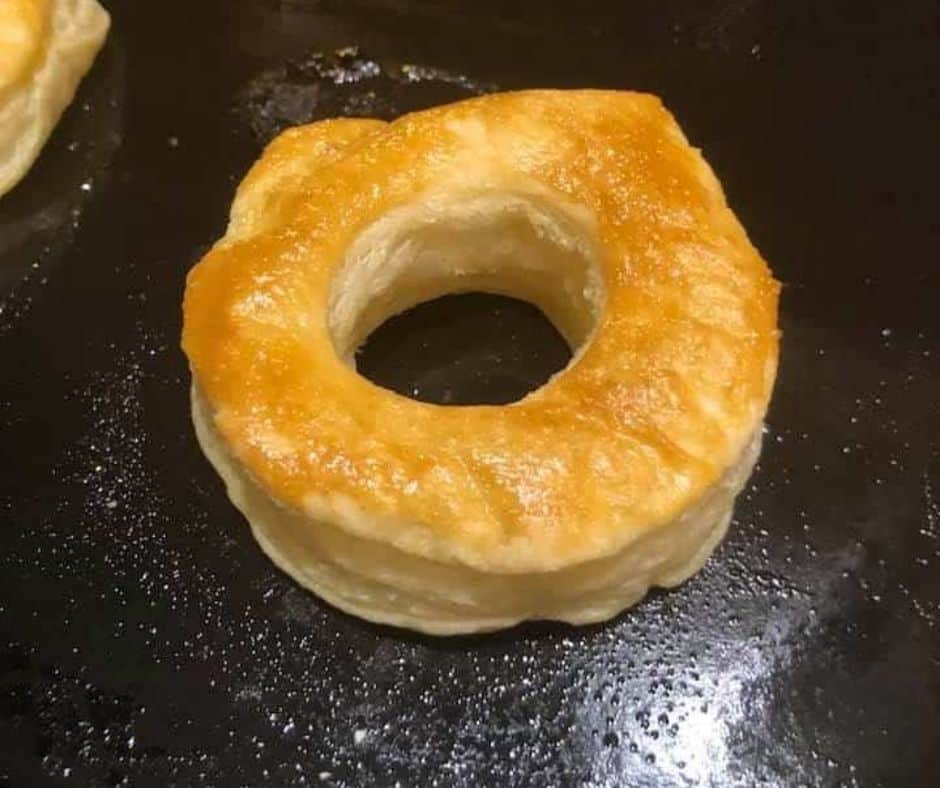 Air Fry the Donuts:
Place the donuts in the air fryer basket in a single layer, ensuring they don't touch for proper air circulation.
Cook for about 8 minutes or until they are golden brown and puffed. Flip halfway through cooking for even browning.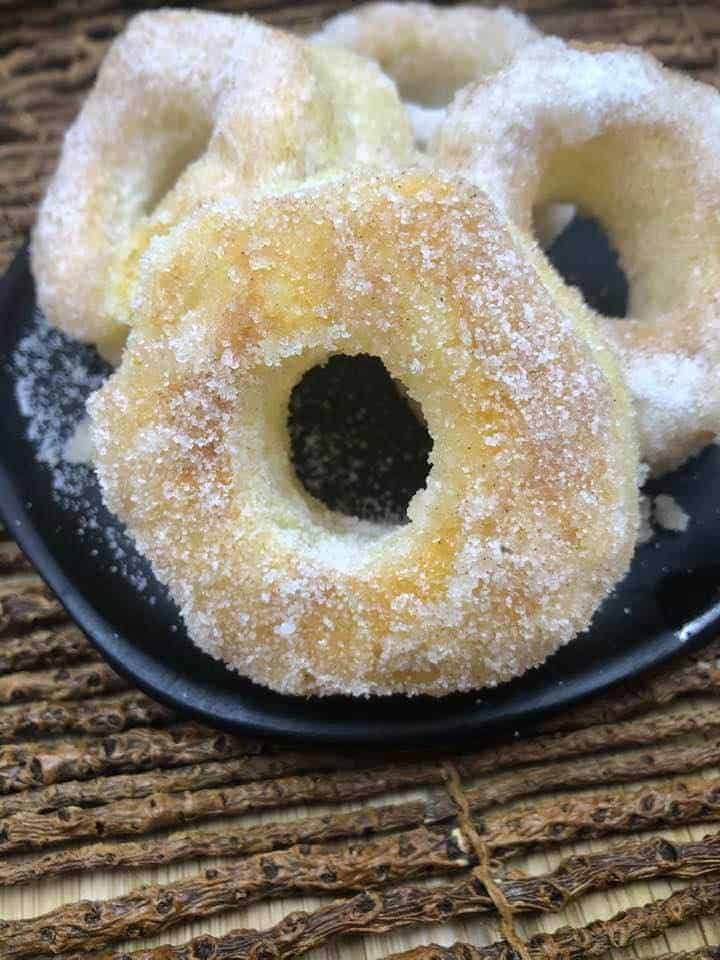 Recipe Variations
Exploring recipe variations can add delightful twists to your Air Fryer Puff Pastry Donuts. Here are some creative ideas to customize these elegant treats:
Cinnamon Sugar Coating: Instead of plain sugar, mix granulated sugar with cinnamon for a warm, spiced coating that complements the flaky pastry.

Glazed Donuts: Drizzle or dip the air-fried donuts in a simple glaze made from powdered sugar mixed with milk or lemon juice for a sweet, glossy finish.

Chocolate-Dipped Donuts: Melt chocolate and dip one side of the cooled donuts into it. You can add sprinkles or chopped nuts on top of the chocolate for added texture and flavor.

Fruit-Filled Donuts: Fill the donuts with your favorite fruit jam or preserves. Raspberry, strawberry, or apricot jams make delicious fillings and add a tart contrast to the sweet pastry.

Cream Cheese Filling: Pipe cream cheese frosting into the center of each donut for a creamy, tangy filling. This works particularly well with the cinnamon sugar coating.

Almond Crunch: Sprinkle sliced almonds on top of the donuts before air frying for a nutty crunch. It was drizzled with honey after air frying to enhance the flavor.

Lemon Glazed Donuts: Create a lemon glaze with powdered sugar and fresh lemon juice. This adds a bright, citrusy note, perfect for spring and summer.

Powdered Sugar Dusting: For a simple yet elegant finish, dust the air-fried donuts with powdered sugar. This works well if you prefer less sweetness.

Espresso Glaze: Add a teaspoon of espresso powder to your glaze mixture for a subtle coffee flavor, pairing perfectly with a morning cup of coffee.

Savory Twist: For a savory version, sprinkle grated Parmesan and herbs over the puff pastry before air frying. Serve these as an appetizer or snack.
Each of these variations brings a unique flavor and presentation to the Air Fryer Puff Pastry Donuts, making them adaptable for different tastes and occasions. Whether you're in the mood for something sweet, fruity, or even savory, there's a puff pastry donut variation to suit your preference.
Pro Tips
Creating the perfect Air Fryer Puff Pastry Donuts involves some key tips and tricks for the best results:
Thawing the Puff Pastry: Ensure your puff pastry is properly thawed but still cold. If it becomes too warm, the butter in the pastry can melt, which affects the flakiness.

Preheating the Air Fryer: Like with most air fryer recipes, preheating your air fryer is crucial. It ensures the puff pastry starts cooking immediately and puffs up properly.

Even Cutting: Use sharp cutters for the donuts and holes. Dull edges can seal the layers of pastry, preventing them from puffing up.

Avoid Overcrowding: Place the donuts in a single layer without touching each other. Overcrowding can lead to uneven cooking and less puffiness.

Egg Wash for Color: For a golden-brown finish, lightly brush the pastry with an egg wash before cooking. This step is optional but adds a nice color and sheen.

Monitoring Cooking Time: Keep a close eye on the donuts as they cook. Puff pastry can go from perfectly done to overcooked quickly.

Coating While Warm: If you're using sugar or cinnamon sugar for coating, do it while the donuts are still warm so the coating sticks better.

Customize Fillings and Toppings: Feel free to experiment with different fillings and toppings. Puff pastry is versatile and pairs well with a variety of flavors.

Serving Immediately: These donuts are best enjoyed fresh and warm from the air fryer when they peak texture.

Storing and Reheating: If you have leftovers, store them in an airtight container. Reheat briefly in the air fryer to bring back some of the crispiness.
By following these tips, you'll make delicious and impressive Air Fryer Puff Pastry Donuts that will surely be a hit for any occasion, from casual gatherings to special brunches.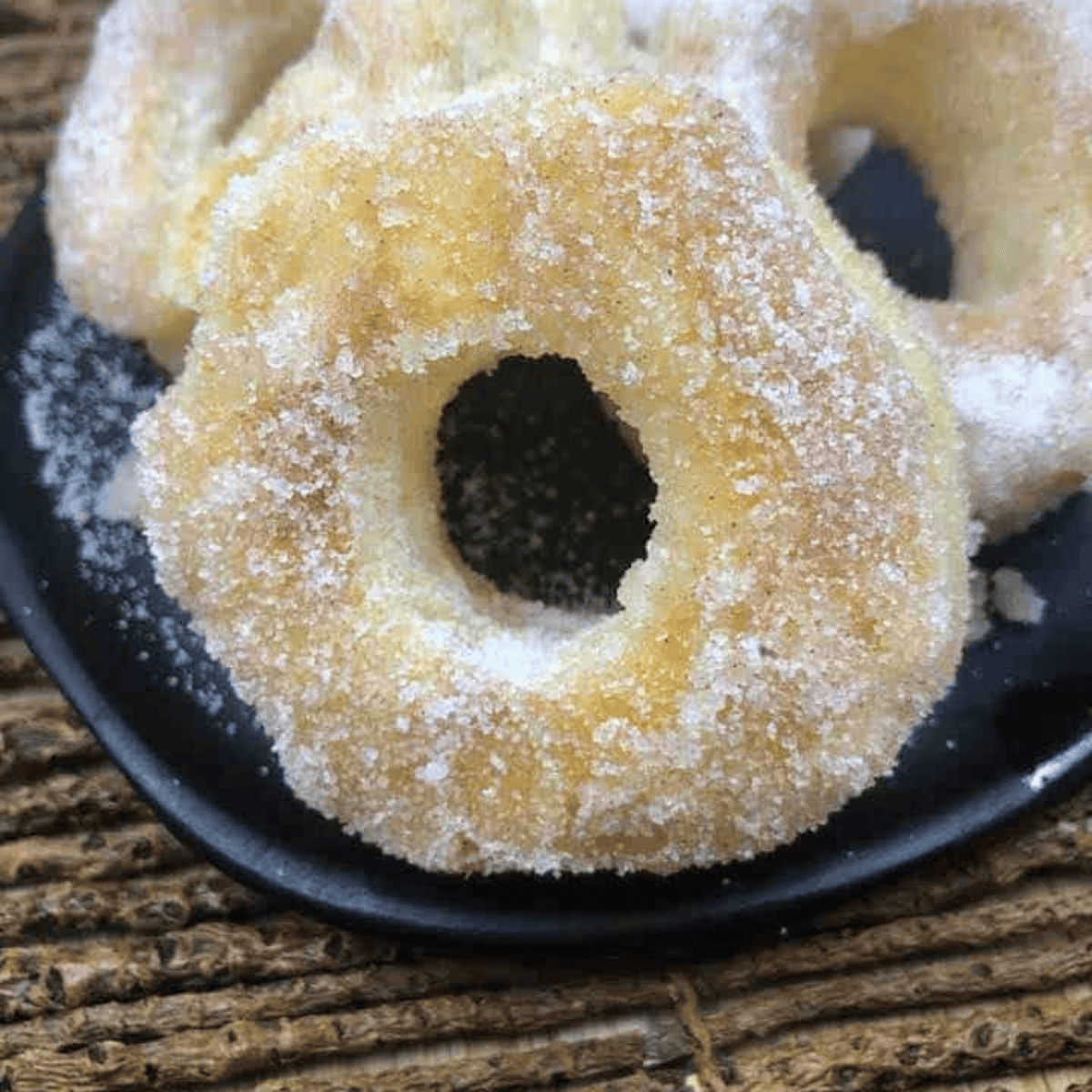 FAQ's
Can I use homemade puff pastry instead of store-bought?
Absolutely! Homemade puff pastry can be used, ensure it's rolled to a similar thickness as store-bought sheets for consistent results.
How do I prevent the puff pastry from sticking to the air fryer basket?
Lightly greasing the air fryer basket or using parchment paper with holes can prevent sticking. Ensure the parchment paper is suitable for high temperatures.
Can these donuts be made in advance?
Puff pastry donuts are best enjoyed fresh. However, you can cut out the donuts in advance and store them in the refrigerator before air frying.
How long do you air fry puff pastry donuts?
Typically, air fry them at 350°F for about 8-10 minutes, but this can vary depending on your air fryer model and the thickness of the pastry.
What other toppings can I use?
Apart from sugar coatings and glazes, you can try toppings like melted chocolate, sprinkles, or even a dusting of cocoa powder.
Can I make savory versions of these donuts?
Yes, for a savory twist, top the puff pastry with grated cheese, herbs, or even finely chopped cooked bacon before air frying.
Is it necessary to flip the donuts during cooking?
It's not usually necessary as the air fryer cooks them evenly, but you can flip them halfway for a more uniform color.
How do I store leftovers?
Store leftover donuts in an airtight container at room temperature for up to 2 days, though they are best when fresh.
Can I freeze puff pastry donuts?
It's best to air fry them fresh. However, you can freeze the cut-out raw donuts and air fry them straight from the freezer, adding a few extra minutes to the cooking time.
How can I make my donuts extra flaky?
Ensure the puff pastry is cold when you work with it, as this helps maintain the layers that puff up during cooking.
More Air Fryer Recipes
Equipment Used:
Air Fryer Puff Pastry Donuts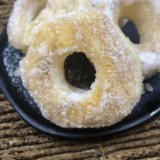 Air Fryer Puff Pastry Donuts
Description
If you're looking for a delicious and easy dessert, look no further than these Air Fryer Puff Pastry Donuts! They're made with store-bought puff pastry dough, so they're quick and easy to prepare. And the best part? You can customize them with your favorite toppings! So why not give them a try today?
Ingredients
1

sheet

puff pastry

,

defrosted

1

large

egg

2

tablespoons

butter

,

melted

1/4

cup

granulated sugar

1

teaspoon

ground cinnamon
Instructions
Start by laying out the defrosted puff pastry on a flat surface. Then use your biscuit cutter and cut out the larger circle.

Continue to cut out all of the circles until you run out of puff pastry. Then use the smaller biscuit cutter and cut the middle out. Repeat until all the dough is used up.

As you cut them out, place them on a greased air fryer basket or greased air fryer tray.Then crack the egg, and place it into a small bowl. Use a fork to beat the egg.

Use a pastry brush to brush the egg wash over the puff pastry. Place the air fryer basket or tray into the air fryer and set the temperature to 330 degrees F for 5 minutes.

In one bowl, add the melted butter, and in another both mix the sugar and ground cinnamon.

Then dip the donuts into melted butter and then into the sugar/cinnamon mixture.
Equipment
Air Fryer

Biscuit Cutter

Parchment Paper,

optional

Non-Stick Cooking Spray
Nutrition
Serving:
1
Serving
Calories:
227
kcal
Carbohydrates:
20
g
Protein:
3
g
Fat:
15
g
Saturated Fat:
5
g
Polyunsaturated Fat:
2
g
Monounsaturated Fat:
8
g
Trans Fat:
0.1
g
Cholesterol:
31
mg
Sodium:
108
mg
Potassium:
29
mg
Fiber:
1
g
Sugar:
6
g
Vitamin A:
122
IU
Vitamin C:
0.01
mg
Calcium:
10
mg
Iron:
1
mg