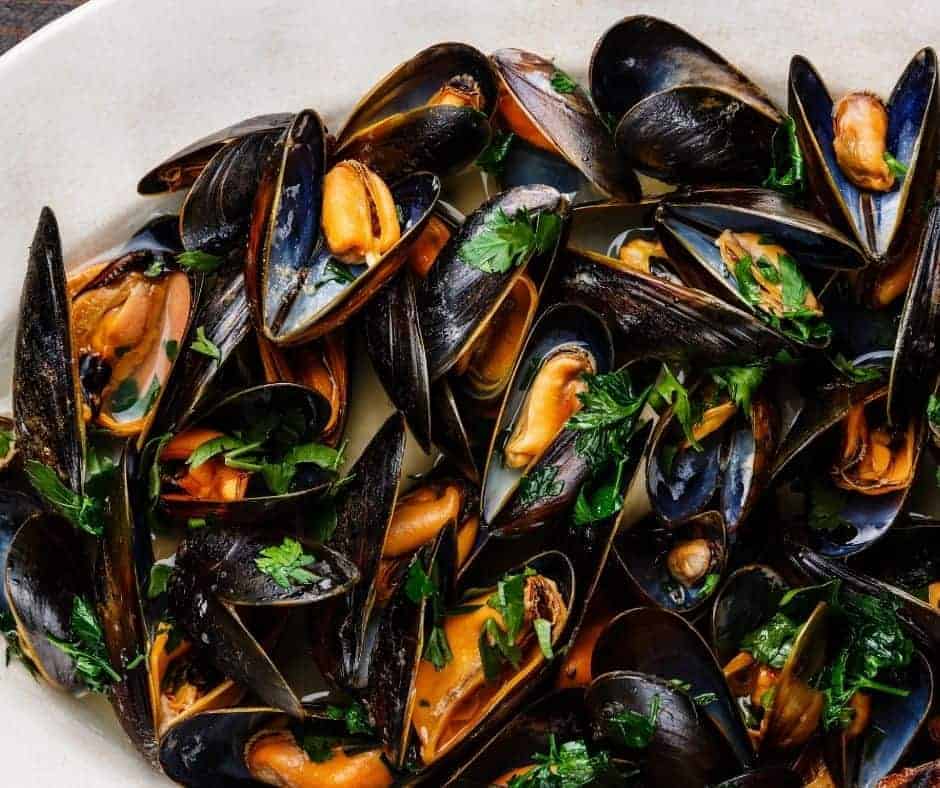 Air Fryer Mussels are amazing! They are so good, and can you believe that I cooked them right in the Air Fryer?
So, if you have ever cooked Mussels before, nothing is as easy as making them in the Air Fryer. They are so good, and there is nothing better than a hot plate of seafood for lunch or dinner!
While you can use any lemon or white wine sauce, today I went with a simple garlic and butter mixture, which was so good! And cooked within minutes, what can be easier?
If you are looking for some more Air Fryer Seafood Recipes, some of my favorites are AIR FRYER BACON WRAPPED SCALLOPS, EASY AIR FRYER CRAB CAKES, AIR FRYER SEAFOOD BOIL, and AIR FRYER CRISPY SHRIMP.
What Are Mussels?
You can use the same recipe for clams, and oysters as well. But mussels like clams are found in saltwater, and they are part of the bivalve molluscs family.
The part that we consume is inside the shell, it is typically either cream or pink, depending on the gender.
How To Choose Mussels
When you purchase them from the grocery store or seafood market, they are alive. Sometimes they are already prepacked in bags.
However you purchase them, it's important to check them out before you purchase them. You are looking for:
They should be closed. If they are closed, do not buy them, it either means they are not healthy or dead.
Look for shells in pristine shape; you do not want any cracks or broken shells.
Keep them cold on your away home, whether you bag them in ice or a freezer insulated bag.
How To Store Fresh Mussels
Once you purchase them, it's really important to eat them within 1 day of purchae, remember they are alive.
Keep them in the refrigerator cold, until you are ready to air fry them up!
Remove them from the bag, and place them into a bowl, covered with a damp cold cloth.
Ingredients Needed For Air Fryer Mussels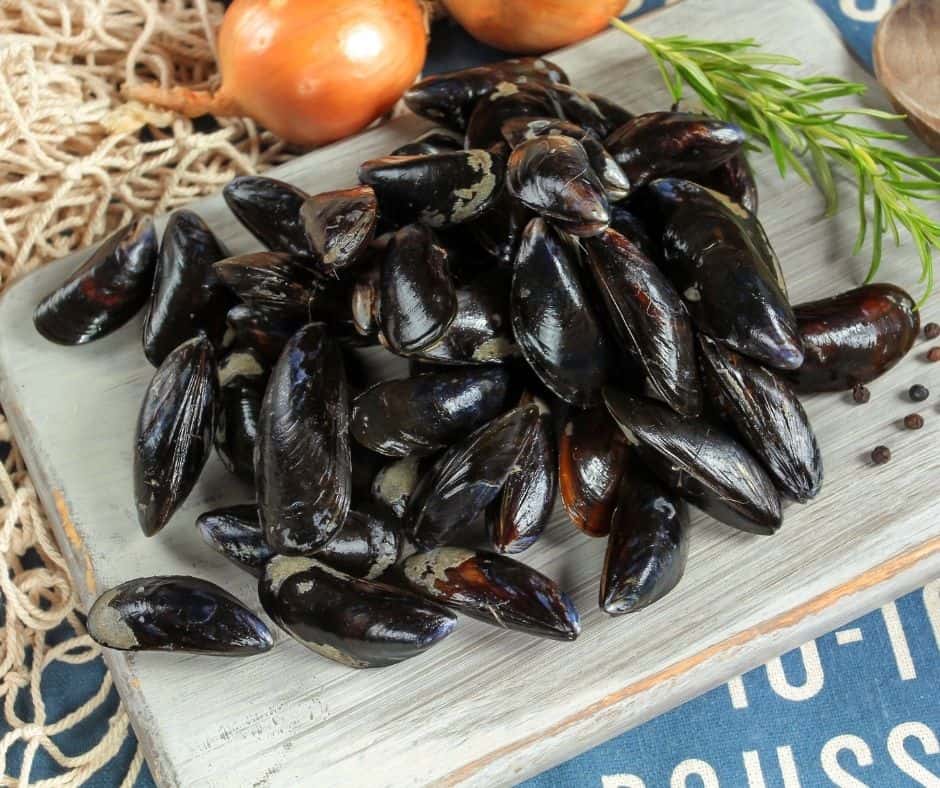 Mussels
Butter
Water
Minced Garlic
Chives
Basil
Parsley
How To Make Air Fryer Mussels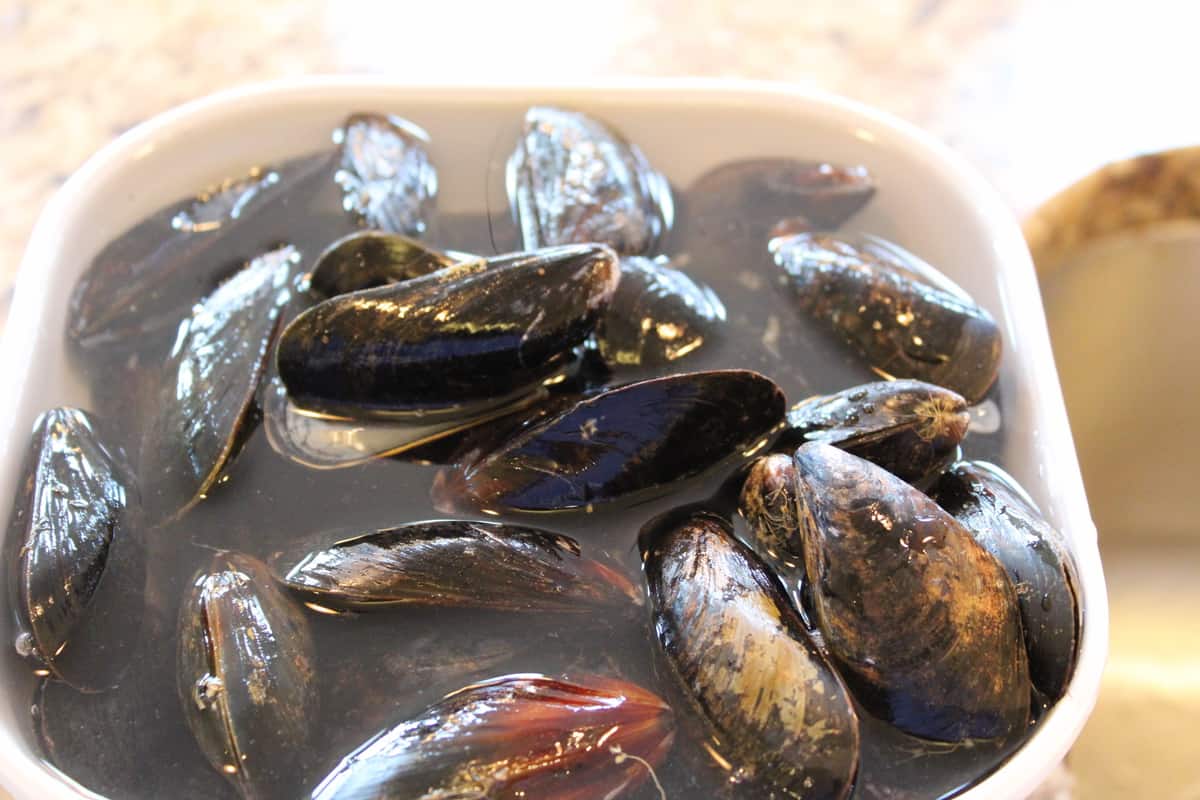 Soak the mussels in water for about 30 minutes. This will help remove the grit. Use a brush and clean your mussels, and remove the "beard."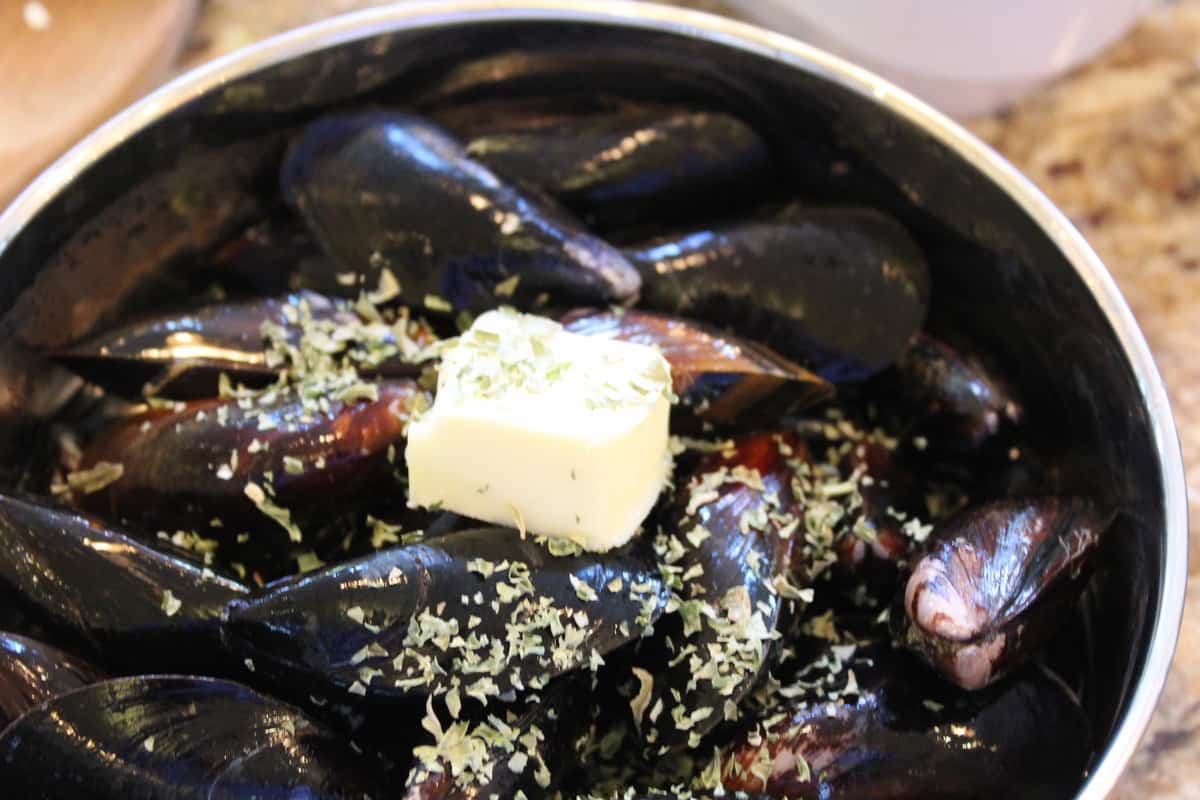 Place in an air fryer-safe pan with butter and spices.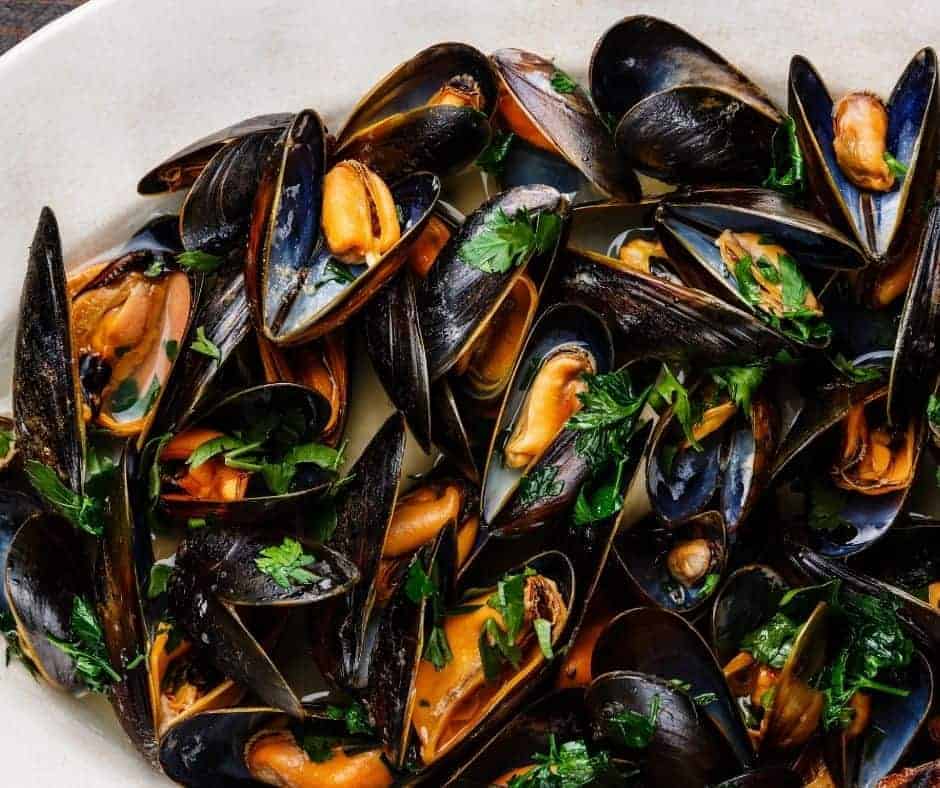 How To Store Cooked Mussels
If you have any leftovers, they will be great in the next day or two. Let them cool to room temperature and then place into an airtight container.  
Place the container into the refrigerator. They are best eaten at room temperature or col. Reheating them in the microwave or the air fryer will make them rubbery.
What To Serve With Mussels?
The most common dish to serve with mussels is French Fries, also known as Moules Frites, which has started in Belgium and is one of the most popular dishes there. 
You can also serve this with a healthy green salad, potato salad, or macaroni salad. Bread is traditionally served as well, as you can soak up the sauce with.
What Dipping Sauces To Serve with Mussels
The dipping sauces you can serve range from the classic of melted butter and other items. Some popular sauces are:
Garlic Butter Sauce
Green Chili & Lime
Japanese BBQ sauce
Fish Sauce
Tiger Sauce
Some Other Great Air Fryer Seafood Recipes-
Don't Forget to Pin–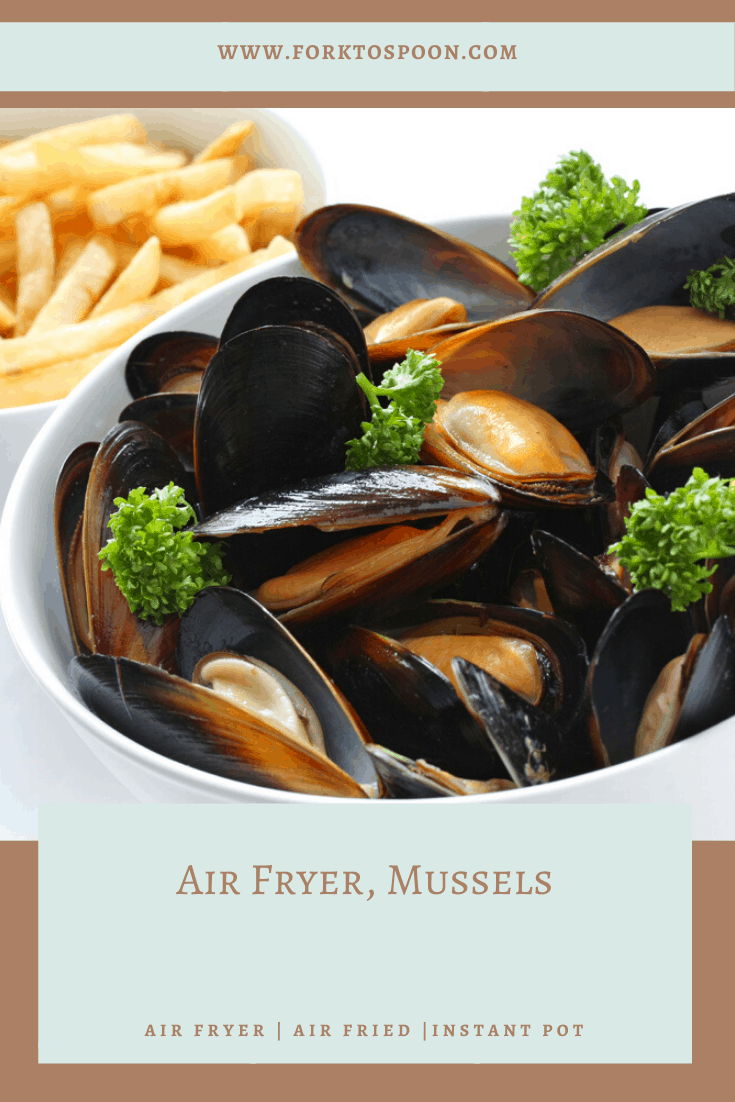 Yield: 4 Servings
Air Fryer Mussels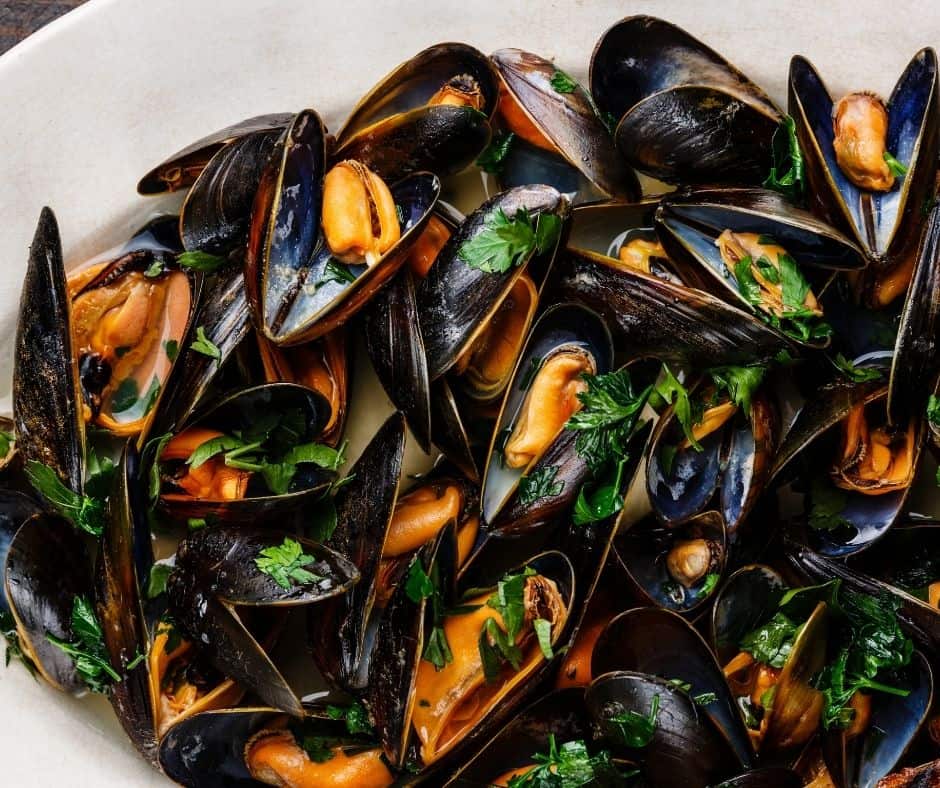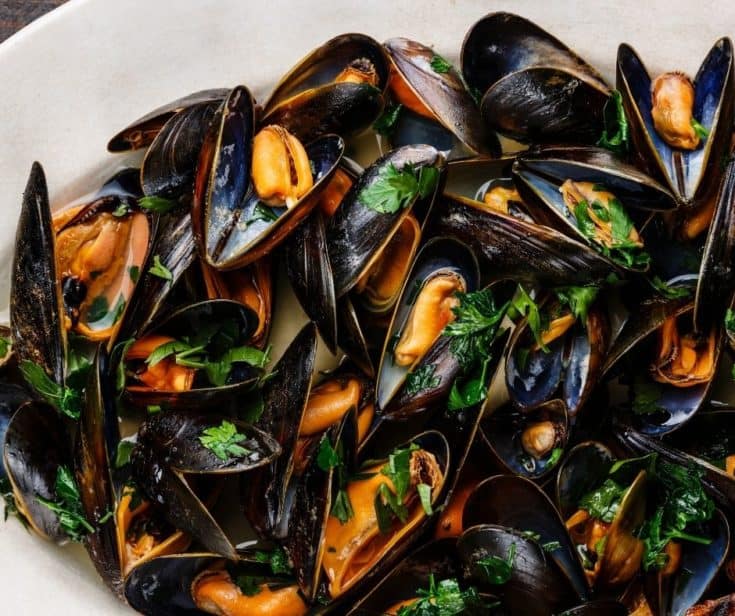 This is such an easy recipe. You literally are air frying mussels, and they come out so good, and they make a quick and healthy meal.
Additional Time
30 minutes
Ingredients
1 pound mussels
1 tablespoon butter
1 cup water
2 teaspoons minced garlic
1 teaspoon chives
1 teaspoon basil
1 teaspoon parsley
Instructions
Start by preheating your air fryer to 390 degrees F, air fryer setting.
Then clean your mussels (soak for 30 minutes, as indicated in the instructions) and then use a brush and clean your mussels, and remove the "beard."
Then in an air fryer safe pan, add the water, butter, garlic, chives, basil, parsley, and mussels.
Then set the time for 3 minutes, check, and see if they are opened. If they are not opened, set the time for another 2 minutes. Once all of the mussels are opened, they are readying for eating.
Plate, serve and enjoy!
Notes
**Note: Time depends on the number of mussels and the wattage of your air fryer. Just keep on checking. You don't want them overcooked. Once they are opened, They are cooked and ready for eating.
Nutrition Information:
Yield:
4
Serving Size:
1
Amount Per Serving:
Calories:

223
Total Fat:

8g
Saturated Fat:

3g
Trans Fat:

0g
Unsaturated Fat:

3g
Cholesterol:

71mg
Sodium:

444mg
Carbohydrates:

9g
Fiber:

0g
Sugar:

0g
Protein:

27g